The Bikers Insider team has scoured through hundreds of Flip-up /modular Motorcycle Helmets available today in 2022 – we looked at all features, read user comments from across many brands as well as experts' reviews in order to give you our ranking of the Top 7 Best Modular Helmets money can buy!
If you are in a rush, check out the table of our best-rated modular motorcycle helmets down below, along with a link where you can check the product price.
1. LS2 Valiant Modular Helmet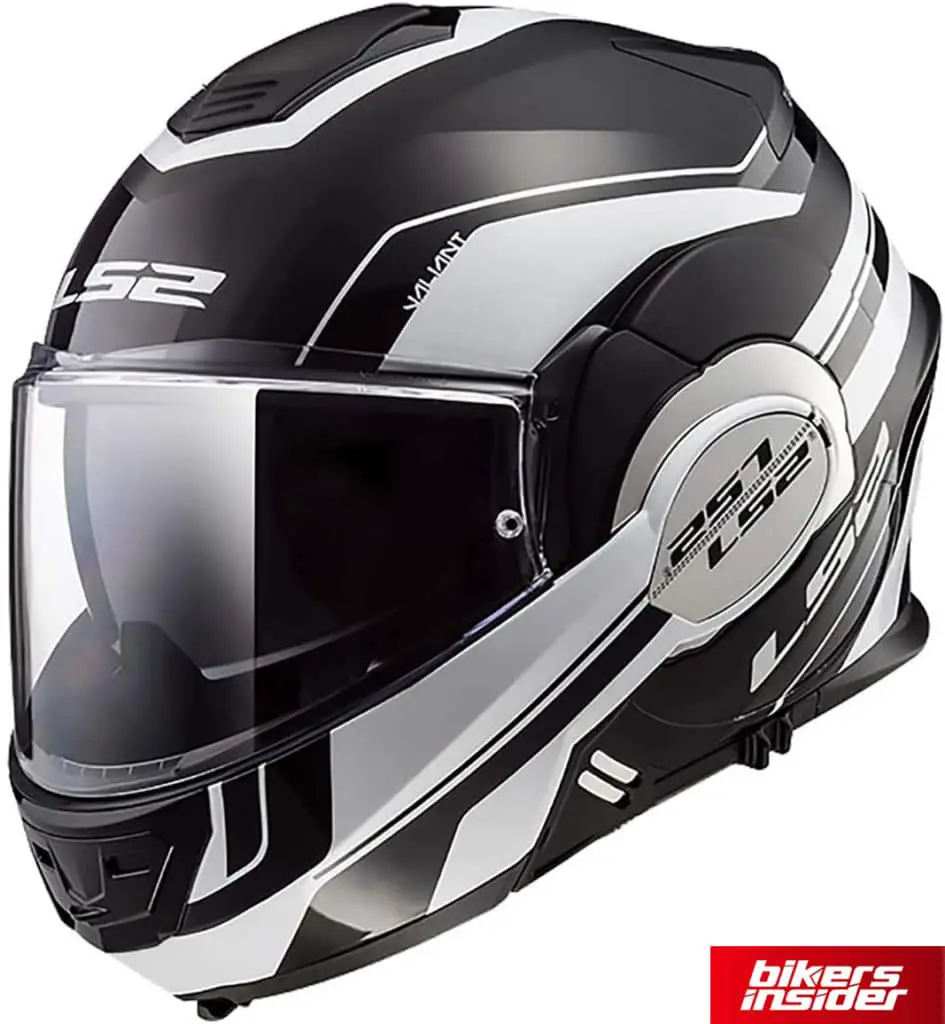 While this modular helmet was released in 2018, it's so good that it's still relevant in 2022! The thing we enjoy about this helmet is the comfort it brings to the table, as it is designed to fit for an intermediate oval head shape. It weighs 4 lbs (around 1,8 kg), which is good for short and intermediate routes (starting from 50 miles to 100 miles).
The helmet's chin bar features metallic clasps, a welcome change from cheap plastic chin bar designs. Also, the helmet has cutaways, even around the temples, which makes it the best modular motorcycle helmet for glasses.
The neck roll mechanism is a bit dated and complicated to take off. You need to play around with pins to attach and detach the helmet from your head.
When it comes to comfort, the comfort liner is made of microfiber and features cutaways for Bluetooth speakers. Also, there is quite a bit of ventilation on the comfort liner.
Ventilation is all-round very nice, keeping you cooled off during hot days, and removing moisture during wet days. This is all thanks to the toggleable vent on the top of the helmet, and two passive, rear vents. There is also a chin vent to keep the airflow going.
With this modular motorcycle helmet, you also get a full-coverage sun visor with gear actuation.
Its cost right now is $289,99 (€246,53/£222,52).
If you are looking for a helmet that fits amazingly and has all-around great features, we highly recommend you to check LS2 Valiant out. Is it the best modular motorcycle helmet under $300? It just might be!
For more information about this modular motorcycle helmet, check out our LS2 Valiant helmet review!
2. Bell Broozer Modular Helmet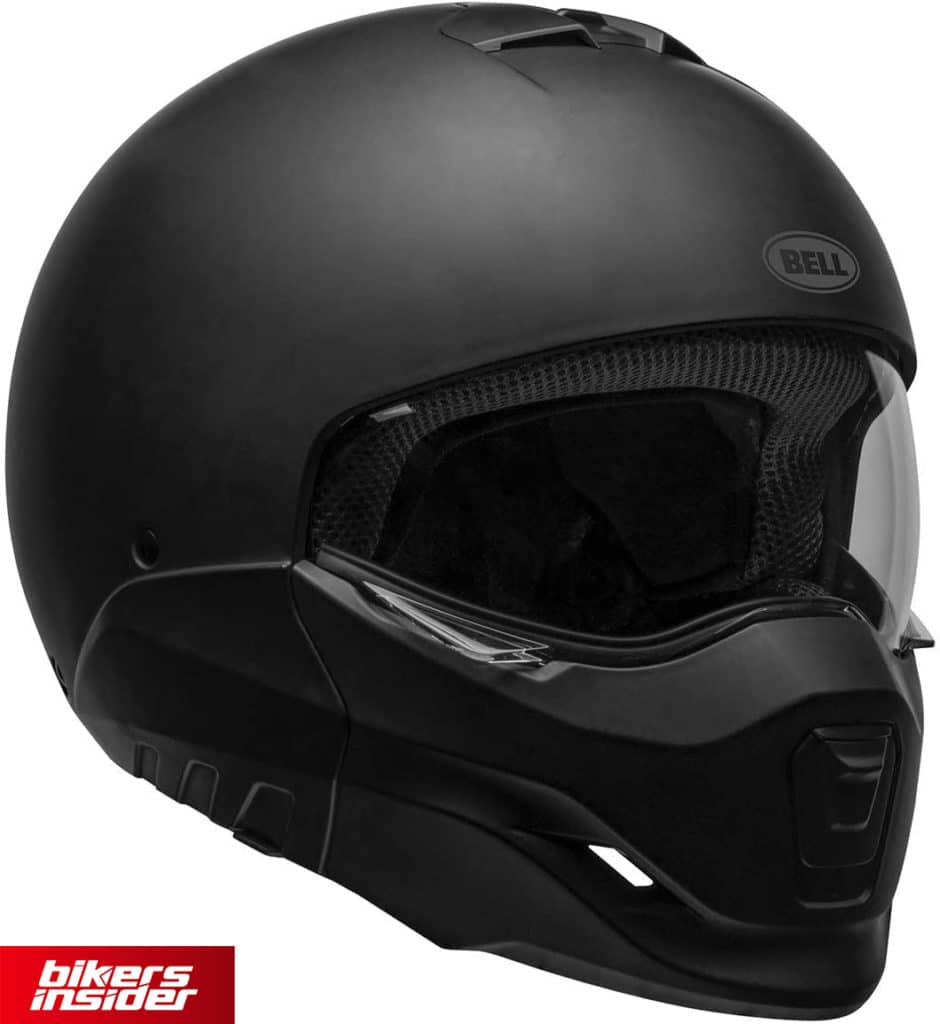 The Bell Broozer was introduced in January 2020 and quickly took the market for modular motorcycle helmets by storm. This helmet is a street biker's dream, but it offers so much more than just good looks even today in 2022.
It weighs 1,350 grams, which is awesome for a modular helmet. The helmet is dual homologated and will keep you quite safe on the road. This is definitely the best modular motorcycle helmet for adventure bikers.
The chin bar features a bit of innovation when it comes to the design of the toggle. Two hooks toggle the open-face and full-face configurations, which makes for a lightning-fast switch!
The face shield is built in the helmet itself, which is a great design choice. It's also sealed to prevent air and water droplets from coming inside. You can also easily wear glasses under the face shield if you wish so.
The comfort liner features nice padding, and there are even padded ear pads inside. Sadly, no recesses for Bluetooth speakers. The chin strap features a ratchet-style design, which is effortless to operate.
Ventilation is quite well-made, with top vents and chin vents, along with furrows on the comfort liner to keep the airflow going.
All in all, the versatility the Bell Broozer offers is next to none when it comes to modular motorcycle helmets. And amazingly, you can get it under the $300 price tag! Right now it costs $230 (€195,76/£176,68).
For more information about this modular motorcycle helmet, check out our Bell Broozer motorcycle helmet review!
3. Shark Evo-One 2 Modular Helmet
While a bit more expensive, Shark Evo-One 2 is a premium helmet from a renowned French motorcycle helmet manufacturer, Shark.
It is one of the best rated modular motorcycle helmets for durability, as the helmet shell is made of thermoplastic resin. The helmet weighs 1,7 kg.
You can tap on the button on the bottom of the helmet to push the chin guard up or down to change configurations. It features the Auto-up, Auto-down system so that the chin guard doesn't tamper with the visor.
Of course, the helmet is dual-homologated, so you can enjoy riding it in all motorcycle markets worldwide.
The Evo-One 2 comes with a Pinlock Max Vision clear face shield right out of the box, with very nice defogging capabilities. There is also a full-coverage, integrated sun visor to ease up the rides during clear sunlight.
When it comes to ventilation, the system is here to keep the visor from fogging up, which it does exceptionally well. Because of that, the helmet can be quite noisy if you open up one of the vents.
When it comes to inner comfort liner and cheek pads, the downsides come into play. The cheek pads are quite tight and won't fit everyone, which is a bummer. Also, the recesses for comm devices in the comfort liner won't fit larger Bluetooth speakers.
Nevertheless, the upsides greatly outweigh the downsides with the Shark Evo-One 2, which is definitely one of the best modular, flip-up helmets money can buy right now. You can get the Shark Evo-One 2 for $429,99 (€365,90/£330,20).
For more information about this modular motorcycle helmet, check out our Shark Evo-One 2 modular helmet review!
4. NEXX X.Vilitur Modular Helmet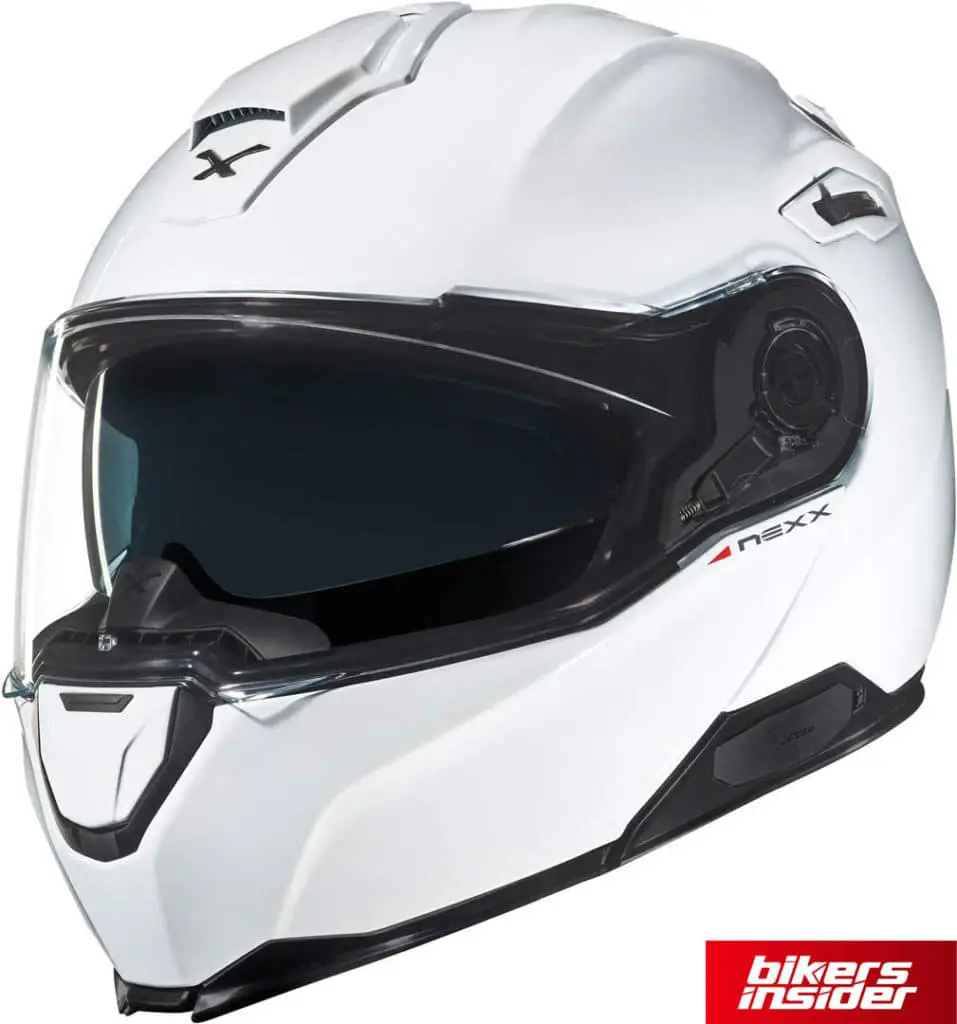 In the continuation of our best-rated modular motorcycle helmet list, we have this incredible gem from NEXX, a Portuguese motorcycle helmet manufacturer.
Right from the get-go, you can notice the incredible aesthetics and build quality. There are two dual homologated variants of this helmet. One is made from carbon fiber, while the other is made out of an alloy that combines fiberglass, aramid fibers, carbon material, and kevlar. The chin bar is fairly easy to operate with a single button to change between configurations.
Sadly, the X.Vilitur doesn't come with a Pinlock face shield, which means that the one included will fog up regularly. When it isn't foggy, the clear face shield provides excellent all-around vision. Of course, the internal sun visor is integrated, covering about 85% of the face shield view.
The helmet features a design that is quite comfortable with all the riders, with one big downside. It features a micromesh buckle that may dig into your Adam's apple area, which is very discomforting.
Digging inside the helmet, we can see an amazing, soft comfort liner that features recesses for glass wearers, as well as for Bluetooth speakers.
The ventilation features optimizations to keep the noise at minimum levels. If you are looking for the best quiet modular motorcycle helmet, the X.Vilitur is the one to get.
Right now, there are several models of these helmets with different prices, which you can see below:
Carbon Zero – $679,95/€576,53/£524,30
X.Vilitur Helmet – $499,95/€423,91/£385,50
Latitude Helmet – $549,95/€466,26/£424,06
Carbon Hyper-X Helmet – $649,95/€551,04/£501,06
For more information about this modular motorcycle helmet, check out our NEXX X.Vilitur helmet review!
5. 1storm HB89 Modular Helmet
And last but not least, here is the 1storm modular motorcycle helmet, which is certainly the best modular motorcycle helmet under $200! This impressive helmet amazes with its quality features for such a low price.
First of all, the thermoplastic alloy shell ensures that it has dual homologation. The helmet only weighs 1,8 kg! It is very comfortable to wear, even for long periods of time. If you want to put your favorite Bluetooth speakers inside the helmet, there are recesses that enable that.
We found one gripe with the chin bar toggle button. While the chin bar is great when it comes to its functions, the button is placed so that you can accidentally slide push it with your chin.
This is a dual-lens modular helmet, with fog and wind-resistant clear face shield, and an inner sun visor with additional UV protection. The helmet gets with a chin curtain to help with visors not fogging up in colder weather.
When it comes to comfort, you will need some time to get used to the inner liner as It will adjust to your head shape in a while, as the result it will make the helmet comfortable for longer trips. The inner liner and cheek pads feature extra padding for a better fit and more comfort. To loosen the helmet to your neck, you will use the quick-release buckle, which is nothing special, to be honest.
The ventilation system of the 1storm modular helmet is robust, with two adjustable top vents, two adjustable front vents, and two back vents. It works quite well during hotter weather, but as you cannot close the back vents, we recommend you warm up with a face mask during colder rides.
The biggest downside to this modular helmet is how noisy it is. You will start hearing loud wind noise if you ride above 65 km/h, which essentially makes this modular helmet the best fit for a daily commute.
Nevertheless, the cost-benefit ratio you get makes the 1storm one of the best rated modular motorcycle helmets. You can get it for $59,95 (€50,99/£46,04).
For more information about this modular motorcycle helmet, check out our 1storm motorcycle helmet review!
6.HJC i90 Aventa
A world-known HJC brand has a reputation for producing high-quality helmets with all the features you could want. The i90 is no exception and comes equipped with an anti-bacterial liner, quick-release shield, and an integrated sun visor, among other things.
We noticed a new RapidFire quick-change system, that only takes a few seconds to swap your visor which adds great benefit when you're in a rush, and all other benefits you get with a modern helmet. But, what users particularly love about HJC i90 is that you can easily integrate it with Sena comms inside the helmet itself, Having a dual homologation you can use the helmet as an open face or full-face helmet.
For a more detailed look, check out our HJC i90 helmet review!
7.AGV SPORTS MODULAR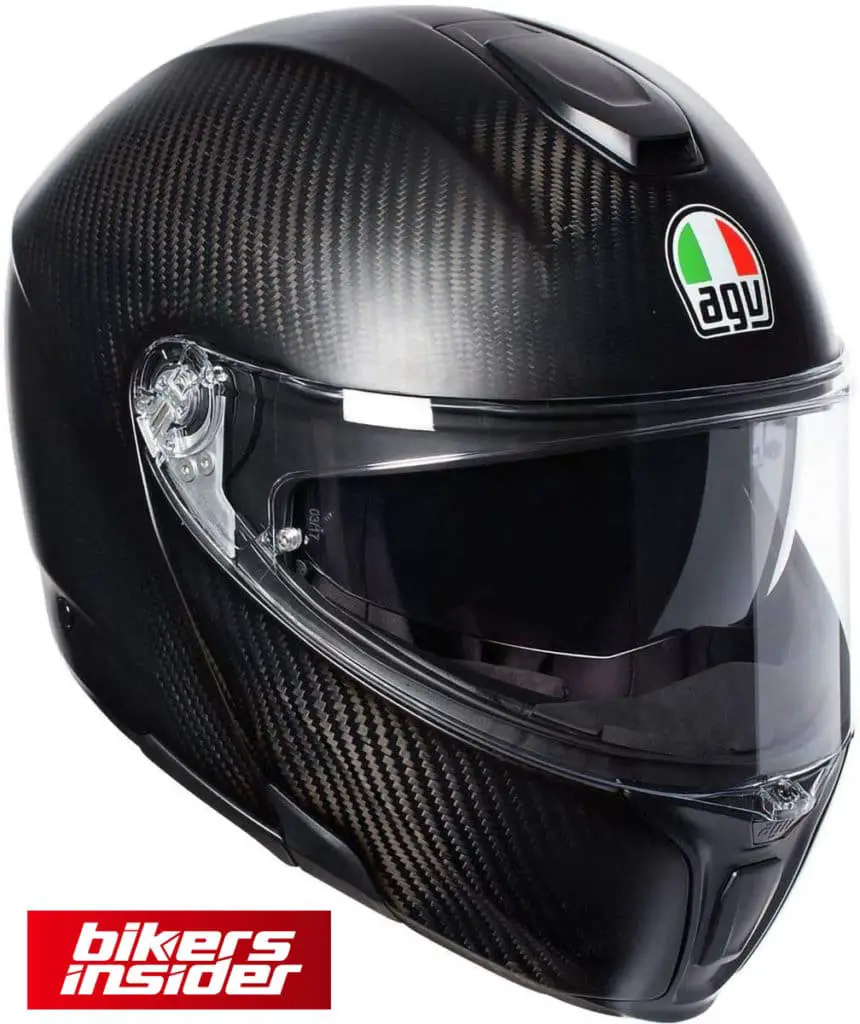 Best-Rated Modular Motorcycle Helmets In Photos!
Here, we will share a few catchy designs of the best modular motorcycle helmets from our list!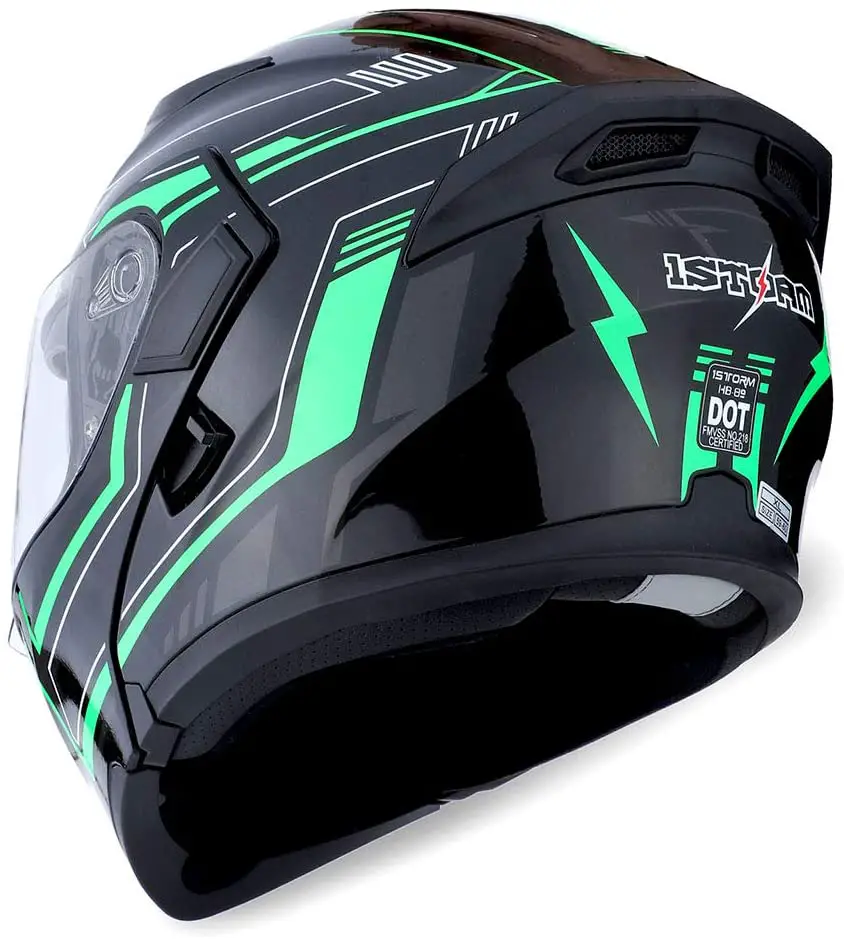 Closing Words
Modular motorcycle helmets are the most popular type of helmet on the market right now and they offer unprecedented flexibility when it comes to riding comfort and 7 picks above will be guaranteed to be among the best-rated modular motorcycle helmets in today's marketplace!
Modular Motorcycle Helmets: The Future Of Riding Safety
We hope you pick your helmet well, and as always – good luck on your next ride! 🙂