While HJC is the helmet manufacturer most known for its full-face lids, it offers some pretty lovely modular helmets. One of these is the HJC RPHA 90, for which we have dedicated a full-length review!
The RPHA 90 sits at the sub-$450 range, and it packs quite a bit of competition. Still, HJC has made some notable changes over the RPHA MAX helmet, its 2012 predecessor. 
From the improved face shields and ventilation to some thoughtful quality of life changes, is the HJC RPHA 90 worth your money? Most importantly, will it be safe and comfortable enough to carry you on longer rides? Find out all the answers and a bit more in our in-depth, honest HJC RPHA 90 modular helmet review!
HJC RPHA 90 Review – Features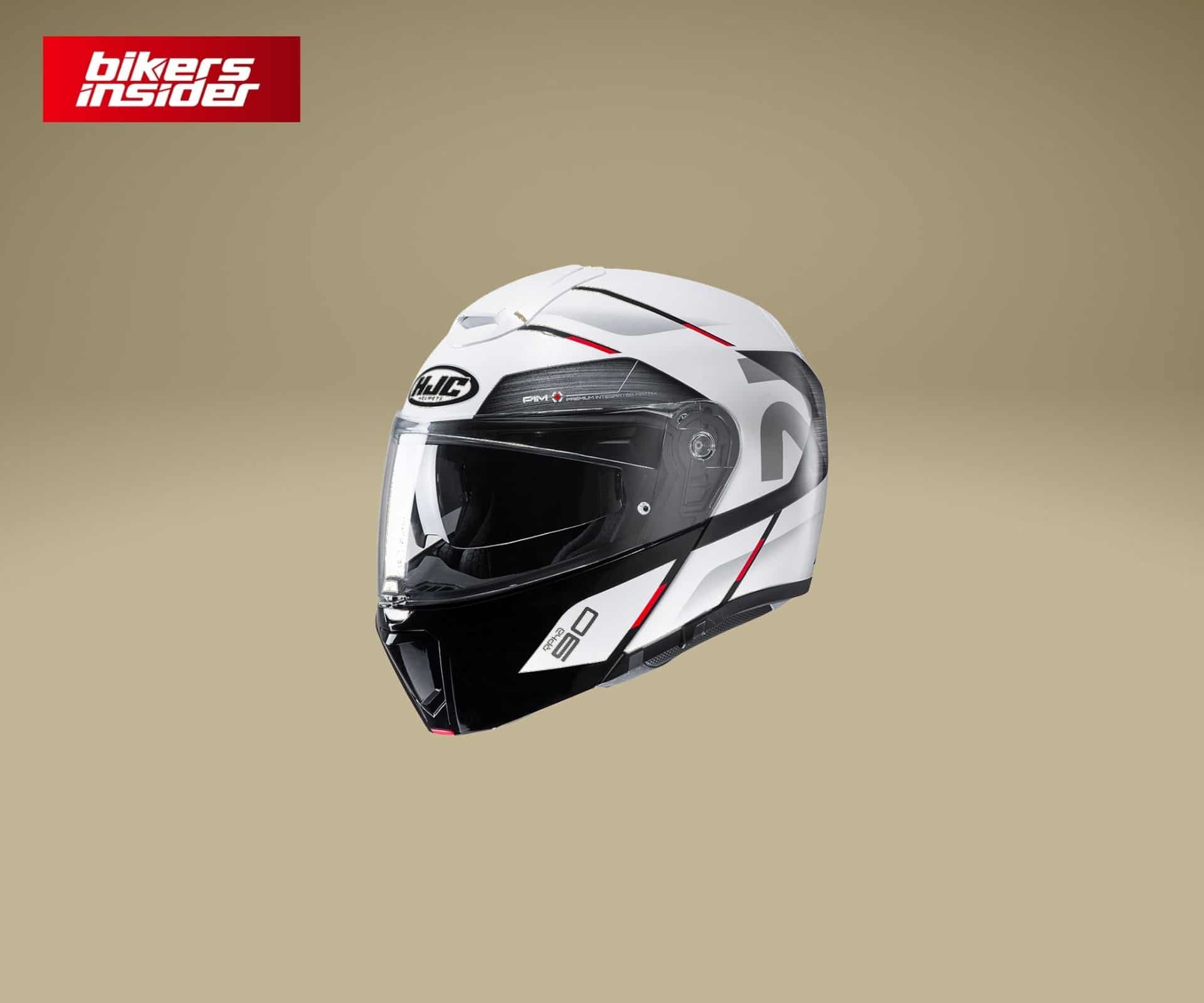 If you are in a rush, we've prepared a list of all the essential features of the HJC RPHA 90 motorcycle helmet down below:
Fiberglass composite shell made by fusing carbon fiber, fiberglass, and aramid
Weighs 3 pounds 9 ounces (1,61 kg)
Designed for intermediate oval head shape
Pinlock-ready HJ-29 clear face shield
Inner drop-down HJ-V9 sun visor with high UV protection
Actuated top, rear, and chin vent
Breathable and eyeglasses-friendly comfort liner
Speaker pockets
D-ring chin strap
Bluetooth-ready design for HJC's proprietary Bluetooth system
DOT and ECE-approved
Without further ado, let's begin with our HJC RPHA 90 review!
Construction & Design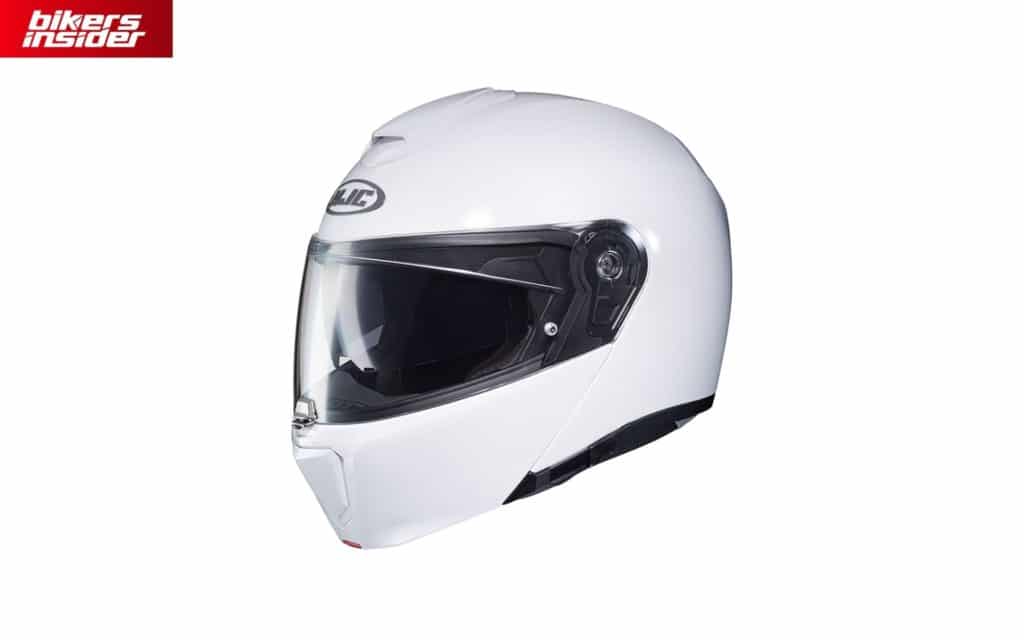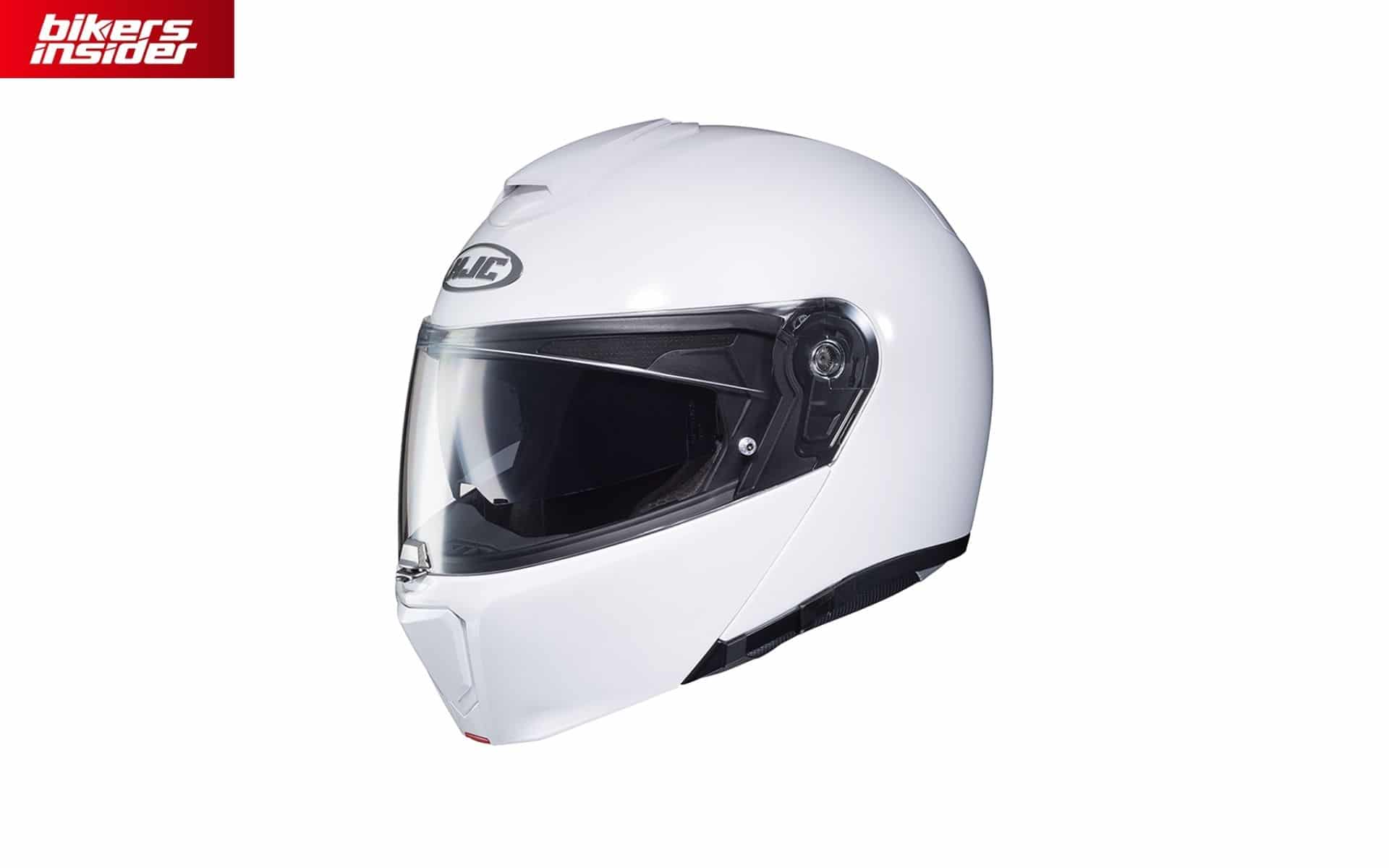 First, as the RPHA 90 is more premium-priced, we could only expect that its shell would be made of higher quality materials. The shell is made of fiberglass composite material, which blends carbon fiber, fiberglass, and aramid. This composite is named the Premium Integrated Matrix Plus, and it's certainly premium. 
The composite shell offers great protection that can rival some of HJC's full face helmets and is surprisingly light for a modular helmet – only 3 pounds and 9 ounces (which equals 1,61 kg). While it isn't light as the AGV Sportmodular (which weighs 1,3 kg), it's almost double the cheaper, so it is a great bargain.
Fit Scheme
From the fit perspective, the RPHA 90 is designed for intermediate oval head shapes. It features a slightly longer front-to-back profile, and it will be suitable for most riders on the Western markets (the Americas and Europe).
All in all, this lid has a bit of a conservative look compared to the HJC RPHA MAX, which sported a youthfully aggressive look. Still, the construction and style of the RPHA 90 helmet ensure that it is excellent for longer motorcycle journeys.
The Modular Toggle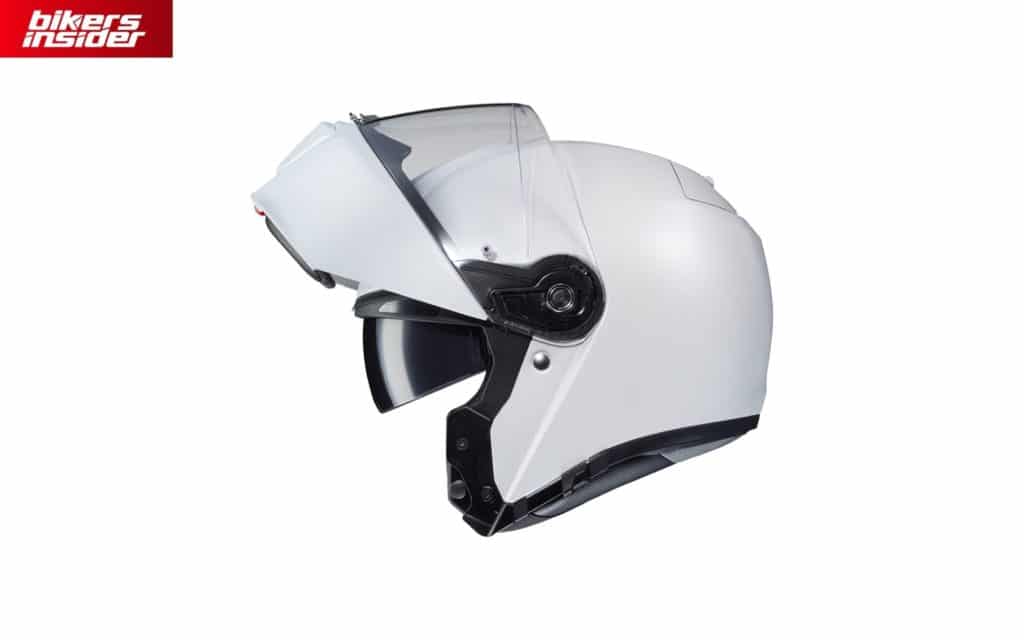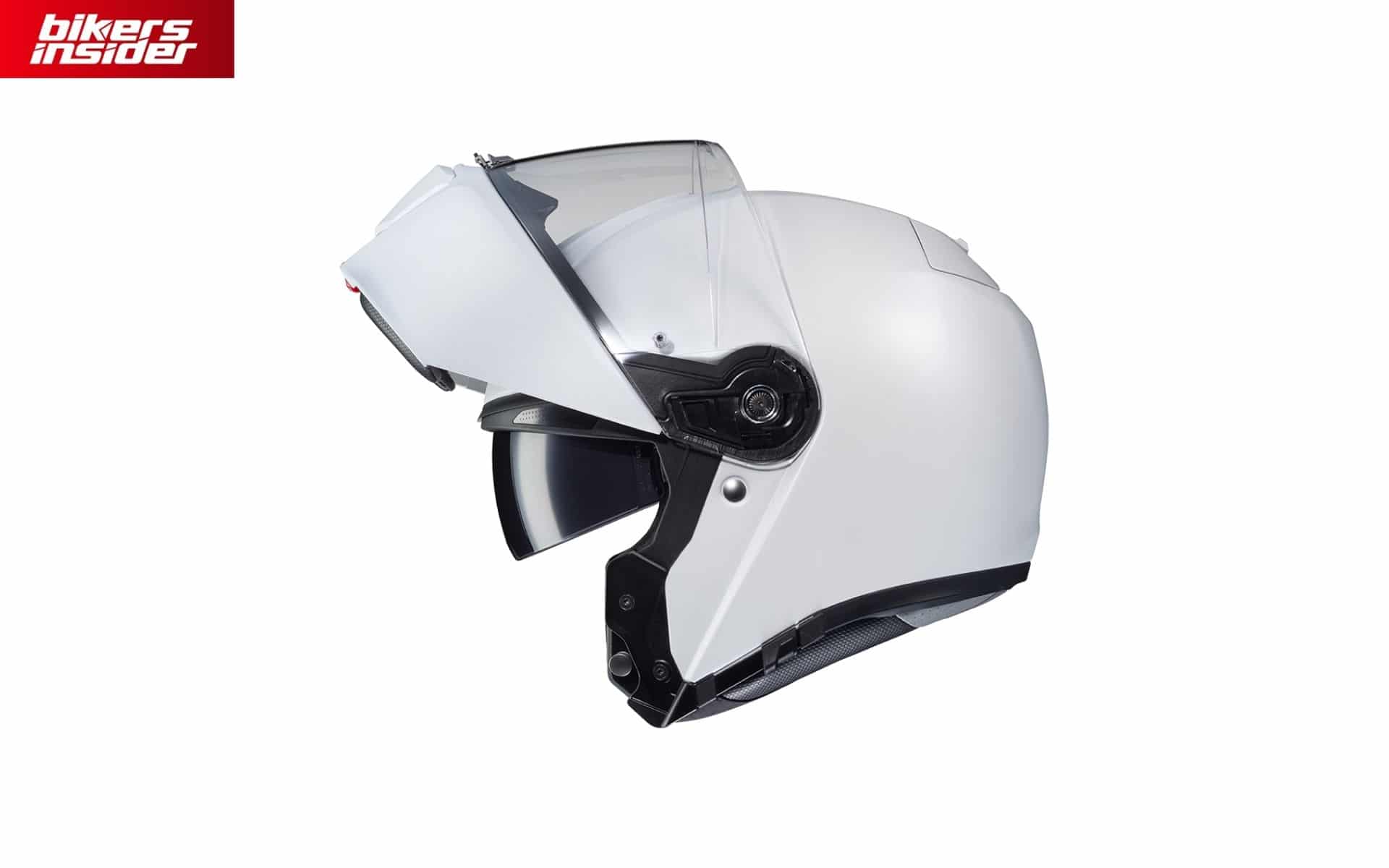 If you are up for commute rides, you can easily flip-up the chin bar with the press off the button underneath the chin vent, pulling the chin bar above the visor gussets. The modular actuation is made better thanks to the metal hardware, and it is awesome to see this, as many other helmet manufacturers use plastic hardware for modular actuation. This makes the toggling between the open face and full face configurations fit for long-term usage.
De-Branding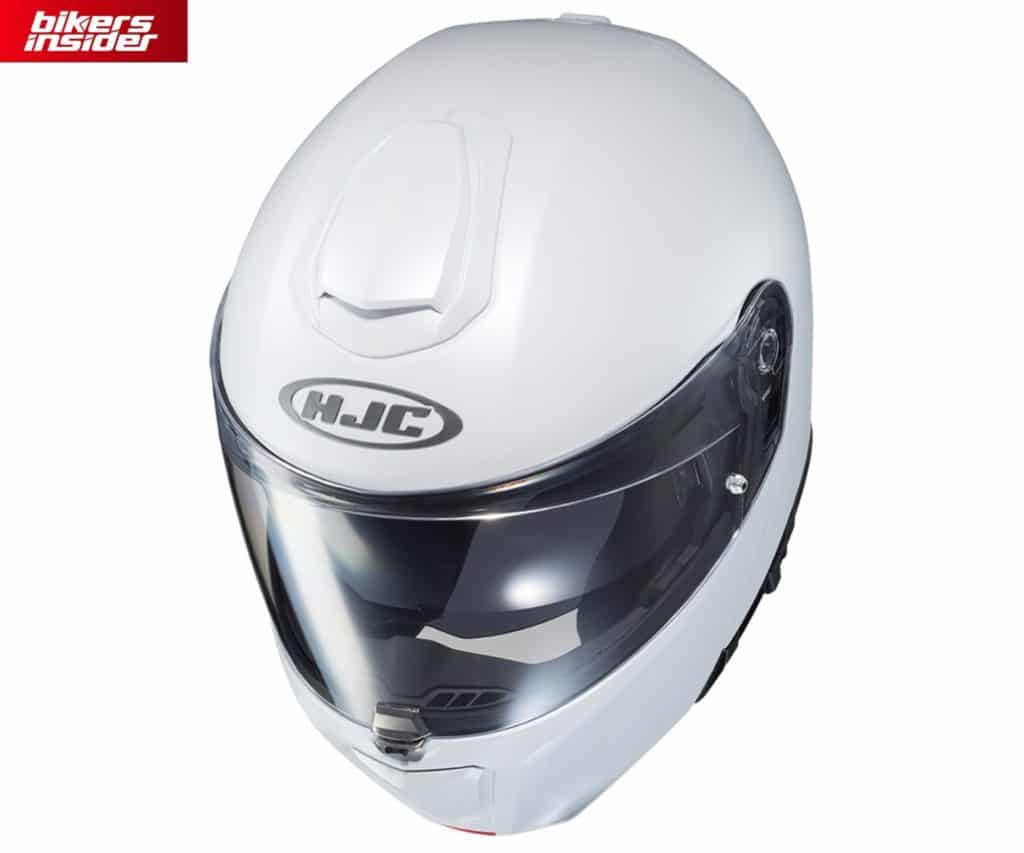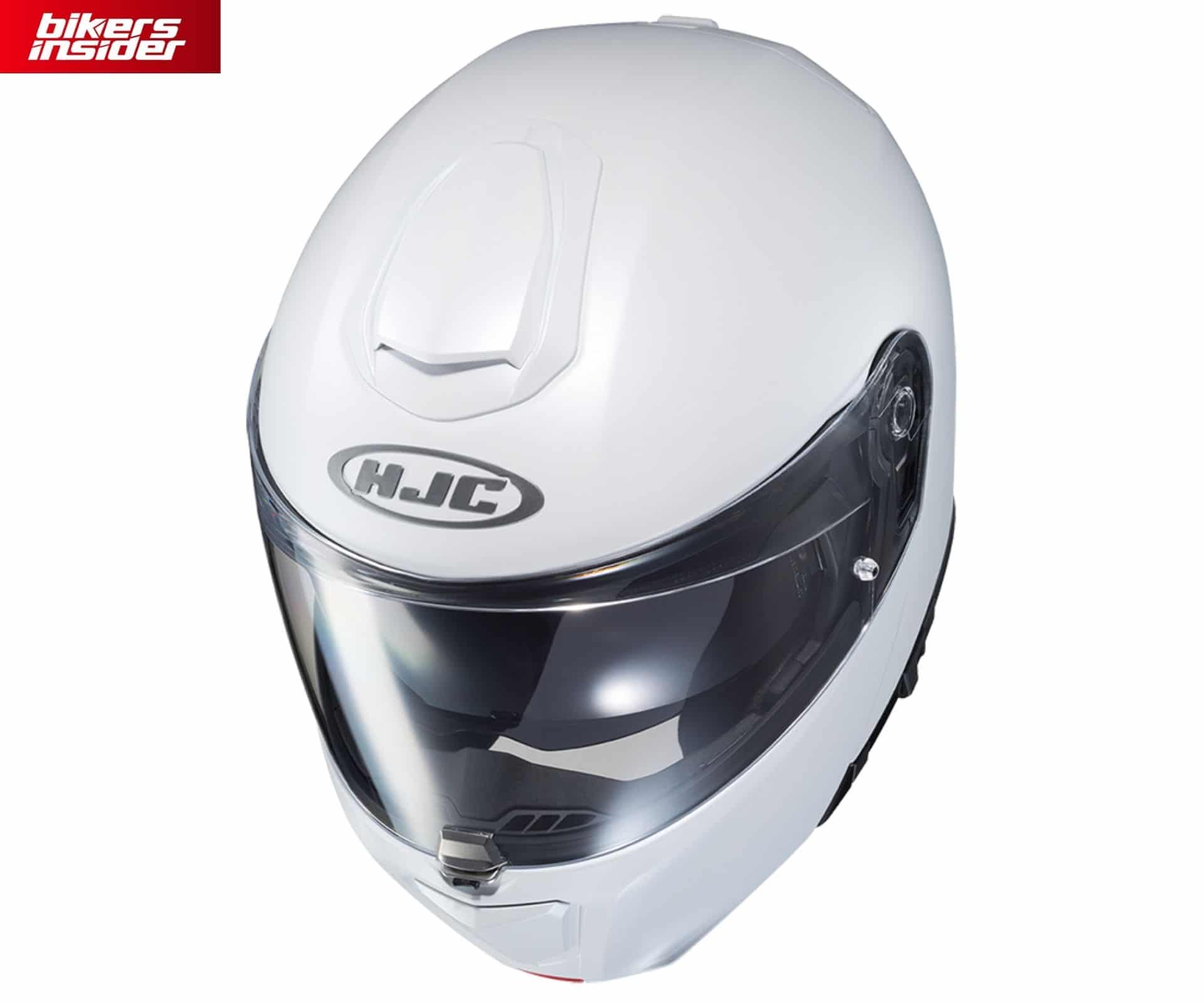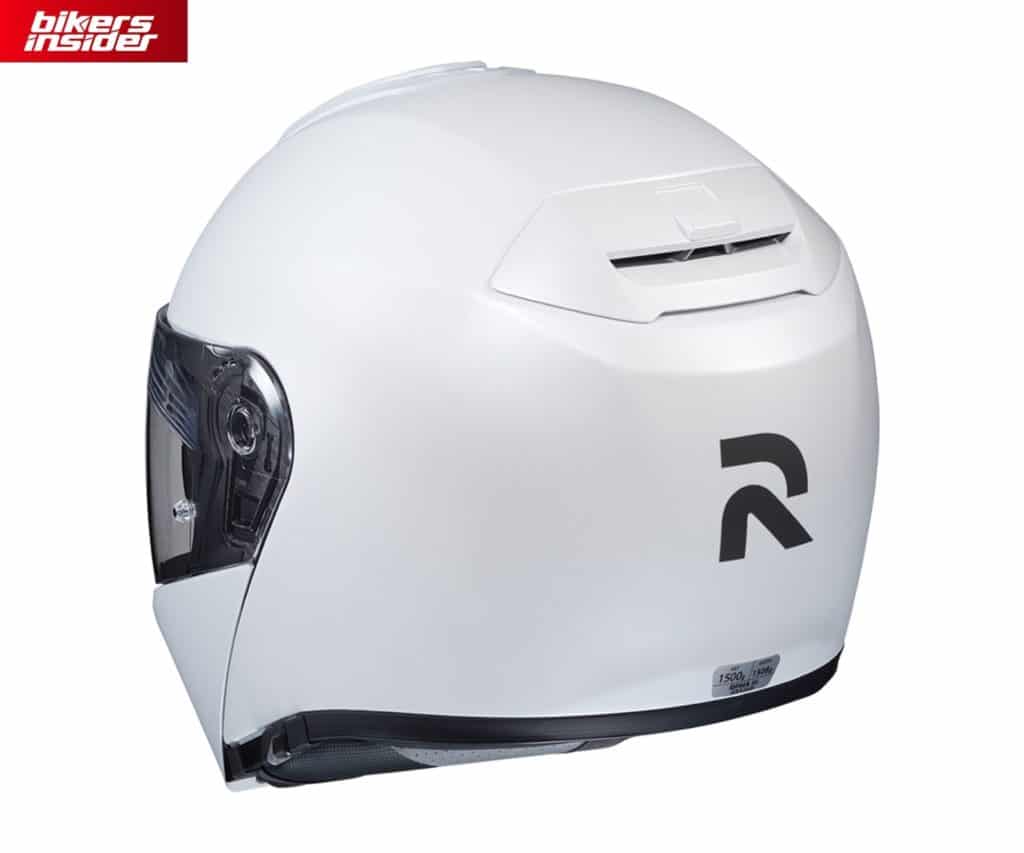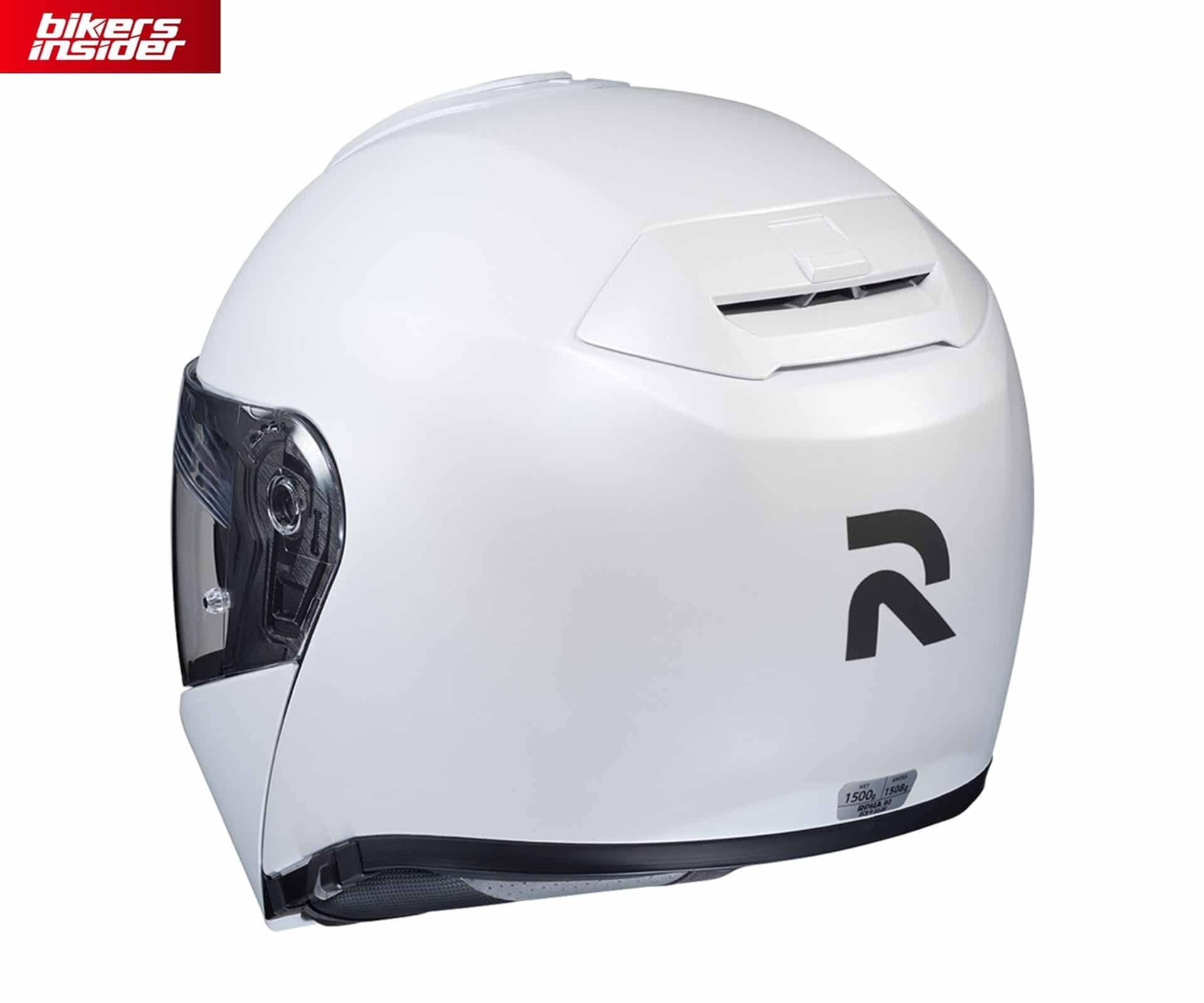 We want to note is that it is very easy to de-brand the RPHA 90 helmet if you're going to ride with your own style. For example, the front HJC logo is just a sticker and very simple to remove. On the back, the R logo is painted, so you can't remove it.
Vision
Down below, we will break down the two main visibility components of the HJC RPHA 90 helmet: its clear face shield and sun visor.
Clear Face Shield
The visibility that the RPHA 90 will offer to you is exceptional – all thanks to the updated HJ-29 clear face shield that is Pinlock-ready and actually comes with Pinlock out of the box. When it comes to de-fogging capabilities, you're all set. Other than that, the clear face shield is coated with anti-scratch and UV protection solutions, making it ideal for long-term riding. Also, the peripheral vision with the RPHA 90 is very nice.
To open and close, or to lock the clear face shield in place, we have the latch located on the center of the visor. We have a few nitpicks with this implementation, though. Even though it is very sturdy, that comes to a fault of accidentally locking the face shield amid a chaotic ride. It is tough to pull up this latch, especially after extensive use of the helmet. Sometimes, you can hurt your fingers just to try to open this bad boy up.
Enjoying the HJC RPHA 90 review so far? Check out our HJC i90 review for another amazing modular from the same company!
Another gripe that may annoy some with this design choice is that the visor release clip can obstruct your vision when the clear face shield is open halfway up. Also, when you have the clear face shield in this position, there can be an annoying vibration due to the mechanism. But that's just a minor annoyance, as the Pinlock-ready shield that offers excellent peripheral vision is epic to have on a modular.
Sun Visor
Coming to the integrated sun visor, it's the HJC's signature HJ-V9 sun shield with anti-fog and anti-scratch coatings. The main thing of note is yet another change that HJC made with its new generation of helmets, and it's the sun visor actuator design and position. Before, it was located on a clunky spot, just on the top vents – now, it's located on the left side jawline of the helmet. This implementation makes it less likely for wind noise to come in from the top vent, which is a nice upgrade. But this doesn't come with a few gripes.
As the sun visor actuator is located on the left jawline, it will be hard to clamp any other third-party Bluetooth communicator (Sena or Cardo, for example) in that section. HJC reserved the spot for their proprietary Bluetooth technology, located on the lower neck part of the helmet. Still, you can always glue the Bluetooth headset to the sides of the helmet, but it will be more complicated to take it off after you don't need it anymore.
Other things to note about the sun visor come to its design. First of all, the sun visor pockets will limit vertical visibility for a bit, and the sun visor itself, when it's all the way down, can touch the nose of some riders, so make sure to be entirely sure that you got the right shell size for your head. The sun visor doesn't lock in place, so it can bounce up and down during a ride, which can be an annoyance to some.
Comfort
In this section, we will break down the guts of the RPHA 90 modular helmet. Let's begin!
Neck Roll & Chin Strap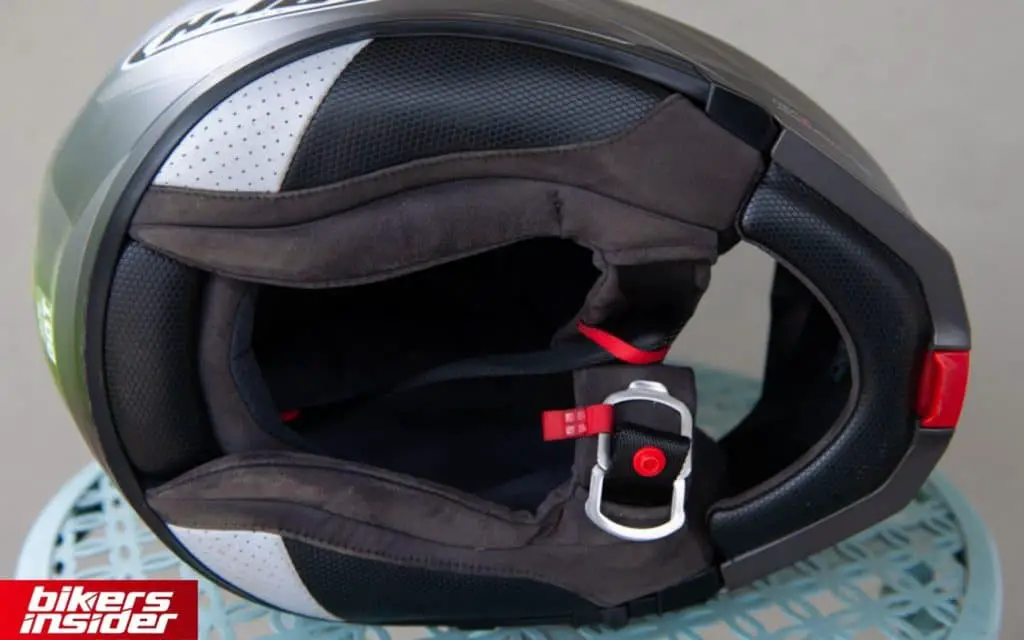 When we transfer to the inside of the helmet, we can see that HJC uses a padded neck roll in the RPHA 90, which will help with wind noise reduction. Also, there are rubberized areas on the neck roll so that it feels tight on your neck. Because of that, the cheek pads can fit very tight on your head initially, but they will break in after a few rides. A good thing to know for all you riders who prefer the open-face configuration is that the neck roll has two pops of reflectivity so that other traffic participants can notice you from behind.
The chin strap mechanism is a standard ordeal – the D-ring, which is quite simple to use. We prefer it over the micrometric ratchets, but some would disagree on that.
Inner Liner
The inner liner is very soft against the skin and is beard-friendly. Also, it is made of antibacterial material that is entirely washable. The cheek pads have a lot of room to give you more clearance that is well thought out for a modular helmet and increases the overall comfort. Also, the cheek pads are connected with two snaps that go out smoothly, and there you can notice plastic at the brow which has no pressure points, which further increases the comfort while riding with this helmet.
As the inner liner is designed with extra airflow and comfort in mind, it's good to know that this is a multi-density liner optimized for wicking the sweat away and giving riders the ability to stay cool and comfortable. This liner is dubbed Advanced Channeling Ventilation System by HJC, and it does a great job of keeping your head cool during the ride, something we will touch base upon in the Airflow section.
Speaker Pockets
When you remove the padding at the cheek part of the helmet, you will see speaker pockets, where you can install an additional speaker. This provides room to put a speaker that will not impede your ears or create a pressure point. The liner has eyeglasses grooves, but make sure to remove the padding at the speaker pockets to make it possible for this helmet to accommodate eyeglasses. 
Looking for best modular motorcycle helmets for the 2021 season? Check out our best-rated modular helmets!
All in all, HJC has done an incredible job at making the RPHA 90 helmet very comfortable to wear during long rides.
Airflow
When we look at the RPHA 90 modular helmet, we can see actuated vents at the back, top, and chin. The ACS system is also implemented at the inner liner to take care of all the air that comes inside the helmet.
The rear vent has a small spoiler to keep the helmet more aerodynamic and is easily toggleable, even with gloves.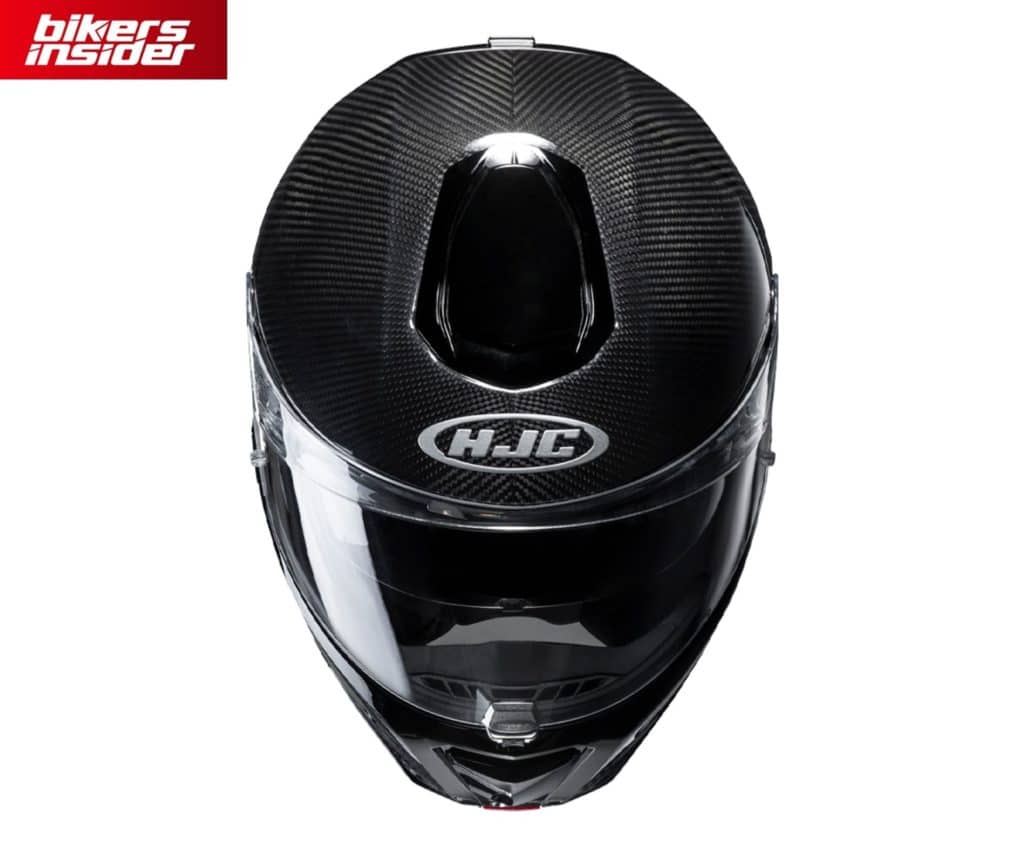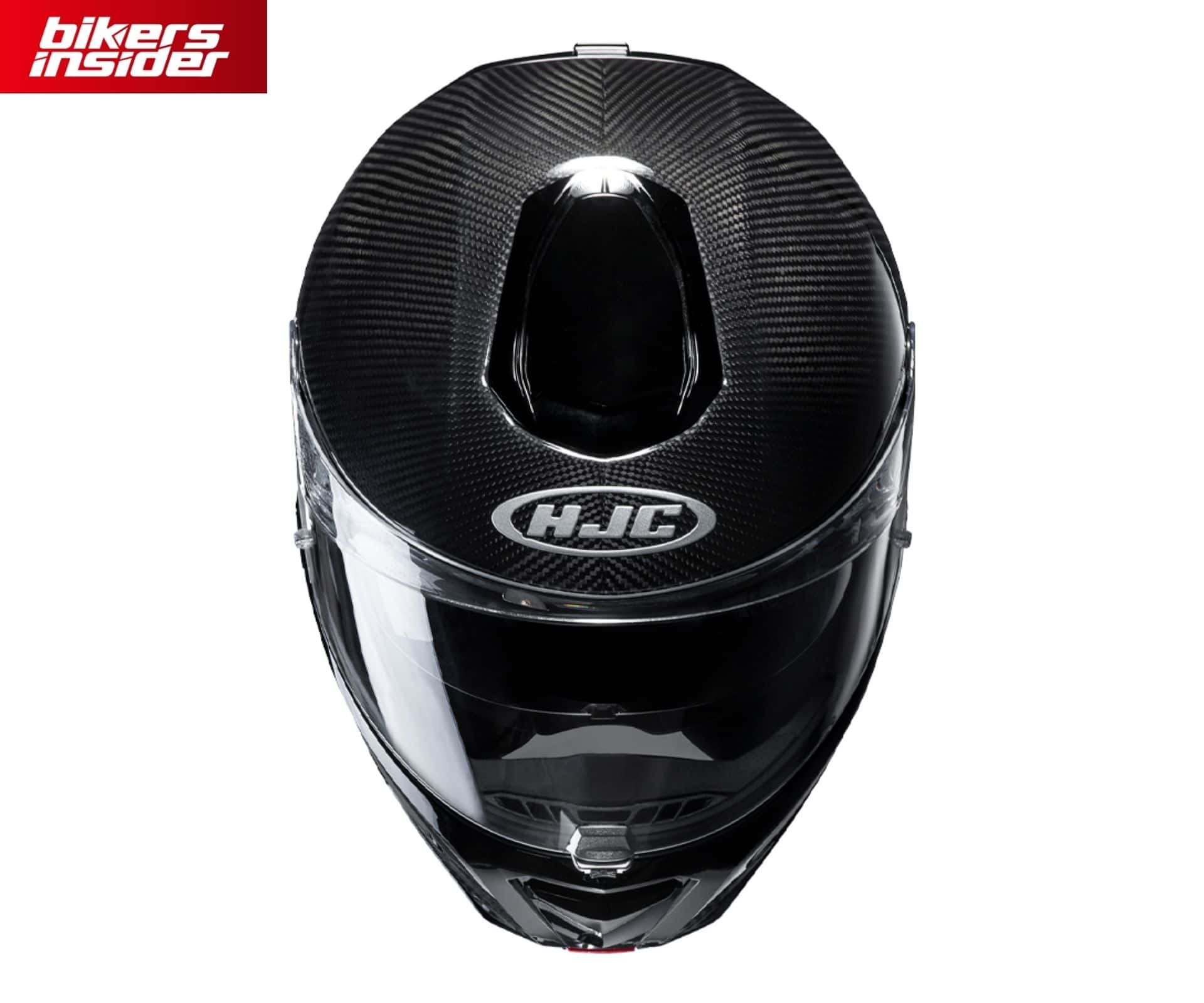 For example, the RPHA MAX had a hard-to-find top vent actuator, so HJC did a great job making the whole top vent actuated. The top vent has 10mm vent holes that pull the air directly into the shell. One gripe we have with this implementation is making the top vent rattle in the wind, especially at 60 mph+ speeds. So, make sure to get earplugs to get rid of that nasty wind noise.
We have mixed feelings about the chin vent, and it feels a bit useless when it comes to providing more airflow. Also, there is a chin curtain to prevent wind noise.
The ACS system does a fairly good job of pulling the warm, moist air out of the helmet, thanks to all the cutouts connected with the shell vents. It pulls the air from the crown of your head and pushes it out from the back of your neck. It's a simple yet effective system to keep you cool during the summer months.
Overall, the ventilation is nice, even though the wind noise will get to you if you ride at highway speeds. Keep that in mind, and invest in earplugs – they are not expensive, but they make all the difference.
Safety Ratings
When it comes to the safety of the RPHA 90 helmet, it is a dual homologated modular helmet thanks to the ECE and DOT safety certifications. This helmet passed the bare minimum safety testings required to put it on use on the road, with no Snell and Sharp tests conducted.
Not sure what dual homologation means? Check out our dual homologated helmet guide to find out more!
While this may sound a bit detracting, it certainly helps that the shell is made of fiberglass, carbon fiber, and aramid materials – which means it's a much safer helmet than your run-off-the-mill polycarbonate helmet. Keep that in mind.
Available Models
The RPHA 90 is available in many different sizes, including:
XS – 54 to 55 cm (21,2″ to 21,7″)
S – 55 to 56 cm (21,7″ to 22″)
M – 57 to 58 cm (22,4″ to 22,8″)
L – 59 to 60 cm (23,2″ to 23,6″)
XL – 61 to 62 cm (24″ to 24,4″)
2XL – 62 to 63 cm (24,4″ to 24,8″)
As with other HJC helmets, the RPHA 90 comes in several color configurations and one special design – the RPHA Bekavo. The color configurations that you can choose are:
Semi-Flat Pearl White
Pearl White
Metal Black
Semi-Flat Black
Semi-Flat Silver
Semi-Flat Titanium
Fluorescent Green
Here is a gallery showcasing all the models of the HJC RPHA 90 dual sport helmet!
Price
So, what's the price you're going to pay for this modular helmet that shares many features of racing helmets? Well, it's a real bargain, as it costs $380/€315/£272. We think it's well worth this price, especially when you consider how lightweight and durable it is, compared to the more expensive competition.
Summing Up
Now that we are at the end of our HJC RPHA 90 review, you can see that we have a pretty positive outlook on it.
It's a durable helmet with a shell made of a fusion of durable materials, and it's a very light helmet when you consider its protective qualities.
The vision it offers is quite lovely, even though the clear face shield locking mechanism and the placement of its latch can be very annoying as you get used to this helmet. Also, the sun visor won't be the best for everyone, so make sure to check if you picked the correct shell size for yourself.
When it comes to comfort, we can only say good things about this helmet. Even though it will feel tight at first, you will break in the helmet after a few rides and enjoy its comfort. Almost like you are wearing a race helmet!
The ventilation system is excellent, even though it will let in more wind noise than desired. We can't blame HJC for that, as this is a problem encountered with many other modular motorcycle helmets. The actuation on all the vents feels excellent, even when using gloves.
In summary, HJC RPHA 90 is one of the best executed modular helmets in the sub-$450 range. This just shows that HJC is proficient in making modular helmets along with full-face helmets. Even though RPHA 90 was released in 2018, it is still a great buy three years later, especially if looking for a mid-range modular helmet that you will use for a while.
Enjoyed this review? Check out more on our motorcycle helmet review section!