Marc Marquez, a six-time MotoGP champion, has endured physical problems over the previous three seasons, but he is still in the sport. The only rider-branded line in Alpinestars' lineup is Marc Marquez's MM93 line, despite Alpinestars riders Fabio Quartararo and Francesco Bagnaia winning the premier class title in 2021 and 2022, respectively.
Shoei, a renowned Japanese helmet manufacturer, gives the Repsol Honda rider the same care. Fabio Di Giannantonio and Alex Marquez, riders with the Ducati Gresini, also wear Shoei's X-SPR PRO, but neither command the same respect as the 93rd position. Marquez not only contributes racing replica designs to the company's new flagship model but also expands the touring market with his MM93 brand.
Design and build
The Shoei GT-Air II MM93 helmet marks the continuation of Marquez's partnership with Dave Designs. The straightforward design of the touring-friendly lid has a slate grey background with modest graphics and Marquez's distinctive red color. The famous number 93 rider logo is a subtle finishing touch for the chin bar. The helmet's limited-run status is boldly highlighted with Shoei and MM93 branding.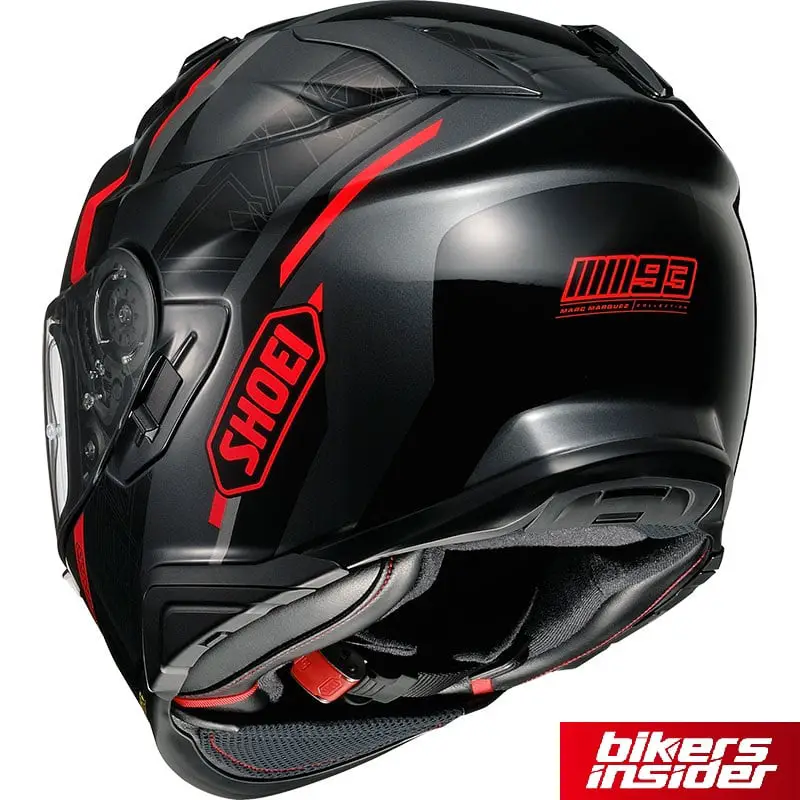 The GT-Air II still maintains its reputation for protection under its unique MM93 livery. The multi-piece EPS liner maximizes airflow while the AIM+ (Advanced Integrated Matrix Plus Multi-Fiber) shell serves as the first line of defense. With three inlets and six outtakes, that ventilation system lives up to its GT-Air name.
A drop-down sunscreen, breath guard, chin curtain, and multi-layered cheek padding only increase comfort and convenience. The Pinlock insert that comes with the helmet prevents fog from obstructing the user's view, and the SRL2 Bluetooth communicator is completely compatible with the helmet.
Price and availability of Shoei GT-Air II MM93
The GT-Air II MM93 helmet is available from Shoei in sizes S to XXL. In February 2023, Japanese stores will start selling limited-edition helmets for 71,500 Yens (USD 515). Shoei will also sell the GT-Air II MM93 in Europe for €536.36 (about USD 555). Thanks for the read and please let us know in the comments section if you want a review of the Shoei GT-Air II special edition.