Adventure motorcycle jackets are entirely different from other motorcycle jackets; therefore, you have to look for several things while getting yourself one. There are a lot of features that are a must to look at in an adventure motorcycle jacket. Therefore, we are here with an oxford adventure jacket review so that you can have an idea about it.
Reading this review will help you know what different features this jacket has, how it has been made, and how it can protect you.
Oxford Adventure Jacket Review – Features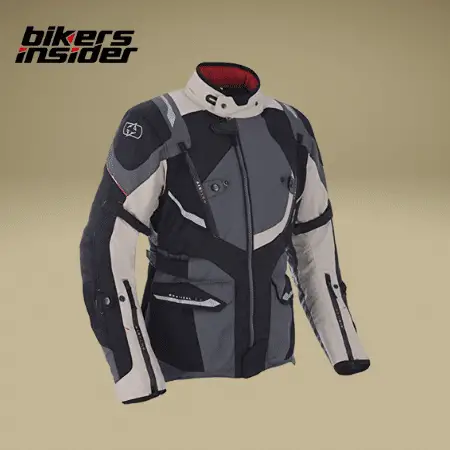 In the oxford adventure jacket review, we are going to discuss its features first. Below mentioned are several features of this jacket. These are
Rain seal technology to protect from rain
Extended tail for weather protection
Strong construction
Armour at elbow and shoulder
Vents for airflow
Reflective detailing for improved visibility at night
Thick thermal liner
Without further ado, let's commence our Oxford Adventure Jacket review!
Aesthetics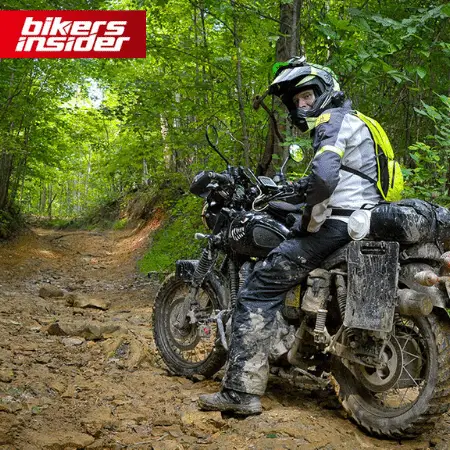 It is one of the options for an adventure motorcycle jacket for bike riders. The jacket has a long tail, and it does not give an aggressive look. There are adjustable straps on the jacket, and the front pockets also have flaps.
Want to find out about other best adventure motorcycle jackets? Check out our in-depth look at the top 5 adventure motorcycle jackets!
The jacket has reflective detailing that helps to improve visibility at night. However, the jacket is only available in one color. It has a Deserto color, so you are not going to get a color choice.
Build Material
Oxford adventure jacket has a robust construction, and its outer shell is made of polyester. It has a waterproof drop liner along with rain seal technology that will protect you from rainy weather. Moreover, there is a thick thermal liner inside to provide you with extra warmth.
There are elastic straps in the arm for increased comfort and flexibility when you are riding. The jacket has generous accordion stretch panels that make the jacket extra comfortable to wear.
Safety and Protection
The jacket has armors at the elbows and shoulders for protection. There is also a back pad at the back. However, the shoulder and elbow pads work fine, but if you upgrade the armors, there is no risk to your safety and protection.
Moreover, the back pad is just like simple foam, and it is useless. It may provide you comfort in case you have a heavy backpack. The reflective detailing improves visibility at night so that the traffic coming from the front can see you and you stay protected.
Airflow
The airflow system of the Oxford adventure motorcycle jacket is also good. It has zippers vents and a removable thermal liner. In hot weather, you can open the front zip vents, and they provide enough airflow and prevent you from sweating.
Seasonality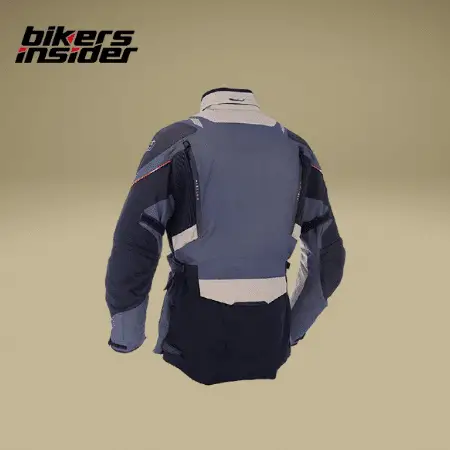 With a removable thermal layer inside the jacket, this jacket is perfect to wear in both summer and winter. In winter, the thick thermal layer provides you with enough warmth to ride in cold weather. You can wear a light jacket underneath it as well.
However, in summer, you can remove the thermal layer and open the zip vents on the front. The zip vents will prevent you from sweating and help you to ride in hot weather conditions.
Size & Fit
The only issue with this jacket is its size and adjustability. Although the jacket comes with adjustable straps but these straps are not tight enough. For this reason, the jacket does not adjust correctly. The only things that help a little in the adjustment are stretch points.
Oxford adventure motorcycle jackets may not be suitable to wear for tall riders, and it will be difficult for them to find their size. There are eight size options available in this jacket from which you can choose your size. These include
Small
Medium
Large
X-Large
2X-large
3X-Large
4X-Large
5X-Large
Price
GBP: £149.99 | USD: $211 | EUR: €173
Conclusion
Oxford adventure motorcycle jacket is one of the choices when it comes to adventure motorcycle jackets. Most bike riders love adventures; therefore, it is essential to be mindful of the features when looking for such jackets.
This jacket has some fantastic features, such as its rain seal technology for protecting you from rain. Its construction is robust, and the vent zips for airflow. A thick thermal liner is also present inside the jacket, along with the reflective detailing.
The jacket does not give a heavy or aggressive look. You will look smart and attractive wearing this jacket. Moreover, the jacket has reflective detailing that gives your 360 visibility at night. There are two front pockets with flaps and adjustable straps. Also, there is only one color available in it that is Deserto.
Also, the jacket has a robust construction with different stretch points and elastic stretch at the arms. Its outer shell is made of polyester. Moreover, it has generous accordion stretch panels that make it comfortable to wear.
There are armors present at elbows and shoulders. Moreover, there is a back pad on the back, but it is more like thin foam and provides you comfort if you have a heavy back. The armors work fine but upgrading them would be ideal.
The jacket has a good ventilation system, and it works well because of the zip vents available on the front. In hot weather conditions, you can open the zip vents, and it prevents you from sweating.
The jacket is ideal to wear in both summer and winter because of the removable thick thermal liner. You can wear the jacket with the thermal liner attached in winter as it will provide you warmth. Whereas in summer, you can remove it and open the vents to give you a cooling effect and airflow.
The only issues with this jacket are the sizing and adjustability. There are adjustable straps on the jacket, but they are not tight enough to provide you with proper adjustability. Otherwise, the jacket is an excellent option to consider.