HJC Helmets is a company that produces killer full-face motorcycle helmets, both expensive and inexpensive. In our HJC C70 review, we will find out if they can make a great entry-level, sub-$150 full-face helmet!
The HJC C70 motorcycle helmet is the successor to their IS-17 motorcycle helmet, improving its overall fit structure, visibility, and airflow. From the internal sun visor to Pinlock-ready clear face shield and overall great comfort, does the HJC C70 motorcycle have what it takes to be competitive in the entry-level helmet sphere?
Let's find out in our HJC C70 review!
HJC C70 Review – Features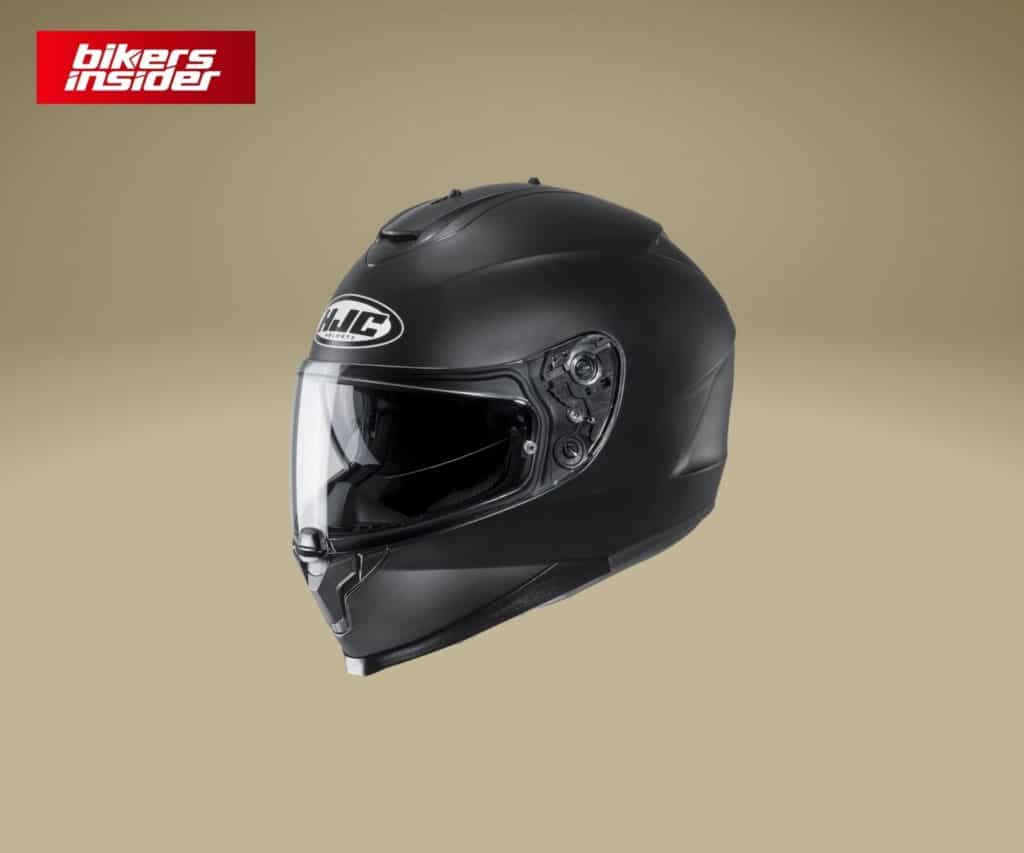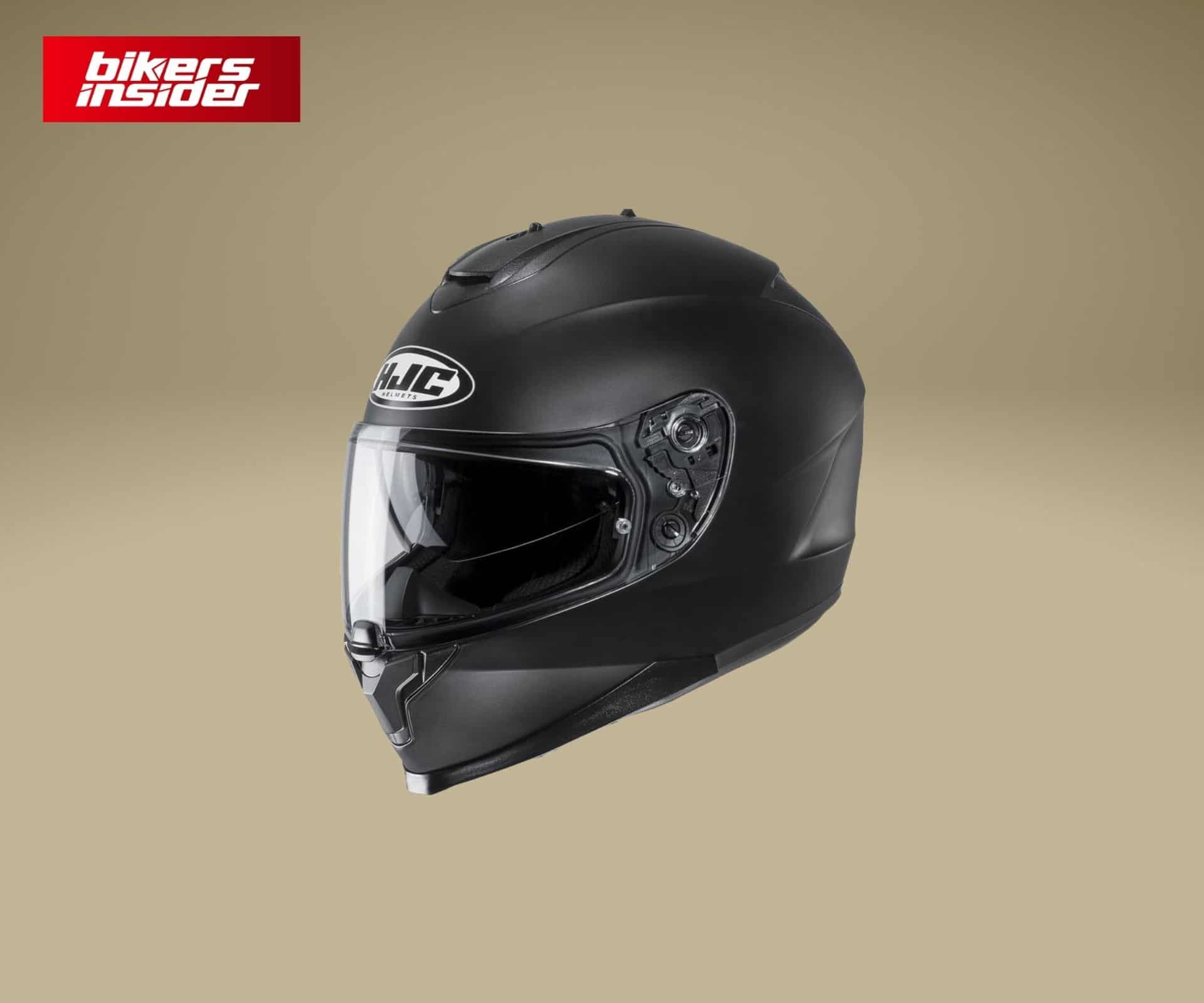 Before diving into our review, here are all the important features of the C70 helmet you should know about:
Advanced polycarbonate composite shell with multiple layers
Weighs 3 pounds 5 ounces (1,50 kg)
Designed for intermediate to long oval head shape
Pinlock-ready HJ-20M clear face shield
Drop-down HJ-V7 Inner Sun Visor
Actuated top vent with three positions
Toggleable chin vent
Two passive rear exhaust vents
Breathable and eyeglasses-friendly EPS comfort liner
D-ring chin strap
5-star SHARP rating, DOT, and ECE 22.05 certifications
Now, let's finally begin our HJC C70 motorcycle helmet review!
Construction & Design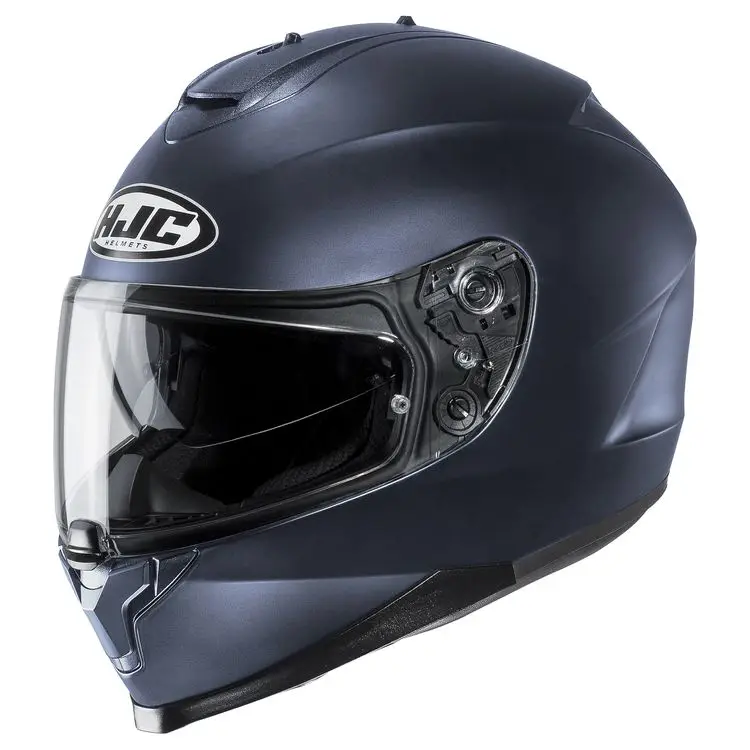 HJC C70 full-face helmet features an advanced polycarbonate composite shell with multiple layers. Using CAD technology, HJC manages to craft a well-made polycarbonate composite shell that is both lightweight, extremely strong and durable for the riders.
This full-face motorcycle helmet weighs 3 pounds and 5 ounces (which is 1,50 kg). That's just a bit above the average weight for the full-face motorcycle helmet. Nevertheless, this helmet will still feel light on your head.
Before we delve into the visibility aspects of the HJC C70 helmet, what's the shape of it, and how it fits on your head? This one takes on an intermediate to long oval shape. That means it has a longer front-to-back profile and is a bit more narrow down the side of the head.
The mentioned shape is going to fit most riders out there that have long oval head shapes. It's nice to see such a well-rounded helmet when most others in this price range are round and quite uncomfortable. The C70 helmet was and still is a surprise when it comes to its long oval shape in the sub-$150 price range.
Vision
This is a dual-visor motorcycle helmet, which is a common occurrence these days. We also need to note that the HJC C70 helmet is eyeglasses-friendly! In the following sections, we will talk more about the clear face shield and the internal sun visor.
HJ-20M Clear Face Shield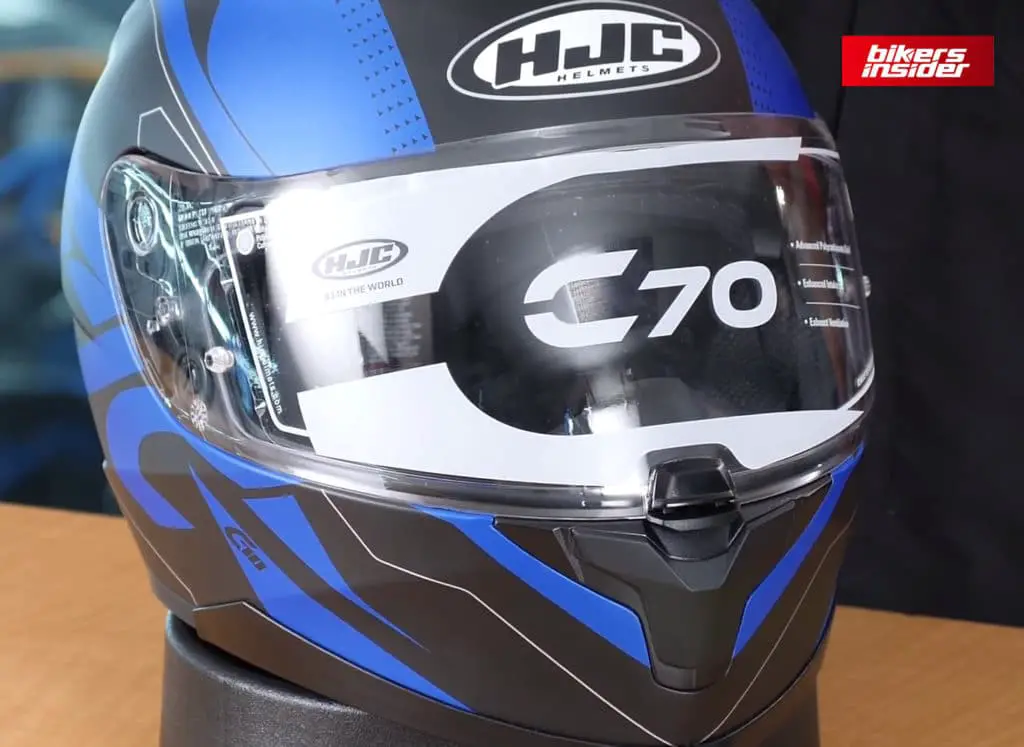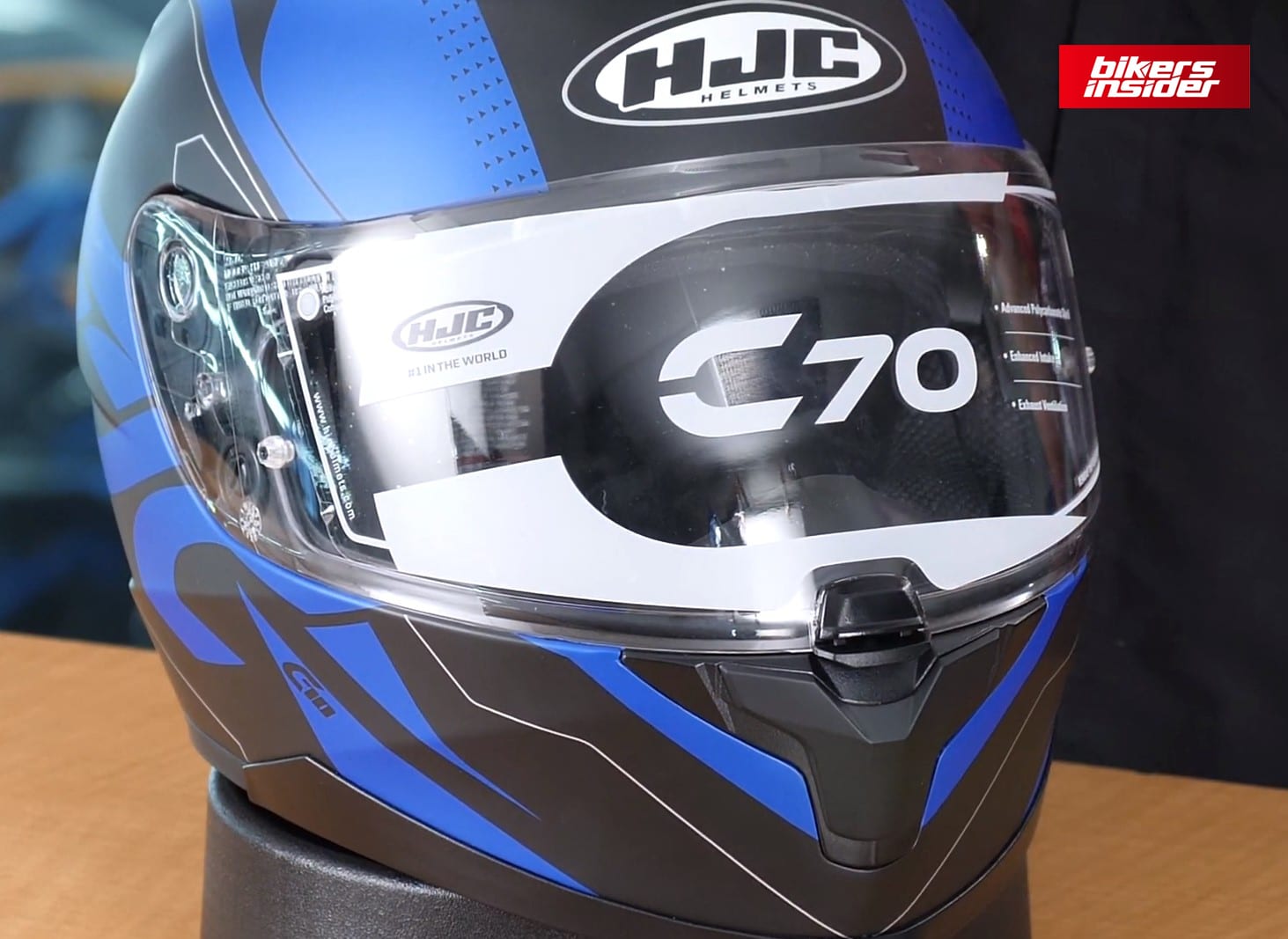 The HJ-20M clear face shield is well-built, considering the price of the helmet itself. It's Pinlock-ready, which means that it will be great at preventing the visor from fogging up when closed. 
To open the clear face shield, there is a center tab at both ends of the visor. Just hit it with your index finger, and the visor will open. Simple as that!
We can see a nice solid lock at the front center that locks the clear face shield and enables it to have several very notched deviations. This comes quite in handy for all of you riding with your shield in a propped-open position. 
The locking mechanism at the lower center of the visor can secure your visor for full peripheral vision. Also, it will help tune out the external wind noise from getting inside your helmet. It's less noisy at highway speeds than most sub-$150 motorcycle helmets.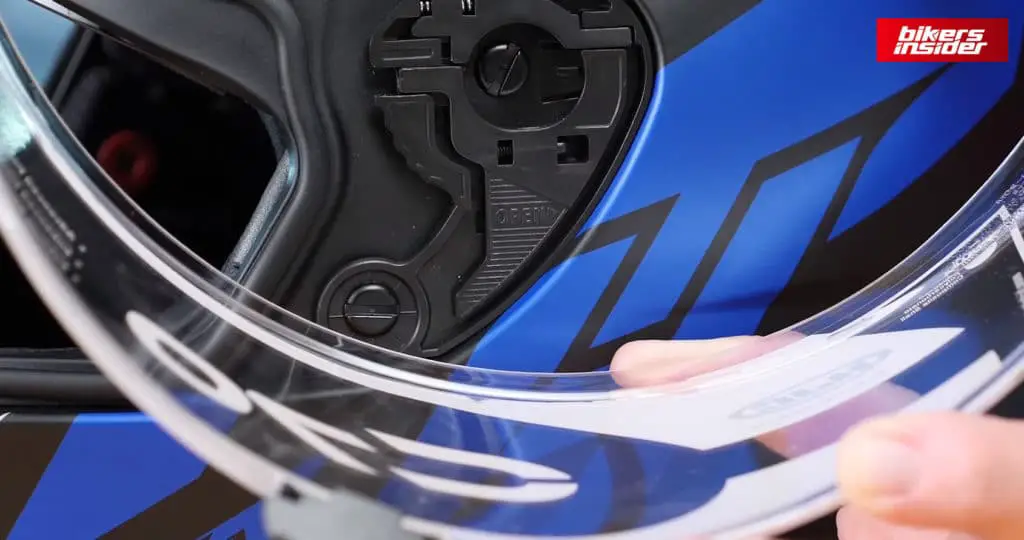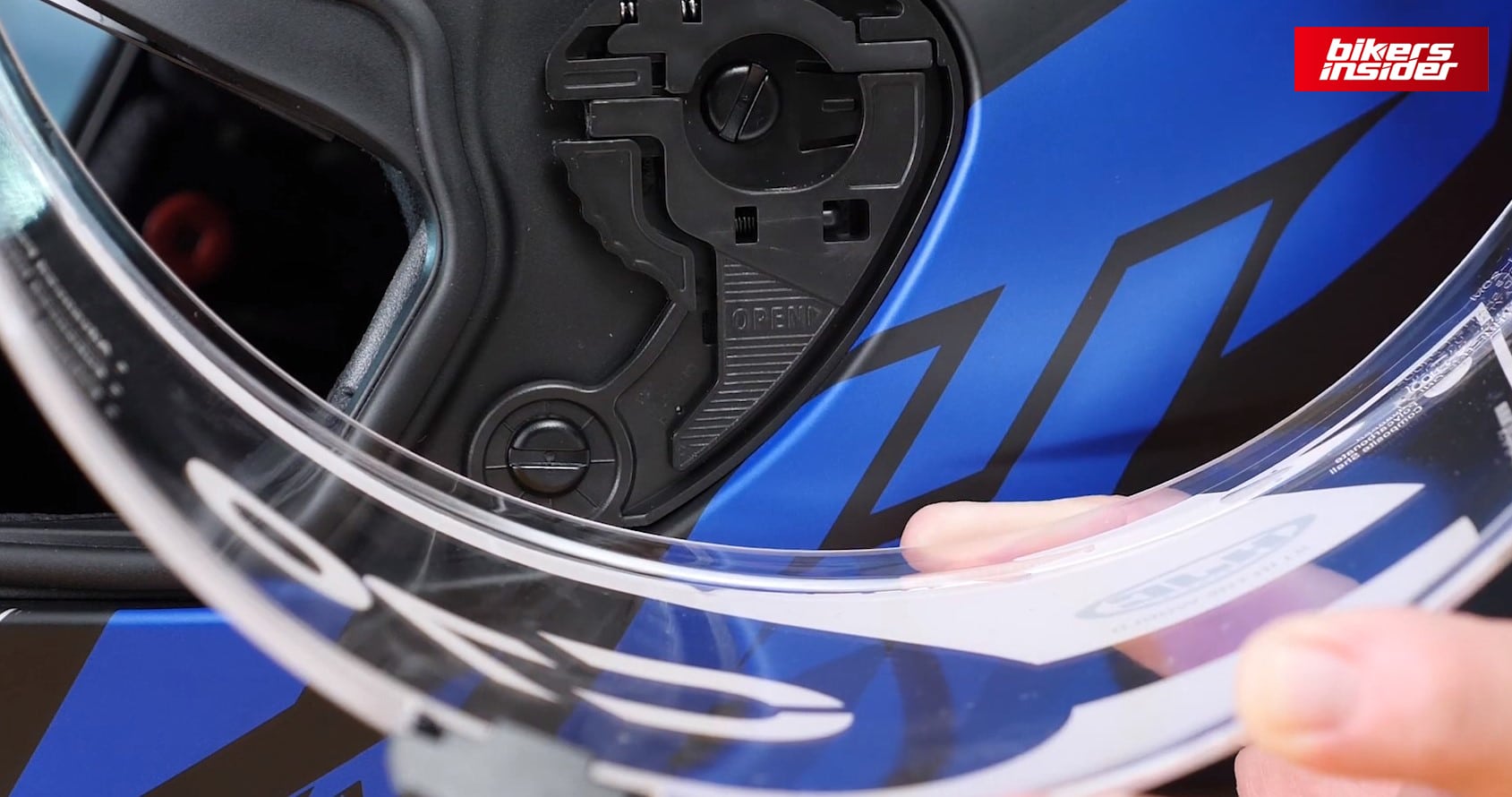 When it comes to removing the shield or swapping it out for a different one, the mechanism here works flawlessly. You simply pull back on the lowest tab, and the shield is going to remove itself. When you reattach the shield to the helmet, you just need to line up the notches and put a little bit of pressure with the palm of your hand. Afterward, the visor should slide right into place again. You can see that the visor mechanism is quite simple and stable.
HJ-V7 Inner Sun Visor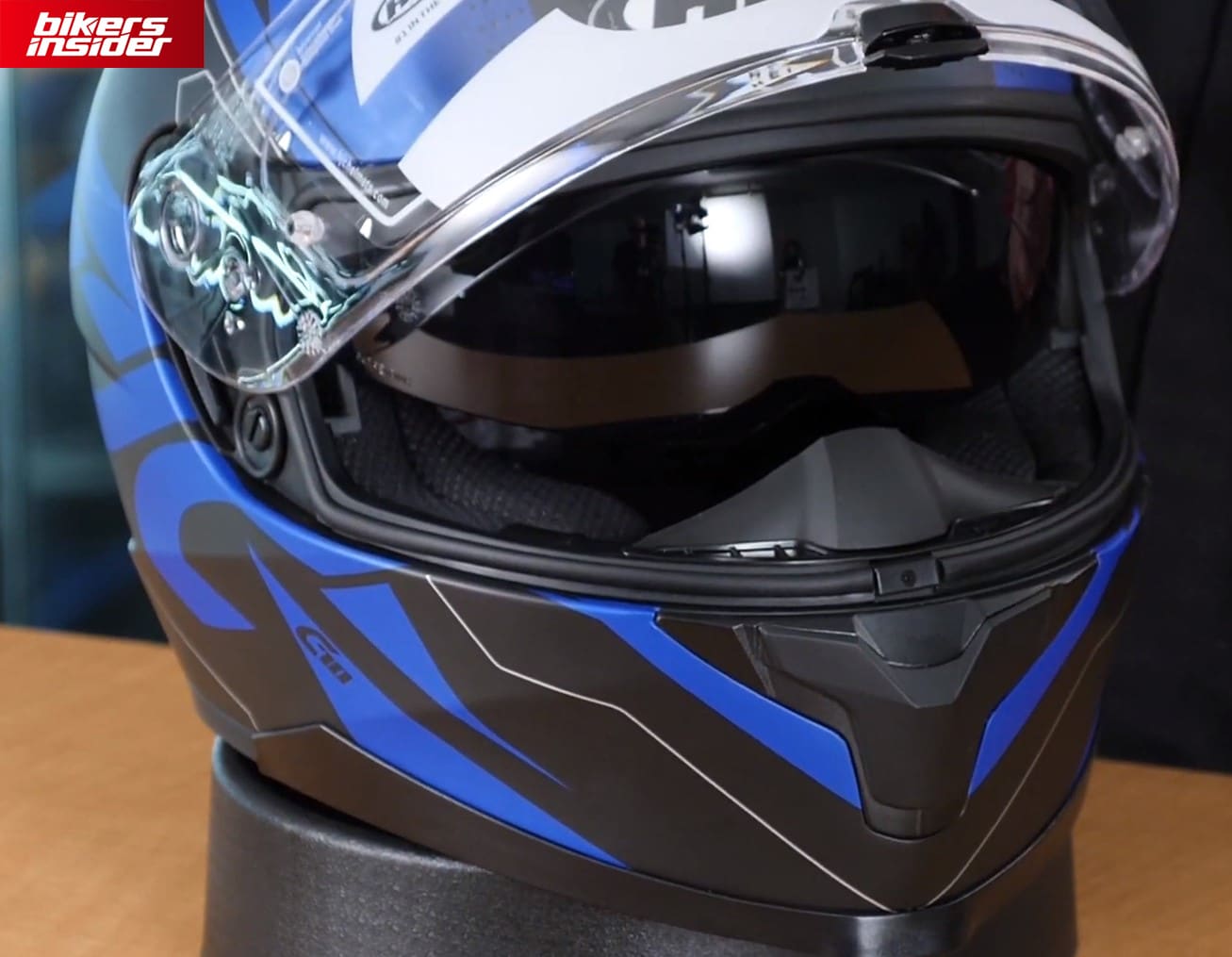 Underneath the clear face shield is the inner sun visor that is great at blocking the sunlight hitting your eyes. There is a sun visor actuation mechanism located at the top of the helmet, just behind the top vent. Because of this mechanism, the sun visor is dubbed as 'Rapid-Fire Sun Shield'.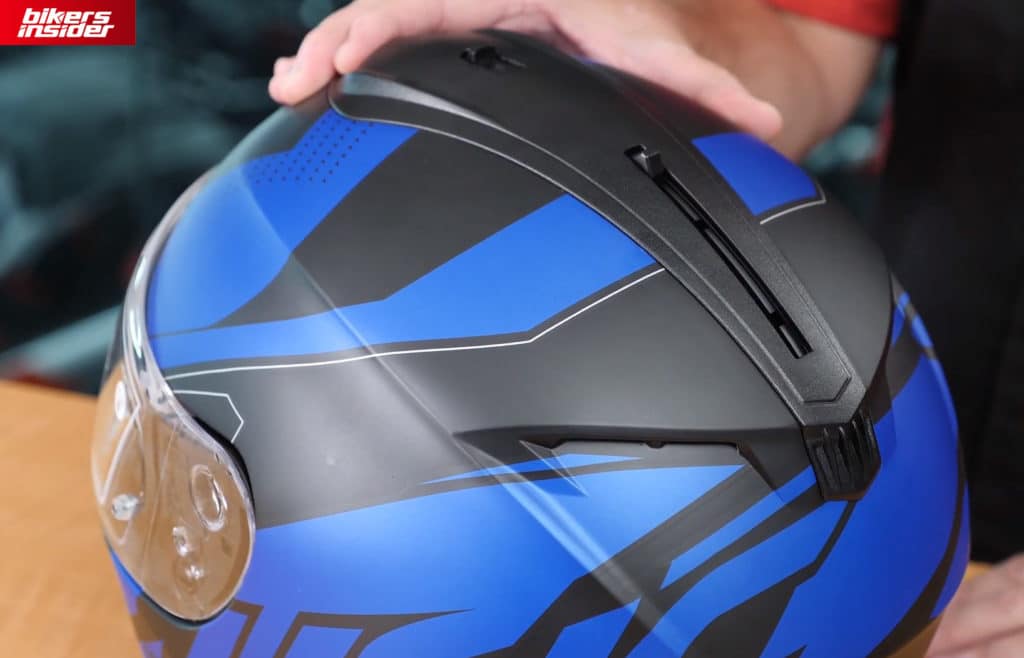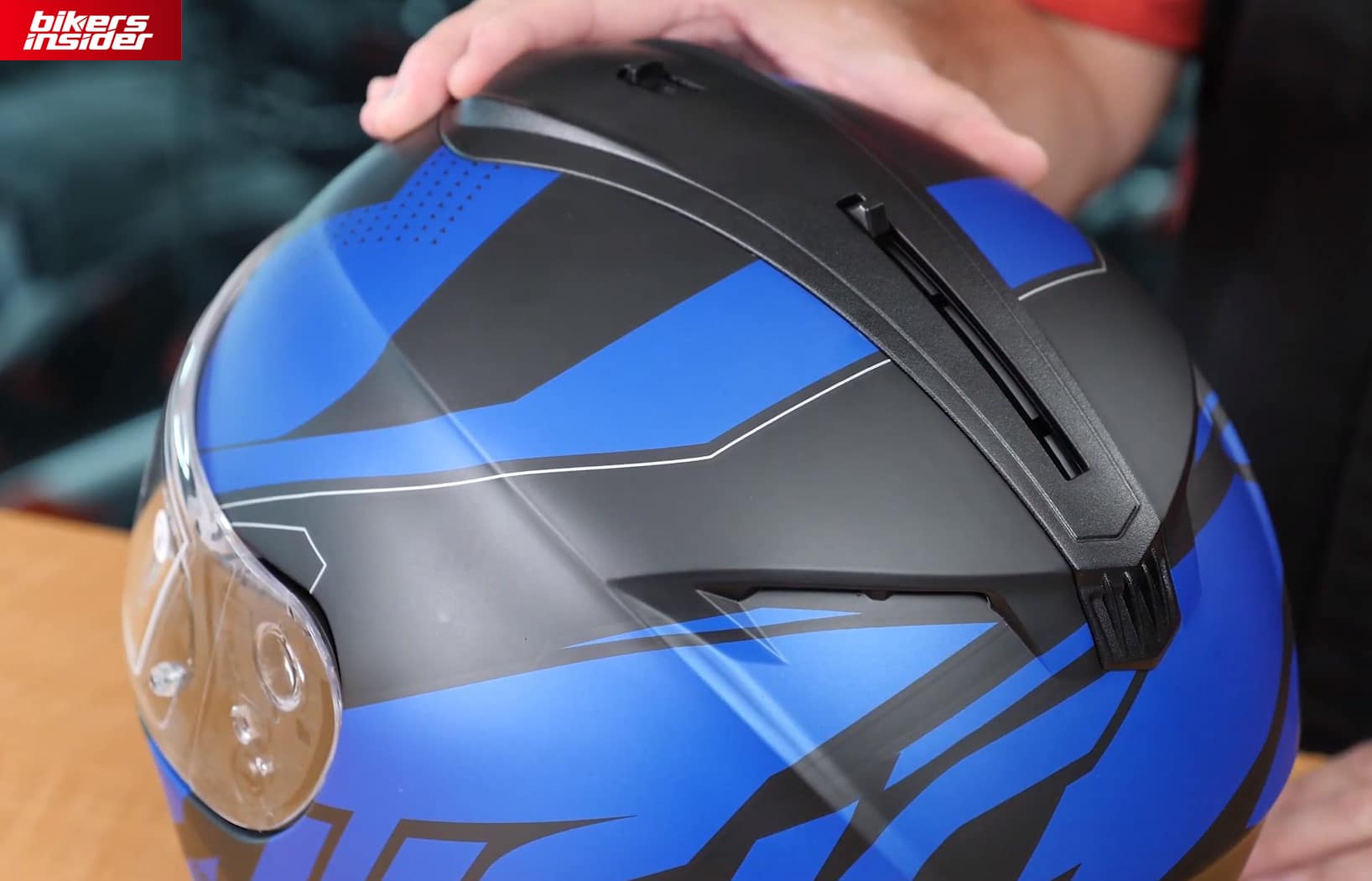 Now, the thing with this actuation mechanism is that its position is a bit clunky. HJC made updates with their newer helmets and transferred the sun visor actuation mechanism to the left jawline part. The main nitpick with the older actuation mechanism is that there is just one switch that won't go down far enough. So, even in the farthest position, the sun visor will let in a bit of sunlight underneath the bottom of the sun visor.
Still, it's fairly easy to actuate this mechanism with gloves, and the sun visor itself won't touch your nose, which is excellent. The mechanism is smooth to operate, but the result leaves something to desire.
Comfort
As we continue with our HJC C70 review, we will delve deep into the guts of the helmet, from its chin strap and cheek pads to the inner liner and all of its specifications. Let's dive straight in!
Double D-Ring Chin Strap
This chin strap mechanism is practically the standard in the modern HJC helmet lineup. It's a tried and true way to keep your helmet attached to your head safely. There is also a snap on the backside of the strap so that it isn't flapping on your neck as you are riding on the road. An excellent addition, that's for sure, especially on a sub-$150 motorcycle helmet.
Cheek Pads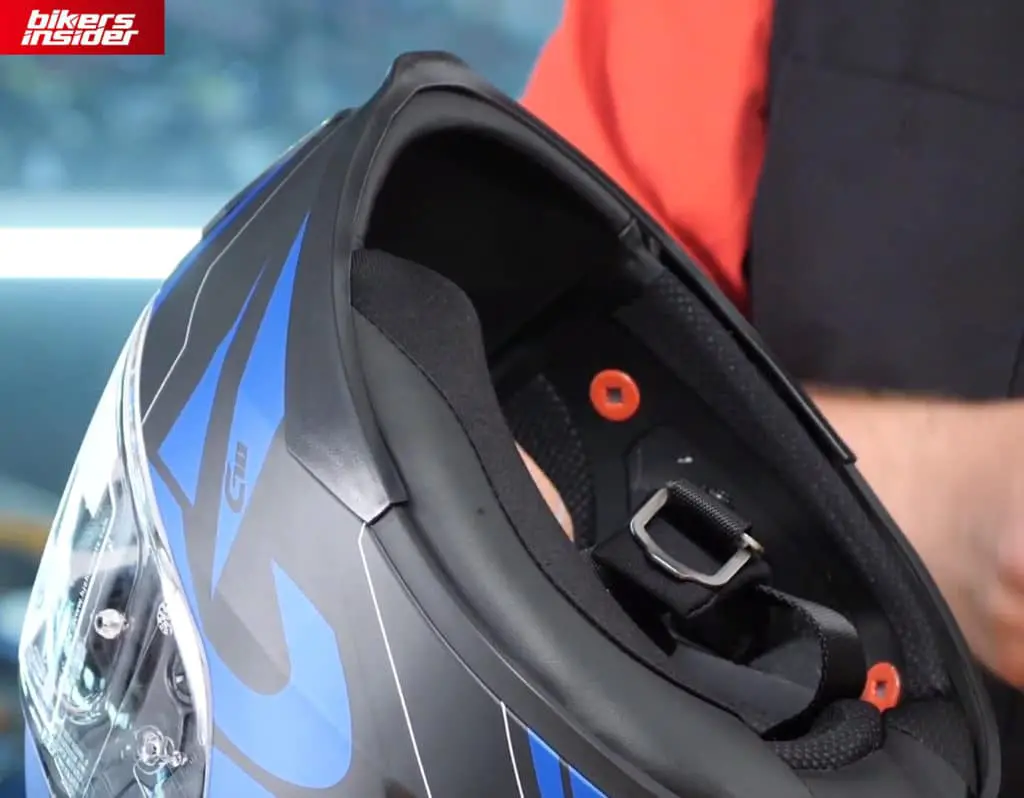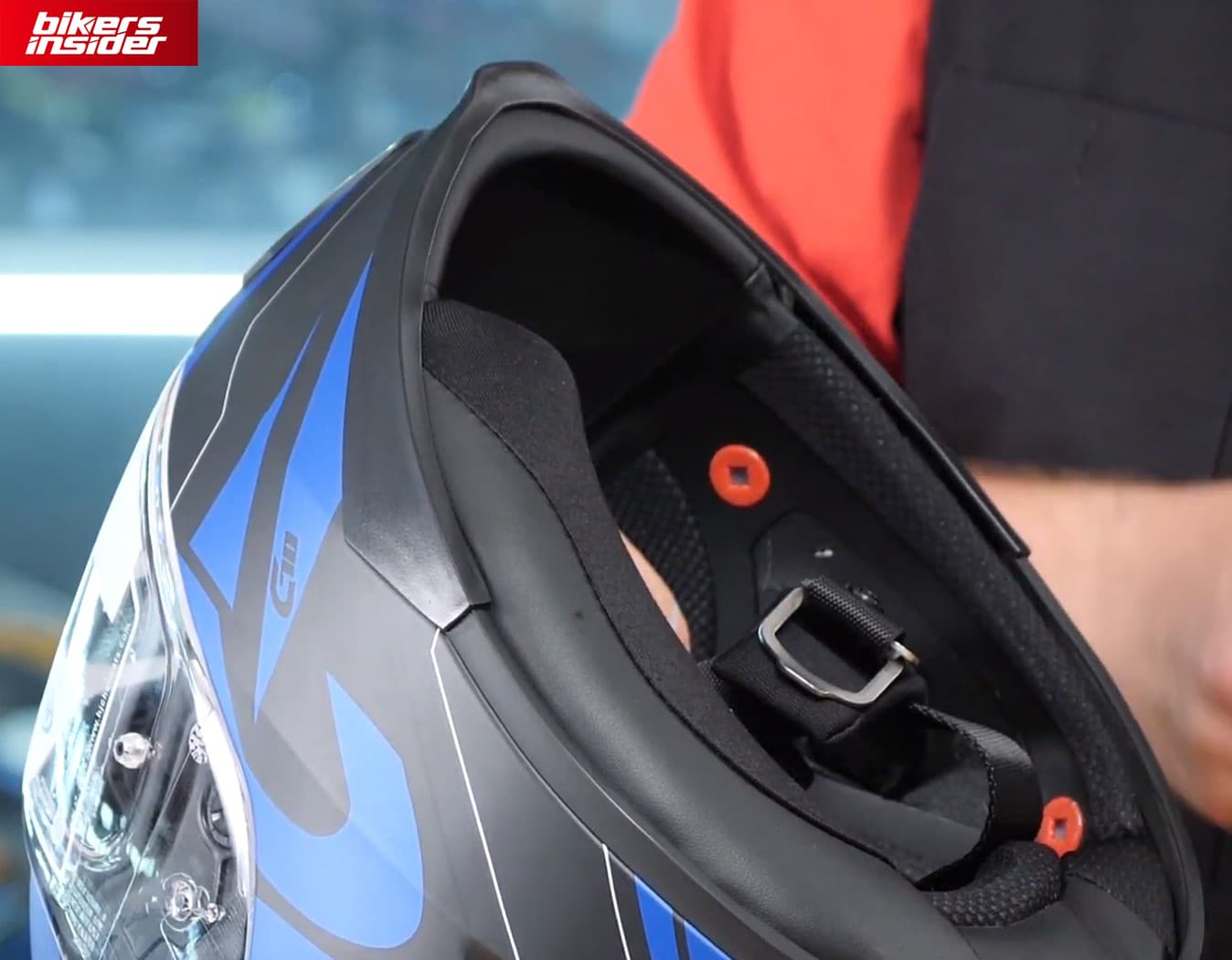 The cheek pads on the C70 helmet are a bit tight. That's mainly due to wind noise reduction. Due to this cheek pad design, it will take some time (a few weekend rides) to break in the helmet so that it doesn't feel tight on your cheeks.
Keep in mind that the cheek pads' tightness is expressed more due to the shell's slightly more narrow shape. Hence, the whole helmet will grip tighter around your cheeks and face, which can make for uncomfortable longer rides. Still, when you ride more, your face will get accustomed to the cheek pads.
EPS Liner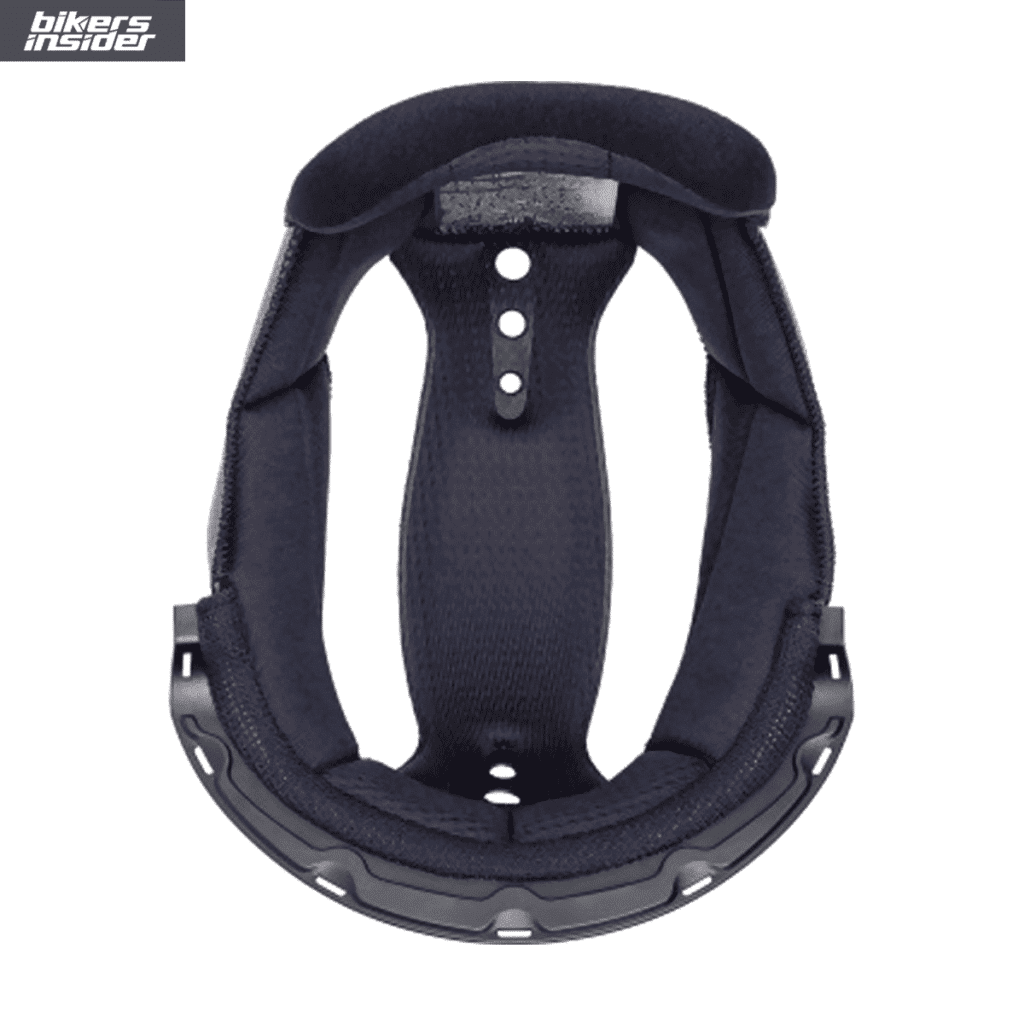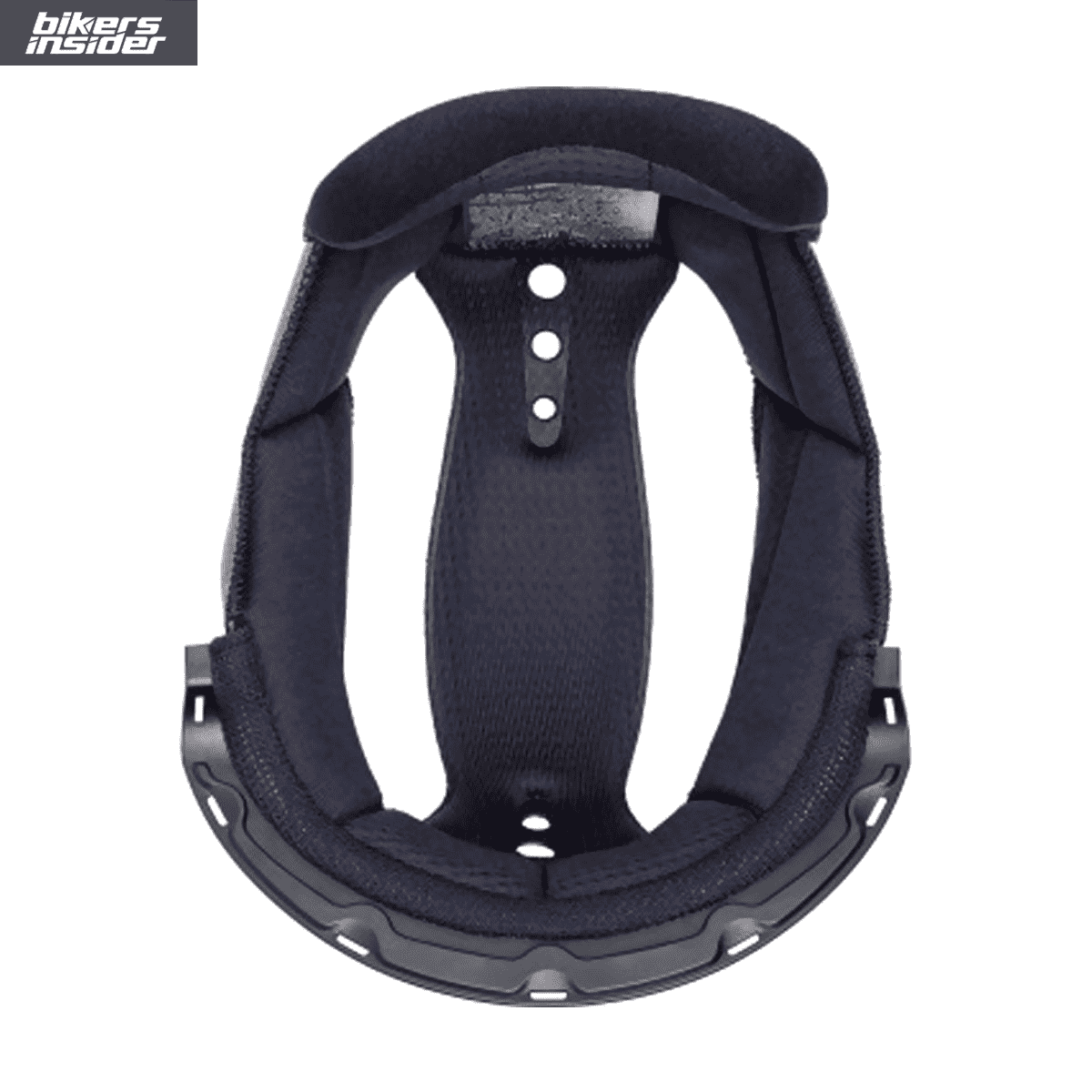 As we move further into the guts of the HJC C70, we can find a moisture-wicking, antimicrobial inner liner. You can get to this part by snapping out the two cheek pads.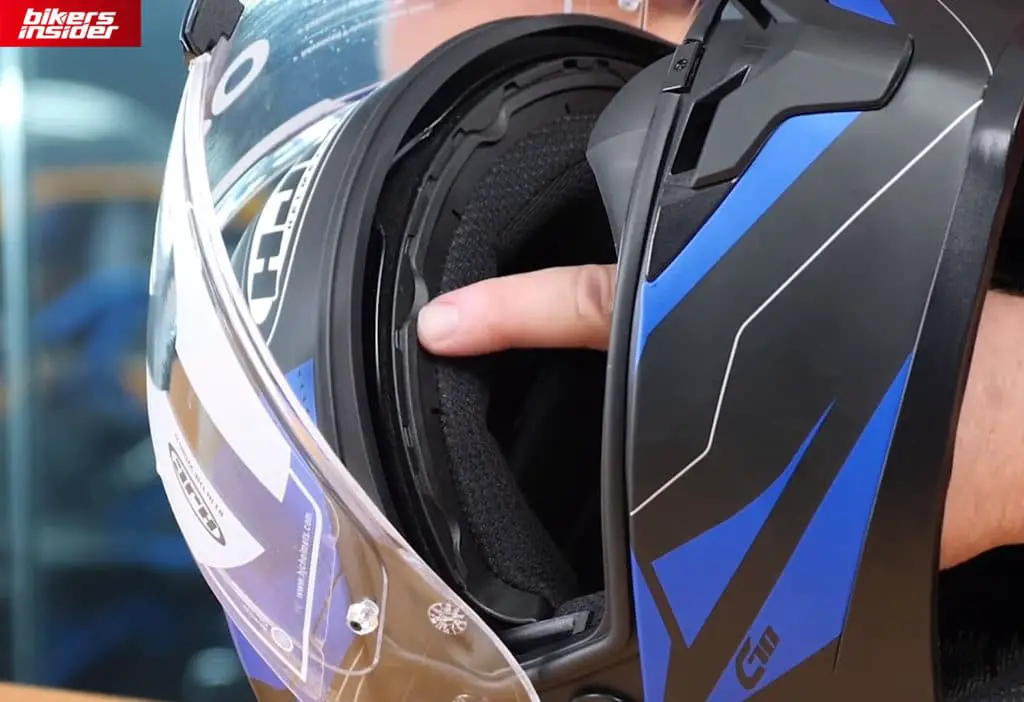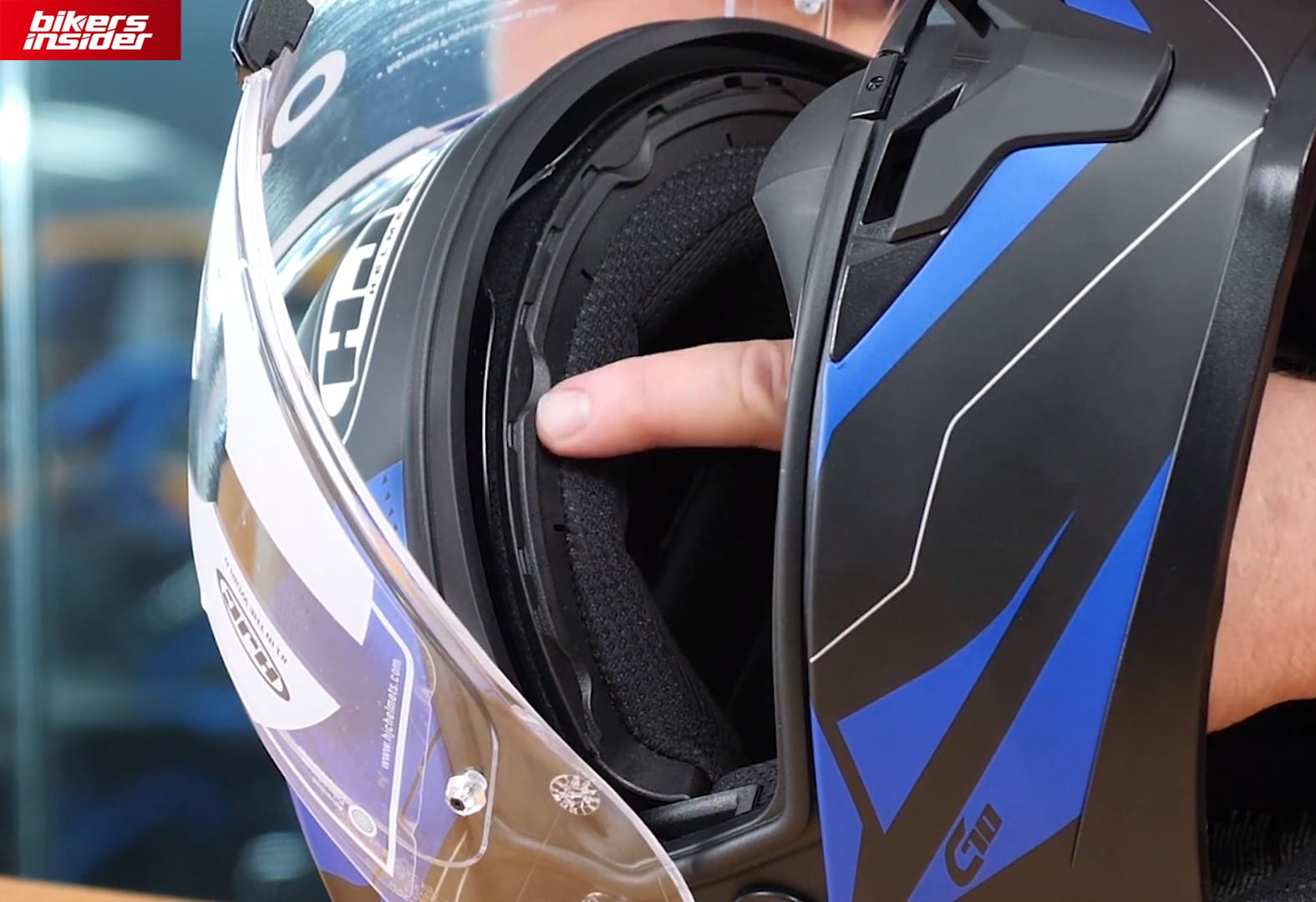 At the front of the EPS liner, we can see a plastic tab that slides into the tabs built into the liner itself. This is a handy implementation, as the plastic tabs snap to the top of the liner instead of where your forehead sits. That means that you won't have those irritating red marks on your forehead after a long ride. It's a nice improvement over the earlier full-face models from HJC.
ACS And Lack Of Speaker Pockets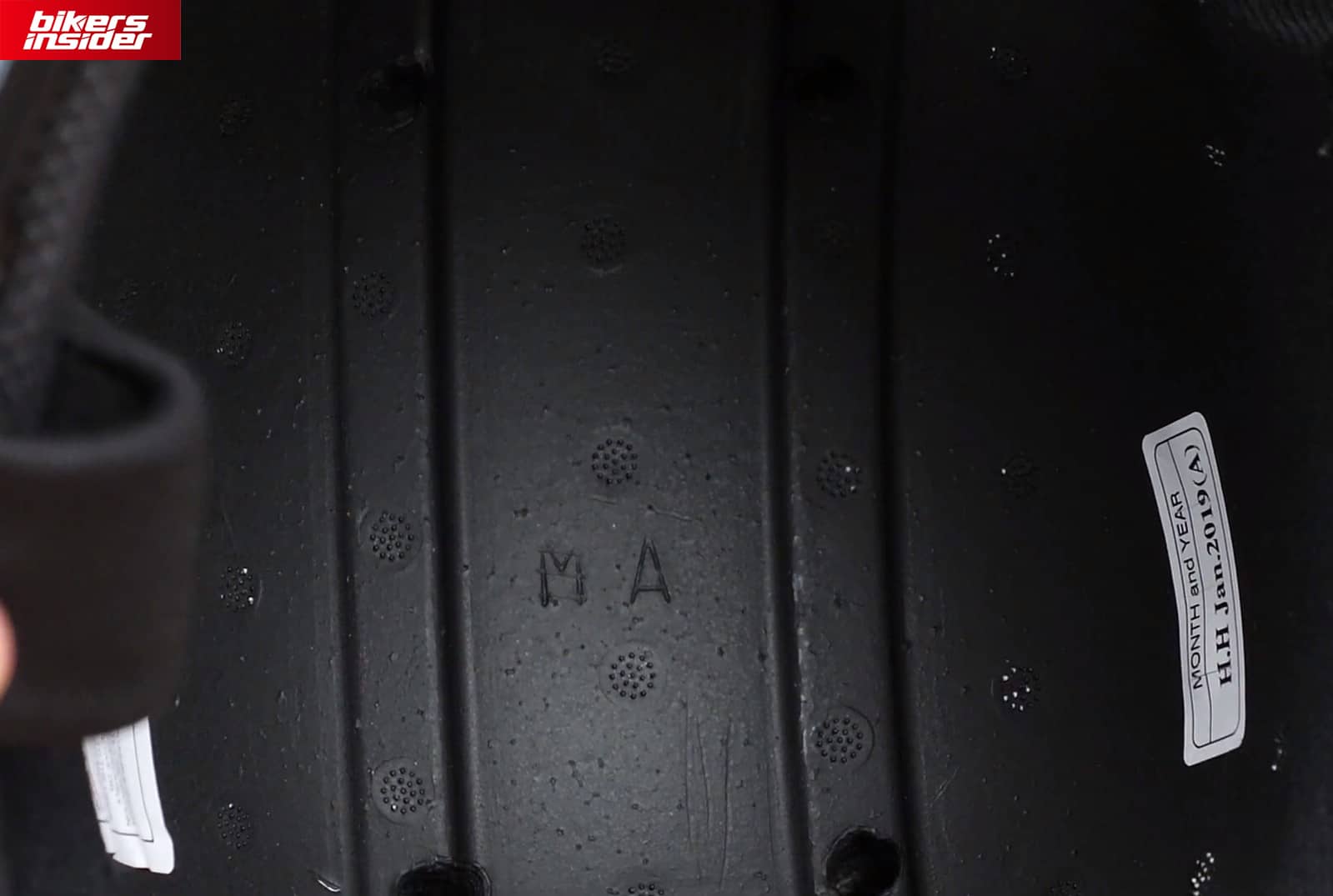 After the EPS liner, we can see a layer that HJC dubs as 'Advanced Channeling Ventilation System'. So, what is this system?
Well, it consists of two large vent channels. The top two holes are for the top vent, and the bottom two holes are for the rear exhaust vents. This system does an excellent job of providing consistent airflow to the helmet's interior while also letting in a bit more wind noise than desired. Well, that's the price to pay for better airflow.
If looking for a nice modular helmet from HJC, check out our HJC RPHA 90 review!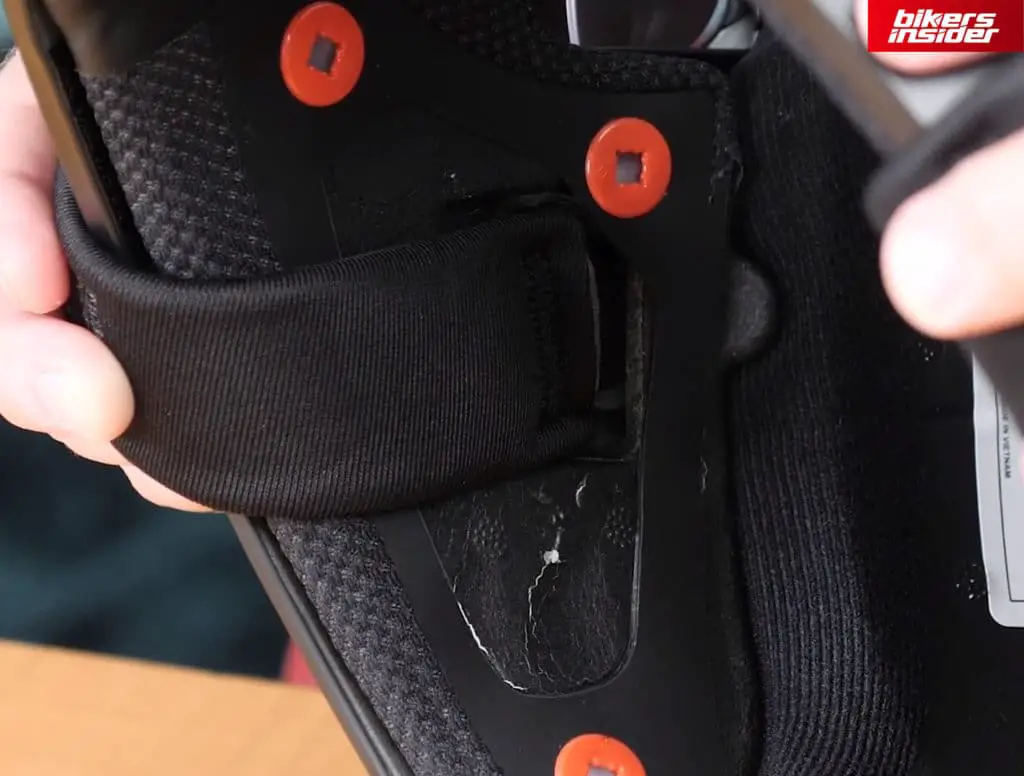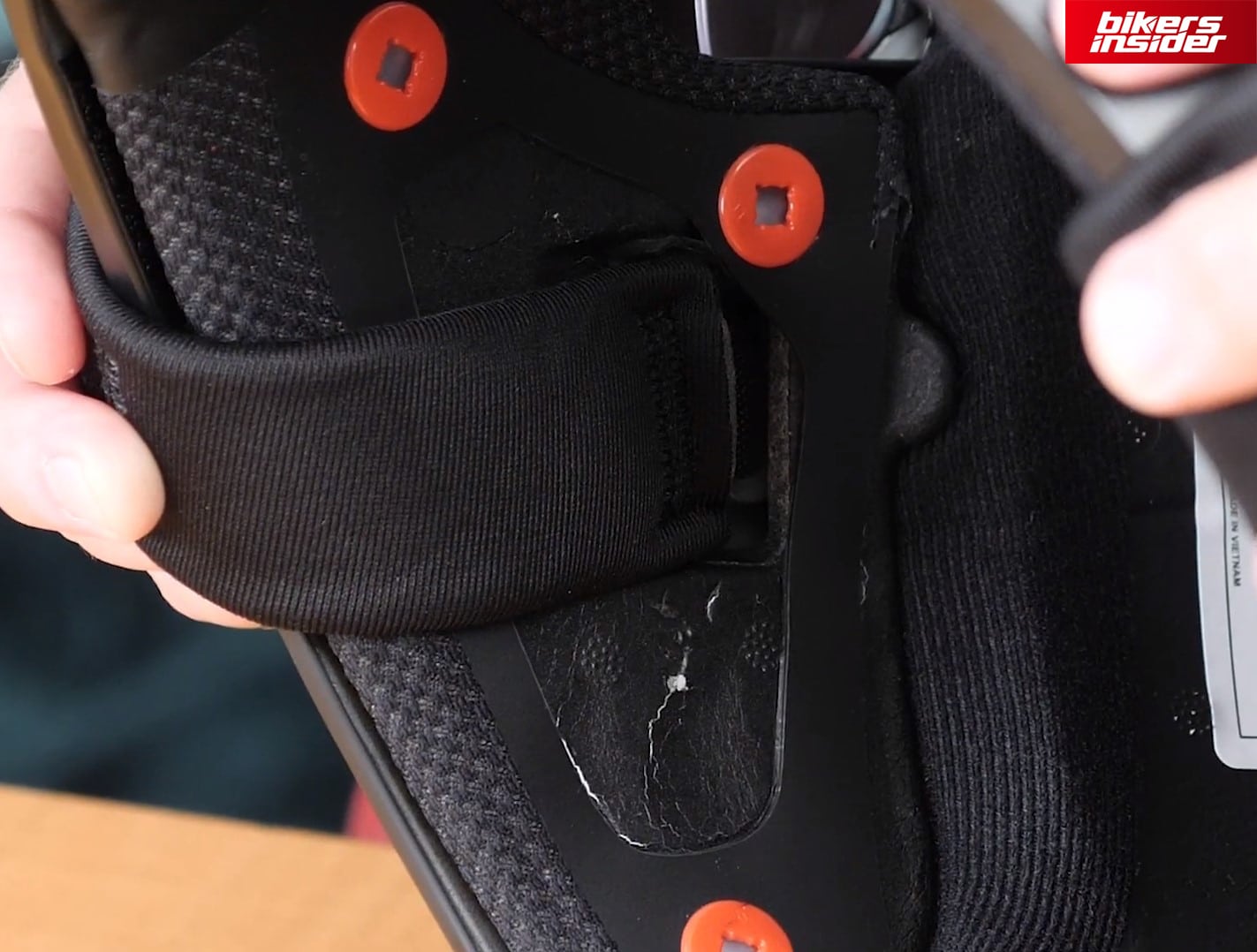 Near the chin strap section, there is a noticeable lack of speaker pockets or speaker cutouts. Nevertheless, HJC has compensated by making this surface smoother, allowing speakers to stick to that area nicely. It all depends on your head shape. Some will prefer this design choice, while some will loathe it.
Airflow
One of the essential aspects that we have to go through in our HJC C70 review is its ventilation scheme. In the following sections, we will break down each group of vents and what benefits and disadvantages they bring to the table.
Top Vent
HJC has done a pretty good job with this particular helmet when it comes to top vent implementation compared to other helmets in this price range. 
The top vent has three different positions that you can adjust with a small slider. It is easily adjustable with gloves and does a relatively good job of filtering the amount of air you want inside your helmet.
Chin Vent
As we move to the lower ventilation, we can find the chin vent. It's very simple in design, with opened and closed position. Just slide it down to open, and slide it up to close. That's all you need to know about this vent. Keep in mind that the clear face shield might fog up if the chin vent is open without Pinlock on the face shield.
Rear Vents
On the rear of the C70 helmet, we can see the two rear exhaust vents. While these vents are passive and aren't toggleable, that doesn't mean that they don't do their job well. We can see small deviations in the center of the rear vents. These allow the air to produce a nice Venturi effect – pulling out the hot, warm air from the helmet's interior through the top of the helmet.
Looking for yet another awesome full-face helmet from HJC? Check out our HJC RPHA 11 review!
Still, this design decision makes this helmet a bit more prone to wind noise, especially when riding at highway speeds. Make sure to wear earplugs to drown out that noise. Still, should we expect more from a sub-$150 motorcycle helmet?
Safety Ratings
Even though this helmet has a polycarbonate shell, it features all the safety standards to make it legal to wear worldwide. It has a 5-star SHARP rating, along with the DOT and ECE 22.05 safety ratings.
While HJC C70 isn't a helmet that will protect you as well as a fiberglass shell helmet, it is certainly one of the top dogs when it comes to safety in the sub-$150 price range.
Available Models
The HJC C70 full-face motorcycle helmet is available in select shell sizes:
XXS – 51 to 52 cm (20,08″ to 20,47″)
XS – 53 to 54 cm (20,87″ to 21,26″)
S – 55 to 56 cm (21,7″ to 22″)
M – 57 to 58 cm (22,4″ to 22,8″)
L – 59 to 60 cm (23,2″ to 23,6″)
XL – 61 to 62 cm (24″ to 24,4″)
XXL – 63 to 64 cm (24,8″ to 25,2″)
Like many other HJC helmets, the C70 comes in a variety of regular and special color schemes, including:
Black
Matte Black
White
Matte Anthracite
Curves
Eura
Canex
Koro
Troky
Check out the gallery below for all the color variants of the HJC C70 full-face helmet:
Want to look cool with your motorcycle helmet? Check out our picks for the coolest motorcycle helmets for 2021!
Price
Some would expect this helmet to be much more expensive than its $150/€126/£108 price tag when judging the sheer number of its features. It's certainly a highly competitive helmet in this price range and certainly one of the well-crafted entry-level full-face motorcycle helmets.
Summing Up
We are at the end of our HJC C70 review! So, what do we think about this entry-level full-face motorcycle helmet?
First of all, it's a proper bang for your buck! You get a 5-star SHARP rating, albeit it's a polycarbonate composite shell helmet. Nevertheless, the shell is optimized to be lightweight and almost hits the average full-face helmet weight. 
The Pinlock-ready clear face shield is a nice boost to the overall package, albeit the sun visor could be better in its placement. Also, the sun visor actuation mechanism is placed quite clunky, and it will be a hassle to get to it at higher speeds.
The helmet feels quite comfortable, albeit it will be a bit tight when you first wear it due to the cheek pad design. If you have a round head shape, this helmet will feel quite tight on your face, so keep this in mind.
Other than that, the C70 features a solid vent scheme. You can toggle the top vent between three levels, the two rear vents are passive, and the chin vent is your classic ordeal. The wind noise will also get in this helmet and get noticeable at highway speeds, so make sure to wear earplugs.
If you are looking for a budget full-face motorcycle helmet, the C70 is one of the best picks for a sub-$150 budget. Mainly because it offers tremendously high protection for such a low price tag. Because of that, it gets our recommendation, even when considering its downsides.
Interested in more helmets? Check out our motorcycle helmet reviews section for more content!