In this post we did a show off the top pics of the coolest motorcycle helmets you can get in 2020, we have now updated our list for 2021 by adding some stuff you will definitely appreciate and may add to your helmet collection.
Motorcycle helmets are an essential piece of gear for motorcyclists. There are thousands of different varieties of helmets, and it is truly no wonder that this market is flourishing. Because of the sheer amount of different motorbike helmets for sale, it is very hard to choose the ideal fit for you. You need to find a helmet that is a perfect fit for your head shape for maximum comfort and safety. Of course, as pop culture is getting in touch with basically everything on the markets today, it is also invading the motorcycle helmet market. Ever wanted to cosplay a character from iconic franchises like Star Wars and Fallout? Look out for these cool motorcycle helmets that you should definitely consider wearing in 2020!
If you are in a rush, here is a table of our coolest picks!
#1: Nitrinos NS-5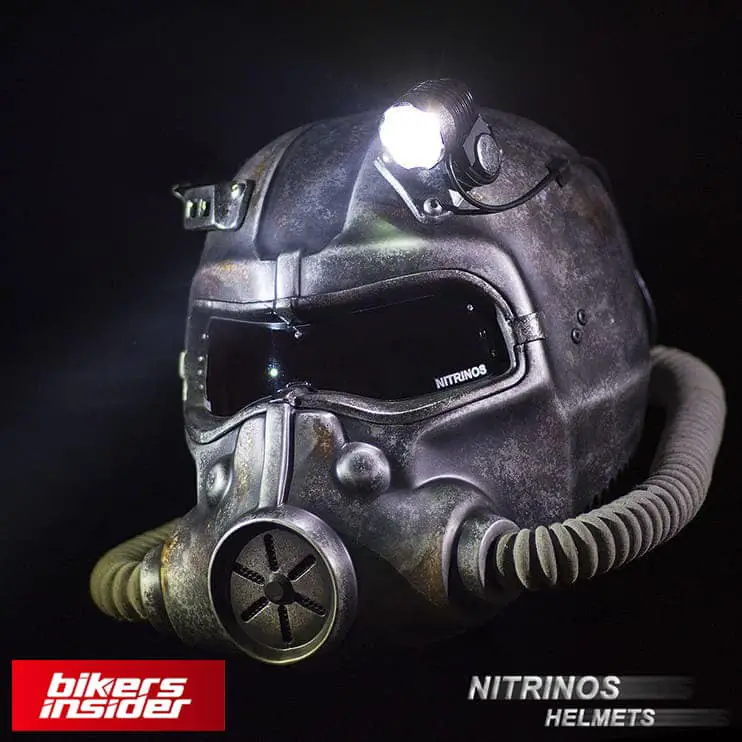 Nitrinos is a Russian motorcycle helmet manufacturer that is established in business since 2005. Their portfolio includes the renowned Spartan Helmets and Car Ear Helmet. With this portfolio, they've made it known that they are pioneers when it comes to custom motorcycle helmets. Nitrinos NS-5 is one such design that draws heavy influence from the Fallout video game series and its signature Brotherhood of Steel helmets. Dive into the post-apocalypse with this unique motorbike helmet!
Main Features and Specifications:
Superb Durability
NS-5 helmet features a lightweight and durable body that is reinforced with Kevlar fiber. Kevlar is an incredibly strong material used in creating composite helmets and even bulletproof vests! The foam from the inside is impressive when it comes to absorbing impact.
High Breathability
You can see an adjustable ventilation duct on the front of the helmet, right on the chin part. It distributes airflow through the visor and forehead areas. Also, for further breathability, there are vent holes on the back of the helmet.
Attachments for Better Lighting and Visibility
Sometimes, riding in the darkness can be a hassle, even with your motorcycle lights on. Nitrinos NS-5 is true to the source material and has two light brackets for installing the lights. The brackets are pretty durable as they are fixed with three screws and are specially designed for light attachment. You can use your light or order an LED light from Nitrinos.
Extras for Multimedia Creation
If you want to record your rides, you can do so on this helmet too, for a more dramatic perspective! Specially designed bracket on the right backside of the helmet supports Sony or GoPro video cameras (or any with a similar build). Just put the camera on the additional plastic bracket and you are ready for recording!
Tailored to You
Nitrinos can make a unique NS-5 depending on your preferences, at extra cost. The basic configuration of this helmet features one colored base with two hoses and a visor. You can choose from a variety of colors, 3D elements, and special symbols. Check out their custom NS-5 motorcycle helmet design options to get a better grasp of their options.
PROS
Impressive visual design
Great service from 
You can put lights on it
Great airflow thanks to the chin duct
Supports action cameras 
CONS
A bit pricier
You need to wait for 2-5 weeks for the helmet to be created once you made the purchase
#2: Cookie Monster Helmet Cover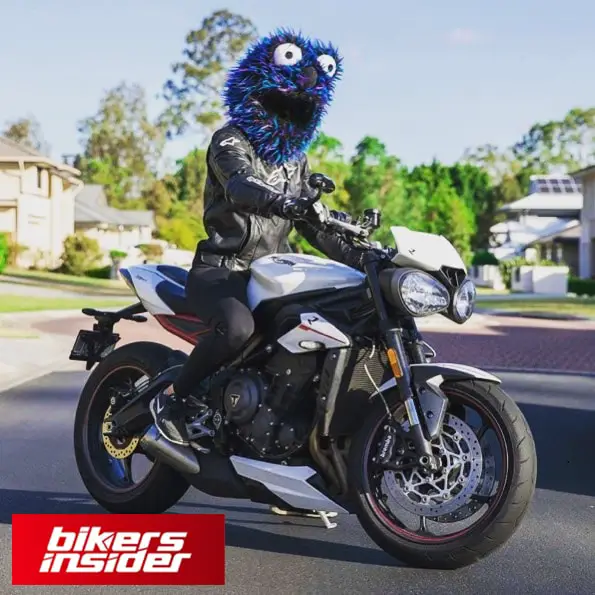 While this cannot be included in the motorcycle helmets, this helmet cover is too cool not to include on this list. Cookie Monster is one of the most famous Muppets from the world-renowned Sesame Street show. He has made millions of people laugh with his famous phrases, such as "COOKIE!". Well, now you can make people smile and radiate with positive energy while on the ride with this helmet cover!
Main Features and Specifications:
Iconic Design From a Beloved TV Show
Cookie Monster is planetary famous, and he makes everyone happy. When you wear this cute motorcycle helmet cover, you will surely brighten people's day, and maybe even pop up in a few social media stories.
Makes You Stand Out
As this dark blue design of Cookie Monster is really noticeable, it will surely help with decreasing your bike crash chances.
One Size for All
This Cookie Monster motorcycle helmet cover is designed to fit on most full-face helmets. You can even borrow it from your friends and know that it will fit their helmet too!
Easy Installation Process
There is no huge science behind it, just slip the cover on your helmet! Then, adjust it until it does align with your visor and provides maximum vision. If you get stuck during this process, there are detailed instructions included.
PROS
Cute and cool iconic design
Makes you stand out from the crowd
Easy to install
CONS
Doesn't provide extra safety during a crash
#3: Smiley Face Custom Airbrushed Helmet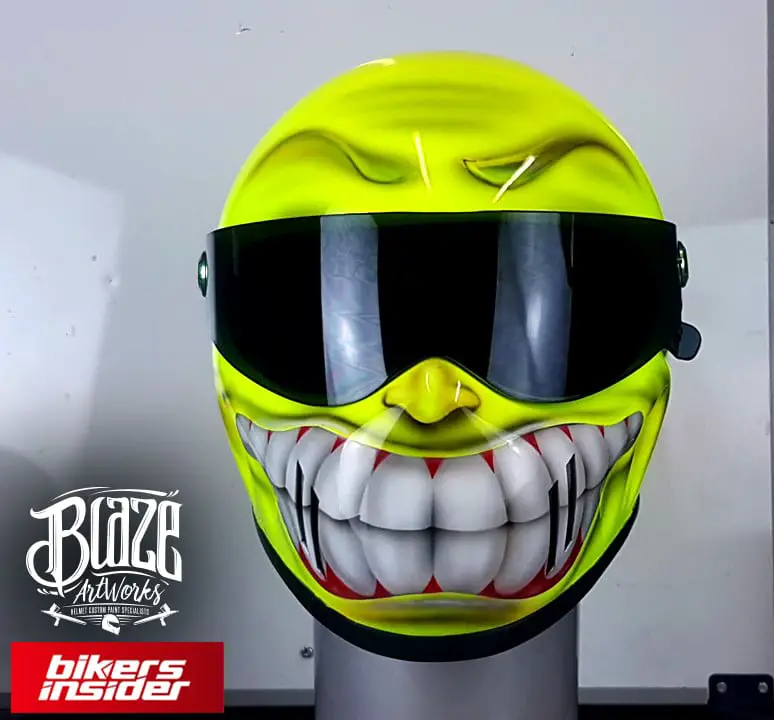 This is definitely not your regular, run-off-the-mill motorcycle helmet. The smiley design alone provides the spot on our list of cool motorcycle helmets. Folks at the Blaze Art Works can provide you with one of the coolest motorcycle helmets around, which are sure to attract some smiles. You can get the Smiley Face custom motorcycle helmets painted in Red, Green, Blue, and Black.
Main Features and Specifications:
Lightweight and Durable Shell
The Smiley Face Custom Airbrushed Helmet from Blaze Art Works is actually the Premium Matrix Alpha helmet with additional artwork. That means that this custom motorcycle helmet shares shell design with the Matrix helmet. Its shell is aerodynamic and constructed with lightweight materials. It offers extra safety and comfort for the rider.
Extra Finish Coat to Sustain the Design
The Smiley design is airbrushed in ravishing Matte finish. This artwork is coated with 3 coats of glossy, automotive-grade finish that withstands even the most extreme conditions. You can stay assured that the Smiley artwork will remain on the helmet forever.
Proper Ventilation
This custom airbrushed helmet has 4 points of ventilation, keeping the space inside the helmet breathable for each rider.
Standard Visor and Shield
With this helmet, you get one visor with standard tint. It does its job when it comes to shielding from the external elements, but isn't anything too remarkable. You can also choose the clear visor, without any tint, or pay a bit more and get a dazzling chrome or iridium visor tint. The shield is resistant to UV rays and scratches, which is a great bonus.
PROS
Very catchy and cool design
A solid base for the artwork
Quick-release retention system
Comes with an extra carrying bag
CONS
Not the most sturdy helmet out there
#4: Deadpool Motorcycle Helmet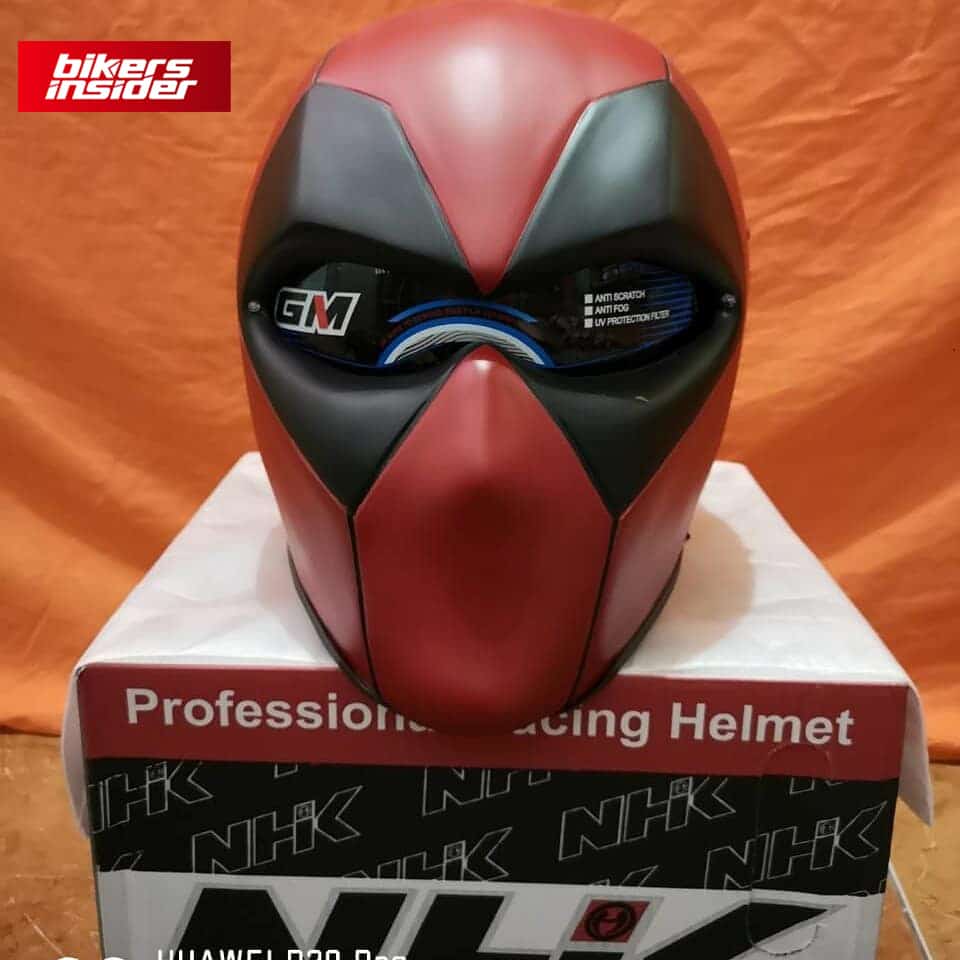 Become an iconic Marvel anti-hero with one of the coolest superhero motorcycle helmets on the market. Yes, Deadpool actually has his helmet, that can be easily put on this cool motorcycle helmets list. This helmet is certainly well-constructed and is sure to win over your heart with its cool design.
Main Features and Specifications:
Lightweight and Durable
The shell of this Deadpool motorcycle helmet is made of advanced polycarbonate. It is lightweight and sturdy at the same time. This also increases the comfort level of the helmet. The liner in the interior of the helmet is great at absorbing impacts, as this is an EPS liner. It has different foam densities that will decrease a potential head injury that may be induced in a crash.
Appropriate Ventilation System
This Deadpool motorcycle helmet has the Advanced Channeling Ventilation System (called AC-S shortly) that provides full airflow to front and back parts of the helmet. The system greatly helps with absorbing heat and humidity from the helmet. Top vents are blocked due to the EPS liner. At least the chin vent is functioning, and doing a great job at providing airflow.
Superb Face Shield and Visor Quality
Well, if you ever thought that you would need sunglasses while wearing a Deadpool motorcycle helmet, you were wrong! The shield of this helmet provides 95% UV protection and is scratch and fog-resistant. Also, the visibility is really superb with this shield!
PROS
Awesome Marvel comic design
Impressive interior
Lightweight and durable
CONS
The top vents are blocked by the EPS liner
#5: Ruroc RG1-DX Snowmobile and Snowboard Helmet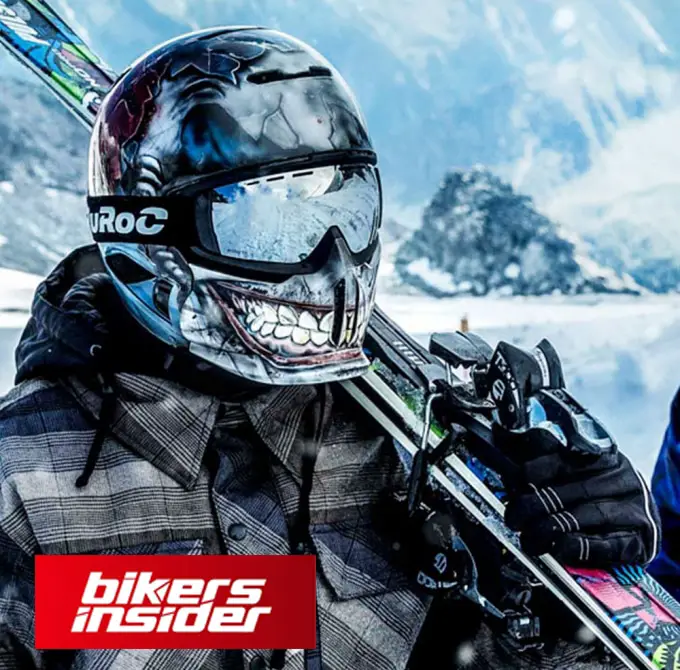 The RG1-DX from Ruroc is not just a helmet, it is a fully-fledged system. You can use this helmet for snow sports, cycling, skating, and motorcycling. It features some superb design choices that make Ruroc one of the pioneers when it comes to this specific helmet niche. Other than superb design, you can get your hands on some Limited Edition designs, like the Toxin design.
Main Features and Specifications:
Different Wear Configurations
As this helmet is made with extreme sports in mind, you can change from four different wear configurations. You can wear this one as a full-face helmet or something in between. It all depends on your requirements and style.
High-Quality Face Mask and Visor
The mask will provide superb visibility during hot and freezing days. It has been tested to be effective at -20 degrees Celsius. The face mask is detachable. Magloc googles serve as a visor, which is essentially a magnetic lens with integrated ventilation. The anti-fog system ensures that the visibility stays intact during extreme conditions.
Recco Beacon
Each RG1-DX helmet has a Recco reflector. It transmits your location, which is very handy if you get lost on the road, for example.
Bluetooth Support
Ruroc has developed the Shockwave system (that you can buy separately), that enables the Bluetooth functionalities. You can play your favorite music on the go, make calls to your loved ones, or navigate with voice control. Bluetooth opens up many possibilities for sure!
Improved Comfort and Durability
The linen used in this helmet is Rheon liner. This liner is made of fluid that hardens up when an impact occurs, which can reduce the chance of getting a brain injury during a crash by 30%. Awesome, isn't it? The shell of the helmet is made of ABS, which is very sturdy.
Fast Chin Strap
The chin strap system is fully magnetic, which makes the strapping process basically effortless.
Action Camera Mount
You can find the action camera mount to record your rides under the visor.
PROS
The face mask is detachable
Magloc googles are all-round nice
Anti-fog system improves visibility
#6: Predator Motorcycle Helmet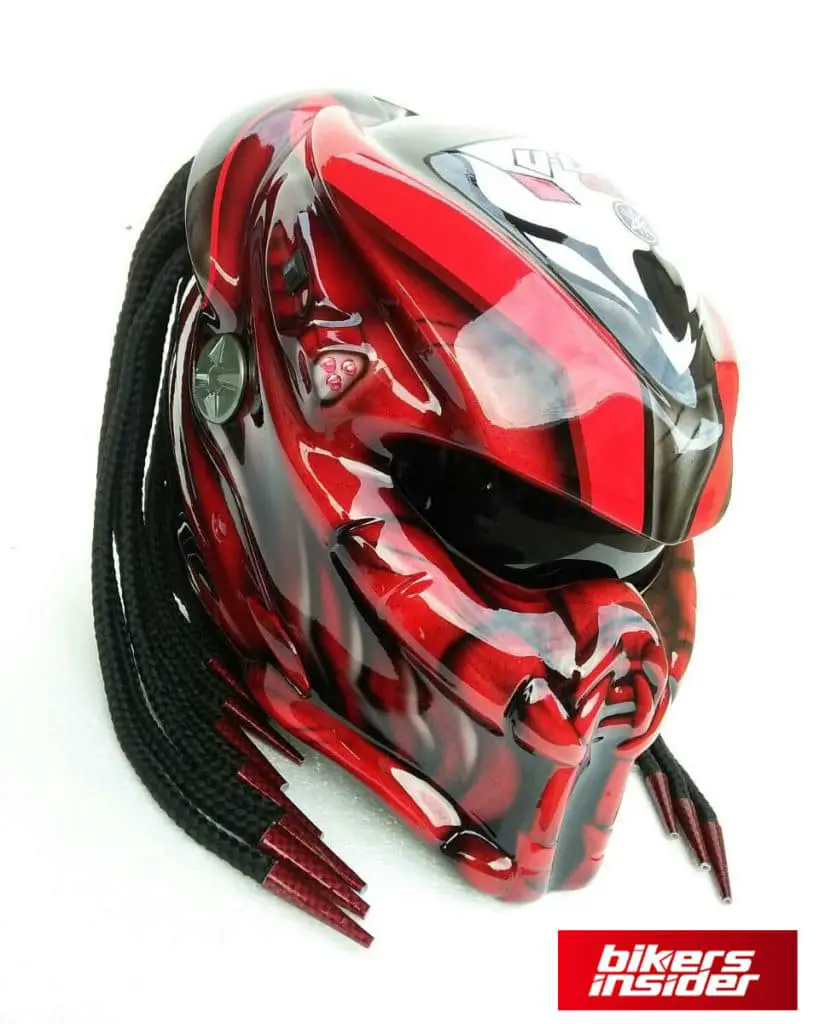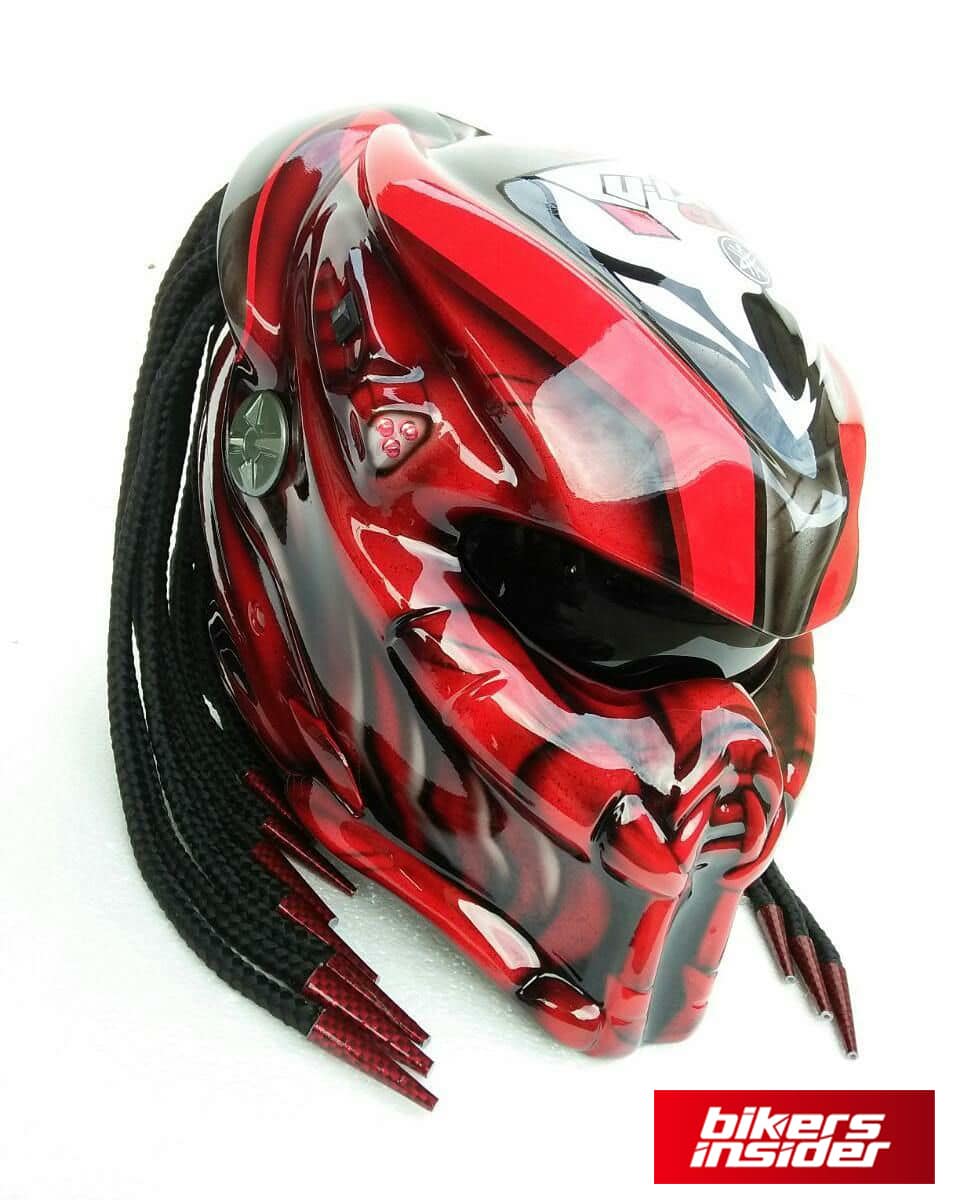 One of the most famous alien hunters now has a place on the cool motorcycle helmets list. Yes, we're talking about the Predator himself! This specific model provides you with a serious, mean look. If that is your wish, then this helmet will be your companion of choice on the rides you share.
Main Features and Specifications:
Superior Protection
This is a full-face helmet made of superb materials. Extra strength to the helmet is induced thanks to the fiberglass material. It also passes several safety tests with positive results.
Iconic Design
Predator comes to life with this red and black design that screams with excellence. The nylon dreadlocks complete the visual design of Predator and add an extra mean touch.
Laser Light
To complete the Predator cosplay, this motorcycle helmet features a laser light, with an on/off switch included.
PROS
Great value
Durable and superbly designed
All sizes are available
Great ventilation
CONS
Very heavy
Field of view is limited on the sides
#7: Shadow Trooper Helmet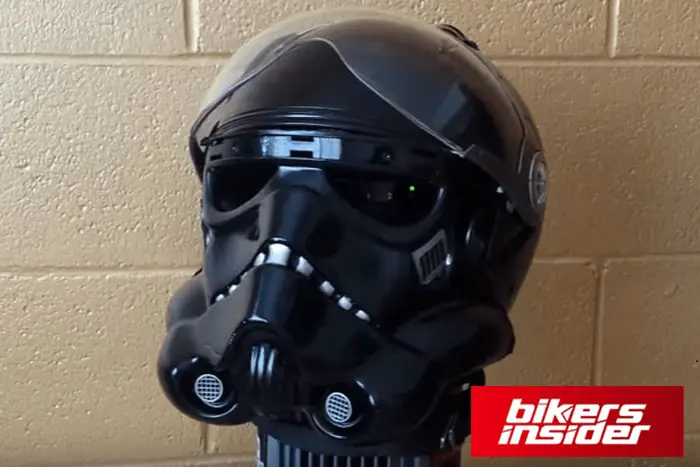 Shadow troopers are certainly cool. That is why we landed them on the cool motorcycle helmets of the 2020 list. While certainly awesome on an esthetic side, this helmet won't provide much when it comes to protection and durability.
Main Features and Specifications:
Wonderful Design, Not So Great Protection
The Shadow Trooper helmet offers some wonderful metallic design. It looks almost identical to the movie variant. Shadow Troopers are elite Stormtroopers in the Star Wars saga, and the design really shows that. The design is hand-made, from fiberglass material that is capped with black color. This material isn't the most durable fiberglass variant though. The helmet isn't durable enough to withstand a crash, so make sure to pay extra caution on the road!
Internal Microphone
To further immerse you in the Star Wars role play, this helmet has a voice filter that makes you sound like a Shadow Trooper.
PROS
Top-notch details
The internal microphone that provides voice effects
CONS
Pricey
Doesn't provide great protection
#8: Shark Helmet with LED Strips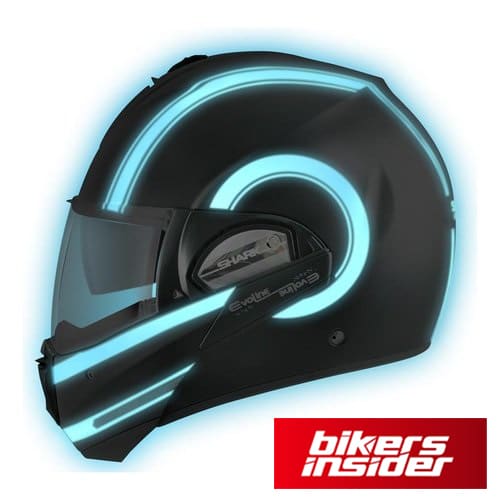 Shark Helmet is certainly one of the unique cool motorcycle helmets to wear, as it is modular. Its flip-up feature makes the helmet both full-face and open. According to the manufacturers, it is the "world's safest modular model" when it comes to modular motorcycle helmets. It looks extremely cool once you add the LED strips, and performs like a charm too! The main base for the LED strips variant is the Shark Evoline 3 helmet.
Main Features and Specifications:
Reasonable Safety Levels
The Shark Evoline 3 motorcycle helmet passed the ECE tests that approve it for wearing as an open face and full-face helmet. The UK-based SHARP testing organization provided the maximum safety score. When you dive deeper into the score itself, you can see that the chin bar opens 43% of the time, which is low when you consider modular helmet standards.
Proper Ventilation
This Shark helmet has your usual chin and upper forehead vent holes that are really simple to operate, even with gloves. The helmet is really well-vented, considering that modular helmets usually have ventilation problems.
Comfortable Fit for Your Head
You can choose from an array of sizes, starting from XS, and ending with XL. Some consumers claim that the helmet is over-large though. Well, it is no wonder, considering the additional mechanisms fitted in this motorcycle helmet itself. The liner inside the helmet is fully removable and washable.
Integrated Sun & Anti-Fog Visor
The main visor functions surprisingly well on this helmet. When you open the chin guard of the helmet and push it past the visor, it opens the main visor automatically, which is a cool feature. The sun visor works pretty well when it comes to UV rays protection.
PROS
Incredible modular design topped with LED strips
Offers proper breathability
Added Bluetooth compatibility
Sun and anti-fog visors come in handy
CONS
Very noisy once you go above 50 mph
#9: Stormtrooper Helmet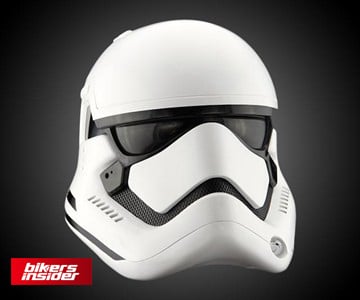 This helmet design was just too cool not to include on this list. The Stormtrooper helmet is suitable for adults and teens and features the timeless design from a timeless classic. While not the best when it comes to building and durability, it is certainly very, very cool.
Main Features and Specifications:
Signature Star Wars Design
Now, you can cosplay as a Stormtrooper, but also have a pretty cool motorcycle helmet while on a ride. This cap style helmet is sure to turn some heads!
Offers Proper Protection
This motorcycle helmet complies with OSHA regulations, which means that is safe enough to be on the riders' heads. Well, the shell is made of fiberglass, and then just painted to duplicate the signature Stormtrooper design. The comfort band in the helmet itself protects the exterior of your head. Also, you will get decent sun protection thanks to the design of the Stormtrooper Helmet. 
Decent Breathability
As this helmet features numerous vents and holes that resemble the original Stormtrooper design, you can expect the space inside the helmet to be very breathable. This also prevents moisture build-up.
Superior Comfort
The internal padding of the Stormtrooper helmet is immensely comfortable. It definitely allows for wearing the helmet for many hours. You can also find a foam sweatband on the front of the helmet. It absorbs and dries the sweat that you accumulate during the ride, essentially removing the sweat problem other Stormtrooper helmets are infamous for.
PROS
Offers decent safety
Functional and stylish design
Lightweight and sturdy
CONS
Albeit cool, not everyone will like this design
#10: Ruroc Atlas Helmet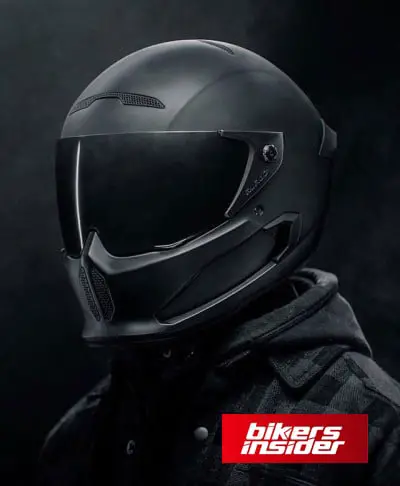 Ruroc is better known for its ski and snowboard helmets and protective gear, but their debut in the motorcycle helmet niche, the Atlas; is simply phenomenal. Its dirt bike helmet structure fits in perfectly with the black color. This helmet is ideal either for a normal, casual ride or for more intense ones, as the composition of this helmet is superb. Atlas helmet can surely finish off the list of cool motorcycle helmets that you should consider in 2020 with a bang.
Actually, we have the Ruroc Atlas 1.0 review and its upgrade, Ruroc Atlas 2.0 review rounded up on our site!
Main Features and Specifications:
Extremely Durable and Lightweight
This ideal combination comes true thanks to the carbon build of the helmet itself. Carbon is the strongest material for cool motorcycle helmets. This helmet is really ready for anything.
Awesome Breathability and Visibility
Being one of those cool motorcycle helmets on the market, the Atlas impresses with its ventilation system. It is designed for various climate conditions. There are five air intakes and six exhausts on the shell of the Atlas helmet that provides superior airflow. Also, foam dampeners are installed around the ear parts to provide you a breathable and quiet ride. The chin vent has a switch system for better de-misting. So, when you are riding, when you pull the switch, the additional air is directed into the underside of the visor, offering better visibility. The visor of the Atlas helmet is coated with anti-fog and anti-scratch coatings.
Bluetooth Support
Atlas helmets are Bluetooth compatible. You can connect your smartphone or other Bluetooth compatible devices. All you need is to plug in the new Shockwave system from Ruroc (sold separately) and enjoy it in the full suite. You can use voice commands and add directions for better navigation, listen to your favorite music to elevate amazing rides, or just enjoy a casual talk with your friends. One is certain, this system can produce powerful results.
PROS
Very comfortable to wear
Well-designed for every head shape
Great ventilation that offers additional breathability
Fog and scratch-resistant
CONS
Bluetooth support sold separately
#11 Nexx SX.100R Abisal Helmet
The Nexx SX.100R  is one of these helmets that catch an eye as soon as you see it, lest start with exterior shape and design, the reason we have chose NEXX SX100 helmet is due to its futuristic outer shell and amazing graphics in 4 stunning color options,
when it comes to helmet construction here is the most important info you need to know :
Shell made from thermoplastic/ polycarbonate material
1 Shell Size, with 3 sizes of EPS liner with sizes range from XS to XXL
The helmet holds the following certifications: DOT, ECE 22 05
Weight: 1525 +/- 50 gr
The cool thing about this particular helmet that is is compatible with the Nexx X-Com Bluetooth Communication System that can be easily integrated into a helmet.
PROS
leek design and secure magnetic air mount.
Second-generation Dynamic Mesh Communication for group riding.
High-quality 40mm JBL speakers and noise-cancelling microphone.
Bluetooth 5.2 connectivity for seamless integration with smartphones.
USB-C quick charge for faster charging times.
Long battery life (13 hours) to keep you connected throughout your ride.
Voice commands for hands-free operation.
Over-the-air updates for continuous improvements and new features.
Waterproof design to withstand harsh weather conditions.
CONS
Pricier compared to some alternatives.
Battery life updates only provided in 25% increments.
The magnetic mount makes the unit stick out, causing turbulence and wind noise.
Occasional unresponsiveness from Siri (possibly an Apple issue).
That was All About the Cool Motorcycle Helmets to Wear in 2020!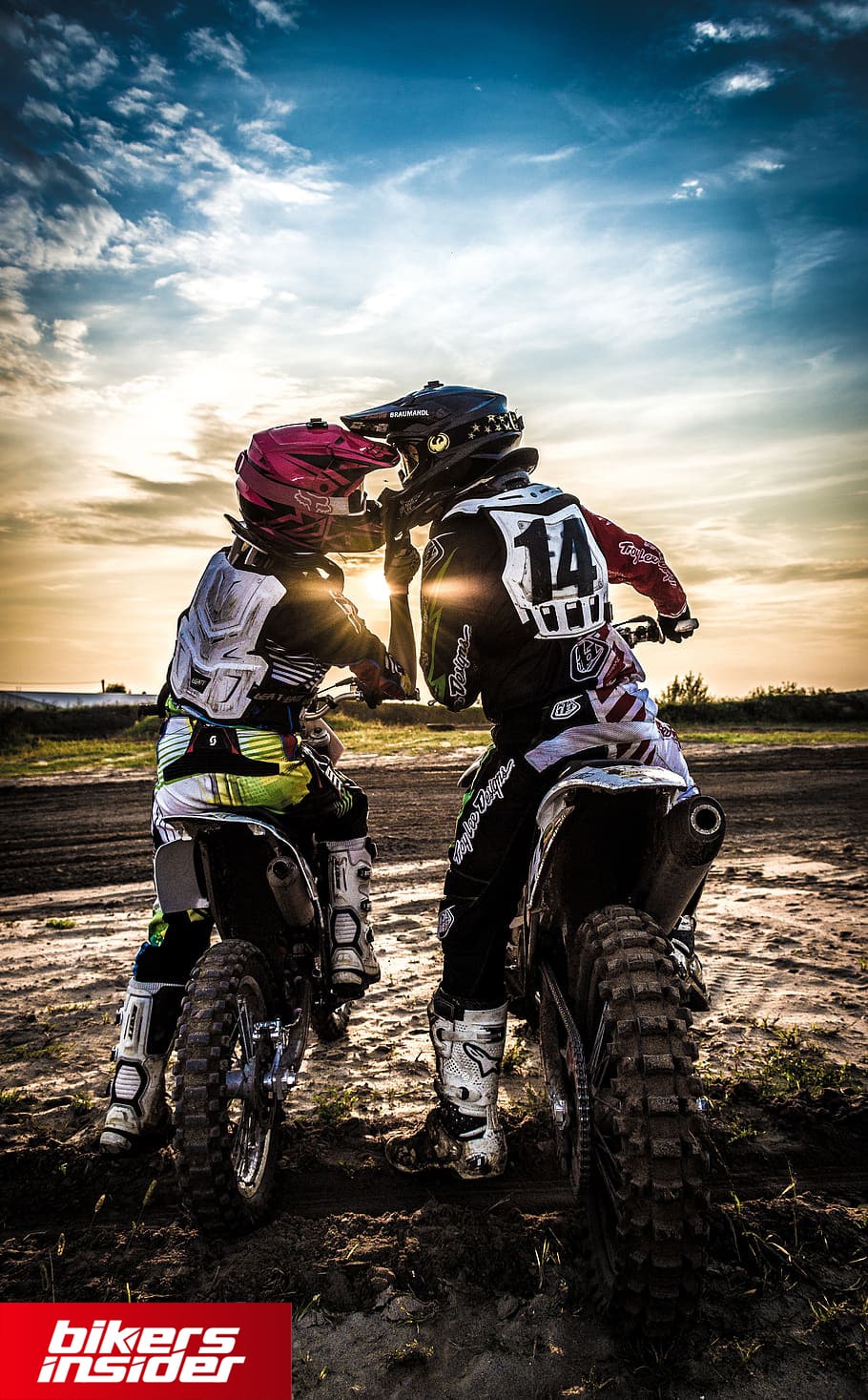 So, now you know what are some cool motorcycle helmets to wear in 2020! Motorcycle helmets are incredibly important for bikers. The cool factor that you may get from custom motorcycle helmets shouldn't be ignored, right?