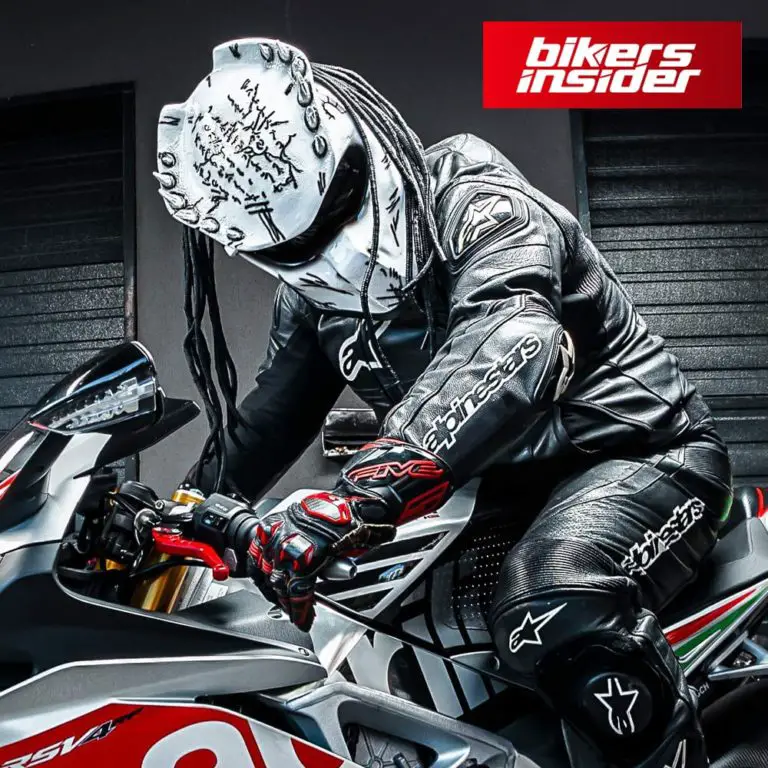 Riding a motorcycle gives a different level of freedom, fun, and the natural high that no other vehicle can provide. However riding with a customized helmet a totally different ball game, These perks, however, carry a lot of risks and predispose a rider to a lot of accidents, This is why it is in the best interest of every rider to get a motorcycle helmet for the utmost safety. With regards to motorcycle helmets, there is an array of models available in the market, meeting the needs of various kinds of bikers. One type of helmet, however, caught the eye of many riders – the Predator motorcycle helmet. There's no surprise as this helmet is fresh and stylish, adding fun and spunk to every ride.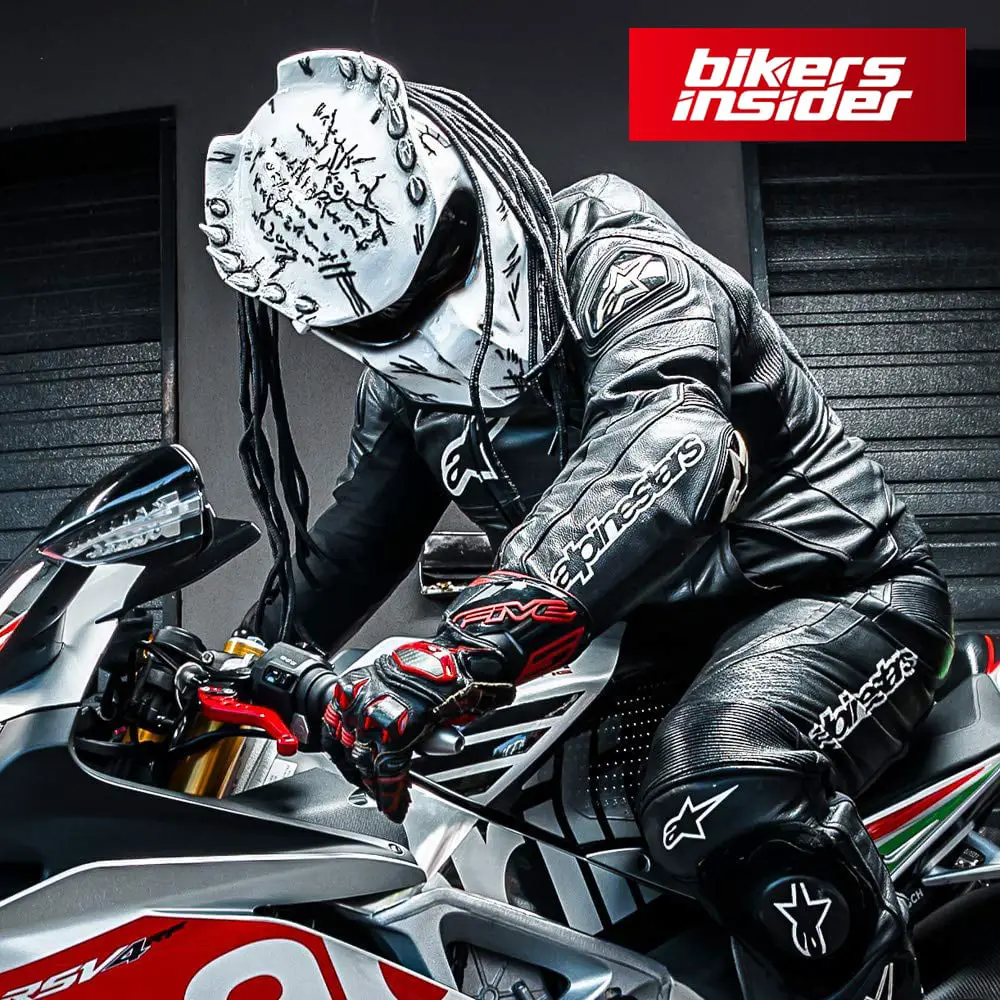 What are Predator Helmets?
It is inspired by the movie 'Predator' with the signature silver spikes and dreadlocks. This helmet is the type that always demands attention with its meticulous, well-thought-of fierce design reminiscent of that hit movie.
What makes these helmets more distinct is that they are mostly hand-crafted, with superb attention to detail and made with the highest quality materials. Wearing this helmet can make you feel you came straight out of the hit flick!
Guide in Buying Predator Helmets
Predator helmets are a distinct design helmet that the majority of riders love and when it comes to buying one you are really spoiled for choice here. We noticed that recently many manufacturers popped up to create them. While they all look impressive, remember that they are still helmets, so there are still requirements that they must meet.
If you are having a hard time finding the best Predator motorcycle helmet for you, then the given criteria will guide you decide which one to choose. Make sure to note these factors to ensure that you'll get the best out of your Predator helmet. Be sure to pick a few that you like visually, here is a few images you can choose from, and below you will see a breakdown of each one.
Top Predator Helmets Review
Knowing the features to look for is a good start to getting your own Predator helmet. But, with so many brands and models available, it can still be a daunting task to choose the best one for you.
To help you decide, we've collated and reviewed the coolest Predator helmets available in the market today to help you find the gear that would make it stand out of the crowd.
If you're in a rush, here is a table showing our picks for the best Predator helmets out there!
| Image | Product | Price |
| --- | --- | --- |
| | BQT Predator Motorcycle Helmet | Check Price |
| | Art Thai Predator Motorcycle Helmet | Check Price |
| | Predator Berserker Style Motorcycle Helmet | Check Price |
#1: BQT Motorcycle Predator Carbon Fiber Helmet, Full Face Helmet Anti-Fog Lens DOT and ECE Certified
Channel your inner beast after putting this helmet on. The Pro Predator Motorcycle Helmet is designed and handcrafted by talented artists who specialize in producing some of the best custom-made bike accessories in the market. You can trust this full-face helmet's protection and durability as it's made with the strongest fiberglass material.
Since safety is vital for all helmets, don't worry as this helmet is both DOT- and ECE R22.05-approved. It also features an easy-to-use polarized visor to protect your eyes from the sun. Lastly, its high-quality dreadlocks would provide you that extra villainous look, catching the attention of anyone who sees you.
PROS
Available in most sizes
DOT- and ECE R22.05-approved
Made with the most durable fiberglass material
Handcrafted for superb quality and protection
CONS
If visor becomes foggy, you need a specialized cloth so you won't leave any scratches on the visor
#2: Helmet Art Thai HAT 102 Custom Predator Motorcycle Helmet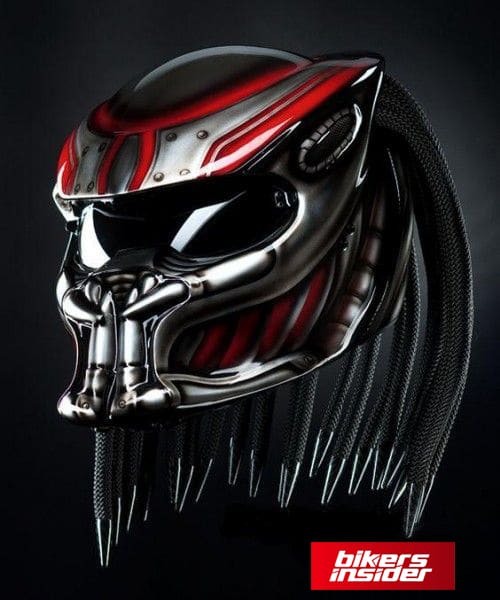 With its impressive Wolverine-inspired design, wearing the Helmet Art Thai HAT 102 Custom Predator Motorcycle Helmet will surely turn heads wherever you go. You'll love the intricate details, such as the painting on top, and the other elements incorporated in this full-face helmet. Its dreadlocks are distinct from white tips. It is 100% custom-made, so you would have to wait 20 days upon ordering, but it is surely worth it.
It's not all aesthetics, though, for this one's DOT approved. You don't need to worry about wearing it on the road, as it provides you the necessary protection. From design to functionality, this helmet is a great buy.
PROS
DOT-approved
Stunning design
Excellent attention to detail
Unique dreadlocks
CONS
Custom-made, so waiting time may not work for some people
#3: Pro Predator Motorcycle DOT-Approved Helmet Berserker Style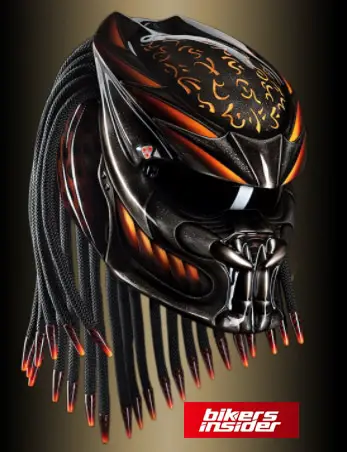 Ideal for any biker, the Pro Predator Motorcycle DOT Approved Helmet Berserker Style is set to steal attention wherever you go. It has a fierce, one-of-a-kind design in the truest sense of the movie that inspired it, and it's 100% handmade. You can expect that the optimum standards of quality and craftsmanship are met.
Moreover, you'll love how comfortable and lightweight this helmet is. Plus, it's DOT-approved, and ECE R22.05-certified so, it's a safe model to use on public roads. Lastly, to complement its monster-like look,  it boasts of a triple laser beam that you can activate in a switch and will surely impress passers-by.
PROS
100% handmade
DOT and ECE 22.05 approved
Laser beam feature
CONS
Larger than most regular motorcycle helmets
Wrapping Up
Helmets are essential for the safety of every rider. Predator helmets are a fun way to reinvent these conventional gear into a  cooler and more stylish one without compromising quality. Make sure to get yours and make a lasting impression on everyone!
Check out our motorcycle helmet reviews section to find your new helmet!