Are you looking for the best budget-friendly motorcycle helmets? After extensive searching and testing, we found an ideal contender for that position in the form of the 1storm modular motorcycle helmet. It costs below $100 and offers more than most modular helmets on the market right now. We decided to review this 1storm motorcycle helmet as objectively as possible as it isn't perfect by any means. But, when you consider its low price with all the sweet features you get, it is more certain that this is an immensely affordable motorcycle helmet.
So, jump in with us to the in-depth look of the 1storm modular motorcycle helmet!
1storm Motorcycle Helmet Review – Features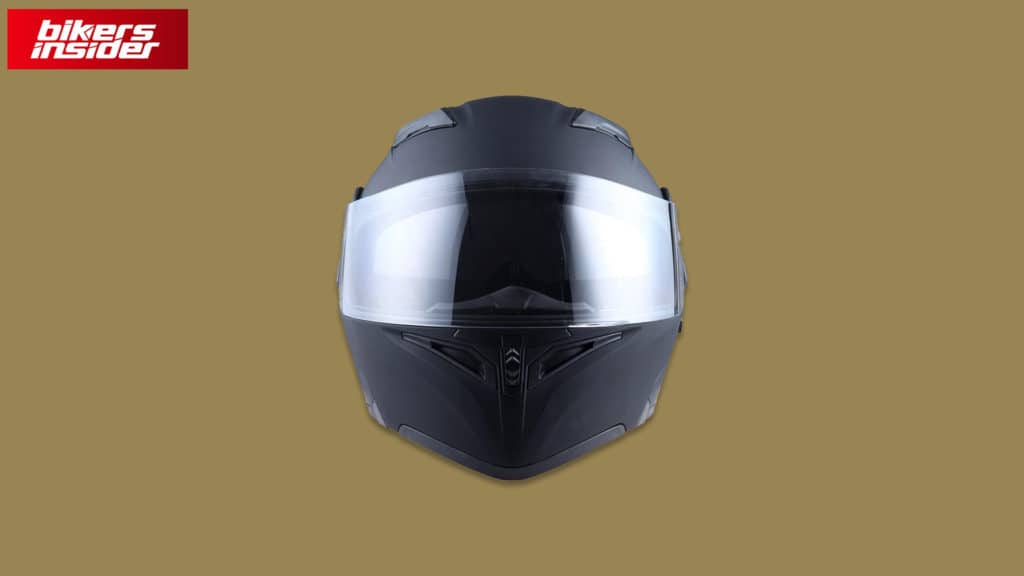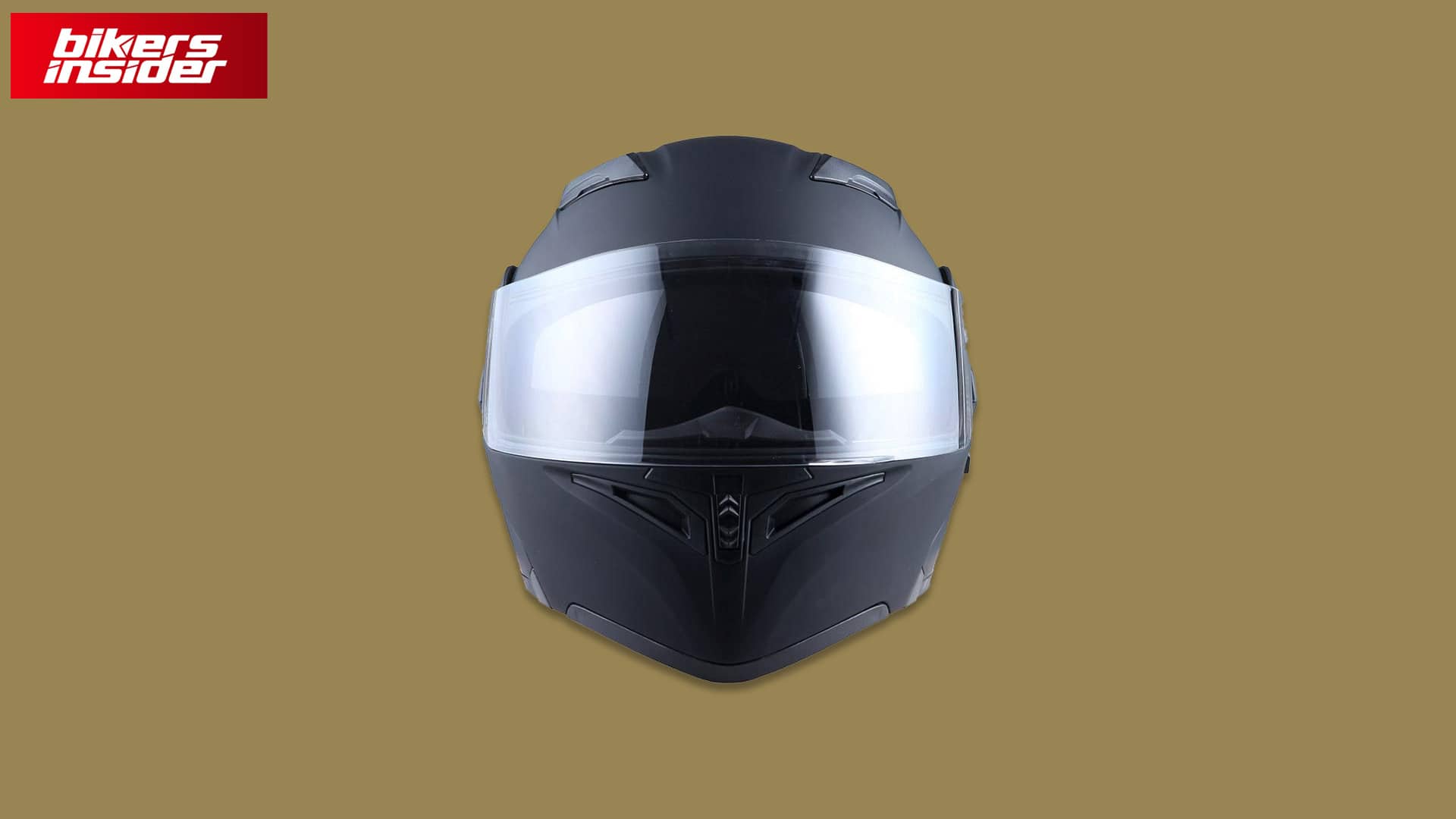 After a few tests, we thought that it would be cool to provide you with an honest, in-depth review of the 1storm motorcycle helmet. At first, we felt that this would be just another cheaply made, heavily marketed modular motorcycle helmet. Well, our first impression was inherently wrong!
It's impressive how much durability and comfort you can get from a motorcycle helmet that costs below $100! Here are some of the main features of the 1storm motorcycle helmet:
Lightweight and durable thermoplastic alloy shell
Weighs 4 lbs (1,8 kg)
Full-face and open-face configurations via the chin bar toggle
Dual-lens design – clear shield and sun visor
Fog and wind-resistant visors
Hypoallergenic fabric inner liner that is removable
Includes a quick-release buckle
Six vent switches
ECE and DOT certifications
Without further ado, let's dive in and break down all the essential features of the 1storm modular motorcycle helmet!
Construction & Design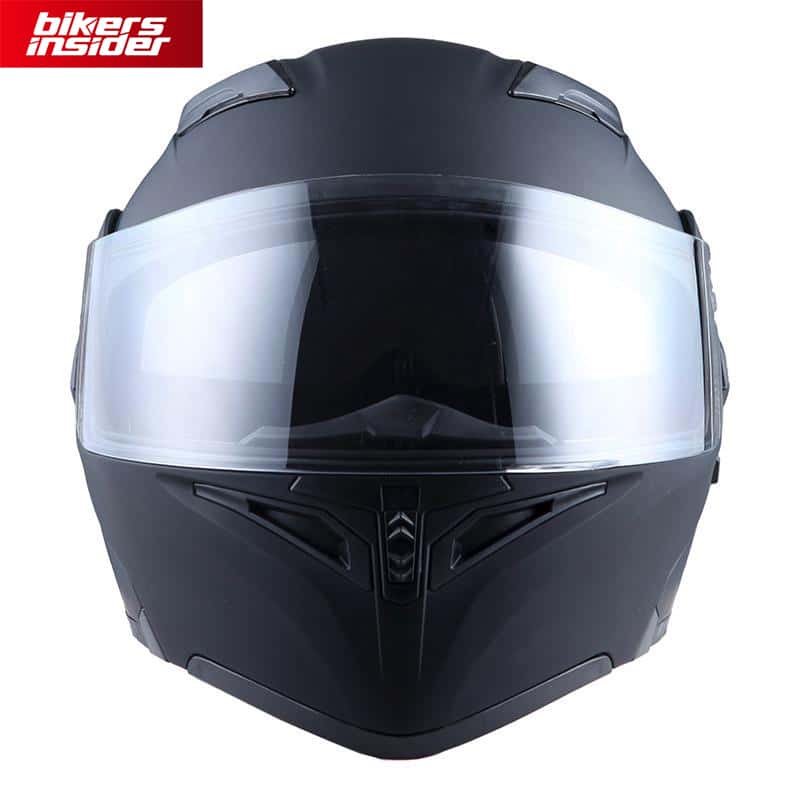 For a modular motorcycle helmet under $100, this one really excels in its overall design and construction quality. The shell is made of thermoplastic alloy, which is lightweight and durable. Actually, the 1storm motorcycle helmet only weighs 4lbs (1,8 kg)! That makes it very comfortable to wear on your head for more extended periods. Also, the helmet is aerodynamic, which will help it with being stable even during high-speed rides.
Now, as we mentioned before, this is a modular helmet. That means that you can choose between a full-face helmet and open-face configurations. As every full-face helmet, there is a chin bar that is togglable with a button located on the front part. Mind you, the placement of the button could be better, as during a crash, if you slide with your chin, the button could be accidentally pressed, which could make for undesirable results.
If you want to put headphones inside the helmet, it is good to know that 1storm thought this with the design of this helmet. There is recess space for you to put a Bluetooth comm kit or headphones!
Nevertheless, the durability you get with this helmet is unprecedented when you consider its price tag. It is tough to find a better helmet if you look strictly at this aspect in this price range.
Vision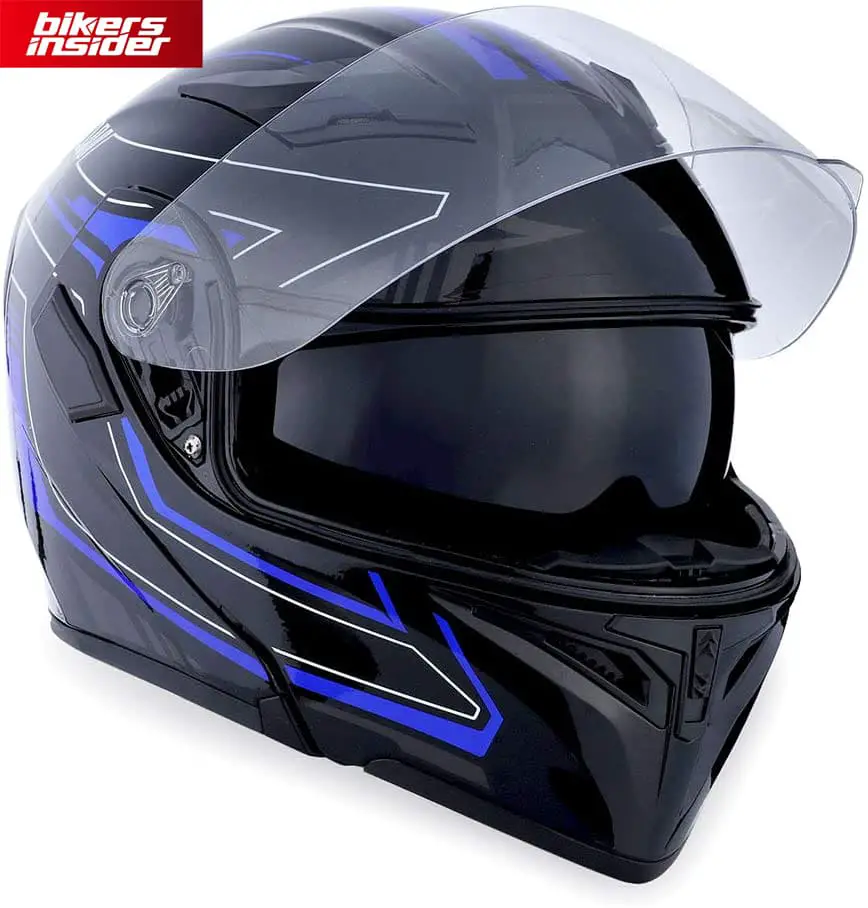 The dual-lens design of this motorcycle helmet is something that we can't praise enough, especially for a modular helmet in the price range under $100. So, with this helmet, you get an inner and outer visor in the package.
The inner visor is essentially a sun shield, as it is tinted for additional UV protection. When your visibility is faltered by sunlight, press the button on the left side of the visor to pop up the inner smoked visor.
The outer visor features a clear shield, which is incredible for night rides. You will get the necessary protection from bugs, debris, wind, and rain while having superb visibility. There is a button just underneath the top part of the helmet that toggles the outer visor.
Both visors are fog and wind-resistant, which just adds to the affordability of the whole package.
Also, we want to note that the visors won't fog up in lower temperatures thanks to the mouth cover implementation. This is a problem that plagues many modular helmets, and we are glad that 1storm has addressed this problem with this modular helmet!
Comfort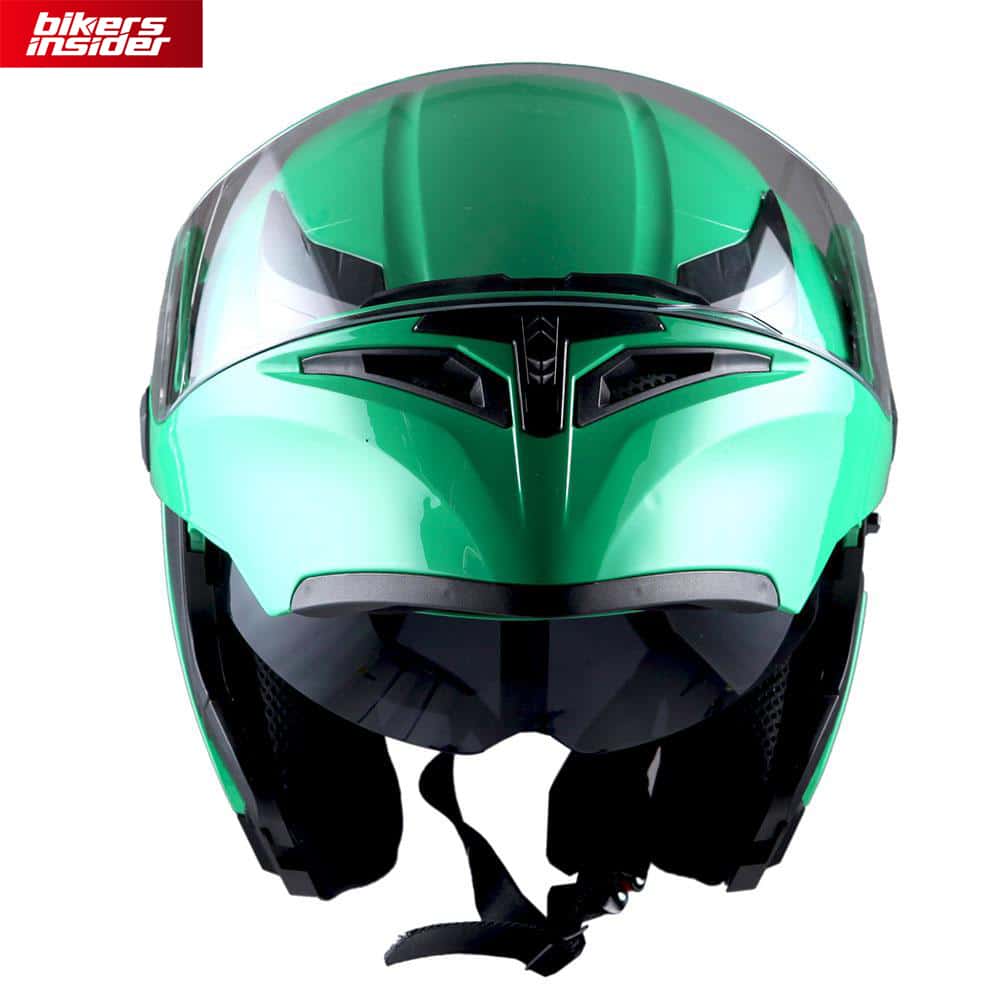 The padded inner liner of this helmet is removable and washable. It is made of thick, breathable, and hypoallergenic fabric. You will need some time to get used to the comfort liner's thickness, as it can feel snug during the first few rides. When it adjusts to your head, though (will take 10 to 20 hours for that), it is very comfortable for extended trips. Just make sure to take off the liner after each long ride, as it can get quite smelly from sweat.
Also, the liner is very loose, as it is designed to be removable and washable. You can fasten it into the helmet, but that will make it just harder to take it off when you need to wash it from unpleasant smells. Keep that fact in mind before you make the purchase.
Along with the padded comfort liner, you can feel a lot of padding on the cheek segment, which increases the overall comfort level of the helmet.
What contributes to the low price of this helmet is its quick-release buckle. It does a relatively good job of keeping the helmet tightened to your head without making it uncomfortable. Nothing special here. Sometimes, it may give you some headaches when you want to clip it together.
Airflow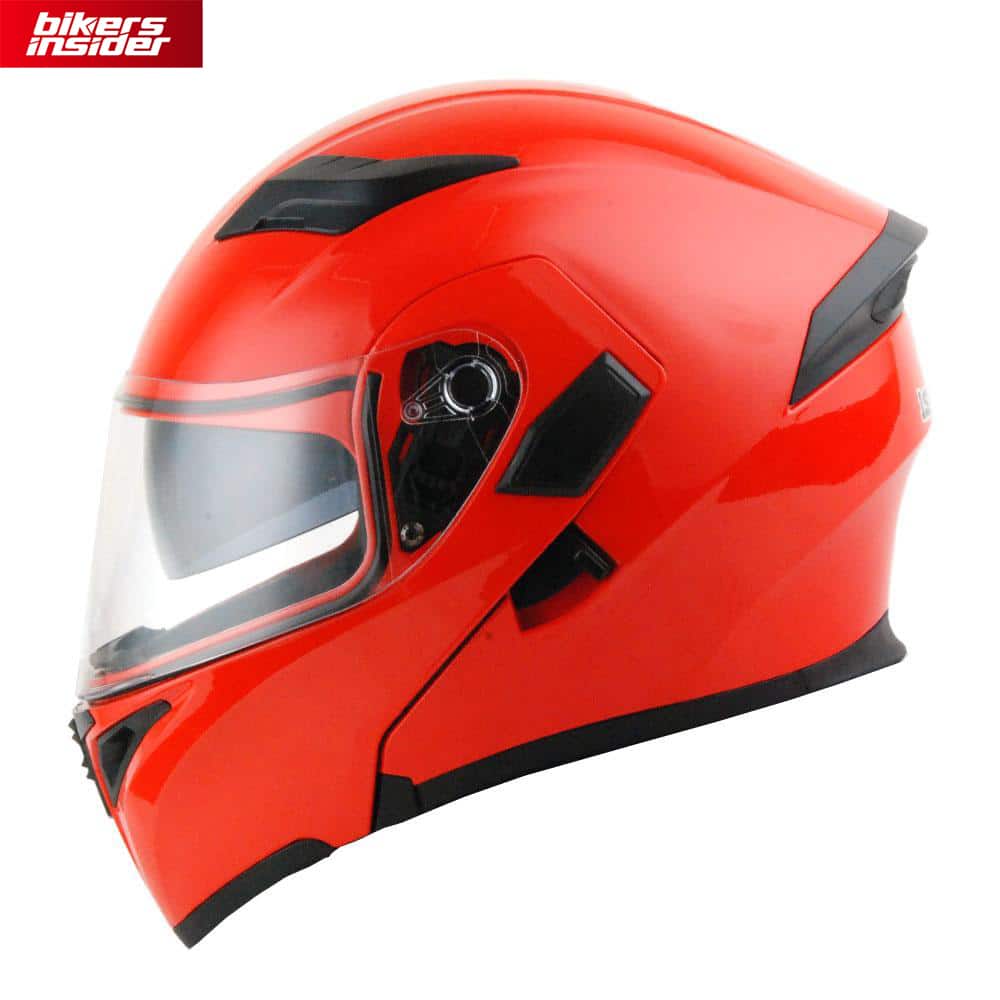 The ventilation system featured in this helmet is quite useful when you consider how cheap the helmet is. You can find six vent switches, which are divided into three groups:
Two adjustable top vent switches
Two adjustable front vent switches
Two back vents
We had a chance to feel the ventilation system in action, and we can say that it does a great job of cooling your head during hot summer rides. During winter, we recommend you wear some warm mask underneath your face to warm you up, as you cannot close the back vent.
Also, as this is first and foremost, a modular, flip-up helmet, as you can always flip the outer shield to let in more air inside the helmet.
One gripe that we have with the general airflow design of this helmet is that it is very susceptible to wind noise, especially if you ride over 65 km/h. Of course, there is a possibility to lock down the clear shield, which will also protect against rain, but it won't be enough to filter out the wind noise. That's why this helmet is more effective if you are riding in the city, as you won't often ride above 65 km/h.
Safety Ratings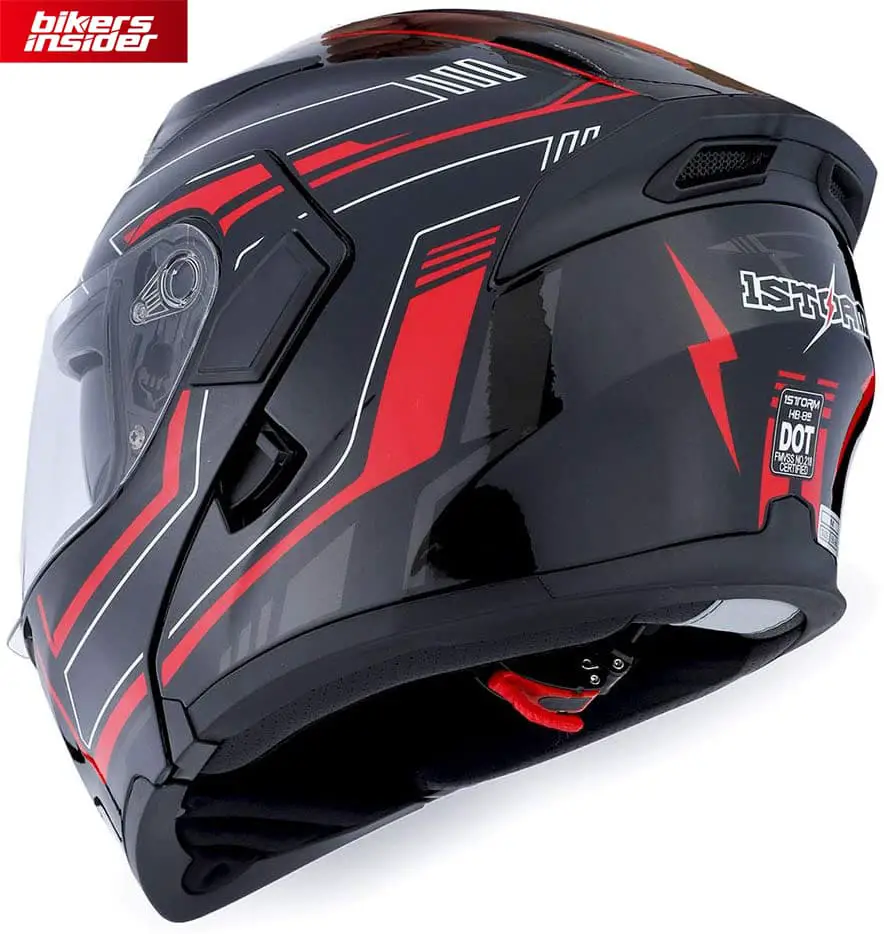 As this is a modular helmet, we can classify it as one of the dual homologated motorcycle helmets. It is DOT-approved, which means that it passed safety testing on the US market. Along with that, it also has ECE certification, which makes it fit for European markets.
With these two certifications in mind, you can rest assured that the 1storm motorcycle helmet will keep you safe in case of a crash. After all, this is one of the main reasons why you wear a helmet!
Available Models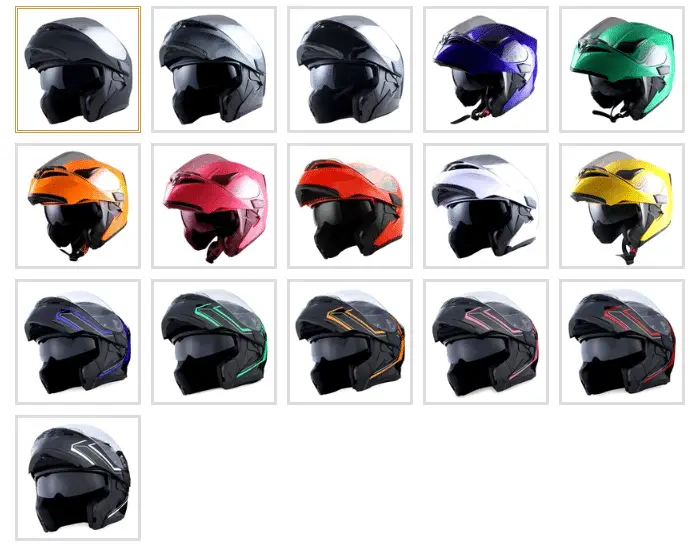 You can get the 1storm modular motorcycle helmet in following sizes:
S – 53 to 54 cm (20,9″ to 21,3″)
M – 55 to 56 cm (21,7″ to 22″)
L – 57 to 58 cm (22,4″ to 22,8″)
XL – 59 to 60 cm (23,2″ to 23,4″)
Besides the sizes, you can see that the dimensions are slightly lower than the standard market measurements. That's why we have included the helmet size variants in centimeters and inches. Make sure to measure the crown of your head a few times before you buy it, as the helmet can be quite snug. You don't want to spend your time and money to return the helmet, so it is crucial to prepare ahead!
We also love how many color variants this helmet comes in with a whopping 16 color combinations! The primary colors that you can choose are:
Black
Blue
Green
Orange
Pink
Red
White
Yellow
All the colors come in a glossy finish or arrow style. With the arrow style, the base color of the helmet is black, with several lines in select color. It is also worth noting that the black color of 1storm motorcycle helmets also comes in matte style. With the 1storm modular helmet, you have a large number of personalization options.
Price
What amazes us the most is how 1storm manages to pack all the fantastic features that make for an exceptional flip-up modular helmet for such a low price. Right now, the price for the 1storm modular flip-up motorcycle helmet is $59,95 (€50,99/£46,04). That fact makes it one of the most affordable modular, flip-up motorcycle helmets on the market.
You can buy this helmet via Amazon or via 1storm official site. Keep in mind that this motorcycle helmet is often found out of stock on Amazon, so you may end up buying it via the manufacturer's official site.
The main benefit of ordering this motorcycle helmet from the 1storm webshop is that they offer free shipping for orders over $50, a rule for which this helmet applies!
Closing Words
So, is this 1storm modular motorcycle helmet worth your attention? Considering its low price tag, it certainly is one of the best modular motorcycle helmets that you can get right now. Of course, there are modular helmets that offer better noise cancellation and are more comfortable to wear during long rides, but you will most certainly pay 5 to 10 times more.
If you are on a tight budget and want a nicely designed, comfortable, and durable modular motorcycle helmet; but are willing to trade some comfort and noise-canceling issues, this is one of the best deals you can get.
We hope you learned valuable information in our 1storm motorcycle helmet review that will help you with your final decision. If you like this helmet, check out some of the cool motorcycle helmets to wear in 2020!