Welcome to our breakdown of the LS2 Valiant helmet that was released in the spring of 2018. We've definitely seen this configuration before. Shark developed a very similar helmet called the Evo One that was released in the summer of 2016.
This is the LS2's take on that helmet. We really like some of the changes that LS2 has made. It's a little bit more angular, and yet, it has a different fit scheme which we're going to talk about. 
Keep on reading our LS2 Valiant helmet review for a detailed breakdown of its most important features!
LS2 Valiant Helmet – Overview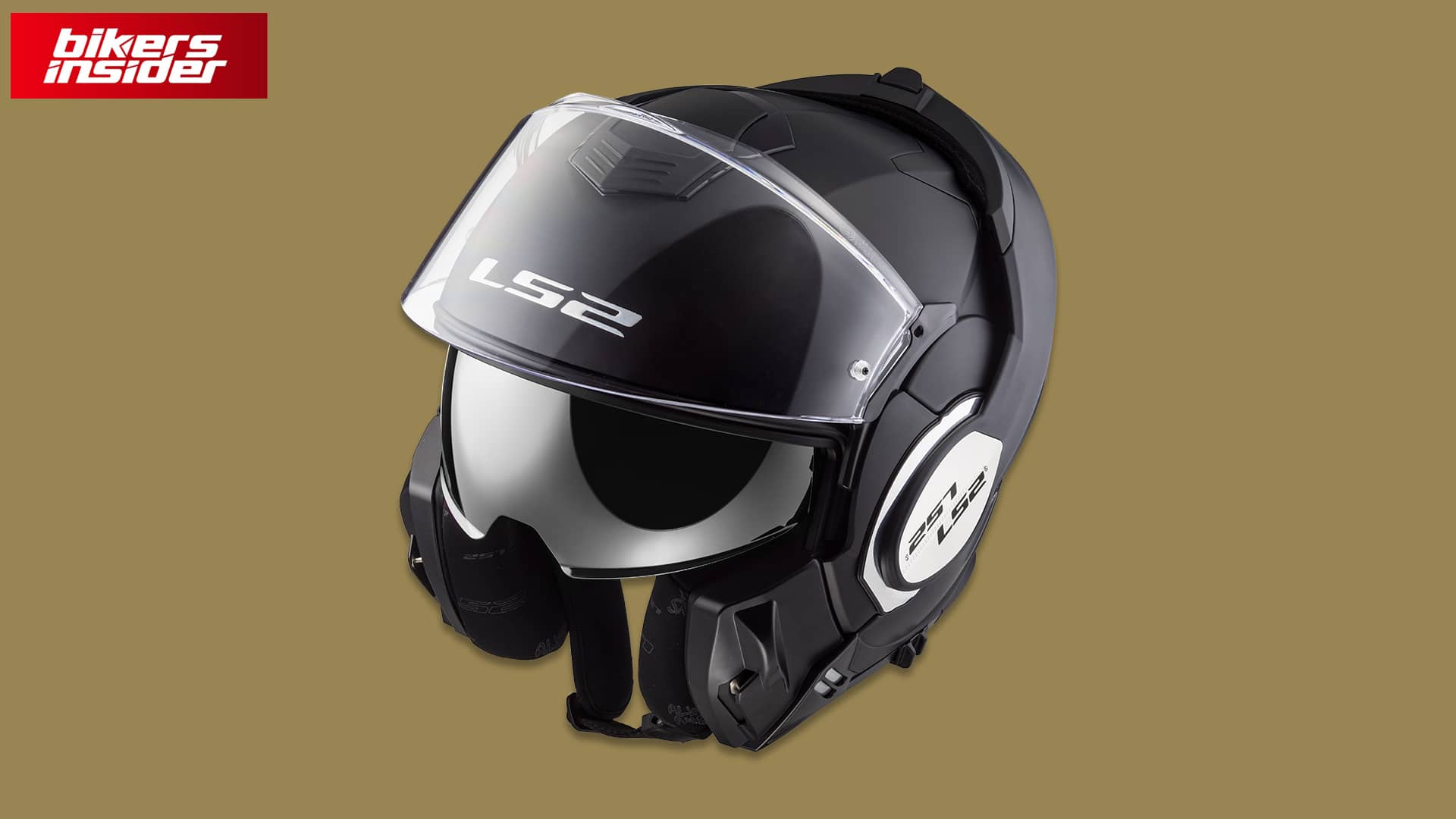 LS2 Valiant is a modular helmet that allows you to ride with the chin bar up and back or the chin bar down. You can do that for around the £155 ($300) mark. LS2 does a good job at developing a polycarb full-feature helmet that vents well, and that's going to cover a better fit scheme than we've seen from this style of helmet.
Now we will call out our main gripe with the LS2 Valiant helmet, and that's the weight. Whenever you get into this territory you're looking at a 4+ pound helmet, which is gonna be heavy. It is great for a 50 mile day, and great for a 100 mile day. But, if you want to go out and ride 250-400 miles in a day, the LS2 Valiant is going to start to feel very heavy.
Shape & Design
The thing we love about the LS2 Valiant helmet is the fact that it features an intermediate oval head shape. Previous iterations from other manufacturers that had this set up were extremely neutral all-around, and they did that to accommodate the chin bar.
LS2 has taken this concept and it has now matched the fit scheme for the American market. That means intermediate oval head shape; not overly broad and not overly narrow. It's closer to that intermediate slightly longer oval shape which ultimately should fit more riders.
Again, if you have an oval head shape and you wear around helmet, you will just get a pressure point at the front and back, and it will wobble on you. This helmet won't do that which is a nice touch. That's the big standout. It's kind of that cost factor and the fit factor.
Now, diving into some of the nuances of the helmet. One of the interesting things is an interesting choice on the LS2 Valiant, and it's about the Chrome. There are a lot of Chrome accents on this helmet, so you have Chrome at the back, you have reflective Chrome on the sides. For some, that may be a weird design choice. We haven't seen that in a while, and ultimately, that's going to be a subjective style choice that you're going to have to make. 
More on the Fit Scheme
Chin Bar
The shielding mechanism of this helmet has to be up and cracked for the chin bar mechanism to work. It has a center actuation on the top which is something to potentially get used to, but it doesn't really detract from the fit scheme.
You can notice how smoothly the chin bar goes back and sits in place. It doesn't lock down but the gravity keeps it in its spot. If we open it and take a look, we can see metallic clasps. It's not plastic on the sides, which we really like, so it's a more positive locking mechanism.
If you're the type of rider that gets a little bit more claustrophobic about the chin bar on a full face; this has a lot of room through the cheek pads.
It even has cutaways to feel less claustrophobic. You can see that the cutaways are even around the temples. They are geared so you can add sunglasses or reading glasses under your helmet. If you wear glasses, it's a very glasses-friendly helmet.
Cheek Pad and Neck Roll Mechanism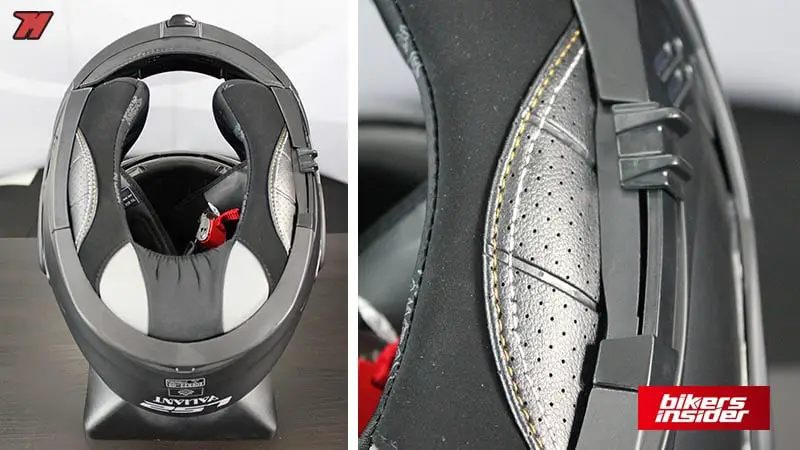 Let's analyze the bottom of the helmet. There are two reflective pops; it's an integrated cheek pad and a neck roll system. We're going to see just how easy it comes off.
You detach the wire on both sides. This, in our estimation, is one of the least favorite configurations for neck roll mechanisms. The first person we saw implement this design was Schuberth, and that was years ago. They ditched it because it's really complicated.
If you're the type of rider that sweats a lot, who is constantly removing their cheek pads and swapping them; or your neck roll, you're gonna be annoyed with how much you have to fiddle to get this wiring system back in.
You can notice the two pins and the wire that has to go all the way back in. That would probably be one of our bigger annoyances with this helmet.
If we look at the inside though, it's a nice microfiber material that is very smooth against the skin. LS2 Valiant helmet also features plenty of cutaways if you want to install a third-party Bluetooth unit. 
Comfort Liner
It slides out from back to front and snaps in the plastic on the front. There's no chance that you're going to get any pressure points. It is a little bit harder to get in, as there are two snaps, but ultimately, we would sacrifice the plastic connection point rather than potentially having pressure points in the front of the helmet and along the back, as it's just a slide.
The other thing to notice here too is that there are some ventilated spots in the comfort liner. We love how they've sonically welded, and they have a 3D foam around the crown and top of the head.
The Ventilation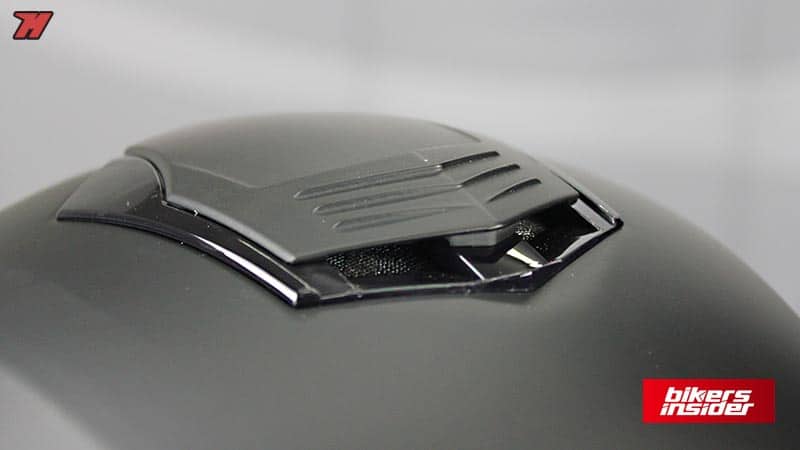 Right from the get-go, you can notice the chin vent that you can open and close in a breeze.
Moving to the top of the helmet, there is a direct vent chin that you can open and close. The rear of the helmet has a few passive vents. Ultimately, they work their way below the back spoiler. The passive vents also feature little lids that are going to keep them a little drier if you get caught in a cloudburst.
You have that area of low pressure behind the helmet fully extracting more moist air out of the lid itself. Again, LS2 added some angles to Valiant to try to close it off. Well, they really set it apart from some of the rounder versions of this convertible style helmet we've seen in the past. 
When we look at this helmet, we can say LS2 could do a much better job at putting big cutaways to flow air, and promote airflow from the active vents on top of the helmet. They did give us big channels, so there are big 10-millimeter vent holes coming in from the top. They're exiting out the back, and it's going to create a cooling factor in the helmet.
But, there isn't enough mesh on the comfort liner to fully get the most out of that airflow.
Again, is it gonna completely limit the airflow? No! But, could it have been more of a free-flowing and more efficient system? It absolutely could have been! 
Sun Visor
What you can notice along the side of the LS2 Valiant helmet is the drop-down sun visor. It features a gear actuation rather than a cable actuation. Also, you get full coverage with this visor, so this saves you time for changing this.
This sun visor also features a darksmoke shield. It adds weight to the helmet, but ultimately, while you're riding, you can go full air wolf mode, drop it down and you're good to go.
LS2 Valiant Helmet – Summing Up
So, to sum up, remember; we like the fact that this helmet is an intermediate oval shape. We also like the fact that this helmet comes in around the £150 $300 mark.
What we don't like are some of the ventilation features, the neck roll, and the fact that it is going to be relatively heavy.
Now, relatively heavy is relative. Higher-end modular helmets get lighter. More affordable modular helmets are polycarb, and they come in close to that 4-pound mark. So, if you look around the £155 $300 set of modular helmets; you're gonna see a lot of 4-pound helmets.
If you're going out for longer rides with a 4-pound helmet, you will absolutely start to feel the helmet. You're gonna feel it on your neck, you're gonna feel it on your head.
If you're riding for an extended time with the chin bar on the back, you're also gonna feel that weight behind your head. It is a heavier helmet, keep it in mind.
So, when you weigh down all the upsides and the downsides of this helmet, is it worth the buy? Well, considering its low price tag, we say that you should absolutely go for it if you want a feature-packed helmet for a relatively lower price!
Just know what you're walking into when you invest in a helmet like the LS2 Valiant.
Feel free to read through more of our motorcycle helmet reviews!