Shark is a motorcycle helmet manufacturer based in France that happens to craft superb modular helmets, with classics such as Evoline and Openline series in their lineup. In 2017, they launched the Evo-One, an upgrade of the Evoline series imagined as a smaller companion piece to their flagship helmet series. On launch, it came with some problems, such as a clunky chin bar mechanism and flawed visor. Two years later, the Evo-One 2 launched, that sought to be a worthwhile improvement of the original. So, is the Shark Evo-One 2 modular helmet a worthwhile buy, or is it just another overpriced modular motorcycle helmet? Find out in our expert review down below!
Shark Evo-One 2 Modular Helmet Review – Features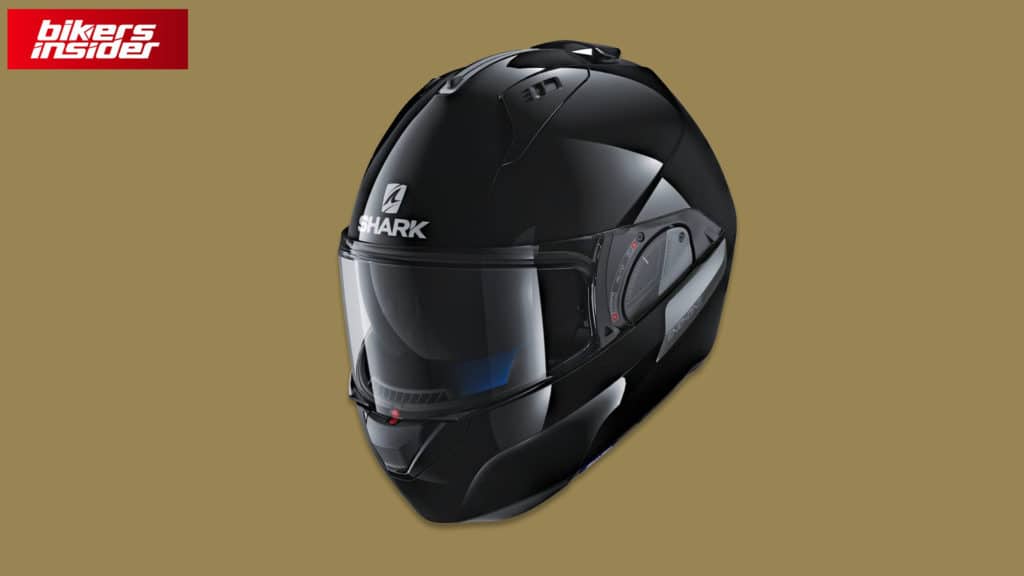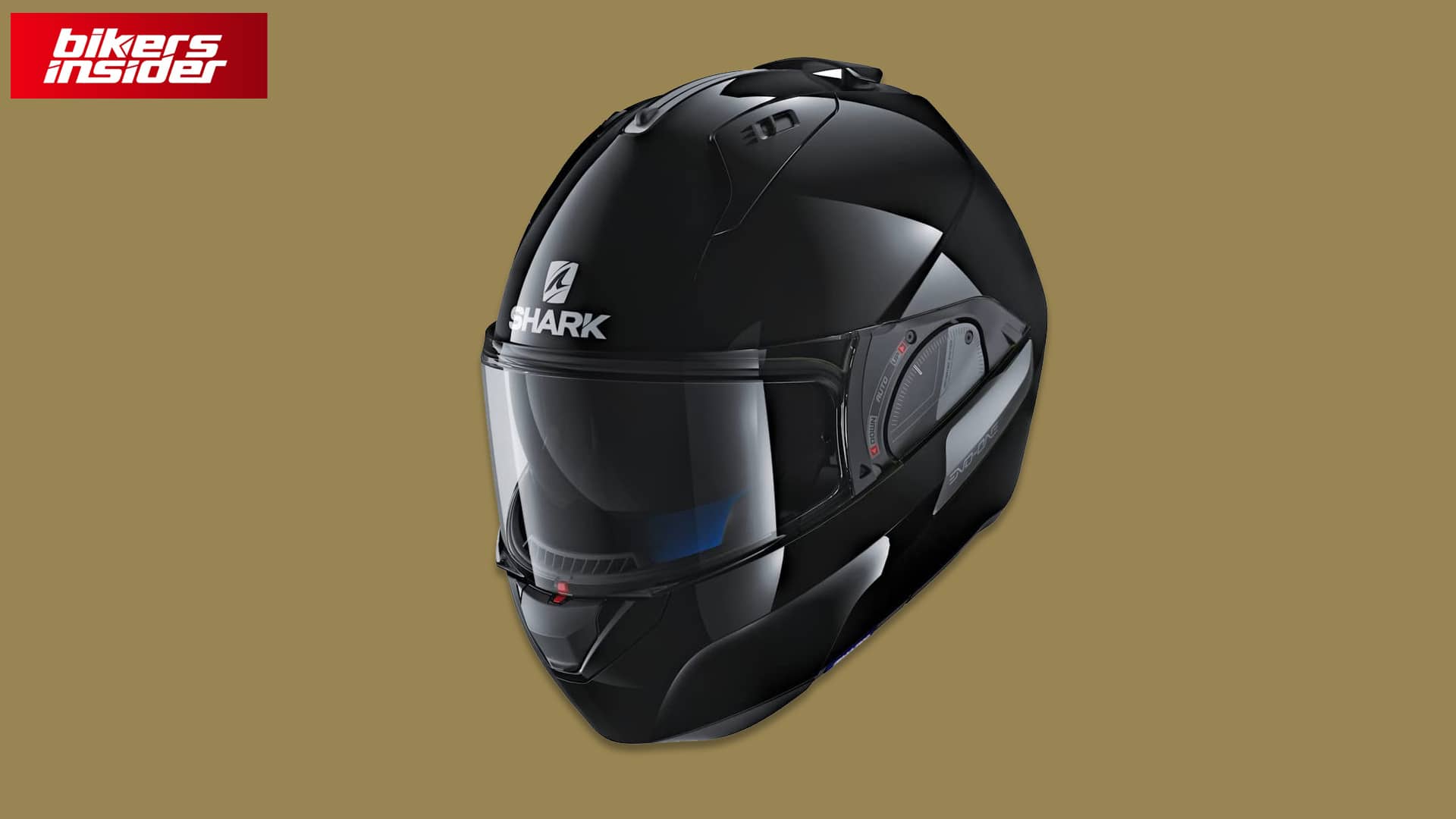 If you are in a hurry, here is a quick breakdown of the main features of the Shark Evo-One 2 modular helmet:
Durable thermoplastic resin shell
Weighs 3,75 lbs (1,7 kg)
Flip the chin bar to change between open-face and full-face configurations
Effortless change between configurations thanks to the Auto-up, Auto-down system
Pinlock Max Vision clear shield
Integrated sun visor
Antibacterial comfort liner
Micrometric strap fastening mechanism
Chin vent
Two toggleable top vents
Rear vent
DOT and ECE certifications
4/5 SHARP rating
Without further ado, let's delve in deeper into the aspects of this great modular helmet!
Construction & Design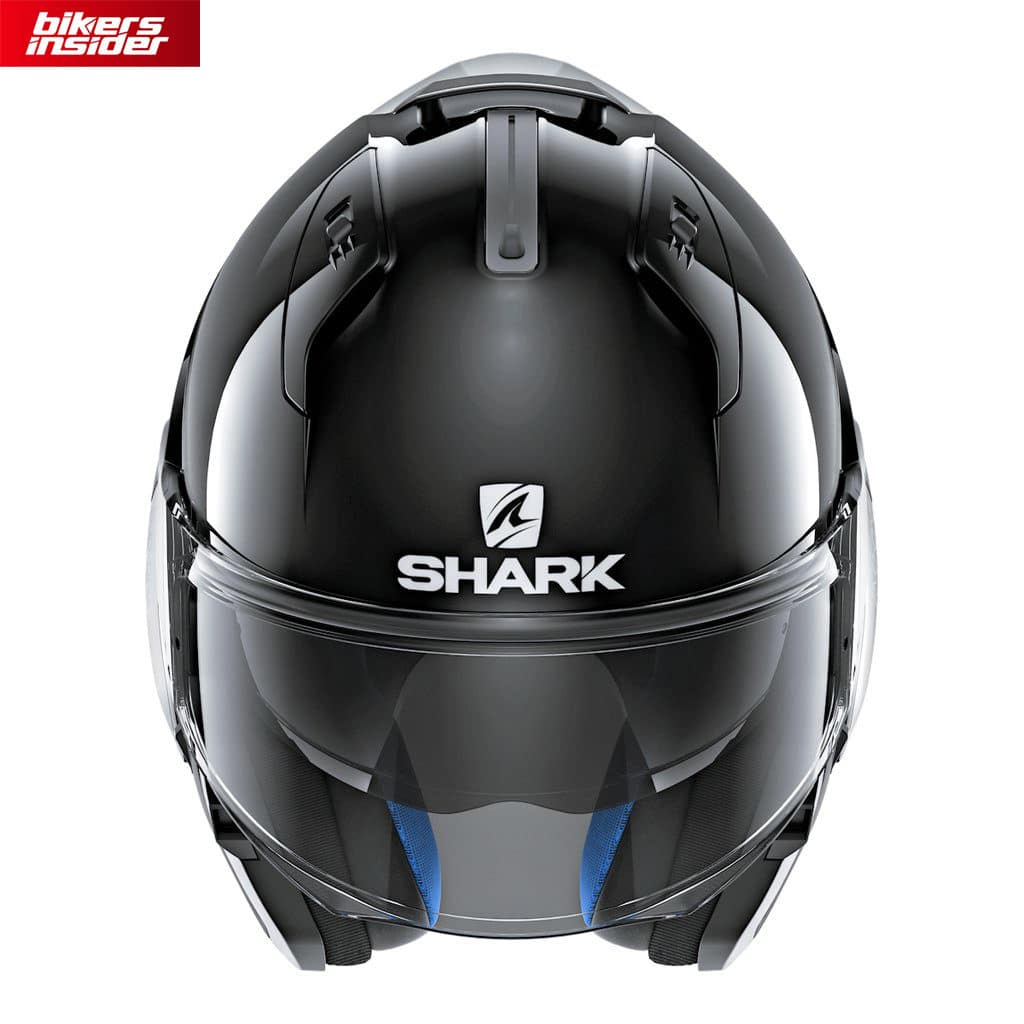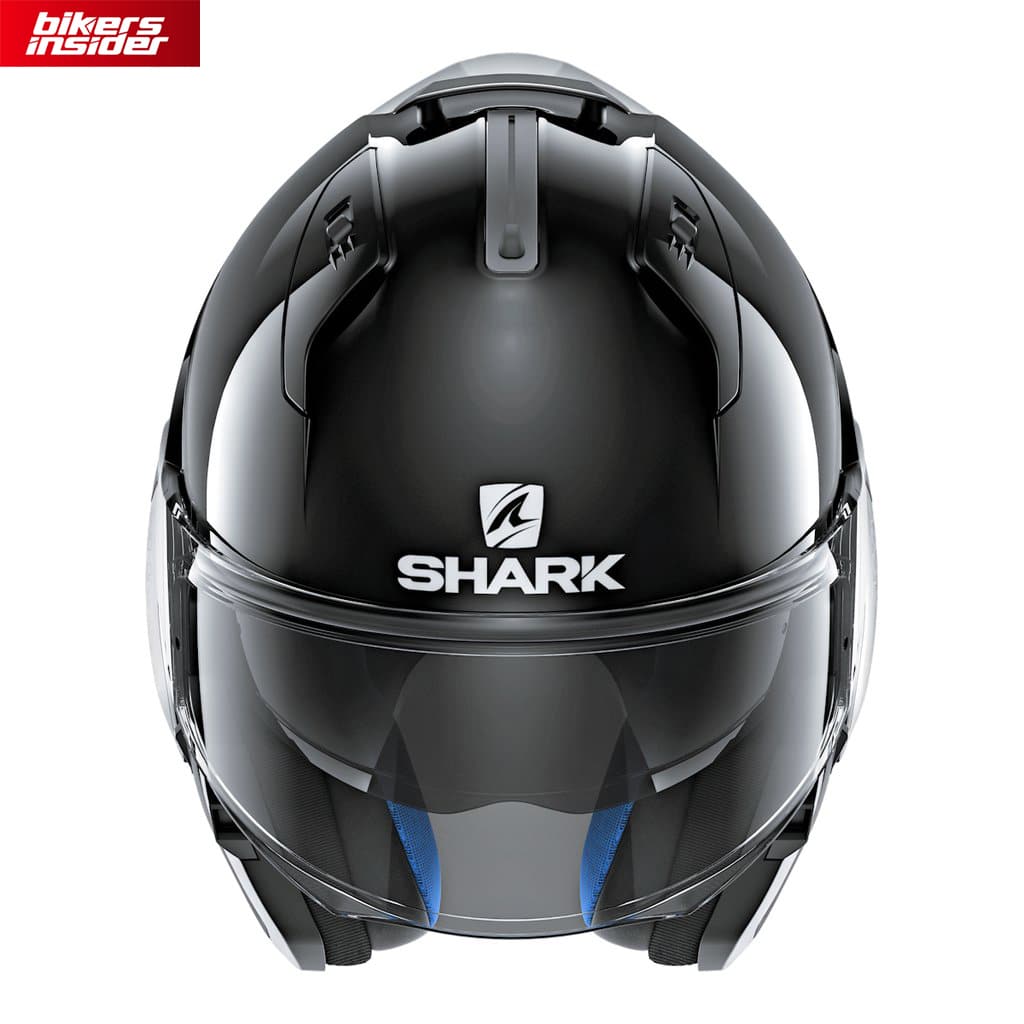 The shell of the Shark Evo-One 2 is made of injected thermoplastic resin, quite durable construction that will keep you safe on the road. Its weight is around 1,7 kg, and the shell is designed to be aerodynamic, which will make it stable when you ramp up the speed on your motorcycle. When it comes to shell size, there are two sizes available: XS and XL.
As this is a modular motorcycle helmet, you can put it in a full-face or open-face configurations with a swift flip of the chin bar. Now that we mentioned it, the chin guard is the largest improvement Shark has made on this modular helmet.
To change configurations, you need to press the button on the central side of the chin bar. With a single click, the chin guard will move to the bottom back of the helmet. This design choice proves to be very useful in improving the helmet's aerodynamic qualities while in the open-face configuration.
Shark also implemented the Auto-up, Auto-down system that helps with chin guard not tampering with the visor shield. It works in a way that the visor shield will automatically open when you open the chin guard, effectively leaving space for the chin guard to go over it. It goes the same with the Auto-down functionality when lowering the chin guard.
So, changing between configurations is effortless thanks to the Auto-up, Auto-down system, making smooth transitions with no distractions from the visor shield. We recommend you to move the chin guard with both hands, and on the sides to eliminate problems with concealed visibility.
Vision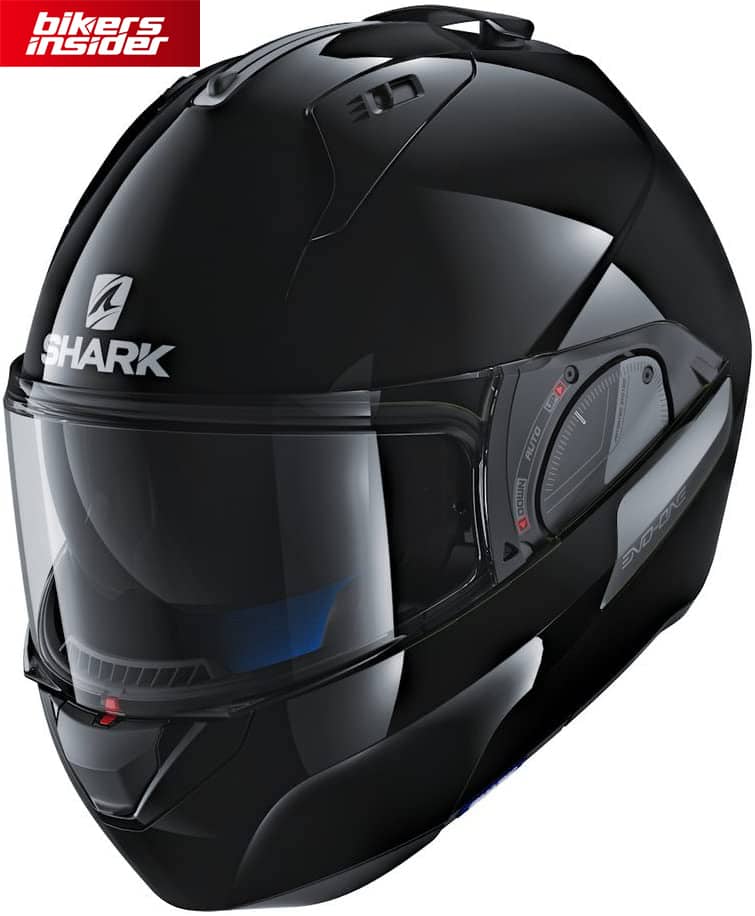 This is one of the several aspects that Shark has addressed with the Evo-One 2 helmet. The visor shield is Pinlock Max Vision ready, and it comes out of the box with this implementation. With the Pinlock implementation, you are getting a modular helmet that does defog effortlessly. In the previous model, lots of users have reported broken visor shields, so kudos to Shark for addressing that annoying issue.
Two things set this visor shield apart from most modular helmets on the market. First of all, it won't interfere with the chin guard when you flip-up the helmet. Second, the visor shield features a quick-release system for all those riders who want to swap to a darker shield in case of bright sunlight. If you want to remove it, you will need a screwdriver to tamper with both sides of the visor shield's recesses. The visor will then pop out, and the helmet is ready for another visor shield. You can just put it into the recesses, and it will click when attached, simple as that!
Of course, the Evo-One 2 comes with an integrated sun visor that is at least 23% bigger than its predecessor. It is a full-coverage visor that you can pop up and down with the big slider on the top of the helmet.
All in all, Shark has learned their lesson with the flawed visor shield of the original Evo-One helmet and implemented the new changes in the Evo-One 2 with pure class.
Comfort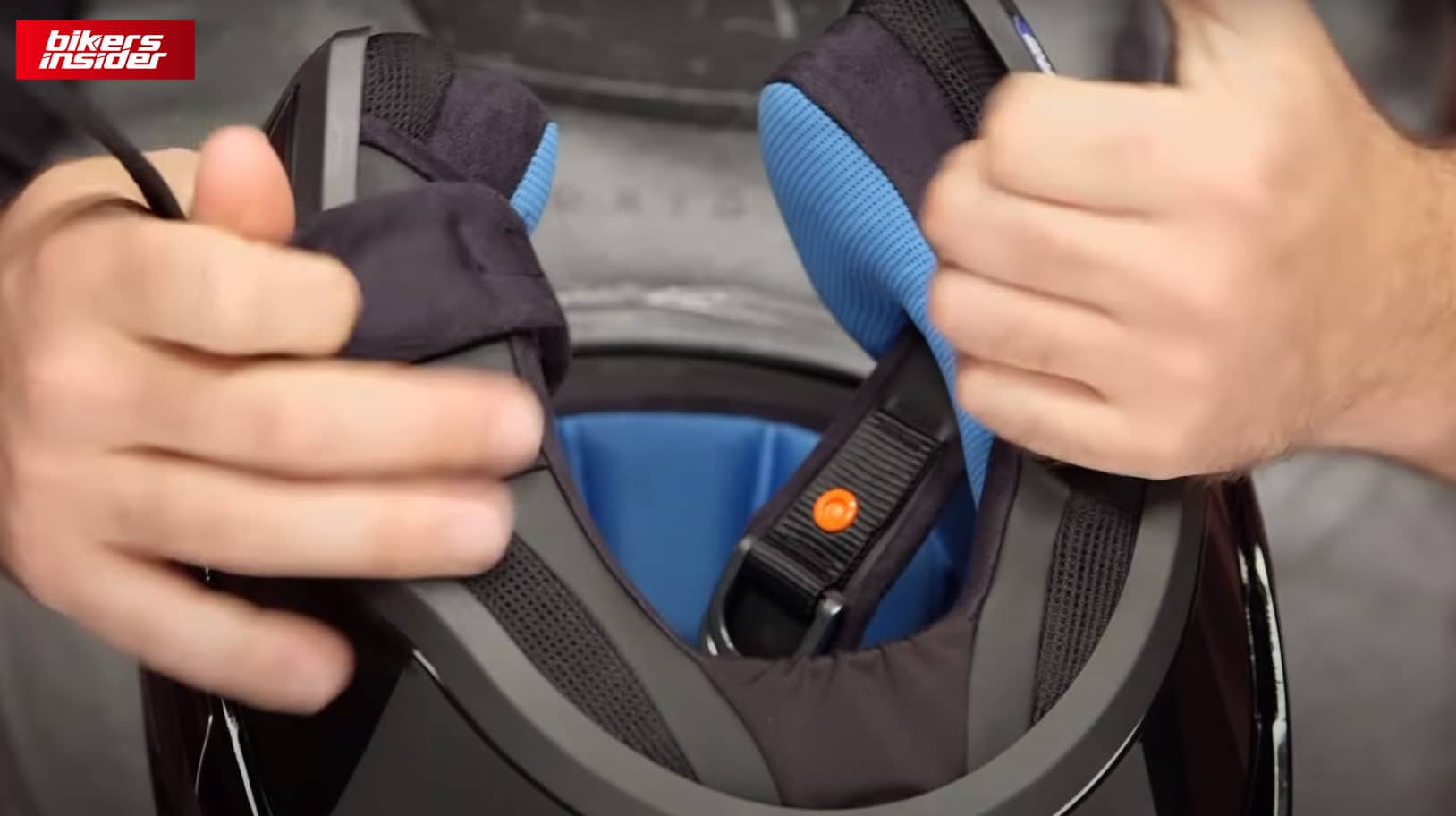 Inside the Evo-One 2 modular helmet, you can find a comfort liner that boasts with antibacterial qualities. It is very soft and keeps your head very comfortable. You can also thoroughly remove the inner lining and hand wash it on at least 30 degrees Celsius. You can also find recesses in this fabric that are suited for Bluetooth speakers or other comm devices. We want to mention that this area is pretty small, so don't expect larger comm devices like Sena 10R to fit.
The standard double-D fastener is replaced with a micrometric strap in the case of the Evo-One 2. This fastening mechanism is excellent for use with gloves as it is swift and reliable, just what you need for day to day use.
The fit of the helmet will significantly depend on the size you get. For those who get the size right, it will fit very snug, and even allow you to wear sunglasses without the helmet pushing them to your head.
The only downside of the comfort aspect of the Evo-One 2 is that the cheek pads are not the best, as they may put pressure on your cheeks if you don't get the right size. One remedy to that problem is to put something heavy (for example, a few books) on the cheek pads, and they will be less tight after a night.
Airflow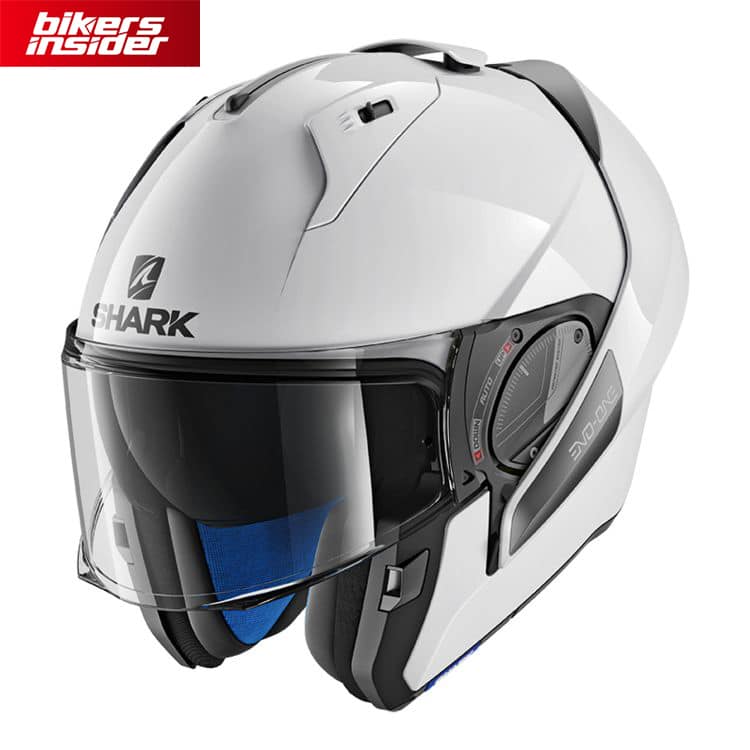 Shark didn't do anything revolutionary on the ventilation aspect. Still, it is quite suitable for different kinds of rides, and we mustn't ignore the demist factor, which is very important for longer rides in hot weather.
We'll start from the bottom of this modular helmet. You have an exterior single chin vent that you can open and close with a toggle panel. On the chin guard's interior, another vent directs the airflow toward the visor shield to enable demisting.
You can find two vents that you can open with any of two small sliders on the top of the helmet. The warm air goes out of the helmet from the exhaust located below the spoiler.
Shark Evo-One 2 has slight improvements over the original helmet and is quite good at keeping your visor shield mist-free. Not to mention the relief of fresh air flowing through those heaty rides.
When it comes to the noise factor (inherently tied to the airflow aspect), we can say that it performs better than your average modular helmet. The plush liner combined with the aerodynamic design and smaller, round helmet shape contributes well to decreasing noise. Nevertheless, if you are riding at higher speeds, it won't be quiet. To prevent that, we recommend you to get some earplugs.
Safety Ratings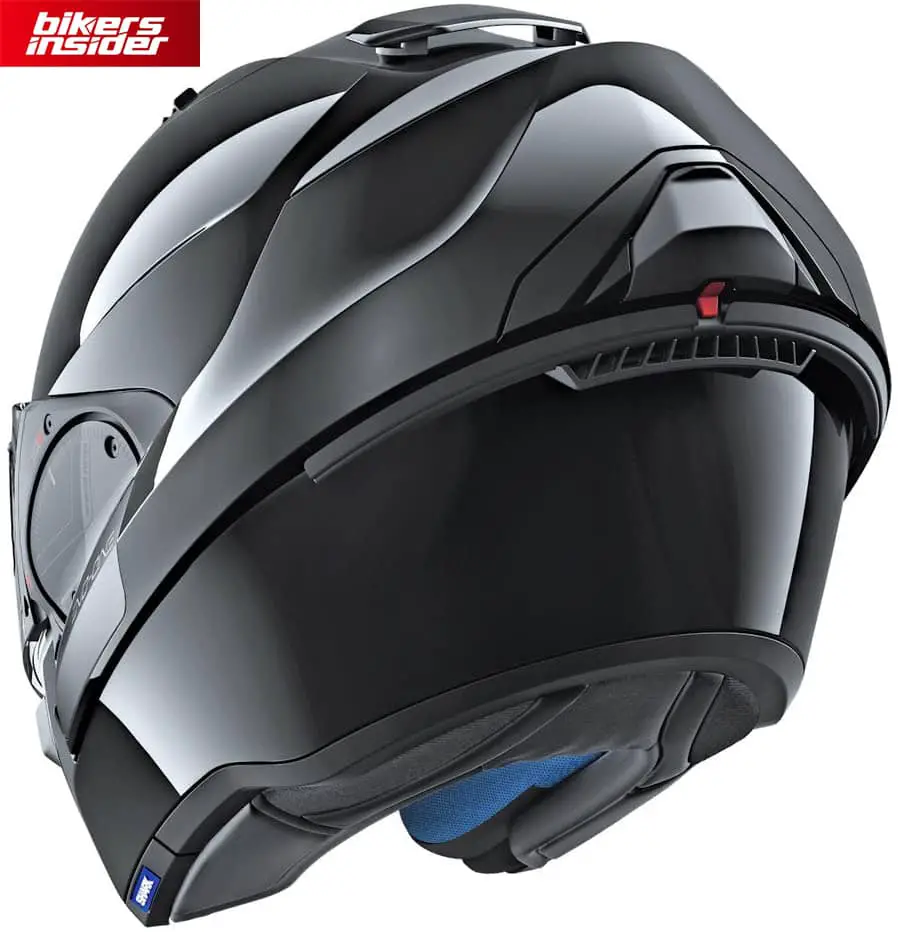 As we can classify Shark Evo-One 2 as a modular/flip-up helmet, it has to meet specific safety ratings to be fit to wear around different markets. The safety ratings are pretty generous for this Shark modular helmet, as it features both DOT and ECE safety ratings, along with the SHARP rating of 4/5. We want to mention that it didn't go through Snell testing.
If you want to wear this helmet in full face and open face configurations, it is good to know that this is a dual homologated helmet.
Learn more about dual homologated helmets!
We can only say, the Shark Evo-One 2 does a fantastic job of keeping you safe during an imminent crash.
Available Models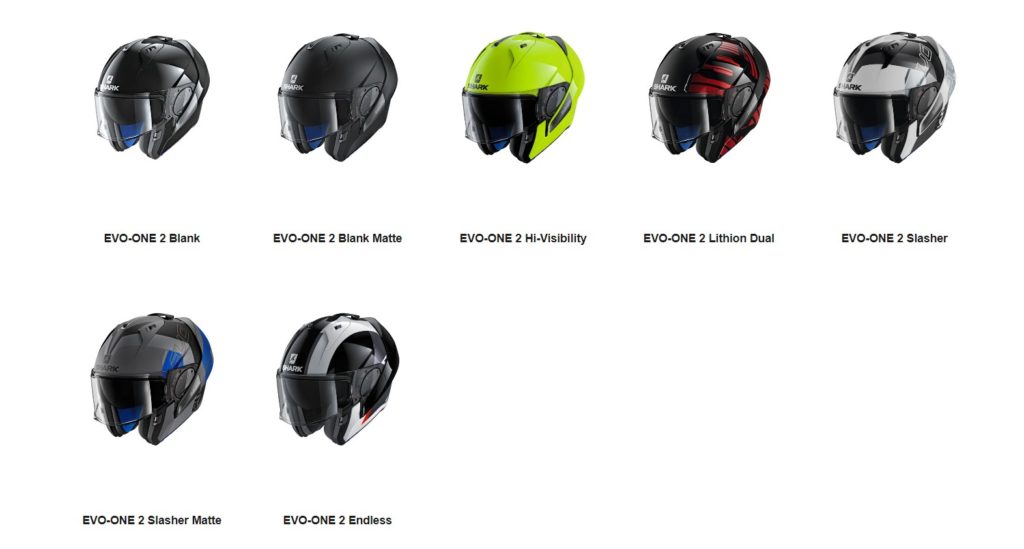 Here is a gallery of all available Shark Evo-One 2 models!
As of this moment, you can find the Shark Evo-One 2 modular helmet in select sizes:
XS – 53 to 54 cm (20,8″ to 21,2″)
S – 55 to 56 cm (21,7″ to 22″)
M – 57 to 58 cm (22,4″ to 22,8″)
L – 59 to 60 cm (23,2″ to 23,6″)
XL – 61 to 62 cm (24″ to 24,4″)
Before you choose the desired helmet size, make sure that you measure the crown of your head correctly! After all, you don't want to go through the endeavor of sending it back and then waiting for the new size to arrive!
There is nothing special to offer here when it comes to the color palette of this modular helmet. There are a few solid and matte variants:
Black
Matte Black
White
Matte Anthracite
Hi-Visibility
Lithion Dual
Slasher
Slasher Matte
Endless
While the personalization options you get with this motorcycle helmet are relatively poor, the helmet's overall design more than makes up for it!
Price
Expect to pay a bit more for the Shark Evo-One 2, as it is one of the best modular helmets money can get at this moment. Right now, you can find it from $429,99 to $449,99 (370€/£338 to €387/£354). Keep in mind that Shark offers a 5-year warranty for this helmet (they offer this for all of their helmets).
The best places to buy this helmet are either via Amazon or Revzilla. It goes without mention that specific variants of the Evo-One 2 tend to go out of stock, so you may opt to buy from a different seller. If you purchase via Revzilla, you will get a guaranteed free shipping deal if you live in the US.
Closing Words
In summary, Shark Evo-One 2 modular helmet is one of the most innovative and versatile when it comes to that niche of motorcycle helmets. All the issues regarding its original variant from 2017 have been fixed, including the revised chin bar that makes for effortless switching between configurations, and the much-improved visor. It is also quite sturdy and compact, which is backed up by several safety ratings.
Of course, there are some downsides, like the cheek pads pushing against the cheeks, and the noise can be quite high if riding high speeds on an open road. This helmet was designed for commuting after all, so all you can do is put some earplugs and enjoy the quiet ride.
We hope you learned valuable information in our Shark Evo-One 2 modular helmet review that will help you with your final decision. If you like this helmet, check out some of the cool motorcycle helmets to wear in 2020!