NEXX Helmets is a Portuguese motorcycle helmet manufacturer, and the helmet we are going to review today is their modular helmet debut. This mid-range modular helmet is focused on the touring motorcycle market. The sheer range of features that we will detail in the sections below justifies its price tag as valuable. Even though NEXX is relatively new to the modular market, their debut is uniquely crafted. Read on our NEXX X.Vilitur helmet review to find out how it compares to its competition in the mid-range modular helmet sphere!
NEXX X.Vilitur Modular Helmet Review – Features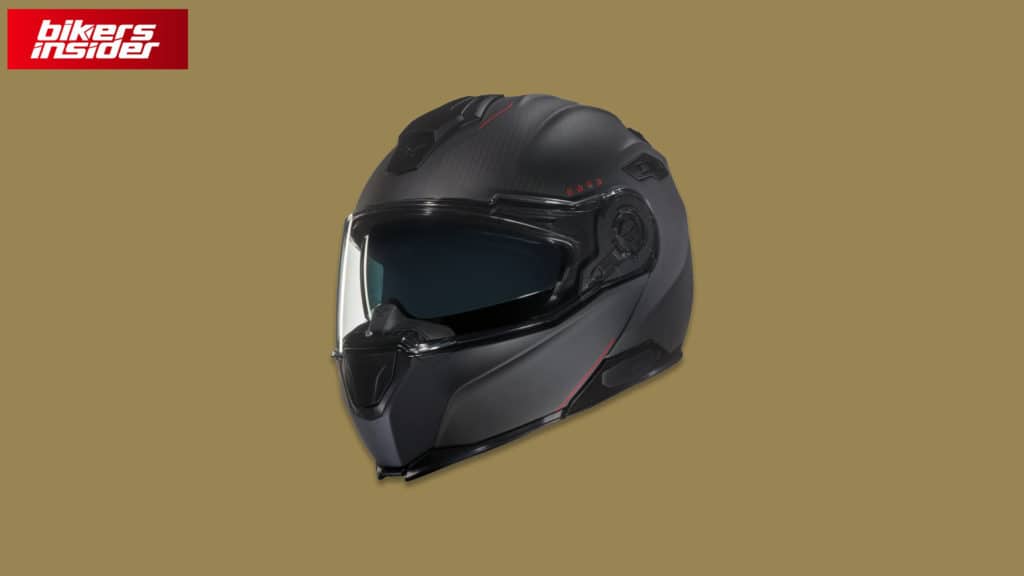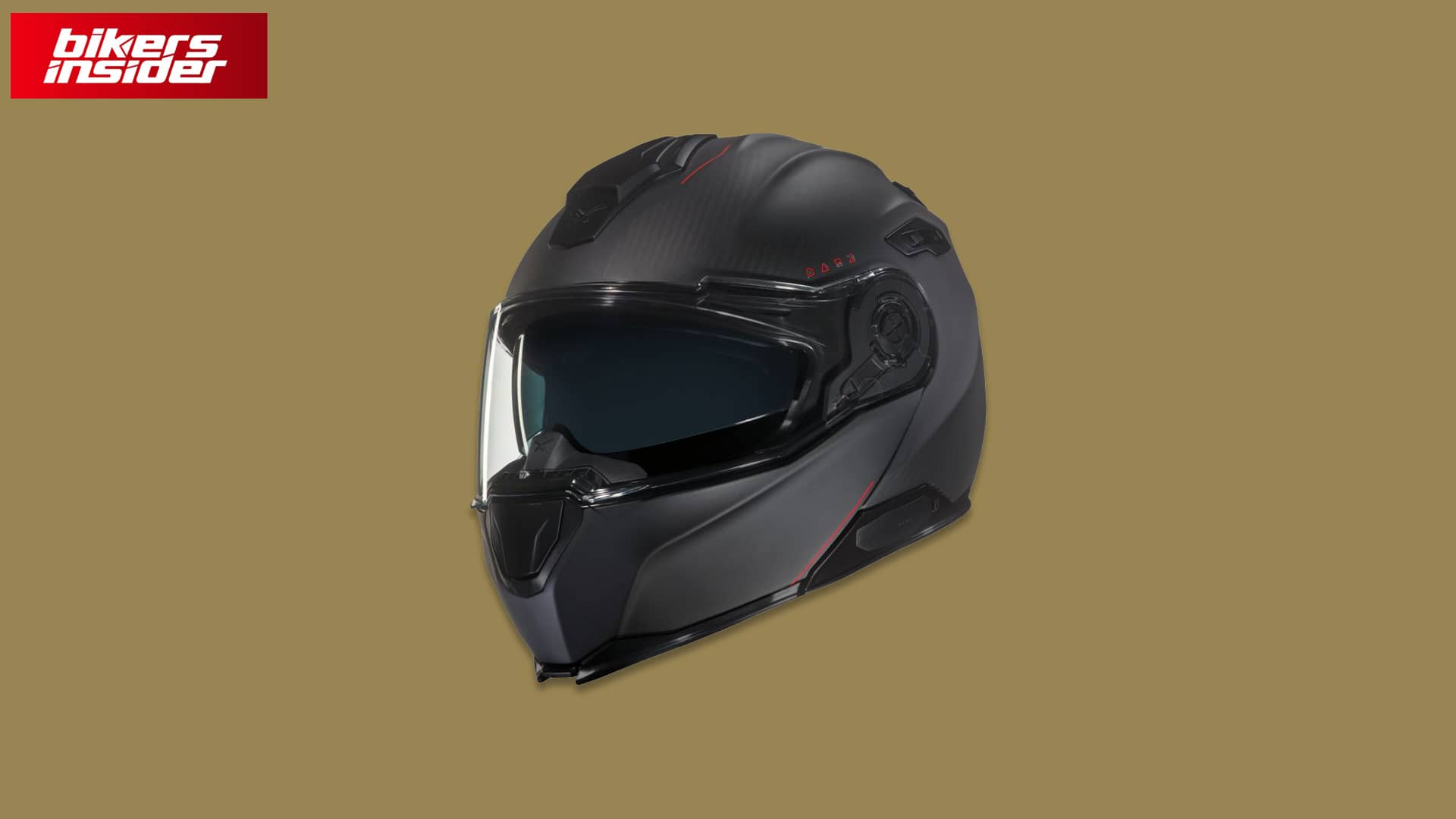 In a rush? Here are all the features of the NEXX X.Vilitur modular helmet that you need to know:
Aerodynamic shell variant
X-MATRIX shell variant – combination of fiberglass, kevlar, aramid fibers, and carbon
Full-face and open-face configurations
Pinlock-ready face shield
Internal sun visor
Comfortable inner padding
Micromesh buckle
Two-way slider forehead vent
Another two exhaust vents on the rear
Chin vent
ECE and DOT certifications
Without further ado, let's delve deeper into the features of this awesome modular helmet!
Construction & Design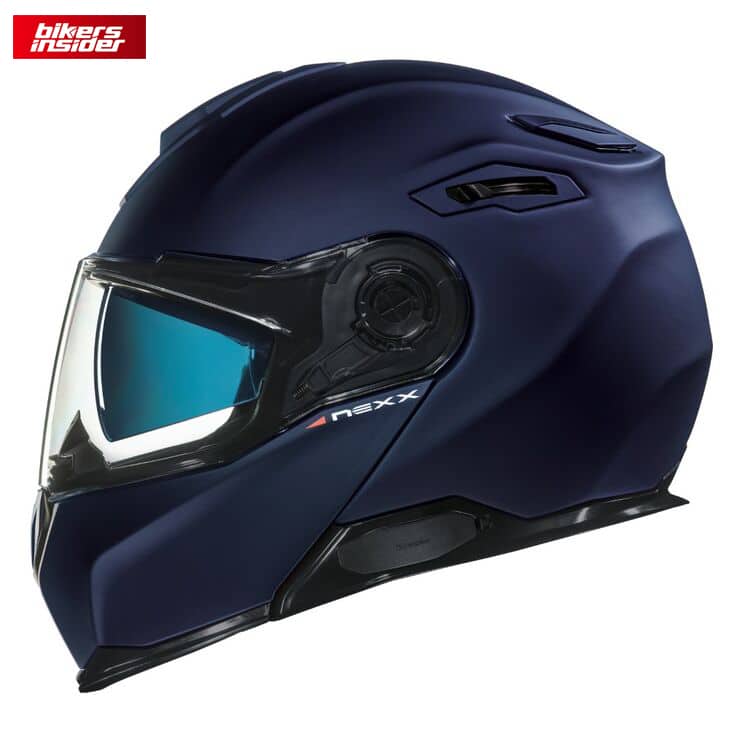 We are kicking off our NEXX X.Vilitur helmet review with a breakdown of the main construction and design features! First of all, this helmet's shell is made with the help of X-MATRIX technology, which essentially combines fiberglass, kevlar, aramid fibers, and carbon material. This kind of shell is more durable than a regular fiberglass shell and has the same aerodynamic qualities. Also, NEXX has created variants of this helmet that feature aerodynamic carbon fiber shells.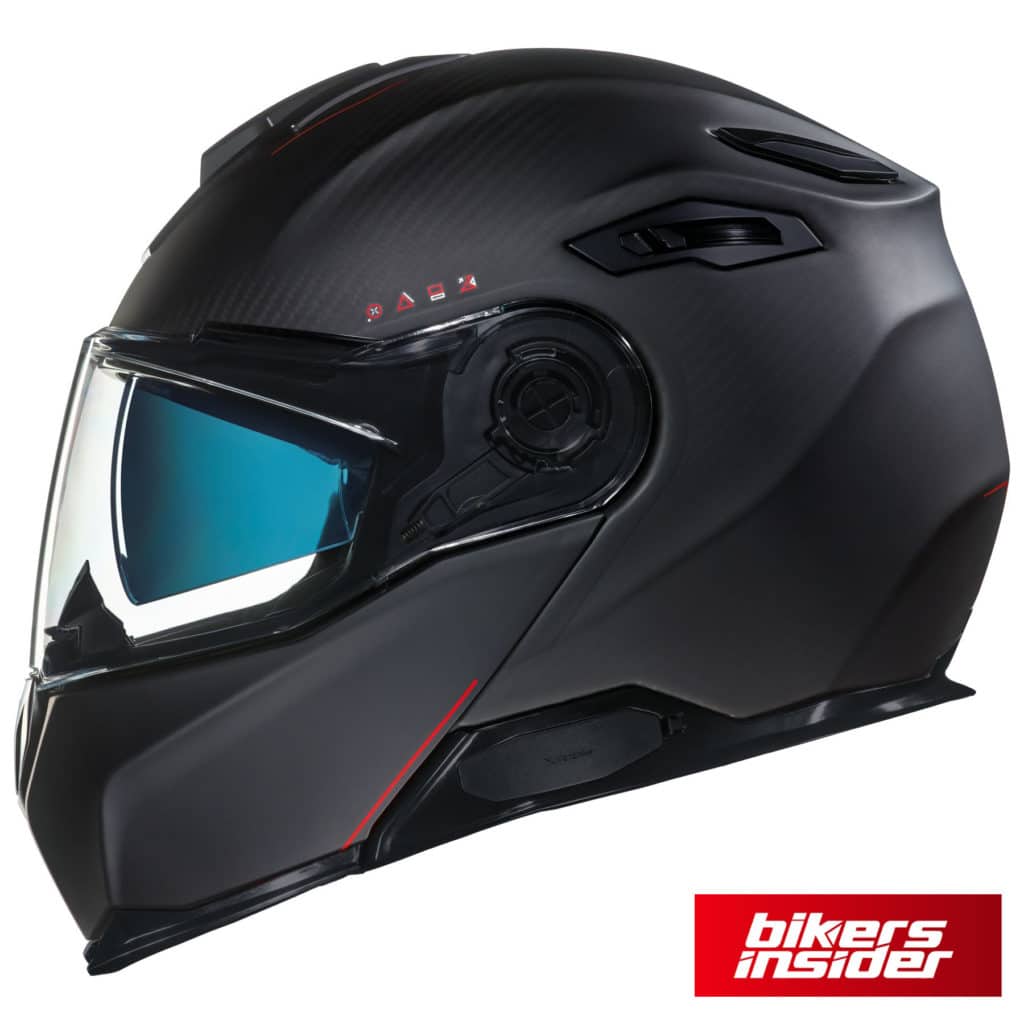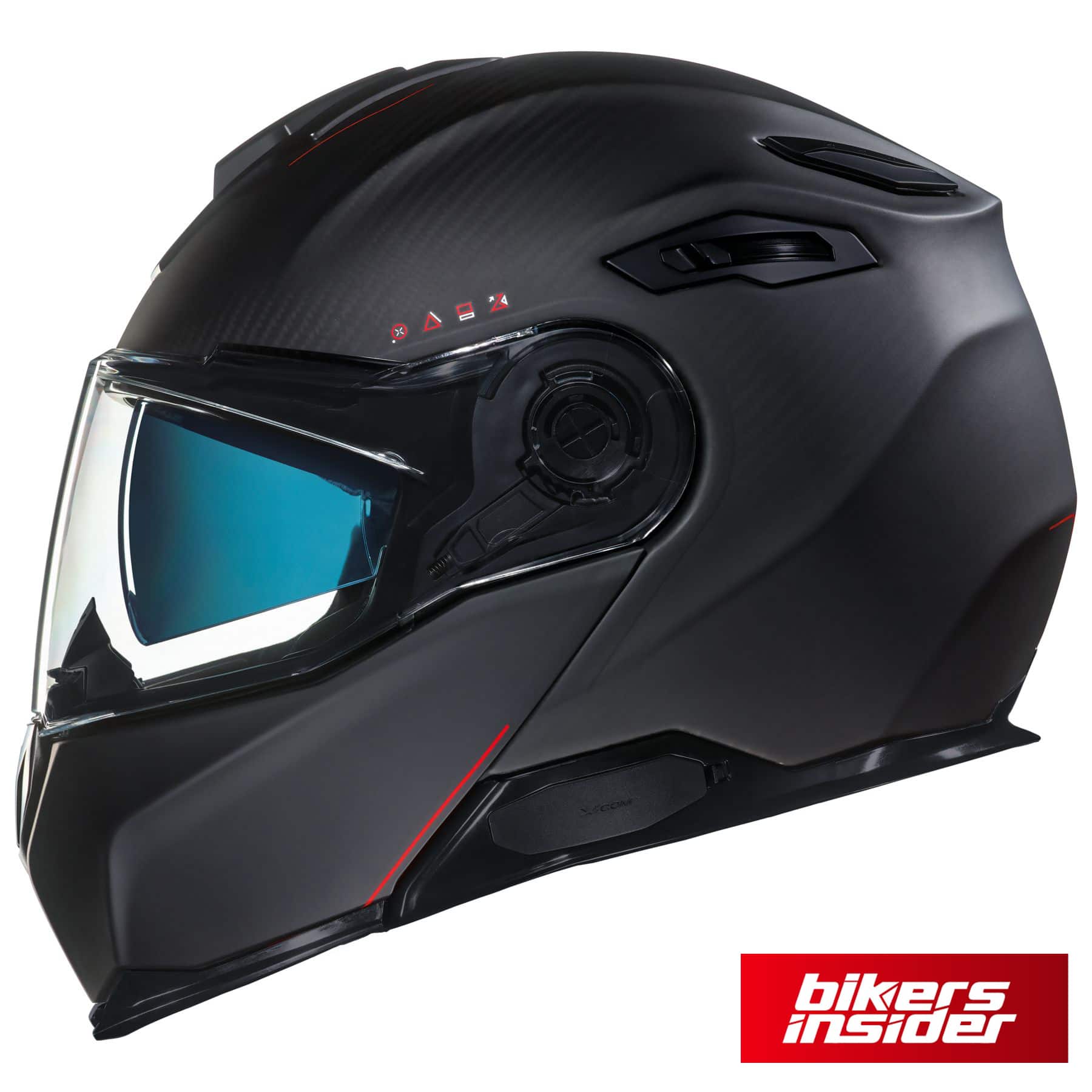 When you gaze at the helmet, you can't help but feel awe at its sleek and aggressive patterns that put the spotlight on the chin bar, communicating to the future users that this is a modular helmet.
As this is a modular helmet, you can push the chin bar up, and it will lock in place, essentially converting the helmet from a full-face to open-face configuration. To operate the chin bar, you need to press a single central button, which will push the chin bar in and pull it up with relative ease. You can also do this with gloves. It is good to note that chin bar locking elements are corrosion-resistant, which is a thoughtful integration by NEXX.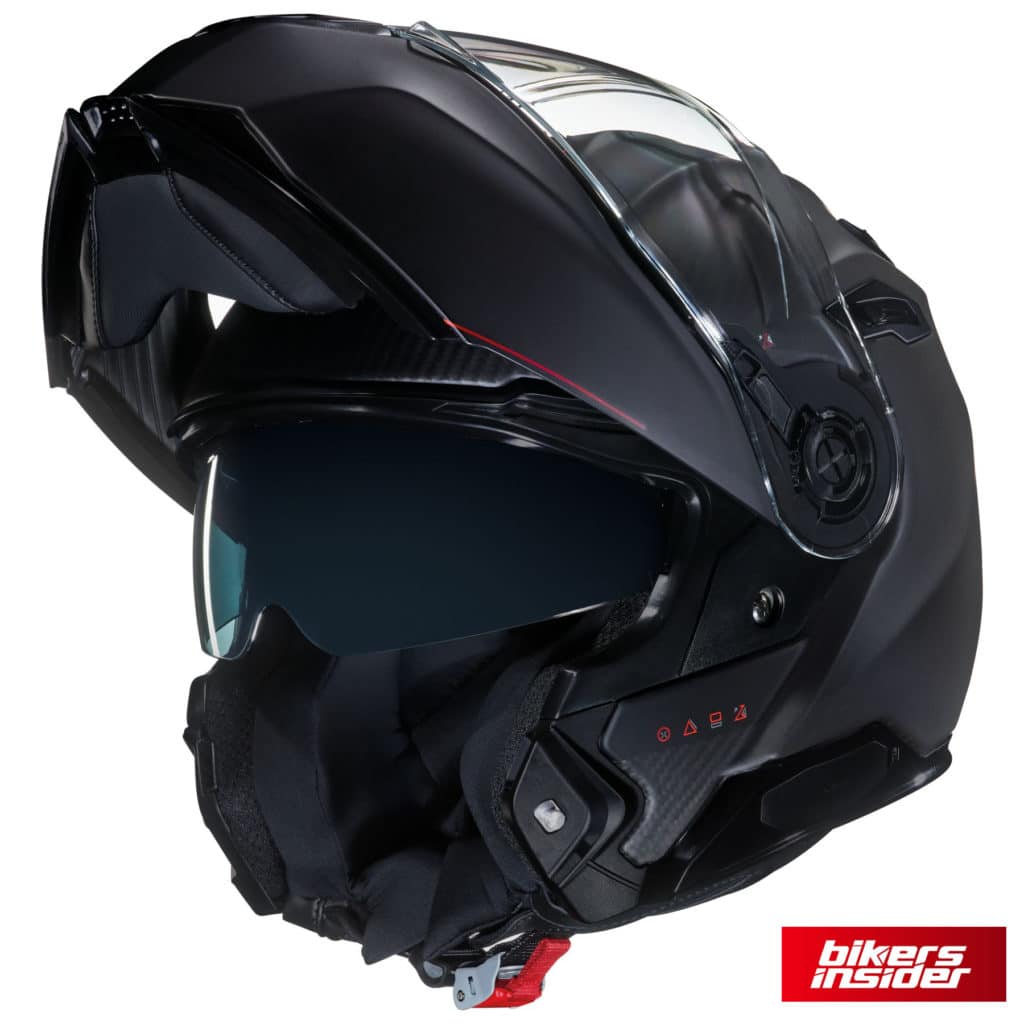 To close the chin bar, you need to tug at it. You will know that the chin bar is fully closed when you hear a click.
All in all, we love the high-tech look of the X.Vilitur helmet, with its pronounced edges and angles. The chin bar functions quite well with no visible or tactile difficulties while operating with it.
Vision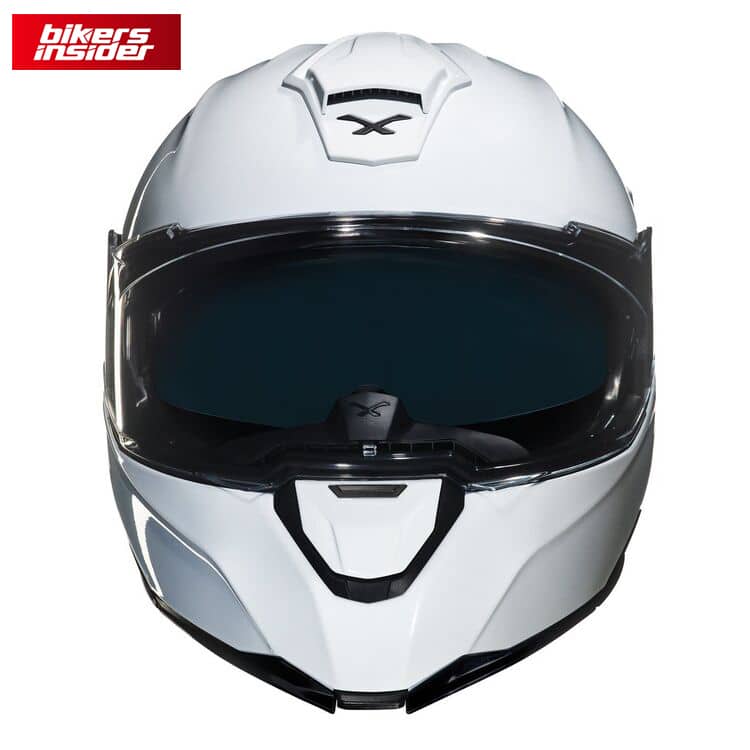 X.Vilitur features a Pinlock-ready, optical Class 1 face shield. Essentially, that means that it's the type of visor that will withstand continual use. One big downside to this is that the face shield doesn't come with the Pinlock visor, even though it is Pinlock-ready. That means that you will need to invest an additional $50 for that kind of comfort, a thing that NEXX should've already featured for such a high price tag. Because of that, you will notice regular fogging when you are riding during cold weather or if riding slow.
The view is pretty clear and offers an excellent all-round vision. When it comes to the face shield itself, NEXX has taken its time to optimize it. It's just a shame that they didn't include a Pinlock visor.
Removing and attaching the face shield is effortless. You open it all the way up and pull the tabs on the helmet's side hinges, and the face shield will pop out. Reverse the process to reattach the face shield, simple as that!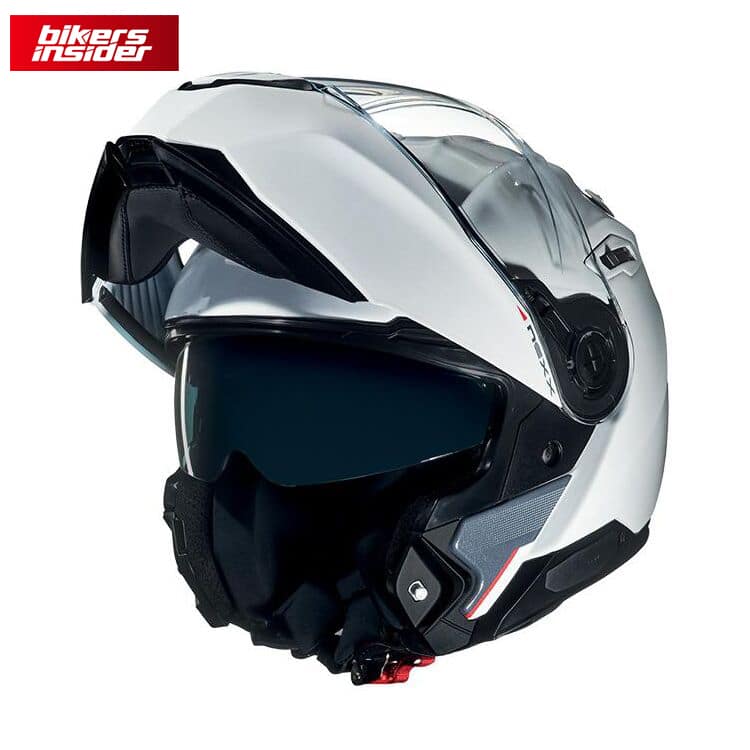 No touring helmet would be worth almost $500 without an internal sun visor! Thankfully, X.Vilitur modular helmet has a dropdown sun visor. To toggle the internal sun visor, you need to operate the big slider behind the shield pivot, a very awkward position, especially if you are moving. Apparently, it blocks 99% of sun rays and will cover 85% of your field of view, as you can find two small spots without any tint on the bottom left and right of the sun visor. The sun visor isn't too dark due to the regulations around the amount of tint.
Comfort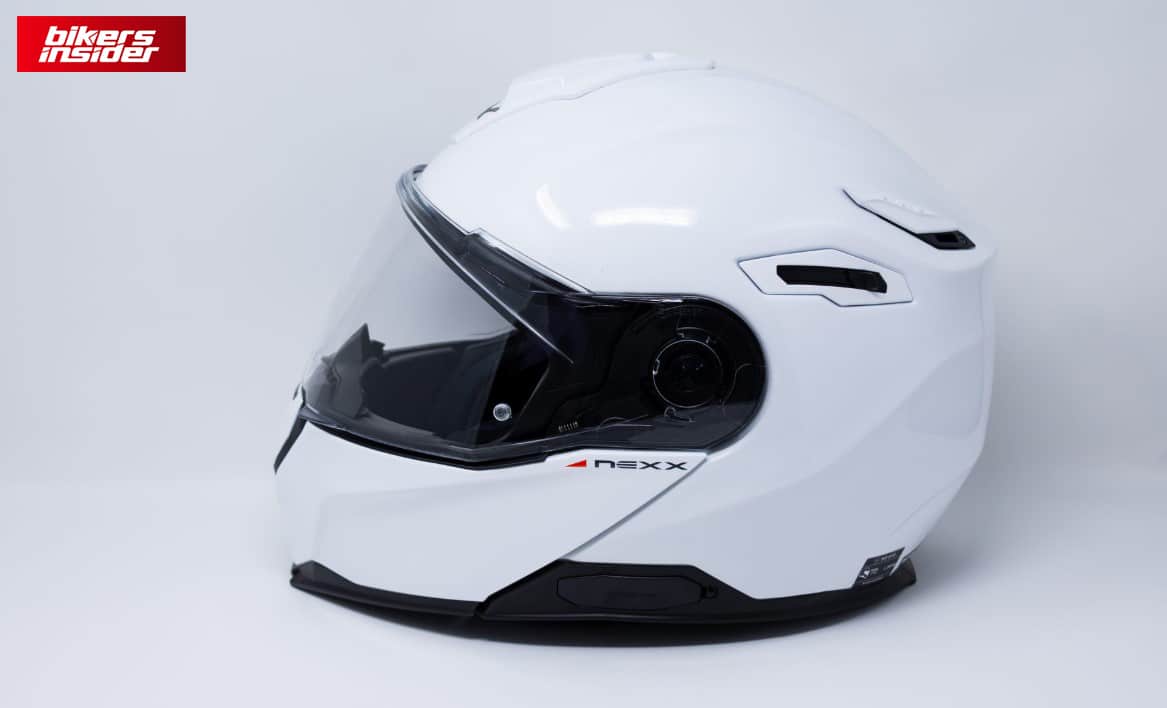 The helmet's fit is balanced, as it is snug but not too uncomfortable fit for the chin and jaw area, and the helmet overall will feel connected to your head. In the beginning, you may feel pressure at the crown area (depending on the shell size you get, of course), but NEXX includes an extra piece of padding to take care of that (with that, there are also clips for mounting an action camera, a well thought out bonus!). On the bottom of the helmet, you can see the small removable plastic panels that serve as integration for X-COM, the official Bluetooth speaker of NEXX. 
The micromech buckle is the part of the helmet that may tamper with the comfort level of this helmet. It tends to dig into Adam's apple area. If you run into this annoyance, try closing the buckle and tucking it into the chin vent port. Nevertheless, we think that NEXX should optimize the buckle by moving it forward so that there is more gap between Adam's apple area and the strap.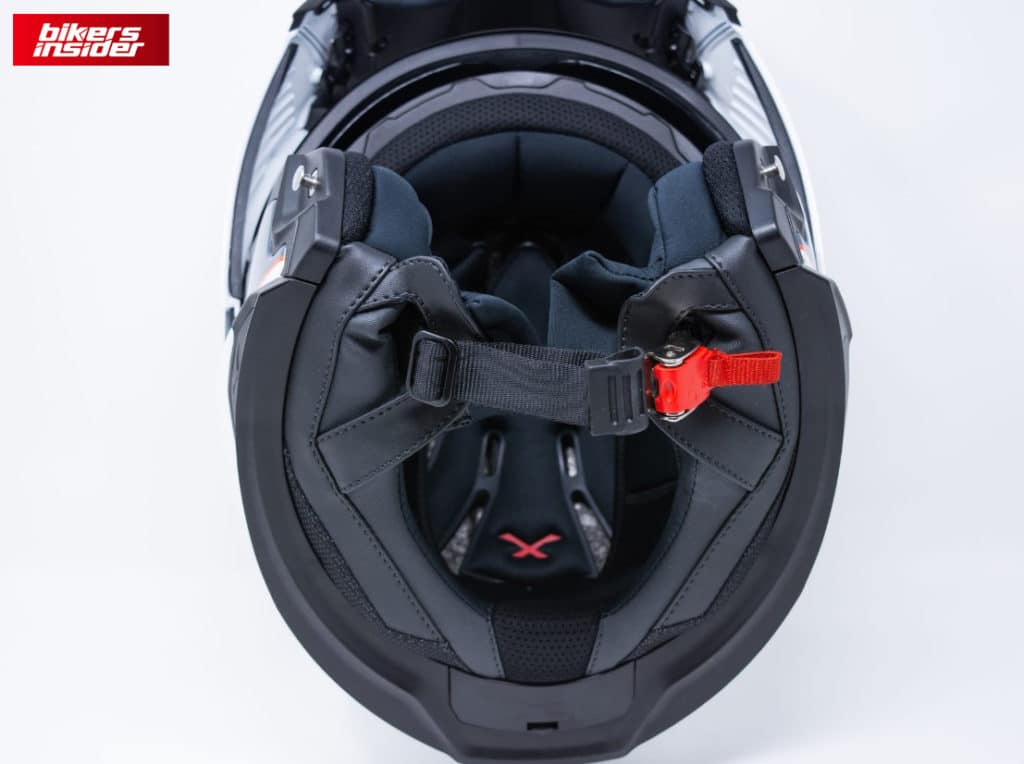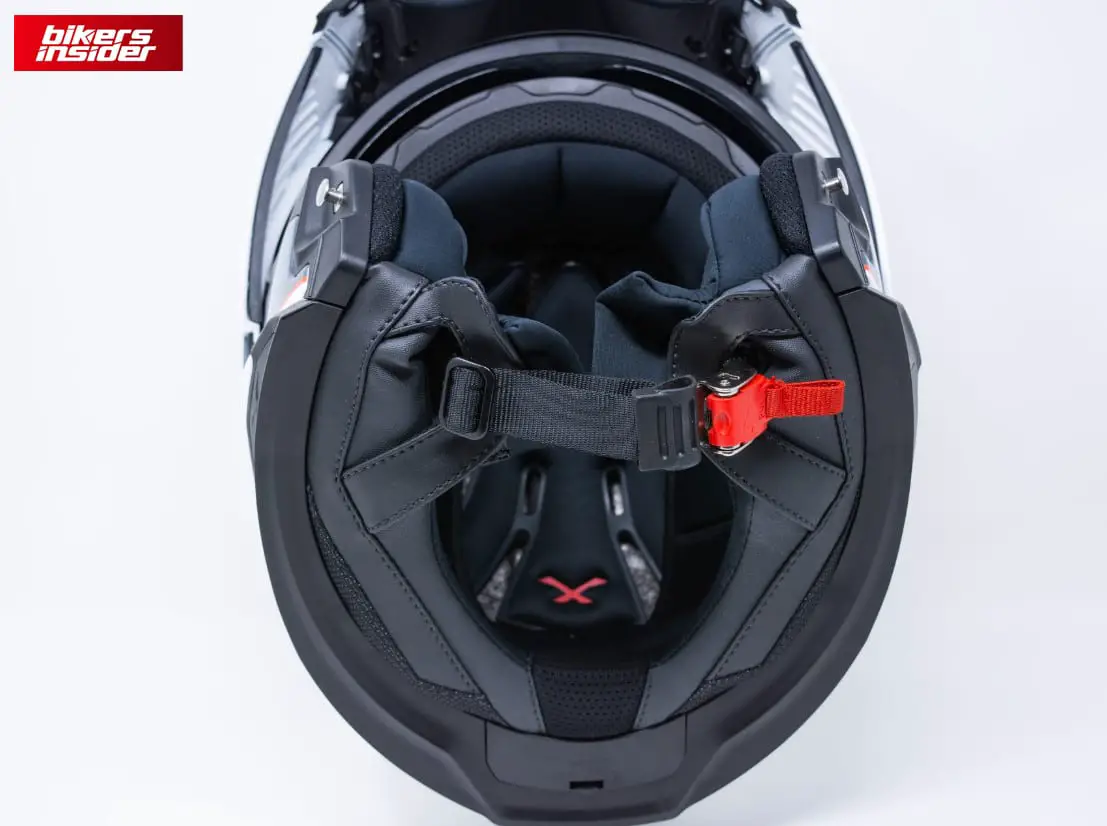 To further increase the comfort of the helmet, NEXX has implemented its washable and moisture-wicking X.MART DRY comfort liner. It's also designed with glass wearers in mind, which is a thoughtful addition. The inner comfort liner and the neck roll are made of soft material that won't scratch you. When you need to wash the liner, it is effortless to pull it out. You can also spot the recessed speaker pockets for comm devices.
Overall, the X.Vilitur is quite a comfortable helmet, even though the micromech buckle can give you some annoyances if you don't brute force that issue.
Airflow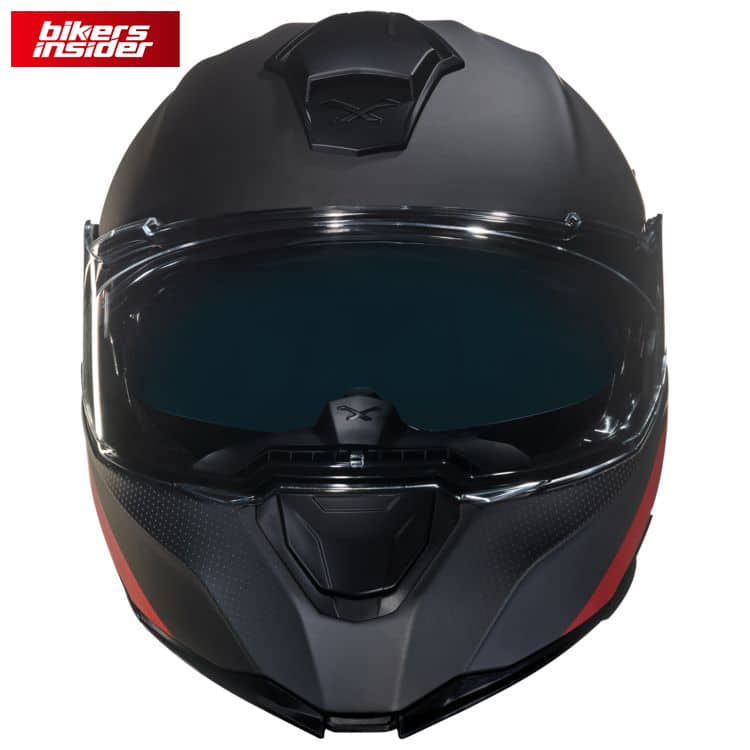 X.Vilitur helmet offers enough ventilation to keep you cool during average weather, but as there is no Pinlock visor out of the box, it won't be enough to prevent it from fogging during colder weather. Nevertheless, if you feel too much heat in the helmet, you can pull the chin bar up for all the ventilation you need.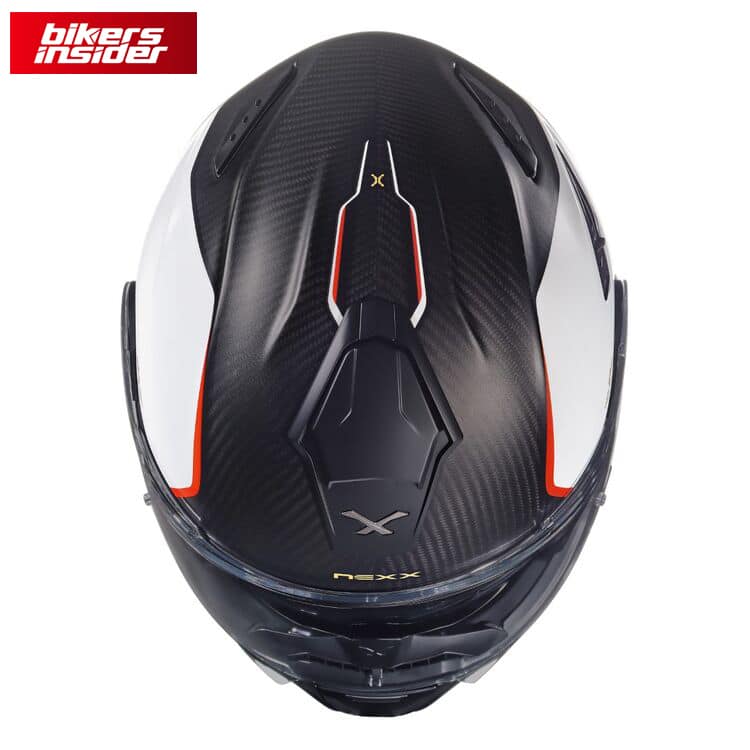 First of all, there is a forehead vent covered with a two-way slider. You can open it fully or halfway, which will let air inside the helmet, connecting with the deep venting channels inside the inner comfort liner, which equals in air circulation around your head.
Two rear exhaust vents serve to let the warm air out of the helmet's back. You can find a central vent in the chin bar area, covered with a large panel. Press the panel, and the vent will direct air to the back of the face shield to help with defogging.
All in all, the X.Vilitur helmet's airflow is suitable for all climates with the exclusion of scorching temperatures. Also, during colder weather, it won't be enough to demist the face shield fully.
When it comes to noise, NEXX has implemented a few things. First, there is the neck roll that stops air and noise from getting in from below. Then, there are vortex generators in the chin area. The shield features a double rubber covering to seal the shield and prevent noise from coming in. Well, these implementations help, but when you open the vents, the noise will get inside the helmet. If you close the face shield and the vents, this helmet will be quiet when comparing it to other similar modular helmets.
Safety Ratings
Our NEXX X.Vilitur helmet review takes us to the safety ratings. On paper, all NEXX X.Vilitur modular helmets are ECE and DOT approved, which earns them the dual homologated tag. When it comes to SHARP testing, the X.Vilitur helmets weren't tested. Nevertheless, if we look into other carbon fiber and composite fiber helmets from NEXX, they scored 3/5. Based on that fact, X.Vilitur should offer you decent protection if a crash does happen. After all, NEXX has built its name on creating durable and protective composite shells for their motorcycle helmets, so why shouldn't that be the case with the X.Vilitur too?
Learn more about dual homologated motorcycle helmets over here!
Available Models
NEXX has paid extra care to make the X.Vilitur helmet available to a wide range of riders. You can find the X.Vilitur modular helmet in select sizes:
XS – 53 to 54 cm (20,8″ to 21,2″)
S – 55 to 56 cm (21,7″ to 22″)
M – 57 to 58 cm (22,4″ to 22,8″)
L – 59 to 60 cm (23,2″ to 23,6″)
XL – 61 to 62 cm (24″ to 24,4″)
XXL – 63 to 64 cm (24,8″ to 25,2″)
3XL – 65 to 66 cm (25,6″ to 26″)
What about the available models? NEXX has launched three different variants of the X.Vilitur modular helmet:
Carbon Zero
X.Vilitur Helmet
Latitude Helmet
Carbon Hyper-X Helmet
So, what is the difference between these models? The main difference is found in the shell material. Carbon Zero and Carbon Hyper-X variants feature an aerodynamic carbon fiber shell. On the other hand, the regular and Latitude variants feature an aerodynamic, X-MATRIX shell made of a composition of fiberglass, aramid, and carbon fiber.
Here are all the variants of the NEXX X.Vilitur helmets in the gallery below!
With a difference in helmet shell materials comes a slight difference in weight. The carbon fiber variants weigh 1,65 kg (3,65 lbs) while X-MATRIX variants weigh 1,78 kg (3,93 lbs).
Price
As X.Vilitur is one of the best mid-range modulars on the market right now, you can expect to pay more for it. The pricing for this helmet depends on one of the four variants you decide to pick:
Carbon Zero – $679,95/€576,53/£524,30
X.Vilitur Helmet – $499,95/€423,91/£385,50
Latitude Helmet – $549,95/€466,26/£424,06
Carbon Hyper-X Helmet – $649,95/€551,04/£501,06
You can buy this modular helmet either via Revzilla or Amazon. On Revzilla, you will have free shipping for this helmet and be eligible to return it for free in 30 days. Amazon offers free shipping if you are a Prime member and allows you to return the helmet within 30 days freely.
Closing Words
Let's summarize our NEXX X.Vilitur helmet review. It is placed in the sweet spot of the mid-range modular helmets, and we're excited to say that you will get a lot of value from this modular helmet! The helmet's craftsmanship is sublime, with durable materials combined to provide the best aerodynamic qualities and comfort. Changing between configurations is effortless thanks to the tactile chin bar mechanism.
When it comes to comfort levels, the micromech buckle is our main complaint, as it will plague most users. It's also a shame that this helmet doesn't come with a Pinlock face shield out of the box.
All in all, this is one of the most valuable modular motorcycle helmets out there. If you are looking for a long-term helmet, the X.Vilitur may be just the one for you!
We hope you found our NEXX X.Vilitur helmet review worth your time! For more motorcycle helmet reviews, check out our expert reviews section!