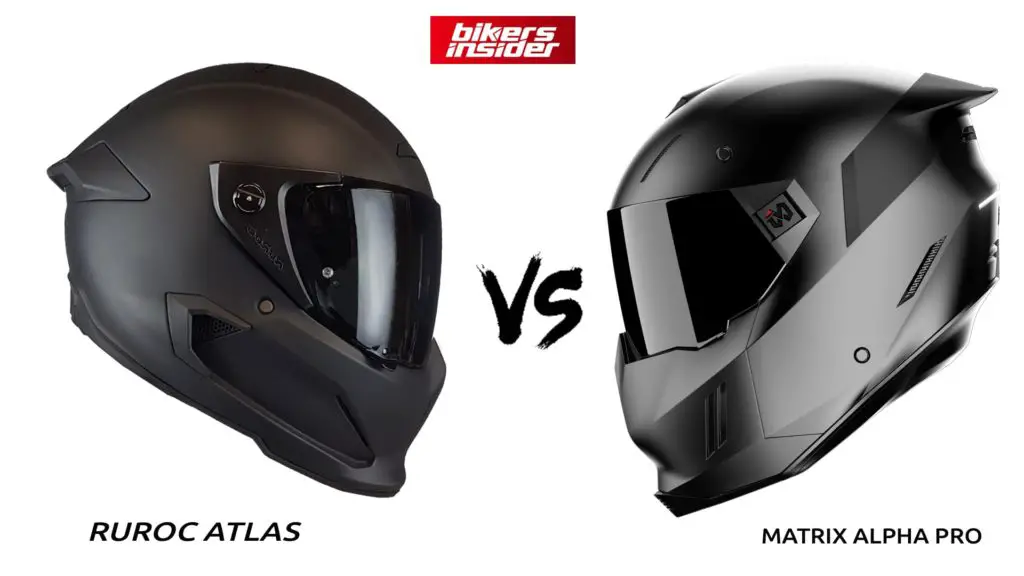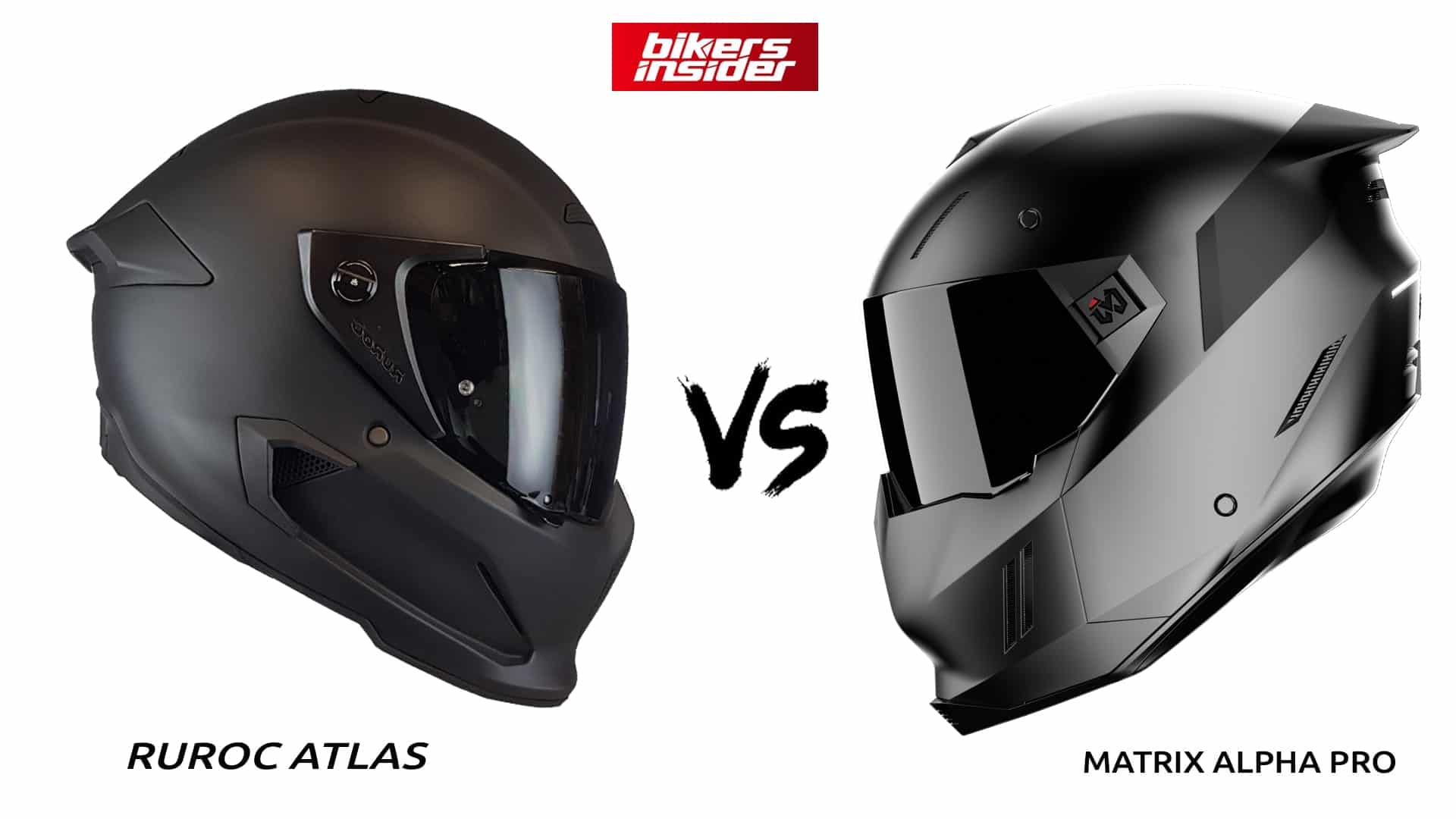 We have recently stumbled upon heated debates on the upcoming Matrix Alpha Pro and Ruroc Atlas motorcycle helmets. Many say that the Alpha Pro looks identical to the Atlas helmet, paving the way for the Ruroc Atlas vs. Matrix Alpha Pro topic.
At a glance, the helmets look quite similar. But, we have analyzed both of the helmets side-by-side, and discovered lots of differences, from design quirks to feature table. This debate sparked our interest and we found some interesting insights.
Note: If you already decided which one of these two modular helmets you prefer, here are the links to their respective stores down below!
Below, you will find our unbiased opinion about both of the helmets and really look at the Ruroc Atlas vs. Matrix Alpha Pro debate with a rational mind. Let's dig in!
Ruroc Atlas vs. Matrix Alpha Pro Design – Side View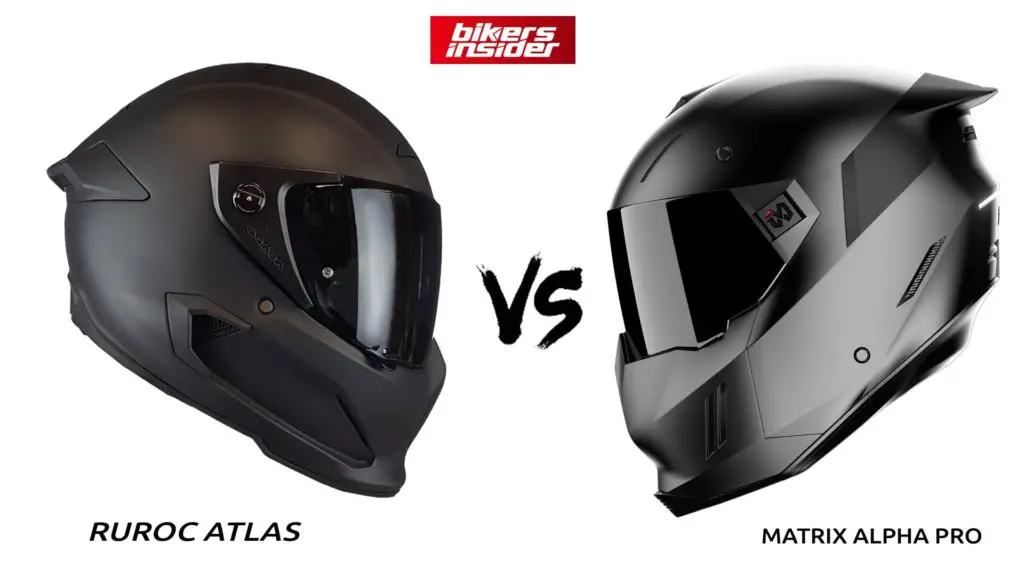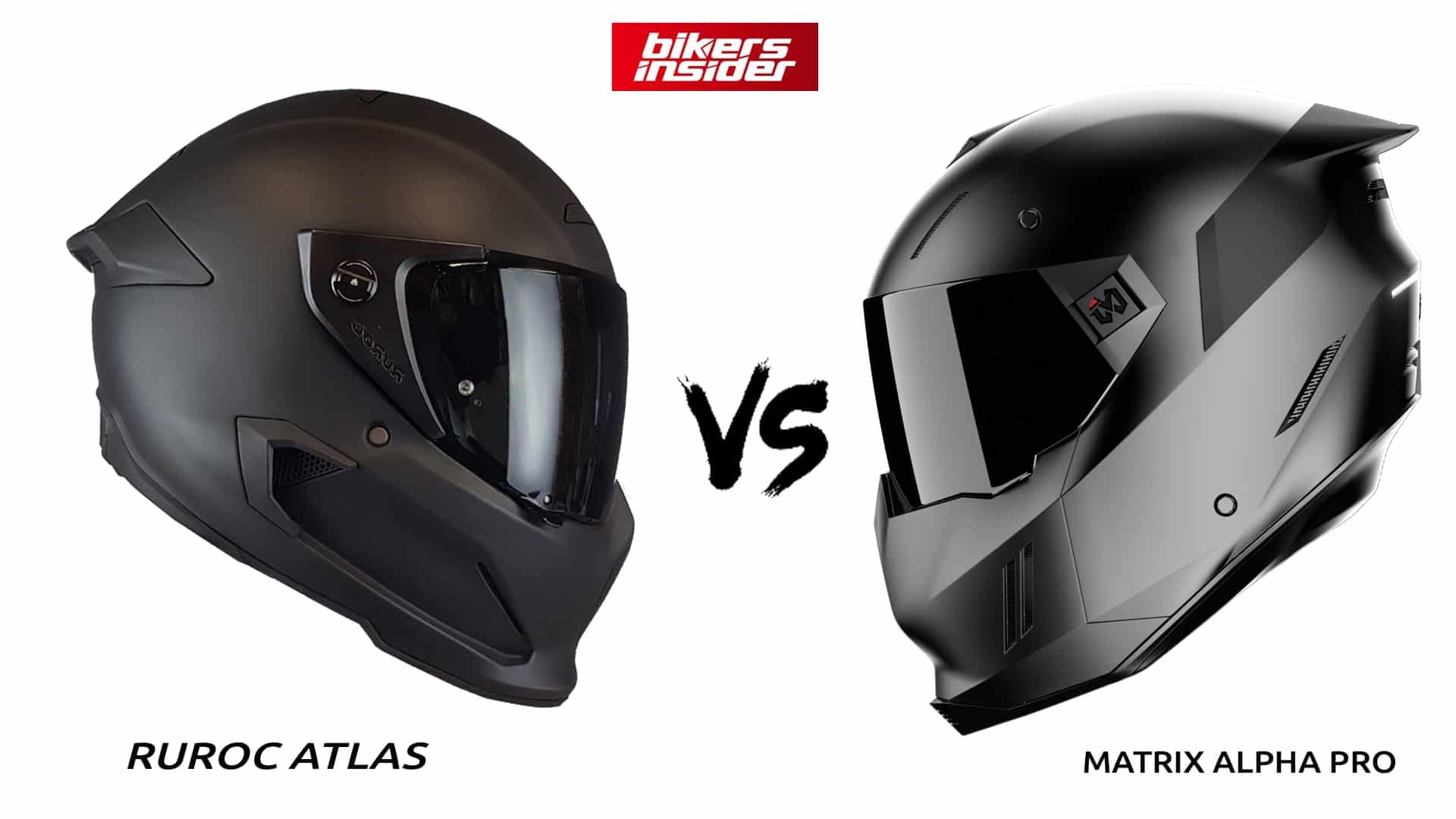 With a glimpse at the side view of both Atlas and Alpha Pro, we can conclude that both belong to the StreetFighter helmet design style. There are some differences that distinguish them from each other.
Both helmets have a different chin bar outline, with Atlas featuring a sleek outline, while the Alpha Pro features a more pronounced, aggressive outline. From this corner, we can see both helmets have a quite large view area and different visor release mechanisms. Ventilation ports are in a similar position.
Alpha Pro vent ports bear a close resemblance to the previous Matrix Alpha model, which was released before the Atlas helmet. It seems that Matrix is aiming at the full-fledged upgrade of the previous Alpha model. Rear spoilers are an element that is present in both helmets, even though the Alpha Pro helmet allows adjustment of it to manipulate aerodynamic performance.
Summing up on the side view of both helmets, we can clearly conclude that both helmets belong to the same, StreetFighter helmet design category. The main difference is that Atlas helmets have a more sleek, smooth design, while Alpha Pro aims at sharp and aggressive edges. Also, keep in mind that Atlas is a full-face helmet (one configuration only), while Alpha Pro is a modular helmet (four configurations).
Ruroc Atlas vs. Matrix Alpha Pro Design – 3/4 View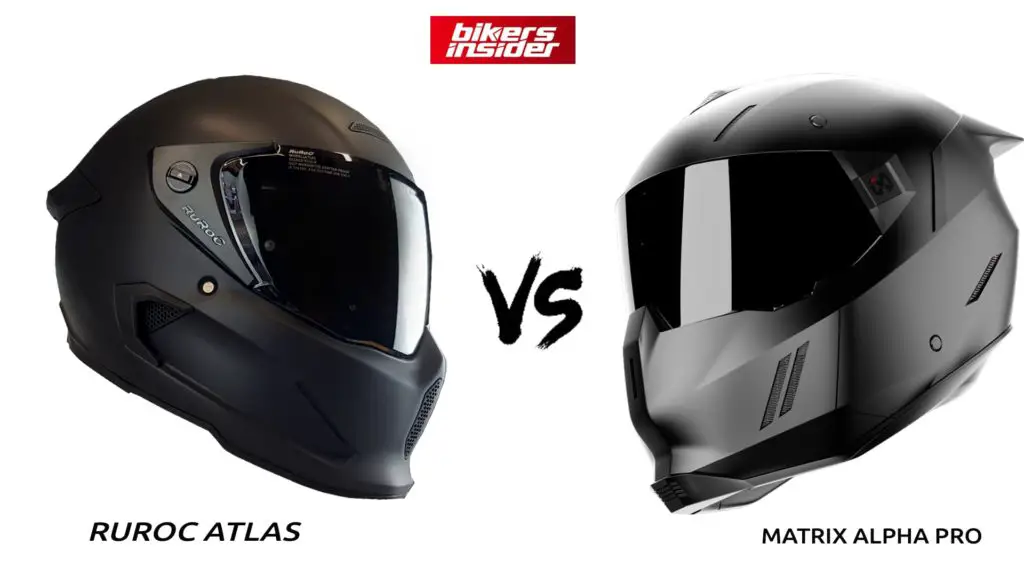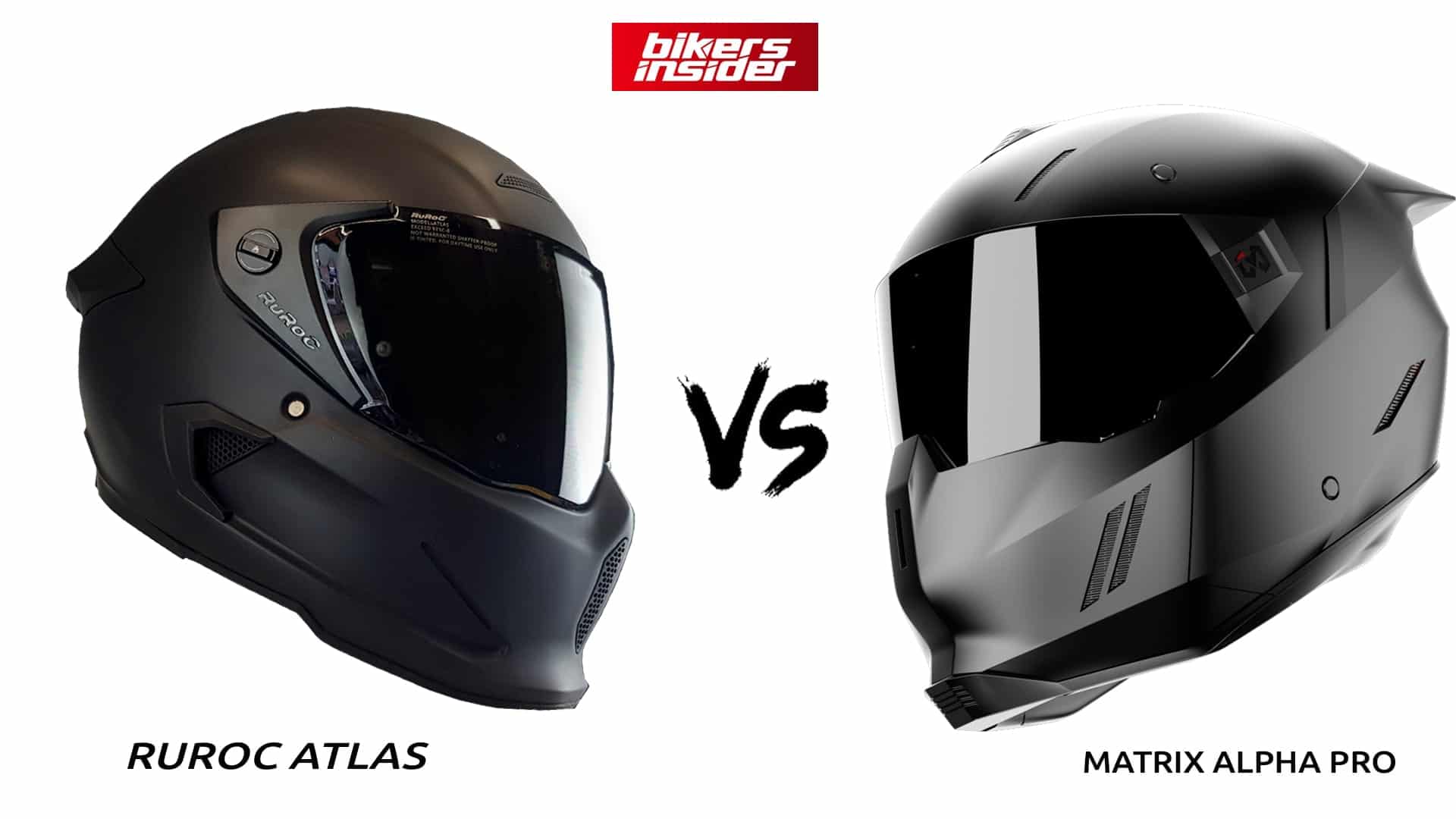 From this angle, it is hard not to notice the similarity in the nose part. Here we can see the sleek vs. sharp design principles at play here too. From the functionality perspective, it appears that Alpha Pro has a more restrictive front vent, while Atlas helmet has larger front vents.
The bottom trim and the rubber beading parts of the helmets are noticeably different. Again, the sleek vs. sharp comes at play here.
Ruroc Atlas vs. Matrix Alpha Pro Design – Front View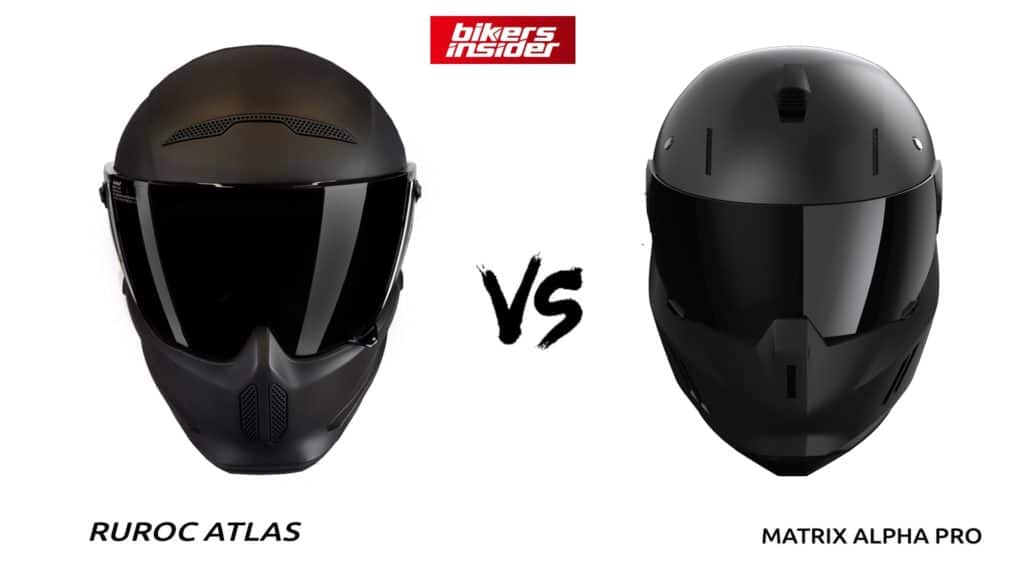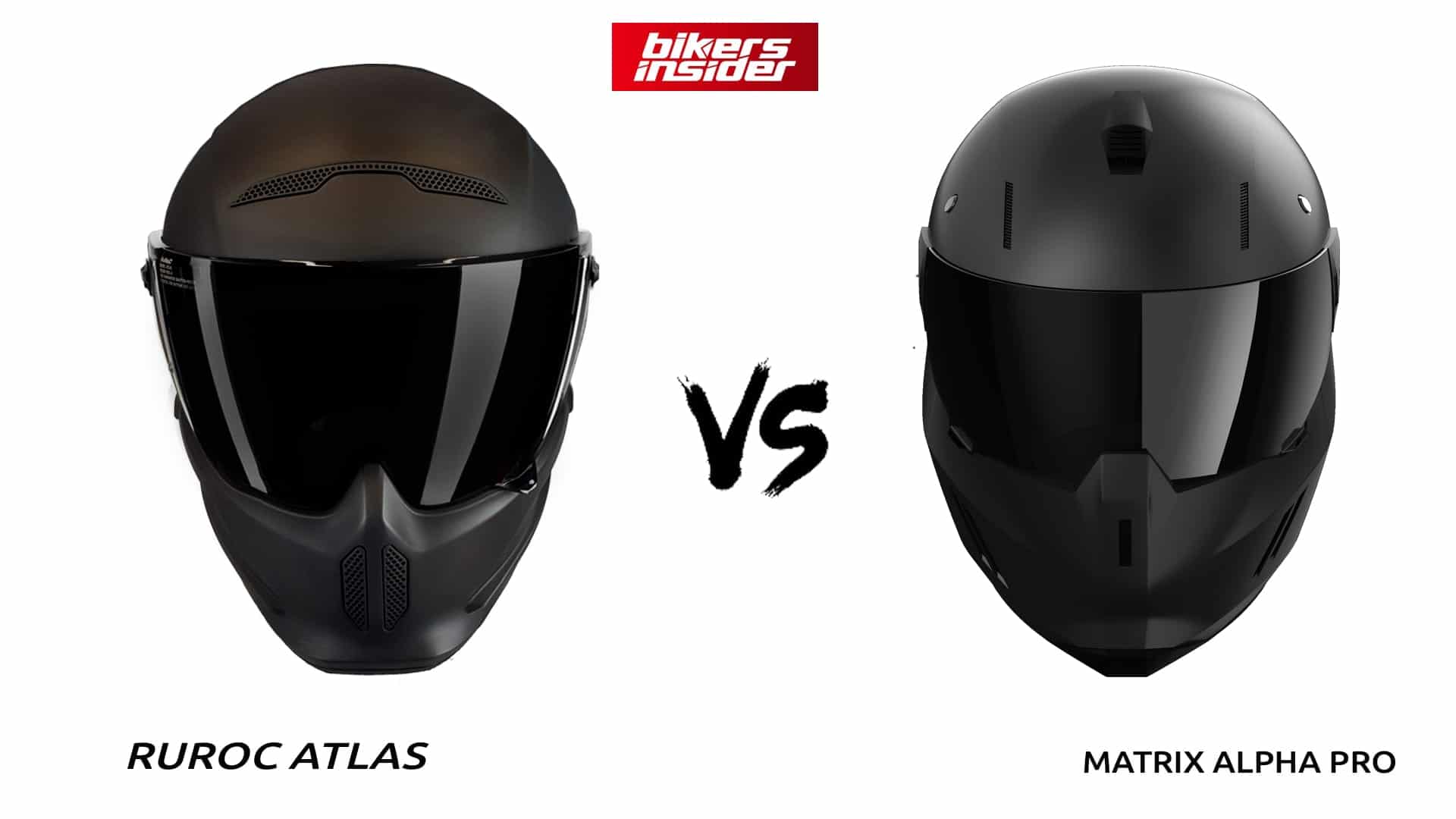 When we look at the front, we can notice that Atlas and Alpha Pro helmets have some fundamental differences:
The view area – the Atlas has a noticeable larger view area
Chin bar design – Atlas is sleek, while Alpha Pro is sharp
Position of vents
Overall outline
From this angle we can again see the clearly visible design difference: Atlas is full of sleek edges, while the Alpha Pro features sharper, more pronounced edges. What design style do you prefer? Let us know in the comment section below!
Features and Tech Comparison
Now that we have some insight into some design similarities and differences let's jump right up to the tech powering these two helmets!
You can find the table below that summarizes all the important features of both helmets. For further reading on these points, check out the paragraphs below the table.
RUROC ATLAS
MATRIX ALPHA PRO
Safety Standards
ECE/DOT
ECE/DOT/PJ DUAL
Fastening
Fidlock
Double D Ring
Visor
Pinlock ready, quick release
No Pinlock as far as we know, pushbutton visor release
Interior
EPS liner, Emergency Release Cheek Pads
EPS liner, Emergency Release Cheek Pads
Ventilation
6 air intakes and exhausts
6 Point Controlled ventilation
Respo Mask, with filtration and helmet microclimate control
Bluetooth
Shockwave System (sold separately)
EPS recession to accommodate the latest Bluetooth kits (SENA, etc.)
Modularity
None
Modular, four different configurations (Street, Sport, Motocross, Jet)


Safety Standards
When we look at the safety standards from a full-face helmet perspective, both helmets feature ECE and DOT safety certifications that prove their appropriate safety levels for the worldwide market. As Matrix Alpha Pro is a modular helmet, it is important to note that it has type P and type J safety certificates which make the helmet safe in full-face and open-face configurations.
Interested in what is a P/J Dual helmet?
Fastening
Both Ruroc Atlas and Matrix Alpha Pro helmets feature different fastening mechanisms, even though the safety differences aren't so groundbreaking. The only difference is in the function of the mechanisms themselves.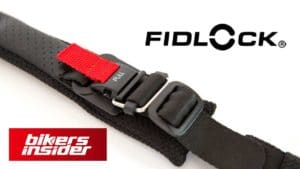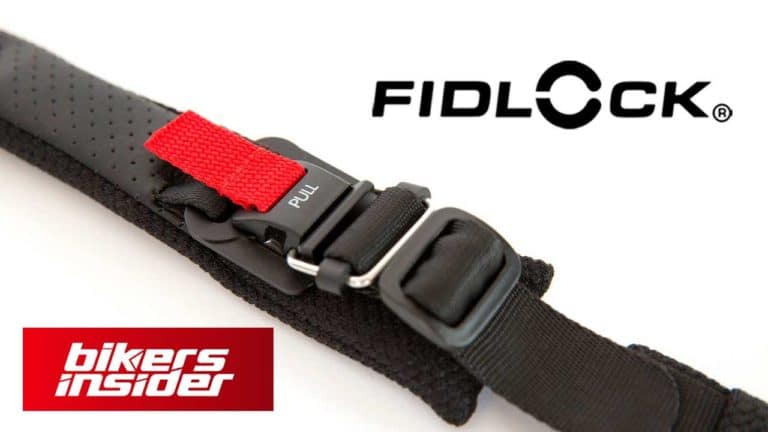 When it comes to Ruroc Atlas, it features the Fidlock fastening mechanism. Fidlock is really simple, as it is magnetically powered, so you just pop the buckle in and out effortlessly. That feature is good to have in mind during high-speed rides.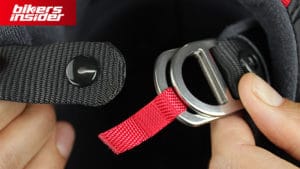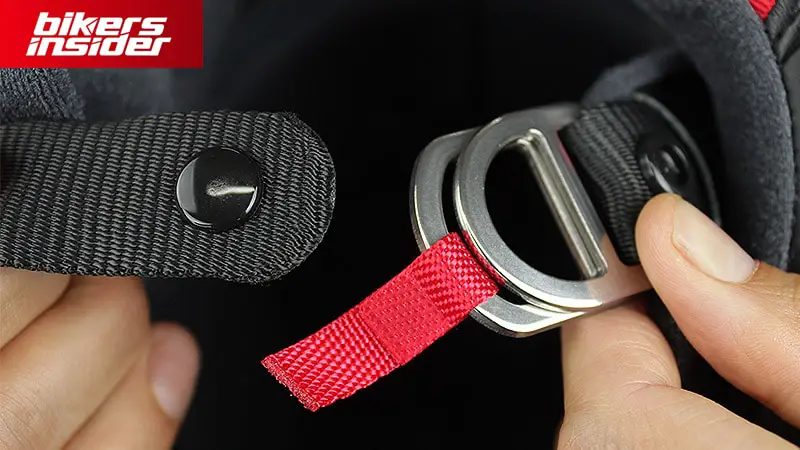 Matrix Alpha Pro helmets will utilize the Double D Ring fastening mechanism. It is a bit harder to connect the buckles than the Fidlock mechanism, which could baffle some users. Nevertheless, once you get a hang of it, the Double D Ring fastening ensures that the helmet is put tightly on your head and is comfortable to wear.
When it comes to safety, consider a scenario where the fastening mechanism breaks during a crash. While Double D Ring may be more durable, if it breaks, it's practically useless. The same is with the Fidlock mechanism. But, both mechanisms are very efficient when it comes to keeping the helmets on your head.
Visor
Ruroc Atlas has some pretty dope visor quality, manufactured by Pinlock. Also, in the package with the Atlas motorcycle helmet, you get the clear and tinted visor variants. As they are Pinlock-made, they are anti-fog, anti-scratch, and feature double pane windows. Something that seems to be an issue with the Atlas helmets though is that they tend to fog up in certain scenarios (if you don't utilize the pin lock mechanism). Also, to replace the visor, you just twist the knobs on both sides.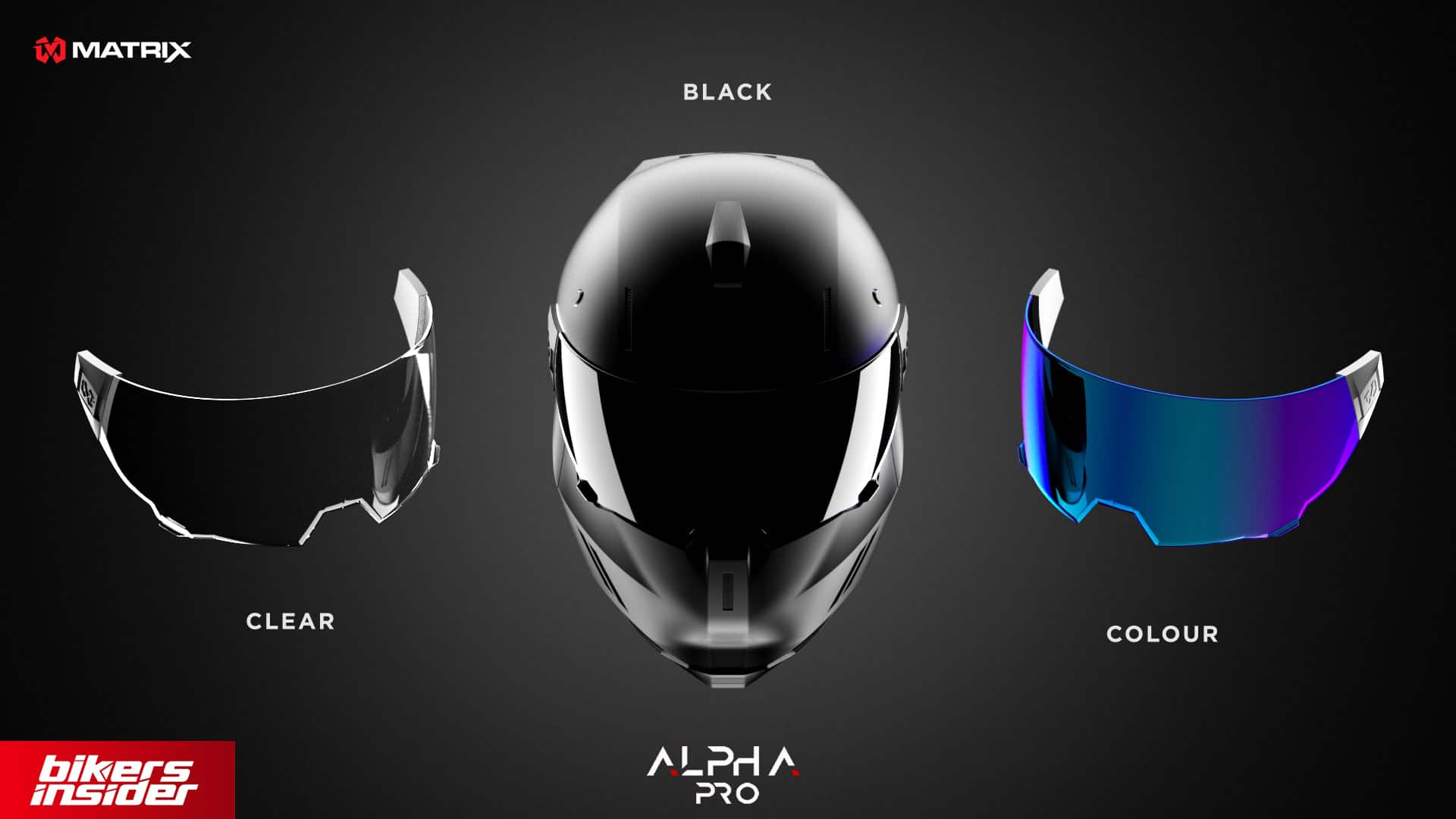 Right now, we aren't certain if Matrix Alpha Pro will utilize Pinlock visors. Nevertheless, Matrix Helmets aims to eliminate the issue of visor fogging up, with another vital component – the Respro mask. Check the Ventilation section to learn more. When it comes to visor selection, Matrix has confirmed Black, Clear, and Tinted visors, with a larger pool of color selection slated to release too.
Interior
Both helmets are similar (possibly the same) when it comes to their interior. The EPS liners utilized in Ruroc Atlas and Matrix Alpha Pro helmets are made of polystyrene foam, which is quite comfortable in most cases. Some bald users have stated their concerns when it comes to such liners, as the feeling of gaps in the helmet is much more expressed.
The other part of the interior that we want to talk about is the emergency cheek pads. Both helmets have it, and its main purpose is to help with removing the helmet without damaging the rider's neck. We don't know how wide they will be in the Matrix Alpha Pro, but Atlas has very wide cheek pads that tend to stick out from the helmet sometimes.
Ventilation
Ruroc Atlas motorcycle helmet features a reliable ventilation system, with some flaws that set it back. It features six air intakes and exhaust, which provides a big amount of airflow to the helmet's interior. The chin vent is present to control the amount of air that comes inside the helmet. One issue with the ventilation system is that its design doesn't prevent the visor from fogging up during hotter rides.
Matrix Helmets is conscious of the issue of visor fogging up and has a few tricks up its sleeve with Matrix Alpha Pro motorcycle helmet in the ventilation compartment. Right now, we know that there will be six ventilation control points that should provide superb airflow. Now, the innovative segment is the detachable Respo mask, located in the position of the chin vent. It works in the way that it pulls fresh air through the front port that is outfitted with a filtration layer. In this way, it will prevent dust, pollen, and other pollutants from entering the helmet. An important thing to note is that the mask will have a chin curtain, which won't increase the wind noise throughout the helmet.
So, with the innovative ventilation system of the Alpha Pro, Matrix aims to directly address two issues: wind noise and visor fogging. We're eagerly expecting to see how it works in action!
Bluetooth Support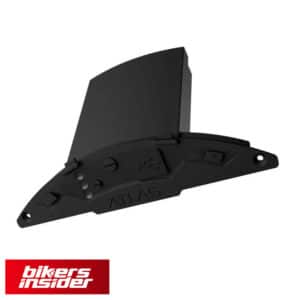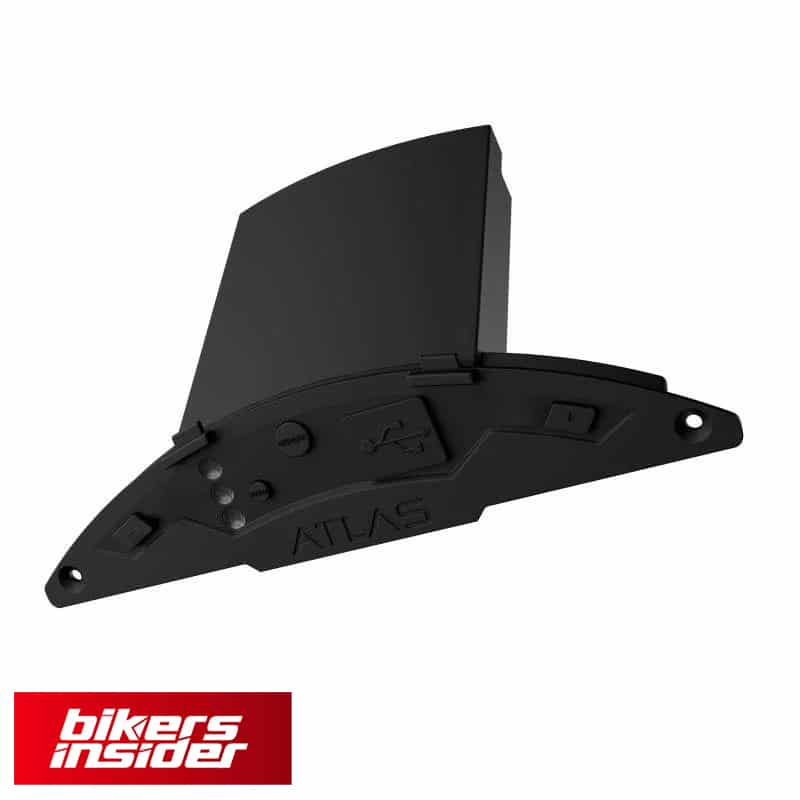 As there is an increasing need to communicate or listen to music during a ride, most modern helmets offer Bluetooth support in some way. Ruroc Atlas and Matrix Alpha Pro helmets are no different.
Ruroc has outfitted the Atlas helmets with gaps in the bottom part of the helmet that serves as a socket for a Bluetooth system. They also have their own Shockwave Bluetooth System, which boasts of 40mm audio drivers. The Shockwave, in turn, is quite a pleasant, albeit costly (it costs 150$/€136/£117!) upgrade that sits right at home for all the music lovers.
Matrix Alpha Pro also features a socket into which you can integrate a Bluetooth system. It supports Sena and other communication systems, so it will be a matter of your preference.
Modularity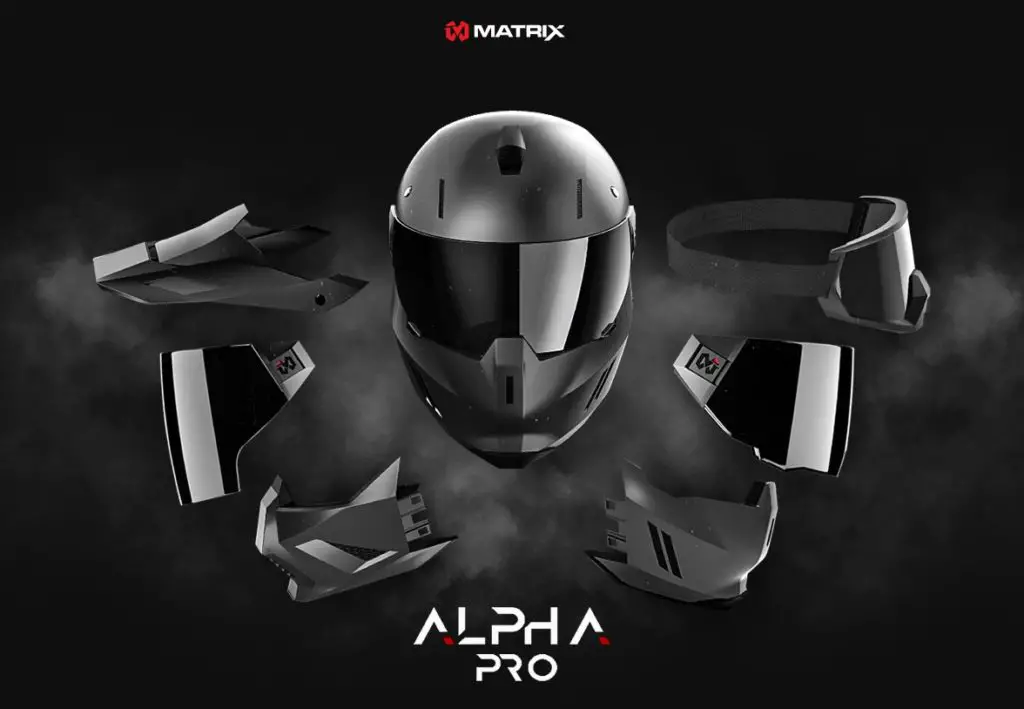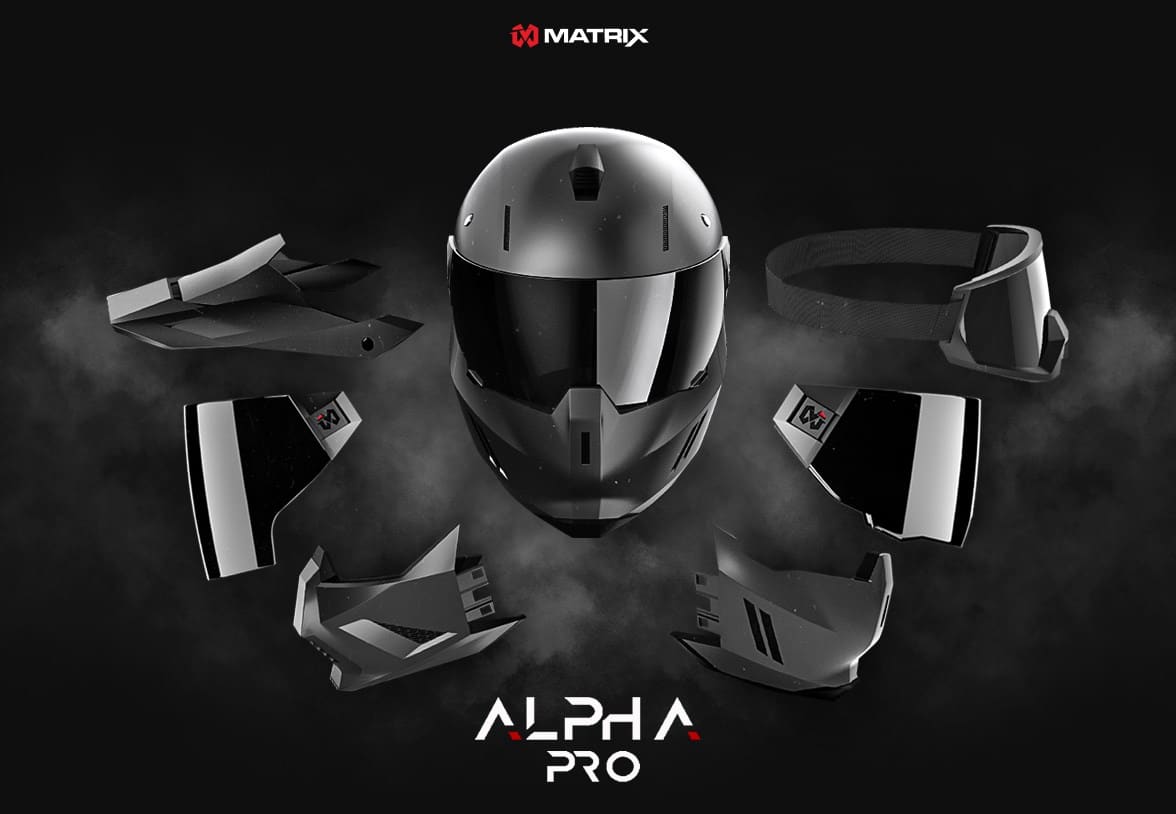 It is important to note that Ruroc Atlas (both variants) is a full-face helmet, while the Matrix Alpha Pro is a modular helmet that offers 4 different combinations (Street, Sport, Motocross, Jet).
Matrix Alpha Pro really emphasizes on the Ultra-Modular label. The default configuration is the Street/Sport, with the chin bar attached to the helmet. It really emphasizes the aggressive design and best ability to manipulate the aerodynamic possibilities of the helmet (we'll discuss that on Other Tech section.
Remove the chin bar, and you get the jet (open-face) configuration! It's best suited for cruiser motorcycles, as this configuration provides the best vision, along with untouched comfort and safety. You can also switch between goggles or full-face visor quite easily if you need better protection from the external elements.
Put the chin bar back on, and don't forget to put a cap on the top of the helmet! Enter the Motocross configuration, which is arguably the best for the dirt tracks. The cap will protect your visor from getting stained by external elements (like mud etc.), which is very helpful.
So, with four different configurations, Matrix Alpha Pro really offers more flexibility than the Ruroc Atlas helmet.
Other Tech
In this section, we want to elaborate on two additional features that the Matrix Alpha Pro offers that Ruroc doesn't include in their Atlas helmet. Without further ado, let's dive in!
Break Light
On the back of the Matrix Alpha Pro helmet, just below the rear spoiler, there is a beacon that lights up during braking. Imagine it as an additional brake light that will signalize your intentions more efficiently, hence complementing the safety levels. And it is important to mention that it looks extra cool with that little extra sci-fi design touch.
Adjustable Rear Spoiler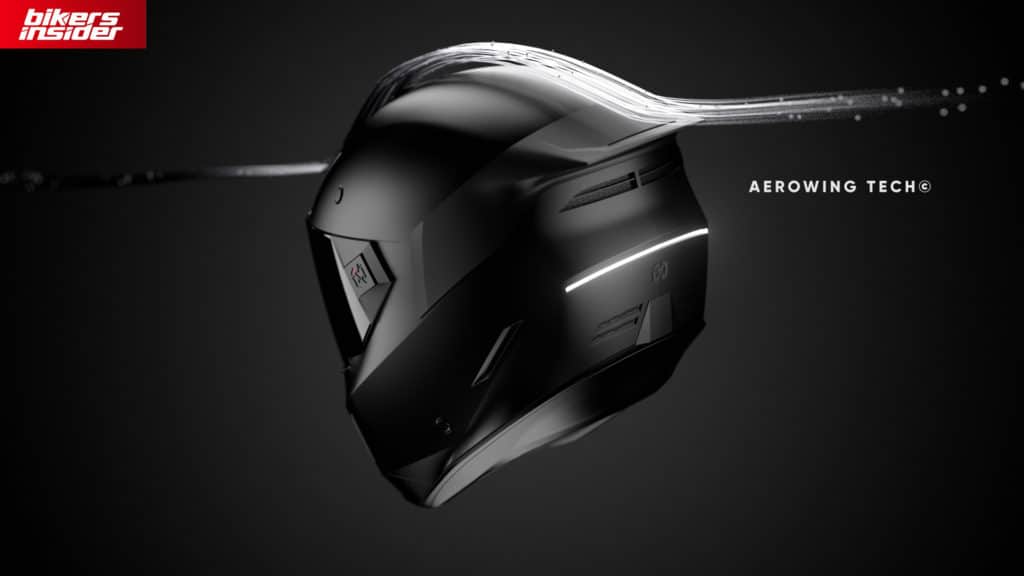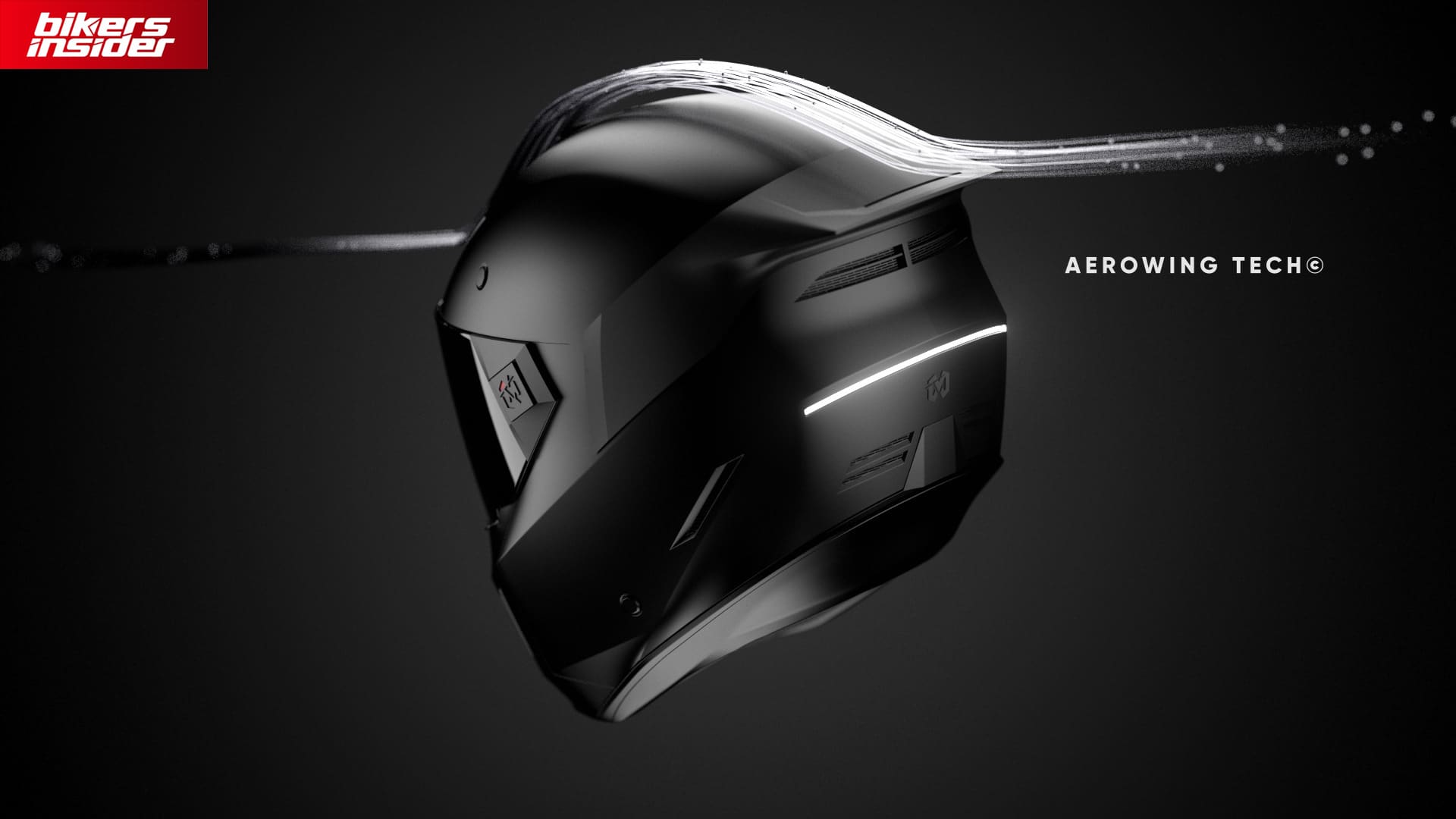 The spoiler is present on the Atlas helmet too, albeit it is not customizable. Matrix Alpha Pro gets this component to the next level and introduces adjustability. You may ask yourself, why do I even need to adjust the rear spoiler? Well, it allows you to change the aerodynamic performance of the helmet according to the condition you're in. Also, this can manipulate noise levels at high speeds.
You can adjust the rear spoiler in three positions: top, mid, and low. The top position is recommended when you are riding at a slower speed, from 50 km/h to 80 km/h. When you speed the things up to 100 km/h to 150 km/h, the mid position will optimize the aerodynamic performance and reduce head pressure. The low position is best if you ride at 160 km/h or more. It will help with decreasing turbulence and drag, and provide the best aerodynamic performance.
---
In terms of features and tech, we can confidently say that the Alpha Pro helmet has a lot more to offer that the Ruroc Atlas helmet. On the other hand, Alpha Pro isn't released yet, so at this point, we can only guess if Matrix can actually deliver on their promises. Nevertheless, we are eagerly waiting to do a hands-on review of this promising motorcycle helmet!
Ruroc Atlas vs. Matrix Alpha Pro – Price Comparison and Availability
While it may be a bit early to compare the pricing of Atlas and Matrix Alpha Pro helmets, as the latter still doesn't have a listed price, there are some realistic pricing speculations that can put some perspective on the topic.
Ruroc has two Atlas helmet iterations available: the Atlas 1.0 and Atlas 2.0. The price of the Atlas 1.0 is 320€ (360$/289£). On the other hand, Atlas 2.0 is priced between 370€ and 425€ ($480/384£). Keep in mind that both Atlas helmet iterations feature different graphic designs for you to choose from! Also, there are additional components to consider, from additional visors to the Shockwave Bluetooth system.
Check out the Atlas motorcycle helmet offers on the official Ruroc store!
While we don't know the exact price for the Matrix Alpha Pro, there is some speculation that targets the sub-300£ price tag (which would be around 333€/375$). Of course, there will be different additional components available, as Matrix Helmets has teased, but it's still unknown what it is all about.
UPDATE: We know what the pricing will be for the Matrix Alpha Pro variant. More details are in the table below! You can also pre-order Matrix Alpha Pro helmet from now on and choose which add-ons do you want in the package.
| | | |
| --- | --- | --- |
| Variant | Features | Price |
| Street/Sport | The base configuration of the helmet | £269,99/$340,61/€301,38 |
| Motocross | Adjusted chin bar, visor and top of the helmet | £269,99/$340,61/€301,38 |
| Jet/Cruiser | No chin bar | £179,99/$227,07/€200,92 |
| Ultra Combo | All the above configurations | £349,99/$441,53/€390,68 |
---
When it comes to availability, we are pretty sure that Matrix will continue the partnership with Blaze ArtWorks, which made some amazing custom painted motorcycle helmet designs based on the previous Matrix Helmets model.
Check out the Blaze ArtWorks website for some amazing custom painted Matrix helmets!
Ruroc vs. Matrix Helmets – Customer Service
When it comes to this aspect, both Ruroc and Matrix Helmets seem to be reliable. Both manufacturers strive to learn from their mistakes and implement their changes as soon as possible.
What is great is that they also often offer some discounts, especially for their loyal users. For example, when Ruroc got much criticism for the imperfections of the Atlas 1.0 helmet, they offered discounts from 20% – 35% to Atlas 2.0 helmets. That's a good example of quality customer service. But, there are also some complaints with discount codes not working as promised, so nothing is perfect as it seems.
Both companies feature pretty active social media profiles, and the engagement with their customers is astonishing. This is a smart move to maintain brand image and keep up with the ever-increasing competition.
When it comes to customer service, both Ruroc and Matrix Helmets are up to high standards, which is sometimes as essential as the equipment they provide to their users.
Closing Words
At first glance, Ruroc Atlas and Matrix Alpha Pro may look very similar. But, when we dug deeper into the design features and specifications of the helmets themselves, we have noticed numerous differences. These helmets are in the same design category but are totally different when it comes to functionality.
Atlas helmet is a full-face helmet, while Alpha Pro is a modular helmet, which makes them fundamentally different. That also means that Alpha Pro is on a track of being a more complete package than Atlas helmets, and that is something!
If you have anything to add up to the Ruroc Atlas vs. Matrix Alpha Pro debate, feel free to do so in the comment section below!
We also have objective reviews on Atlas 1.0 and Atlas 2.0 helmets for you to read!
Also, here is our preview for the Matrix Alpha Pro helmet!