Introduction
When you're out riding, communicating with your fellow riders can be tricky and even dangerous if you don't do it well. Cell phones can be a terrible medium in these situations.
What else is there to expect when your hand is busy with the phone and not the handle? Is it necessary to keep your hands on the handlebars while talking to your fellows, or is there another option? There is a way, and it's called a Bluetooth-ready helmet.
Bluetooth-ready helmets are available for purchase. Helmets with many built-in features, such as GPS, intercom communications, and even audio streaming from your smartphone, are not only possible but also rather simple to find.
IF you are in a hurry, we've compiled a list of the top 6 Bluetooth-ready helmets for the best price available online.
| Image | Helmet Model | Selected for | Price |
| --- | --- | --- | --- |
| | Nexx X-Vilitur | For the riders with GoPro | Check Price |
| | Klim Krios Sena 10U Stealth | For Adventure Riders | Check Price |
| | Sena Outrush | Affordable Bluetooth Helmet | Check Price |
| | Shoei Neotec II | For Touring | Check Price |
| | Icon Airform Conflux | Helmet for Speed | Check Price |
| | Bell SRT Modular | Best All-around Helmet | Check Price |
1. Nexx X-Vilitur – For riders with GoPro
Nexx's first modular helmet X.Vilitur. Made of composite fiber. This Bluetooth-ready helmet's exterior has several folds and angles. Like most Nexx helmets, it has a Nexx feel while also being structurally sound.  The X.Vilitur is a safe and stylish touring helmet. They claim they enhanced the aerodynamics and added sound-insulating features to make it a quiet and comfortable helmet. They've also widened the visor mechanism and included the Nexx N-com Bluetooth module.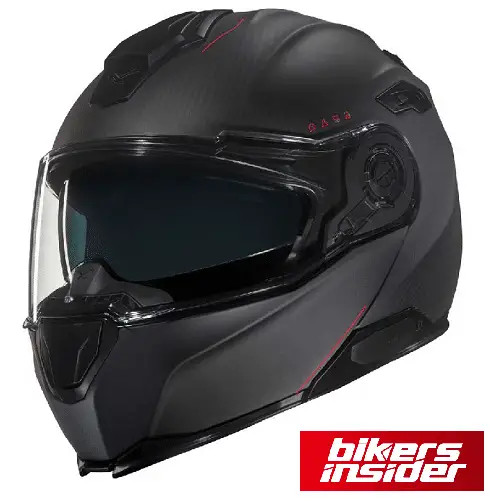 Safety
The Nexx X.Vilitur is available in composite or carbon fiber. Conceived to make strong and safe motorcycle helmets from composite materials.,  Nexx has made a lot of them. This helmet is built of Nexx's X-matrix 2, six-layer fiberglass, and organic fiber composite that is strong and light. 
Let's say you want a lightweight modular helmet. The X.Vilitur Carbon Zero helmet is made of pure carbon fiber and weighs only 1.55Kg, making it an extremely light modular headgear. The conventional composite fiber variant is 100g heavier than the carbon fiber version.
Ventilation
The X.Vilitur's ventilation is enough on most days but not enough to keep your visor clear when it's cold outside.
In other words, it's a modular helmet. If you get too hot, pull over, push up the chin bar, and you'll have enough ventilation to cool down.
A big two-position slider helps direct airflow across the forehead vent. It's easy to find and allows you to open or close the vent fully. Inside the helmet, the EPS lining includes vents to let airflow around your head. Two retractable exhaust vents discharge warm/wet air from the back of the helmet.
Comfort
Nexx X.Vilitur fits longer head shapes. Most motorcyclists should be able to use it. A washable/removable comfort lining The X-Mart Dry liner from Nexx claims to dry twice as fast as cotton. It's not a big deal because synthetics dry faster than cotton.
While still a soft-material helmet, it is designed for comfort. It has slots for glasses stems, so they don't poke the wearer's skull.
PROS
Good build quality
Large Visor
Plenty of airflow
Comfortable Interior
CONS
Pinlock not included
Rear exhaust switches are not easy to use
2. Klim Krios SENA 10U Stealth – for Adventure Riders
Klim's Krios Sena 10U Stealth Helmet, a superior and premium product, has changed the adventure helmet sector. It excels in all areas, including speed, sturdiness, and usability.
It is the only off-road helmet on our list, as any serious motorcycle fan can tell you. And it's not because we're anti-motocross, anti-tour, or anti-off-roading, but because there are so few alternatives for off-road-focused helmets with technology built-in that it's difficult to find them.
This headgear is Bluetooth-ready and packed full of great features. One mile apart communication between riders is possible using Bluetooth 4.0 intercom that also functions as an FM tuner. Other features include a carbon fiber exterior, antibacterial liner, quick-release visor system, and what the company calls an "intelligent ventilation system."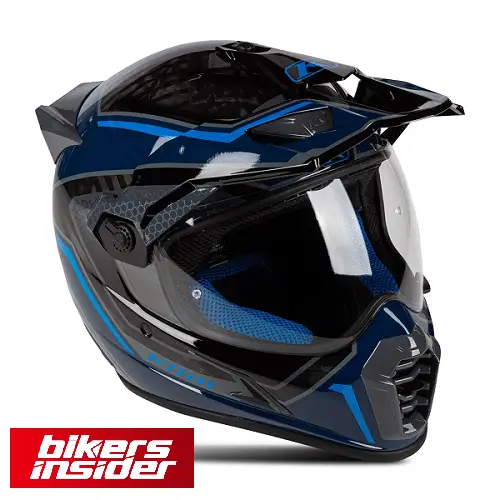 Safety
Klim Krio Sena 10U weighs 3.25 pounds and is made by Krios. It's one of the greatest touring helmets because of the lightweight shell and unique aerodynamic feature.
The Sena 10U Stealth helmet from Krios complies with ECE and DOT regulations. Quality is not sacrificed in the name of functionality or style. After all, the helmet's primary function is to protect the wearer's head in the event of a fatal collision.
Ventilation
The ventilation system on the Krios Sena 10U Stealth helmet is also quite good. There are a total of ten vents on the helmet, allowing for excellent ventilation. The chin bar vent delivers air into the helmet, which is subsequently transported by the air channels within the helmet.
There are adjustable top vents, and the slider is easy to operate even with gloves on. Even when it's hot outside, wearing the helmet won't make you sweat.
Comfort
Klimatek cloth liner, a first in the industry, creates a soft and opulent interior. For maximum comfort, it wicks sweat away from your skin.
Responsive smart foam technology is used in the linear system, which conforms to the shape of your face. Riders with sensitive skin will appreciate the fabric's antimicrobial and antibacterial characteristics. The interior is soft, so it won't irritate your skin or irritate your eyes. Remove the cheek pads and wash them to keep them fresh.
The Bluetooth-ready connection is probably the most exciting feature of the Krios Sena 10U Stealth Helmet. It is fully compatible with SENA 10 U Bluetooth 4.0.
The helmet's communication radius is 1 mile in an open area, allowing four-way group intercom communication. The 10-hour talk time of the Bluetooth helmet technology is amazing.
Music sharing and enhanced noise control are just a few of the features offered by the SENA 10U Bluetooth technology in addition to the standard FM radio tuner. The Stealth helmet could pique your interest if you find it difficult to communicate with your fellow riders during adventure touring.
PROS
Lightweigh
Pre-installed Sena 10U
Great ventilation
Clear vision
CONS
Chin vent is always open
Noisy helmet
3. Sena Outrush -Affordable Bluetooth Helmet
Sena is primarily known for its universal-mount helmet communication devices. You can attach these devices to any helmet, wire the speakers inside the shell, and place the boom mic.
Sena also makes helmets with built-in comm systems. Some of the "smart helmets" in the series have built-in HD video cameras and sound-canceling technology. Sena's Bluetooth-ready helmets are easily available. However, they lack the HUD and other features promised by Skully and Jarvish.
Who needs all that electronics when you can get a basic motorcycle helmet with built-in comms? Sena has a new smart Bluetooth-ready modular helmet called the Sena Outrush. Innovators like Sena have perfected the skill of creating unique items for cyclists.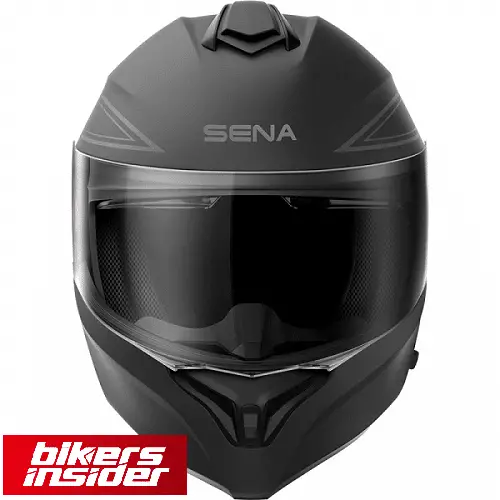 Safety
This DOT and ECE-approved modular helmet have a multi-density EPS liner, a lighter weight shell, and 3-way ventilation on the chin, top, and rear. The Outrush s dual homologation allows for guaranteed rider safety when the chin guard is up or down. The ratchet strap firmly locks the headgear on your head. The Outrush also has an inbuilt sun visor for road safety.
Ventilation
It includes a glove-friendly up-and-down switch for the dual air inlet vent. The detachable chin skirt in the chin bar comes in handy for chilly rides, as most riders can attest from personal experience.
A feature-rich helmet will eventually become suffocating for its user. The Sena Outrush was designed with this in mind by Sena. There are three vents on the Sena Outrush: an exhaust port, a top opening, and a chin vent which makes this helmet well ventilated.
Comfort
The Sena Outrush is a Bluetooth-ready modular helmet. A modular helmet is a hybrid between a full face and an open face helmet.
The Sena Outrush modular helmet combines the best of both worlds. Both the safety and openness of a full-face helmet. So you can easily remove your Sena Outrush helmet for a short drink or breather. When you're ready, flip it back down to regain your protection.
The helmet's breathable mesh also provides for good airflow. The Sena Outrush also has a removable and washable headliner for added convenience.
PROS
Value for money
Comfortable
Good Bluetooth integrated performance
Long talk-time upto 15 hours
CONS
Bit noisy
Uses Bluetooth version 3.0
Sound quality is not best
4. Shoei Neotec II – for Touring
The Neotec II is a full-face helmet with a flip-up chin bar and visor, replacing the Neotec modular helmet. The Bluetooth-ready Neotec II is compatible with the Sena SRL/SRL2 communicator. If you want the best-in-class integrated Bluetooth kit, that Sena 20 series system is a great choice.
The fabric of the helmet has compartments for the control panels and batteries, and the Sena speakers fit neatly inside. Ok, so some users had difficulty finding the kit's buttons, but that's typical of most helmet-mounted Bluetooth-ready systems.
So Shoei renamed it the Neotec II. That's because the new Neotec II is a progression of the old version.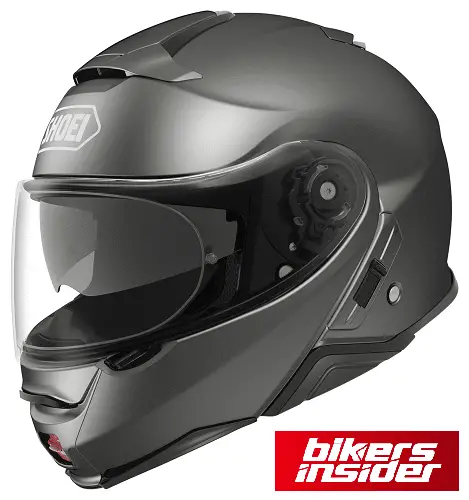 Safety
The safety features include a Multi-Ply Matrix AIM shell and a multi-piece EPS liner. The inner system (lining) is, however, entirely removable, washable, and interchangeable. If the fit isn't just right, consider sizing up or down on the internal linings.
The helmet's shell is handcrafted from fiberglass and other organic fibers. There are four shell sizes and six overall sizes ranging from XS to XXL. Less-priced helmets will only have two shell sizes, resulting in a heavier or bulkier shell than necessary. So a Shoei helmet is as safe as a one-piece full-face. But it's only DOT certified, not Snell or ECE.
Ventilation
A wide glove-friendly panel covers a solitary chin bar vent. A big slider additionally covers a single crown vent. These draw air into the helmet, which is then extracted by a massive dual extractor. Users of the Neotec II claim tons of air enters the Shoei. They say the vents are easy to detect and use even in gloves.
There is no cracked open or city position on the visor, and the initial detent is roughly an inch gap. An omission is that many riders employ a cracked open posture for added ventilation while protecting behind the visor.
Comfort
Even though the Neotec II is heavy, weighing between 1.8Kg and 4lbs, depending on size. For comparison, a modular helmet normally weighs around 1.7Kg (3.7lbs).
The helmet's interior is removable and washable. The multilayered cheek pads have been reworked to limit wind and noise ingress while increasing comfort. If Due to technological improvements, helmets aren't quite right. Shoei offers cheek pads in various sizes to help.
Of course, Neotec's three shell sizes (four according to Shoei US) will help with installation, ensuring the correct amount of EPS and comfort cushioning for your head size.
Overall, while being on the bulkieDue to technological improvements, helmets bike helmets, the Neotec II can be seen as warm, comfortable, and made of high-quality materials.
PROS
Excellent build quality
Very comfortable
Seamless Bluetooth integration
CONS
Matt finish is not scratch resistant
Microratchet strap configuration is not comfortable
5. Icon Airform Conflux – Helmet for Speed
An entry-level full-face helmet by Icon. It's designed to be an all-rounder, which can be boring but Icon isn't dull.  The Airform, although being at the cheaper end of the pricing range, is a more aggressive streetfighter-style helmet that looks to offer most of the attributes most riders look for in a daily helmet as well as a feature like Bluetooth-ready.
The helmet includes a drop-down sun visor, an optically correct shield, a quick-release primary shield, and speaker pockets. Also, there are a lot of vents, which is excellent, albeit some are always open.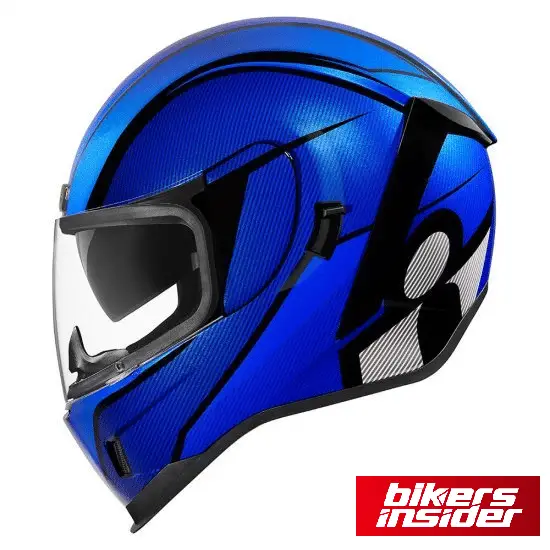 Safety
The Airform has a polycarbonate exterior with an EPS liner. If you've read our reviews, you'll know that polycarbonate can produce excellent protective helmets.  Some Snell-approved and SHARP 5 star helmets are polycarbonate or thermoplastic.
Some Icon helmets with similar construction, like the polycarbonate Airflite, Airmada, and Alliance, have been SHARP tested in the UK. When SHARP tested them, they got an average of 2.6 stars out of 5. Which leads you to think the Airform does well.
In its marketing, Icon makes little mention of the Airform's protection values. They're about attitude and style. The Airform should provide adequate but not exceptional protection. It has a few features you'd expect in a helmet to help keep you safe, but it doesn't appear Icon has gone overboard to make the Airform the safest option.
Ventilation
And while the summer ventilation is wonderful, some riders have reported insects entering through the vent holes. Nice. Of course, in the cold, you can easily plug the holes with tape if you truly want an Airform.
But the chin ventilation keeps the shield clear. Icon's proprietary Fog Free Optics protection also helps keep things clear.  The crown vent is small, directly behind the Icon emblem atop the shield, and it directs air into the helmet. The Airform's EPS venting ducts are extensive and deep, and most riders agree they keep you comfortable when it's hot outside.  Overall, superb ventilation. 
Comfort
Several owners complained that the sizing is a tad small. So if you're unsure between two sizes, we'd advise going up. An Icon Hydra dry lining is inside the Icon Airform. They aren't the softest, but they are fine and feature a moisture-absorbing, antibacterial fabric. The lining is simply removable, and most riders find it quite comfortable.
It has a detachable breath guard but no chin guard. While the Airform doesn't have any glasses grooves, most users report it fits most glasses well. There are two medium-sized speaker slots within the Airform for a Bluetooth-ready headset.
However, some owners have complained that installing a clamp mount was difficult due to the helmet's bottom's thick base seal. However, there's enough room for a sticky mount. The Airform was specifically designed as a Bluetooth-ready helemet to work with Icon's RAU communicator, which is a Bluetooth device. So, if you're in the market for a new headset, the Airform could be a good option.
PROS
Affordable price for premium features
Well ventilated
Comfortable helmet
Can be customized
CONS
Helmet is quite heavy
Inner sun visor isn't very comfortable
6. Bell SRT Modular – All-around Helmet
Bell's SRT-Modular Bluetooth-ready helmet attempts to provide current riders with many features without breaking the bank.  Bell helmets are an anomaly. Unlike any other helmet producer we know, they occasionally make a full-face helmet, then a modular version of the same helmet.
That doesn't mean they're doing wrong. It minimizes development costs and allows us to buy a helmet in a variety of combinations.  Suppose you want a quality modular helmet from a company that has been around for a while. In that case, the Bell SRT modular is worth looking at.
Safety
The SRT-Modular is a versatile helmet made of a fiberglass composite shell. To accommodate a wide range of head sizes, Bell has chosen two external shell sizes—XS-L and XL-3XL. It is also DOT, and ECE certified, covering both US and EU riders.
With this modular helmet, Bell hopes to handle all road riding outside of the racetrack. The SRT-Modular has a sporty look, influenced by Bell's Star MIPS, Race Star FLEX, and Pro Star FLEX helmet lines. To that end, it uses the Panovision face shield from the helmets, as mentioned earlier.
Its broad provision visor comes in two shell sizes, which is rare at this pricing. Of course, a slide-down sun visor is worth having to avoid squinting in the sun.  All of which is to say we expect the SRT flip-front to provide adequate crash protection.
Ventilation
The chin guard has two vents to move air around the chin and up onto the visor. There's also a single central vent that blows air onto your crown. Sun visors require a lot of top vent retraction since they sit just where you want ventilation channels when retracted.
The SRT has two exhaust vents at the back, but we doubt the ventilation is adequate with the crown vent so far back. But we won't know how owners and riders feel about the ventilation for a time.
Comfort
On the subject of comfort,  the Bell keeps riders relatively cool. The helmet has two vents, one on the chin bar and one on the top, but it keeps you cool.
Bell also made the SRT eyewear compatible. It is wonderful for riders who need glasses but don't want to spend extra money on a tinted visor. The SRT also allows speaker integration inside recessed EPS speaker pockets, which are large enough to support speakers. The only concern is that it may restrict Bluetooth as it is next to a communicator – something to consider if you ride with one.
The SRT modular comes in two shell sizes, and internal fitment sizes XS-XXL (up to XXXL in the US). The liner is detachable, washable, antimicrobial, and moisture-wicking. It is Bluetooth communicator ready, with glasses stem grooves and speaker pockets for Bluetooth speakers, making it an all-around headgear.
PROS
Easy visor removal and installation
Fiberglass composite shell
Good value for money
Good value for money
CONS
Helmet is quite heavy
Noisy helmet
Limited airflow
Conclusion
Helmets have become important headgear for bikers, as they ensure both protection and ongoing communication.
As an in-vehicle intercom system, Bluetooth-enabled helmets can be handy. A helmet has all the basic safety features, but you may also use them to communicate with others. Bluetooth technology makes it workable to use the following feature even in a windy or noisy situation.
Some of you may wonder why on earth you'd want to spend more bucks on a Bluetooth helmet when a standard one will do. No matter how good your helmet is, you'll be safe in the event of a collision. Bluetooth helmets provide a lot more than protection.