Welcome to our breakdown of the Icon Airform helmet released in 2019. This is an entry-level helmet from Icon that replaces their old Alliance GT helmet. Honestly, the Airform helmet is an excellent entry-level full-face lid, and when you couple it with an array of catchy designs, it's no wonder the helmet is still desired by many even in 2021! In our Icon Airform review, we will discuss the things this helmet does well and not so well.
Icon Airform Review – Main Features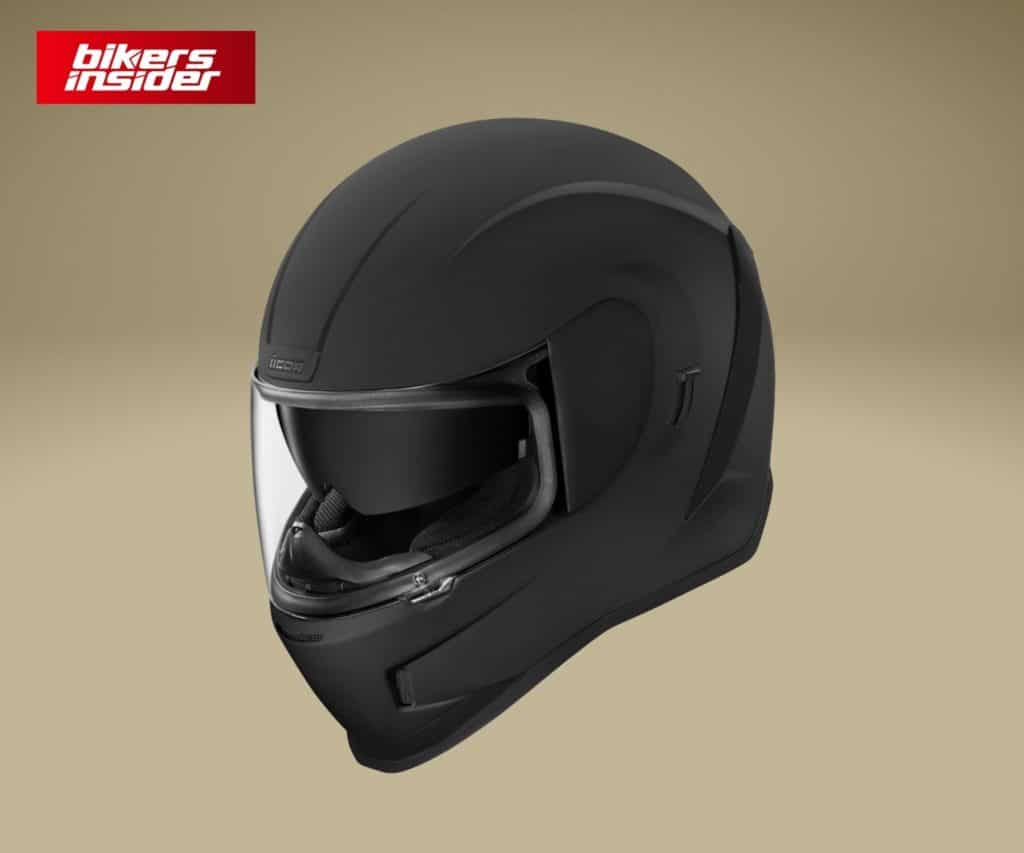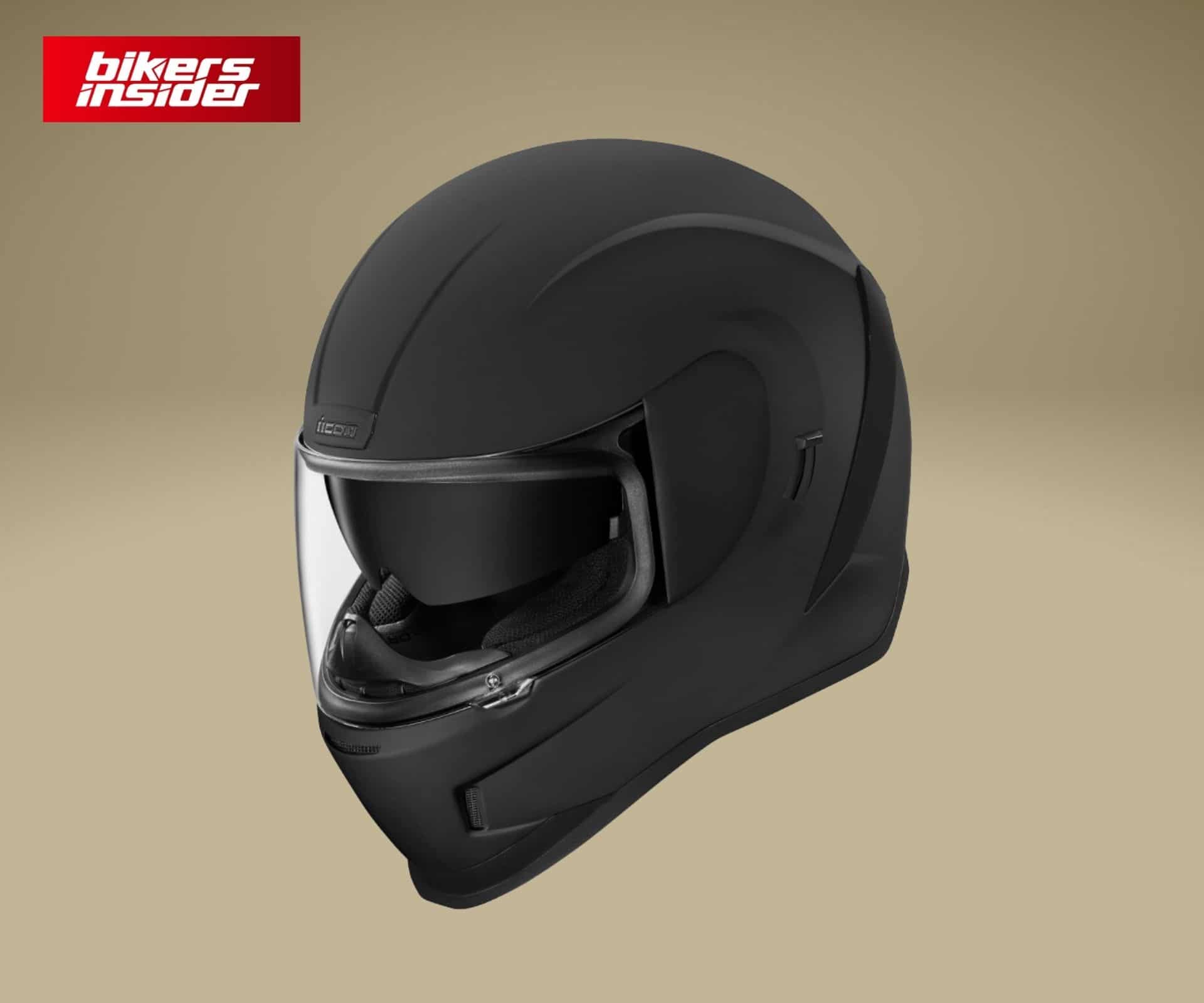 If you are in a rush, here are the main features of the Icon Airform motorcycle helmet:
Polycarbonate shell
Weighs 1,65 kg (3 pounds and 10 ounces)
Intermediate oval shape
Inner sun visor
Optically correct clear face shield
Hydradry 3-piece inner liner
Three chin vents
Top vent
Deep EPS cutouts for better airflow
Comes in 17 designs
Without further ado, let's start our Icon Airform review!
Construction & Design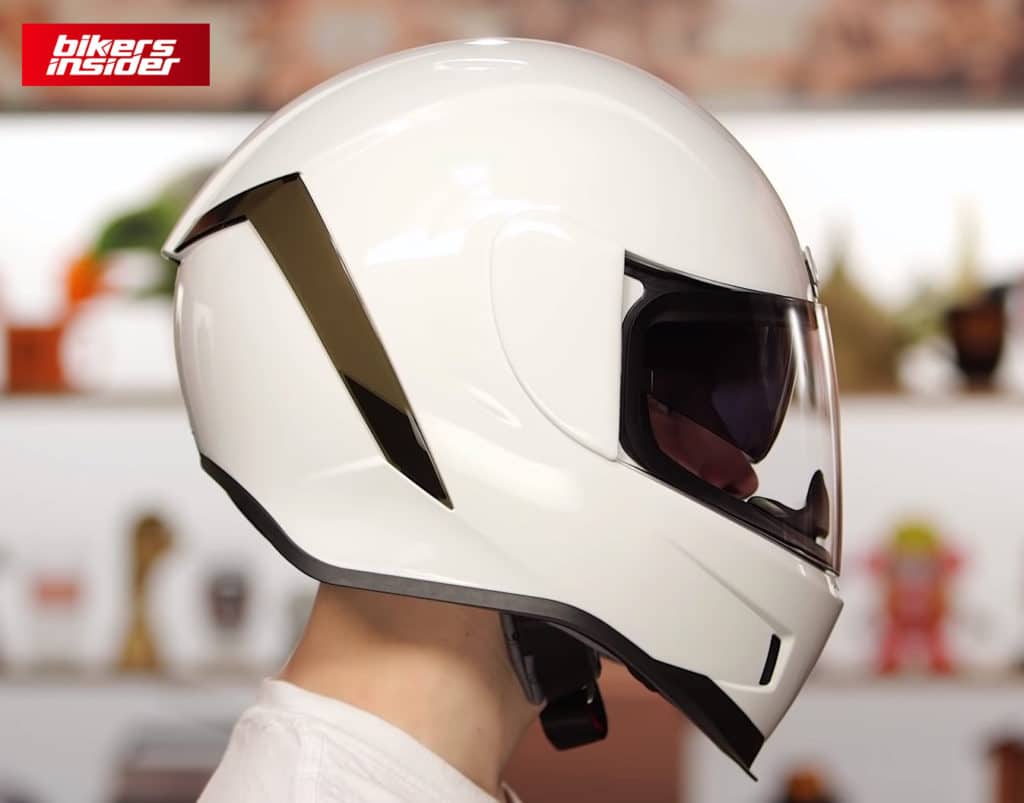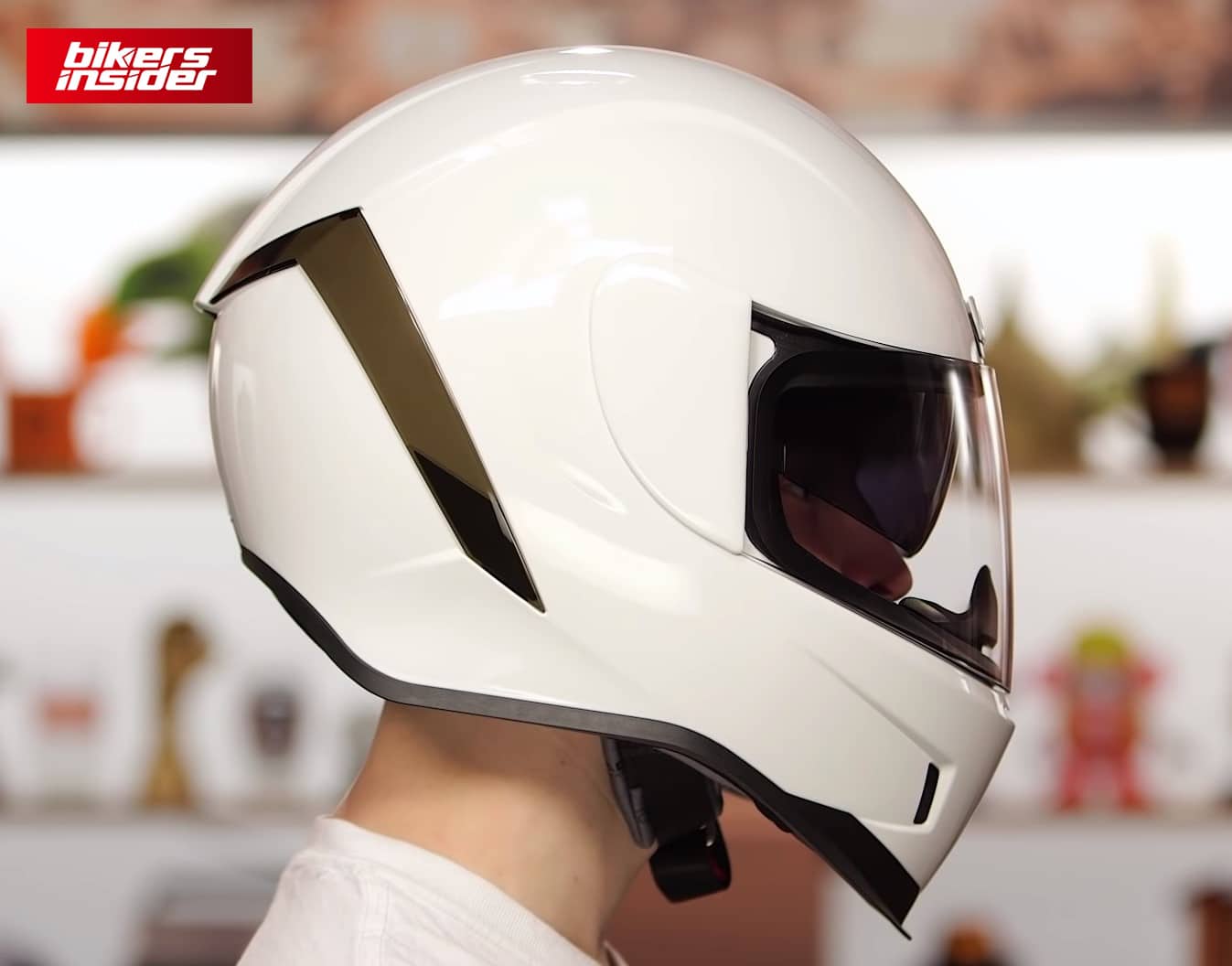 The main thing you're going to notice on the Airform helmet is its polycarbonate shell that comes in two shell sizes (more on that in the later sections). It weighs 3 pounds and 10 ounces (around 1,65 kg). The helmet isn't too heavy and neither too light. It's exactly what we expected from a polycarbonate helmet.
From the internal fitment perspective, the Airform is a typical Icon deal, as it takes on an intermediate oval shape, with pronunciation at the long oval form. So, if your head is a bit longer front the back and narrow down the sides, the Airform will be an excellent fit for you.
As we look at the overall profile of the Airform helmet, we can see that it's an aggressive-looking helmet, like a proper sports helmet. However, to touch a bit on the cosmetic side, the Airform looks a bit rounded from the outside, even though its internal fit is intermediate oval.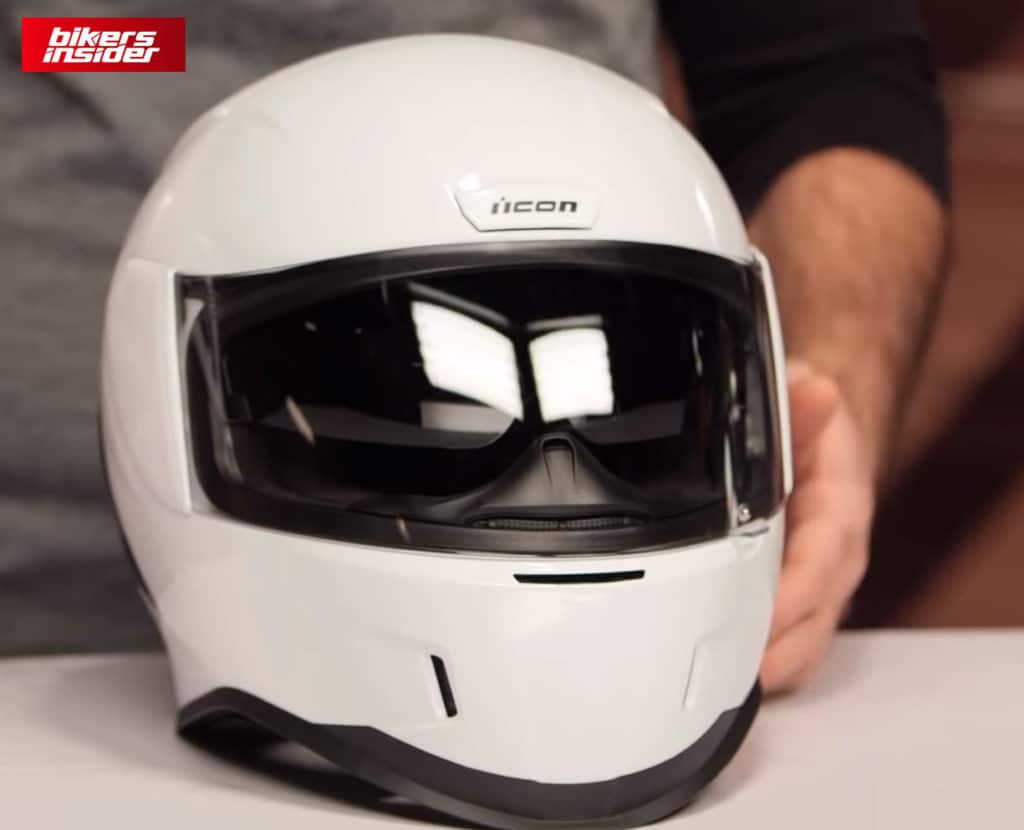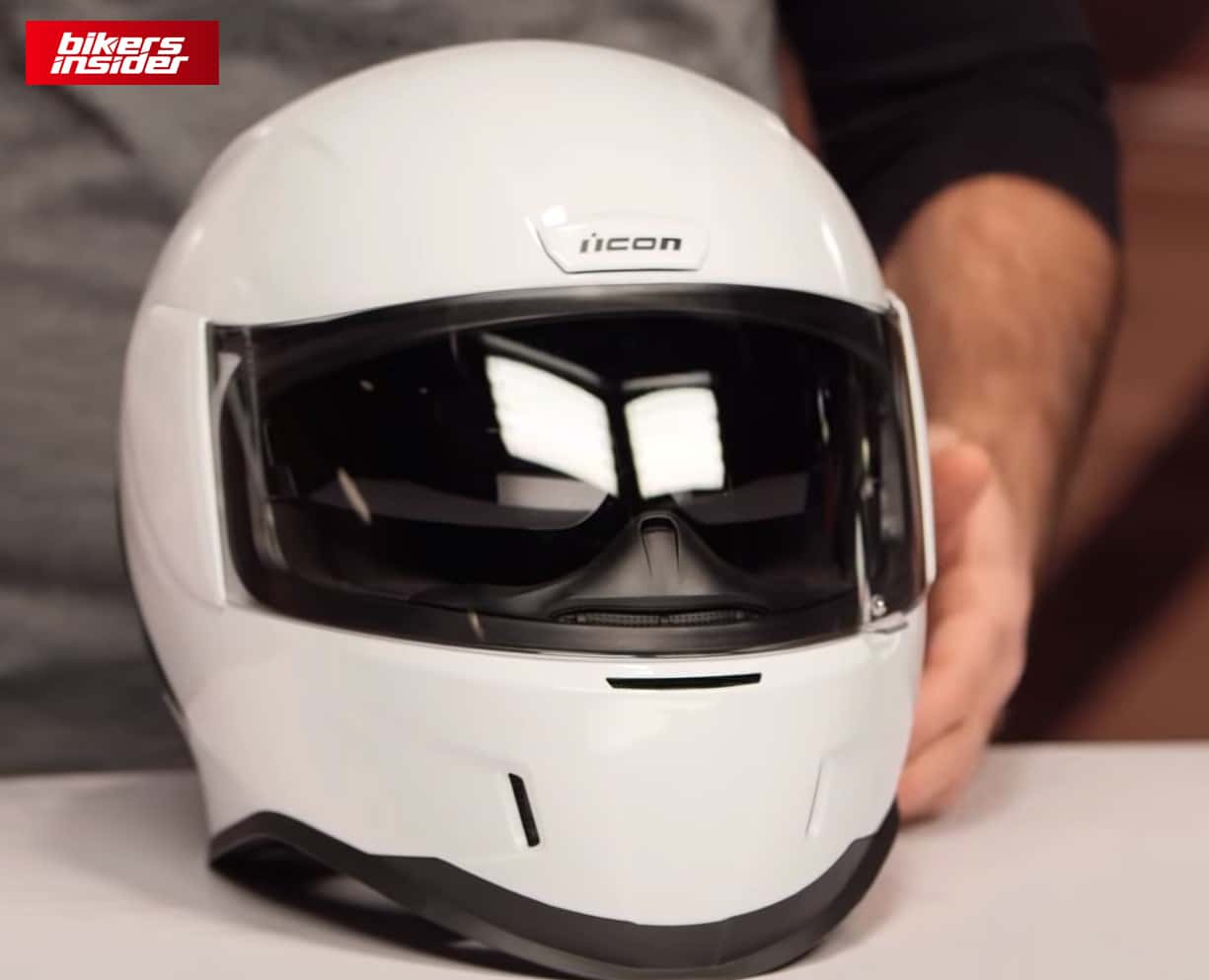 Also worth noting is the nice little empty spot on the chin area. Most helmets have a chin vent over here that complicates action camera mounting. However, with the lack of the chin vent on this area, you can easily mount an action camera at this section for easier motovlogging.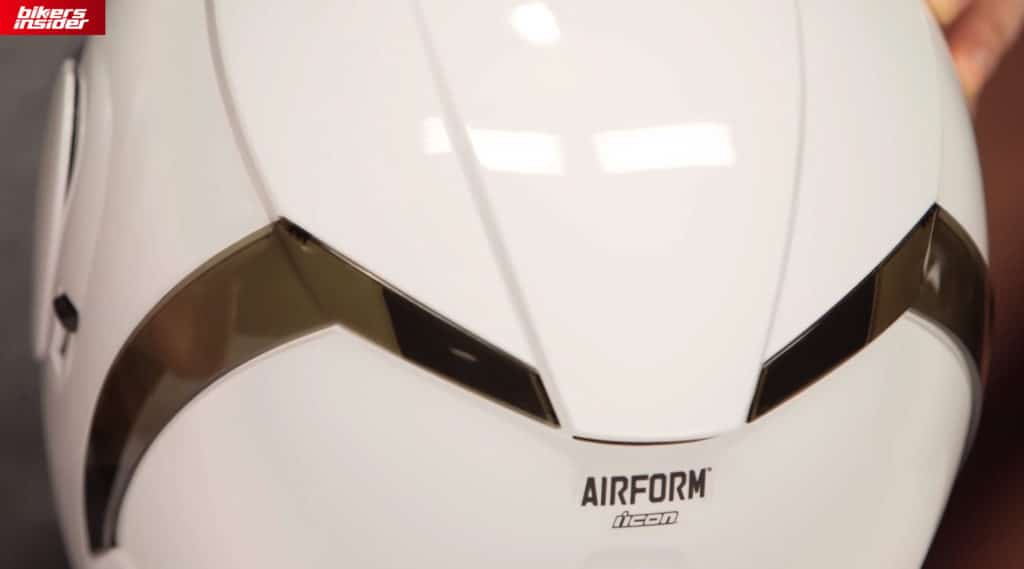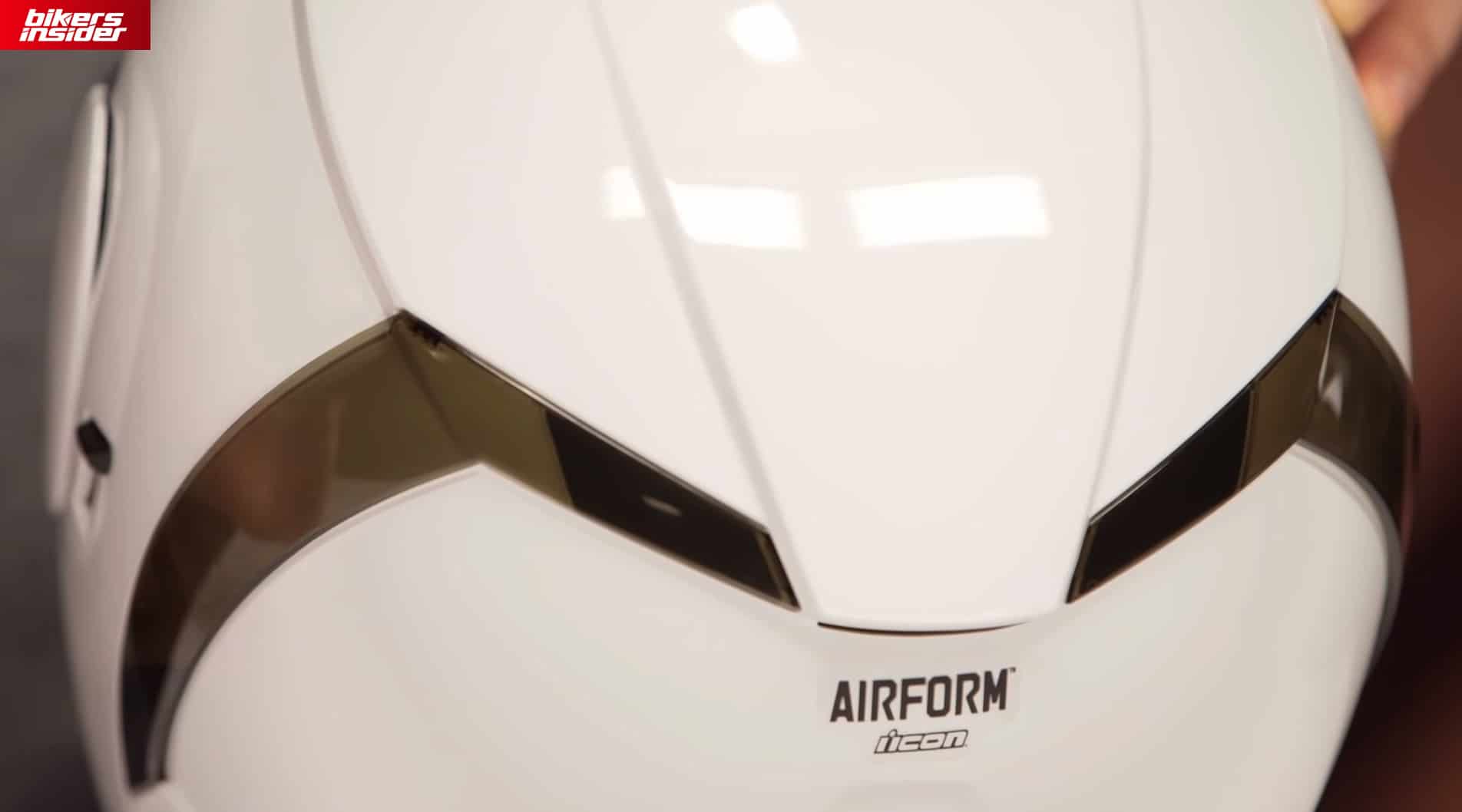 When we turn the helmet to the back, we can see the removable spoilers dominating that section. As you can remove them, you can style them further to your personal preference, as they are glued on the helmet with double adhesive tape.
Vision
As we continue our Icon Airform review, let's talk a bit about the clear face shield visor and the internal sun visor.
Clear Face Shield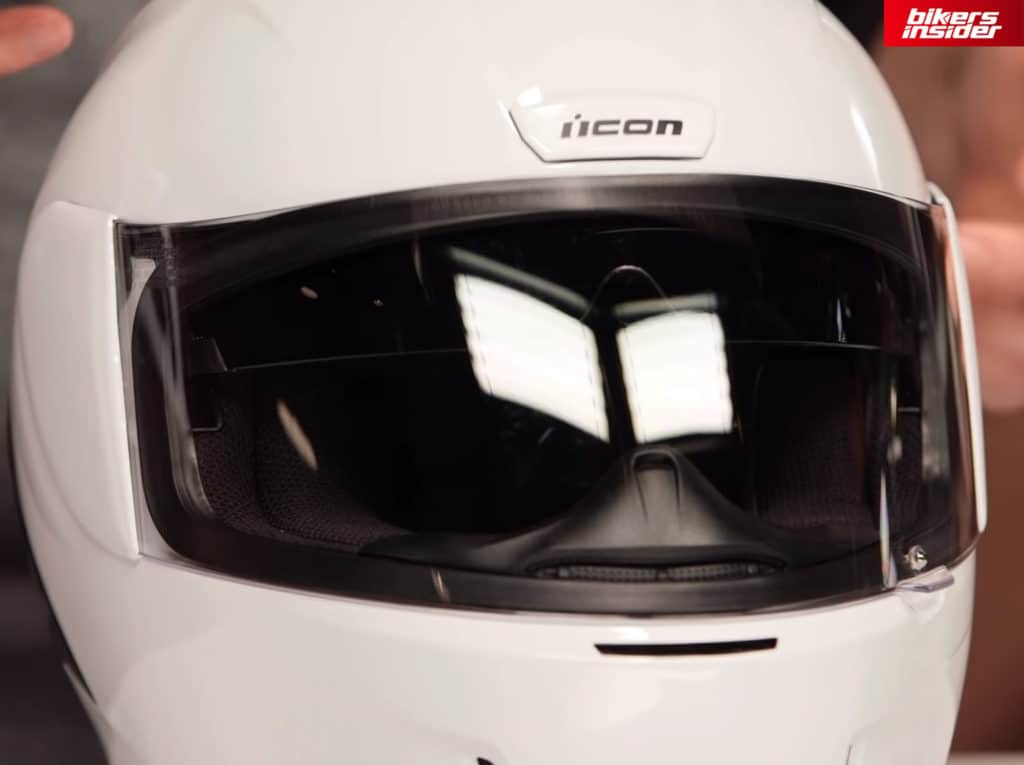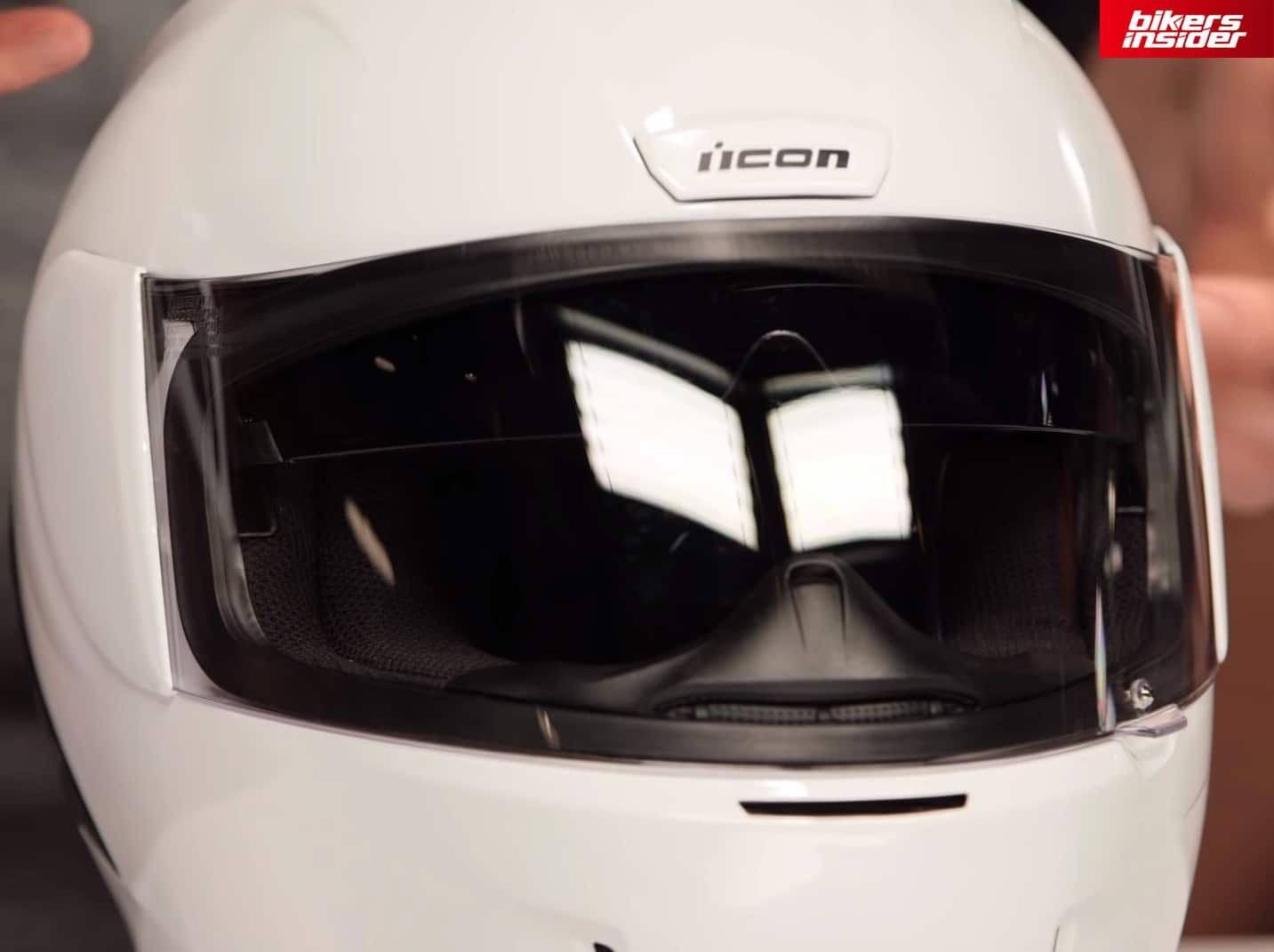 The clear face shield on the Airform is the same as the one found on the Airframe Pro helmet. It's marketed as an optically correct shield, but it's not 100% optically correct. We found out that there is some waviness on the visor as you turn your head. Still, nothing too bad to detract you from getting this lid.
Also, the clear face shield has a lip for opening and closing, with some faults. When you open the visor with your hand, it can bend and get loose on the left side. Make sure to check the stability of the clear face shield before going on a ride with this one.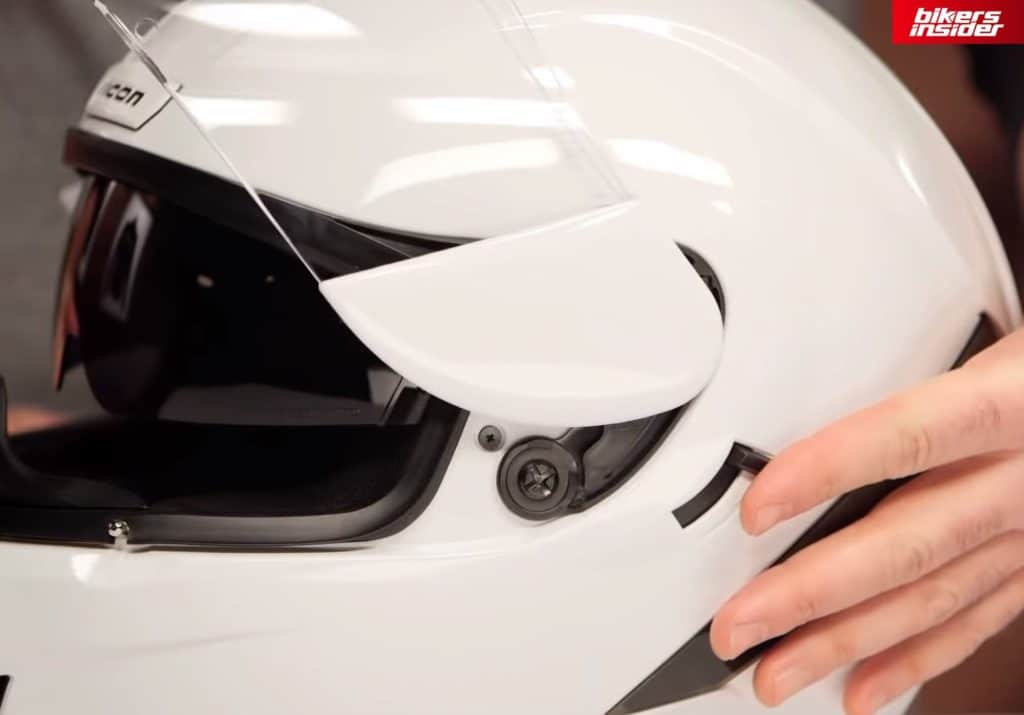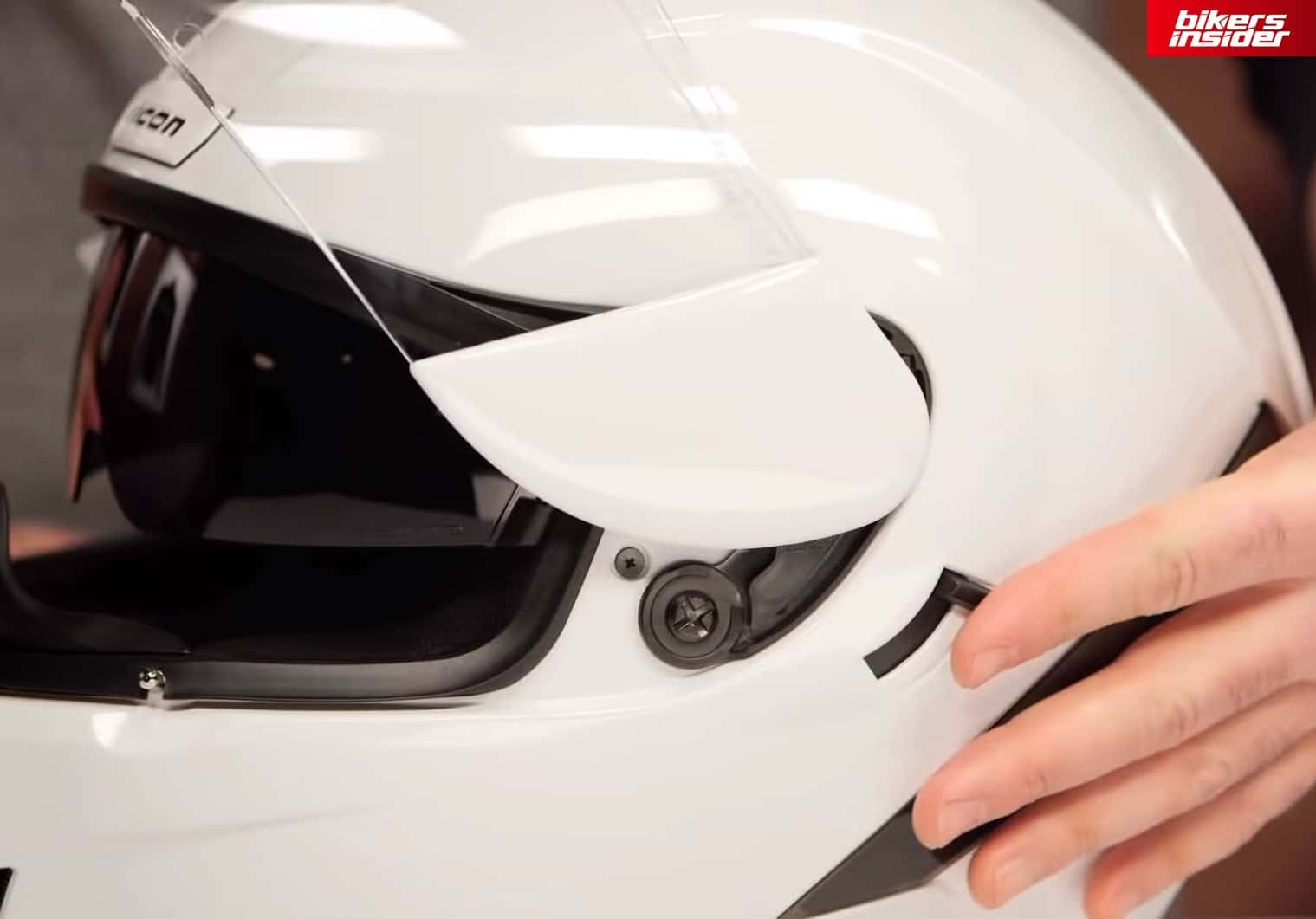 The clear face shield has a locking mechanism, and it features an anti-fog coating, just to note. It's connected to the helmet with side plates.
Internal Sun Visor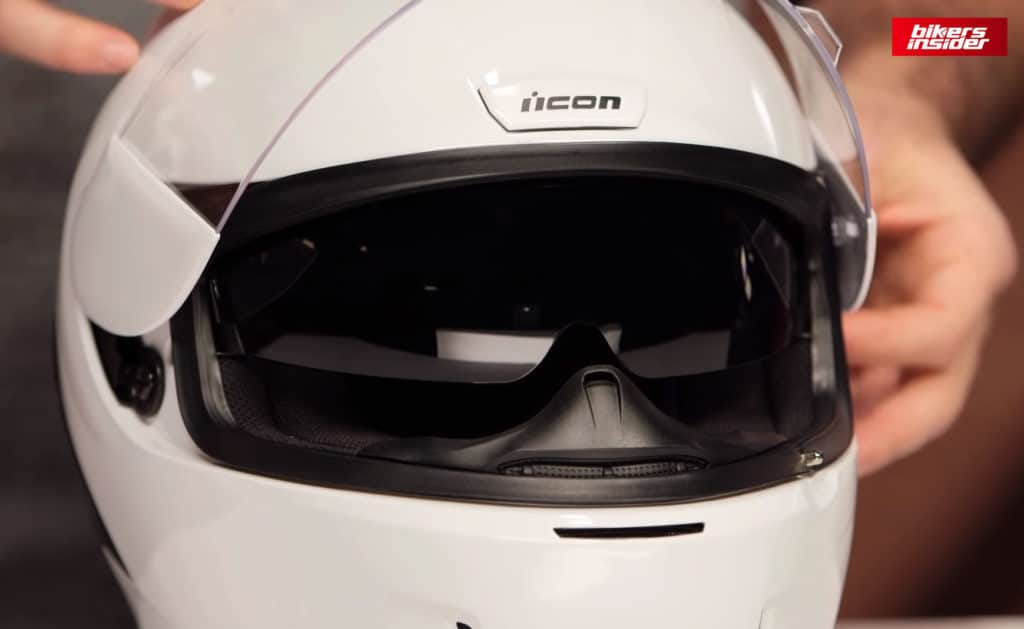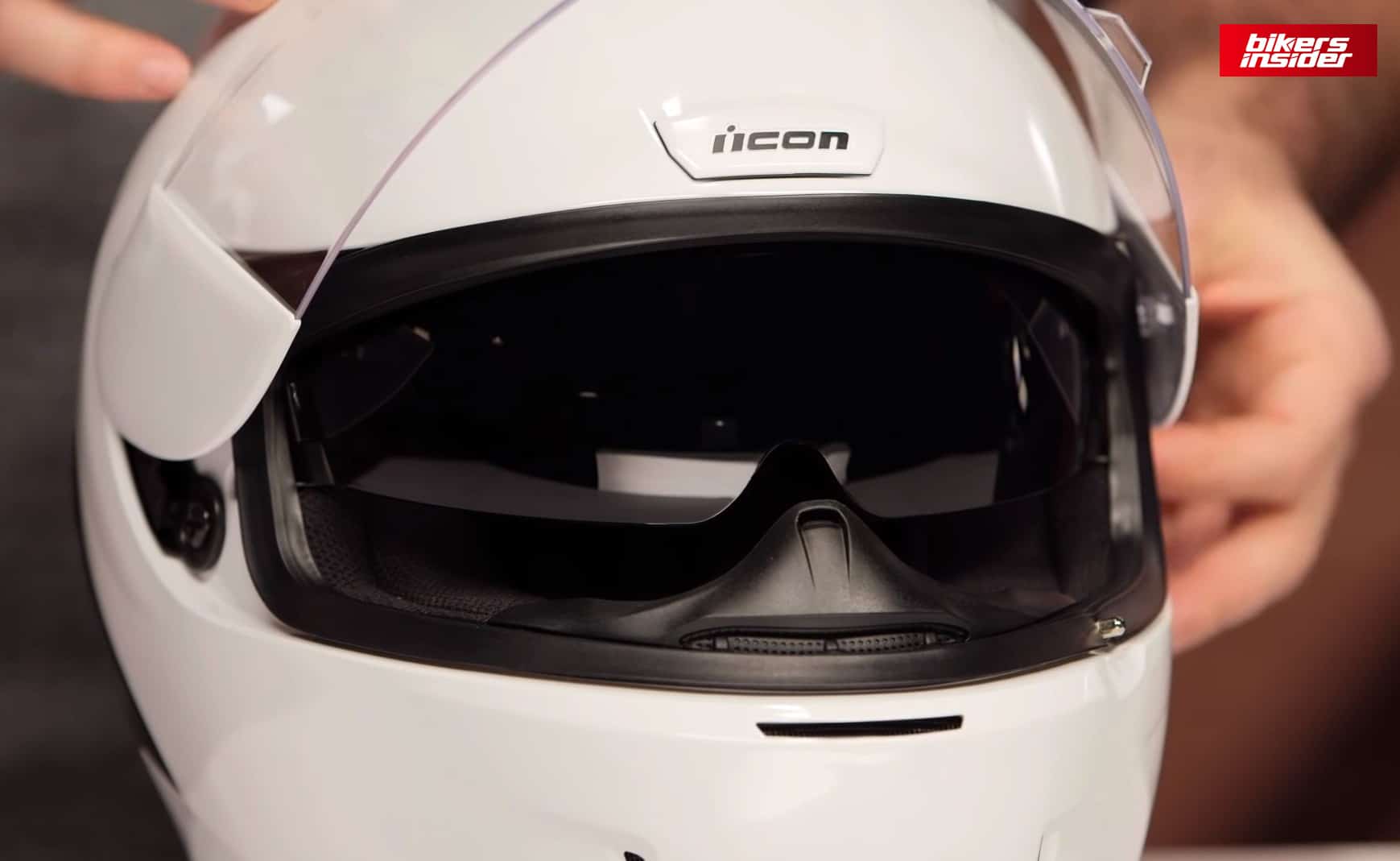 This is a great addition that eliminates the need for sunglasses during a ride. The inner sun visor is actuated with a little switch on the upper left-hand side of the helmet. It's very easy to reach it with your hands and easy to operate even with gloves.
Check out our other Icon helmet reviews!
The inner sun visor on the Airform doesn't go all the way down, so you will have a small line between it and the clear face shield. This may be annoying to many riders, as you will need to tilt your head to see better.
Comfort
In this section of our Icon Airform review, we will delve into the internal guts of the helmet and see how comfortable it is.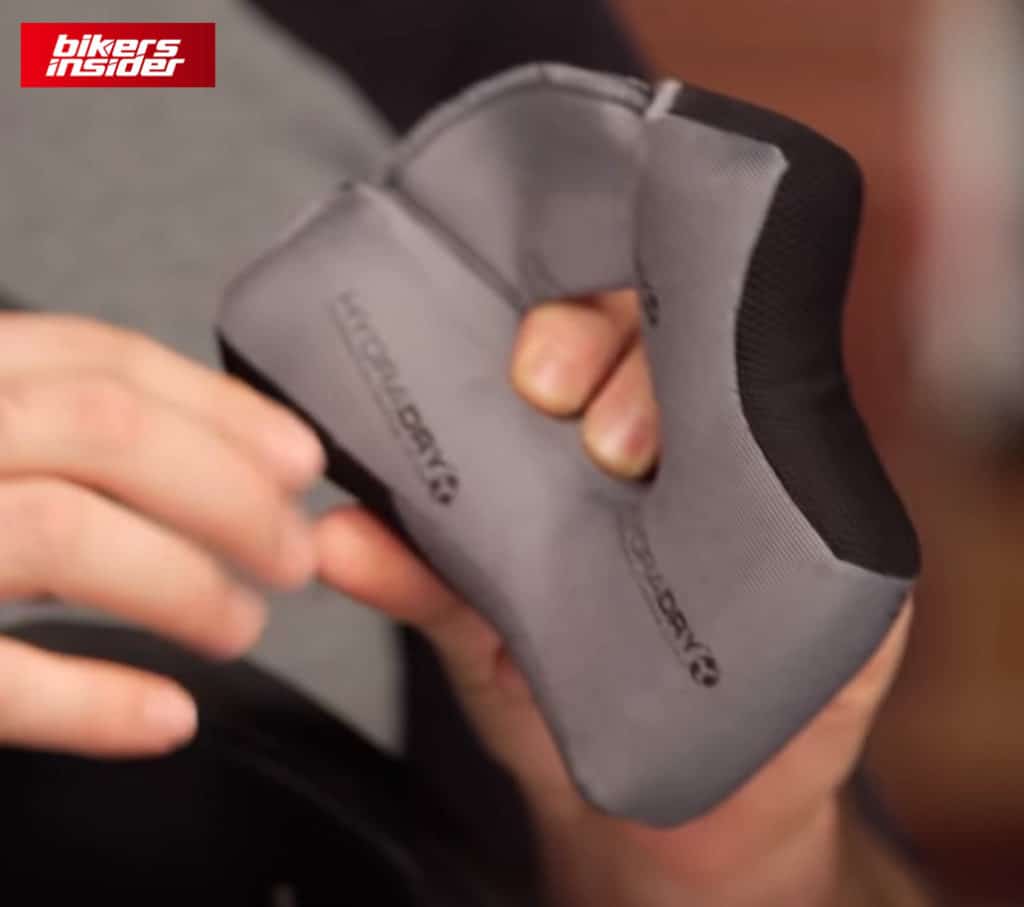 The cheek pads have a nice contour and are easy to take off and put on due to Velcro snaps. You will notice there are speaker cutouts for Bluetooth comm device speakers, which is a handy addition.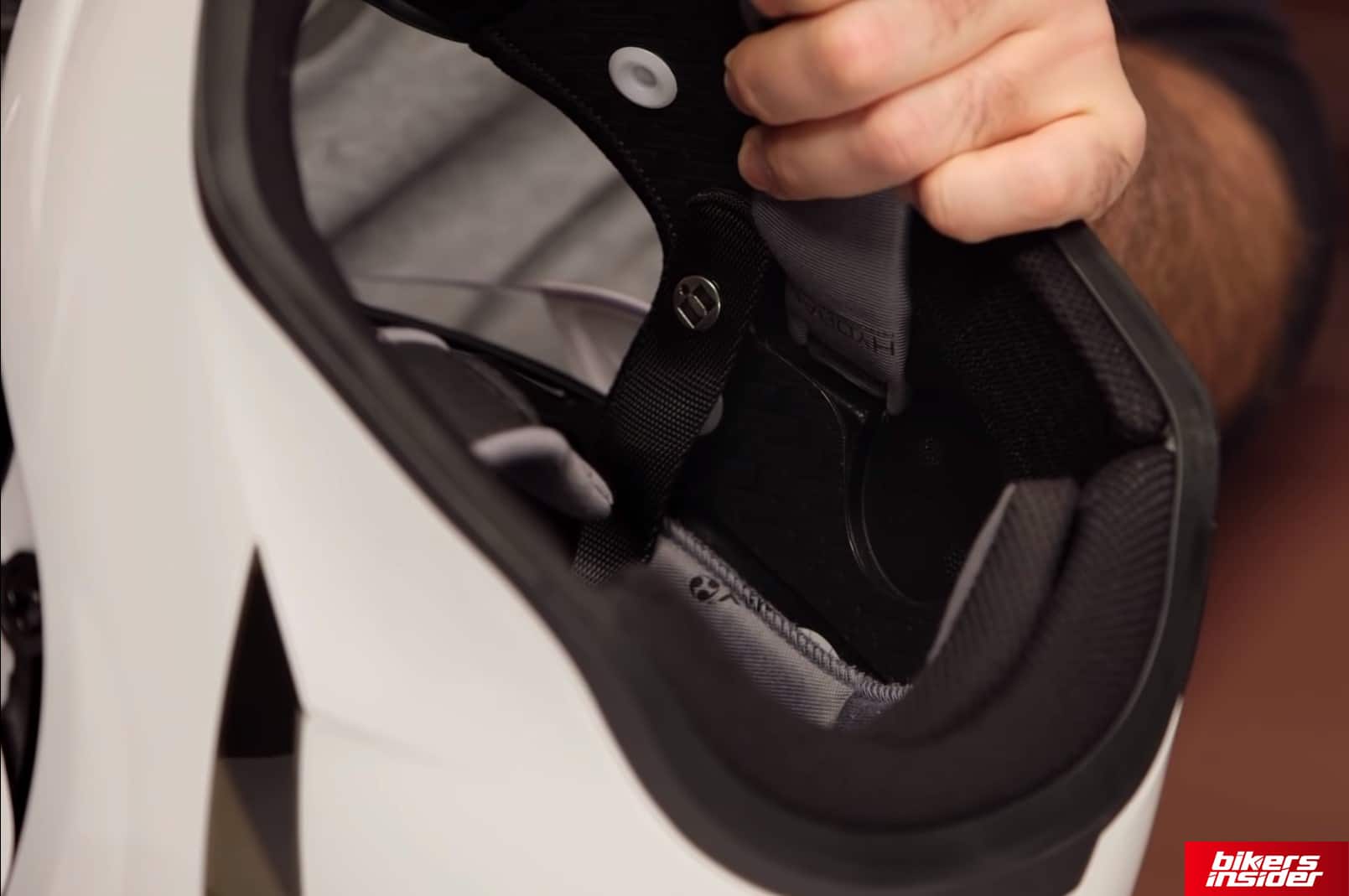 Now that we mentioned the Bluetooth comm systems, it is fair to note that the Airform isn't the easiest lid to hard-mount a Bluetooth headset on. That's because the helmet walls are too thick, so you are better off with an adhesive mount for your Bluetooth comm unit.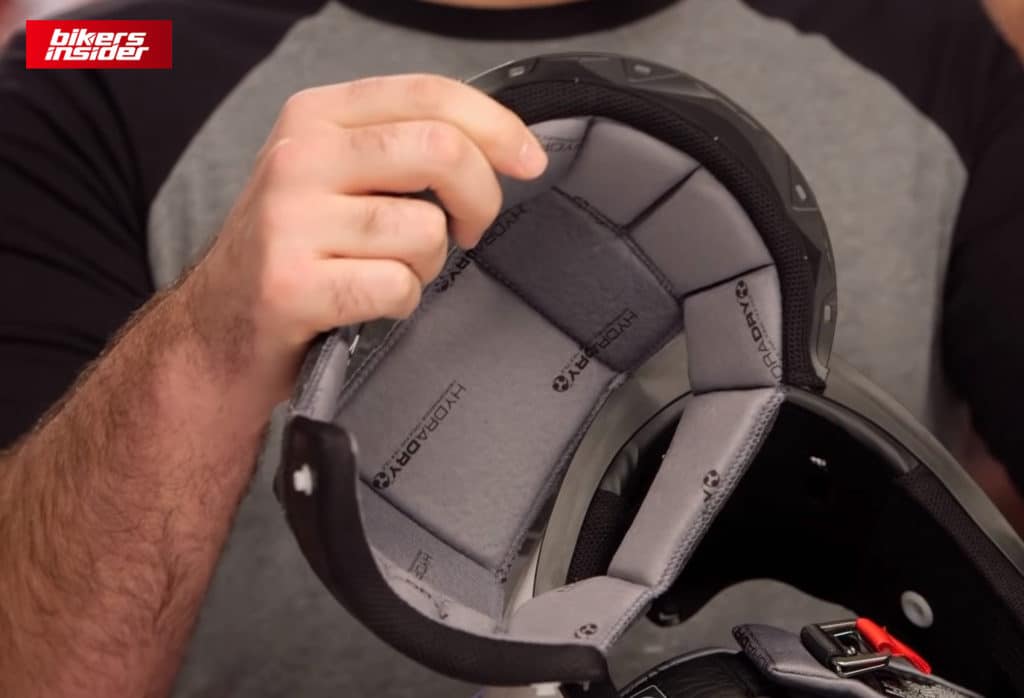 The inner comfort liner has a brow mount that mounts on the top of the helmet. With this addition, you don't have to worry about any snaps on your forehead, which can cause annoying pain points. Overall, the Hydradry is a pretty premium liner system that feels quite comfy.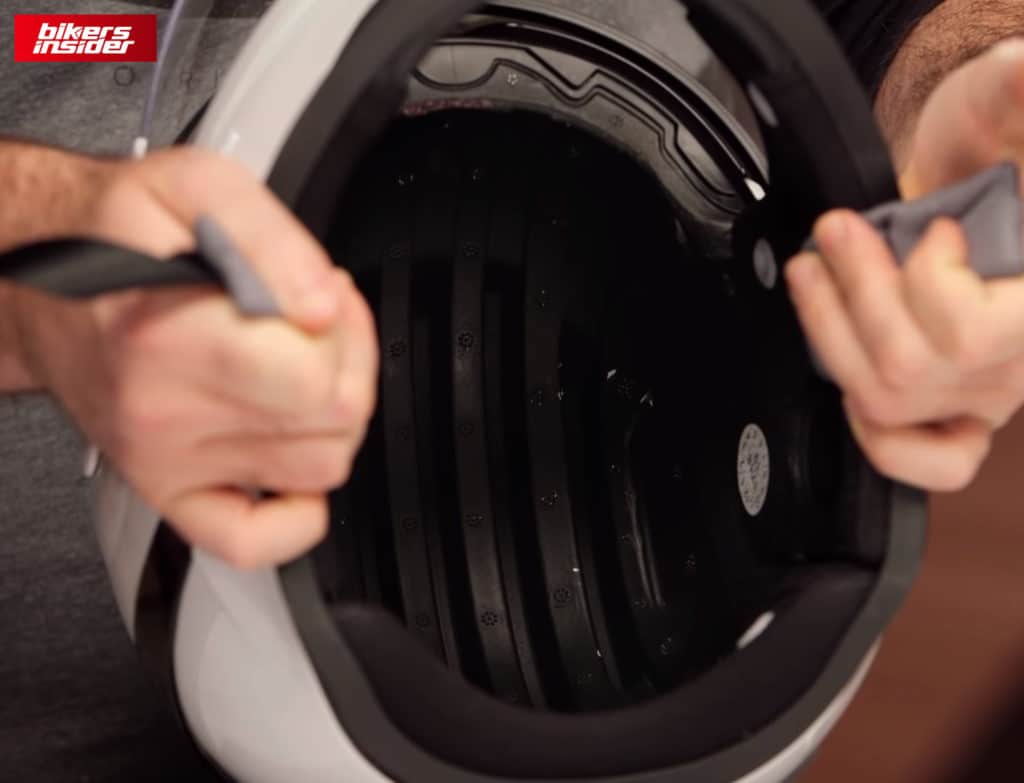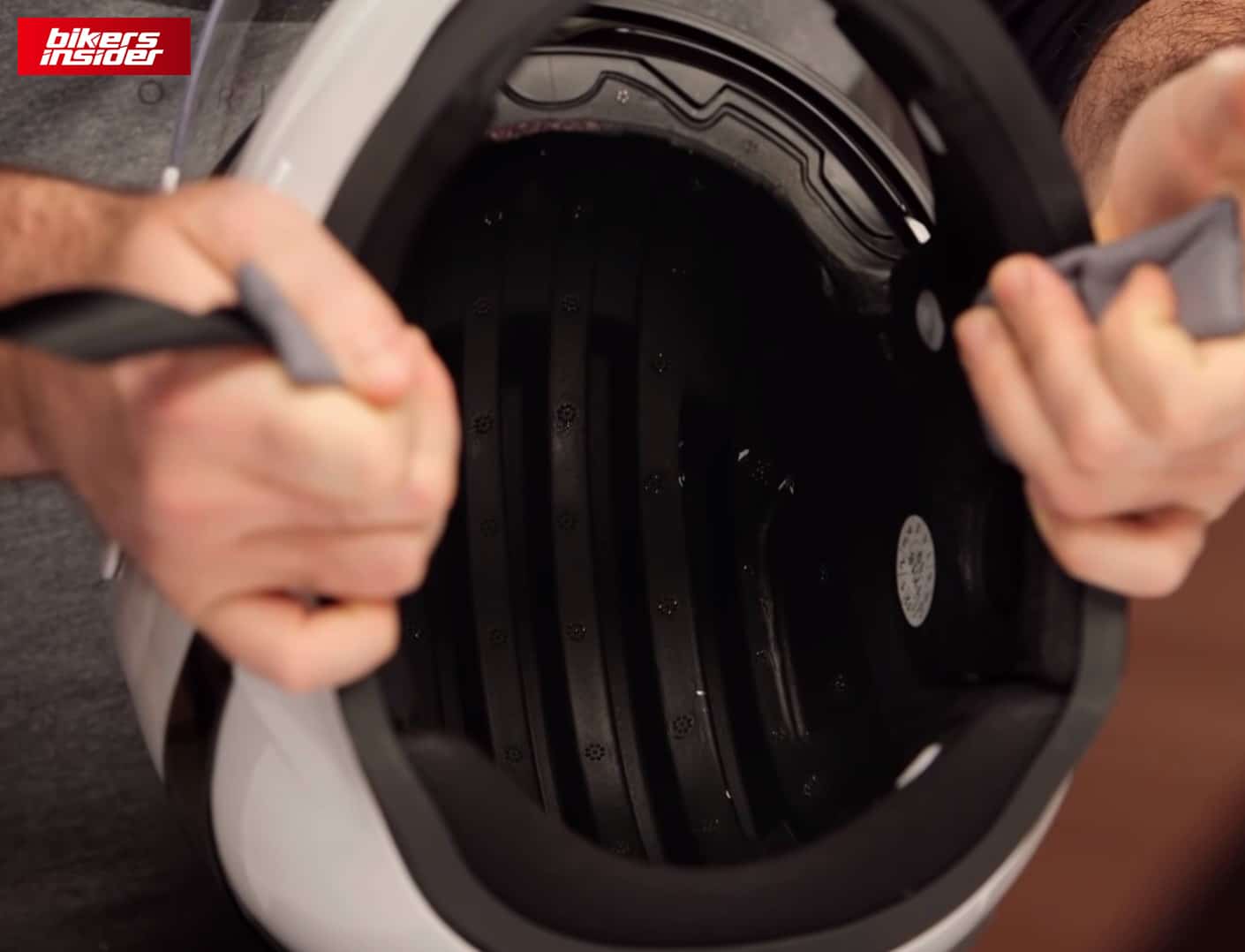 Underneath the inner liner, you can see massive EPS channels, which are cut pretty deep for better airflow. These cutouts also help with decreasing the weight and preserving the helmet safety altogether.
Airflow
As we continue our Icon Airform review, let's talk a bit about its venting scheme and the overall airflow.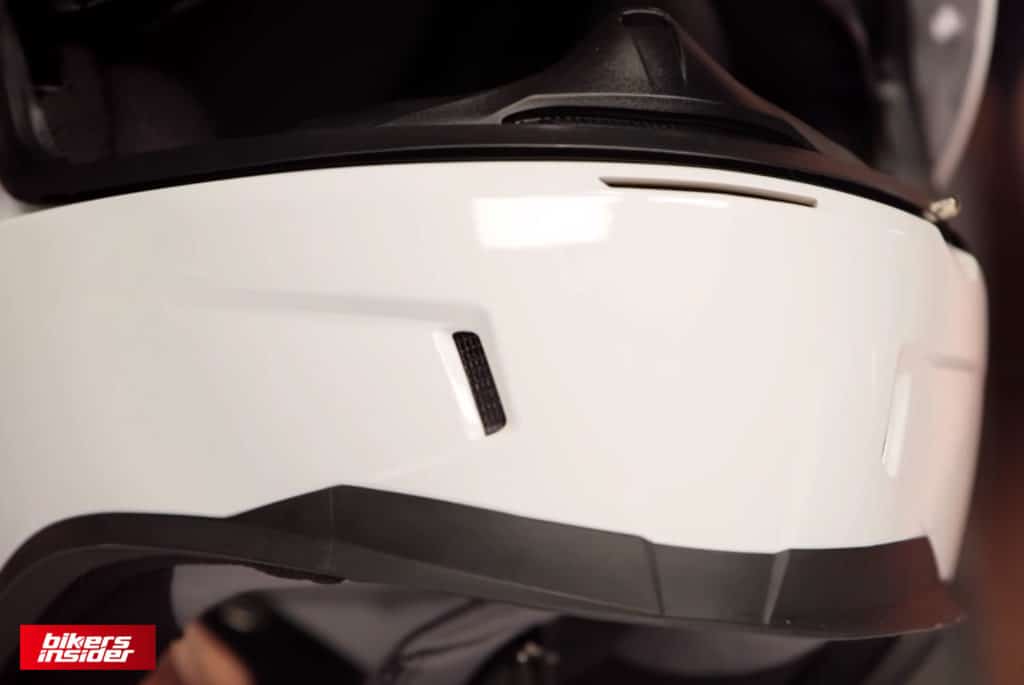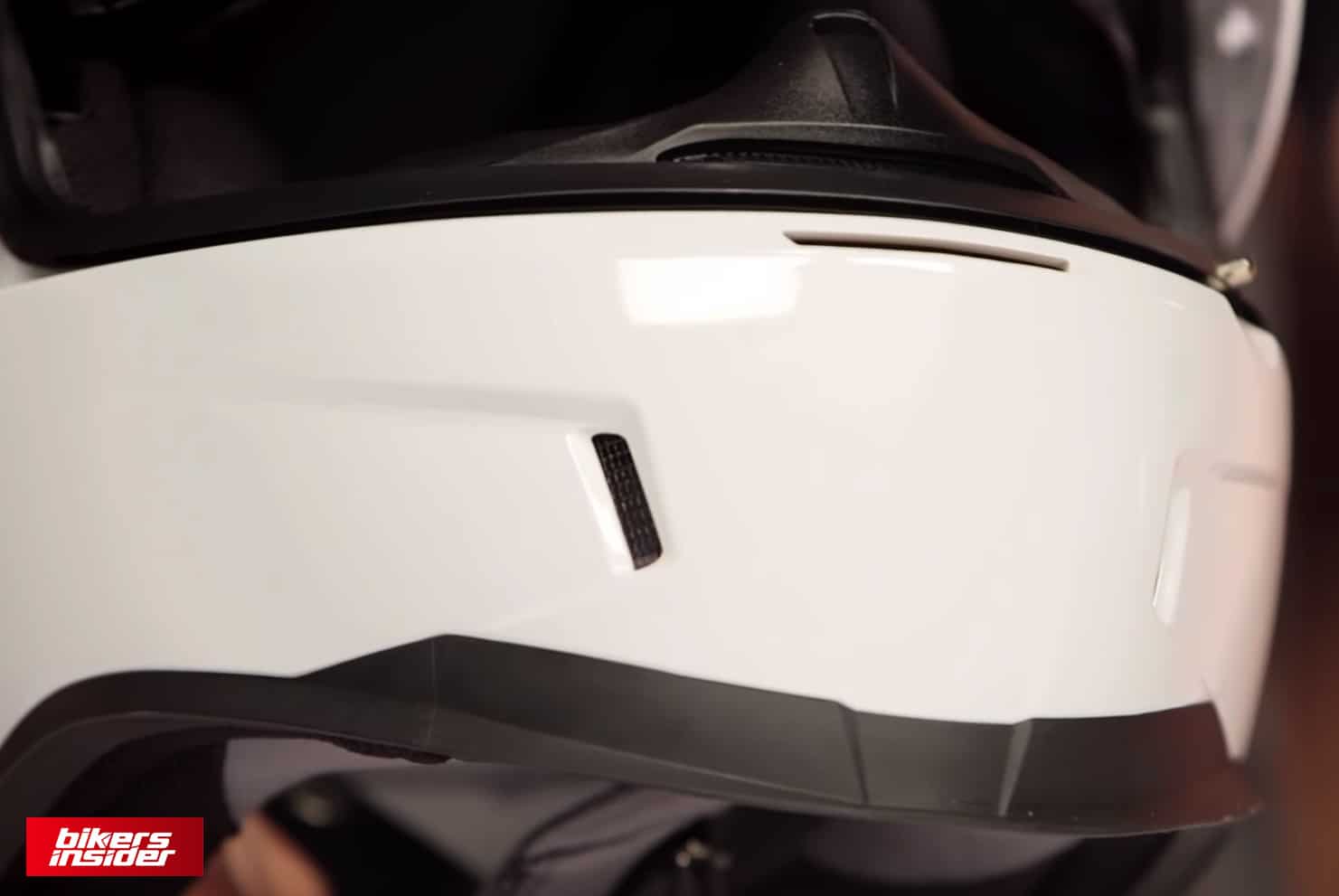 First up, we have three chin vents, two on the sides and one underneath the face shield. These are passive vents, so they'll be open at all times. So, if you want to wear the Icon Airform full-face helmet during the winter, you'll need to duct-tape these three vents from the inside.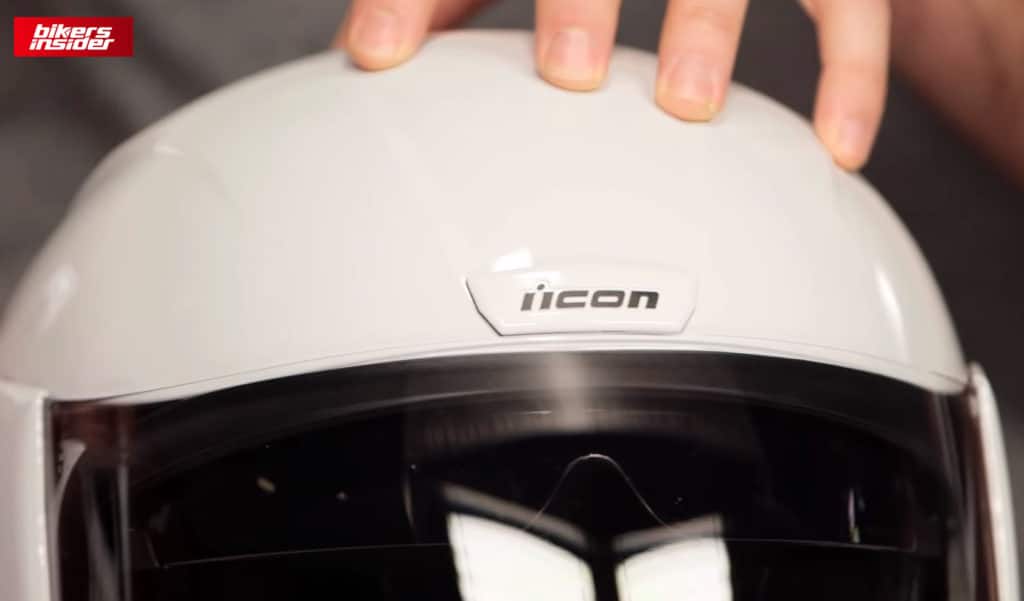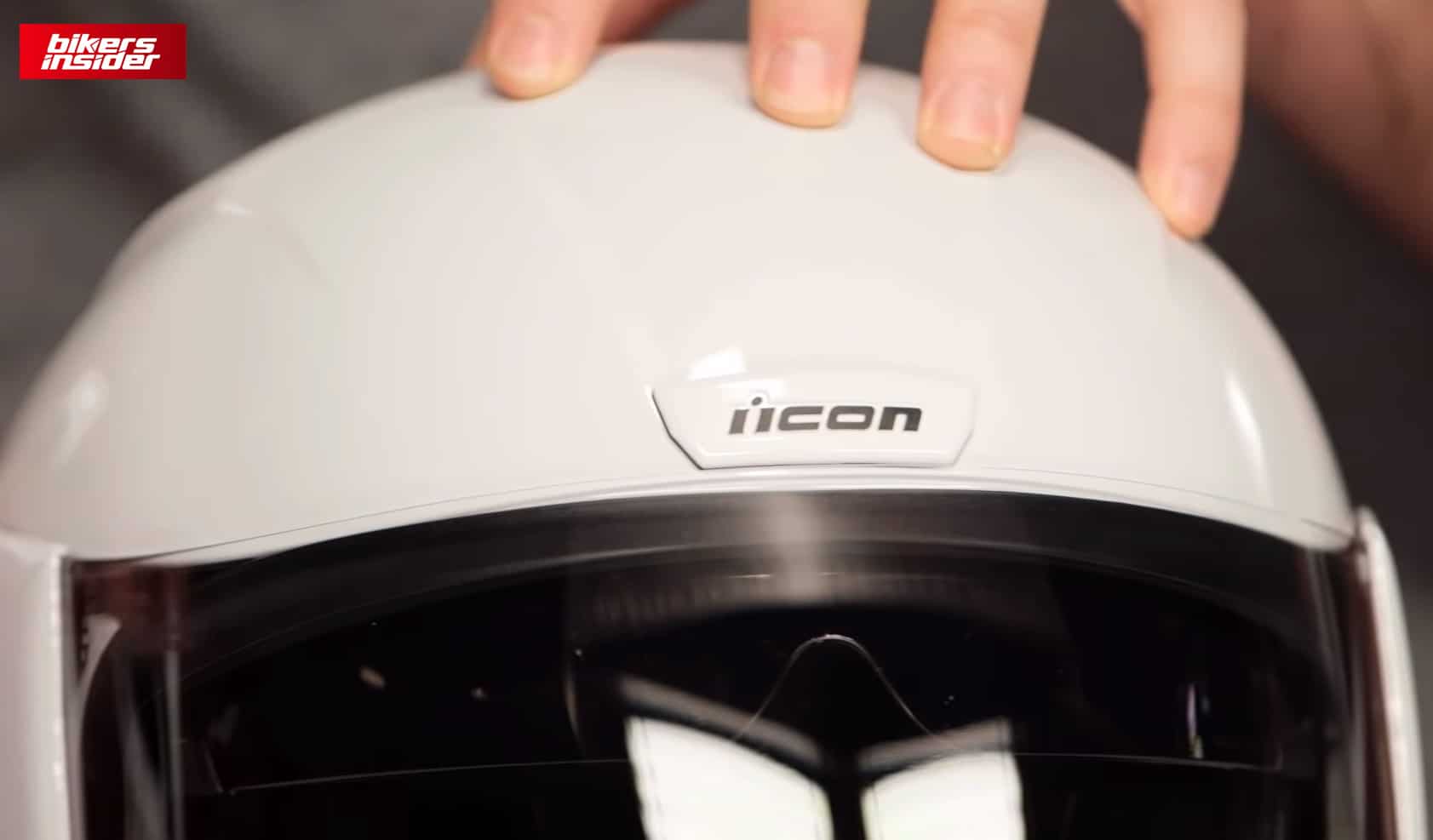 The top vent is actuated, and it promotes extra airflow due to the deep EPS cutouts. Still, this vent is tiny, so it will not allow too much air if your face shield is fully closed.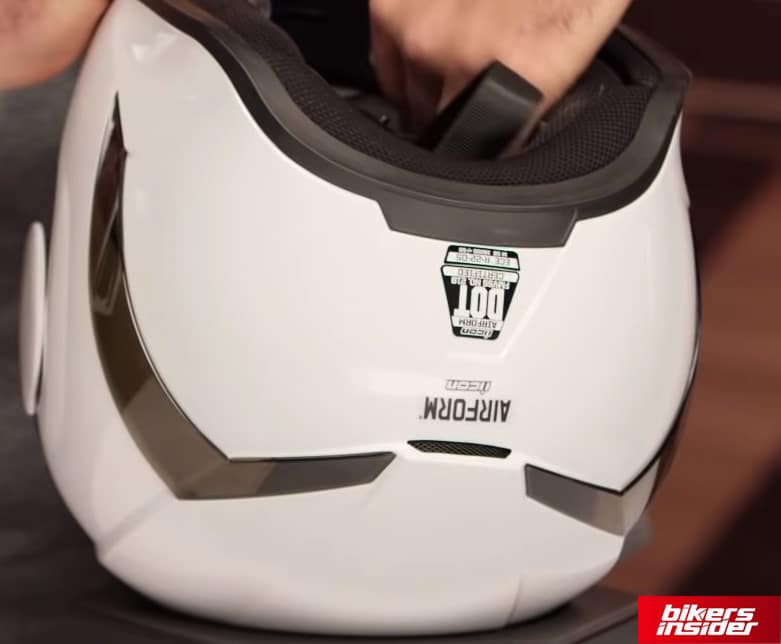 There is also a passive back vent between the spoilers to increase the aerodynamic features of this helmet.
Keep in mind that the Airform will be a bit noisier on the highway rides, as the wind tends to go in the left part of the helmet. It seems that it goes in just at the spot where the inner sun visor actuator is located. Maybe it will be better for future variations to have the sun visor actuator on the lower left jawline section?
Overall, the airflow on the Airform helmet is pretty decent, especially when it comes to defogging. Maybe you'll feel a bit hot when stopped, but when on the go, you'll feel very chill.
Safety Ratings
For a sub-$150 full-face helmet, the Icon Airform surprised us with the DOT and ECE safety ratings.
For further helmet safety education, check out our dual homologated helmet guide!
Basically, you can ride with this lid anywhere in the world, and be sure that it'll keep you safe if you end up falling from your bike.
Available Models
First up, here are the shell sizes of the Icon Airform motorcycle helmet:
XS – 53 to 54 cm
S – 55 to 56 cm
M – 57 to 58 cm
L – 59 to 60 cm
XL – 61 to 62 cm
2XL – 63 to 64 cm
3XL – 65 to 66 cm
Keep in mind that you can get numerous tint options for the Icon Airform to further stylize it.
The Icon Airform comes in a variety of designs, as expected from the Icon helmet lineup, here is a list of all of them:
Ethetique
Manik'r
Warthog
Semper Fi
Ships Company
Guardian
Chantilly
Grillz
Buck Fever
Ritemind
Parahuman
Hello Sunshine
Conflux
Illuminatus
Sarosanct
Gloss
Rubatone
Airform Helmet Designs
Icon Airform | Ships Company
The design of the ship's company is an icon of seafaring tradition. This unique illustration pays tribute to the world's most famous sailors and their adventure at sea, it reminds us that life on board a ship was never dull for those brave enough to embark on such journeys. The intricate details in this design make each sailor stand out with personality- some are serious like Columbus; others playful like Captain Jack Sparrow from Pirates of Caribbean fame!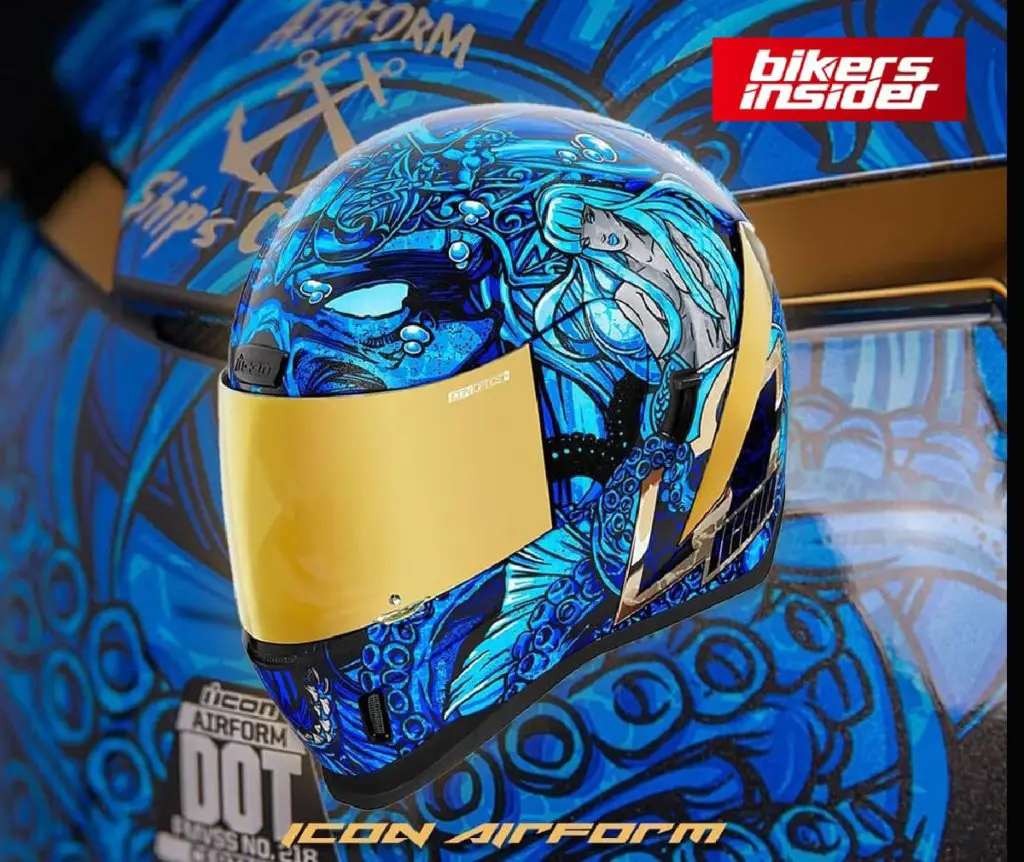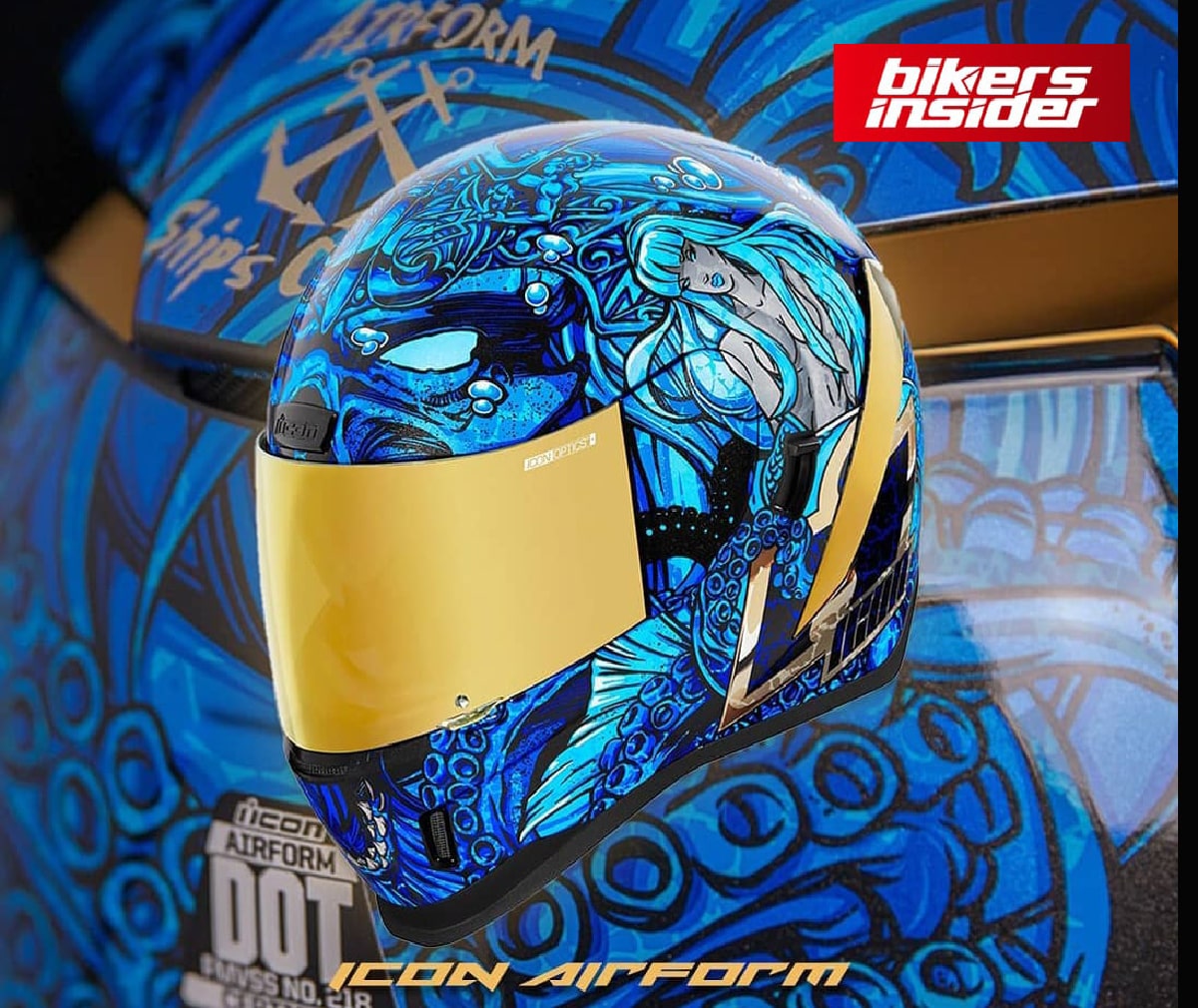 The detail in this pretty remarkable work done by artist Alex Omenukwu Jr., which has been featured as a part of an art installation during events around Philadelphia–
Catch you lane splitting, buck thirty on the highway, turn your neck, and your game missin'. Here's a little Dapper Dan flavor for players like yourself. It's time to get the Airform Grillz on your head, and your smile iced out. We're livin' like Boss Hog flexin' on some Brooklyn hi-speed candy trip. Smile, you're gonna be famous.
This is a really unique style that will make everyone smile with a grin back at ya!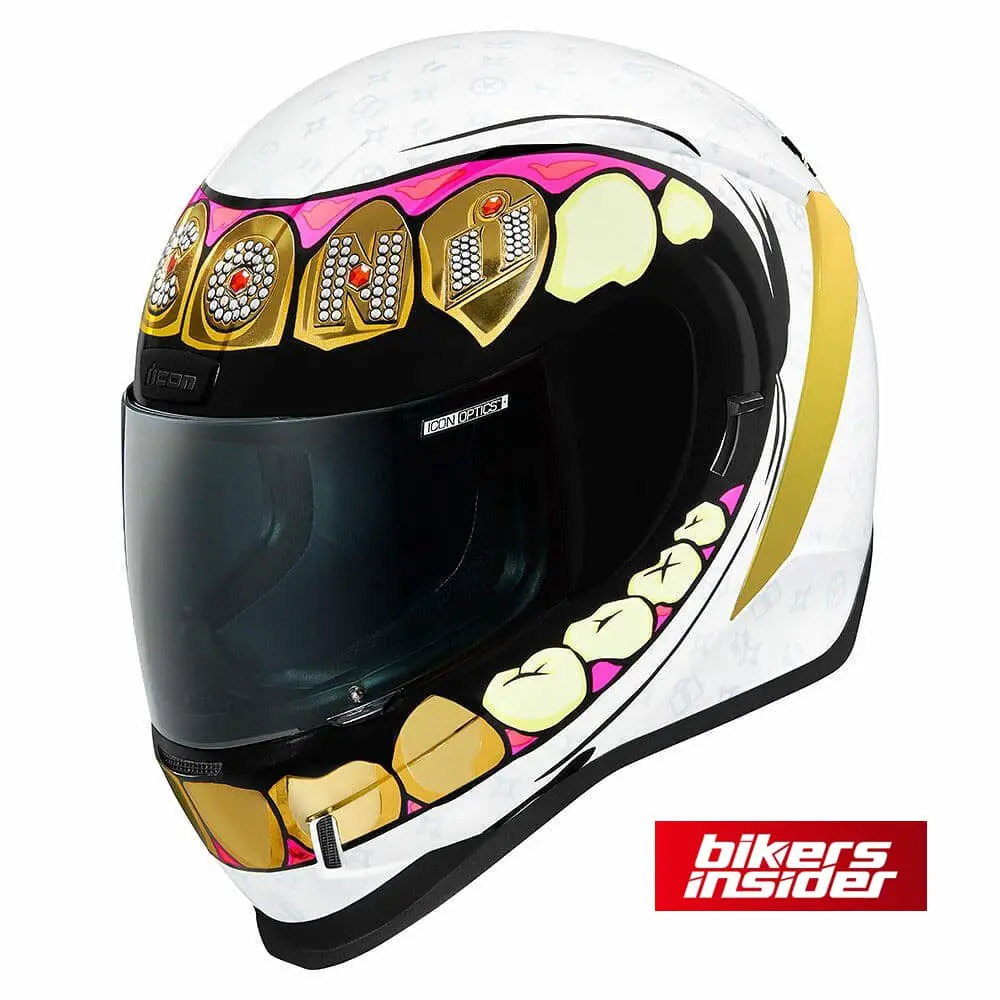 Check out the gallery below to see all 17 designs of the Icon Airform motorcycle helmet!
Price
The Icon Airform is pretty packed with handy features for the $140/€118/£100. Check out the cheapest Airform deals in the stores linked below!
Summing Up
As we come to the end of our Icon Airform review, what is our final verdict on this helmet?
First of all, let's talk about the positives. This is an extremely affordable helmet for all that you get. There is an inner sun visor, pretty decent airflow, a very comfortable interior, and a variety of cool designs for further personalization. It certainly feels premium at a sub-$150 price point. Also, it is laughably easy to install an action camera on this helmet.
Now, some of the negatives. First of all, the helmet has some pretty thick walls, so forget about hard-mounting a Bluetooth comm unit. Also, the clear face shield isn't fully optically correct, and the inner sun visor doesn't go all the way down. The last negative thing is the tiny top vent which doesn't let in too much air, especially in hot summer months.
Overall, the Icon Airform is a true return to form for Icon, with a premium-built helmet priced at an entry-level price point. It has our seal of approval, that's for sure!
Interested in more helmet reviews? Check out our motorcycle helmet reviews section for more!