Introduction
As the world becomes smart and interconnected, so must we, as Riders. And being more intelligent when driving isn't limited to using smart cars. Smart driving gear, such as smart helmets, are such options. Helmets with built-in sensors are a lifesaver for two-wheeler drivers. They assist drivers in many ways, including making better use of available resources and enhancing the on-road feel.
A smart helmet is a technological innovation that leaves the standard helmet to the status of a joke. Drivers can be safer, more efficient, and have a better driving experience with smart helmets.
If you are looking for the qualities mentioned earlier and experience, we have compiled a list of Top 7 smart helmets for 2021-2022. Check out the summary table if you are short on time.
| Image | Model | Picked for | Price |
| --- | --- | --- | --- |
| | Harley Davidson Boom! Audio N02 | Best Intercom Audio | Check Price |
| | Sena Momentum Inc Pro | Best Quality front view camera | Check Price |
| | Jaravish X-AR | The Most The most Innovative Tech | Check Price |
| | Crosshelmet X1 | The Most Futuristic look | Check Price |
| | Forcite MKI | The Lightest Smart Helmet | Check Price |
| | Torc T28B | Well Ventilated | Check Price |
| | Bilt Techno 3.0 | Eccentric Pin lock ready face shield  | Check Price |
If you're looking for a smart helmet with the following qualities,
Voice command WiFi connectivity
Manage Phone Calls
Use smart devices to connect to the Internet.
Set up a communication channel with other smart helmets and riders
FM Radio
Intercom
Heads-up Display Buttons for Emergency
systems for tracking
Cameras
Beacons of Light
Location-based Services
Enhanced Hardware Configuration
The hardware in smart helmets has been enhanced. The inner lining is more shock-proof because of the usage of EPS padding. SOS buttons, rider monitoring, and automatic warnings to emergency contacts. It is all possible with smart software.
There's no need to carry around a smartphone.
Inside the helmet, audio alarms and a HUD display provide information on weather and navigation. The FM radio and intercom system are already installed in smart helmets. With a single touch or voice command, you can also make, accept, and reject phone calls all at once.
While driving, take advantage of the features offered by voice assistants. See a video of what's happening behind you in the rearview mirror with the heads-up display.
Smart helmets let you stay in touch with other riders while you're out on the road.
Helmets come equipped with a high-quality audio system for your listening pleasure.
1. Harley Davidson Boom Audio N02 Helmet
The Boom Audio N02 is a full-face smart helmet by Harley Davidson. Like other smart helmets, this smart full-face motorbike helmet is ready to use. It does not need any complicated setup. There is no need to mess with wires, place speakers, or buy batteries to use this smart helmet.
The Harley-Davidson smart helmet includes two modules: one Bluetooth® and one Mesh. A rider can link up to four other riders using the inbuilt Bluetooth® technology. Also, mesh intercom technology allows you to connect up to 16 bikers in private mode. You may also listen to your favorite music on the FM radio and share it with up to 8 other riders via the intercom.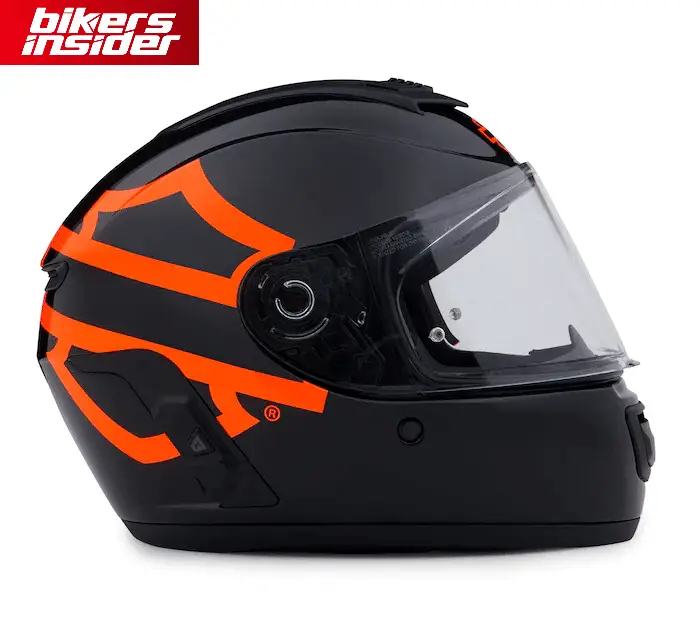 The weight of this helmet is 3 pounds and 12 ounces. The shell design is made of DOT-approved fiberglass composite material. Reflective tubing is an optional feature that allows everyone to see you in low-light. The rechargeable battery comes with a built-in FM radio comes with charger. This helmet includes a great Bluetooth headset with a great audio system. The helmet has a carrying and storage pouch.
Buttons are in the back, out of the way and out of the way of the aerodynamics. The chin and forehead vents keep the fog at bay. In contrast, the fiberglass composite shell keeps the helmet from becoming too heavy.
Smart features
30k Mesh and Bluetooth combined technology 
Ability to connect with a large (16) number of people
Meets DOT safety standard FMVSS 218.
2. Sena Momentum Inc Pro
The Sena Momentum Pro is the newest addition to the Sena Momentum helmet line. Nice interior, excellent ventilation, and obvious attention to detail throughout. This unique full-face helmet with Bluetooth and QHD camera is a terrific investment in many ways, including safety.
Momentum Pro is an oval-shaped smart helmet made of composite fiberglass and multi-density EPS.
One chin and upper front vent, one exhaust port. So long as unrestricted airflow is maintained, this is a good solution for noise management. So far, no complaints.
The quick-dry lining is detachable and washable. It is not a luxurious atmosphere, but it is nicely cut and planned out, as are the exterior-mounted components.
The top-mounted QuadHD camera and left-side Bluetooth control housings are well-shaped and snugly fit into the overall shell's airflow lines. Wonderfully laid-out. It's probably just as nice in matte black.
The extra media components do add up. The Momentum Pro weighs 1820gr or 64.2oz (4.0125lbs) in Medium. The scales read 1826gr or 64.41oz (4.025lbs for a 6gr or 0.21oz discrepancy; the weights are within the long-term averages.
The interior isn't as comfortable as most high-end helmets, but it's not horrible. The liner is comfortable and easy to use, which is ideal given how snug the Momentum Pro is to put on and take off.
There is an area of support just above the bottom neck roll where I can feel the bottom of the skull and neck sit but in a comforting, supportive sense.
The Momentum Pro helmet has good ventilation, although we expected a bit more flow into and around the head. While the chin and top vents do admit air, the sensation is slight, probably connected to regulating air pressure and flow to help reduce overall noise.
Simple venting — down to open the front chin vent, back to expose the upper vent.
Smart Features
Bluetooth Audio v4.1
20 hours of talk
2.5 hours to charge
Intercom, HSP, HFP, A2DP, AVRCP
Audio juggling
ADVANCED NOISE
Codecs for SBC
1600m (1mi) in open terrain
Up to 8 users
FM radio with RDS AF
135° field of view
1440p30 (Quad HD)
80p 60fps (Full HD)
HD, 30fps (Full HD)
Normal and Loop Recording (maximum two hours)
MicroSD cards up to 128GB
3. Jarvish
The new JARVISH X-AR features safety-enhancing capabilities and supports voice command. The X-AR helmet is voice-activated only (no tap-to-talk). It lets riders manage cameras, calls, volume, music, and more while keeping their focus on the road.
The X-Series' full-face fit is comfortable. A pure carbon fiber build design by a helmet design company based in Germany. Its stylish all-in-one design includes top-of-the-line built-in HD surround sound speakers. These speakers feature a noise reduction microphone and front 2K camera as standard.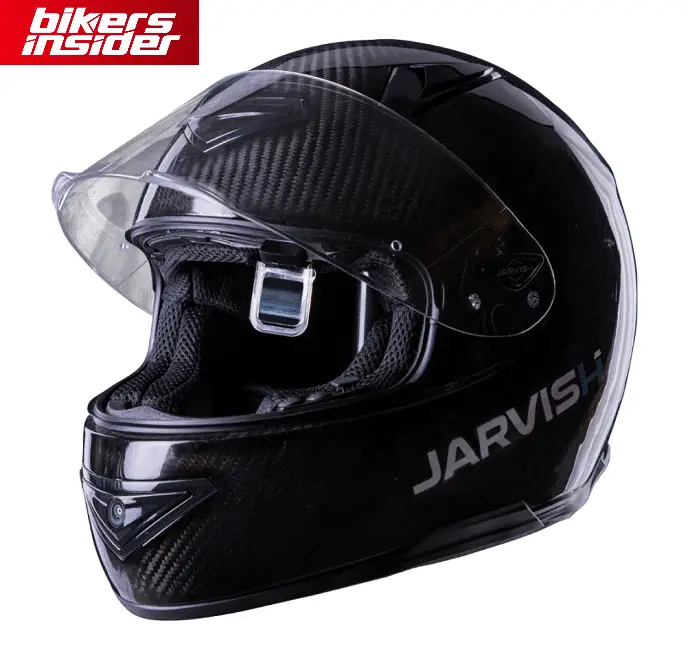 For visual instructions, the X-AR variant uses waveguide technology on the HUD. The technology behind this ensures that these projections are always visible. The HUD is operatable and retracted using voice commands.
The X-AR is completely approved, including ECE R22.05, DOT, CNS 2396, CNS 13438, CNS 13439, and FCC.
It features front and rear 1080p 360-degree cameras. The Bluetooth audio comes with active noise cancellation to reduce wind noise. A drop-down HUD screen and integrated GPS navigation are all included in the helmet.
Other smart helmets have offered features, but none have guaranteed most of them.
Smart Features
Both cameras record video on 16 GB internal storage, and there is an external slot available. The back camera acts as a rearview mirror. Its head-up display screen is voice-activated to retract and deploy, so it isn't always in your face. Automated sensors turn on the helmet when you put it on and turn it off when you take it off.
Its head-up display screen is voice-activated to retract and deploy, so it isn't always in your face. Automated sensors turn on the helmet when you put it on and turn it off when you take it off. Sensors such as gyroscopes, e-compass, accelerometers, and ambient light analyze the weather. These sensors also keep an eye on the road condition.
Access to Siri, Alexa, and OK Google. Google is voice-enabled without pressing a button. The helmet supports wireless charging.
CrossHelmet's distinct and functional design is what distinguishes it. Their team has years of experience working on famous goods such as the Yamaha MT-09 and the Walkman. They have applied the designing experience to their product.
Futuristic Visor Design
The helmet's and visor's unique shape, tailored to the highest aerodynamic requirements. It improves ventilation and wind resistance for a more stable and comfortable ride.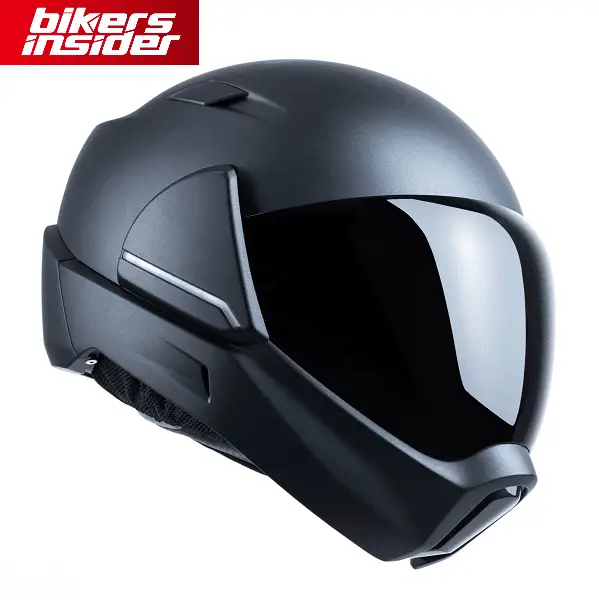 The one-of-a-kind wide-angle visor is a new concept. The CrossHelmet X1 boasts a 30% wider field of view than typical motorcycle helmets. The helmet's interior is much roomier than typical helmets. It allows for better flexibility and long-lasting comfort.
Safety
CrossHelmet complies with the safety regulations necessary to the buyer regions. To boost the strength of the CrossHelmet, the design team used variable thickness. The innovative architecture in the shell is now used in automotive racing.
Lithium-Ceramic Battery (LCB) is risk-free because it is made with cutting-edge battery technology. According to the designers, there will be no leakage, smoke, fire, or explosions. So it will not cause physical impact, puncture, or heat damage.
Smart Features
The X1 (1,780 g) has a 360o field of view, a head-up display, sound management. The Bluetooth 5.0 for group chats and smartphone sync so that you can use Siri or Google Assistant. It allows the biker to see everything around you while focusing on the road. The HUD gives the rider information about the GPS navigation and weather forecast. It also enables the rider to mute noises like wind, loud exhausts, and unpleasant city noises.
5. Forcite MKI Helmet
The Forcite helmet is an integrated helmet with a camera in the front and built-in speakers. It connects to your phone via an app. There's also a controller that connects to your phone's app. When everything gets in order, you may use the button controller to 1. start/stop recording, 2. hear navigation instructions, 3. take/end calls, and 4. say "hello Google" to your phone.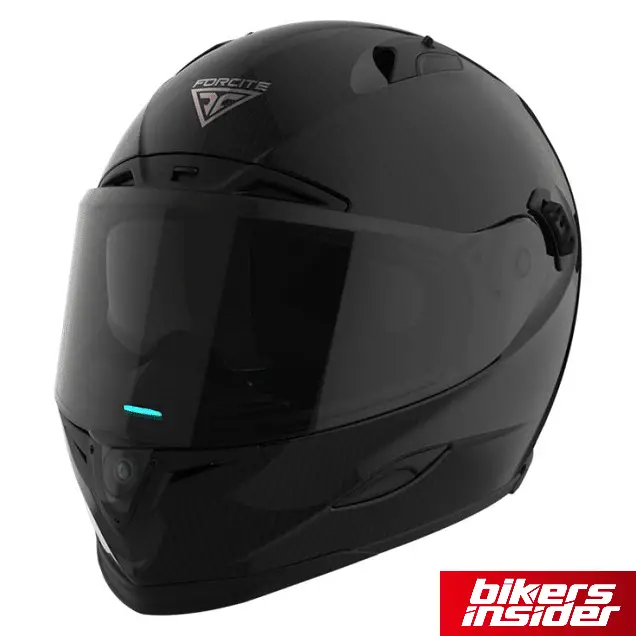 The helmet is also lightweight and stylish, composed of high-tech carbon fiber. It appears to be rather good! It's a street/race-oriented full-face helmet with a flip-down sun visor.
The carbon fiber Forcite MK1 features an anti-microbial bamboo-fabric liner. Besides, the helmet has 8 vents and a UV400–rated sun visor with an anti-fog coating. It's also certified US DOT and Europe's ECE, which has more harsh testing requirements.
Smart Features
The MK1 is a smart helmet with the addition of electronics and connectivity features. Visordown states that a 166° camera mounted on the chin can capture 1080p/60 FPS resolution. With a MicroSD card installation, the MK1 can record up to 5 hours of footage and auto-saves every 5, 10, or 20 minutes. You may use the built-in WiFi to transfer the video to your phone when you finish your ride.
Smarter Audio
The Forcite MK1 also has Bluetooth, replaceable 40mm speakers, and two omnidirectional noise-canceling microphones besides WiFi. The smart motorcycle helmet also includes a built-in communication system, although it uses voice-over-internet rather than Bluetooth. Furthermore, you can only communicate with other Forcite users.
The Forcite MK1 includes a GPS and many other sensors to aid in geotagging and navigation of footage. Yet, Visordown notes that the navigation does not operate via a HUD. According to RideApart, the smart helmet communicates with the rider through audio and a flashing LED strip.
6. Torc T28B
Not to add, TORC helmets are still priced without losing any of the characteristics of a good helmet. This Bluetooth feature keeps you safe while riding and also entertained.
Full-faced or modular helmets are the safest design on the market. They protect bigger regions of your face, such as the face, neck, and ears. Because it is modular, it is also more comfortable. It is not as confining as a full-faced helmet and will not make you feel as uncomfortable.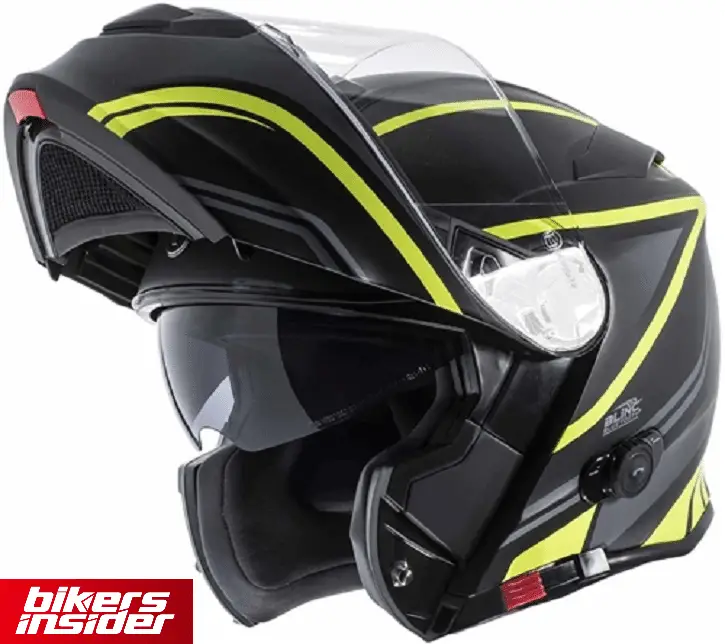 This helmet's unique material blend makes it light but impact-resistant. It ensures safety in the event of a collision. You may convert this open-faced helmet into a modular one with a single push by pushing it down and fastening it at the bottom. The latch is very secure and safe.
Safety
Because the helmet is DOT and ECE approved, you may rest assured that it has been crashed tested. The exterior shell construction of a sophisticated thermo-polymer alloy. This alloy is durable and can withstand and protect you in the event of a collision. With a modular design, you won't have to continue taking your helmet on and off when refueling, at the ATM, or even shopping at a convenience store.
You can use hands-free GPS without any distraction or going to your phone for directions. All thanks to new integrated Bluetooth technology.
Visor
Would you be able to ride your motorcycle in the early morning while it was still foggy? You won't have to be a worry about this Torc helmet. With an anti-fog shield, you'll never have to bother about your visor fogging up. This built-in technology allows airflow into your visor, preventing fogging.
Anti-scratch means your visor will last for a long time. This visor is retractable up or down to suit your needs. The drop-down sun visor is activated by pressing a button and does not interfere with any eyewear.
Comfort
Nylon fibre's design is moisture-wicking, breathable, long-lasting, and soft. Because of its soft cushion, this helmet feels quite pleasant to wear with this interior. It is also sturdy, allowing it to withstand many washes. You can maintain your helmet clean and odor-free this way.
Smart Features
Because of the Bluetooth capability, this helmet is ideal for touring or exploring. Moreover, you can use your GPS completely hands-free. If you're not interested in exploring a new area and like listening to music? Then this function is ideal for you! Listen to directions from your helmet, without wires that distract you while riding. It has Built-in Blinc Bluetooth technology with 1 Lithium polymer battery included.
7. Bilt Techno 3.0

Helmet manufacturer BILT develops affordable and comfortable helmets. The company has now expanded its portfolio with Bluetooth helmets. The nice aspect is that they work with old phones. This helmet works with any Bluetooth-enabled phone, regardless of the model.
Even when riding a motorcycle, people want to stay connected to each other. It is the company's third-generation Techno Bluetooth range. We also compared it to other available options. This variant is perfect for use with Sena's Bluetooth intercom.
Deasign & Safety
The Techno 3.0 helmet has a clean and straightforward design. Plus, the shell is an alloy composite. Black, matte black, silver, and white are the four main colors. The white one is smooth, spotless, and tough. Even if you bump into something, there will be no visible mark. Overall, the product is of high quality.
Comfort
This modular motorcycle helmet provides safety, comfort, and convenience. Any motorcycle helmet's job is to keep you safe. It protects the head, brain, face, neck, and ears.
Getting comfortable when you're away from home is a luxury and In a bad helmet, you can't focus on the road. Inattention can cause a crash.
Visor
A modular helmet's visor and chin guard can be customized. A modular helmet provides full-face protection and may be raised to become an open-face helmet. It will save your energy and hairstyle.
The helmet's outward elements. If you can't try it on, you can use their online sizing chart. The shell size of this helmet varies. The internal shape and padding of the helmet alter.
Ventilation
There is a front slot vent, upper slope vents, and two vent holes on each side of the rear. The hot air vent is a metal mesh in the helmet and this form of ventilation keeps the interior of the helmet cool but makes noise.
Smart Features
This helmet includes all the key features. Aside from security, the producers will place an integrated solution with speakers and a microphone. With this technology, there is no need to adjust your helmet while driving.
Check out a Gallery with Smart helmets in detail.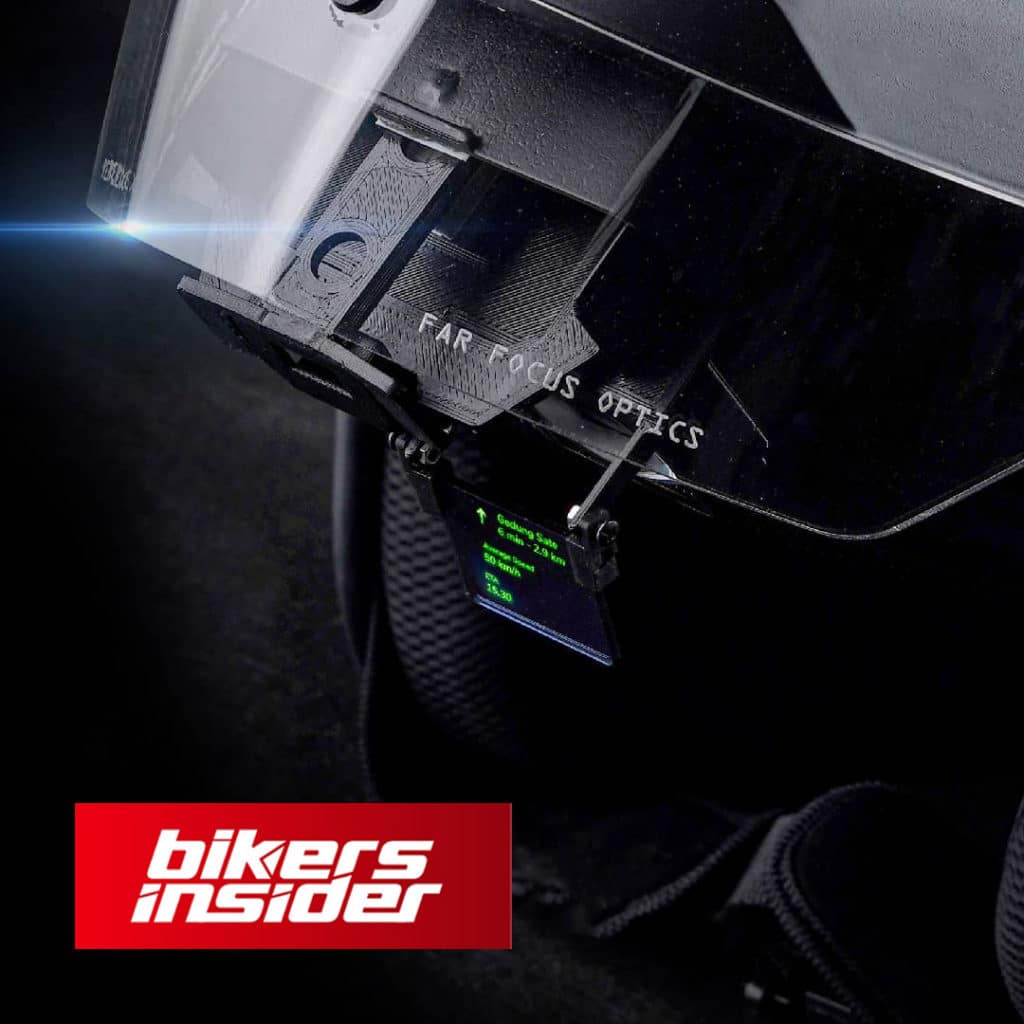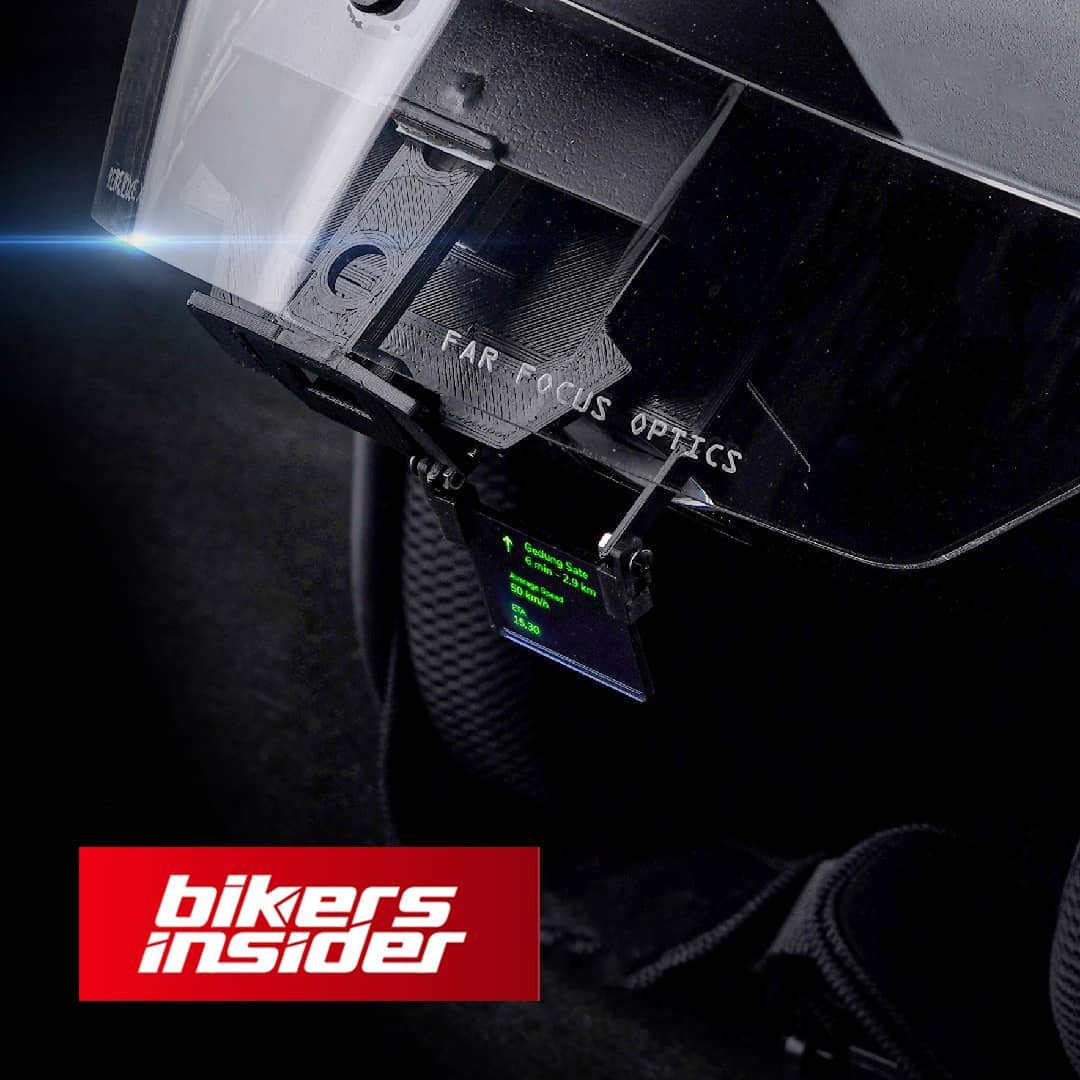 Conclusion
The market for smart motorbike helmets is full of failed attempts. Skully, for example, has let down its Indiegogo funders. To complicate things, Skully's website has been offline. Nuviz had an excellent product as well. But, the company went bankrupt, leaving customers with no help. You are correct to be cautious about getting a smart helmet. They are also more expensive than regular ones.
This is why we compiled a list of the top smart motorbike helmets available. We can't give any guarantees. This is less of a guessing game because they are accessible for buy right now. Some of them come from respected names.
In the age of the Internet of things and big data, where everything has become smarter and more linked, It is to must-have smart driving accessories has a direct impact on people's daily life. It won't be long till we see smart automobiles on the roads and bike riders swooshing in their smart helmets.