Introduction
The 2022 season is almost here, and you might looking out to get your first Bluetooth headset for a new helmet or perhaps upgrade an old one, let us help you choose the best gear for your hard-earned money
We have compiled a table of the eight best Bluetooth intercom headsets for motorcycles in 2022 according to buyer rating and feedback.
Just in case you missed it, here are the top Bluetooth headsets for 2021 we released last year. feel free to check it out,
Keep in mind that these devices are not on the list for their price to performance ratio – they have made the list for their rich features. Not every Bluetooth headset will tailor to a specific type of rider, so we were especially mindful when creating this post. This research is based on a lot of consumer feedback and will uncover fascinating facts and features about Bluetooth headsets you just have to know!
A table below is the list of all 8 headsets in case you are in rush.
Image
Name
Picked for
Price
Sena 50R
Sena Premium range Device
Check Price
Cardo Packtalk Slim
 Best universal connectivity
Check Price
Sena 50C
Next-gen Bluetooth intercom with Camera
Check Price
Cardo PackTalk Bold
Best Value for money
 
Check Price
Sena 50S
 Best Quality Bluetooth Headset
Check Price
HJC 20B
 Best fit for HJC helmets
Check Price
Cardo Freecom 4 Plus
Best Selling Bluetooth headset 
Check Price
Sena 10C Pro
Bluetooth headset with camera 
Check Price
1. Sena 50C
Introduction:
The Sena 50C is the newest device on the market and has some impressive features, of course, if Bluetooth intercom with the camera is something that suits you, as many people would prefer GOPRO but this device may change your mind.
Sena 50c is part of Sena's premium 50 series and is the most advanced device to date, SENSA's superior Mesh and Bluetooth communication technologies, with a 4K camera. Unlike cardo devices, The Audio speakers are made by Harman Kardon which makes it a premium-level sound device
The 50C includes a built-in camera to record your adventure. 12MP photos or 4K video at 30fps. 1080p EIS at 60fps and 30fps. On-button recording is simple using Voice Prompts. Video tagging highlights key moments from a video recording loop. MicroSD cards up to 128 GB supported.
The 50C has Harman Kardon sound. Audio experts at Harman Kardon designed the speakers and microphone for Sena 50C. A novel sensor microphone enhances verbal communication while riding.
A Sena headset uses the 50C's Mesh and Bluetooth Intercom platforms. It adds powerful connectivity and customized intercom message routing to Sena's Mesh technology.
Users of the 50C can use the Group Mesh Intercom mode. Group mesh can be used through group mesh chat invite-only.
You can use smartphone features like GPS navigation, music playing, voice calling and more by simply speaking to the 50C. « Hey, Siri » or « Hey Google »! A long ride? Want to kill time? 'Podcast, Siri.'
Clients can examine and download footage directly from their 50C via the Sena Camera App. The Camera App does more than just change camera settings.

This headset is on top of our list of best Bluetooth intercom headsets for motorcycle 2022. Sena is notoriously famous for inducting new technologies in its gadgets. 50C is an upcoming illustration of it.
PROS
Audio by Harman Kordon obviously

Ultra HD: 4K video recording

Multichannel communication
Voice assitant
CONS
4K recording does not exceed 30 fps
2. HJC 20B by Sena
Built by Sena and HJC, the Smart 20B (sometimes referred to as the HJC Smart 20B) helmet intercom system. It uses Bluetooth v4.1 technology and is compatible with the Smart HJC 20B helmets. This OEM bond and its features have set headset solutions for major brand helmets.
The Smart HJC 20B provides a dependable BT environment with several features. It features easy installation and ease of use. Many HJC helmets work with the Smart HJC 10B and 20B BT systems.
HJC's Smart HJC 20B Motorcycle Bluetooth intercom System is a sleek, modular solution. It does not detract from the helmet's appearance once installed.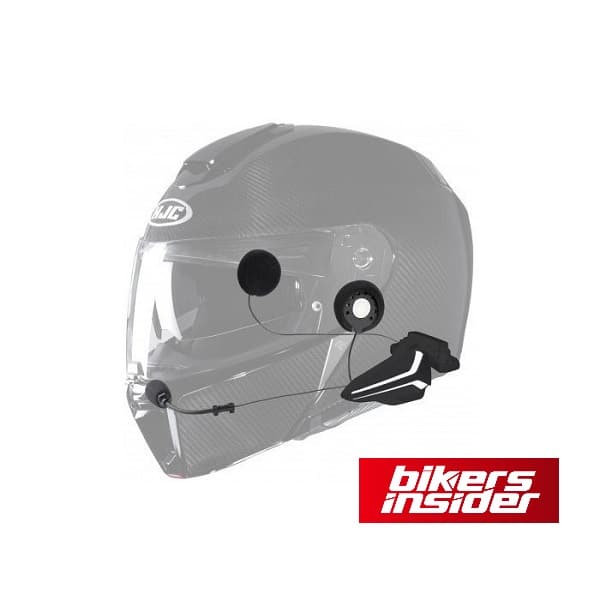 There are no better–looking Bluetooth control modules on the market today than this one. The design is to match the 20B module's aesthetics and feel.
The main On/Off/Function switch is in the centre rear. The Volume Up (+) button is at the top of the tapering controls.
Battery pack with micro-USB data/charging port fits into a prepared recess in helmet liner, boom or thin wire microphone on the right side. Bluetooth control module with slip-in clamp attachment.
Almost all the Smart HJC 20B's capabilities feature customization and are customizable using the Smart HJC BT App. It supports both iOS and Android. For the Sena 20S EVO and other similar systems, the Sena Utility App looks and works like this.
PROS
10 hours of talk time

Amazing noise control

Can charge while in use
CONS
Does not fit in most helmets
Still uses Bluetooth 4.1
3. Sena 50R
Immediately out of the box, the 50R is sleek and low-profile. The new Sena 30k is even thinner than previous models, such as the 30k. Using gloves is simply because of the three-button design of the app. This is good news for anyone who has experienced issues with Sena's jog dial configurations. While riding, the three-button system is simple to use.
Just using Sena 50 Utility App is a breeze. You can use Bluetooth or Mesh 2.0 to hear music while riding and use equalizer settings to control the level. Bluetooth and Mesh Intercom pairing are selectable using channel selection and private group setup.
The 50R includes Bluetooth 5.0, but the Mesh 2.0 firmware of the company really shines. There is no lag in communication even if 24 people are linked. There isn't a blunder. Group Mesh connects 24 people, while Open Mesh connects more than 25 people. Only 2-4 riders can connect to Bluetooth at a time.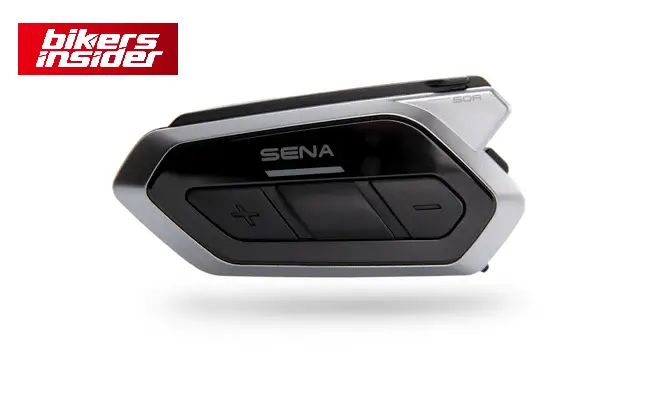 50R comes with upgraded High Definition Premium Sena speakers. Compared to their usual offerings, these speakers are a world away. At highway speeds, music can be heard clearly and loudly. If the speakers need to be put closer to the rider's ears, Sena provides additional padding.
Additionally, the 50R can withstand adverse weather conditions. However, I've lost several of my Sena devices while cycling in the rain. With no problems, I've taken my 50R through some of the worst storms in recent memory.
Fast-charging capabilities have been boosted by 30 per cent in the Sena 50R. 6 hours of normal intercom life or 3.5 hours with mesh can be completed in just 20 minutes. A battery can be fully charged in just one hour.
You can read a detailed review on Sena 50R.
PROS
Mesh 2.0 Technology

Low profile design

Supports bluetooth 5.0
CONS
Quirky voice commands
Mesh issue in groups
4. Cardo PackTalk Bold
The first DMC mesh intercom Packtalk was replaced by a JBL audio system and mesh technology. The first step is to lay out the mesh.
While a broken link in a basic Bluetooth "daisy chain" would cause the entire group to be unresponsive. The DMC creates a network-like connection between devices. Riders can join or leave at any time without affecting the rest of the group.
Using DMC mesh technology, you can connect the Packtalk Bold to a Cardo or any Bluetooth device. Synchronize through Bluetooth with a device like a motorcycle or GPS.
After downloading the app or pairing through Bluetooth, you can use private chat with a mesh group member. You can even mute the entire mesh group if you like.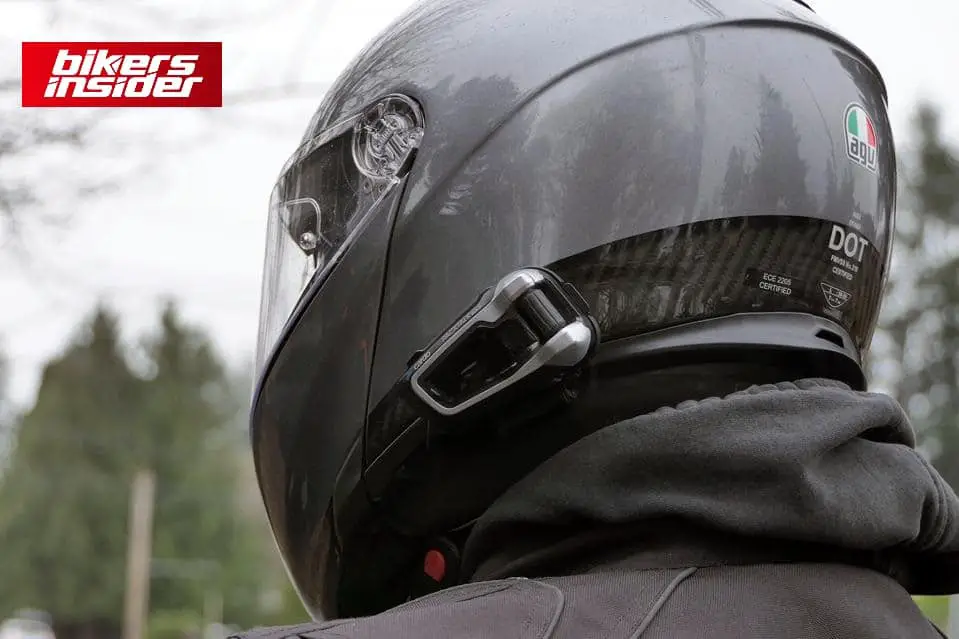 The second unique feature is Natural Voice Operation. It allows the rider to keep their hands on the handlebars and operate the Packtalk Bold using voice commands. To use it, say "Hey Cardo", followed by the command "volume up, mute audio, music on, next track, or even battery status." "Hey Siri" and "Ok Google" are supported as well. If you speak, it works. If you yell, your voice becomes distorted, so it is more difficult to hear.
The tinny sound quality that is typical of helmet communication devices is addressed by the function. Cardo collaborated with JBL to fine-tune the Packtalk Bold's audio performance for motorcycle helmet use in a first for the industry. If you have a small helmet, the JBL speakers may not fit over your ears because they are wider in diameter and thicker. Despite this, the HJC i70 full-face helmets fit.
When it comes to voice commands, "Hey Cardo" and "Hey Siri" always worked. Yet, the greatest level was not enough for freeway speeds, even with JBL speakers. Standard foam earplugs may not be as effective as audiophile earplugs.
PROS
1600 meters range

Built in FM radio

Can connect many people at same time
5. Sena 50S
The 50S costs less than a headset like the 30K. So I'd opt for the 50S just for that. The 50S's Mesh 2.0 technology is well worth the money if you ride in groups often. If you ride alone and occasionally connect with a partner, the 50S may be overkill. Module dimensions are 102 56 27 mm (the 50S). It is 64g of weight.
The Sena 50S module fits all motorcycle helmets. The unit's microphones work with full-face, modular, and even open-face helmets. A big Jog dial controls the Sena module. There is no 'click' at each setting, which is beneficial while wearing gloves.
The 50S'50S buttons are straightforward to find and follow the instructions, but utilizing Voice Command is the simplest method. Like many speech controls on phones, laptops, etc., Sena's is still a work in progress.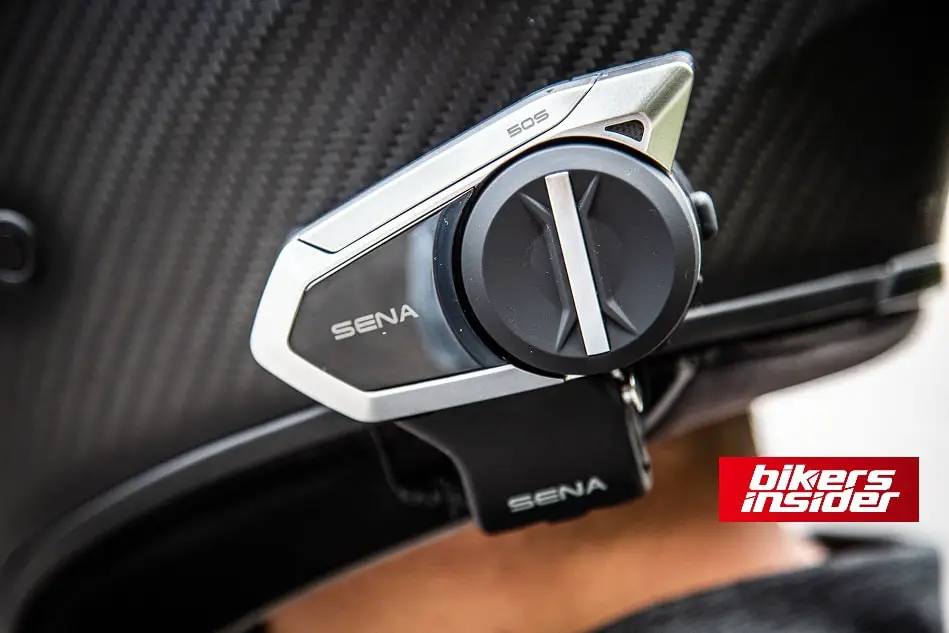 The 50S supports 8 languages. You can also use the Sena App to mount your phone to the handlebars.
The Sena 50S supports Bluetooth 5.0, the most recent version. Speaking "Hey Siri" or "Hey Google" while driving enables your smartphone assistant and all features. Voice control is also available for all contacts. Calls are easy to make and respond to.
Connects to phone, intercom and GPS. In this case, just attach your headset to your phone and go.
When using Mesh, the GPS does not interfere with the conversation. However, when using Bluetooth, the headset switches to Bluetooth after the GPS has given directions.
These headsets now have improved speakers. Slim HD speakers boost audio, bass, and clarity. Some clients had to turn down their speakers' bass. Sena's sound quality has traditionally lagged behind competitors, but not anymore.
Mesh requires a minimum of 6 riders at a maximum of 1-mile intervals, all within 5 miles. The intercom system works everywhere in the pack. Intercoms with Mesh offer 9 hours, and Bluetooth promises 14. Based on real user reviews, these claims appear true.
The headset's fast-charging mechanism charges it in an hour. You can charge the module while riding via the USB–C connector if you have a battery pack. Sena's headsets have never been IP-rated. Because most headphones, earbuds, and phones are IP rated.
The 50S is waterproof. Others say the headset just stops working in heavy rain. The 50S offers fast charging and a WiFi adaptor that automatically loads updates. It will automatically connect to the headset and get updates once set up.
The Sena App saves up to ten radio stations to control whatever you want. The Sena 50S will seamlessly connect to your phone over Bluetooth and play music from iTunes, Spotify, or Amazon Music.
For an in depth review of Sena 50S, please visit Sena 50S review.
PROS
Amazing range

Mesh 2.0 technology

Great audio quality
CONS
Poor weather shielding
Voice assistant is not that easy
6. Cardo Packtalk Slim
If you're looking for a device that's both little and powerful, this is the one for you! The device, which is only 6,5mm thick. A metal clip or an adhesive plate can be used to secure the PACKTALK Slim to the left side of the helmet.
It's easy to put on your motorcycle helmet. First, remove the foam pads from the helmet and replace them with Velcro tabs. Velcro pads can be used to secure speakers and microphones. Communication and electricity are located on the helmet's right and left sides, respectively.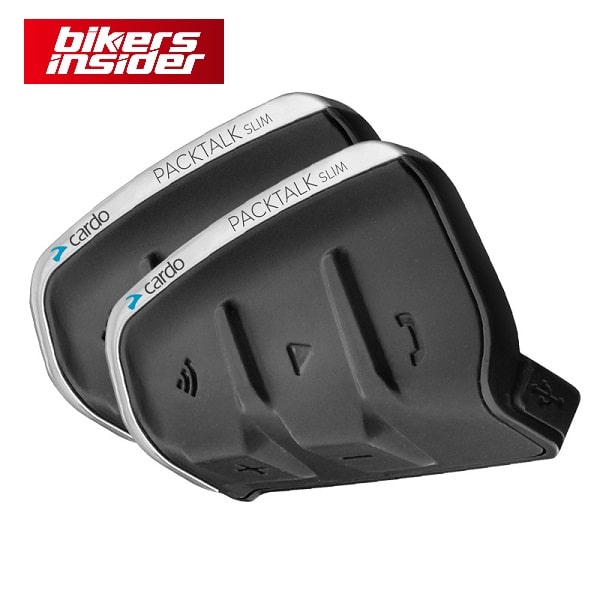 Bluetooth allows you to communicate with up to four other riders simultaneously. As an alternative, Dynamic Mesh enables up to 15 riders for group intercom!
Bluetooth 4.1 has a maximum range of 1.2 kilometers (0,75 miles). Factors like flat ground, hills, and trees inflate the number. The average condition has a range of 2/3 smaller than listed due to several interruptions.
The Dynamic Mesh is here. If more than six persons are in the intercom group, it has an 8-kilometer (5-mile) range.
Bluetooth headsets from Cardo have a long history of excellent performance and reliability. Using JBL speakers, the PACKTALK Slim provides immersive sound and noise reduction.
Both kinds of music listening and intercom conversation are made easy with these speakers. They're a perfect fit. Most helmets can fit them because they are only 40mm broad.
Like most modern Bluetooth headsets, the Cardo PACKTALK Slim utilizes Natural Voice voice control. Like many others of its kind (Obviously Sena ), this system is extraordinarily quick to respond. Yelling at it is unnecessary! This is a common function in Bluetooth headsets. You can listen to local radio stations for the latest news, weather updates, or simply for fun.
Like most Cardo headsets, the PACKTALK Slim is water-resistant. With an IP67 waterproof rating, you can submerge it up to one meter deep for 30 minutes without fear of damage.
PACKTALK Slim boasts a 13-hour talk and a week-long standby duration when it comes to battery life. An included charging cord allows you to recharge your battery while on the go. The battery will be fully charged in 4 hours!
An in-depth review about cardo PACKALK Slim might be of your interest.
PROS
Great audio quality

Wide range

Responsive voice assistant
Weather sealed
CONS
Price on a higher side

Audio quality will not good in wind
7. Cardo Freecom 4 Plus
There are several features in the Cardo Freecom 4+. On the other hand, Cardo has ensured that this equipment is easy to use. The Bluetooth motorcycle headset features high-quality speakers that enhance your ride.
Freecom 4+ with Natural Voice Operation is required to use this feature. Using the Cardo Freecom 4+, voice commands can be received quite well. A command can be issued by saying "Hey Cardo" to the system.
The group communication features of the Freecom 4+ are powerful and trustworthy. It allows you to converse with up to four other passengers at a time. Bluetooth 4.1 is used to keep you in touch with your friends. So your pals don't need a Cardo device to play with you. Non-Cardo devices can be used with the Freecom 4+.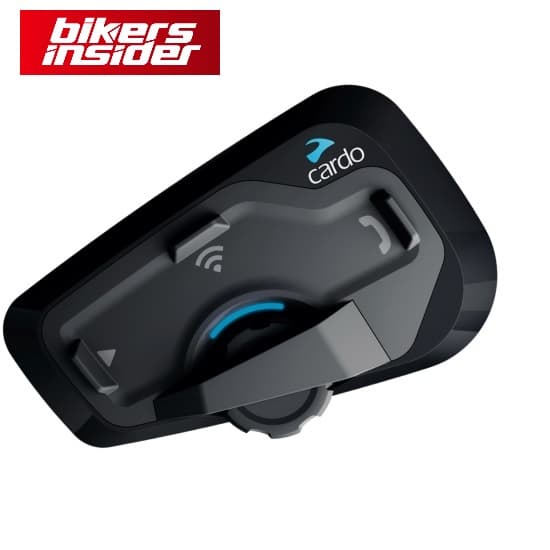 It's also possible to share music with up to three other passengers. With an A2DP device, such as a smartphone or an MP3 player, friends may hear what you're listening to when you connect your headset.
Using JBL speakers will improve your ride, as well. Both voice and audio clarity were improved when using these speakers with earlier Cardo devices. Using JBL speakers, you'll be able to listen to your favourite music in the way it was meant to be. This model's JBL speakers are superior to those of earlier Cardo products.
Mobile operating systems Android and iOS are supported by the Freecom 4+. The Freecom 4+ requires you to download an app named Cardo before connecting your phone to it. After then, it's a piece of cake. Depending on your operating system, the software provides you with pairing instructions.
It's pointless to buy a gadget with long battery life if it has many useful features. Only with the Cardo Freecom 4+ can you achieve this! 13–hour battery life is great for one of best Bluetooth intercom headsets for motorcycle 2022. With a Freecom 4+, you may expect up to a week of standby time.
If you wanna know more please visit Cardo freecom four plus, a quick review.
PROS
Easy of use

Feature rich

Adaptive volume
CONS
Higher price for a mid ranger
Limited range
8. Sena 10C Pro
Other than the 10C Evo and 10C, the 10C Pro is the only gadget on the market capable of capturing video, taking photos, and connecting to a mobile device. Some lesser-known Chinese firms begin to produce similar items as well.
Camera systems that include Bluetooth communication will be crucial soon. Previously, to achieve the same level of performance, you'd need two or three devices. SMH 10 and SENA Prism camera in one housing for less than half the price.
At just 90 grams, the Sena 10C Pro headset is quite light for a Bluetooth headset and an action camera. A Bluetooth headset blends in better with your motorcycle helmet than an action camera.
This Bluetooth headset controls feature a jog dial and a button in the middle. The record button is located just above these buttons, and it is used to take photos and movies!
Fits most motorbike helmets with a boom and wired mics. If your helmet has a cheek pad region that needs trimming to accommodate speaker cords, be aware of this fact. Installation is straightforward.
Using Bluetooth 4.1, Sena's 10C Pro motorcycle Bluetooth headset ensures a long-lasting connection to other Bluetooth devices. Using the Sena app, connecting it to your phone is a breeze. You can access your phone's music, use GPS, and more when linked to your phone.
The Sena line of Bluetooth headsets works best with this headset when connecting to other devices. The 20S and 30K headsets deliver consistent audio quality and a strong signal when used within the suggested connection range.
One mile of intercom range is possible with Sena 10C Pro headset (1,4 kilometres). However, keep in mind that other vehicles, buildings, dense trees, and steep hills may interfere with the signal, so be careful.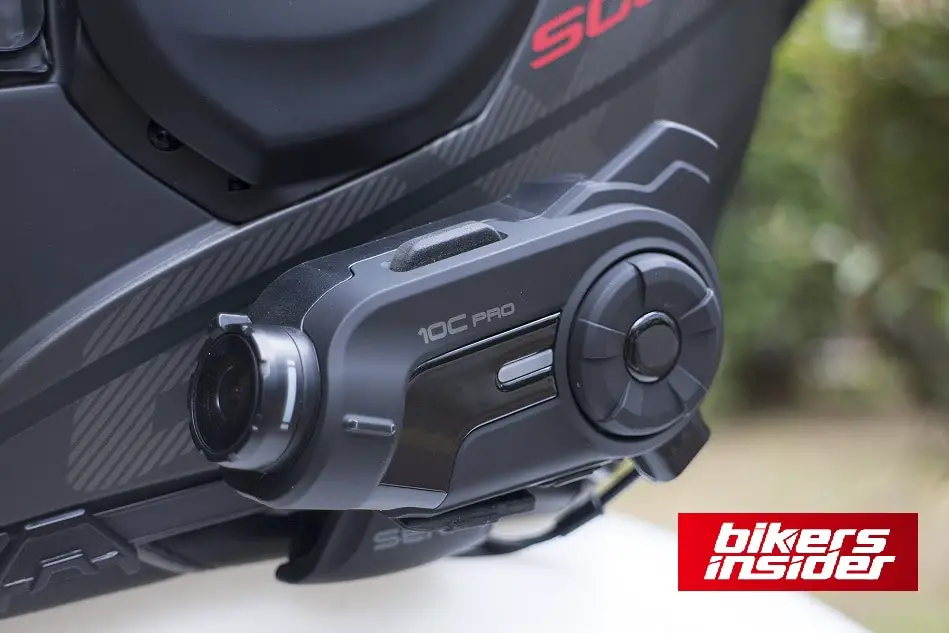 You must insert a MicroSD card into the headset to take photos or record videos. Sena does not have an internal memory or a memory card. A total of 64 GB of storage space is available.
It comes with a fisheye lens by default on the Sena 10C Pro camera (135–degree field of view). This could either be a positive or a negative thing, depending on the quality of your video. Unlike other modern action cameras, there's no way to change the camera's field of view.
Poor photo quality and the wide–angle lens effect distort all images in Sena 10C Pro. The Bluetooth headset/action camera combination has a problem when it comes to taking pictures.
Most Sena headsets have voice control systems, such as the 10C Pro. With this headset, you can use your voice to control your action camera, allowing you to keep your eyes on the road.
Whether or not you use it, this is a basic function on most Bluetooth headsets.
Sena has improved the 10C Pro headset's weather resistance to fit an action camera into the headset. Despite this, it is not watertight. Some people have used it in torrential rain and had no problems with it.
Lithium–Polymer battery life on the 10C Pro is a strong participant in the competition of best Bluetooth intercom headsets for motorcycle 2022, considering it is a headset and an action camera in one.
Shooting time is 2 hours and 17 hours after a 3-hour charge. After five minutes of use, the 10C Pro switches into sleep mode to conserve energy. You can, however, turn it off in the preferences.
Our review post on Sena 10C PRO has more insight about gadget. Please give it a visit.
PROS
Edge 2K Camera

Wifi connectivity

Hybrid device

Smart audio mix
CONS
On a higher price
Fisheye lens distorts video
Conclusion
While riding a motorcycle is more fun than driving a car, it is also more risky. To ensure your safety and the safety of others on the road when using this intercom Bluetooth headset, it is a must-have if you enjoy riding about on a motorcycle. This Bluetooth headset also lets you listen to music and the radio.
Most importantly, you have both hands free for talking on the phone. Due to the noise-canceling technology, you will be able to hear the incoming calls clearly. Using this guide, you'll be able to discover the best Bluetooth intercom headsets for motorcycle 2022 on the market. With these headsets, you'll get the greatest sound and speech transmission. In addition, a number of the headsets feature Bluetooth with a long range.