Cardo is proving time and time again that they are one of the biggest players in the Bluetooth headset market. Of course, their partnership with JBL regarding the sound quality pays off, but their devices are more than just that. Today, in our Cardo PACKTALK Slim Bluetooth headset review, we will precisely show you what we mean.
The Slim is a companion piece to the PACKTALK Bold Bluetooth headset. While it is a bit inferior when it comes to the connection range, it is a much more convenient unit that packs a lot of punch for being so slim!
What can you expect from this Bluetooth headset, and does it live up to the namesake of its creator? Find out more in the following sections of our review below!
Cardo PACKTALK Slim Bluetooth Headset Review – Features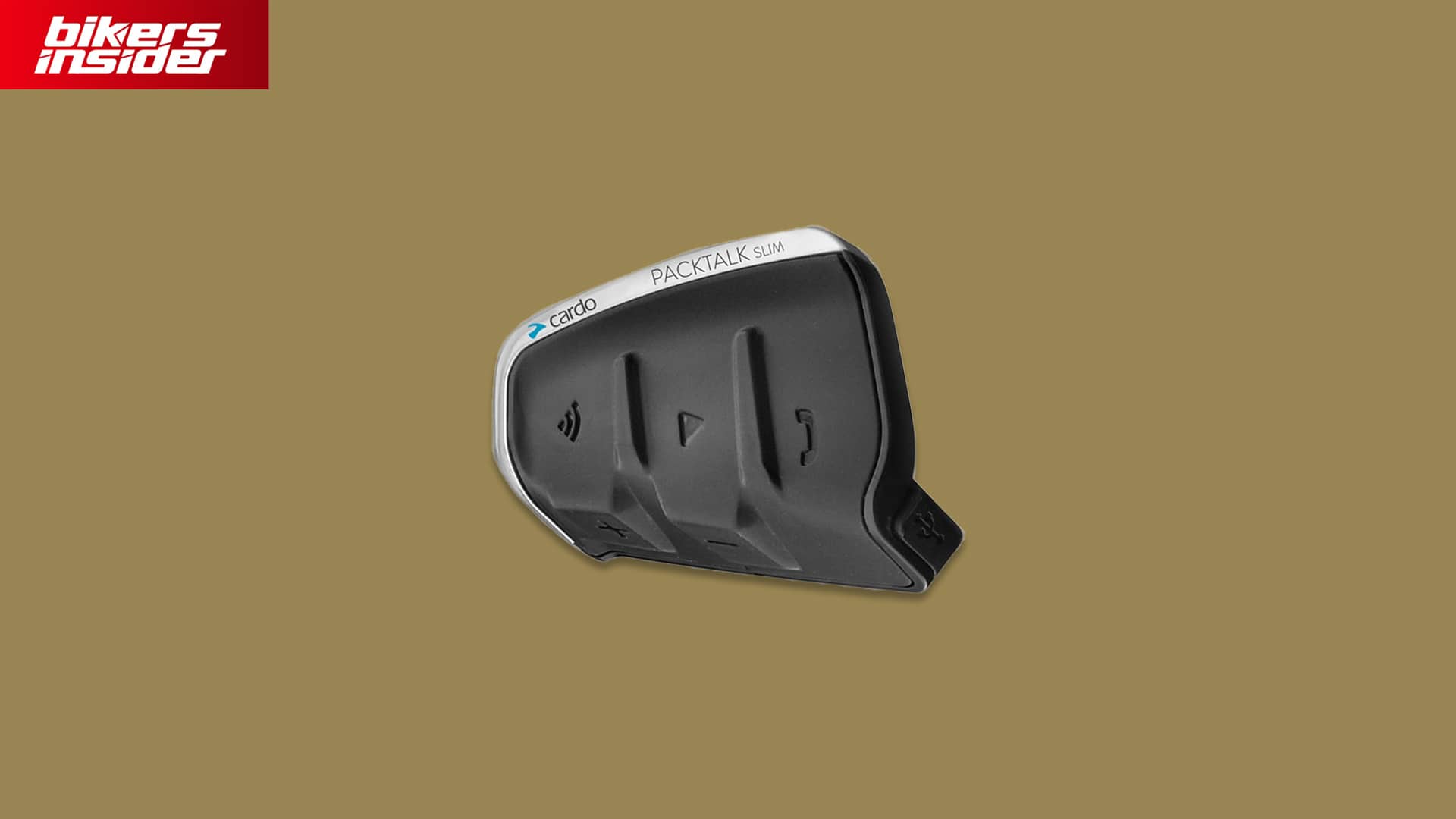 Here is a quick list of features that this fantastic Bluetooth headset has:
6,5mm thick
4 glove-friendly buttons
Wired and boom microphones
Bluetooth 4.1 – talk with up to 4 riders in 0,75-mile (1,2 km) range
Dynamic Mesh technology – talk with up to 15 riders in a 5-mile (8 km) range
40mm wide JBL speakers with Standard and Bass Boost audio profiles
A very responsive Natural Voice control system
Built-in FM radio
Audio sharing
IP67 waterproof rating
13 hours of talking time
A week of standby
4 hours of charging time
Now, it's time for an in-depth breakdown of all these features of the PACKTALK Slim Bluetooth comm device!
Design & Installation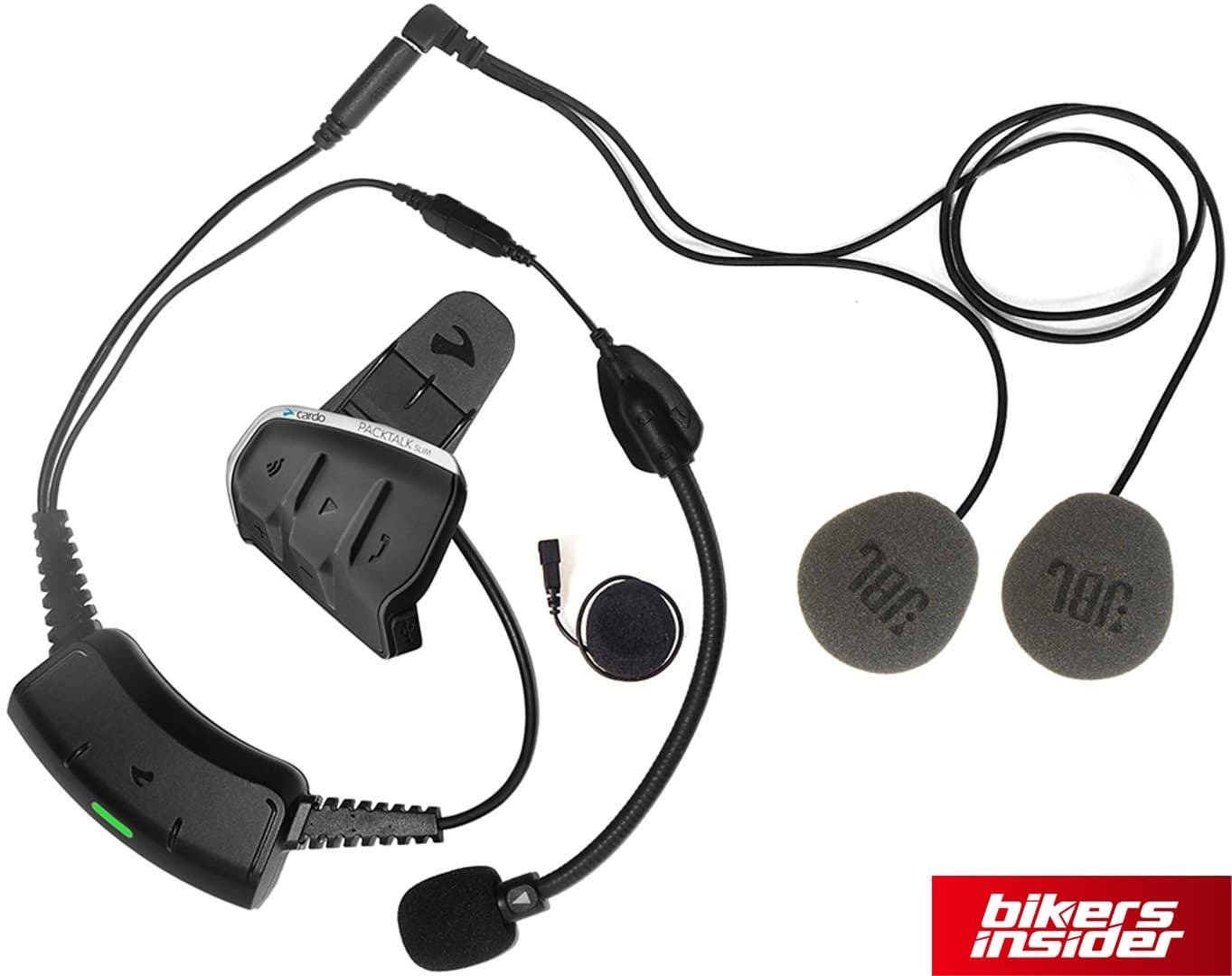 To justify its "Slim" name, this Bluetooth unit is only 6,5mm thick, but don't let that fool you – this is a real powerhouse that stands tall with Cardo PACKTALK Bold, its counterpart. You can set up the PACKTALK Slim by attaching it to the left side of your helmet, either with a glue plate or metal clip.
The battery pack comes as a separate unit that you can install on the neckline. This, in turn, might be bothersome for some riders – especially those with neck pads. You see, the battery pack can get quite tight down there. 
The PACKTALK Slim unit itself features a few buttons:
Intercom button – create and connect to the intercom group
Media button – browse your music
Phone button – connect to your smartphone
Volume buttons – instead of the wheel, you have Volume Up and Down buttons
What we love about these buttons is that they are easy to operate with several types of gloves, even with winter gloves!
Other stuff that you get in the PACKTALK Slim's packaging is the wired microphone, boom microphone, mounting hardware, and Velcro pads. 
It's relatively easy to install on your motorcycle helmet. First, remove the helmet foam pads, and attach the Velcro tabs inside the helmet. Put the speakers and the microphone on the Velcro pads. With the interior part of the installation taken care of, you just need to put the comm unit on the left side of the helmet and the battery pack on the neckline.
Note: There will be a bit of spare space between your helmet's pads and the speakers inside. To take care of that, use an included foam piece to fill up the blank space.
Bluetooth Pairing
Using the Phone button, you can connect the Cardo PACTALK Slim system to your smartphone via Bluetooth. 
It's worth mentioning that Cardo has its companion app – the Cardo Connect App. The app provides absolute remote control over the Bluetooth headset, including:
Making calls
Connecting to other riders in the group intercom session
Listening to music and FM radio
Using GPS commands
You can download the Cardo Connect App for Android and iOS.
There is one gripe we have, which has to do with the connectivity issues if your phone is located further away from this Bluetooth unit (for example, your phone is in the back pocket of your pants). Well, to prevent that, you have to put your smartphone closer to the Bluetooth unit itself.
Connection Range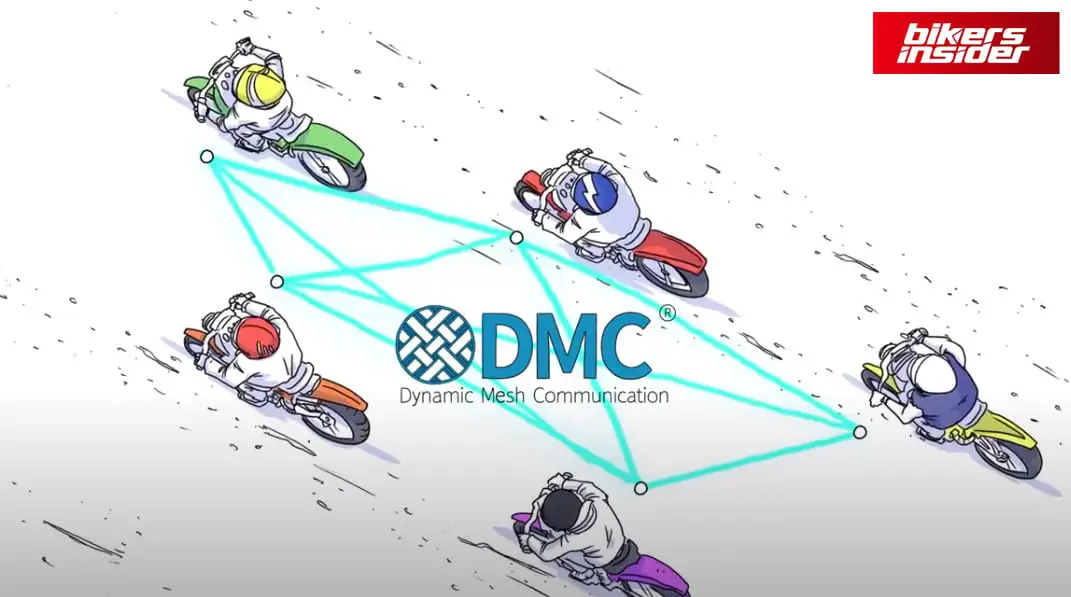 Cardo PACKTALK Slim is a premium Bluetooth headset. Hence, it comes with Bluetooth 4.1 and Dynamic Mesh technology support. 
With the Bluetooth mode, you can talk with up to 4 other riders. On the other hand, Dynamic Mesh allows you to speak with up to 15 riders in one group intercom – which is a fantastic upgrade!
The Bluetooth 4.1 mode offers 1,2 km (0,75 miles) of range. Of course, this is an optimistic number, as it will depend on factors like flat terrain, hills, forests, etc. Many disturbances will trigger an average scenario where the range will be at least 2/3 less than listed.
That's where the Dynamic Mesh tech comes in. It offers 8 km (5 miles) of range, which is only applicable if the intercom group has more than 6 participants. 
Other than the range itself, the Dynamic Mesh tech is a revolutionary factor in intercom communication, as it improves most connectivity issues. First of all, when riders come into range, they will automatically join the intercom group. It's practically the same when riders get out of range – they will automatically leave the intercom group. This opens up possibilities to merge smaller groups into one larger group automatically.
With Dynamic Mesh tech, lots of hassle is taken away to embrace the automatization that will provide less disruption for all the riders in the group. We wholeheartedly welcome this small revolution on the Bluetooth headset market.
Sound Quality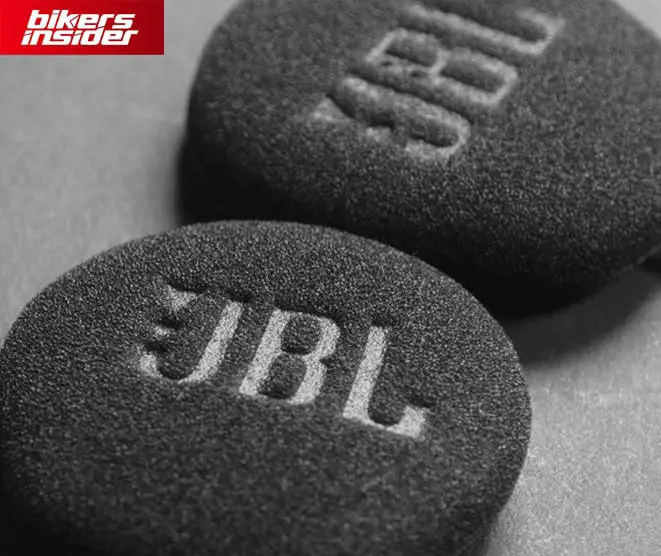 Cardo has a reputation as a true player when it comes to the sound quality of its Bluetooth headsets. The PACKTALK Slim features excellent JBL speakers that provide immersive sound quality and ambient noise reduction capability.
These speakers provide a more than suitable sound experience for listening to music and intercom communication. They are only 40mm wide, which makes them quite easy to fit in most helmets. 
Cardo has prepared two sound profiles, too: the Standard Audio profile and the Bass Boost mode. 
The Standard profile features a loud and rich sound with high treble, which is excellent for group intercom conversations. For all the audiophiles out there, the Bass Boost mode provides a deep bass, which will be perfect to vibe to your favorite tunes. 
Of course, the quality of your helmet will dictate the sound quality. If your helmet puts in a lot of wind noise (usually happens when you are riding above 50 mph), it will be harder to enjoy the superior sound quality. Well, that's how it is with most other Bluetooth headsets too.
The automatic volume adjustment doesn't work as imagined at all times, as it works the finest when you fully stop your bike.
Voice Control
As with most modern Bluetooth headsets, the Cardo PACKTALK Slim has voice control in the form of the Natural Voice system. This system is very responsive, even more so than with other premium headsets (looking at you, Sena!). No need to yell at it, that's for sure!
The voice control system has its similarities with Siri and Google systems, as it provides a full-blown remote control package with a simple phrase – "Hey Cardo!", which will trigger it. With the Natural Voice system, you can make calls, change music and FM stations, calibrate the intercom group, and more.
This responsive voice control system is quite convenient if you don't want to ride with one hand or operate the headset with gloves.
Additional Features
We are almost at the end of our Cardo PACKTALK Slim review! Here are some additional features that you might like!
Built-In FM Radio
This is a staple feature with most Bluetooth headsets. You can scan radio stations around your current location and tune in to the latest news, weather reports, or just casual mixes.
Listen and Share Music Over The Intercom
Of course, when you connect the PACKTALK Slim to your smartphone via Bluetooth, you are enabled to listen to your favorite tunes on the road. One handy feature that we enjoy is sharing whatever audio you are listening to with your intercom group. So, either if you are rocking your head to your favorite tune or listening to an insightful podcast, you can share all that with your group!
Water Resistant or Waterproof?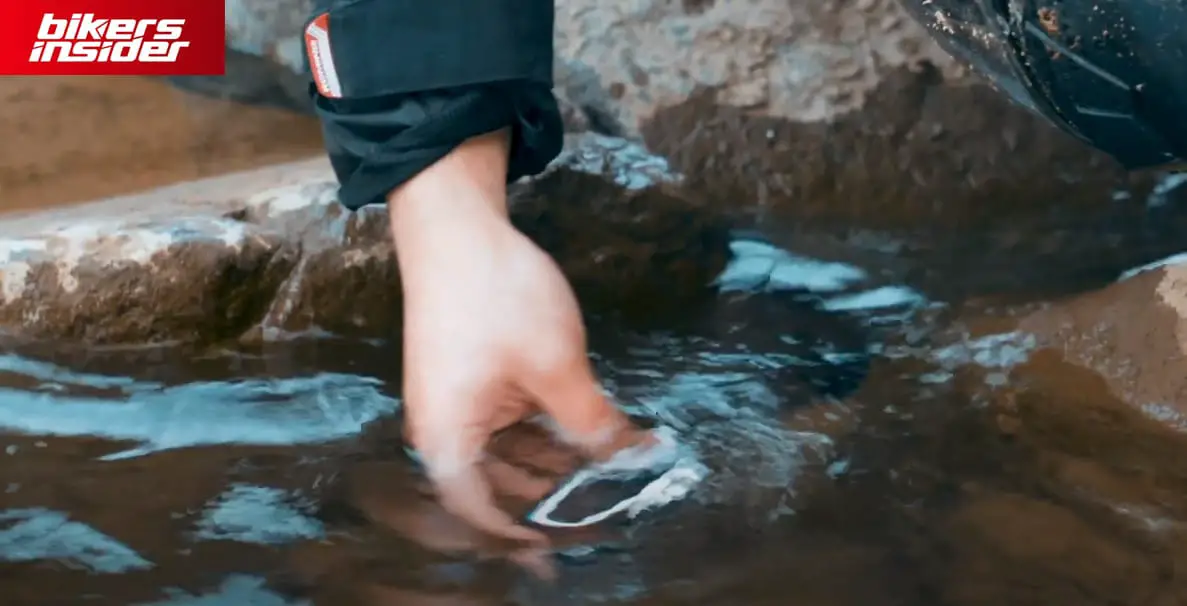 Most Cardo headsets are waterproof, and the PACKTALK Slim is no different. It comes with the IP67 waterproof rating – which essentially means that you can put it 1-meter deep in the water and hold it there for half an hour before it malfunctions. 
Of course, you won't do that (maybe just for testing), but it's good to know that the headset can withstand lots of water, which makes it great for those nasty rainy rides.
Battery Life
With PACKTALK Slim, you get a great battery life of 13 hours of talking time and a week of standby time. 
You can charge the battery on the go, and you get the charging cable in the packaging. It will take 4 hours to charge its battery from zero to hero!
Note: Cardo PACKTALK Slim has no integrated battery, so you will need to fit it in using the clamp. It's worth mentioning that it comes with an included Lithium-Ion battery.
Price
Of course, our Cardo PACKTALK Slim review wouldn't be complete without mentioning its price! Right now, you can get single and dual packs of Cardo Packtalk SLIM at the following prices:
Single Pack – $247,67/€209,38/£188,94
Dual Pack – $539,36/€455,97/£411,47
On the buttons below, you can check the latest prices of the Single Pack and Dual Pack variants of the Cardo PACKTALK Slim Bluetooth headset!
Conclusion
Now that we are at the end of our Cardo PACKTALK Slim review, we can say that it's one of the best premium Bluetooth headsets you can get out there.
It comes with the most modern intercom communication technology, with both Bluetooth 4.1 and Dynamic Mesh tech support. We can't deny that the maximum range won't be attained at most times, but only a select few rival the accessibility brought to the table.
The sound quality is impressive and will satisfy all the audiophiles out there (when it isn't windy, of course!). Also, the Natural Voice control system is very responsive, and you won't need to yell at it to deduct what command you want to use.
PACKTALK Slim has some faults, mainly due to its installation and the difficulty of moving the unit to the other helmet. Also, it can be a bit pricey for some riders. But, for such a price, you get so much value that most other premium Bluetooth headsets simply cannot provide!
Want to see more Bluetooth headsets? Check out our Bluetooth headset review section!