Each motorcycle rider knows that buying a motorcycle and a motorcycle helmet is just the first step of becoming a true biker. There are tons of additional accessories to get that will improve your riding experience further. There is so much to choose from! So, what are the essential motorcycle accessories to get? Well, in this guide, we have compiled 11 picks for the must-have motorcycle accessories to gear up for this season!
From ear and crash protection to Bluetooth headsets and action cameras, each pick on our list was chosen due to its usefulness for the rider.
Keep on reading to find out what are the must-have motorcycle accessories to buy today!
Earplugs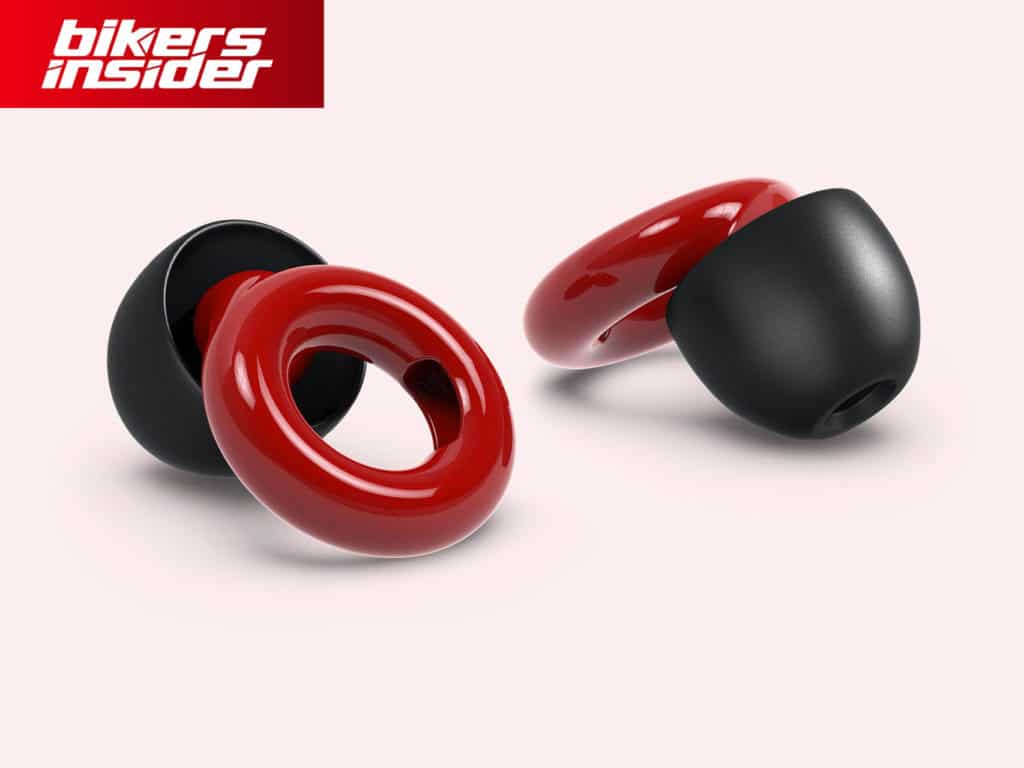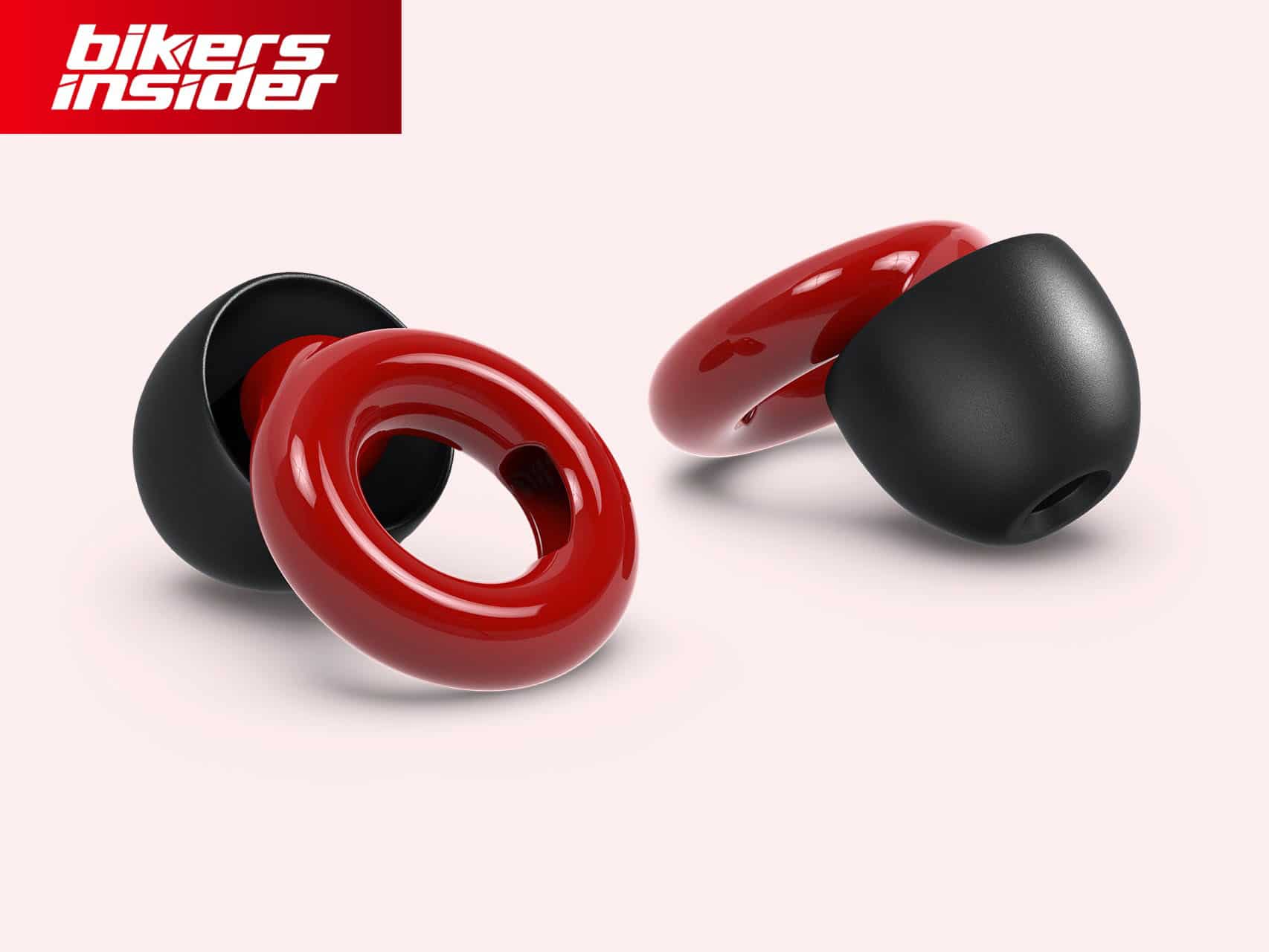 One of the must-haves for motorcycle riders are earplugs, period. Yes, many helmet manufacturers want you to think that their helmets are wind-proof and protect your hearing, but that's far from the truth. On each high-speed ride on a highway, you are doing long-term damage to your ears, and that's why earplugs are essential.
Just ask yourself if you want to shout to others to repeat what they said a second ago or invest some beer money in long-term ear protection? We think the answer is pretty simple.
After all, being exposed to wind noise for extended amounts of time can cause hearing impairment. Regardless if you heard that engine noise could cause it too, wind noise causes this much faster. When you are exposed to 100 dB noise, your safe exposure time is 2 hours. Ramp that number up to 115 dB, and the safe exposure time significantly decreases to just 15 minutes!
Take into consideration that motorcycle riding at 60 mph (96 km/h) is usually 100 dB, and you will hit that speed a lot. Don't play around and risk getting tinnitus – invest in ear protection ASAP!
Earplugs are a great investment to eliminate annoying wind noise that drowns out all the peripheral sounds. Not to mention how wind noise will detract from enjoying the high-speed rides on a highway or decent-quality roads. 
When you wear earplugs for the first time, you may feel like you are scuba diving. That's why many people claim that it's dangerous to wear earplugs, as you won't hear important signals on the road. Just to break the myth with you, it's not that simple. Once you get used to earplugs, you will hear more of your surroundings as the wind noise won't drown out all the important sounds you need to hear.
Make sure that you don't avoid earplugs, one of the must-have motorcycle accessories!
Best Earplugs To Get – Loop Experience Earplugs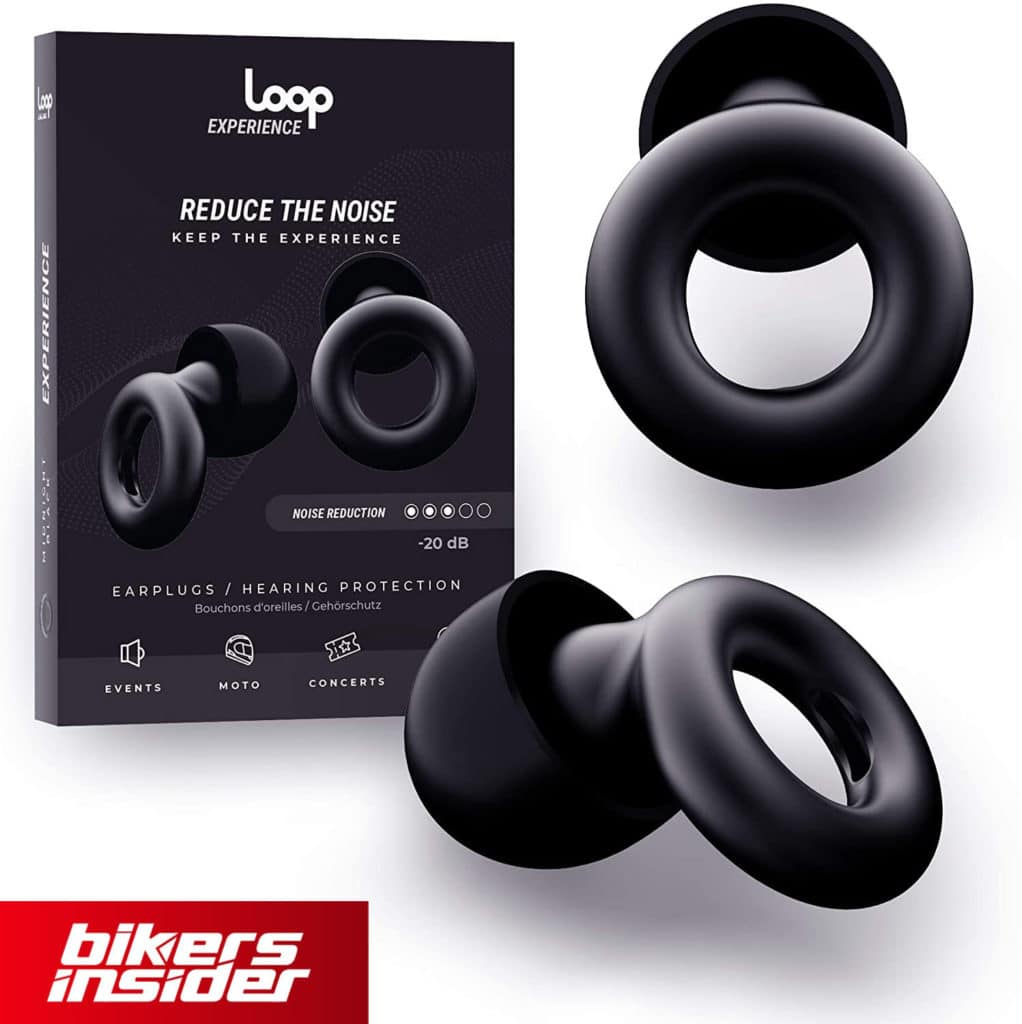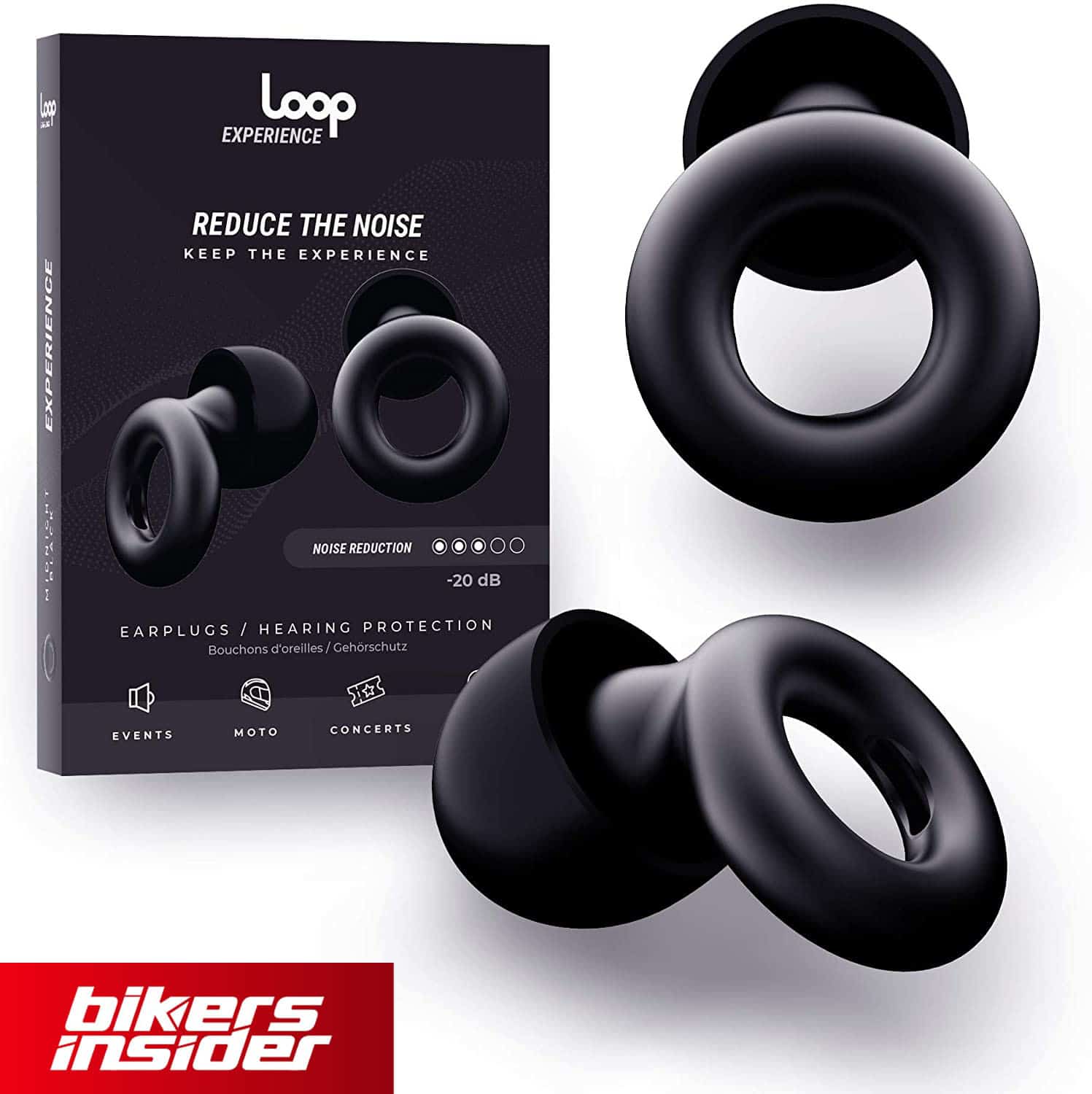 Now, it's fair to say that the earplug market is oversaturated, so it pays off to know about the best deals on them. After all, there are tons of earplug kits to get on Amazon, but what are the best earplugs to buy?
Our recommendation are the custom, moldable earplug kits. They do a fantastic job of filling up all the nooks and crannies in your ears. Overall, these offer a very consistent sound isolation experience—especially when compared to soft earplugs that, in most cases, won't fit in your ears.
The best earplug kit to get right now is the Loop Experience Earplugs. This earplug kit can reduce up to 20 dB of noise, making it one of the best earplug kits for motorcycle riders. These earplugs effectively filter out wind noise and won't bother you when you wear your helmet. They only cost $25/€21/£18.
Hydration Pack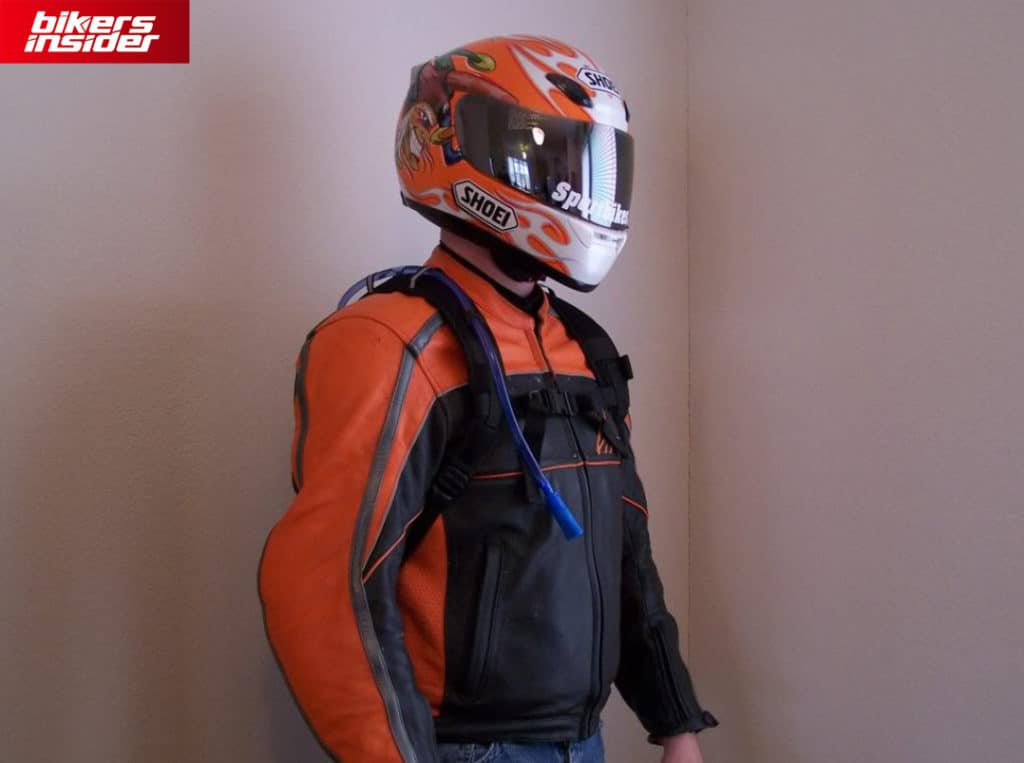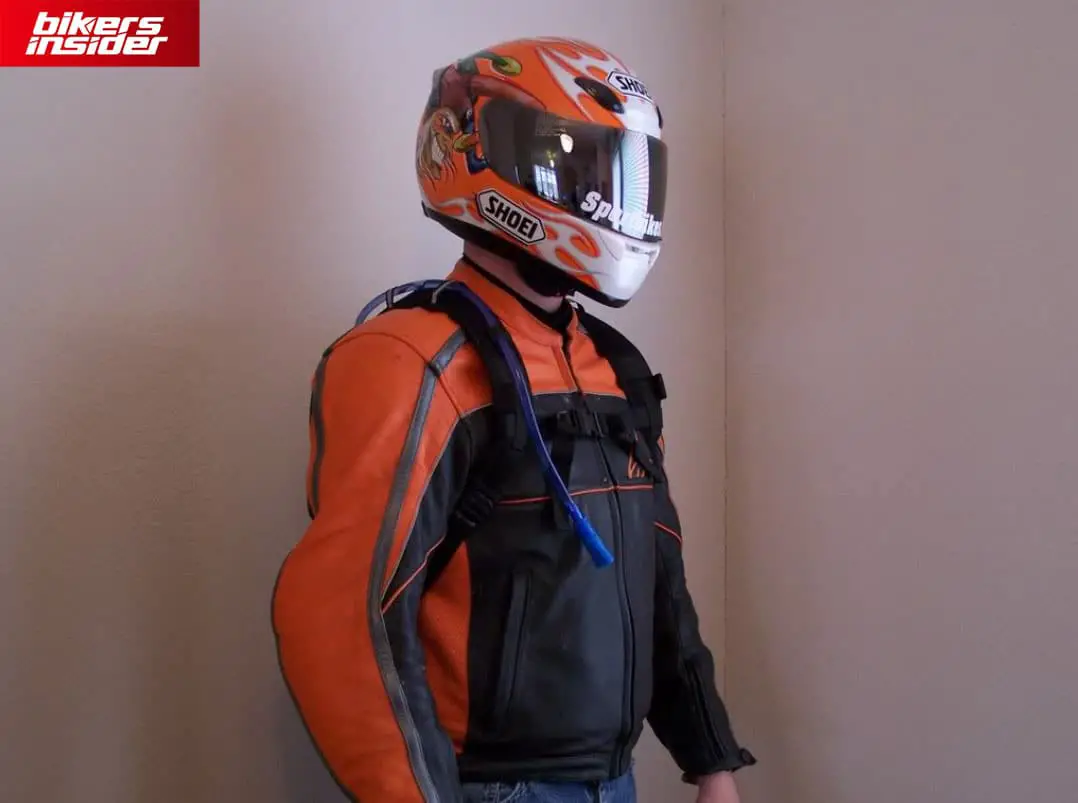 One of the more innovative motorcycle accessories are hydration packs. They are an excellent accessory for touring riders who love to ride for long distances on hot weather or dirt bikers. 
You might assume that hydration packs are meant only for runners, cyclers, and hikers, but you would be highly mistaken here. A hydration pack is an epic piece of gear for motorcycle riders as long-distance rides can leave you thirsty, and this piece of gear will hydrate you in these conditions. Other than hydration, you can also use a hydration pack to ventilate yourself. Just put ice cubes inside it, and that's it!
Having a hydration pack is useful even if you are riding on the street because it will make for fewer stops on gas stations. But, if you are a dirt biker riding in hot weather, you can imagine how much sweat you will accumulate on the trail. That's why hydration packs are one of the must-have motorcycle accessories, especially if you are constantly exposed to hot weather.
Before investing in a hydration pack, make sure that it has lumbar support, as wearing a couple of liters of water on your back can take a toll on your spine. Make sure to take this precaution with heart, as we value your long-term well-being!
Best Hydration Pack To Get – CamelBak Lumbar Replacement Bladder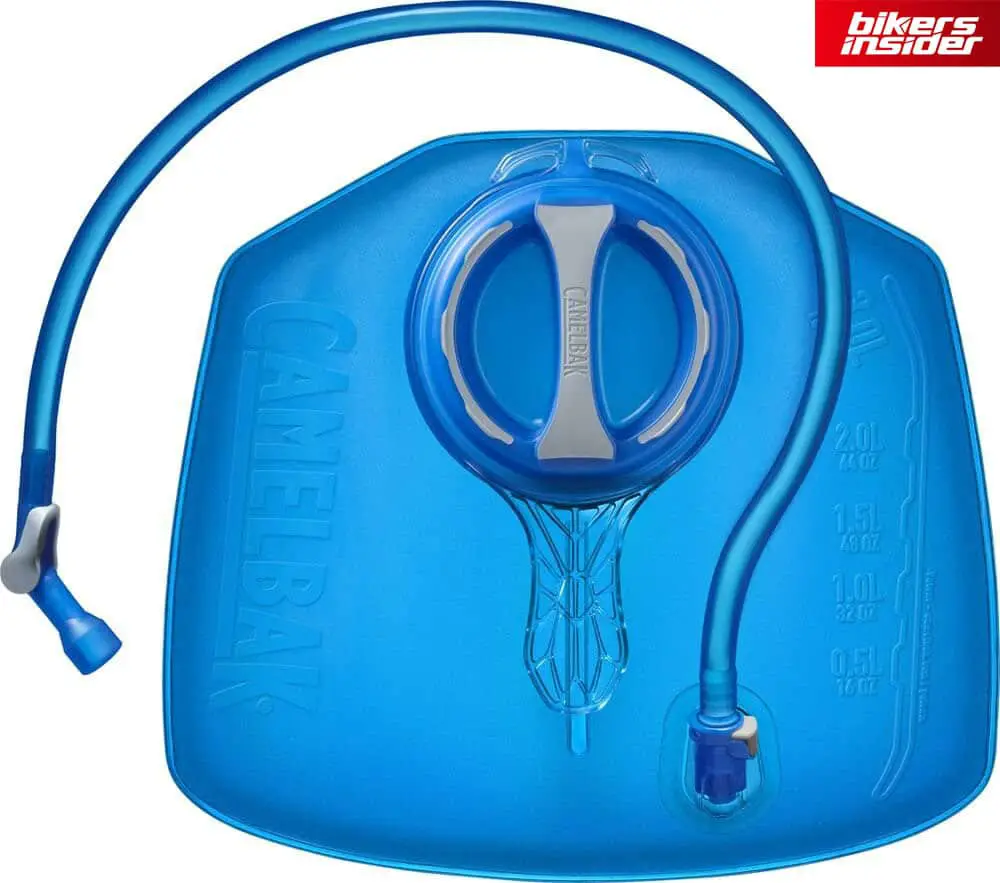 We believe that it's better to buy a backpack and a hydration pack (3 liters is the optimal number) separately, as you will save more money in the long run. There is a market for hydration backpacks that aren't optimized that well when it comes to storage. Nowadays, most decent backpacks come with shoulder straps designed to accommodate hydration pack tubes and an internal mount or strap to house the pack inside.
Our pick for the best hydration pack would be the CamelBak 3L Lumbar Replacement Bladder. This hydration pack features an ergonomic shape that won't damage your spine in the long run. It's made from durable, BPA-free plastic that is leak-proof. 
You can put this one virtually in any backpack. Just make sure that there is a hole on the top of the backpack and a specific shoulder strap design that can accommodate the hydration tube.
As of today, this CamelBak hydration pack costs $38/€32/£28.
Motorcycle Backpack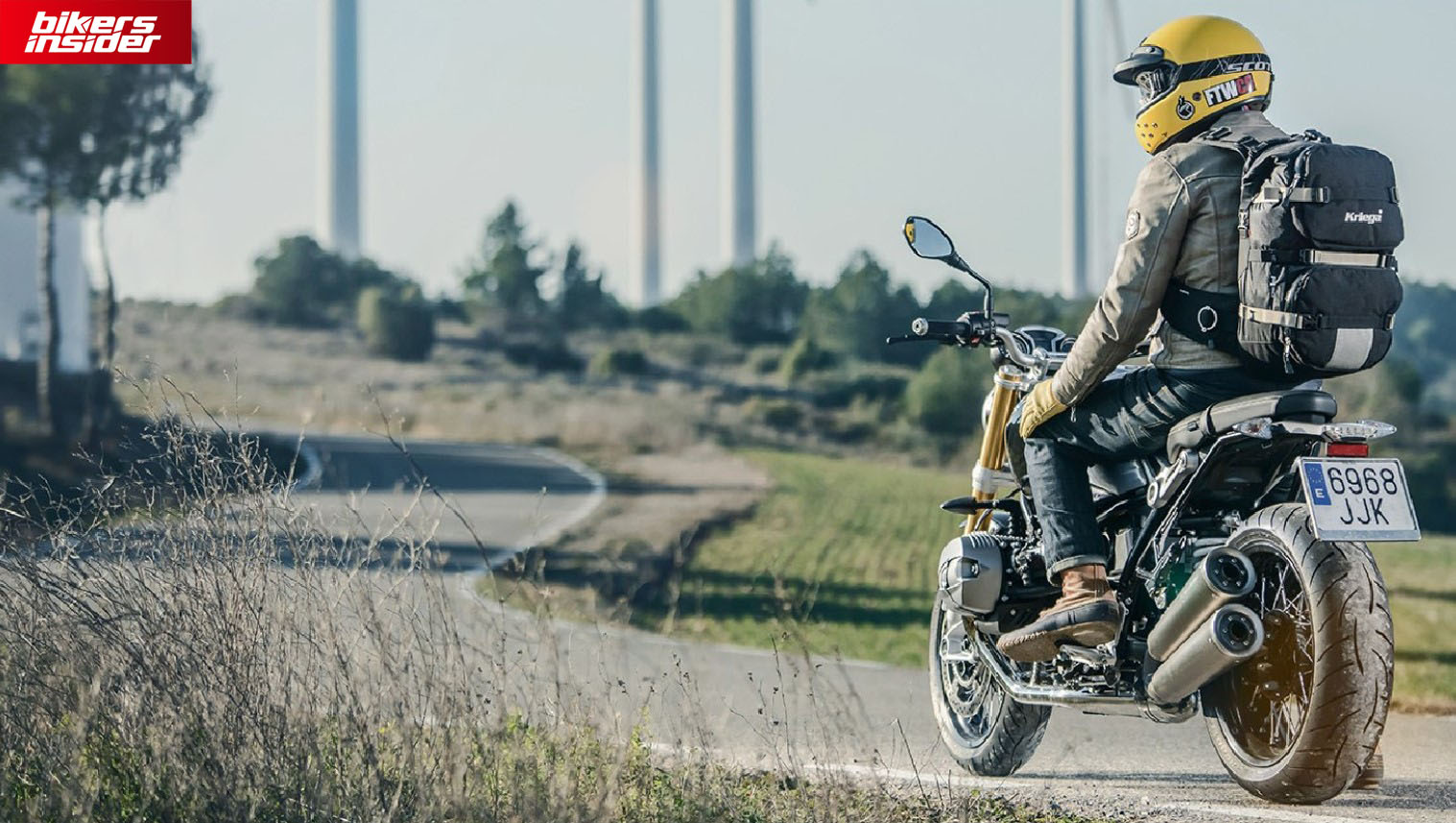 One of the top motorcycle accessories on our list are motorcycle backpacks. After all, a good and secure backpack can be a game-changer for the motorcycle riding experience.
Not just any backpack will suffice. You want to aim for a backpack that has straps that buckle at the chest. That feature is important as a regular backpack won't be secure without the chest straps during a ride. 
Want your backpack to fall off your back during a high-speed ride, don't you? Or maybe, you want it to slide around during tight cornering? Not to mention all the shoulder and back pain that can come with a regular backpack. Of course, you don't want any of that, as you will put yourself in danger with such a choice. 
The bottom line is, regular backpacks have some inherent flaws that will keep you looking for something with more quality.
Thankfully, there are backpacks made specifically for motorcycle riding. These are some of the best motorcycle accessories you can get, even though they will be a bit more expensive. In the end, that will pay off with some extraordinary quality-of-life improvements over the regular backpacks.
A good motorcycle backpack should come with chest straps from the get-go. It should have optimized ergonomics, with riders in the tucked and lean-in positions in mind. Also, they should be aerodynamic and versatile for the riders. 
If you are going to be commuting a lot, a motorcycle backpack will be one of the must-have motorcycle accessories from our list! Even though their prices can be pretty high, the ability to comfortably carry your items is a true game-changer! 
If you don't want to spend a fortune on a motorcycle backpack, there is an alternative! You can find some cheap yet decent motorcycle backpacks on Amazon. Then, just snatch a chest strap – our favorite is the Oziral Backpack Chest Strap that you can buy for $10/€8/£7. Still, if you want long-term comfort, definitely invest in a dedicated riding backpack.
Best Motorcycle Backpack To Get – Kriega R25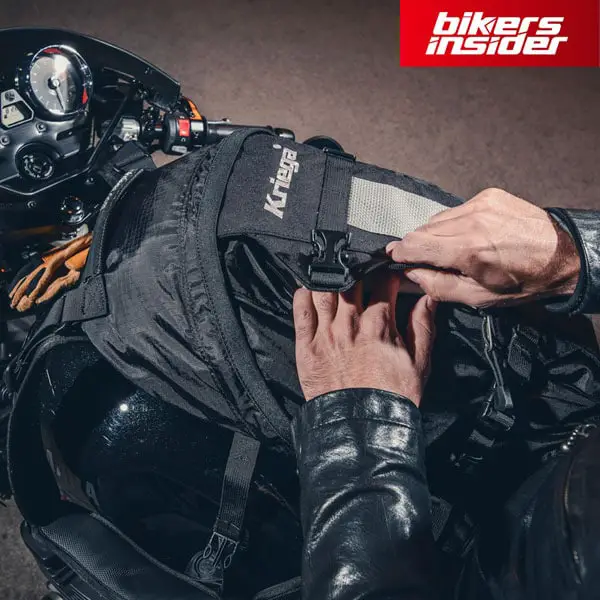 Even though it is slightly pricey, the Kriega R25 is the reigning champion in the motorcycle backpack compartment. Down below, we will detail all the things why we think it's worth its price tag of $189/€158/£138.
First of all, this is a pretty large backpack, as it is large enough for a 17″ laptop and can carry up to 25 liters. It features chest closure, making it very simple to take off and put on, especially when wearing a motorcycle jacket. Its zippers and clasps are usable with gloves on.
One of the best features of the Kriega R25 is that it can shift weight from your shoulders and back to your chest. Its straps are length-adjustable, so you can set the backpack to rest on the seat behind you when you are riding so that it doesn't strain your back or shoulders.
It has an interior sleeve that can hold a back protector, which can provide you much-needed safety. Its straps and hooks are designed so that the backpack can be easy to strap on your bike. 
Overall, the Kriega R25 is an incredibly durable motorcycle backpack and one of the must-have accessories for motorcycle riders.
Frame Sliders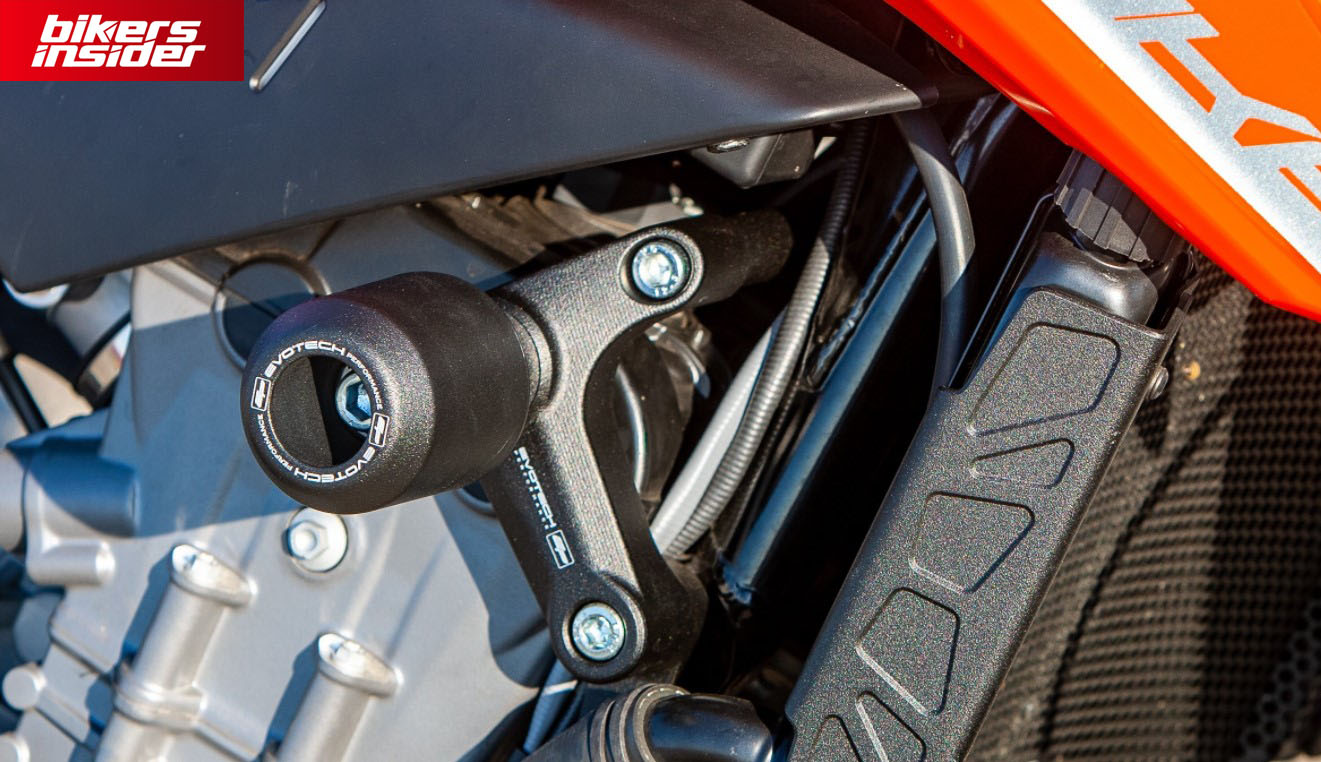 If you are a beginner motorcycle rider, the frame slider is an essential accessory. Ensure that you install them before you start riding, as there are some great benefits to reap from these.
First of all, frame sliders highly reduce the damage your bike endures if you go down with it. It's especially great when you are trying out new maneuvers or storing the bike, and it accidentally falls. In such cases, your bike will stay almost entirely damage-free!
If you think you won't drop your bike, you're probably wrong. It's better to be safe and probably never use the frame sliders rather than not having them and damage your motorcycle tremendously when you fall.
We recommend the no-cut frame sliders, as they will probably be a direct bolt-on accessory for your bike. Keep in mind that each bike and parts manufacturer is different, so research a bit before purchasing your first frame sliders.
Frame sliders can cost anywhere near $60/€50/£44. Check out what frame sliders Amazon has on offer!
Phone Mount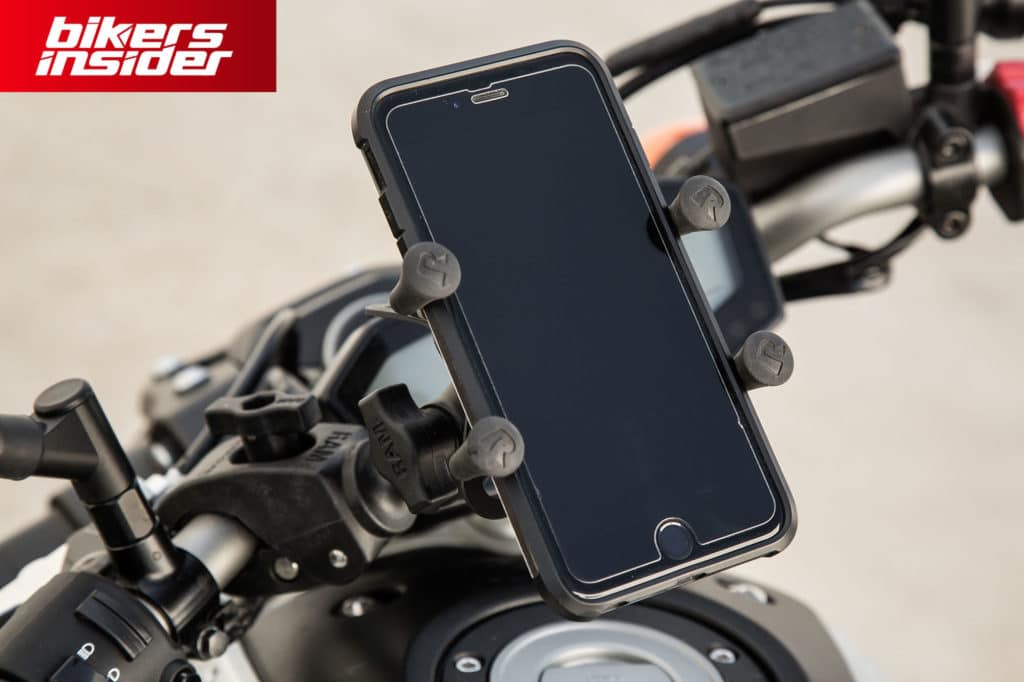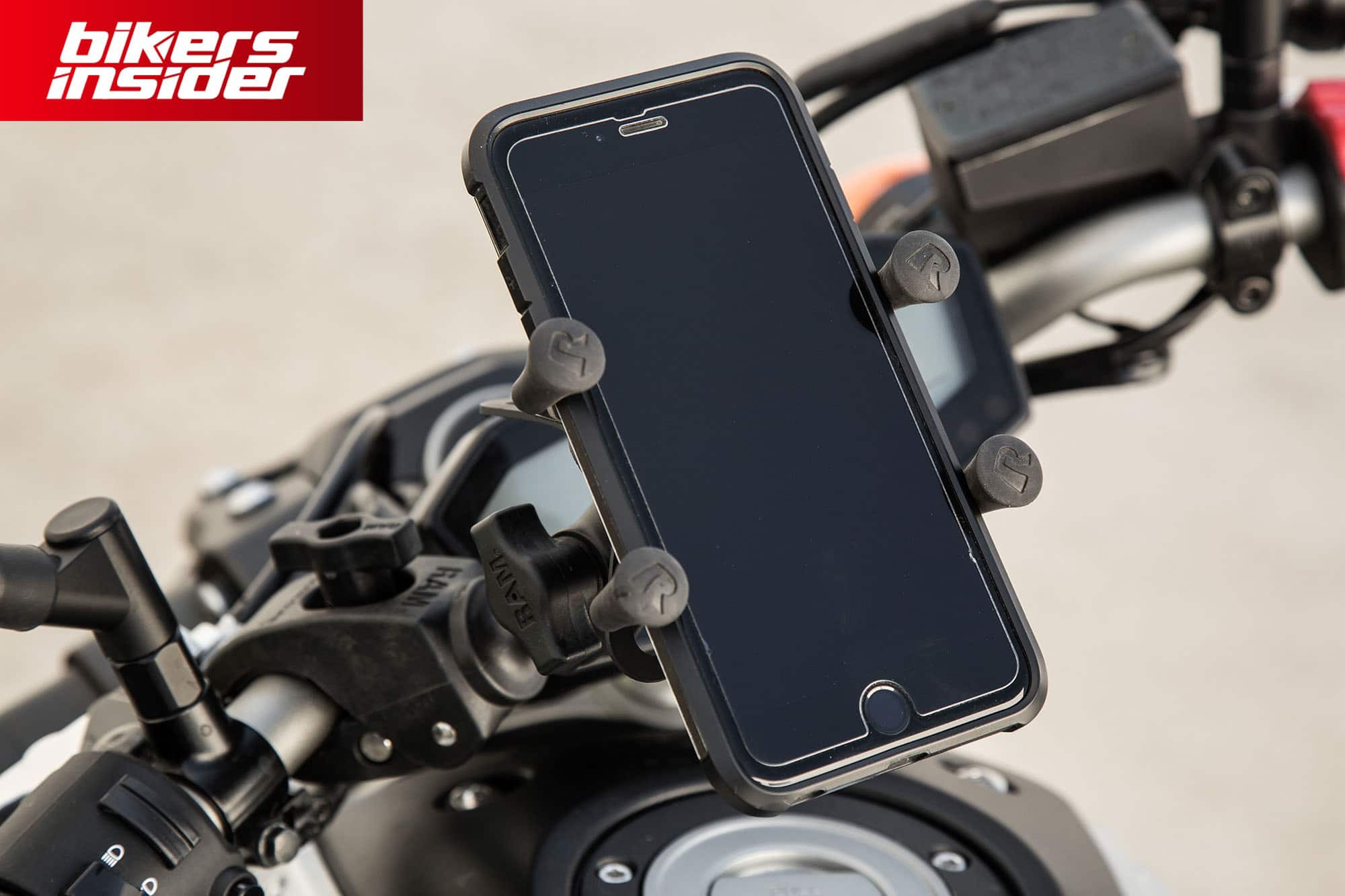 If looking for the best motorcycle gadgets, the phone mount comes to mind first. It's a very convenient motorcycle accessory that will provide you all the information you need from your phone right in front of you. No, we are not talking about social media notifications, but some useful features like GPS navigation and live weather updates.
The phone mount will prevent the need for you to stop every time you need to check if you took the right path tagged on your map. Also, having the phone mounted on your bike will prevent the dangers of you pulling out your phone constantly when riding.
Still, make sure not to distract yourself with different apps when your phone is on the mount. That applies the most for beginner motorcycle riders, as each distraction can cost you your life. Ride safe, and don't look too much at your phone while riding. Always be cautious like you would be without a phone.
Phone mounts usually come with mechanisms that allow them to be mounted on the handlebars. Keep in mind not to film too much when your phone is on the mount, as vibrations can destroy the autofocus functionality of a smartphone. Also, phone mounts can destroy the accelerometer of some smartphones, so keep that in mind too.
Regardless of a few negatives, the phone mount is one of the must-have motorcycle accessories that you should get as soon as possible!
Best Phone Mount To Get – RAM X-Grip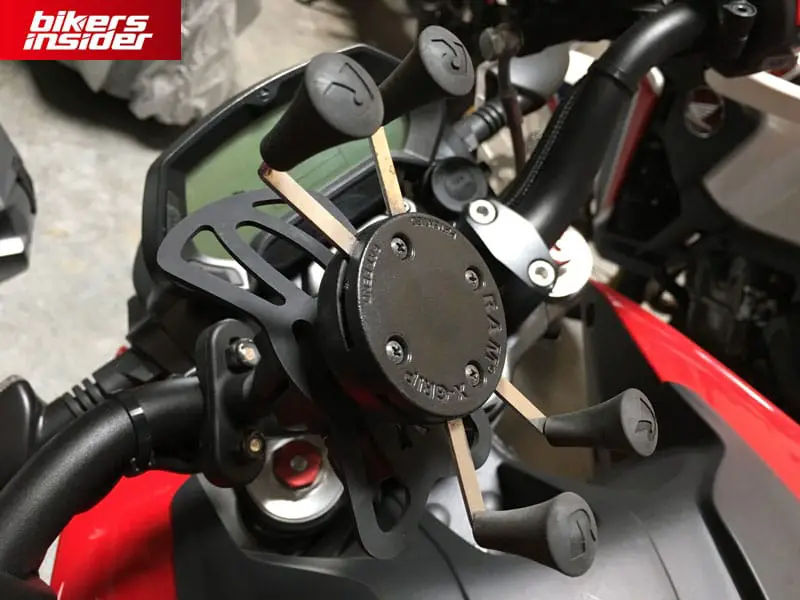 There are tons of phone mounts for different mobile phone dimensions, so it will be the wisest to look for one with a universal fit. The best phone mount for the universal fit is the RAM X-Grip, which has undergone some important updates through the years.
No brand comes close to mounting a phone to a motorcycle as RAM phone mounts. The X-Grip features a universal pivot ball that attaches to different points on your bike. You can get an adapter for the handlebars or triple tree, so they basically can fit any motorcycle out there.
The X-Grip's double swivel design ensures that the mount itself opens and closes with spring tension that holds your phone in place. When properly mounted, you shouldn't have any problems like the mount letting out your phone or similar.
As of right now, the RAM X-Grip mount costs $44/€37/£32. 
Bluetooth Headset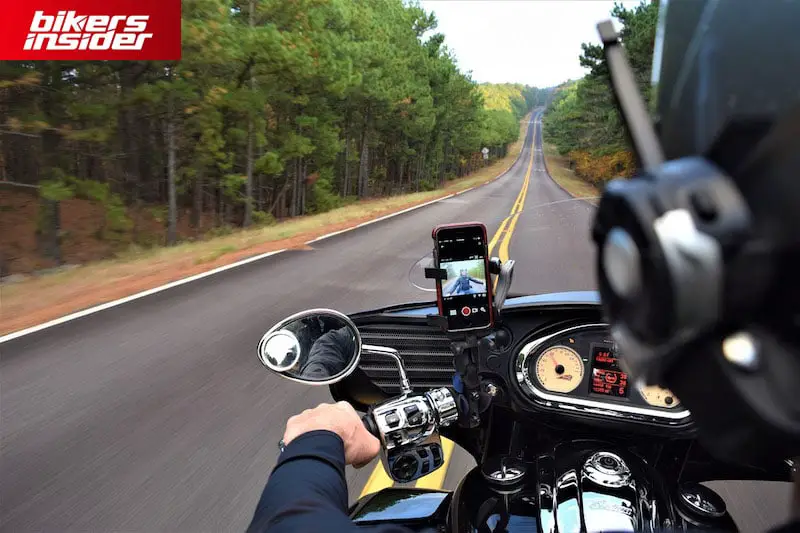 Yes, it's awesome to ride a motorcycle alone and listen to wind and engine sound, as it can be quite therapeutic for most. Still, it can get stale after some time. Some would love to listen to their favorite tunes, like when they're driving a car. Some of the cool motorcycle gadgets to provide this are Bluetooth headsets. 
Bluetooth headsets add the ability to listen to music during a ride, which is a game-changer. But that's just a snippet of their functionalities! 
One major complaint that many riders may have with motorcycles is that they find it hard to communicate with their passengers or other riders during a group ride. Without a Bluetooth headset, you need to stop every once in a while to talk it out. With a Bluetooth headset, you can talk whenever you see fit, and we don't even need to mention how easier it is to articulate your intentions on busier city roads.
Bluetooth headsets consist of a controller unit, speakers, and a microphone. You can clamp or stick the controller unit to the side of your helmet. Then, you can just put the speaker and microphone cords inside your helmet. Usually, the installation is quite simple.
Bluetooth headsets can be easily connected to your smartphone. Then, you can use the functionalities of your phone with voice commands or with buttons on the controller unit. You can proceed and take calls, toggle GPS instructions, listen to music, and so on.
Just make sure that you don't get distracted by all the functions Bluetooth headsets have on offer, especially if you are a beginner rider.
Best Bluetooth Headset To Get – Cardo Packtalk Slim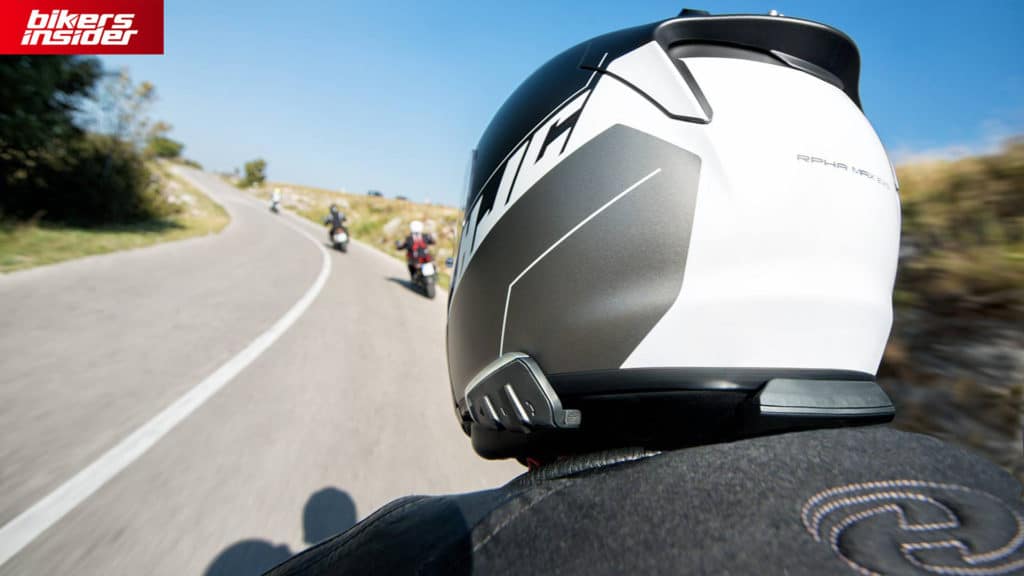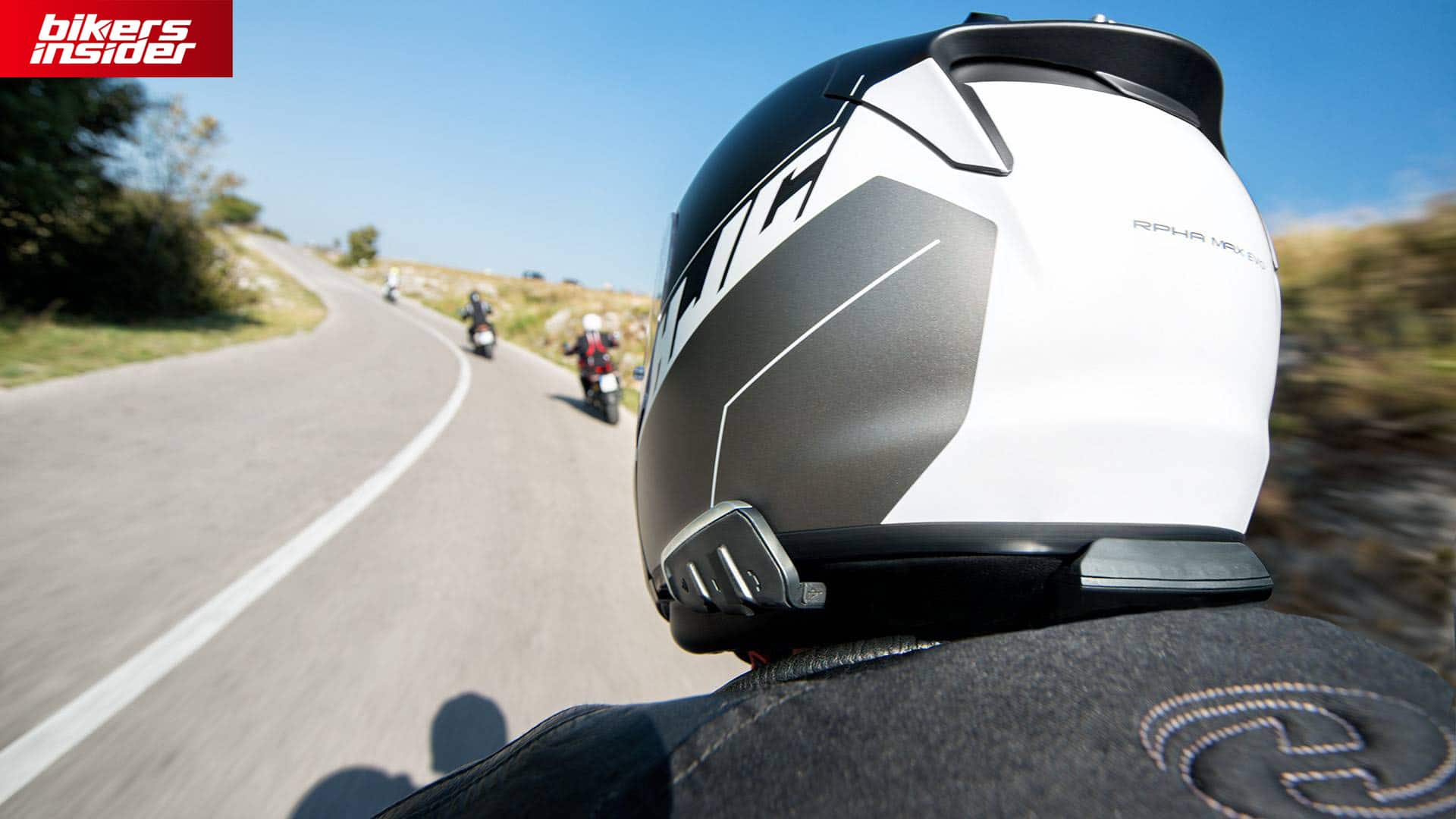 The Bluetooth headset market is full of potential choices, but what is the best for your needs? That's the question that you need to ask yourself.
Do you need a Bluetooth headset just to listen to music and GPS navigation? Or, do you require it to stay in touch with your fellow riders? We recommend the Cardo Packtalk Slim for an all-around best pick, priced at $240/€201/£175.
Yes, it is quite expensive, but it more than makes up with its value. Basically, the 40mm JBL speakers that come with this Cardo headset are the best in the business, with deep bass tones that have very low competition.
With the Packtalk Slim, you can talk up to 15 riders in the intercom group within a 5 mile (8 km) range, all thanks to the Dynamic Mesh technology. To put the cherry on top of the cake, the Packtalk Slim is waterproof and has voice command support.
If you are interested in learning more about this Bluetooth headset, make sure to check out our Cardo Packtalk Slim Bluetooth headset review!
If you don't want to spend tons on a Bluetooth communicator, there are numerous other competitive Bluetooth headsets, as Cardo is not alone in this market. Check out our guide for the best Bluetooth communicators for 2021 for more information!
Before you buy an actual Bluetooth headset, check what your fellow riders are using, as some Bluetooth communicators still have compatibility issues.
Action Camera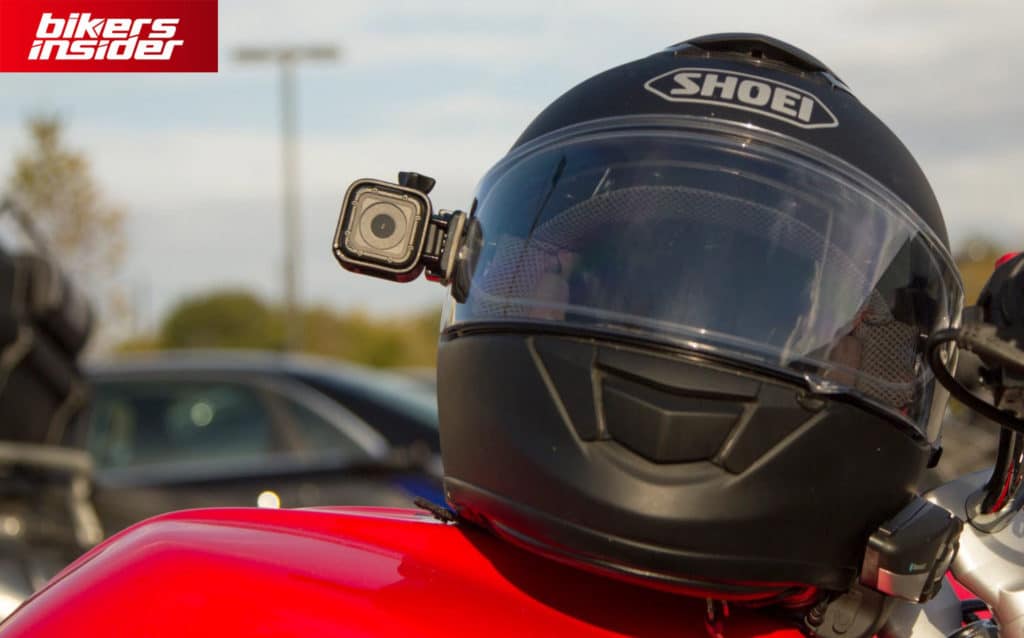 Action cameras are must-have motorcycle accessories, as they can help you improve your riding skills, not to mention the motovlogging opportunities you can get out of these. 
Interested in creating motovlog content? Learn how to become a successful motovlogger!
We advise filming most of your rides regardless if you want to upload the videos or not. With the recordings you make, you can relive rides you did and analyze your riding style, observing things you didn't notice on the ride.
Action cameras are optimized for motorcycles, as you can mount them in a multitude of ways – whether it's on the handlebars to film your lid or on your helmet for the ultimate first-person perspective.
These cameras are designed in a hassle-free way. Just press the record button, and your video starts recording with no interruptions!
Best Action Camera To Get – Go Pro Hero 8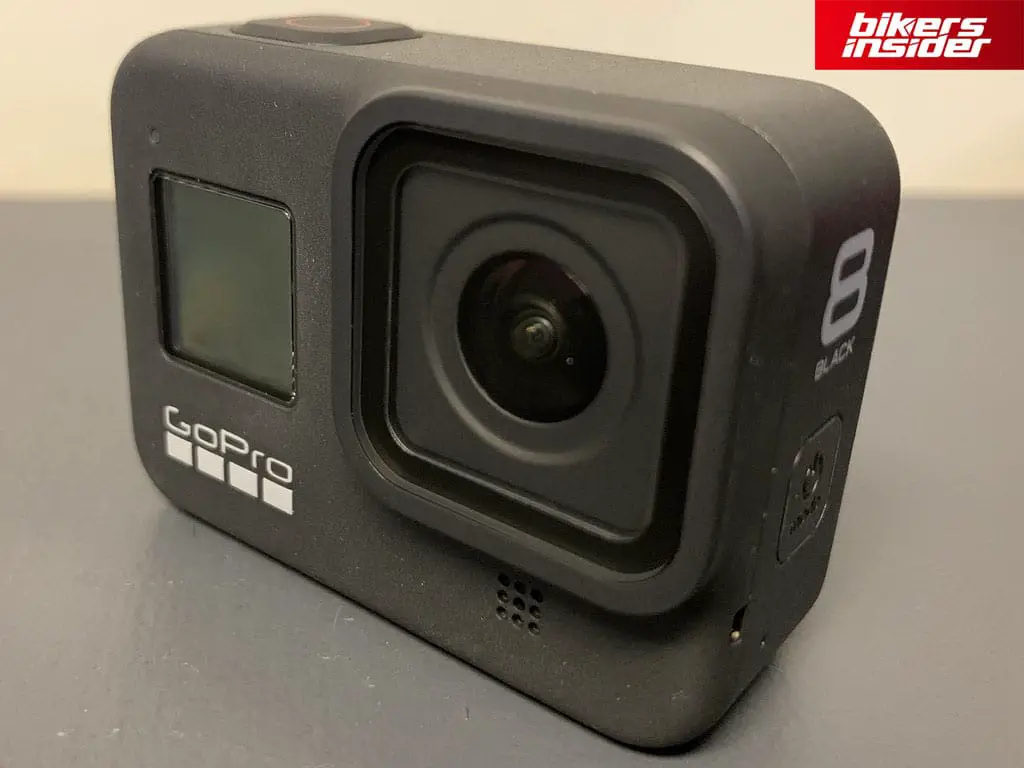 The action camera niche has gone a long way since the introduction of the first GoPro camera in 2004, which essentially skyrocketed this niche to global popularity. Gone are the days when GoPro cameras were the only choice!
Still, GoPro Hero 8 is probably the most valuable action camera for motorcycle around. Sitting at $300/€252/£218 price tag, it's a bit expensive but is overall the best action camera for the long haul.
First of all, it has a durable, premium build with robust features. Its image stabilization tech is nothing short of epic, as it does an awesome job of making smooth moving shots, eliminating most of the vibration. It can record videos in 4K/60 frames per second, which is becoming an industry standard these days. Its image quality is awesome, thanks to the well-made sensor.
If you want to check out some decent GoPro alternatives that are cheaper, check out our action camera reviews section!
Motorcycle Battery Charger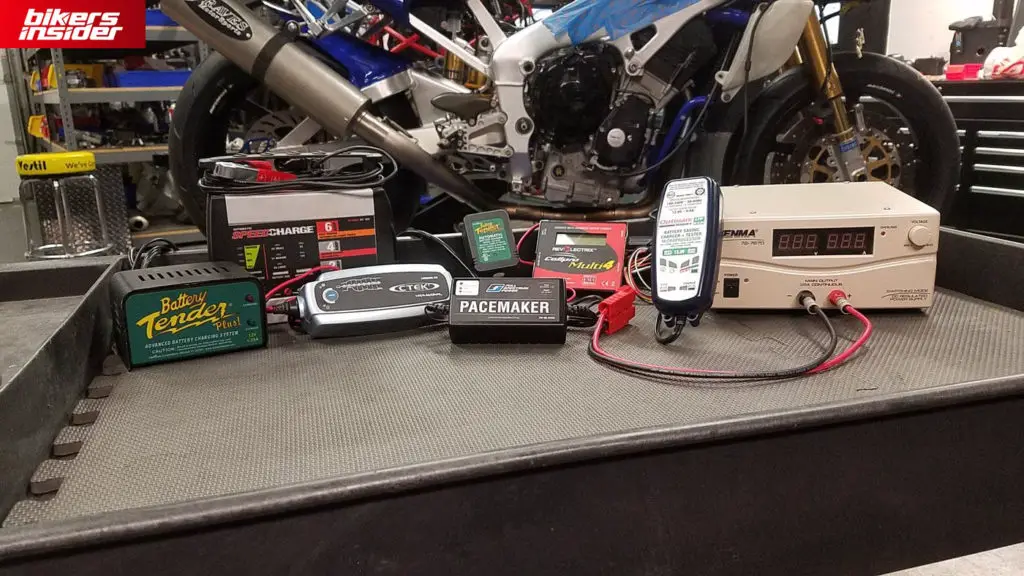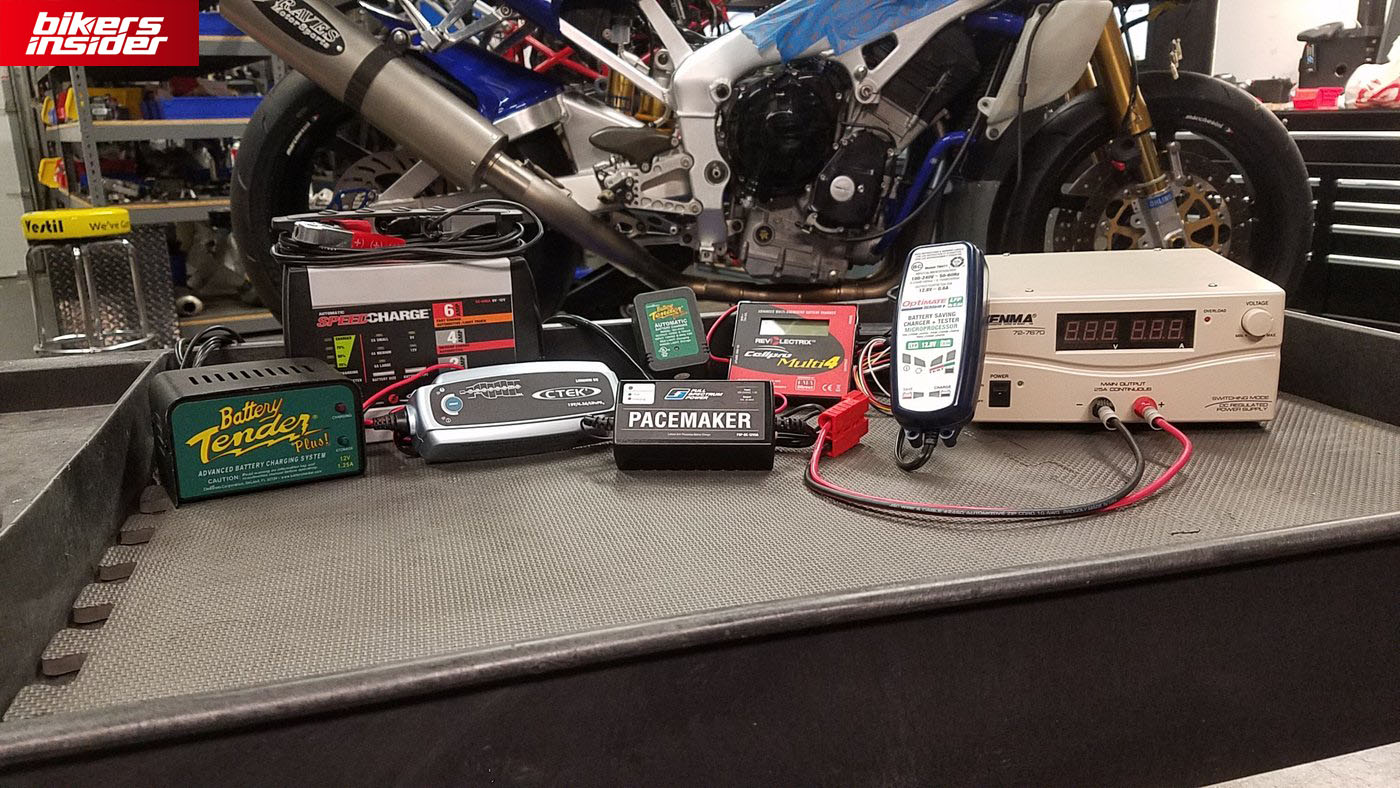 One of the must-have motorcycle accessories for long-distance riding is certainly the battery charger. Seasoned riders will definitely need some kind of a battery charger.
There is nothing worse than taking your motorcycle out for the new season and finding out that its battery is dead. Charging and tending the motorcycle battery will save you from many headaches in the long run, not to mention the prevention of battery replacements each season.
Battery chargers work in a way that they trickle charge the motorcycle battery and keep it at optimal levels throughout its storage. They can also fast charge a dead or almost dead battery until it can start your motorcycle again.
Battery chargers come in different styles. When buying a battery charger, consider where do you store your motorcycle between seasons. Some chargers can work on the bike, and these are the best if you have a garage where you store your bike. If you don't have a garage for your motorcycle, then you should opt for battery chargers that work when the battery is removed. 
Best Motorcycle Battery Charger – Battery Tender Plus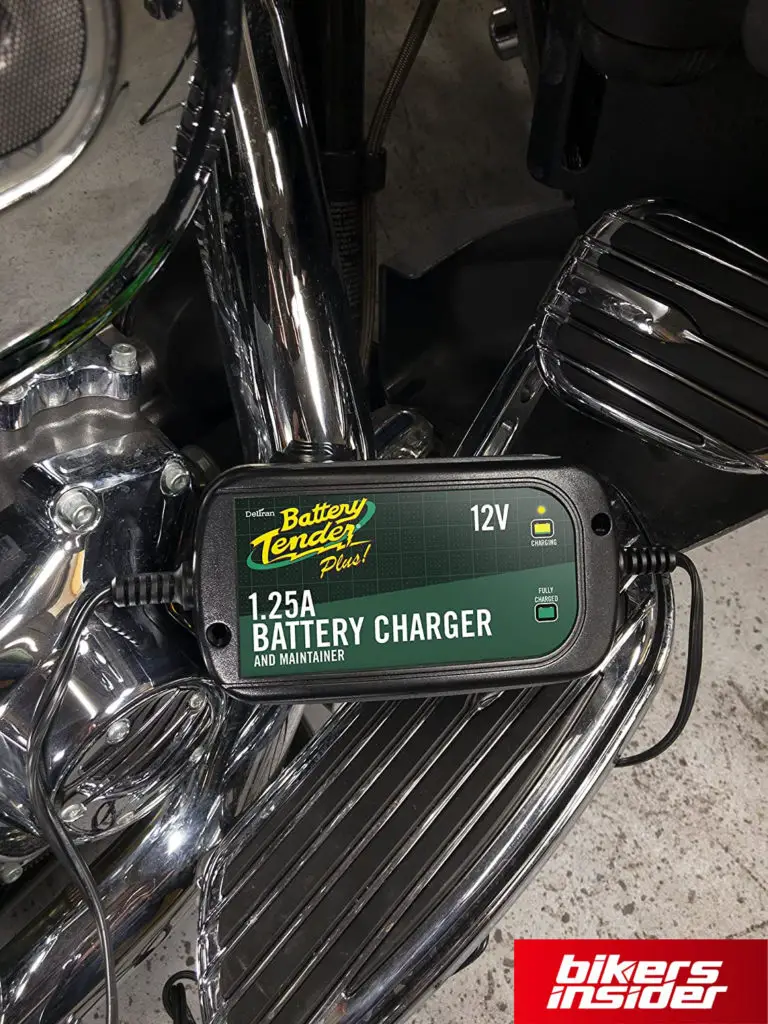 Priced at $50/€42/£36, the Battery Tender Plus is the industry standard when it comes to charging your motorcycle battery. It can charge the battery at 1.25 Amp and won't overcharge it due to the smart implementation of its three charge cycles. Overall, you should go with the Battery Tender Plus if you value the longevity of your motorcycle battery.
Dual-Port USB Outlet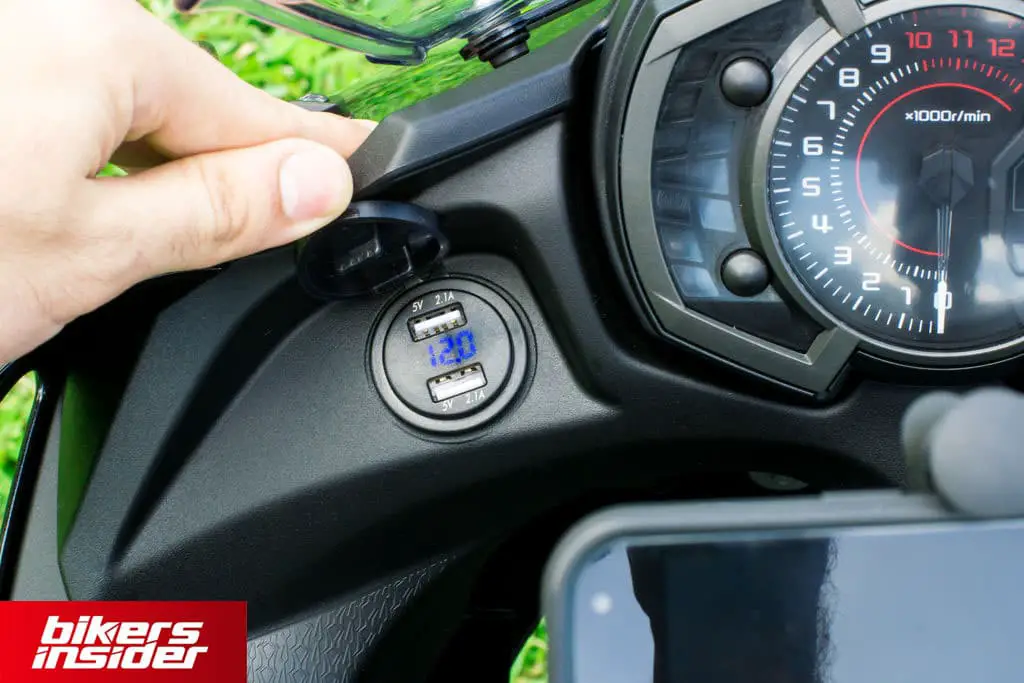 In today's tech-driven world, USB outlets of any kind are becoming more necessary with each passing day. Many adventure and high-end bikes feature a USB outlet, but most bikes don't have that luxury. Hence, the dual-port USB outlet is one of the must-have motorcycle accessories today.
With a dual-port USB outlet, you can charge your phone and another device at the same time. For example, you can charge an action camera along with your smartphone, and you will probably never have to use its battery when it's mounted on your bike.
Charging your phone or any device with a USB charger is essential, especially for rides out of town. Installing a dual-port USB outlet is incredibly simple, just connect it with a wire to your motorcycle battery and then mount it on the handlebars of your bike. 
Best Dual-Port USB Outlet To Get – MOTOPOWER Dual USB Charger Kit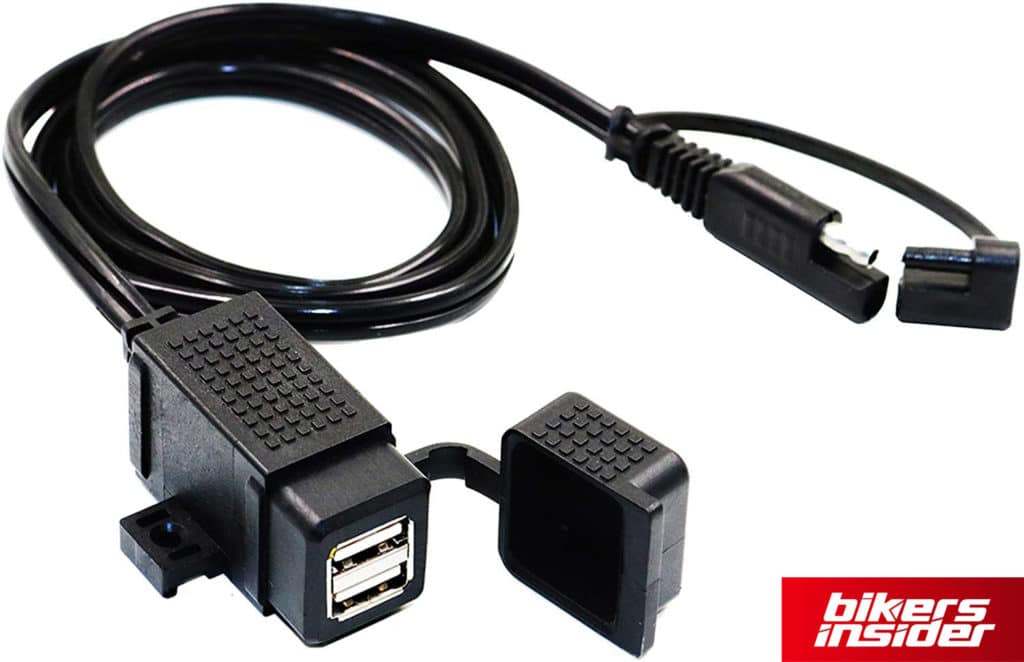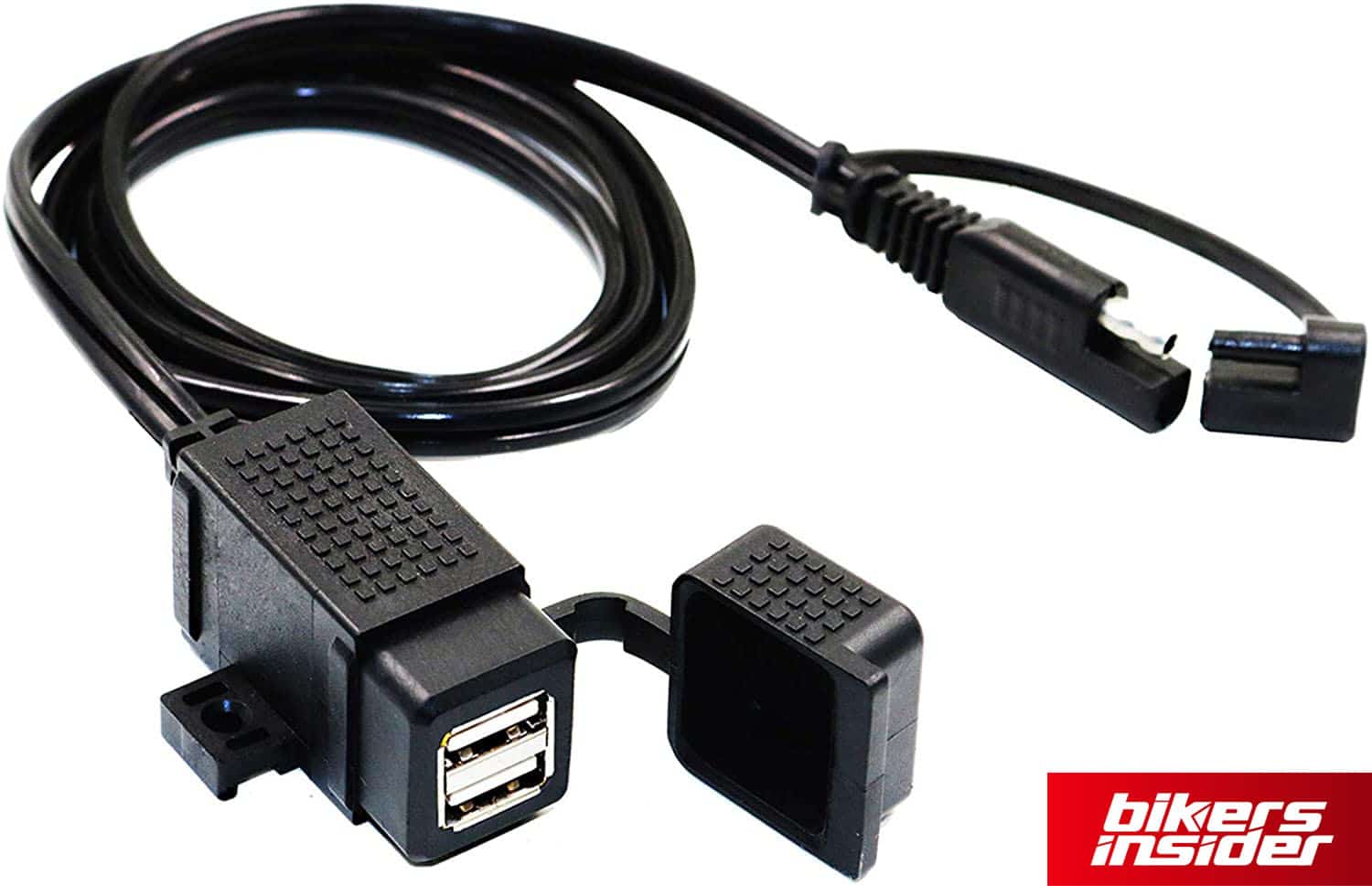 MOTOPOWER Dual USB Charger Kit will undoubtedly provide the most value at $11/€9/£8 price tag. It has a waterproof cap installed, so if you ever find yourself under the rain, you can just easily pop it up to protect the ports from the elements.
Its installation is quite simple. Connect it with the 3.3 ft (1 meter) cable to the motorcycle battery with the quick connectors. Then, route the ports to wherever you want on your bike. You can mount it with zip ties, screws, or adhesive tape. Its output is 3.1 Amp, which is more than enough to charge most modern devices.
Tire Pressure Gauge and Air Compressor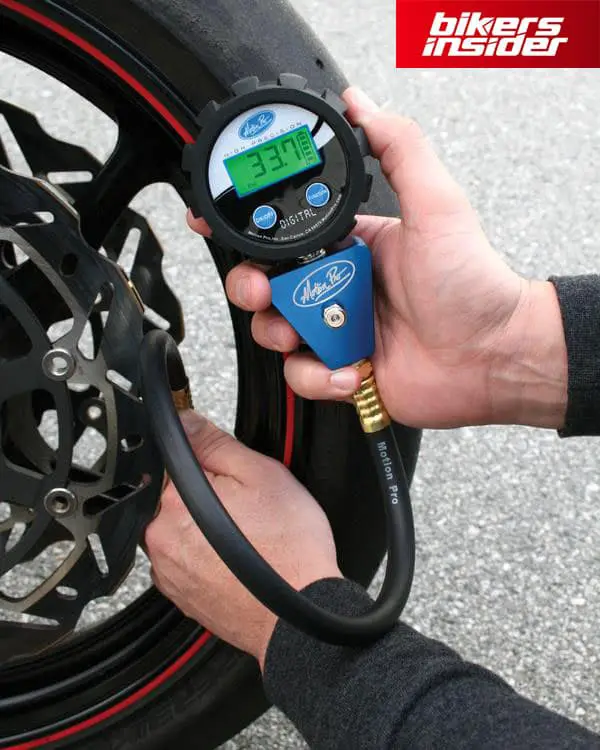 The last on our must-have motorcycle accessories list are two tightly connected items – the tire pressure gauge and air compressor. You should definitely check your tire pressure even before you sit on your bike. Unlike with cars, the impact of low tire pressure on bikes is enormous. This can cost you your life if you have never ridden with low tire pressure.
There will be instances where you will need to check your tire pressure, but you aren't at home where your tools are, or the next gas station with an air pump isn't near enough. That's where the tire pressure gauge and air compressor come into play.
They are an inexpensive motorcycle accessory, will take almost no space, and it's just one of those things your motorcycle should have equipped in the first place. Still, make sure to get a tire pressure gauge that is more expensive than 99 cents, as those will be inaccurate. Your preference should be to get an accurate one.
When it comes to the air compressor, aim for those that can put in 35 to 40 psi in your tires. Also, make sure that compressors are at least 12V so that you can connect them to your motorcycle battery.
Best Tire Pressure Gauge To Get – JACO ElitePro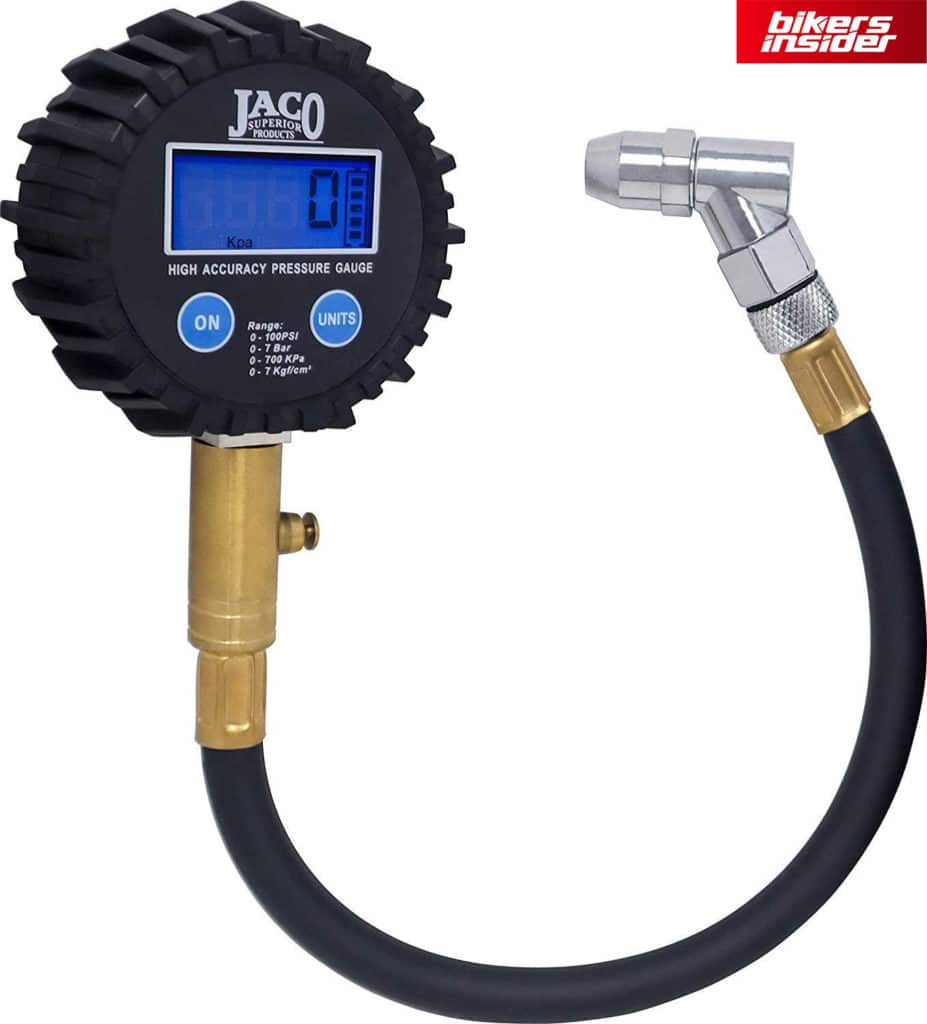 JACO ElitePro is rated at 100 psi, so it will be suitable for any bike and even for other vehicles. It's properly calibrated to show accurate readings. Along with that, it's highly portable and even glows in the dark.
This one will cost you $28/€24/£20, securing you for a long haul.
Best Air Compressor To Get – EPAuto 12V DC Air Compressor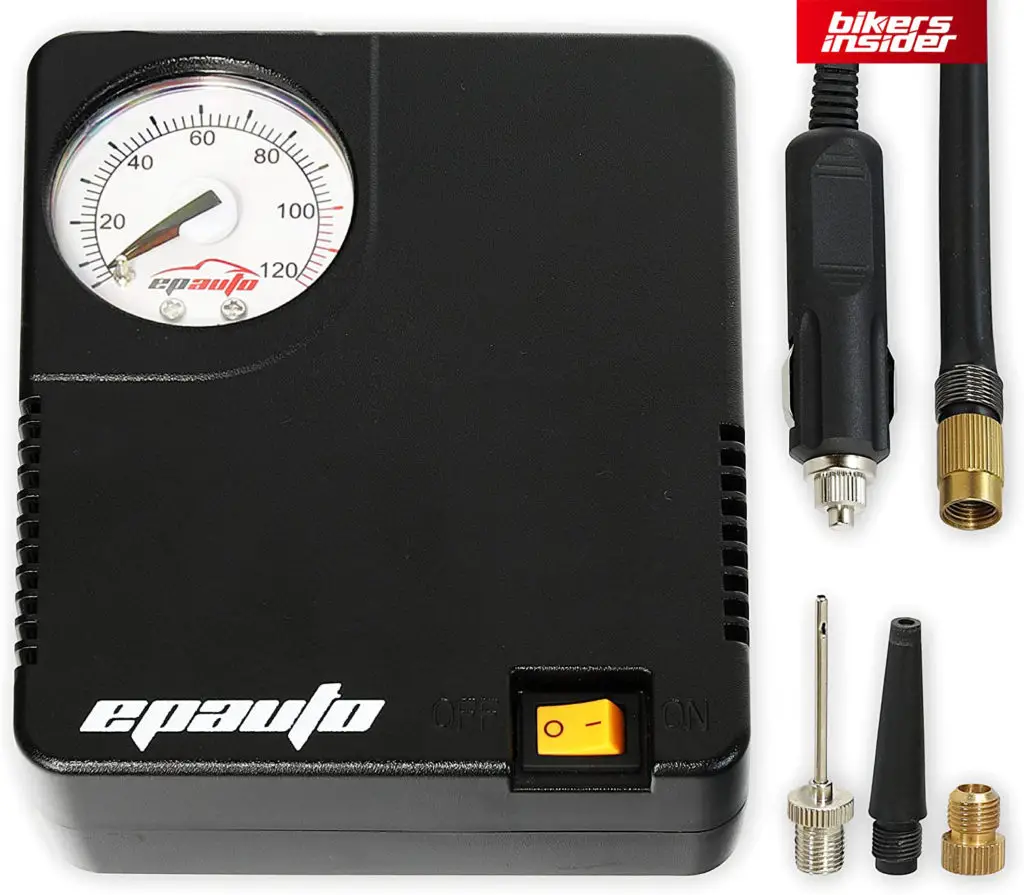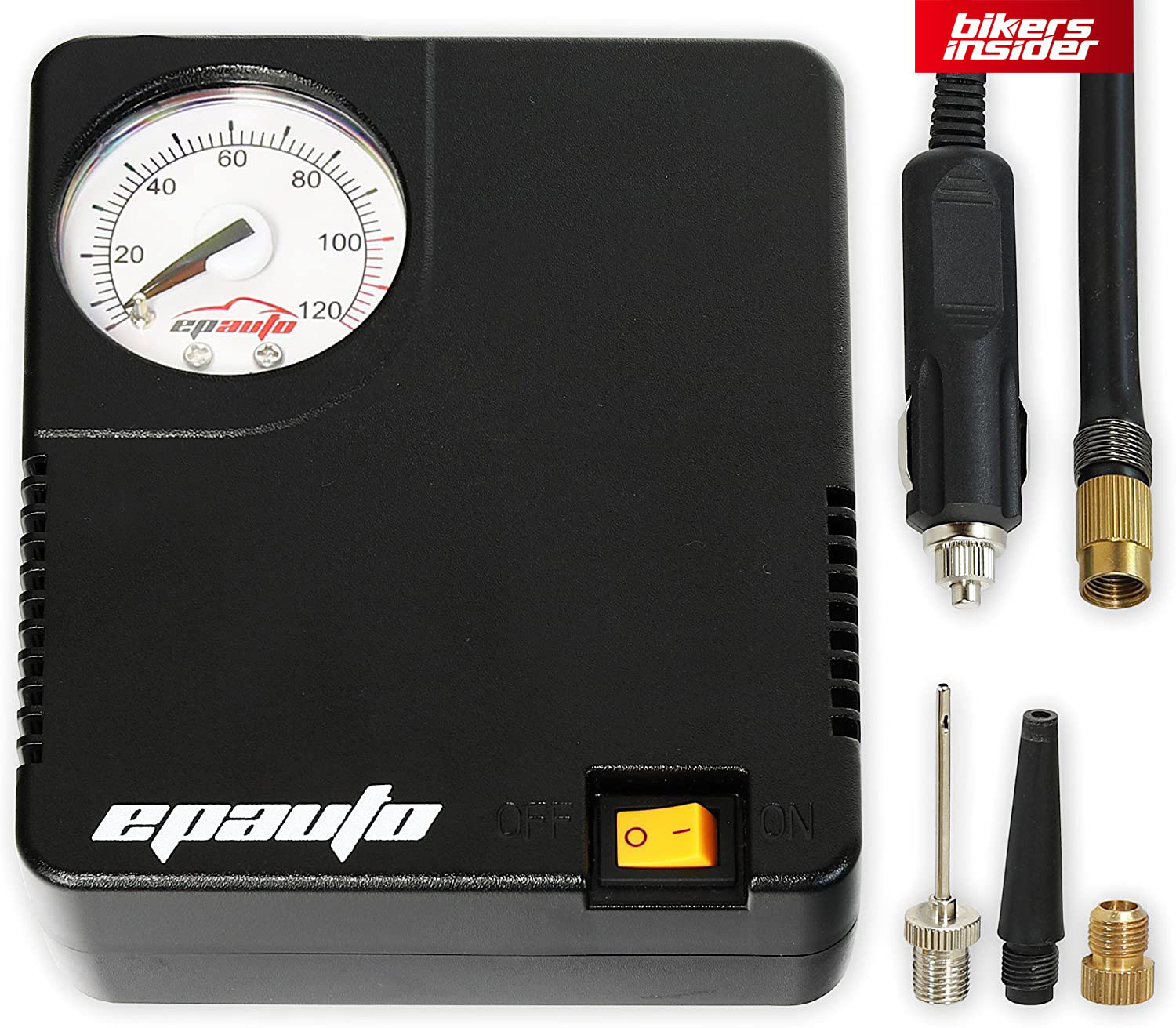 This air compressor from EPAuto is the best we could find for the price of $17/€14/£12. Just plug it in your motorcycle battery and start pumping, as it is ideal for motorcycle tires. Just make sure to detach it from your motorcycle battery, as it can slowly discharge it when it's connected to it.
These Are The Must-Have Motorcycle Accessories To Get In 2021!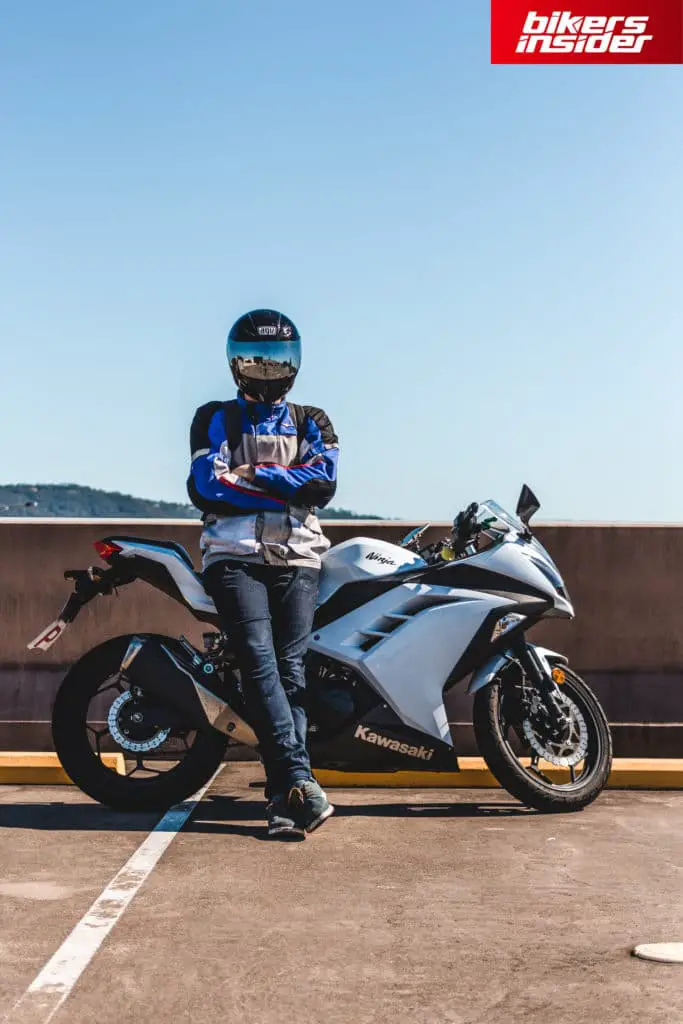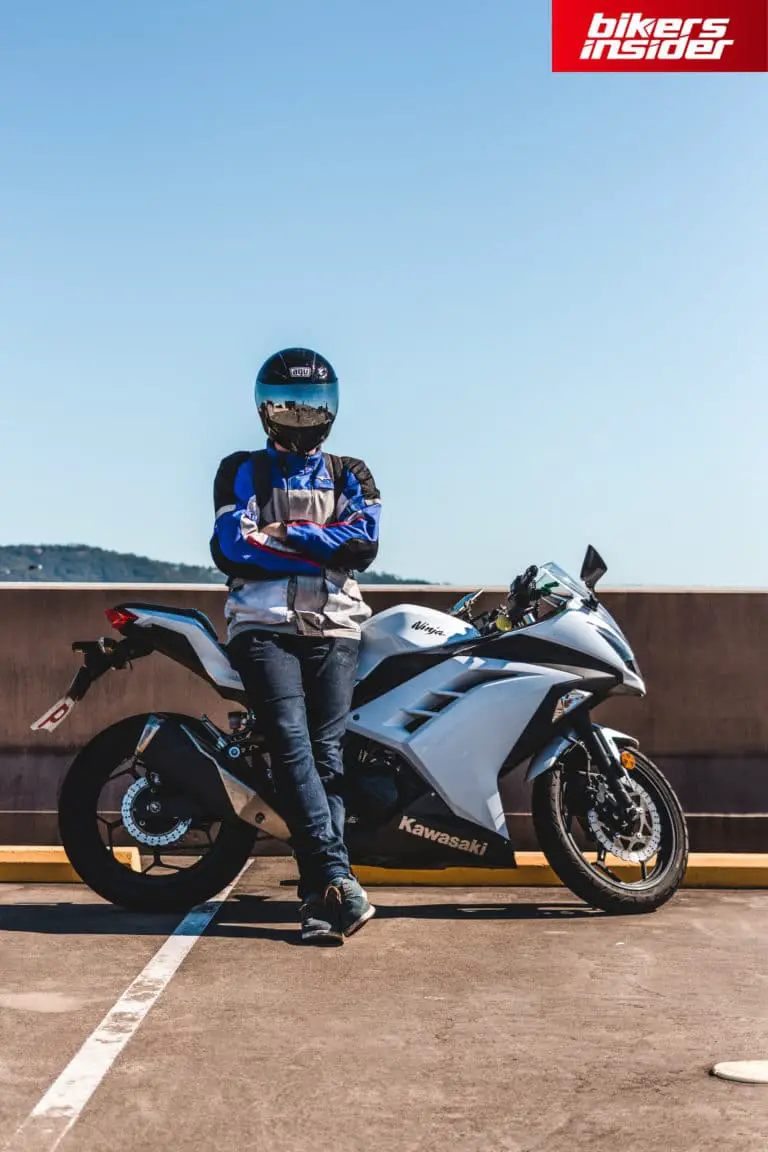 And there you have it! These 11 items are must-have motorcycle accessories that will positively impact your ease of mind when riding. All these accessories will roughly cost you $1000, which is a decent amount of money when you consider the longevity of these accessories.
As always, we researched high and wide for these accessories and are even users of some of these, so we double-vouch for them. 
Hope you can improve your ride experience with our list of best motorcycle accessories! For a more in-depth look at some of them, check out our accessories section!