Introduction – Sena 50c Bluetooth in-depth review-first look
Does the Sena 50C make sense as a replacement for the Sena 10C Pro? Despite its greater price, what's new and improved about this model? Let's have a look at a few of the new features and upgrades in this Sena 50c Bluetooth in-depth review-first look and see if you think they're worth mentioning.
Sena 10C Pro helmet camera, released in 2019, had built-in audio communications and could connect with up to three more riders. While riding, it was possible to use some of the phone's functionalities via voice command on the smartphone. Additionally, it was mostly handsfree.
The long-awaited camera-featured communication system, the Sena 50C, has arrived. It is in Sena's top-of-the-line 50 series. Sena's superior Mesh and Bluetooth connection technology, as well as a 4K camera, are all included with the 50C. With the 50C's all-new SOUND BY Harman Kardon speakers and microphone. You can expect polished audio and visual experience that's unparalleled.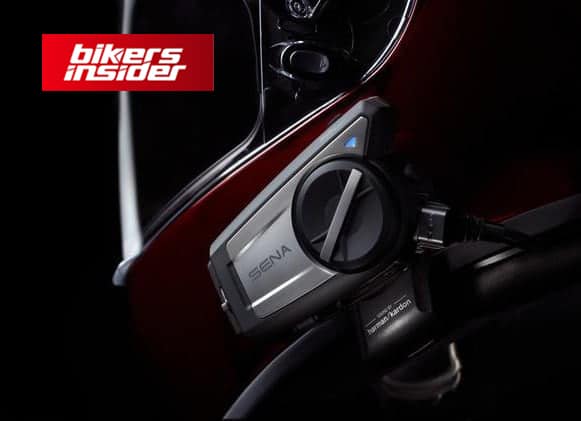 Features
Salient features of Sena 50C are:
IEEE 802.11 b/g/n/a
Working distance: within 15 meters
Mesh Intercom Technology
Bluetooth 5
Bluetooth Intercom: up to 1.6 kilometers (1.0 mile) in open terrain
Mesh Intercom: up to 2 km (1.2 miles)* in open terrain
Bluetooth Intercom: 4 riders
Advanced Audio Distribution Profile (A2DP)
Noise Cancellation: Advanced Noise Control™
FM Radio
Field of view: 120 degrees
HD Voice enabled for high-quality phone call audio
Premium Speakers & Microphone with SOUND BY Harman Kardon
Let's get started with our Sena 50C Bluetooth in-depth review-first look.
1. Design & Build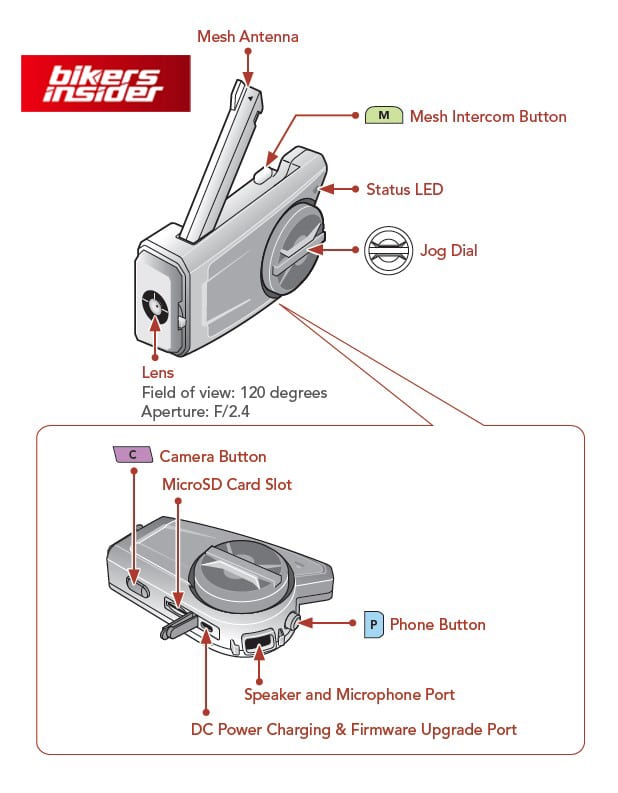 In spite of the fact that it has an action camera as well as a Bluetooth headset, the Sena 50C weighs in at a staggering 90 grams. The fact that it resembles a Bluetooth headset more than an action camera helps it blend in with your motorcycle helmet in a modest way.
The jog wheel and the button in the middle of it control Bluetooth headset functions, such as pairing, adjusting volume, and searching for FM stations. The record button, which is visible above these other controls, is generally utilized for the purpose of taking pictures and video.
The lens of the camera is covered in clear plastic. A red dot at the very top of the lens cap indicates where the camera will begin recording the image.
There is a clamping kit that should work with the majority of motorcycle helmet designs. After there, it's just a matter of plugging everything in and getting started.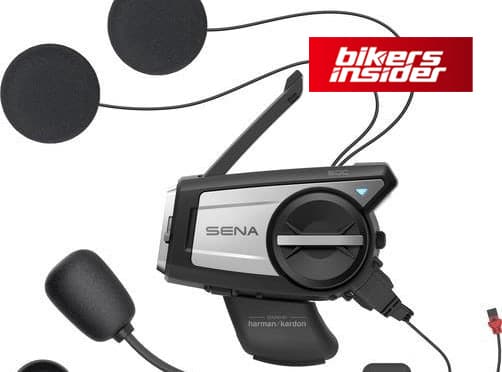 2. Bluetooth connectivity
Mesh and Bluetooth 5.0 on the 50C make it easy for riders to communicate with one another. Mesh Intercom has improved Sena's Mesh algorithm to provide strong, reliable communication. It also features versatile intercom message routing. Multi-Channel Open Mesh Intercom and Group Mesh Intercom are two Mesh settings. They offer distinctive intercom audio quality.
The Bluetooth 5.0 in the Sena 50C Bluetooth headset provides a reliable connection. It supports a wide range of Bluetooth-enabled devices. Using the Sena app makes it even easier to connect to your phone. You can access your phone's music, GPS, talk to your contacts, and more when you connect it to your phone.
Yet, Sena has amazed us by incorporating an action camera inside a Bluetooth headset. They did it without sacrificing Bluetooth or intercom capabilities.
3. Connectivity Range
According to Sena, the intercom range of the 50C headset is up to a mile (1.6 kilometers). Keep in mind that other vehicles, buildings, dense forests, and steep slopes can all interfere with this signal's transmission.
In addition, the 50C Bluetooth headset can be used by up to four other people. As a result, you have the ability to communicate with a total of four other riders through the intercom at the same time. It supports 24 riders in group mesh and is virtually limitless in open mesh settings.
3. Video Quality
You'll never miss a moment, thanks to the 50C's built-in camera. Flick through 30fps video or 12MP photos in still, burst, or time-lapse modes in 4K resolution. This camera features electronic image stabilization at 60fps and 30fps in 1080p mode. Voice Prompts and the camera button allow you to record quickly and easily with just a single press of the controller. When you use video tagging, you can instantly create highlights by saving important events from a continuous loop of video recording. The 50C can use MicroSD cards up to 128 GB in capacity in terms of memory.
Sena 50C Pro can record video at the following resolutions:
30 frames per second in 2160p
30 and 60 fps in 1080p
Unless you insert a MicroSD card into the headset, you won't be able to capture photos or record videos. Sena does not include a memory card in the box, and there is no internal memory. Remember that the maximum storage capacity is 128 GB.
A fisheye lens is pre-installed on the Sena 50C camera (120-degree field of view). This can either be a good or a terrible thing when it comes to video. As with other modern action cameras, there is no method to alter the camera's field of vision.
Time-lapse video recording can also be done, which takes a photo every 1, 2, 5, or 10 seconds and creates a fast-forward effect in the movie you're capturing. Additionally, the wide-angle field of view is a great asset in this environment.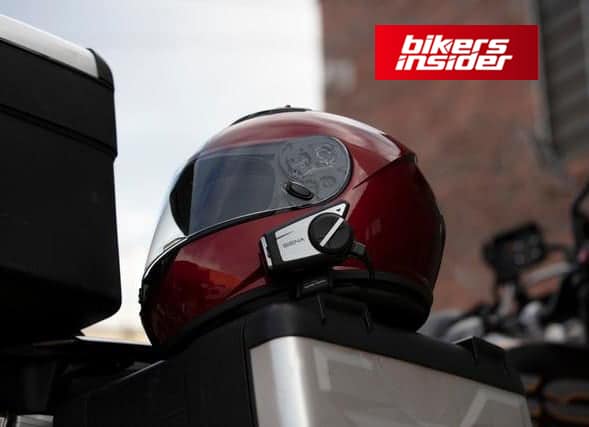 3. Picture Quality
The Sena 50C photo quality is good, the wide-angle lens effect distorts some views. 12MP sensor keeps things together nicely. Image quality is a valuable addition to previous models.
Most images taken with the 50C will show an exaggerated distance. For example, most subjects in images taken with the Sena 50C appear twice as far away as they actually are. It is mainly due to the fisheye field of view.
4. New Sena motorcycle App
To customize the 50C's device settings, users can now download Sena's new App. Use the app to customize the 50C's functionality. The app includes channel settings for Open-Mesh and private groups for Group Mesh.
The Sena Camera App users can view and download the footage recorded on their 50C via built-in WiFi. Users can tweak Video recording mode and resolution, video microphone gain. Sound recording and other camera settings are also adjustable via the Camera App.
Download the Sena Motorcycles and Sena Camera apps from the Apple App Store or Google Play store.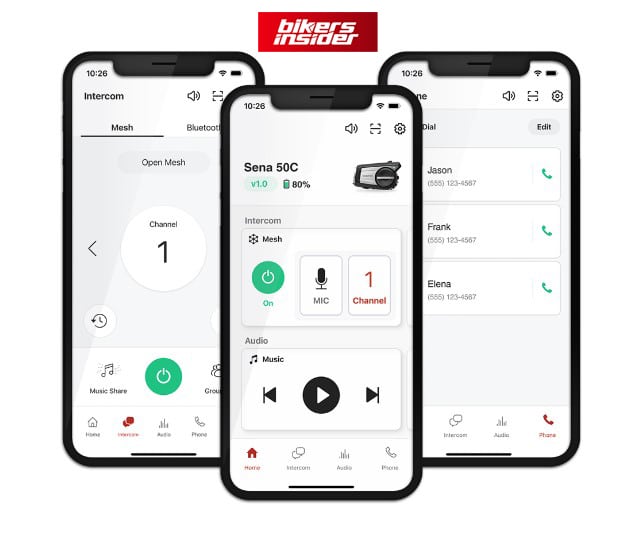 5. Audio quality
With SOUND BY Harman Kardon, the 50C provides an unrivaled audio experience. The speakers and microphone design is a collaboration with Harman Kardon audio professionals. They produce world-class sound within your motorbike helmet.
A completely new microphone, complete with a built sensor. It provides strong performance for voice communication while riding. These premium Harman Kardon audio features work together very well. For some music enthusiast riders, this will be a key highlight of 50C. It provides the best Audio / Visual tool for all riders.
6. Voice assistance
Thanks to voice control, riders may speak to their 50C while keeping their hands on the handlebar. The user can control the 50C's features, such as answering the phone or starting a Group Mesh session. The 50C can respond to voice commands in eight languages. It supports English, French, German, Spanish, Italian, Chinese, Japanese, and Russian.
You can connect the 50C to Google Assistant and Apple's Siri with a simple voice command. It allows you to take advantage of your smartphone's capabilities. Features include GPS navigation, music playback, phone call, and many others with a single device. Asking "Hey Siri" or "Hey Google" is all it takes. Want to pass the time on a lengthy car trip by doing something fun? "Play me a podcast, Siri," could be the start.
7. FM Radio – a standard yet additional feature
Regardless of whether you use it, this is a standard feature on most Bluetooth headsets. Brands do not consider this groundbreaking. The only notable feature is saving up to ten different radio stations in the app's settings.
8. Battery life
The 50C battery lasts long for being a Bluetooth headset and an action camera all in one.
1.5 hours of continuous shooting and 22 hours of talk time are possible with a 2.5-hour charge period on this device. The 50C goes into sleep mode after 5 minutes of camera use. You can turn this option on or off in the settings in the settings.
According to Sena, the lithium polymer 1450mAh battery is included in the headset.
9. Price
Although the Sena 50C review is nearly complete, we still need to know its price. It costs $599, which isn't outrageous. You receive an action camera plus a Bluetooth headset for a reasonable price with this purchase.
Verdict
If you're a hobbyist moto-vlogger looking to stay in touch with the rest of your crew, this is a terrific buy. Purchasing this may not save you money but hassle and time. Changing angles and recording in 4K makes it attractive.
Because of its long intercom range, ease of connecting with Sena devices, it is compatible with up to four riders in a single intercom session. The 50C is an excellent Bluetooth headset. The Sena 50C comes with its progress of intercom or sound quality. It is a good choice if you're looking for the best of both worlds.
We have tried to give a glimpse in this Sena 50c Bluetooth in-depth review-first look, and hopefully you can determine whether it is a worthy upgrade or not.