Ruroc Atlas 4.0 2022 Edition in-depth review, design updates, New Safety Features, Stunning Graphics but there is a Caveat…
Ruroc just announced a launch of a new Atlas 4.0 version in February 2022. The helmet will be packed with new safety features, new insane Graphics, Bluetooth system updates, and more… Ruroc has promised this model to be the quietest helmet they ever made. The noise was a big issue they had with previous Atlas 1.0 2.0 and 3.0 models according to customers' feedback, but now this could be a thing of the past.
Let's dive in and see if Ruroc's new helmet will be a good buy for and upcoming 2022 Season,(First Customers feedback will be included later in February)
New helmet Features and upgrades overview include:
New Safety rating
Upgraded ventilation system
3-part multi-density EPS 
RHEON™ technology
Project R Bluetooth system upgrade
New Graphics
So Will Atlas 4.0 be the best Helmet Ruroc Developed so far? Without further ado, let's dive into the changes and upgrades that Ruroc is preparing for their Atlas V 4.0 motorcycle helmet!
Spec Overview at a glance

Atlas 4.0 Safety Rating
First things first, Helmet Safety; The atlas 4.0 is now among the top few manufacturers who have released a helmet with the latest ECE 22.06 safety standard, as they claim it does not only meet the standard but exceed it by at least 20% which is a great deal if taking about head protection, but everything comes with a price, helmet now weights 1.5kg which is 100 grams heavier than Atlas 3.0 which is not a great deal if you take into consideration the safety it provides.
The new safety improvements include 3-part multi-density EPS With increased impact and rotational performance, that is one of the reasons helmet passes an ECE 22.06 Certification.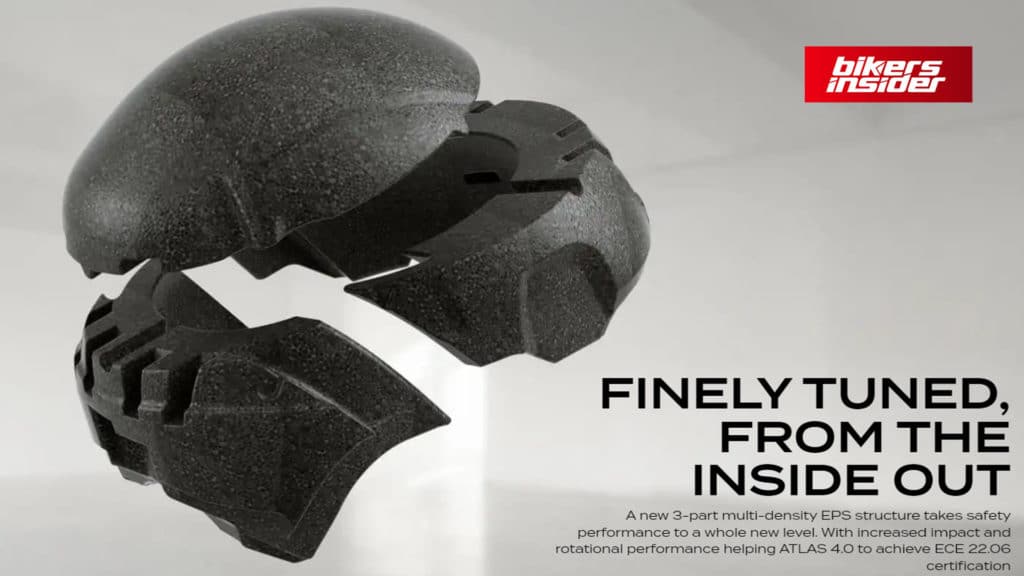 Atlas 4.0 now has a new safety feature called 'RHEON liner reinforcement system' which helps to absorb an impact and decrease the chance of serious damage to a brain. Overall the safety aspect of Atlas 4.0 is pretty impressive and it is definitely one of the best on the helmet market.
Ventilation and Noise Levels
One of the major issues predecessors of Atlast 4.0 had was noise level and visor fog. When it comes to Atlas 4.0 these are problems of the past due to a new improved internal acoustics, also a new controlled ventilation system that dramatically reduces noise levels and turbulence, while increasing an airflow circulation, the front top vent is now active.
According to Ruroc, the noise levels are now reduced by as much as 57% percent, to achieve that here is what they have done:  
Improoved interior materials, the whole construction of incuding a contouring, specivically around the face and neck
Added additional Extra padded Ear Bridge on the cheakpads with sound dampening inserts
Helmet shell has been improoved aerodynamicaly , it is now smoother and more stable at high speeds, with less turbulance
Built-in Bluetooth Shockwave System Upgrade
At this moment of time we don't know much about new improvements in a built-in Bluetooth system, apart from that the microphone is now 60% smaller and has improved fit, we will update this section later in February when all details are available.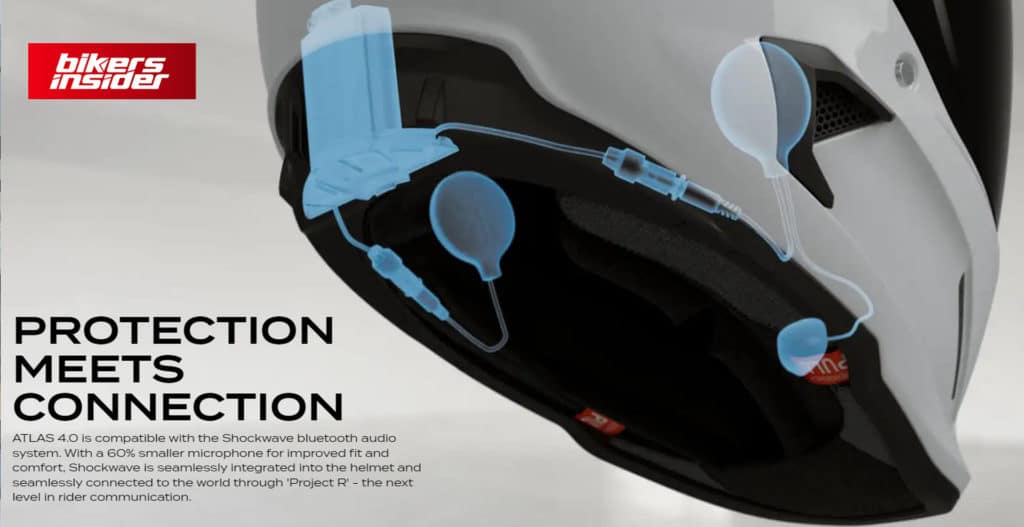 New Ruroc Atlas 4.0 Graphics Line up and video trailers!
Ruroc Atlas 4.0 Rognaroc Series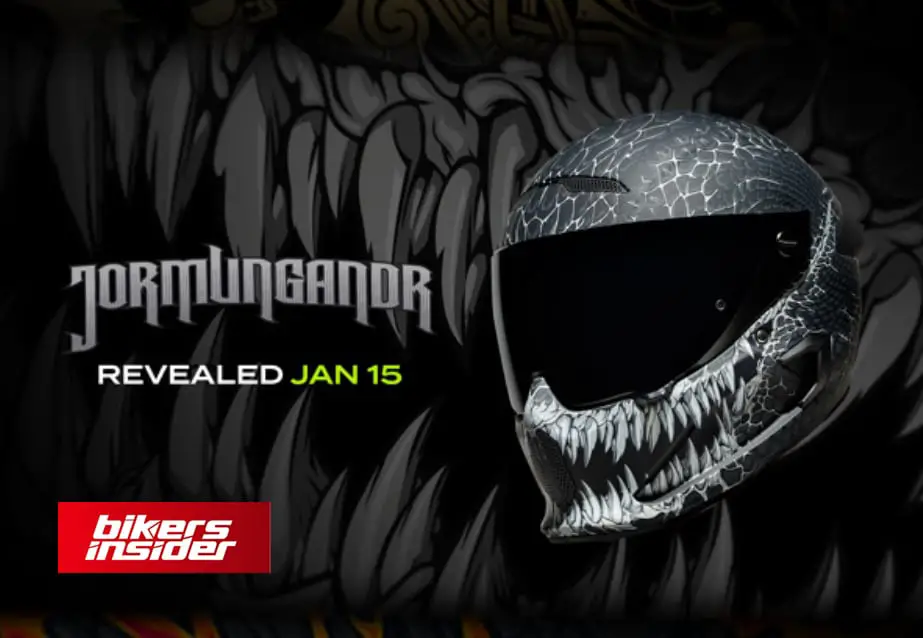 Ruroc Atlas 4.0 Paint Series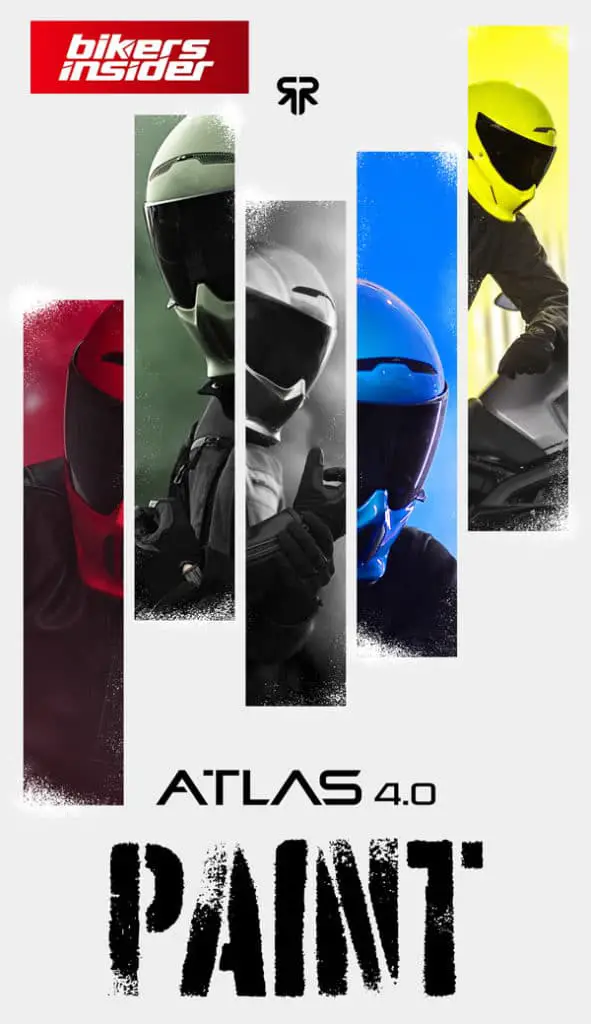 Conclusion
Once again we see that Ruroc eliminated all the issues previous models had, Even though the helmet looks pretty similar to previous models, we think safety features make all the difference, and Ruroc is becoming a major Motorcycle helmet brand along with brands like Shoei, Arai, and AGV
Also, something very important, that this time Ruroc promising to ship helmet right after the release date, this is great news, as some customers were not satisfied with shipping time as some had to wait for over 6 month
If you are interested in an in-depth look at motorcycle helmets, make sure to check out our motorcycle helmet reviews section.
This Helmet model is very promising and we are eager to hear customers' feedback so we can update this post.