Ruroc Has Just released its new Version of Atlas 4.0 we are going to review it and explain why this possibly is a gamechanger compared to other models.
Ruroc Company seems to listen to the criticism regarding safety, wind noise, and comfort issues from the consumers on the previous Atlas models and did some dramatic changes to a new version of the Atlas model.
First of all, the safety aspect in the Atlas 4.0 helmet is a big deal as it now has the latest ECE 22.06 European certification, this is considered to be one of the safest helmets on the market,
The helmet interior now has a new innovative RHEON liner reinforcement system which helps to absorb an impact and reduces risks of brain damage dramatically
The Appearance of the helmet did not change at all apart from the new active vents on the top, however, Ruroc engineers worked on the surface smoothness to reduce the wind noise and turbulence, and now the helmet is almost 60% less noisy than the previous version, this is a quite dramatic change and we would love to hear feedback from the first user in February 2022

Ruroc has finally shown some new information about the Atlas 3.0 helmet – the latest rendition of their first motorcycle helmet line. They've shown some of the main features in their live premiere video that went live on 12th March.
Judging by the live premiere video, we can see that they have addressed some of the main issues plaguing the Atlas 2.0 motorcycle helmet (you can also read our Ruroc Atlas 2.0 review for more info on that), including:
Loud wind noise
Visor seal not tight enough, letting in the rain inside
Not enough shell sizes
Visor locking mechanism
Also, by Ruroc fashion, the Atlas 3.0 will come in various stylish and epic designs. We can see that Ruroc is again one of the rare motorcycle helmet manufacturers that listen to their user feedback.
So, without further ado, let's dive in into the changes and novelties that Ruroc is preparing for their Atlas 3.0 motorcycle helmet!
High Quality And Lightweight Shell
As previous Atlas helmet iterations, the Atlas 3.0 has a T-300 carbon fiber shell. This is a great piece of material for motorcycle helmets, as it combines high strength and low weight.
Thanks to this carbon fiber type, the shell of the Atlas 3.0 exceeds both DOT and ECE safety standards. Also, it weighs only 1,4 kg (3,09 pounds), which will make the helmet comfortable for longer rides.
Ruroc has also customized the EPS density to keep the helmet lightweight but super safe at the same time.
3 Shell Sizes
Until now, the Atlas 1.0 and Atlas 2.0 have been provided in two shell sizes:
Atlas 3.0 will add a third shell to the mix, the XS/S shell. These are some great news for those extra small or small riders, as the new shell will give a perfect fit and better body proportions. After all, a helmet that fits you better is safer in the long term. Not to mention that Atlas 3.0 won't look like a bobblehead on a smaller head.
The New, Coverless Visor
The first thing that Ruroc unveiled for their Atlas 3.0 premiere is the beautiful, brand-new coverless visor. Essentially, it seals better, looks better, and works better than the one present on the Atlas 2.0. Also, it will be more aerodynamic and will come in a wide range of tints (for now, we know of 12 different visor tints).
You can now buy Atlas 3.0 tinted visors on Ruroc's official site. Each one costs €50/$59/£43.
One thing that we enjoy about this visor is that it offers one of the largest field-of-views on the motorcycle helmet market.
There are a few reasons why Ruroc decided to redesign the visor present on the Atlas 2.0 motorcycle helmet.
Removal Of Visor Cover
First of all, the visor cover on the Atlas 2.0 tampered with its aerodynamics, letting in more wind noise than desired. Because of that, Atlas 2.0 was a noisy helmet. So, Ruroc removed the cover for the Atlas 3.0, which will result in a smoother and quieter ride (they claim that there will be 10% less wind noise than on Atlas 2.0!).
Less Thick Visor Mechanism
The thickness of the visor mechanism has been reduced by 1/4, which will allow for more EPS space. Hence, this design choice makes the Atlas 3.0 motorcycle helmet a fundamentally safer helmet.
A small thing, but very cute to see is the engraved "Protection Re-Engineered", that we can see on the visor mechanism side screw. Actually, this is Ruroc's design mantra. Based on their track record, Ruroc really develops their products by that mantra.
Re-Engineered Visor Seal
The visor seal got a redesign for Atlas 3.0. It will be a bespoke fit for every shell size and will further reduce water and wind ingress. In the end, this will hand out a much more comfortable and quieter riding experience for riders. It's great to see one of the main issues of the Atlas 2.0 helmet being addressed here!
New Visor Lock
Ruroc replaced the old locking pin with a precision-engineered polycarbonate lock. There will be no hole in the visor anymore, which will improve the sealing and wind noise performance even further.
Anti-Fog Qualities
Of course, Ruroc made sure to get in the de-misting step while creating the visor of the Atlas 3.0. Every visor on this helmet will be Pinlock-ready. So, if you get your hands on the Pinlock lens, you will never have any issues with fogging while you ride with this stylish helmet!
Re-Designed Interior
To further increase the comfort and safety levels of their Atlas 3.0 helmet, Ruroc has re-designed the inner comfort liner and cheek pads. Let's see what specific changes they have made!
The New, Premium Comfort Liner
Across every shell size, Ruroc has re-designed the internal comfort liner. Now, it's even more premium, more comfortable, and all-around easier to use than ever before.
The liner is a double-faced fabric that combines the strengths of polyamide (boosts evaporation) and polyester (allows moisture to be transferred away). This combination provides next-level thermal protection and breathability. Not to mention how soft and comfortable it is.
Good Ol' Cheek Pads
The cheek pads still feature emergency release design, which allows for safer and simple removal in the event of an accident.
FIDLOCK Chin Strap
Ruroc Atlas 3.0 utilizes the revolutionary FIDLOCK magnetic chin strap that passes DOT and ECE safety certifications. This mechanism passes the same level of retention tests as the traditional D-ring. Ruroc actually tested it by lifting a 180 kg bike with this chin strap to contribute to the awesomeness and strength of this chin strap mechanism.
It's really an amazing piece of engineering and Ruroc didn't want to change things here. You know: if it ain't broke, don't fix it!
Shockwave Bluetooth System
Finally, one of the biggest enhancements to the Atlas 3.0 is actually focused on the ease of integration of the Shockwave Bluetooth System. The way this system works is completely re-engineered, with the focus on user experience changes.
Every Atlas 3.0 helmet is compatible with the Shockwave Bluetooth System. You can listen to your favorite music, take calls, and use rider to pillion communication at your own pace.
The Atlas 3.0 Shockwave Bluetooth System costs €150/$177/£128. You can buy the Shockwave Bluetooth system on Ruroc's official site.
Let's see what Ruroc has in store for fellow riders on this front!
Seamless Fit
To keep the Atlas 3.0 design consistent and with no compromises on the aerodynamics front, the Shockwave is easier to install than ever before. The back of the helmet, where you can put the Shockwave system, has no screws at all. Instead of screws, magnetic technology is here to provide plug-and-play installation. Basically, just slide the Shockwave drive inside and let the magnets do all the work for you!
Not to mention how the system itself seamlessly fits on the back of the helmet – it certainly looks made for this system!
Integrated Cable Routing
All Atlas 3.0 helmets will come with pre-installed integrated cable routing for more simple and intuitive installation. All you have to do is plug the speakers and microphone into the built-in aux cables, and you're ready for the ride.
Easier Operation
Ruroc increased the button size on the Shockwave to be three times larger than on the original Shockwave unit. Because of that, it will be easier to answer calls or change songs, even with your gloves on. It seems that this unit will be easier to use than before.
Rider To Pillion Communication
The Shockwave on the Atlas 3.0 will come with the rider-to-pillion functionality as a base feature. Still, we have no specifics on how this will work. Will the second rider need an additional Shockwave or any other Bluetooth communication device? We'll need to wait for the launch of the Atlas 3.0 helmet to find out!
Not Too Much Changes On The Vent Scheme
Ruroc didn't talk too much about the vent scheme itself, they only showed a few snippets of it in their live reveal. We can't help but think that they have practically left the same vent scheme this time around. If it ends up like that, it will be a bit disappointing, as we already covered that Atlas 2.0 lets in quite a lot of air, making it a very noisy helmet.
So, what do we know about the vent scheme of the Ruroc Atlas 3.0? First of all, it will apparently have a more seamless side vent cover integration. That could prevent unnecessary air from coming inside, but honestly, this section looks basically the same as on the previous Atlas iteration.
Then, the stylish two-sided chin vent is back. It is easily toggleable even with gloves. Also, its styling hands out that stylish streetfighter look. With the chin vent, you will be able to control how much air enters into the helmet.
The top vent looks practically the same as on the Atlas 2.0, so it seems it won't be toggleable this time around.
Ruroc has also shown off the rear spoiler vents that are strikingly similar to the 2.0 again. It has a built-in Bluetooth antenna, though.
As we told you at the beginning of this section, we don't know too much about the venting scheme of Atlas 3.0. The only thing that we can conclude is that it is very similar to Atlas 2.0, which had problems with wind noise. Let's see how the helmet performs once it launches.
New Graphics
Ruroc has made their most robust graphic lineup with the Atlas 3.0 helmet, with a whopping 16 graphics to choose from. From Latino-inspired to Japanese mythology graphics, there is something for everyone.
Ruroc has prepared select sixteen graphic schemes for their new helmet: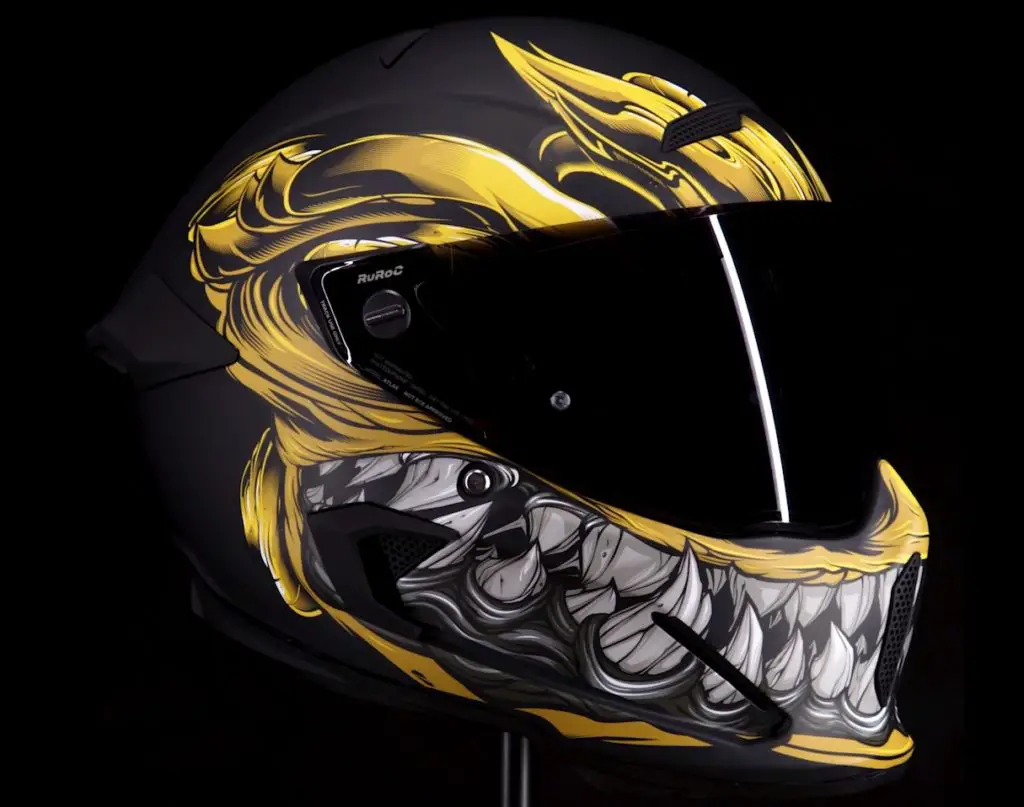 From the looks of the helmet, we can see that Ruroc has a specific graphic design philosophy in which you, as a driver, take on a role of someone else. We think that they've nailed it with this range and are looking forward to see more designs as time goes by!
Ruroc has stated that their graphic designers have made 150 concepts, so we are sure that there will be more graphics to come!
Launch Date And Stock Availability
As Ruroc is ready for their new chapter, they have ditched the supply chains that big brands use and decided to manufacture helmets in their factory. Their factory is up and running right now and produces high-quality helmets at a quick rate. For the next three months, Ruroc expects to make 20,000 Atlas 3.0 helmets.
Still, they have no idea how many riders will order these helmets and what styles will they choose.
Ruroc Atlas 3.0 Launch Date
Now, the Ruroc Atlas 3.0 helmet's launch will be on March 26th, at 00:01 London time. They will hand out these helmets by the first-come-first-serve principle, so it will pay off to have a trigger finger on the launch day. There are no pre-orders as of today.
How Long Will You Need To Wait For Your Order?
Ruroc states that all launch day orders will be shipped to riders within four to six weeks.
Note: Along with each launch day order, Ruroc will hand out a free Founders Edition T-Shirt with an ordered helmet.
What If You Get The Wrong Model?
Whether you don't fit in the ordered helmet, or you got the wrong design, you have a timeframe of 2 weeks to return the helmet back to Ruroc. For that, check out their Returns page.
Price
As Ruroc Atlas 3.0 motorcycle has finally launched, we now know its pricing! It's priced between €450/$530/£385 and €495/$583/£424. The price will depend on what model you choose, with the Liquid Carbon model being priced most expensive.
Summing Up
Well, we see that Ruroc is addressing some pressing issues of the previous iterations with their Atlas 3.0 helmet. Still, we can't help but say that it looks strikingly similar to the previous Atlas iterations, albeit with some quality-of-life changes.
We are eager to see if they will hand out discounts for existing Atlas 2.0 owners, as they did this for people transferring from Atlas 1.0 to Atlas 2.0.
Also, Ruroc has been the topic of some backlash when it comes to pricing. Nevertheless, Ruroc makes some great looking helmets with premium materials. Let's wait for the March 26th launch together to get our hands on one to review as time goes.
If you are interested in in-depth look at motorcycle helmets, make sure to check out our motorcycle helmet reviews section.