Scorpion Sports is a motorcycle helmet manufacturer renowned for making very cool-looking helmets. With their EXO Tech helmet, they wanted to provide the best design features from full-face helmets to a modular helmet. Hence, this one has awesome vision features resembling a full-face helmet and a great price to performance ratio. So, is the Scorpion EXO Tech one of the best modular helmets around? Find out in our Scorpion EXO Tech helmet review!
Scorpion EXO Tech Helmet Review – Features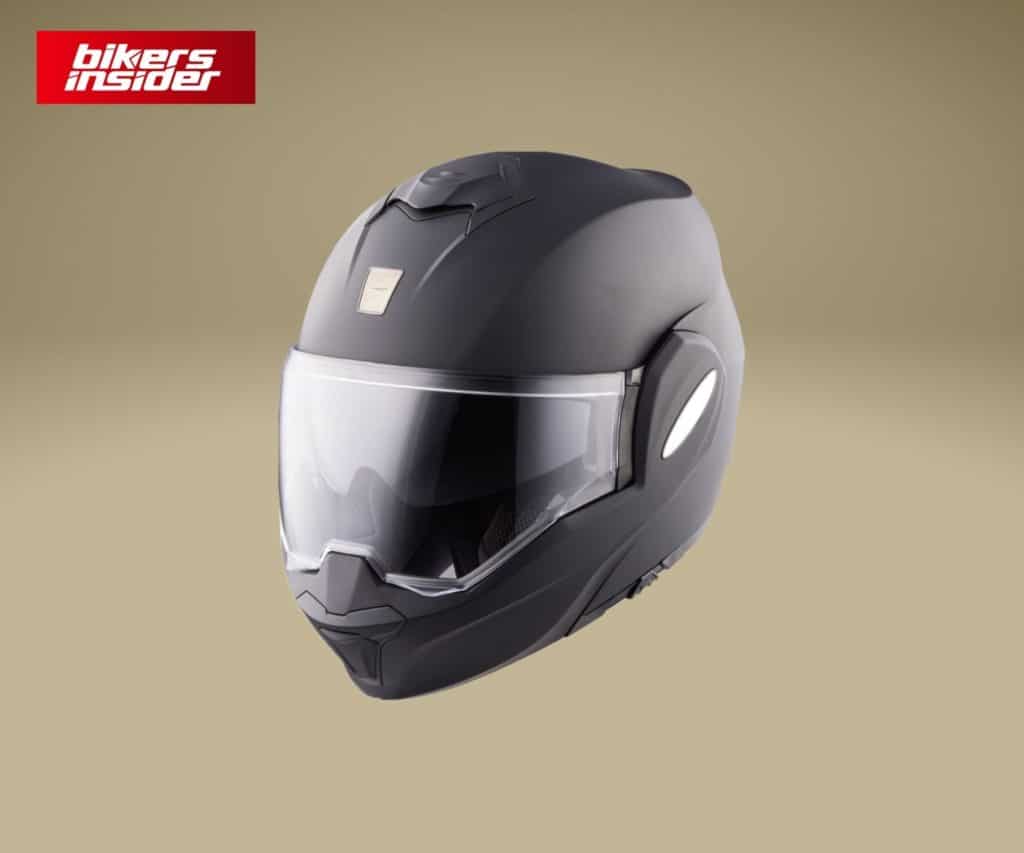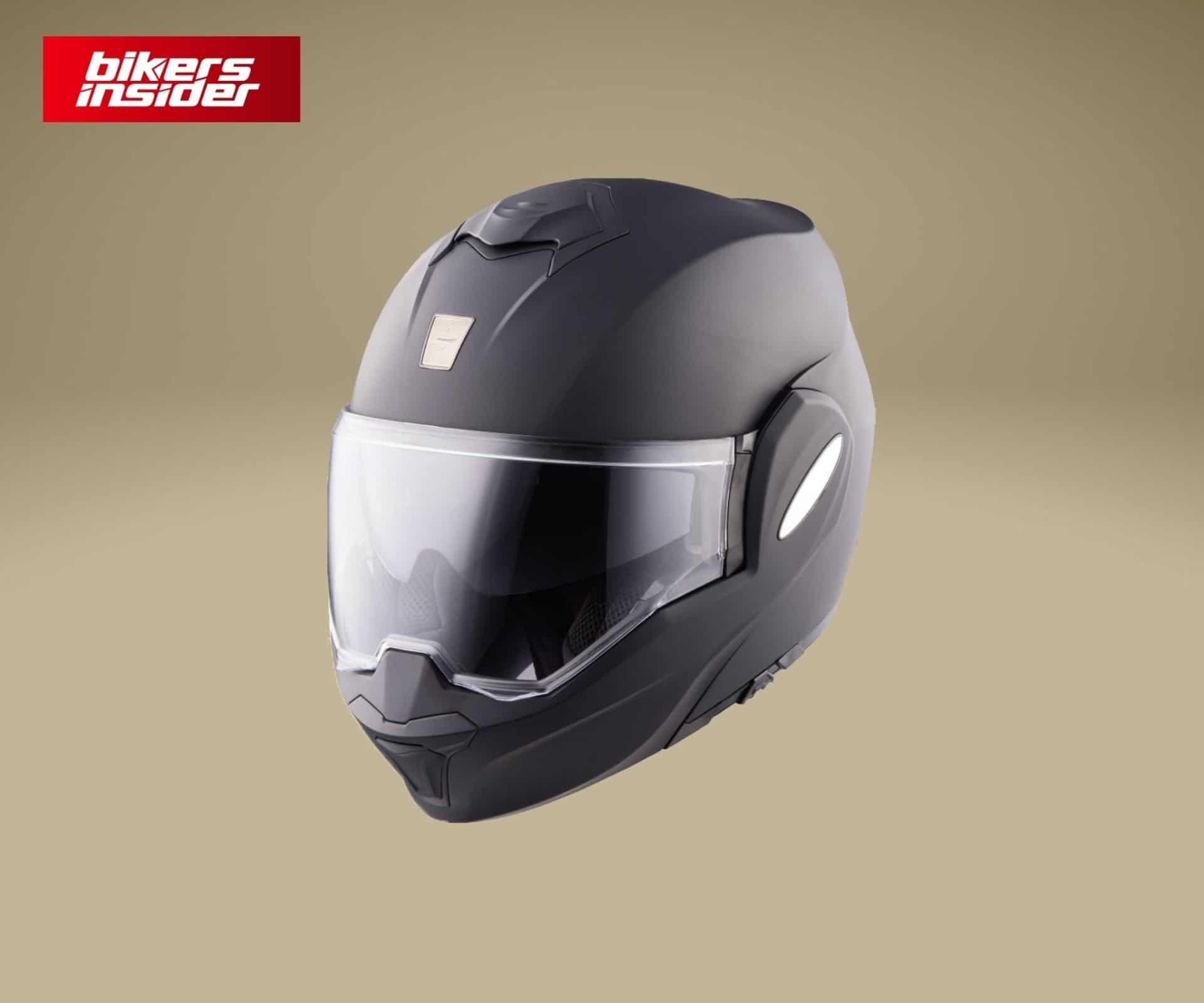 Before we kick off with our in-depth look into the EXO Tech modular helmet, here is a list of its main features down below:
Advanced polycarbonate shell
Weighs 1,7 kg (3,75 pounds)
Modular helmet
Pinlock-ready clear face shield with high UV protection
Internal sun visor
Micrometric buckle system
Kwikwick3 inner comfort lining with speaker cutouts
Toggleable top vent
Chin vent along with chin curtain
DOT safety certification
Without further ado, let's commence our Scorpion EXO Tech helmet review!
Construction & Design 
First of all, the Scorpion EXO Tech features an advanced polycarbonate shell that surprisingly feels quite lightweight at 1,7 kg (3,75 pounds).
Note: Scorpion Sports released a Carbon variant of this helmet, with a more lightweight and durable shell.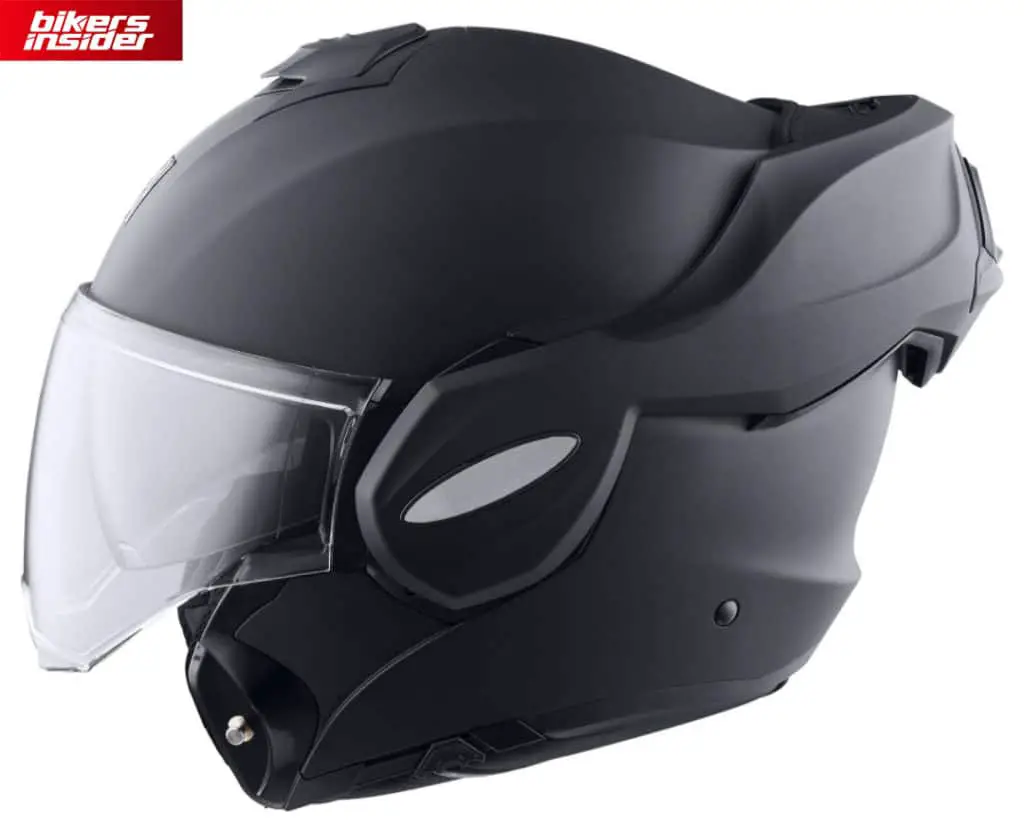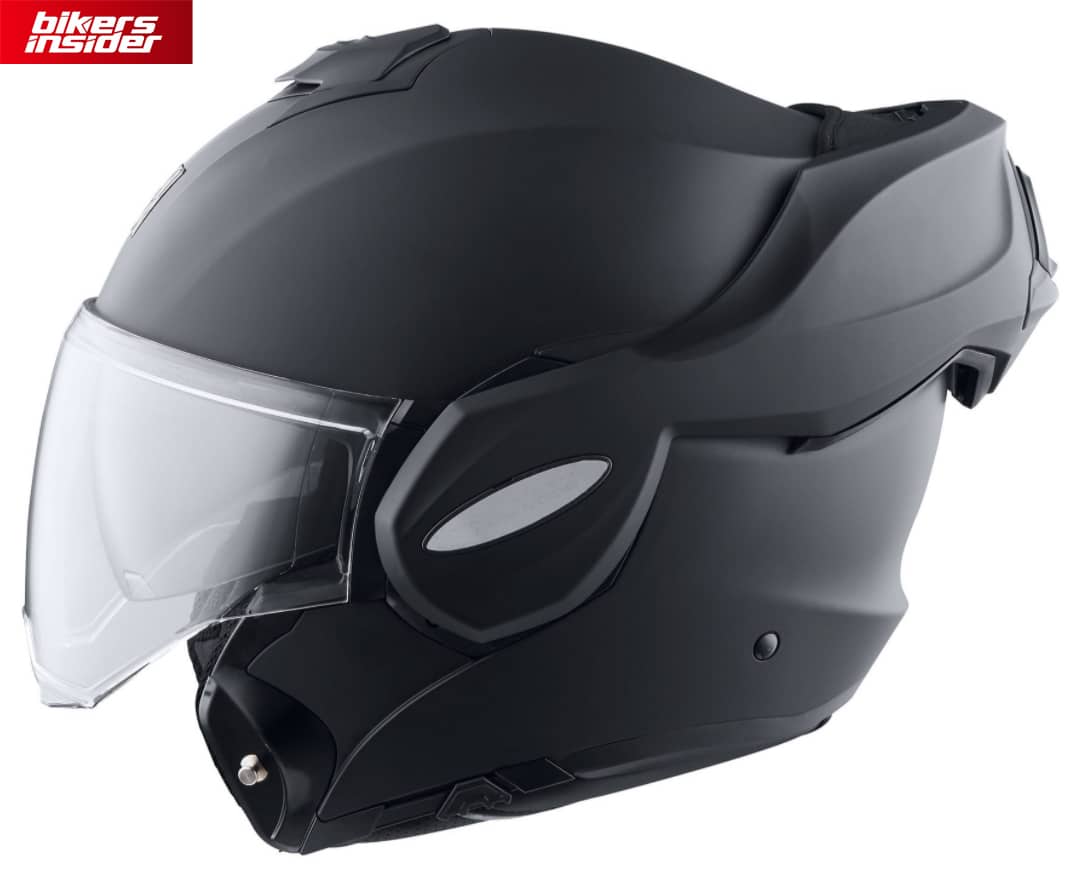 As this is a flip-up helmet, you can switch from full-face to open-face configurations with the toggle of a chin bar mechanism. There is a little button underneath the chin vent that will open up the visor and pull the chin bar on the rear of the helmet. This design choice is awesome, as it prevents the chin bar from scratching your visor.
Once toggled, the chin bar won't tamper with the aerodynamics of the helmet due to its placement on the rear of the helmet. As the air comes over the top, the area of turbulence is removed past the back of the helmet. That means that the helmet won't lift you back, as the chin bar will stay nice and stable on the rear.
Vision
Now, when it comes to the visibility aspects of the Scorpion EXO Tech helmet, this is a dual-visor helmet with a well-made clear face shield and inner sun visor.
Clear Face Shield
The clear face shield is called Speedview, and it features high UV protection. You can easily open it up with the two lips on both sides of the bottom part of the visor. Of course, the clear face shield comes with a Pinlock insert right out of the box, which means that the visor won't fog up during chilly or rainy weather. 
Inner Sun Visor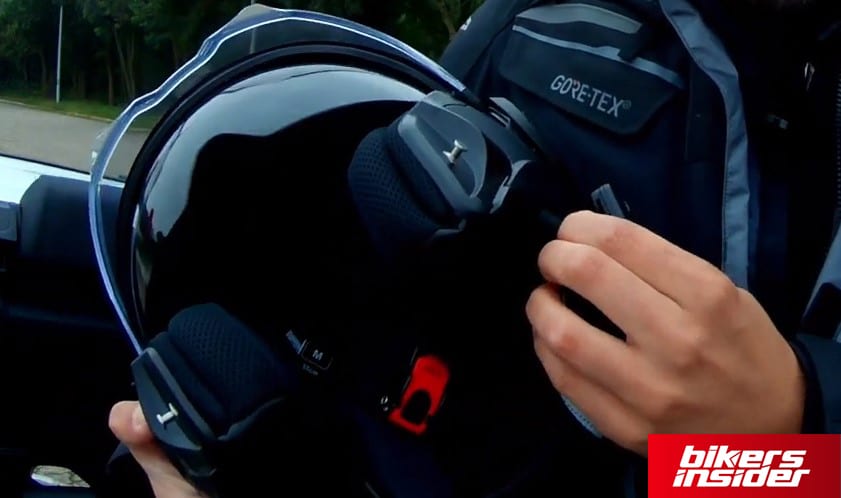 The inner sun visor is actuated by a mechanism located on the lower left jawline part of the helmet. As for the inner sun visor itself, it's quite well-made. A nice thing about it is that it comes down very low. 
The only thing that we would change is the shading of the sun visor itself. You see, the sun visor itself isn't dark enough, so if you are riding in sunlight-heavy areas, you might want to opt for an aftermarket sun visor. 
Still, the sun visor as it is now is very nice, and we love the actuation mechanism and how simple it is to use it, even with gloves!
Note: you won't be able to clamp a Bluetooth comm unit to the left jawline part, as the sun visor actuator blocks this part. Still, you can easily glue the unit above that section.
Comfort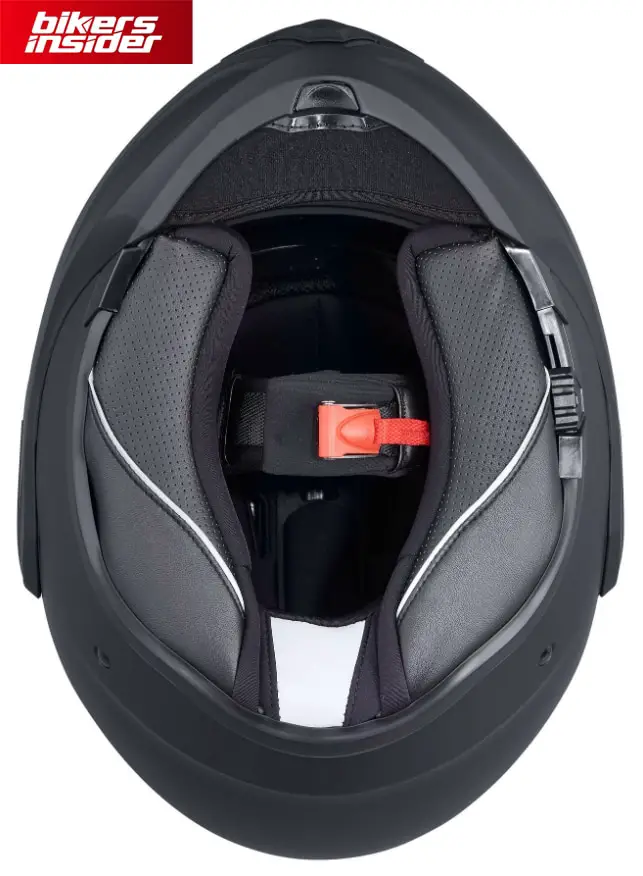 Right from the get-go, we can see the leather lining of the cheek pads with reflective qualities. If you are riding during the night, other riders may see you better because of that. 
The EXO Tech utilizes a micrometric strap system, which is a standard ordeal for the European market. Our preference is the double-D ring system, but it isn't a dealbreaker, of course. 
The Kwikwick3 inner lining is made so that it doesn't absorb any smells. It's very sleek and smooth and feels soft on your face. Of course, it is fully removable, washable, and eyeglasses-friendly.
As we go further inside the EXO Tech helmet, we can see the speaker cutouts, which is a nice touch if you want to install a Bluetooth communicator system. 
Looking for the best Bluetooth headset to install on your helmet? Check out our picks for the best Bluetooth communicators for 2021!
Airflow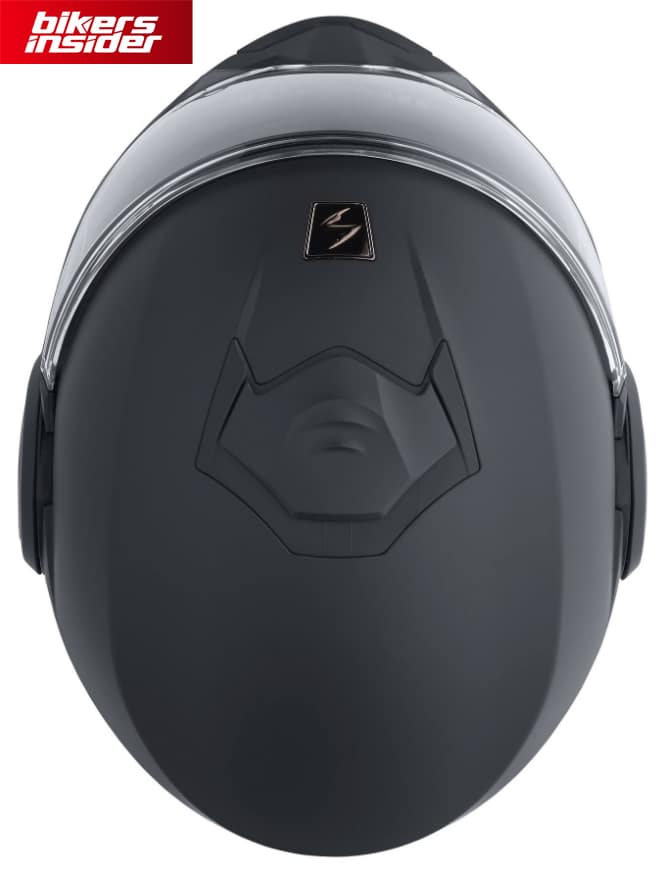 There are not many vents on the Scorpion EXO Tech helmet due to it being a modular helmet. 
Starting from the top, we can see a single air vent that has opened and closed positions and is easily operated with gloves.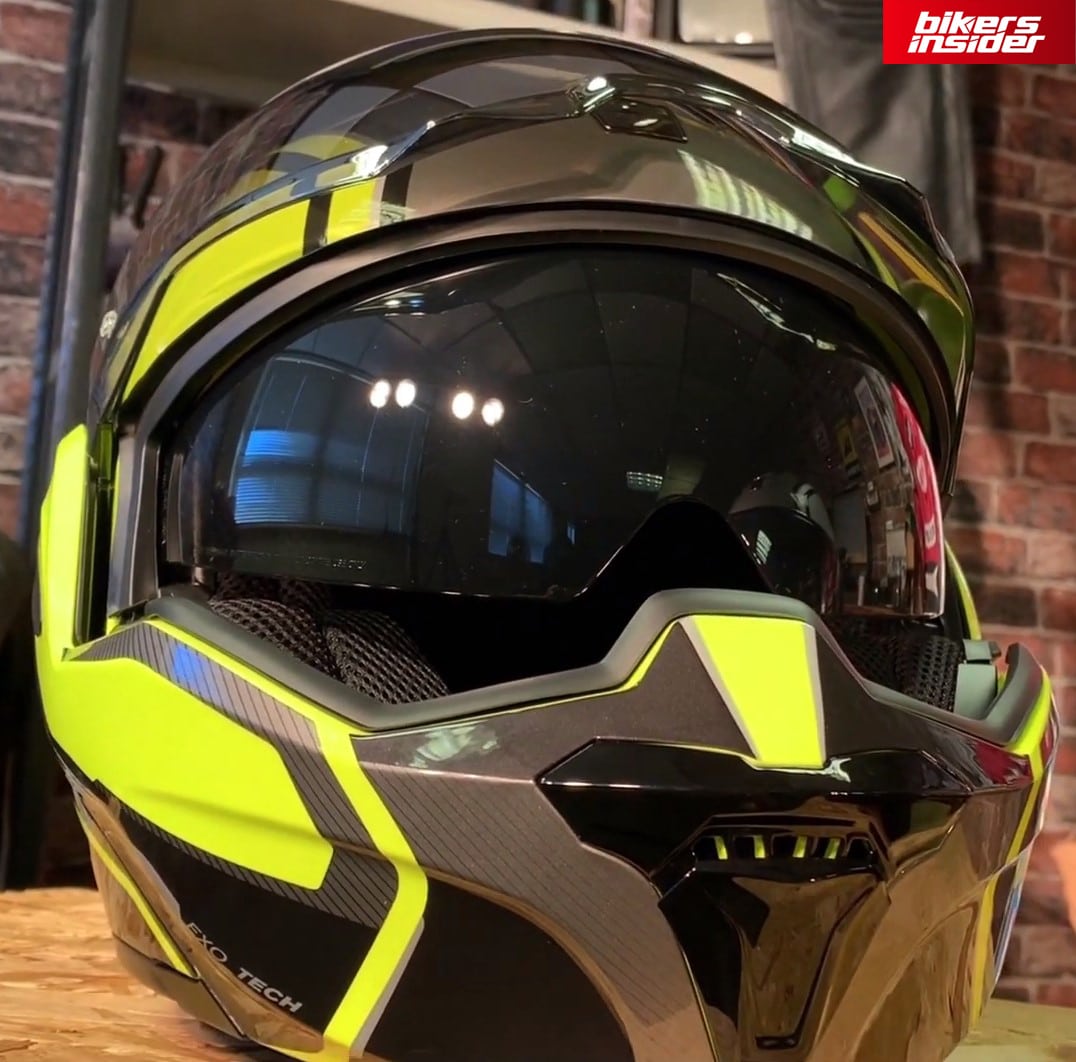 If you return the chin bar to its original position, you will see a chin vent with opened and closed positions. Like the top vent, it is easily toggleable with gloves. There is also a chin curtain included for less wind noise.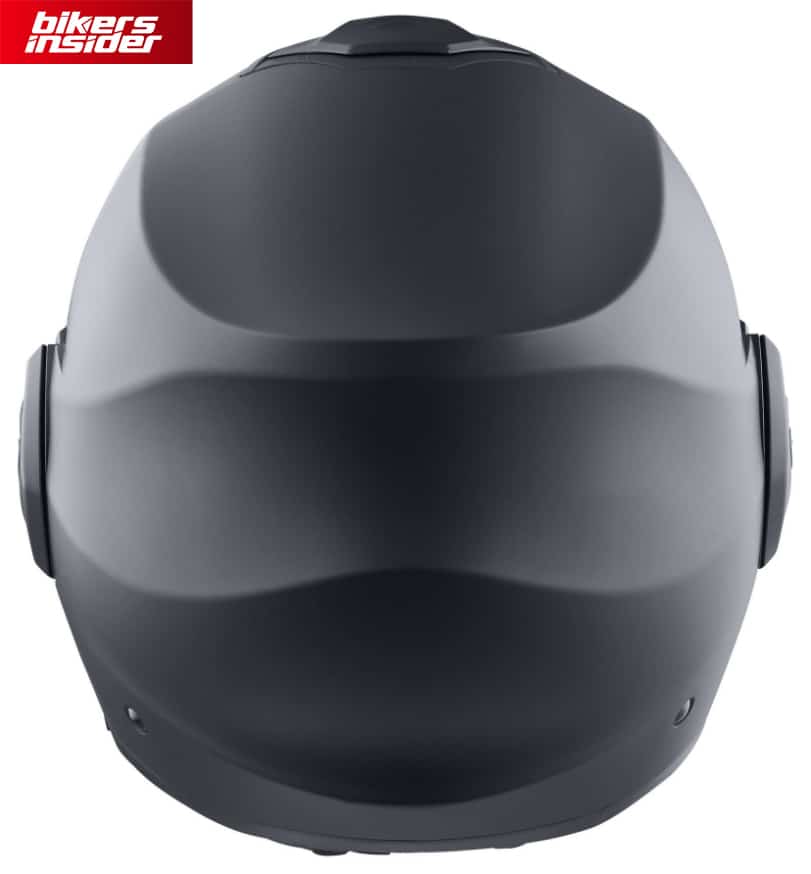 We noticed a lack of the rear vent, which is a bummer, as it detracts from the overall airflow of the helmet. It won't cool you so much during warmer rides as you would expect. Of course, that applies to the full-face configuration.
When it comes to wind noise, the Scorpion EXO Tech certainly isn't good at isolating it like Shoei Neotec 2 or Schuberth C4, as the chin bar mechanism won't be fully closed. Still, if you wear earplugs at highway speeds, you should be good to go. So, make sure to invest in a pair of earplugs if you plan on riding on highways with this helmet.
Safety Ratings
This is a P/J dual helmet, which means you can legally wear it in full-face and jet configurations. It has a DOT certification, which is expected, considering that this helmet comes in a polycarbonate shell.
Check out our P/J dual helmet guide to find out what that term exactly means!
Available Models
As far as the shell sizing goes, there are two outer shells: the first one goes from XS to L, while the second one goes from XL to XXL. For more specifics, check out the list below:
XS – 53 to 54 cm (20,87″ to 21,26″)
S – 55 to 56 cm (21,7″ to 22″)
M – 57 to 58 cm (22,4″ to 22,8″)
L – 59 to 60 cm (23,2″ to 23,6″)
XL – 61 to 62 cm (24″ to 24,4″)
XXL – 63 to 64 cm (24,8″ to 25,2″)
As far as the color variants go, here are the color schemes in which you can find the Scorpion EXO Tech helmet:
White
Black
Black Matt
Anthracite Matt
Carbon
Check out the gallery below to see how this helmet looks in different color schemes:
Price
The Scorpion EXO Tech is quite an affordable modular helmet coming at $360/€300/£258. As a bonus, you will get five years of warranty from Scorpion Sports themself, which is awesome.
Down below, you can find the shops where you can order the Scorpion EXO Tech helmet.
Summing Up
Now that we are at the end of our Scorpion EXO Tech helmet review, what exactly do we think of it?
First of all, while its polycarbonate shell won't win any rewards from being the safest one, it's a surprisingly lightweight helmet. 
The chin bar mechanism is smooth and simply awesome, as it retracts on the rear of the helmet, improving the aerodynamic qualities of the helmet itself. Also, the visor will automatically lift up before the chin bar to protect it from scratches.
The clear face shield comes with a Pinlock insert, which will prevent it from fogging up. Also, a sun visor is quite well-made, albeit it could be a bit darker. The sun visor actuation mechanism is easy to operate, even though it will block you from clamping the Bluetooth headset on the left jawline part.
As far as comfort goes, the Scorpion EXO Tech will be quite comfortable to wear, even in longer rides. We enjoy the addition of speaker cutouts too.
The airflow is a bit lacking, and it doesn't help that the helmet will start getting drowned out with wind noise at 60+ mph speeds. Use earplugs for the most comfortable experience.
Would we recommend the Scorpion EXO Tech helmet? Absolutely, if you are a casual rider looking for a compact and aerodynamic modular helmet. Wind noise and airflow aside, it is a great buy for this price tag.
For more helmet reviews, check out our motorcycle helmet reviews section!