Introduction
When the temperatures drop and it's winter, dedicated motorcycle riders will not be discouraged. They seize the opportunity to continue riding. And what exactly is their little secret? Choosing the best winter motorcycle gear for road safety and warmth.
You are also more prone to suffer from extreme cold when riding if you do not have proper protection. To keep all this from happening, you should dress in cold-weather clothing.
A winter motorcycle helmet – is one of the most crucial pieces of protective gear. You will need the perfect winter motorcycle helmet to keep your visibility in the cold and save you from freezing. We have composed a list of some of the top winter weather motorcycle helmets.
When choosing a motorcycle helmet for winter Riding, there are various features one should consider. The list is composed while keeping given those features of a motorcycle helmet.
Have a look at the summary table if you got no time to read it thoroughly.
Features to consider
A helmet should meet the bare minimum of safety regulations. The finest motorcycle helmet for this weather should have a high level of shock absorption. It should also be able to survive a direct hit from a sharp instrument. Some safety standards, including Snell, DOT, and ECE, should be met by the helmet.
There are numerous motorcycle helmets available, but not many of them are suitable for winter use. The best winter motorcycle helmet has to have an anti-fog visor. When riding in the cold, this feature helps to provide clarity and a clearer view. It keeps your visor clear and fog-free at all times. This improves vision and makes it much safer to bike in the cold.
The weight and size of the helmet are also other key things to consider. You should ensure that the helmet perfectly fits – it should not be too big or too tiny. It should also be light since you don't want to be riding in the cold weather with a big helmet that will make you uncomfortable.
We strongly advise you to choose adaptable choices – helmets that can be used in various weather conditions. This is because you do not want to invest in many helmets for various weather situations. The helmet should give UV protection and ventilation when riding in the winter while keeping you warm and toasty.
We have composed a list of 6 winter helmets to protect you from harsh cold weather.
1. ILM full face – Lightweigh helmet
The ILM full-face helmet has excellent ventilation, a thick replaceable liner, and a quick latch that makes removing the helmet a breeze. Although a full-face helmet is light and aerodynamic, it won't lift off your head when driving. The cushioning can be uncomfortable for the first week or two, but once broken in, you'll have a comfortable ride.
In addition to significant wind noise, this helmet's many vents make it difficult to hear music, phone calls, or GPS directions. The anti-fog visors tend to fog up in humid conditions, so you may want to upgrade them as the weather warms up. Overall, this is a superb lightweight full-face model that gives excellent road protection.
Build and Safety
The variant has a quick-release strap clasp instead of a standard D-ring strap mechanism that can be hard to adjust and tighten. The helmet's aerodynamic shape keeps it from flying off your head as you speed down the highway. The design allows air to flow over and across the helmet, reducing drag. The helmet's minimal weight is another plus, as most full-face helmets can be uncomfortable to wear for extended times. Overall, the helmet looks like a high-end model, but it's inexpensive.
Visor
Many versions in this price bracket have a single smoked or clear visor. This helmet has a clear visor for night driving and a smoky visor for biking in the sun. Face shields protect against windburn, flying debris, bugs, dirt, and more. During the day, the visor should protect your eyes from the sun, which can dazzle you while riding. This model's dual visor option will appeal to riders who enjoy riding both day and night.
A scratch and fog-resistant coating are included on the visors. Still, it does little to keep them from fogging up, reducing your visibility on the road in winter. Fortunately, you may easily upgrade them for additional road safety.
Weight
This helmet weighs 4.85 pounds, which is substantially less than comparable full-face and modular helmets. The weight of a full-face helmet is one of its major disadvantages, especially if you ride for more than an hour. The lightweight design decreases user fatigue and neck discomfort, both of which can end a ride prematurely.
Ventilation
This model has numerous vents that can help keep you cool, especially if you ride in the summer. Most full-face helmets cause excessive sweating, unlike half-helmets, which allow you to enjoy the air on your face. The full-face helmet gives more protection, so the warmer inside is frequently worth it. While not as cool as an open-face helmet, the vents help. With a helmet communication system, the vents might increase wind noise within the helmet, making it impossible to hear music or GPS directions.
The helmet also comes with a winter scarf, which is pleasant when the temperature gets cold.
PROS
More color options
Lightweight
Affordable
Dual visors
CONS
High wind noise
Anti-fog coating is not very effective
2. Scorpion Exo GT920 – Helmet with excellent visibility
The Scorpion EXO-GT920 is a modular helmet that many riders like because of its various features at a low price.
The most popular feature of the GT920 is the easy-to-use chin bar raise, which is actuated by a red release button in the center of the chin. This button is large enough to find gloves on and effortlessly opens up to a top locked position. Increased ventilation, easier access to water or a snack during breaks, and better visibility when refilling the tank.
Build and Safety
The EXO-GT920 has a two-size polycarbonate casing. While this is usually regarded as inexpensive shell material, the quality of the shell is outstanding. It looks great and cleans up easily with a plastic-safe helmet cleaner and a microfiber cloth.
The impact structure is dual-density, multi-layer EPS foam. Indents for a comm system's speakers are built into the foam. Still, it is generally quite strong and offers an excellent backing to the shell.
Reliable chin strap
The chin strap is secured between the EPS and shell and padded to the stainless steel dual D rings. Lack of squeaks or grinds, even with a slight headshake, indicates a weak strap base. It's just solid, linked, and durable. The Scorpion EXO-GT920 is only DOT approved.
One of the most crucial aspects of a modular helmet, the chin bar, is repeatedly impacted from numerous angles to assess how often it stays locked. Just 10% of the time did one of the closure locks open, and only a few times did the entire chin bar open.
Visor
The GT920's clear visor is one of the best observed. The large and tall aperture for the visor with the chin bar down allows the rider to see everything from the bike's dash to the sky. I cannot see the margins of the opening in my peripheral vision.
The visor is 98 percent optically accurate and does not support pin lock. To avoid the need for a pin-lock and keep the helmet's price low, Scorpion has coated the interior of the visor with a highly effective anti-fog coating. Fogging occurred only on an extremely cool day, with rain approaching and temperatures about 45-50 F in winter, and only at the visor's very base.
Weight
The helmet weighs around 3.7 lbs, depending on your neck and shoulders. The cushioning on the back of the neck and the cheek pads that extend past the jaw provide a snug and comfortable fit.
Weight shouldn't be an issue either, as the GT920 is only 3.5lbs (1.6Kg), below standard for a modular helmet.
Ventilation
The GT920's principal ventilation is a crown-mounted closed or open-air scoop. This scoop opens slightly and feeds two air intakes. Once inside the helmet, the air flows via two main channels in the top and then disperses slightly across the scalp before exiting two air vents under a spoiler.
Secondary ventilation is provided through an open or closed chin vent to cool the front of the face and prevent fogging of the visor. Only about half of it reaches the nose and mouth, and it's controlled by some well-camouflaged mesh.
PROS
Excellent visibility
Build in sun visor
Excellent build quality
CONS
Chin vent design could have been better
3. GMAX GM-11S – Helmet with aerodynamic design
The Gmax 11S is the motorcycle helmet for you in winter. It has a cold weather breath box and chin guards to protect your face. This innovative function keeps the helmet warm and is designed for riding in wintry areas.
The electric clear dual lenses help preserve clear vision even in heavy snowfall.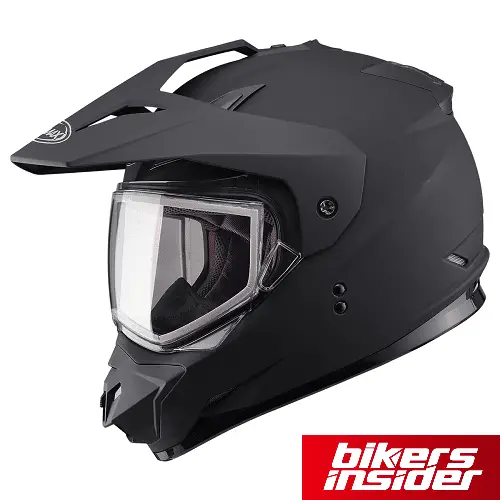 This is a great value helmet. It's difficult to find another bucket that gives the same quality and quantity of features at a comparable price. A more premium or higher grade helmet features for a fraction of the cost.
Build and Safety
The GM11 should suit neutral to somewhat round-headed riders. This model was designed to comfortably fit many riders. The form isn't too noticeable, but because this bucket is designed for rounder heads, it isn't ideal for oval or long oval heads.
The GM11's outside shell is polycarbonate. Although this helmet will not be as light as a carbon fiber counterpart, it will save you a few hundred dollars.
This is DOT certified but not ECE or Sharp. This GMax helmet has a strong polycarbonate shell made for rigorous riding and shielding your head from hard hits and mishaps.
Visor
The GM11's polycarbonate shield has the classic dual-sport design. We enjoy that when the shield is up, it completely clears your visual field. No lower shield component is obscuring or splitting your vision. The gasket around the helmet's face makes the shield sit and lock down tightly. The electric clear dual lenses help preserve clear vision even in heavy snowfall.
If you enjoy fast rides, you'll be happy to know that this helmet won't fly off. The helmet's aerodynamic shape allows most air to travel through it.
Weight
Weighing at 3.9lb Gmax does not feel any heavy than its counterparts. A rider can enjoy riding while putting on this helmet for a long period of time.
Ventilation
The ventilation is one of the most obvious advantages of this helmet. Whether looking at this model in person or online, you can tell it has multiple ventilation points. There's a chin vent and two chimneys right above the visor. Concerned about the helmet's chimney vents? Be not. GMax makes the hatches easy to close, gloved or not.
These helmets also include a top intake where the peak meets the front of the helmet, creating a great airflow. This will keep your head cool on vigorous dirt or road riding. Adjustable with or without gloves.
The helmet also has two Vents on the rear that act as exhaust vents, directing heated air out of the helmet while drawing cool air through the front vents. Also on the neck are passive vents that allow full airflow from the chin vents to the lower neck vents. If you tend to feel hot and sweaty when riding, GMax created this helmet to keep you as cool as possible with excellent airflow and breathability throughout.
PROS
Perfect for cold climates
Breath box maintains temperature
Aerodynamic design
4. Bell Qualifier – Helmet with active ventilation
Bell's new Qualifier has caused a stir on at least a few scores. Injectable polymer composite shell, That's like calling my desk an organic cellulose composite matrix. Technically, yes. It's a marketing term for polycarbonate or plastic shelled helmets.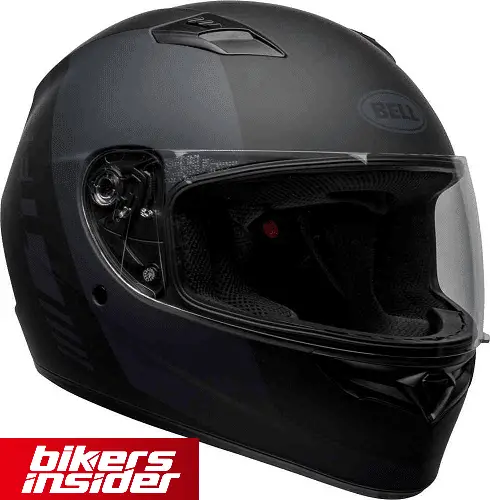 It's a stylish new polycarbonate helmet. It has a clean and minimalist design that reduces lifting and buffeting.
Build and Safety
A full-face helmet covers the complete head and face. It features a chin strap with D-rings, but it leaves some of your chin exposed. The scratch-resistant polycarbonate/ABS shell The material is long-lasting and won't exhibit indications of wear. A washable inside and sculpted cheek pads. This allows for easier maintenance and cleaner rides. Contoured portions are designed to fit all shapes.
Its wind collar is also noteworthy. This padding helps reduce noise, helps to focus and enjoy the journey. You may also put speakers or earphones inside. It's a terrific tool for drivers who prefer to listen to music. The safety and ratings of a helmet are always the main consideration. While you may have personal preferences for safety features, nothing beats an official certification.
Although you should only choose helmets with such certification, the Qualifier includes two. The Department of Transportation approved this one for meeting and exceeding FMVSS 218. It also has an ECE certification, which is similar to the DOT but for European rules. Notable characteristics include polycarbonate structure and replaceable cushioning. The combination is both durable and comfortable.
Visor
One of the main issues when riding at high speeds is visibility. Visibility is important when riding a motorcycle in the sun, fog, or severe winds blowing up dust.
We also like the helmet's visor's visibility and clarity. Anti-fog and anti-scratch technology keep the visor clear while riding.
Weight
Straps with a D-ring lock are also included. This helps fasten the helmet on the head. It's a useful feature because it keeps it in place in case of a hit. The whole device weighs about 3.5 pounds.
It also adjusts. If you buy one and it's too tight or too loose, you can replace the cheek pads to make it fit better.
But there are a few possible niggles.
Some owners reported feeling the plastic poppers that hold the liner in place. A few stated the lining is thin. But they were in the minority, and many owners say it is pleasant and trouble-free. So, if you get one, check it out right away to make sure there are no concerns.
Ventilation
Excellent Velocity Flow ventilation keeps you cool while driving. It also sports a cushioned wind collar for comfort and protection when riding. You can open alternative vents on the chin bar and above the helmet's forehead.
There are four exhaust openings on the back to ensure enough ventilation from the helmet's sides, top, and back. In hot or humid weather, this provides a wonderful cold airstream.
PROS
Comfortable padding
Great active ventilation
Aerodynamic design
5. Arai Quantic – Toughest helmet on the list
The Arai Quantic has several features with the Arai Profile V. The Quantic has the same R75 head-shape as the Profile V. It also has a 5mm larger bottom to help riders get their helmet on and off easier.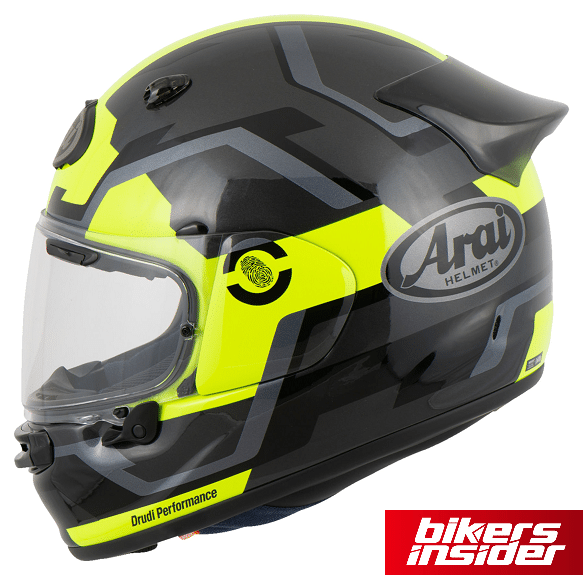 Unlike Profile V, the Quantic is built for the sports touring market. They've also sought to make it quiet, pleasant, and ventilated around the mouth, brows, forehead, and crown.
Build and Safety
The Quantic is one of the latest helmets that must pass the ECE 22.06 test before being sold in European markets (and around 50 other countries that have adopted ECE standards).
The Quantic does come with EQRS cheek pads, a Pinlock Max Vision anti-fog insert, and a multi-density expanded polystyrene (EPS) anti-shock lining for more progressive shock absorption. It comes in three shell sizes to help with fit, aesthetics, and protection.
Those features help you stay safe before, during, and after a mishap.
Visor
The Quantic employs Arai's conventional VAS or variable axis system visor, which is ready to take an (included) Pinlock 120 Max Vision anti-fog insert for winter. The 120 is their most absorbent Pinlock, so it shouldn't fog up.
The visor is otherwise classic Arai. On the left is a visor lock that can be used to open the visor for ventilation. It's on the left, so trying to unlock it with your right hand while holding the clutch can be painful.
Arai's brow vents pull air through the helmet and across your forehead and temples.
Weight
Arai helmets have never been the lightest, and the Quantic is no exception (or 3.4lbs). Once on, it's just roughly 100g heavier than a regular full face.
Arai helmets are unique, but they use high-quality materials and are quality-checked throughout the manufacturing process. So, if you value build quality over money, you'll be satisfied with a Quantic.
Ventilation
On the front of the helmet, there are four big vents hidden beneath the Arai logo, two teardrop crown vents, and a chin bar vent.
A variety of sliders or switches open/close them, allowing a lot of air into the helmet. Ventilation is provided by a huge (closable) exhaust under the spoiler, two small exhausts on either side of the helmet, and a hidden vent in the back of the neck roll.
As for the chin vent, which appears to be entirely closed but is always open to allow a small amount of air into your mouth, it might be a nuisance in the winter, but you'll be getting cool air into all sorts of crevices, so it might not be too bad.
PROS
Meets toughest standards
Well ventilated
Very comfortable
CONS
Visor opening is not easy
Direct-to-mouth vent has not option to close off
6. 509 Altitude 2.0 – Warm and Cozy
The 509 altitude series is one of the industry's greatest sellers, delivering remarkable and sophisticated features. All aspects of the helmet are excellent: performance, design, fit, and protection. Though the helmet is designed for snowmobiles but serves the purpose for bikers in the harsh winter season.
Besides the flawless fit, the sparkling outline outperforms all other options available. It is available in all sizes for both young and adult riders.
It also has a novel ventilation system for all-day comfort for aggressive bikers.
Build and Safety
The helmet's exterior is made of carbon fiber. This increases strength and reduces weight. As a result of the reduced weight, the user will not feel burdened while riding a snowmobile. The helmet additionally includes a chin insert to cover the front chin area. This chin implant is made of expanding polyurethane to protect your chin in case of an accident.
This increases the helmet's security, and so its buying reliability. The outside shell of the helmet is vital in providing the necessary protection. For this reason, it must be sturdy and lasting.
The 509 altitude helmet exceeds DOT and ECE 22.05 safety standards. It has innovative dual density and an interlocking EPS foam liner. In the event of an accident, these two helmet elements guarantee the best protection. A helmet's main purpose is to protect your head from serious injury while having fun. The outside thermoplastic alloy shell is strong enough to withstand any impact.
Visor
Peripheral vision is also vital. It matters more than our helmet's appearance. The 509 Altitude, Tactical, and Delta R3 helmets all offer excellent peripheral vision. Peripheral vision is also vital. It matters more than our helmet's appearance. The 509 Altitude, Tactical, and Delta R3 helmets all offer excellent peripheral vision.
Weight
The 509 Altitude 2.0 is lighter than the 509 Tactical and the first edition Altitude. The new Altitude 2.0 is only 150 g heavier!
We have noticed a big difference in weight between the Altitude 2.0 and the original Altitude. You can even wear your GoPro chin mount with the Altitude 2.0 and notice it.
Ventilation
The 509 altitude helmet incorporates detachable vent stoppers for tailored ventilation. It comes with a universal camera mount, so you can use any helmet camera to capture your travels. Pro Series Linear and cheek pads are also available for increased security.
This altitude helmet also has a cold-weather breath box for the winter season. It has sophisticated aerodynamic channels and eight intake and exhaust vent openings. The helmet is available in eleven sizes and four outer shell molds to ensure a perfect fit. You can also use a 509 goggle to shield your eyes from the cold air.
The 509 altitudes 2.0 helmet has a revolutionary neck brace for added neck support while riding a bike. It has a quality liner that is removable for washing.
PROS
Very warm and cozy
Great active ventilation
Affordable
CONS
Not comfortable in warm weather
Conclusion
Winter helmets come in various styles. They can be modular, with heated shields, glasses, and built-in speakers. Before choosing which one to buy again check the sort of lens it uses. Other features are breath guards, enough ventilation, and a safety rating. Your total safety and comfort are dependent on making the right decision.
Those who ride bikes understand the value and necessity of having a full and cozy helmet for winters. While winter helmets and regular motorcycle helmets appear the same and have the same purpose, to protect your head and face in an accident. There are still a few crucial differences that distinguish them.
A full-face helmet is our choice for most riders hoping to get some track time in. Yet, the final decision among these different winter helmet solutions is still up to you.