Seeing a modular helmet under $100 might force you to wonder a bit. How can such a helmet stand tall with high-quality modular helmets that are four to five times more expensive? Well, one such helmet really comes close to that, and we will give our best to explain why, in our ILM modular helmet review!
This dirt-cheap helmet comes feature-packed, from LED lights to internal sun visor, and much more. Of course, due to its price, there must be some compromises, but neither of them are too detracting to avoid this helmet altogether.
Without further ado, let's find out more about the ILM Dual Visor modular helmet!
ILM Modular Motorcycle Helmet Review – Features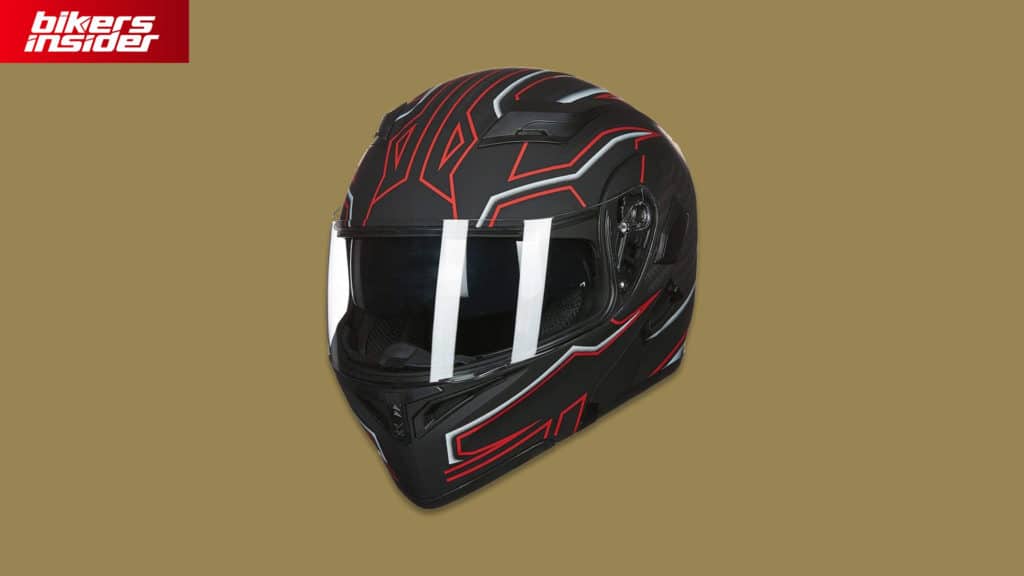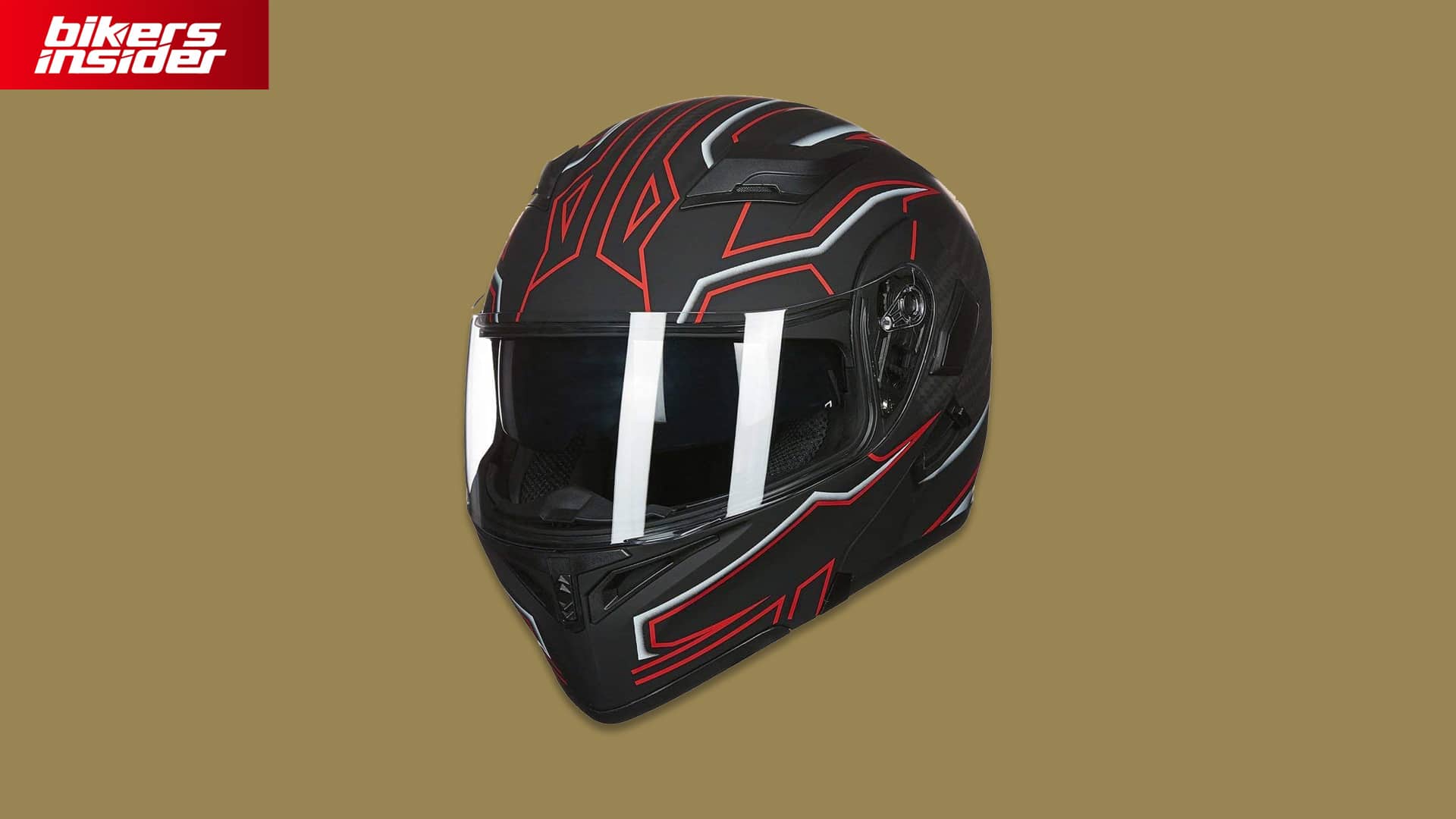 If you are in a rush, here is a breakdown of the main features of the ILM modular helmet:
ABS shell
Weighs 4,94 lbs (2,24 kg)
Full-face and open-face configurations
LED lights on the back
Clear face shield and an inner sun visor
A padded inner liner that is removable and washable
Polyester quick-release chin strap
Chin vent with an included curtain
Two toggleable vents on the top
Another two toggleable vents on the back
DOT certification
Let's dive deeper into the features of this cool modular helmet!
Construction & Design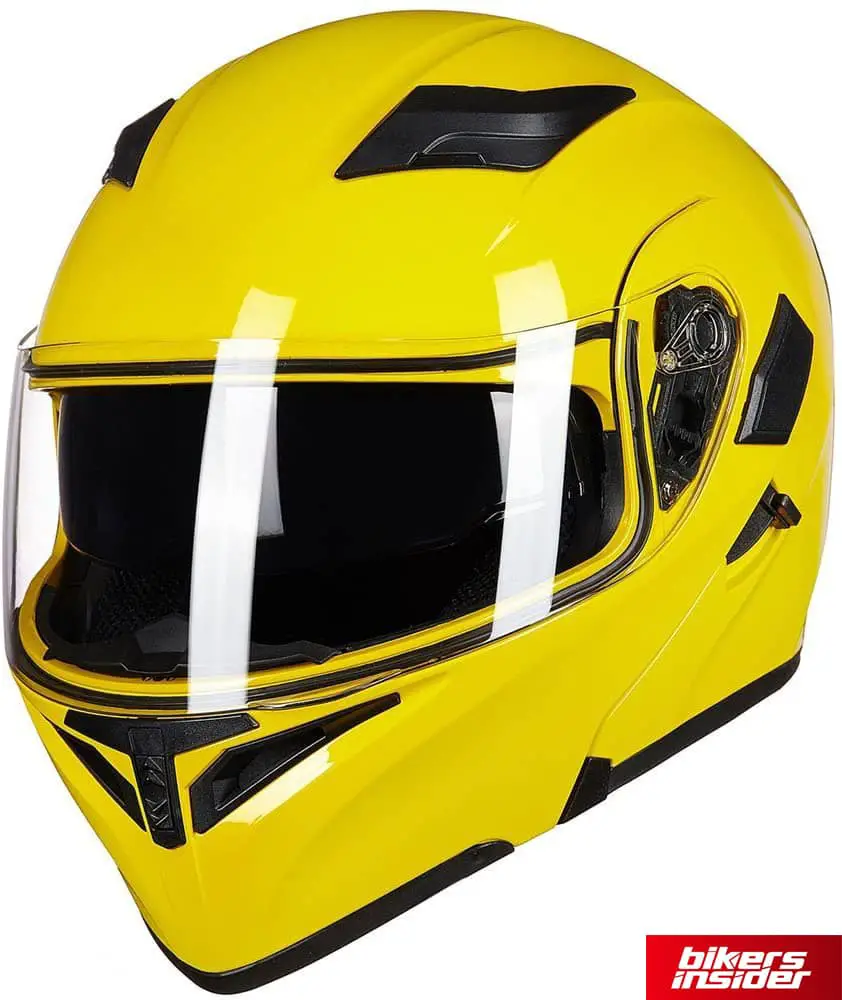 Let's begin our ILM modular helmet review with a look at its craftsmanship and design. From the first gaze, we can see the good build quality and nice finish. You see, the ILM modular helmet features an ABS shell, which is a bit on the heavier side but features an excellent finish.
The helmet weighs 4,94 lbs (2,24 kg), which is slightly above average modular helmet weight. Nevertheless, we think that the ILM modular helmet is a snug fit if you pick the right shell size.
As this is a modular helmet, it has full-face and modular configurations. The modular functions are simple to operate – you press a single button to pull the chin bar on the top of the helmet, switching to open-face mode. When riding in open-face mode, the visor and chin bar will put considerable weight on your forehead over time.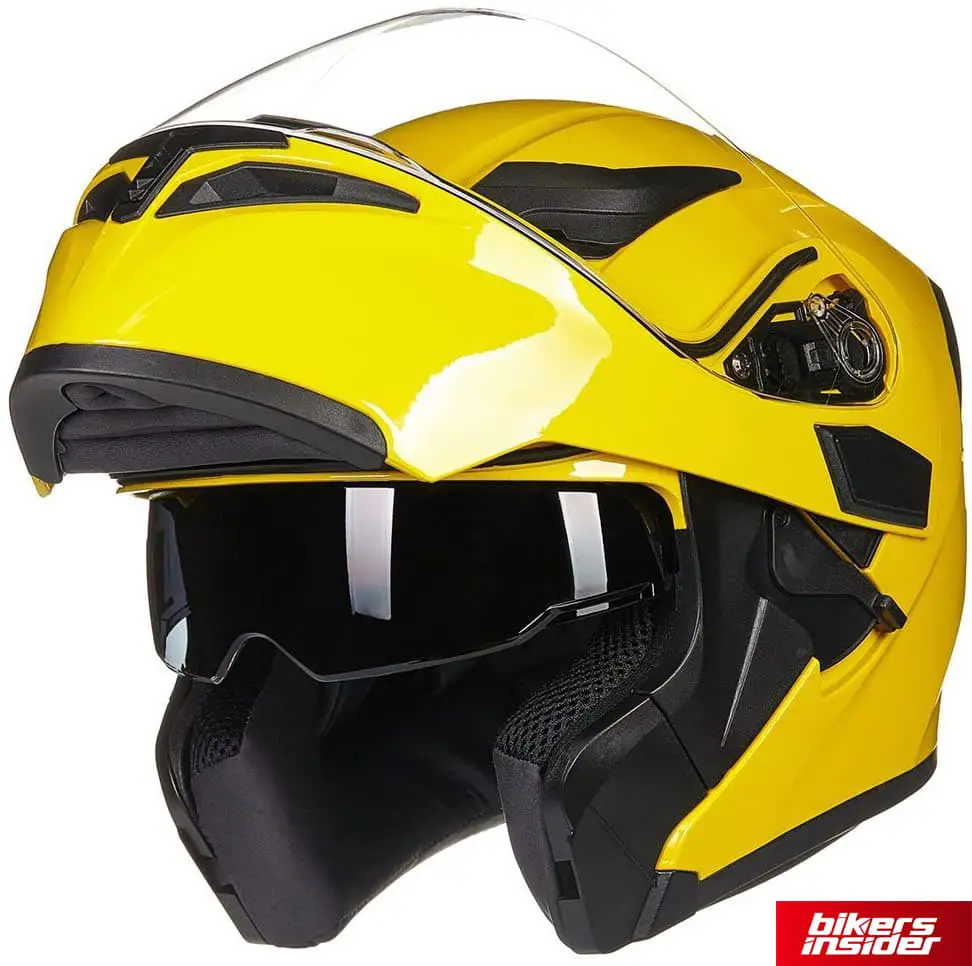 The chin bar gets the job done, but there are some safety measures to keep in mind. Ensure that you never pull the chin bar up when riding at high speeds as you can easily break the chin bar that way. This is not a $500 helmet, after all!
There is also a fantastic feature that finishes up the construction & design section of our ILM modular helmet review, and that is the LED lights implementation. The LED lights are located on the back of the helmet, and you can even adjust the blink pace with the button located below the lights. It is a great implementation to make the rider visible during night rides. If you want it to work, you will need a couple of AAA batteries on hand.
Now, let's dive in further into more features of the ILM modular helmet!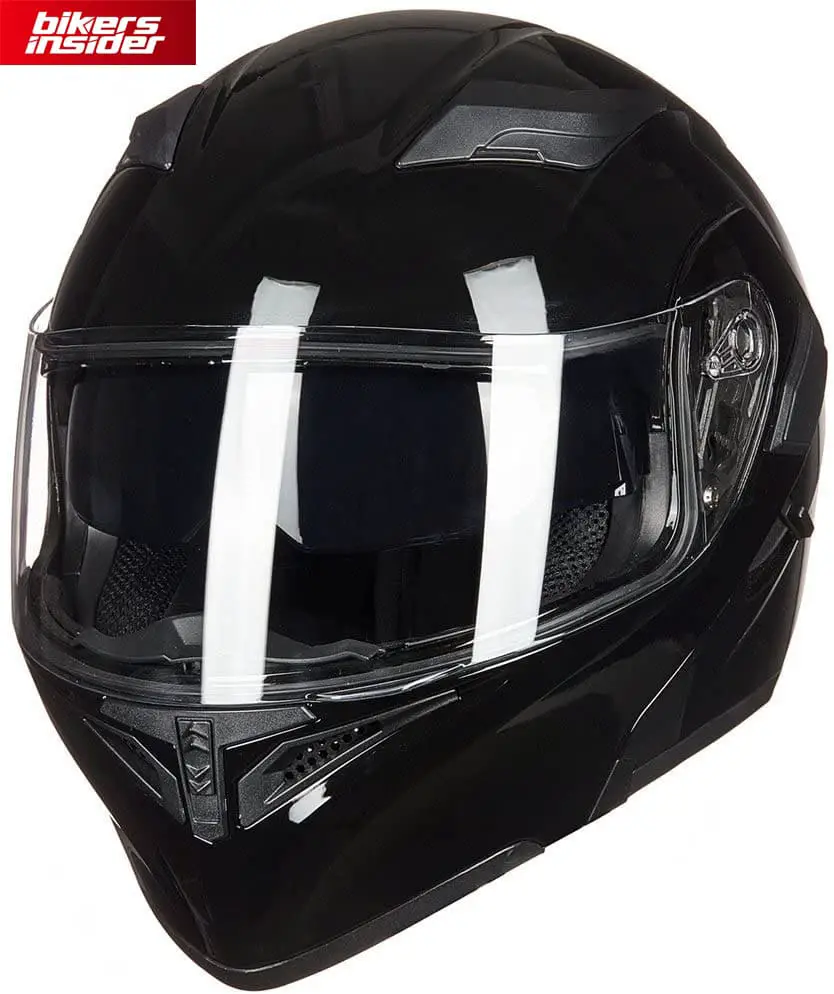 Vision
Our ILM modular helmet review is taking us to the visibility aspect of this helmet! This is a dual visor helmet with a clear face shield and an inner sun visor. The vision range through the clear face shield is pretty wide. One great thing is that the cheek buffers are placed low down, a feature that a lot of helmet manufacturers aren't thinking of. That means that the discomfort of pulling down your eyes to see the speedometer is eliminated!
We want to note that there is no effective sealing of the clear face shield to keep the moisture and wind noise at bay effectively. This may be very daunting when riding during rain. The face shield will fog up when it's cold, especially during rainy and humid weather.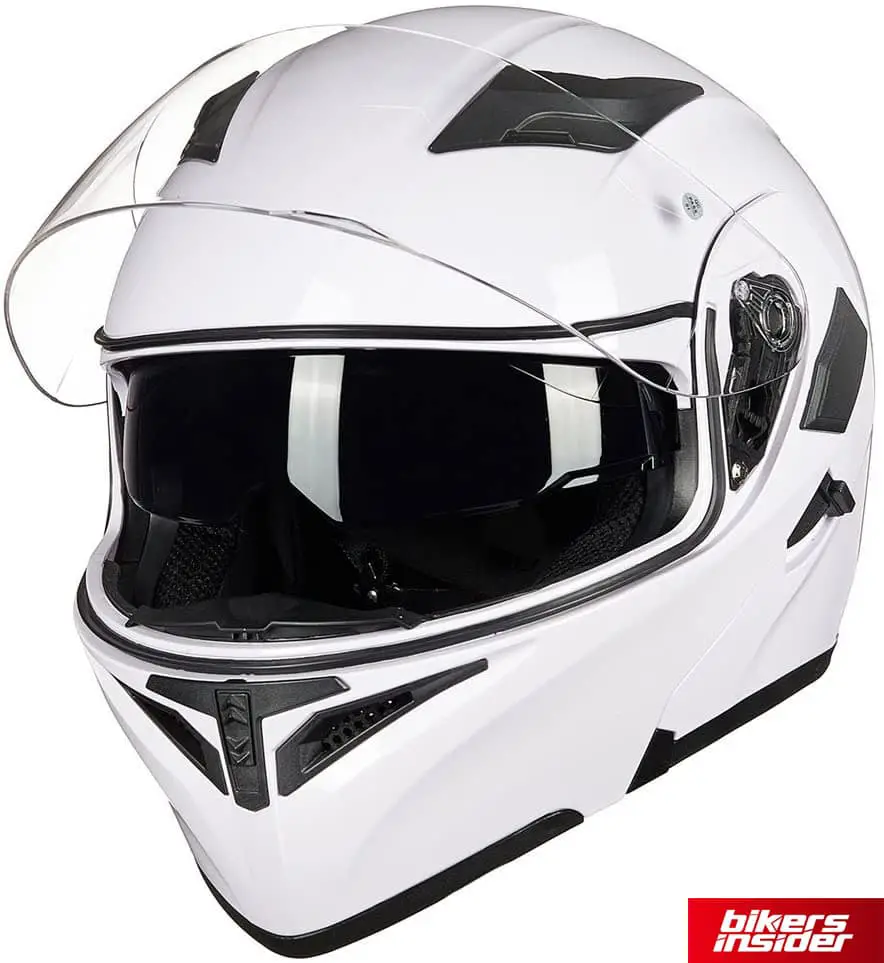 On the other hand, the inner sun visor flips up and down through an easy-to-reach switch located a bit under the face shield screws. The sun visor has a reasonable distance, so it won't touch your nose when riding.
Removing the face shield of the ILM modular helmet is pretty simple. You press the two screws on the sides and wait for the click that indicates that the face shield is removed. Reverse the same process to reattach the visor.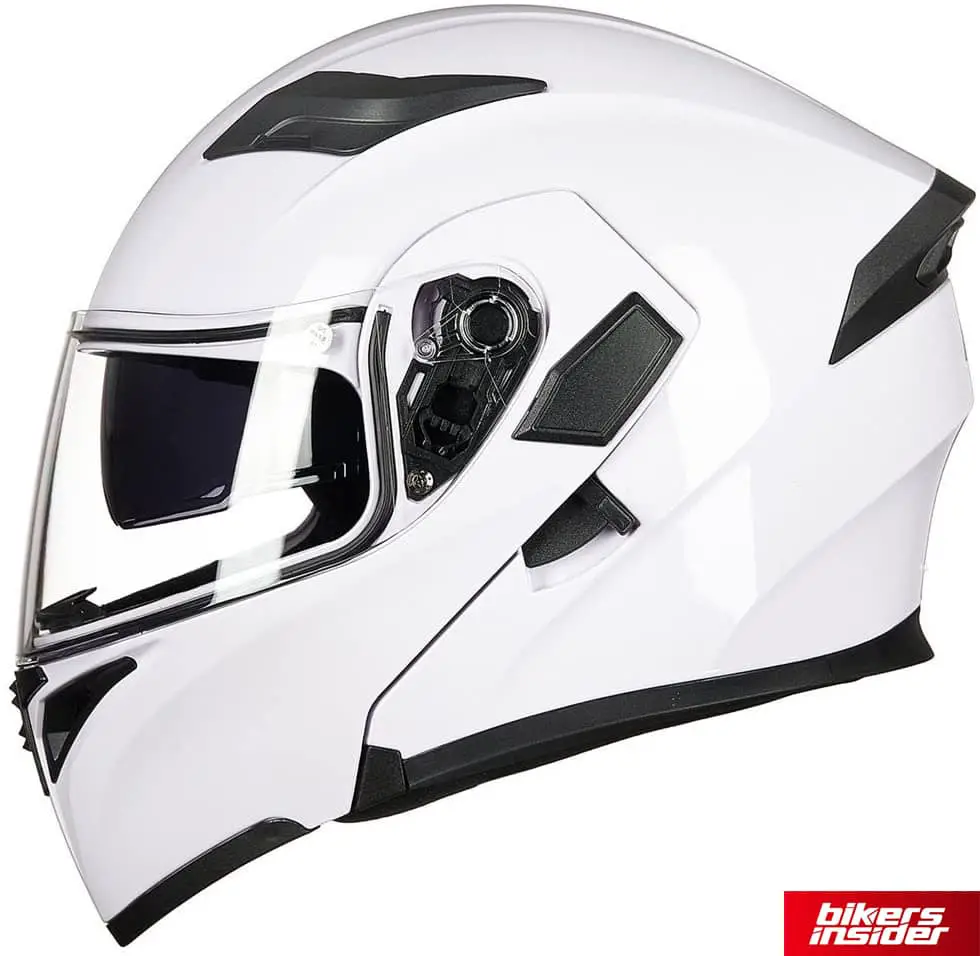 Now, the cheap craftsmanship is immensely noticeable when it comes to some mechanical parts of the face shield and sun visor. First of all, the plastic case of the toggle button for the sun visor can quickly fall apart, but the mechanical parts will stay inside.
The biggest problem can and will occur with the face shield screws if you don't prepare well. They tend to fall off quite often, which can create dangerous situations during rides, so make sure to double check their stability before putting on this modular helmet!
To prevent the face shield screws from falling off, make sure to remove them and put some Loctite on them. Keep in mind that you might need to replace them, so make sure you have a screwdriver with spare screws on you at all times.
Comfort
For added comfort, the ILM modular helmet has interchangeable ear and top liners and the inner comfort liner. You can adjust the padding for more comfort, which is very handy if you have less hair and need a more comfortable fit. Of course, all the liners are washable. One little bonus is that the inner comfort liner has small recesses for Bluetooth speakers.
To secure the helmet to your head, there is a quick-release chin strap made of polyester. It is very simple to use. Just pull on the red tab to attach or detach it. Also, it offers five different positions, which clearly establishes the user-friendliness and adjustability that is hard to see in sub-$100 modular helmets.
One big gripe we have with the chin strap is that there is simply too much of it. It will most likely just flap around in the wind while riding, being slightly annoying. Also, as this is not a D-ring chin strap, you can forget about locking this helmet with your bike, so you will need to carry it around with you.
Airflow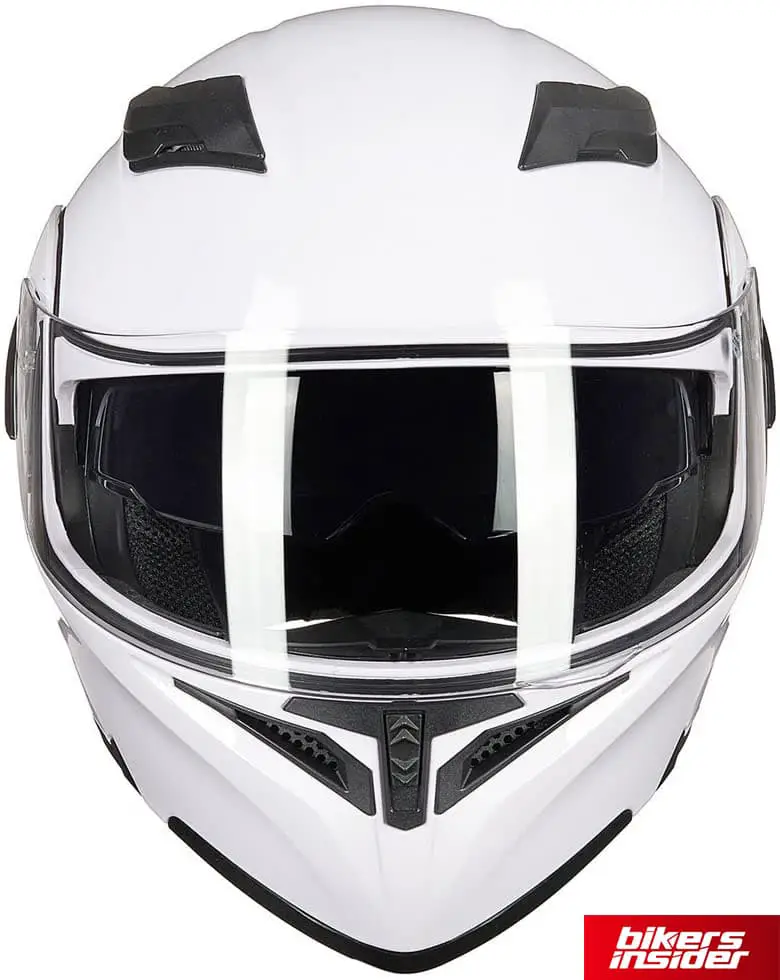 Right from the get-go, we can see the front chin vent dominating the chin bar area. There is a button there that you can use to open or close the vent. We must say, the front chin vent doesn't do anything particular to keep the visor from not fogging up.
There is also a chin curtain under the chin vent to keep the wind from coming up from the helmet's bottom. It is a great addition that will also protect your neck from cold, wind, and rain. Other than that, you can expect classic protection again dust, dirt, and insects, the three worst enemies of motorbikers.
Moving to the top of the helmet, we can see two vents that you can only open and close fully. Also, there are two additional vents on the back of the helmet to keep you ventilated.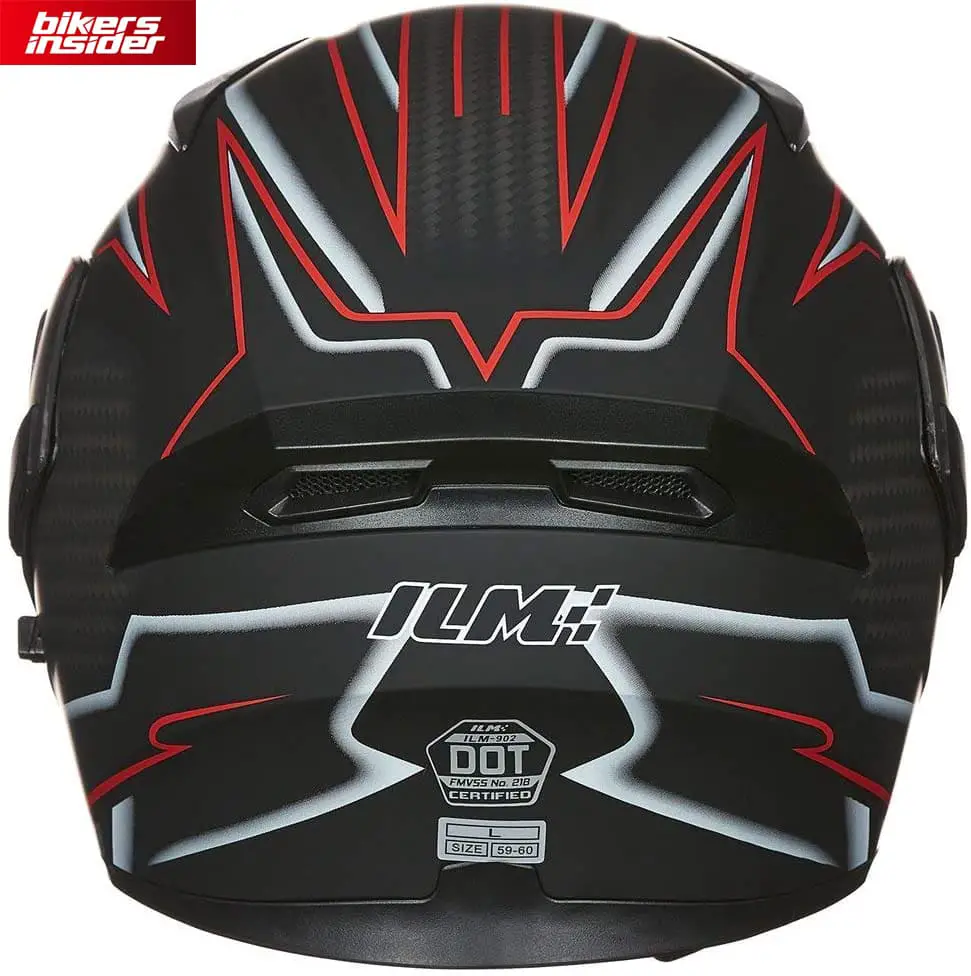 Now, how does this ventilation system affect the noise levels of the ILM modular helmet? With vents closed, there won't be a lot of wind noise. But, as there is no sealing on the visor, the noise will still be noticeable. On the other hand, if you open up the vents, you will hear the wind noise more considerably.
The ILM Dual Visor helmet does offer a bit more than basic ventilation from what you would expect from a sub-$100 modular helmet. Its wind noise is noticeable, but if you are keeping most of your vents closed down, not a deal-breaker.
Safety Ratings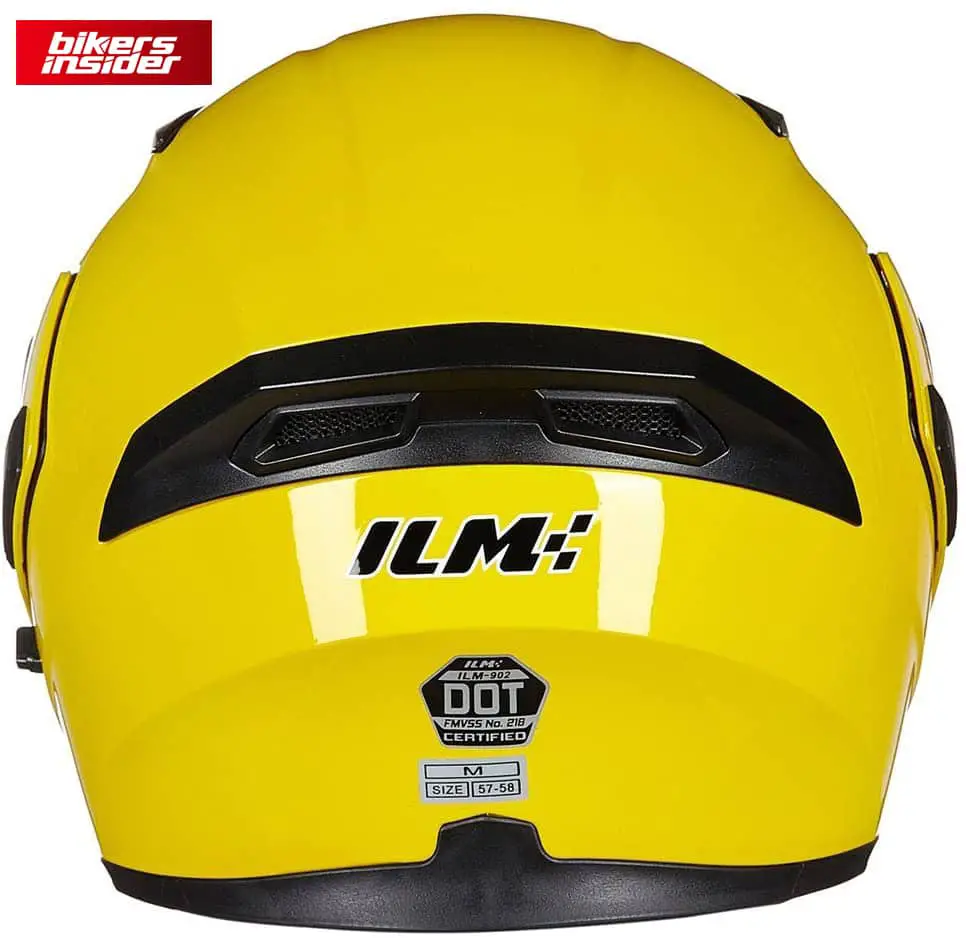 Sadly, the ILM modular motorcycle helmet isn't a dual homologated helmet, as it only has a DOT safety certificate. That means that it has passed minimum safety testing in the US, so it is legal to ride it on the US roads.
Learn more about dual homologation in this post!
Also, no Snell testing has been done on this helmet. For now, the ILM modular motorcycle helmet is the banger on the US market, as it still doesn't have ECE certification for the European market.
Available Models
ILM Dual Visor modular helmet comes in a few size variants to ensure that it will fit most riders. The shell sizes of the helmet are following:
S – 55 to 56 cm (21,7″ to 22″)
M – 57 to 58 cm (22,4″ to 22,8″)
L – 59 to 60 cm (23,2″ to 23,6″)
XL – 61 to 62 cm (24″ to 24,4″)
We didn't have any sizing problems, but we've heard some people say that the shell can be a bit larger from the listed size.
When it comes to color schemes of the ILM modular helmet, there are five color variants to choose from:
Black Red
Gloss Black
Matte Black
White
Yellow
Check out the gallery below to see how the different color schemes of the ILM modular helmet look like!
ILM has really paid attention that its modular helmet is accessible to a wide range of users, considering the low price tag.
Price
Now, this is clearly one of the most affordable modular helmets around, as it costs only $69,99/€59,49/£54,32 as of today! It is worth noting that this is the price of the variant without the LED lights. The ILM modular helmet with LED lights costs $79,99/€68/£62,08.
Where can you order the ILM Dual Visor modular helmet? The best place to order it is Amazon, as you get free shipping if you are a Prime user, and to top the deal up, you get a possibility of free return within 30 days.
There is almost no competition in this price range, but we can only mention the 1storm modular motorcycle helmet that really comes close, quality-wise.
You can check out our 1storm modular motorcycle helmet review to determine how it compares to ILM modular helmet!
Closing Words
Now that we are at the end of our ILM modular helmet review, you can see that a sub-$100 modular helmet can be worthwhile, depending on your type. Of course, the lack of visor sealing, high wind noise, and unstable face shield screws tell us a message that this helmet is suitable for daily commutes, but not the best helmet for touring.
Well, when you consider its price, that's not such a bad thing, as you get even more than what you pay for! If you are prepared for a few slight modifications before riding, we wholeheartedly recommend this helmet!
Are you looking for a great modular helmet? See what we think about LS2 Valiant, one of the best modular helmets of 2020!