Introduction
Arai XD4 helmet has remained unchanged since its release in 2012. At launch, Arai claimed about the XD4's improved ventilation. It includes redesigned diffusers and a new shield with brow vents to better channel ram air. With the XD4's internal liner, users can reduce the foam thickness on cheek pads and the sides of the crown by 5 millimeters. There are also rapid removal tabs for the cheek pads in case of an emergency.
Aside from that, the shell design of the helmet has modifications. It is now available in five shell sizes (XS, SM, MD-LG (same shell), XL, and XXL). This will provide the smallest and lightest helmet possible.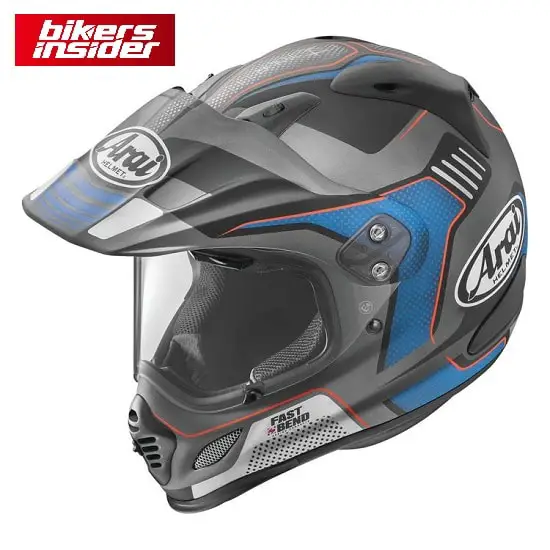 According to sources, the peak's aerodynamics were modified in 2018. The interior fabric improvements are to match the Corsair's, and anti-fog coated shields with a few tint variations were added.
Before going any further our list of 8 best dual-sports helmets in 2020-21 featuring Arai XD4.
Features
Comfort headliner, with micro fitting 5mm peel away temple pads
Fully removable/replaceable/washable Interior
Dry-Cool technology
FCS (Facial Contour Support)
Improved shell shape for better aerodynamic stability at higher street speeds
Exhaust ports added to the top diffuser vents
Chin vent with more intake ports
Larger sculpted side cowl vents improve ventilation
SNELL M2020 approved
Build & Design
Comparing it to the XD-3, the Arai XD4 is a significant upgrade. Arai has enhanced the model's balance and aerodynamics to reduce wind resistance. Yet, they provide a more comfortable fit.
For both chilly and hot weather riding, they've added brow vents to the shell of the XD-4. These vents provide an extra level of airflow via the front of the helmet.
The shell build is of the same material as many other Arai helmets, Super CLC. These materials combine to make the helmet light while yet providing incredible strength and protection.
In its favor, the basic shell and construction of Arai helmets are very similar across models. They need only minor alterations to accommodate a variety of riders.
Vision
The shield is big and molded to the curvature of the helmet, with integrated brow vents. It also features an Arai shield lock, though it isn't cracked open like some Arai's. A shame it isn't a quick-change shield, but it is Pinlock-ready, so you can add an anti-fog insert on chilly, rainy, or humid days.
The large shield opening also allows for a pair of goggles in case of shield removal. That peak serves as both a sun shield and a roost guard, preventing dirt and stones thrown up by other bikes from hitting your goggles/shield.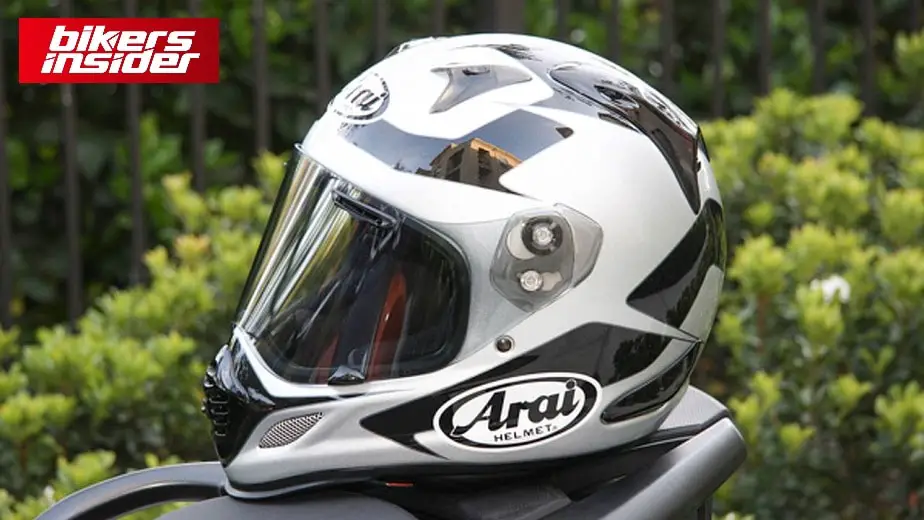 The design of the Arai XD4 peak is to break off in an accident and is only secured by two nylon screws on either side.
If you do not use dual-sports helmets, you could imagine the peak acts as a sail when riding, especially in a crosswind or when looking back. You will notice it, and it will take some time to adjust. The Arai XD4's peak is very aerodynamic, with some owners reporting it's fine up to 90 MPH before the drag becomes noticeable.
Aside from the whistling sounds noted above, shield and peak work nicely.
Comfort
Arai is one of the few motorcycle helmet manufacturers who acknowledge that human heads differ in shape (more or less). Yet, the Arai inner shape categories appear to have recently converged around a more "Balanced" shape. In the past, Arai made a "Long Oval" helmet (the Signet-Q), but it didn't have a blade-like interior fit.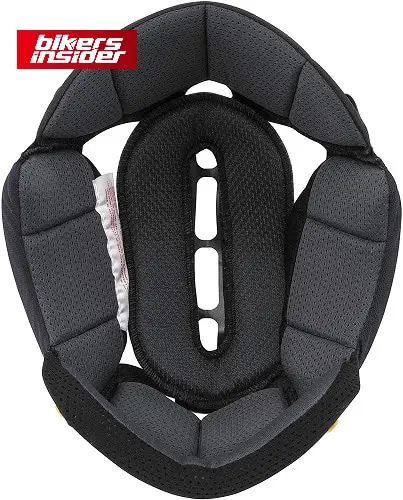 Above the RX-Q, the Arai XD4 is almost identical, although the cheeks are tighter. The dual-sport XD4's chin bar is presumably more pointed or angled. A pair of slimmer cheek pads would solve this in a moment, but they'll add about $45.00 to an already pricey helmet. The XD4 has 5 mm internal temple cushions that are detachable by the rider to adjust the fit.
Ventilation
The XD4's ventilation has many improvements over the XD3's. It has vents everywhere, with three in the chin, two on the brow, and two enormous scoops on the top. There are four big exhaust vents in the shell at the rear, as well as a large neck outlet in the padding at the back, to allow the air to exit the helmet.
Open/close/direct chin vents can open or close from inside the helmet, and two big exhaust vents on top may also be opened/closed from the inside.
In several reviews, people praise them for providing plenty of circulation to keep shields (relatively) fog-free and the top of your head comfortable. If you're going to wear a helmet, you're going to have a difficult time finding and operating the vents. That's the case with most helmets, so you should pop it on and drill before you go out.
While the vents may be a little fragile, Arai has designed them to break off in an accident so that they don't dig into the helmet and spin it. If you break your helmet or it cracks, you can easily replace most of the exterior vent covers.
Safety Ratings
This helmet is certified by both the DOT and the SNELL. While still providing the rider with both durability and comfort, it gives the rider optimum protection. Additional protection is provided by a thick comfort liner and cheek pads for the rider's head on all four sides, as well as the back of the helmet.
Available Models and Sizes
X-Small (53cm-54cm)
Small (55cm-56cm)
Medium (57cm-58cm)
Large (59cm-60cm)
X-Large (61cm-62cm)
XX-Large (63cm-64cm)
XXX-Large (65cm-66cm)
Price
The Arai XD4 is available for $666/£597. It is too expensive, despite its high price tag, the Arai helmet provides a high level of comfort.
Check out the websites below for the most up-to-date prices on the XD4 helmet:
Some of the best images of Arai XD4 with various designs
Conclusion
This helmet is unquestionably the best dual-sport helmet we've tested. However, it isn't flawless, and it costs a lot of money to use it.
It's only fair to demand perfection when you spend so much money on a helmet.
With the slightly disappointing airflow from the top vents, we can live with it, but the short chin strap with less padding than is found on helmets costing 80% less is rather strange. Was this a deal-breaker for you? Probably not, but it's still disappointing.
However, the XD4 has a lot to offer.
This helmet appears to have been designed with aerodynamics and tiny features in mind. As a matte black overlay on the underside of the peak, the accurate fit of the face shield to the eye-port, and the paint and general build quality.
Still, it's a lot of money to shell out for a helmet that, admittedly, falls inside a smaller range of use.
When it comes to sportbikes and touring bikes, a flip-up, full-face, or even an open-face helmet like the XD4 just doesn't appear as fashionable as a dual-sport helmet like the XD4.