Introduction
Manufacturers are making some very cool helmets right now, and they're doing it in response to popular demand and the latest motorbike trends. We have compiled a list of Top 11 Street Fighter motorcycle helmets for you to choose from. Streetfighter-type helmets, which fit perfectly with today's hulking, muscle-bound naked street motorcycles, are one of the most ferocious designs ever.
In the 1980s and 1990s, the sports bike craze was at its peak, and riders continued smashing their bikes. The first streetfighter motorbike emerged right out of that era. Because it was too expensive to purchase new fairings, riders opted to forego them in favor of the more aggressive, naked sportbikes that resulted; so began the period of the Streetfighters.. Before going further check out the summary table if you are in a rush.
| Image |  Helmet | Picked for | Product Link |
| --- | --- | --- | --- |
| | MT street fighter SV darkness | Entry-level street fighter helmet  | Check Price |
| | LS2 Helmets – The street fighter |  Aesthetic appeal | Check Price |
| | Matrix street FX Pro | Great airflow in Hot conditions  | Check Price |
| | SHARK Helmets Street-DRAK Blank |  Antibacterial Microtech interior | Check Price |
| | Caberg Ghost Helmet | Carbon fiber build  | Check Price |
| | Scorpion EXO Covert X | Strong detachable chin bar  | Check Price |
| | Arai Defiant X |  "Sai-Max" vision | Check Price |
| | Shoei RF-1200 |  Multi-Ply Matrix Aim+ build | Check Price |
| | Biltwell Gringo Full Face | Vintage look  | Check Price |
| | Simpson outlaw bandit | The fitting is great | Check Price |
| | Bell boozer helmet |  Safe and lightweight | Check Price |
| | Simpson Venom | Honorable mention  | Check Price |
Trendy
Street fighter helmets are still a sensation today, and they look just as they did in the original designs – dark, brooding, and ready for action. So, whether you're riding a brand new 2022 Kawasaki Z900 or an ancient bespoke Suzuki GSX R750 Streetfighter from the 1980s, you can now match your helmet to your mood and hit the streets. Let's take a look at what we've acquired so far.
Things to consider before you buy
Riding style
Helmets that are aerodynamic, quiet, and durable are good for racing, but helmets that are more fashionable and have a lower safety rating are for commuting. On a dirt bike, goggles are acceptable, but if you're riding a sports bike, you need a helmet with a full-face face mask.
A helmet equipped with radio and Bluetooth connectivity, sun visors, and additional padding is ideal for long-distance bike journeys. Skull caps are common among hog riders, as they are the legal minimum, but café racers often wear open-face or bobblehead hats. You'll want to pick a helmet that suits your machine's design.
Is it safe?
If it isn't, you can leave it. DOT, ECE, and SHARP are a few examples of other possible acronyms. Snell certification emphasizes anti-puncture strength for single crashes as an optional alternative to the mandated U.S. Department of Transportation certification. You can find ECE (United Nations Economic Commission for Europe) certification on helmets from other manufacturers.
To summarize, each collision renders a helmet useless, at the very least theoretically, necessitating a new one. "You should replace your helmet right away if you drop it or have an accident with it. We must ensure there are no chinks in the eggshell.
Fitting
A decent helmet should be comfortable to wear for at least 10 minutes without causing you a headache. Kallen remarked, "You don't want any movement on it." There should be no movement at all." Even though the cheeks are being pushed inward, the cheek pads will still be able to open up a little. "However, you don't want the helmet to press down on the crown of the head; you don't want too much pressure there."
Materials in build
Leather, chrome, and microfiber are high-quality materials (you can feel the difference when you touch them). Some people appreciate the shark's menacing visor on the Shark helmet, but the plastic chin guard in the front is inferior to many users. Detachable linings are always welcome for a wash.
Price
It's tricky; helmets for motorcyclists don't have a price-safety relationship. Regarding helmet safety, some say, "You have the same level of safety whether it's a $160 DOT helmet or a $600 DOT helmet." "The paint, the ventilation, the integrated flip shield, the padding, whether it's microfiber or has leather trim" is where the cost comes into play. For example, the AGV Pista GP R E2205 Replica Iannone costs $1,494 (€1,400) and is adorned with special-edition designs or homage graphics.
Top 10 Streetfighter motorcycle helmets
1. MT streetfighter SV darkness
Entry-level motorcycle helmets like the MT Streetfighter SV are rare finds. Besides protecting some mid-range equipment, it seems like a high-end piece of equipment.
Due to its high impact resistance polymer exterior and outer shell, the helmet is incredibly strong and long-lasting while remaining lightweight at 1.2–1.3kg.
As we briefly noted, the Streetfighter SV helmet has a well-designed airflow system, so we'll go into more depth here. The use of air-permeable textiles, an air-extraction mechanism in the helmet's hull, and a generally convertible design are all part of this.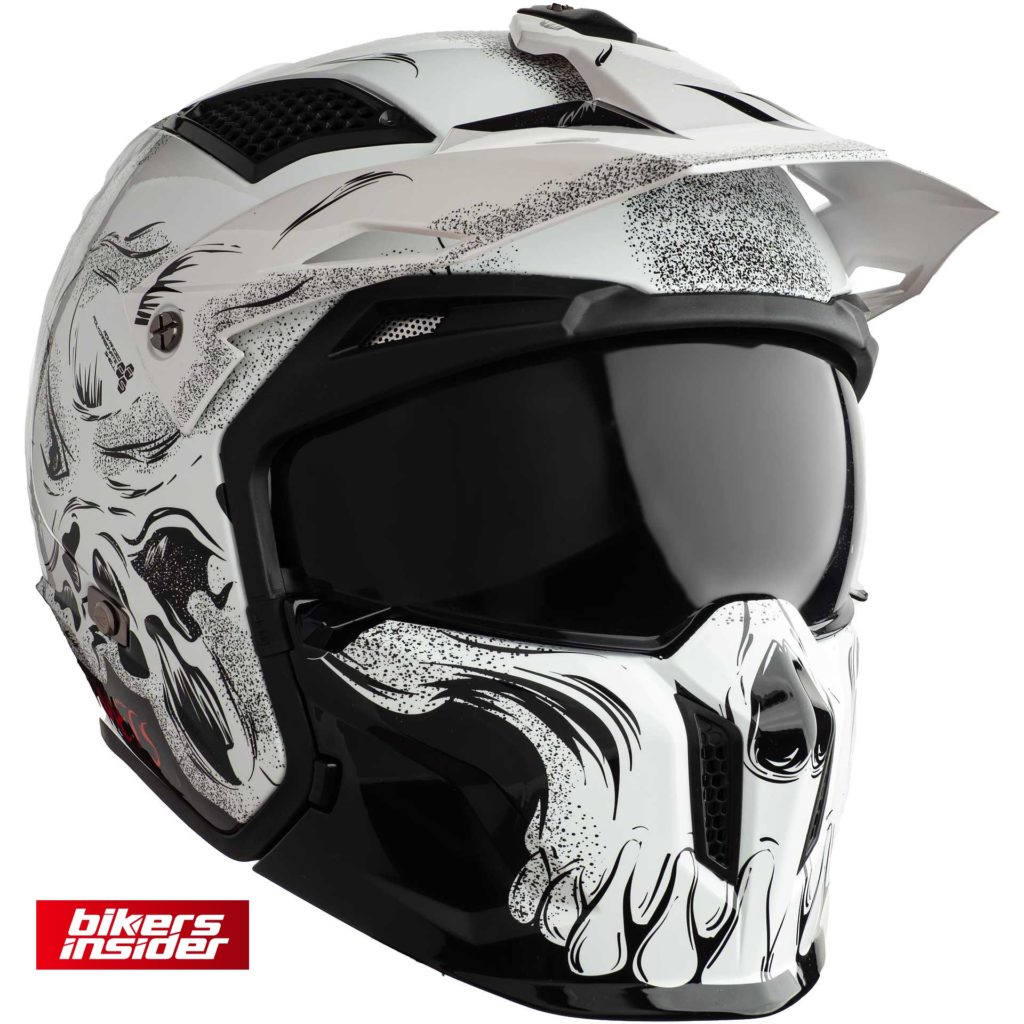 The Streetfighter SVs inside have fire-retardant fibers, ensuring the rider's safety. On top of that, the pads of the helmets are detachable and washable, with warm water and ordinary soap. Aside from that, these pads are hypoallergenic as well as antimicrobial.
In addition to the fact that this helmet costs around $100, it has a lot to offer. As one of the best entry-level helmets, the Mt Helmets Streetfighter SV is easy to understand not easy to find.
2. LS2 Helmets – The street fighter
Streetfighter helmets are popular among riders of sportbikes and naked bikes. These helmets have a robust look that goes well with powerful motorcycles. Helmets priced below $150 are risky. The LS2 Street Fighter helmet is an exceptional case.
Full-face Street Fighter LS2 helmet made of APA material. The LS2's own shell's material is of aramid-encased polymer fiber. There is a pleasant surprise in this price range's lightweight and robust shell.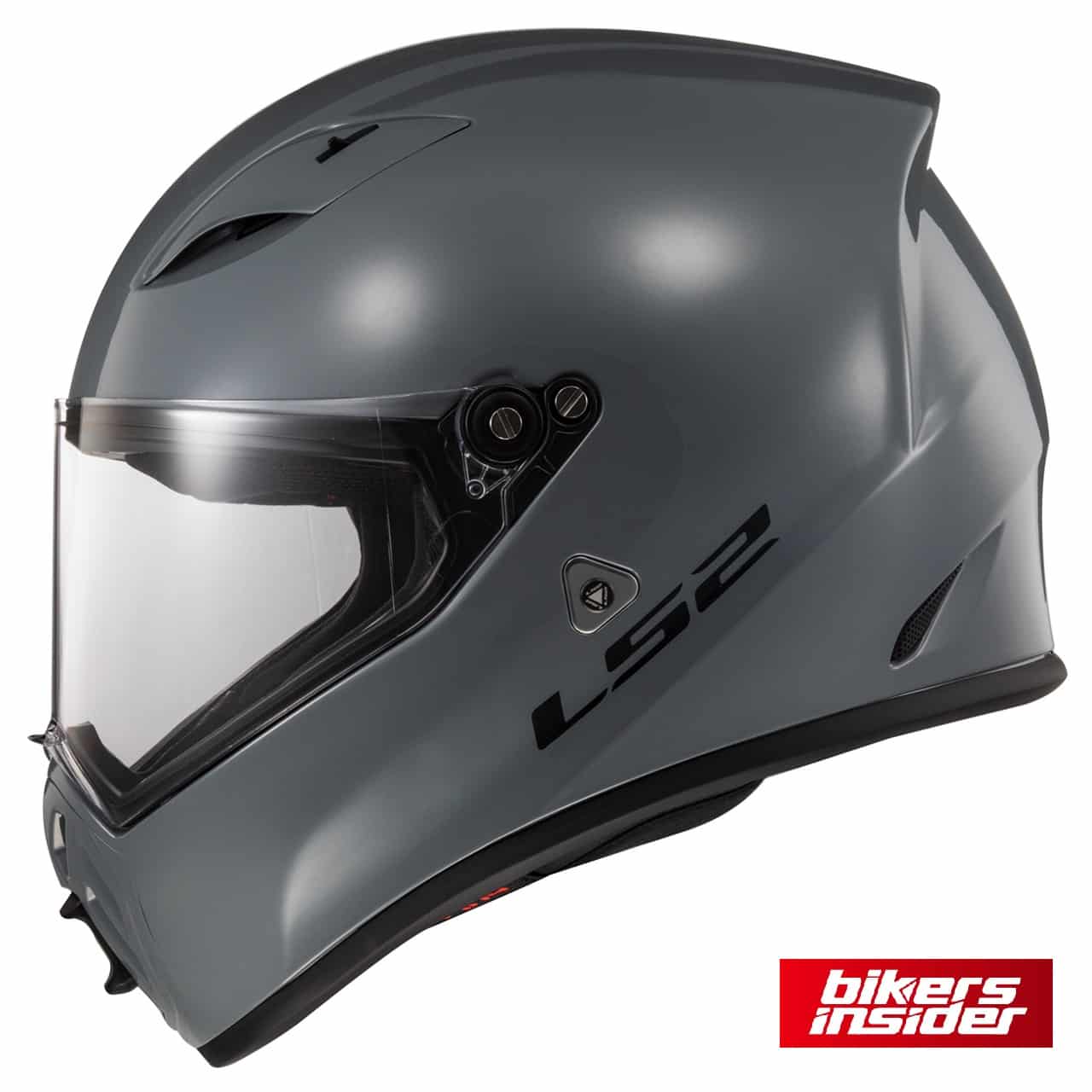 The LS2 Street Fighter helmet has a distinctive design with aerodynamic vents. You'll want to wear it for its aesthetic appeal. The visor of this LS2 helmet is anti-fog and scratch-resistant. However, it does not include a Pinlock. For dirt cyclists, this visor features a retractable peak.
This Street Fighter helmet is secured using a double-D ring. Putting on and taking off the helmet is simple with the chin strap. We prefer it over the micrometric strap approach because it is less restrictive.
EPS is a guardian angel for your head. There are no pockets or recesses for Bluetooth speakers on the interior lining. It's possible to add a Bluetooth speaker inside, but be aware that it will squeeze your ears so hard that it might cause injury in the event of an accident.
Above 40 mph, the helmet's vents let in wind noise. Use earplugs if you're going at a high rate of speed. One of the only streetfighter-style helmets that pass Snell 2020 is the LS2 Street Fighter.
3. Matrix street FX Pro
The Finest Matrix Imaginable The Street FX PRO motorcycle helmet has built of durable Fiberglass composite material. The GrillVentTM chin ventilation system has four top air inlets. When it's hot outside, the Climate Friendly QuickWick internal material and EPS liner's expanded Easy Flow channels will keep you cool while keeping you toasty warm when it's chilly.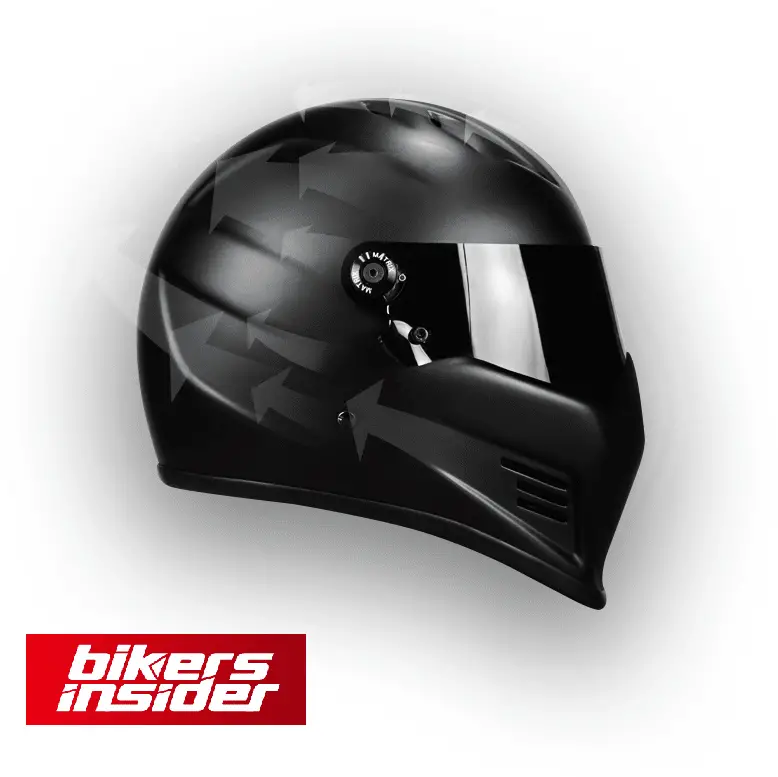 Easy Flow channels enhance fresh airflow by dispersing cold air over the head's shape within the helmet. Polycarbonate glass with an anti-scratch and hard-wearing layer. The helmet Normally comes with one tinted visor. However, you may optionally buy it with a clear visor. Alternatively, you may spend a little extra money and have it with an iridium or chrome visor that looks just stunning.
4. SHARK Helmets Street-DRAK Blank Matte Helmet
SHARK is a 30-year-old French helmet maker. Professional racers designed shark helmets to know which parts of their bodies are most vulnerable to motorcycle crashes.
Shark's Street Drak helmet comes in two sizes: (SM-MD and LG-XL), thermoplastic resin is injected into the shell. It's a full-face spherical-oval helmet. It's narrower from the front to the rear and deeper on the inside, so it fits snugly and allows maximum airflow.
Shark Street Drak jet helmets are protective because of the built-in face mask. The crash protection provided by this thermoplastic mask is insufficient. As you ride, it shields your face from bugs, dirt, and rain.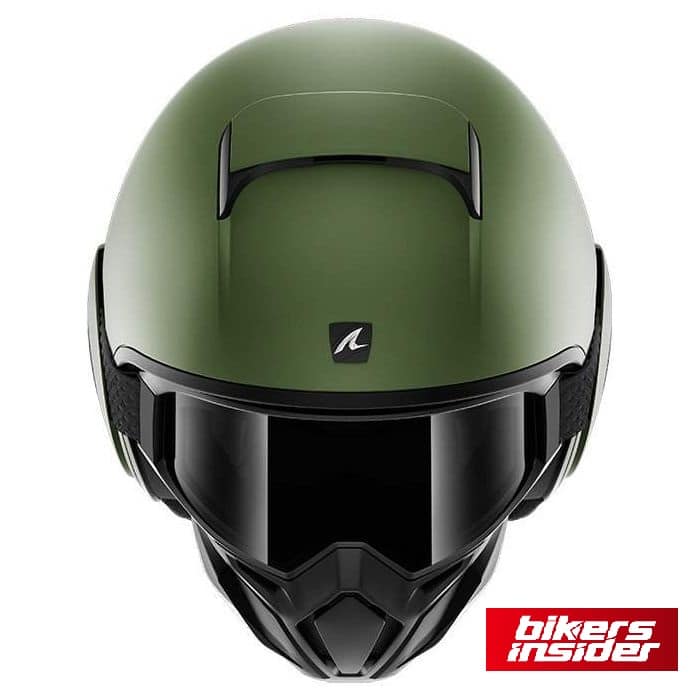 Both the DOT and the ECE have recognized the Shark Street Drak Helmet as safe for use on city streets. Despite the helmet's thermoplastic shell and face mask, it has permission for use.
Street Drak's antibacterial Microtech interiors have been licensed by AEGIS. Removable and washable. Both cheek pads include Velcro-embedded speaker pockets. Speakers and microphones feature in a cutout on the back of the helmet.
To keep you cool, Drak is an open-faced helmet. It is possible to open or close the top vent at any time. The non-adjustable vent on the face mask improves ventilation. However, it also has the potential to admit rain inside the mask. This Street Drak helmet's thick shell form is ideal for summer riding. Even with a full face mask and goggles, there is a lot of air movement. You can read a detailed review for SHARK Helmets Street-DRAK Blank Matte Helmet here on BikersInsider.
5. Caberg Ghost Helmet
The Ghost is among the best open-face jet helmets on the market, among the likes of the Shark S-Drak. Even so, it offers a modest improvement over the competition by allowing the user to lift the mask without removing it. There you have it, the Caberg Ghost, a fine helmet but not very frightening at first appearance.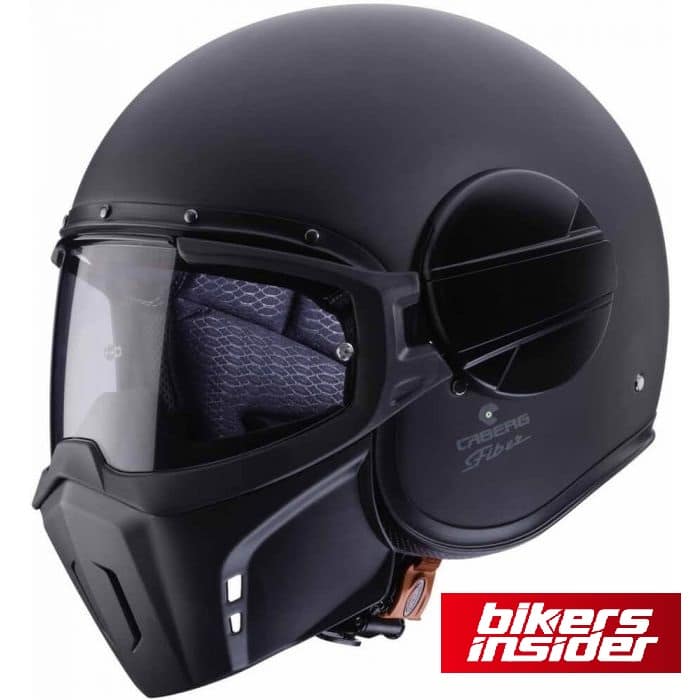 The Caberg Ghost Carbon's shell material is carbon fiber, as opposed to the composite shells used in prior models; this is nevertheless advantageous because it should result in a stronger helmet.
The Caberg Ghost has numerous openings for airflow. Since this is a jet helmet, you may remove the mask to allow fresh air. While the mask is off, you'll see two enormous chin vents that should provide enough ventilation.
When it comes to Ghost, you get four different options, including face masks and nasal guards, so it's a good deal overall. With the mask on, you can plainly lift the visor, but you may also remove the mask and continue to use the visor as you like.
6. Scorpion EXO Covert X
A Scorpion Covert-X motorcycle helmet falls between the Scorpion Exo-Fighter and the Scorpion Exo-Combat Evo. These helmets are perfect for custom motorcycles or for riding about town on a naked bike.
The exterior shell of this Covert-X helmet is composed of fiberglass and features a TCT construction. This implies that the shell can fold if it receives a hit, allowing us to absorb more impacts and build a much more robust structure. Scorpion is the company that came up with this idea.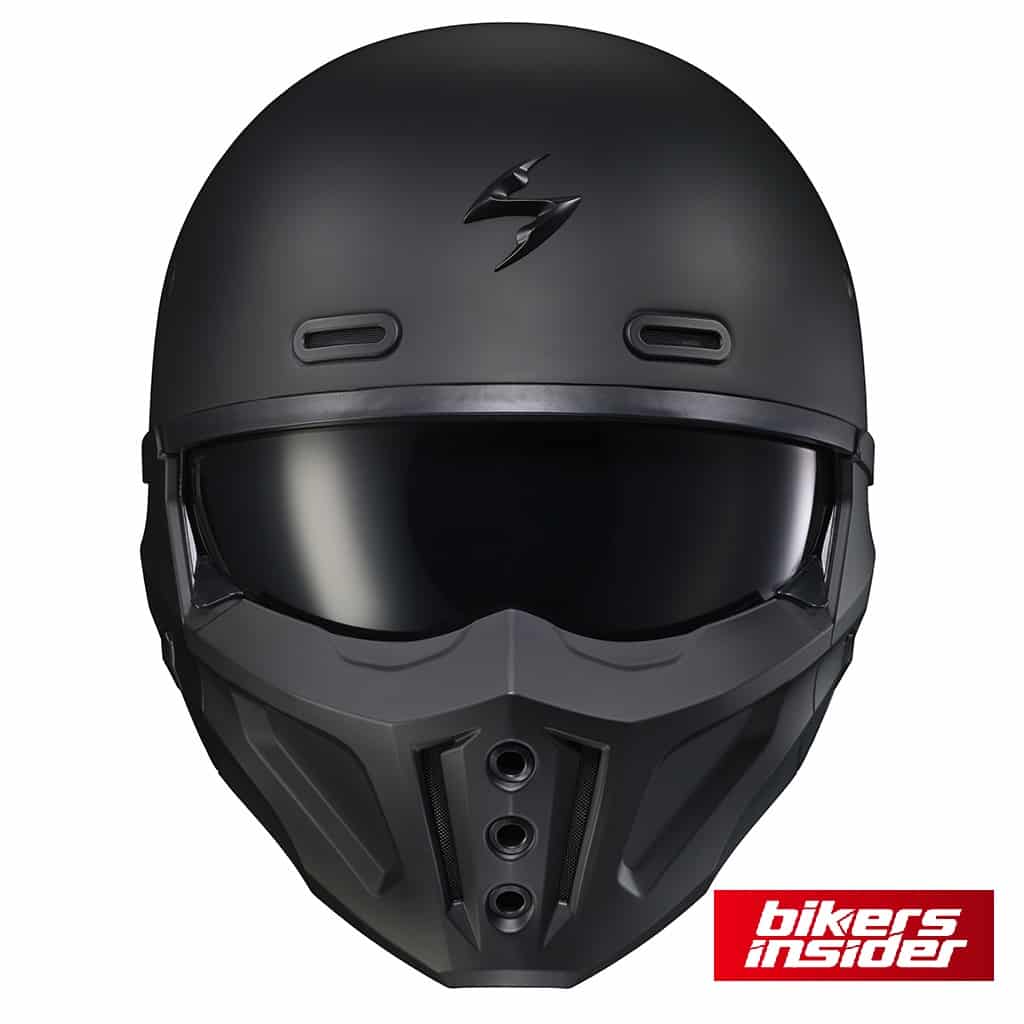 Aggression
The anchors on the chin bar have also been reworked to make it more secure. As we previously said, this Covert-X helmet can be readily removed and changed into a jet helmet. We also find a sun visor, this one somewhat smoked and Scorpio calls Speedview, on most helmets with an aggressive style. It's a breeze to use, even when wearing gloves.
With anti-allergenic treatment, excellent moisture absorption, and a soft and comfy inside, Scorpion helmets are one of the best. The only negative part about Kwikwick3 is its name. It's a great name! Jokes aside, it's vital to note that the side cushioning enables you to wear your prescription glasses while riding comfortably.
Airflow is provided via two front-mounted, movable inlets and a few orifices in the chin bar. Finally, the closure is micrometric, making it simple to open. Here we are at the end. The aggressive style of the Scorpion Covert-X motorcycle helmet is the helmet's sole bet. It's a fiberglass helmet with a strong chin bar that may be removed.
7. Arai Defiant X
The Defiant's new top vents and the front chin spoiler have been carried over.
The Defiant X face shield is identical to the original Defiant's face shield. A few years ago, they introduced the "SAI Max-Vision" kind, which is 5 mm wider than the original. We are more impressed with the view from this Large Defiant X than we were with the original Defiant, which had an XL visor. Due to a smaller shell or thinner padding, the front of the helmet is closer to the face than it used to be.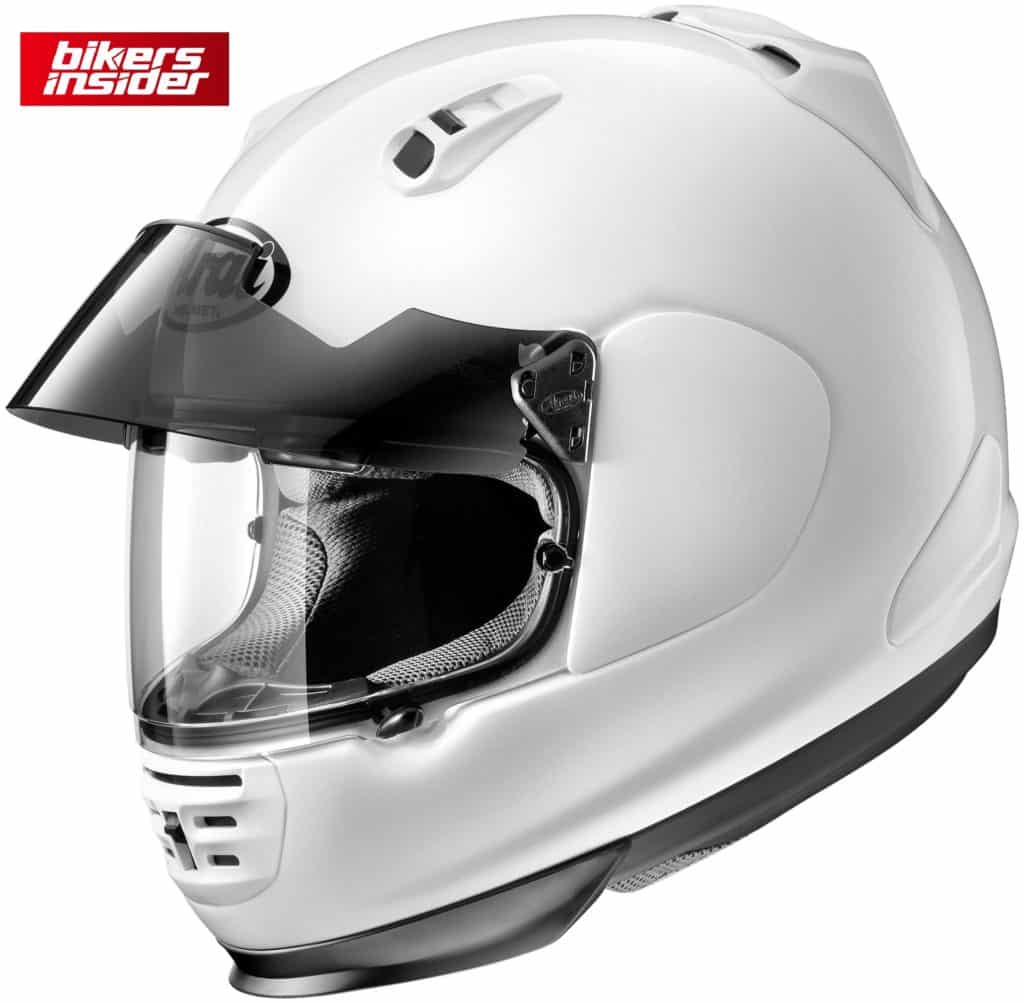 On the X variant and Defiant, a massive chin vent moves a great deal of air. The chin bar is only ventilated if the slider is raised halfway. The vent's uppermost position totally seals it off.
As soon as you put it on your head, you'll note that the top vents are a distinct departure from any previous Arai helmet in terms of design and efficiency; they're also far quieter than the traditional "scoop" style vents.
Sound levels are well-managed, but as with any helmet, it's important to ensure the interior form matches your head shape and that you get the suitable size.
The Defiant X comes with a five-year guarantee. Double D-rings are used in the chin strap. Various cheek pads and liner pieces are offered in various sizes to ensure a perfect fit. Defiant X by Arai might be the "perfect" street, touring, or cruiser helmet for many riders. Remember that the Defiant and Defiant X are also made to fit unfaired motorcycles.
8. Shoei RF-1200
The enhanced aerodynamic design of the helmet is supposed to lower drag by 4% and increase lift by 6%. As a rider's neck begins to tire more easily, any reduction in drag is a plus.
A repositioned forehead vent with an extra input hole maximizes ventilation. Exhaust vents have been increased to help the helmet dissipate heat more effectively. The RF-1200 has six air intakes that may be adjusted and four exhaust ports that are constantly open.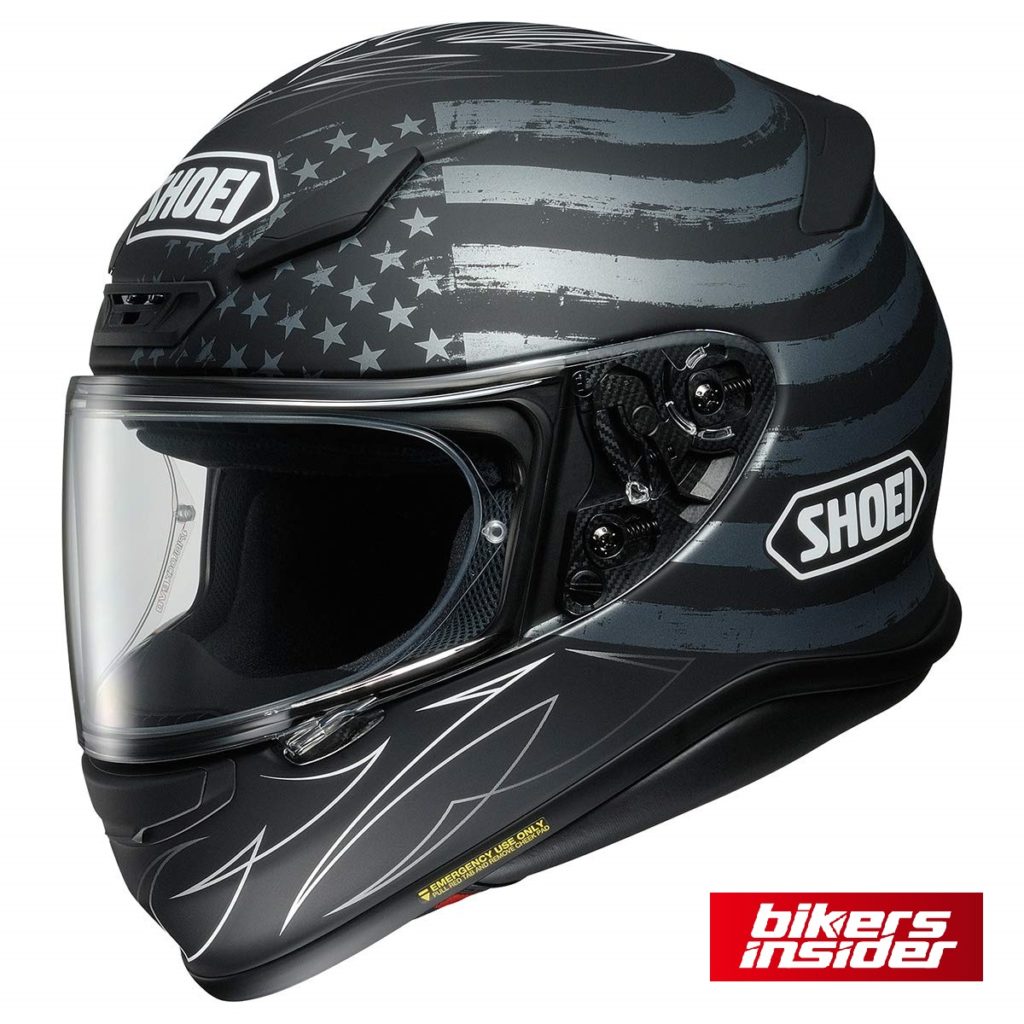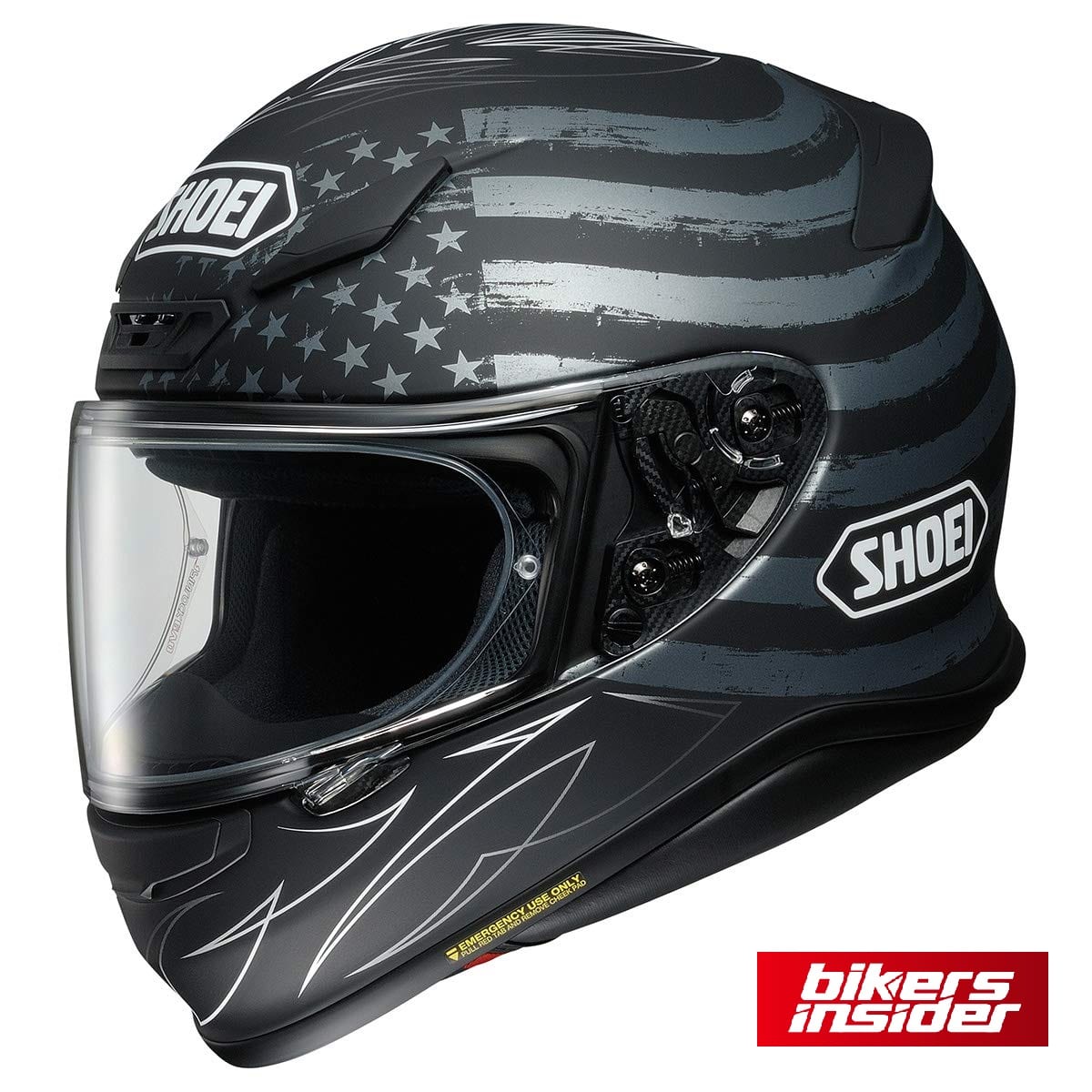 Shoes' trademark Multi-Ply Matrix Aim+ structure, a blend of lightweight organic and high-performance fiberglass materials, is making a triumphant return in all of the brand's helmets. In the manufacturer's opinion, this design is the most impact-absorbing, strong, and elastic in the market. A multi-density EPS liner with a dual-layer construction further enhances the seat's safety.
A wide range of sizes (XS, S, M, L, XL, and XXL) is available for the RF-1200, which employs four different shell sizes to ensure a more precise and safe fit for riders. As of 2021, Shoei's officials announced that the company would begin selling XXXL sizes.
9. Biltwell Gringo Full Face
This helmet looks to have come from a motorcycle magazine from the 1960s or 1970s. You're taken back in time with this helmet's domed crown and enormous eyehole.
Fortunately, Biltwell Gringo just appears old. To seem fashionable with this product, you won't put your life in danger.
Regarding street legality, the Biltwell Gringo's exterior material is thermoplastic. An adjustable fit is provided by plush Lycra cushioning. Depending on the form of your skull, you might receive more or less padding.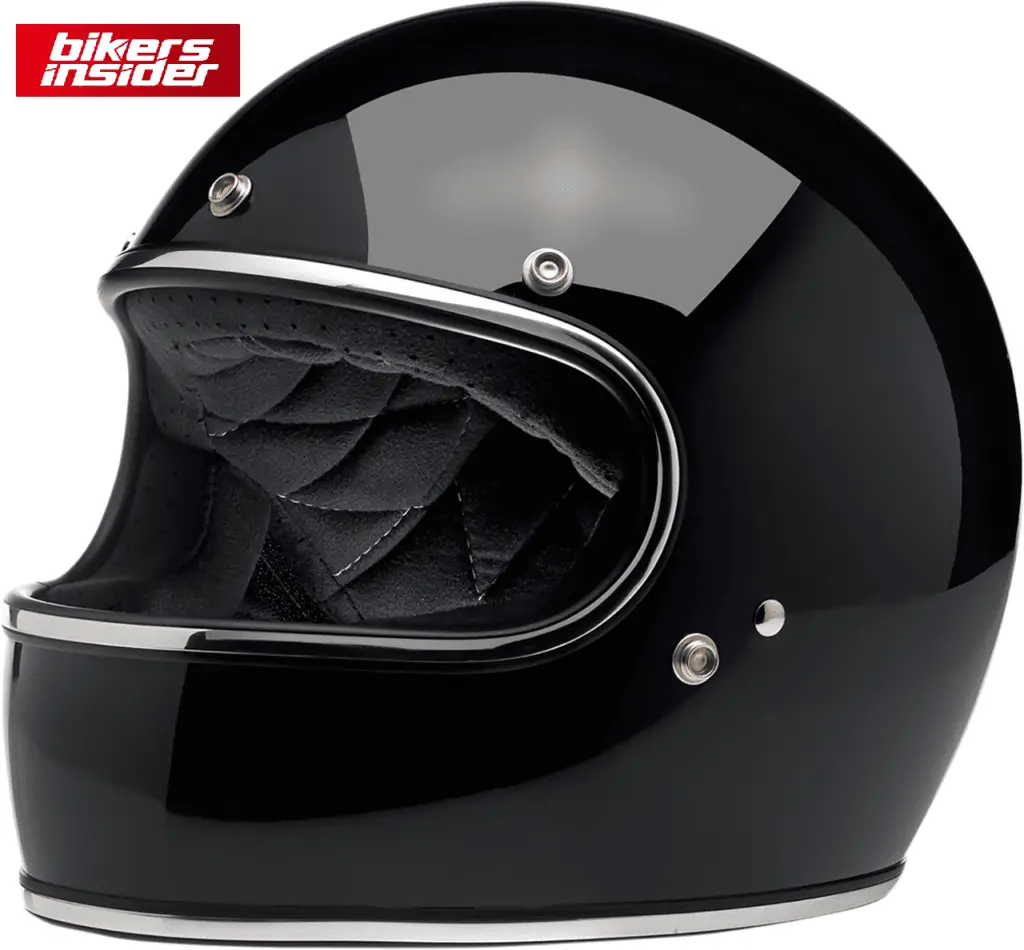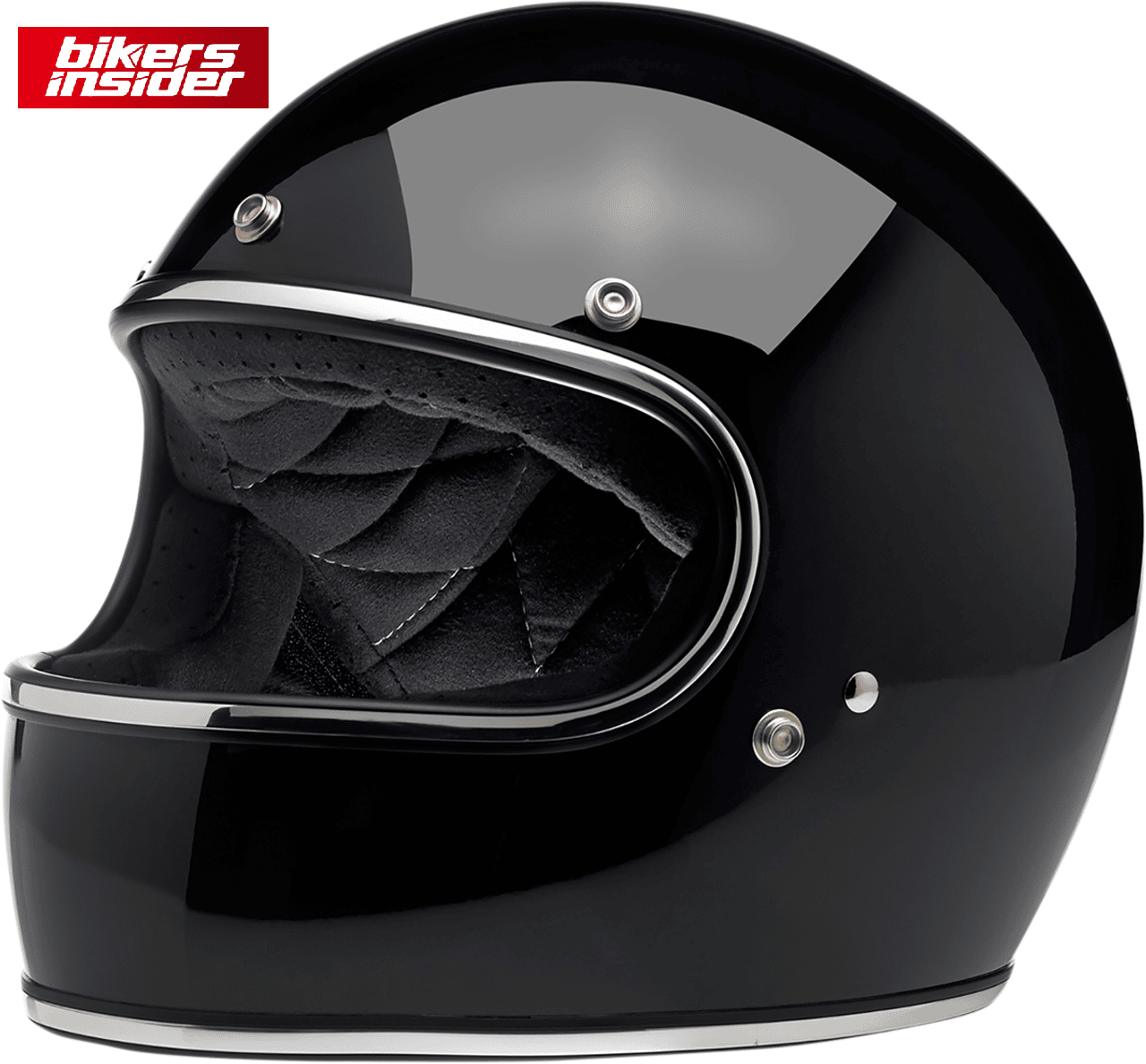 You may wash the removable Lycra cushion like any other helmet. A 1970s Gringo-style helmet is evoked by the padding of this helmet.
A visor is not included with the Biltwell Gringo. To attach a visor from the firm, you can buy it separately. Bubble Visor with anti-fog Blast Face Visor and anti-fog Bubble Visor are popular. The Gringo snap-on option makes it more versatile.
This helmet has two holes: one for your head and one for your eyes. Air can go through the bottom vent, which has been left loose. Since the front hole is worthless, you'll overheat if you wear a visor with the Gringo.
Vintage design but safer
On the highway, driving with the Gringo will allow for the greatest airflow. The lack of vents will impact the street and casual riding. For added comfort, you may remove the visor. The Gringo passed DOT inspection when it was first released. For European roads (ECE) in recent years, SNELL has reviewed and rated it.
Protecting your head is the ABS thermoplastic shell's primary function. You have protection against a head-on impact with an EPS foam liner sandwiched between the Lycra padding and the outer shell.
Because the Biltwell Gringo design attracts vintage enthusiasts, its characteristics will appeal to you if you appreciate its look. There aren't as many options with this full-face helmet as others. Compare this helmet to other antique or novelty helmets. From that vantage point, the Gringo looks magnificent.
10. Simpson outlaw bandit
This helmet's circular design makes it easy to put on and take off. The front-to-back portion is a little longer, and the temples have more area. As a side note, the Outlaw Bandit's jawline is slightly closer to the face than the other models. No need to worry about the helmet's fitting; it should fit perfectly!
We can observe that the face shield region gives a smaller field of view than a typical motorcycle helmet. Detents allow you to adjust the degree of closure from fully open to halfway closed.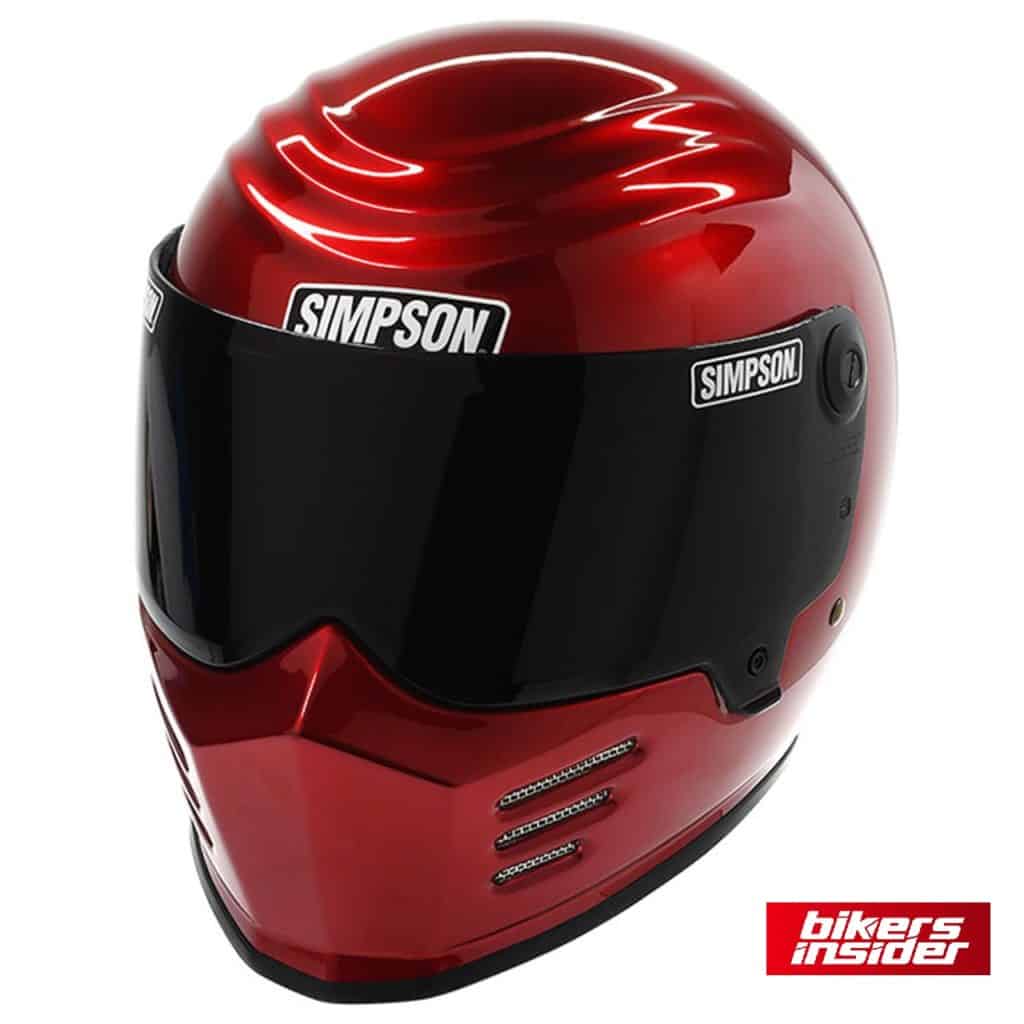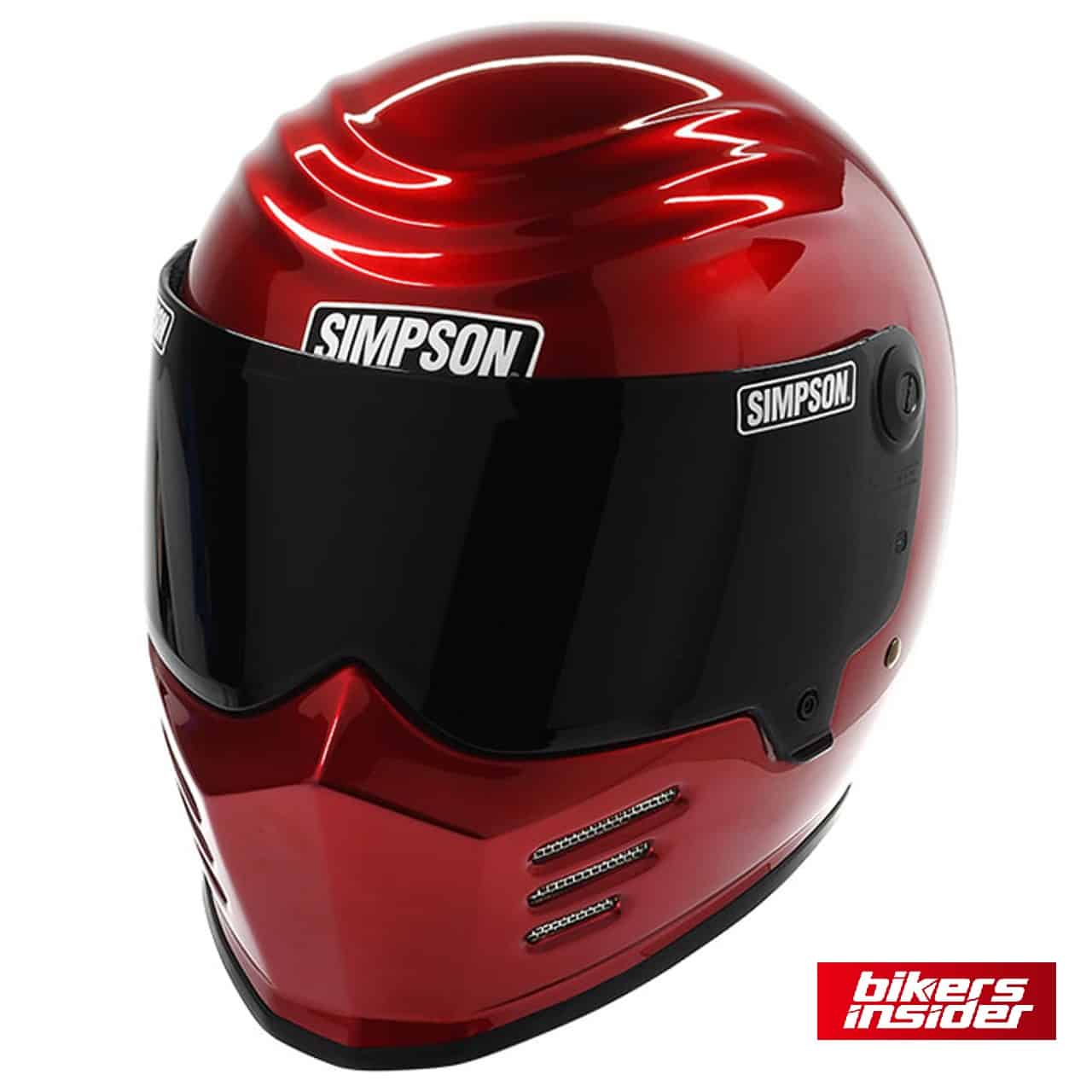 Simple but effective
There are no snaps or Velcro on the inside liner. Therefore there are no pressure points. Crash hotspots include mesh sections in the comfort liner, created using 3D mapping. On the inside, we can see that Simpson understands how to build a helmet that is both comfortable and safe.
We can see right away that this helmet has only six vents. On either side of the chin bar are three lines of passive venting. Vents on the chin allow air to enter the helmet's interior, but there are no top or rear vents to allow the air to escape. The absence of extra vents means this helmet will become hotter on hotter days.
To sum up, this is an excellent lid if you're more concerned with looks than features. Even though it is a safe helmet, the high price does not seem justified. You can read an expert review of Simson Outlaw banding by clicking the link on BikersInsider.
11. Bell boozer helmet
Bell Broozer's distinctive design is a head-turner. In comparison to the flexible snout on the Rouge, the detachable chin bar was built with a stronger shell and more secure clip attachments that fit snugly into the helmet for a minimal seam, enabling our faces to breathe and ventilate. A "Full Face" helmet may be made open-faced by removing the visor. It's possible to remove the chin bar by yanking up its grey clips on either the right or left side of the helmet.
The clear protective eye shield provides UV protection and a cooler look, which is swappable with polarized (black smoke) or mirror finish iridium versions. There are more design options available to you. It's possible to get a glossy black, a matte black/gray, a matte white/gray finish, or any combination.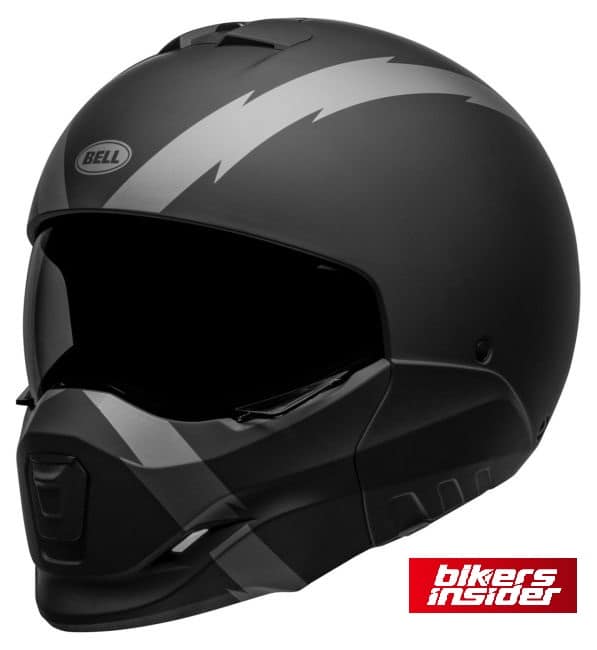 Lightweight but safe
Without the use of carbon fiber, the Broozer is extremely light. Polycarbonate/ABS shell weighs only 1350 grams, making it easy on the neck and head. I'd want the chin strap to be a little more flexible. This strap's quick-release ratchet clasp is convenient, but I think it rests too much inward and puts undue strain on the neck. I'm assuming the removable chin guard causes the straps to tuck in. My only complaint about the chin strap is that it isn't adjustable enough for comfort.
"Boozer" design is to protect our heads in the event of an impact. The helmet has an ECE-approved chin bar and polycarbonate/ABS shell. The ECE 22.05 rating gives the peace of mind knowing that it will be safe if one ever falls and bang his head on anything hard.
Boozer offers a $20 save (with more features). This is Bell's best transitional helmet, offering the advantages of both full-face and open-face helmets in a single product.
12. Simpson Venom (Honorable mention)
Tri-composite Venom completed all safety tests with flying colors. The helmet's shape dictates the ventilation on the Venom since Simpson has tried to keep the front of the helmet clear. On top of that, you'll also find four little crown vents at the top, as well as a couple of exhaust vents on either side of the chin guard.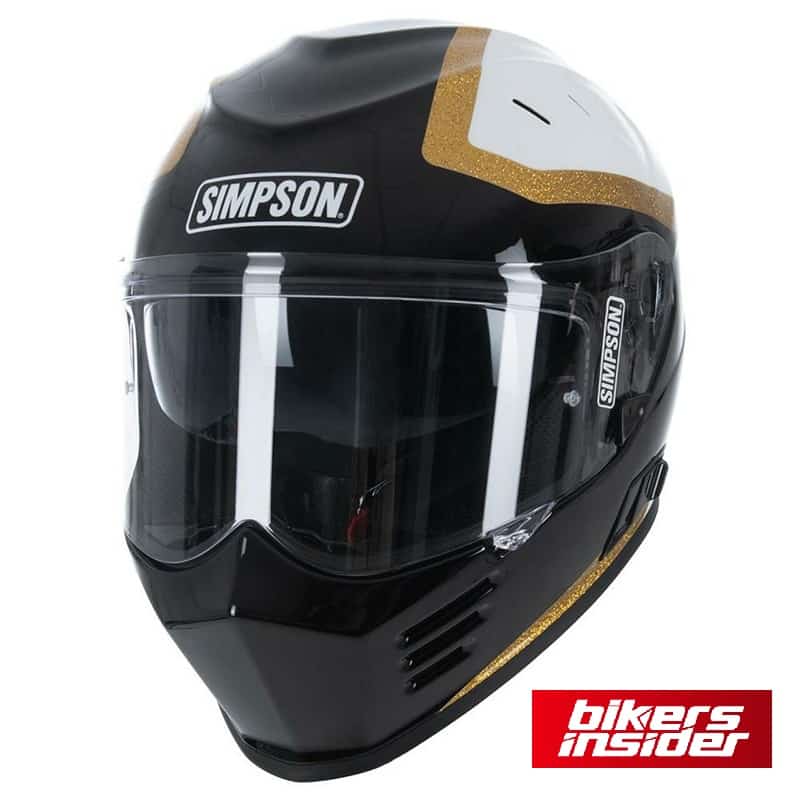 All the vents from the exterior resemble always-open vents and are covered with mesh to keep out flies and debris. Peripheral and vertical vision is good in Venom's visor, which is very big.
The lining of the Simpson Venom is detachable and washable. While no information is available about the materials or technology utilized inside, Simpson Venom users report that the helmet is quite comfortable. In all likelihood, you'll acquire a Simpson Venom primarily for its intimidating appearance.
Conclusion
Most experts advocate upgrading your motorcycle helmet every two to five years for everyone who rides or plans to ride. Remember the following things when shopping for a new one or an update.
First and foremost, ensure your helmet's ECE or DOT certification is up to snuff. It's also important that your lid is comfy. You risk being seriously injured when you ride a motorbike and are distracted.
Make sure it has good airflow. For those fortunate enough to ride in a warm area, rear air extraction vents are an important feature in a high-quality helmet.
Air controls should be accessible with or without gloves to provide convenience. As with internal sun visors, quick and easy vent activation improves safety.
When it comes to heat, you'll want to ensure the pads are detachable and washable to keep them fresh. Most well-known companies do, but verifying is always a good idea. Flame retardant fibers feature in several of the helmets above.