In the custom motorcycle helmet market, skull helmets are prevalent with motorcyclists worldwide. Is it because of the attention or pure terror they can induce? Well, skulls and motorcycles have a loose connection, that's for sure.
Skull is a symbol of a rebellion and danger, symbols that have been connected to badass motorcycle riders during the last few decades. Besides, the skull image ramps up the hardcore image to a completely next level!
Another connection can be tied to the uncertainty and danger of the motorcycling itself. Every time a rider sits on his trusty bike, he knows that he puts his own life on the line. In this case, the skull is a perfect symbol of the imminent danger of this lifestyle and a reminder that we shouldn't take life for granted. One can not think of prevalent biker mantras and symbolism like riding until death or riding in the afterlife.
Of course, there are numerous interpretations of what the skull symbol means for each biker. One is certain; the skull-themed motorcycle helmets are incredibly badass. They are sure to attract attention to you as a rider.
In this post, you can check out some fantastic custom painted skull motorcycle helmets. There are numerous inventive designs, and we are jumping in to show you a sheer range of choices!
A Brief History and Meaning of Skull Motorcycle Helmet Design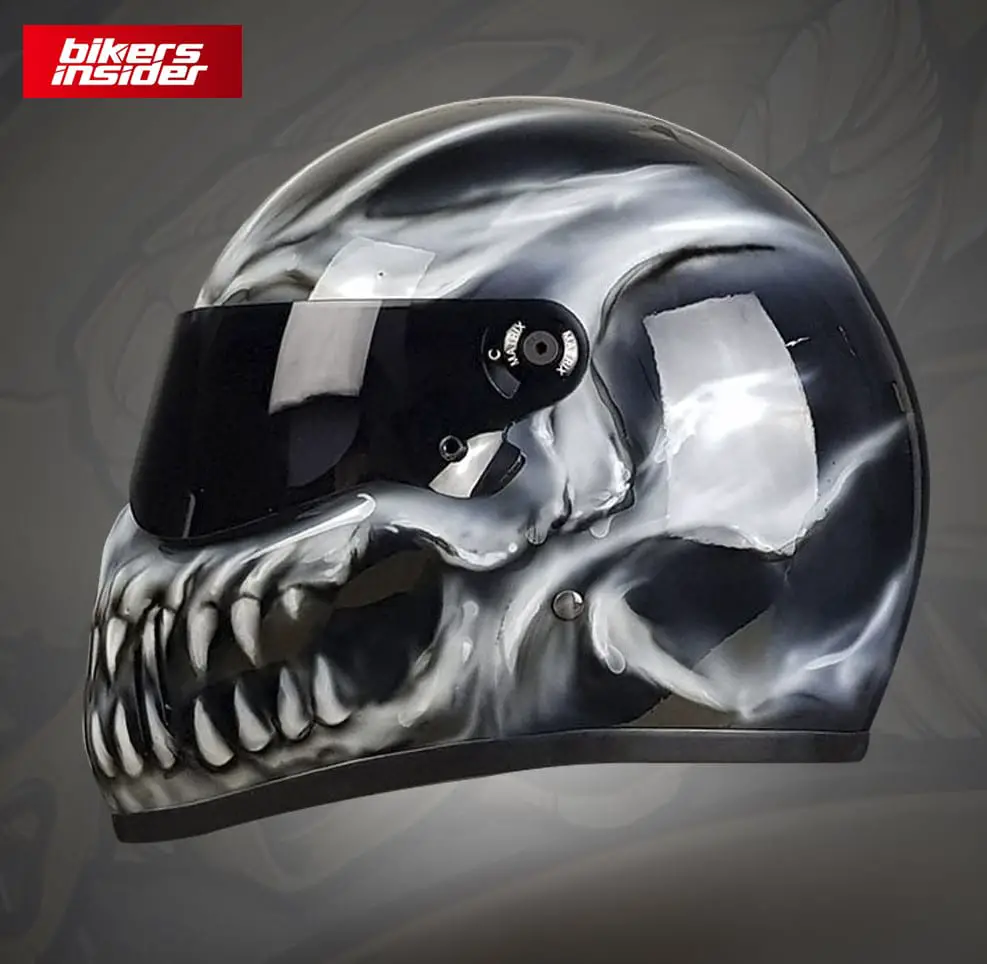 We can trace the skull motorcycle helmet design to the 1950s or even earlier. During this period of the last century, custom helmets have shortly begun its ascent to popularity. Over time, the skull motorcycle helmets have earned an essential place in the modern biker culture.
Of course, the skull motive has been around for much longer in human history. What we can connect with recent and less recent history is that skull design always represents power and danger, and sometimes even fear. Also, skulls played an indispensable part in determining the roles in some civilizations. We all know about the infamous pirates and their obsession with the skull and bones motive. Arguably, it was a perfect indication of danger that eventual trespassers would come into with them.
Even writers use a skull motive frequently. For example, William Shakespeare used the skull in his Hamlet to symbolize danger and mortality.
We can also directly connect skull motive with dangerous substances and chemicals, as well as a symbol of immortality when used as a tattoo. The skull tattoo is very popular among the hardcore biker community.
Whether your interpretation of the skull symbol may be, it goes without question that it is very fitting for the biker culture. It symbols immortality and death, power and respect, and the last but not least – danger. All of these motives are essential to the ideology of hardcore motorcyclists.
Why Should You Get A Skull Motorcycle Helmet?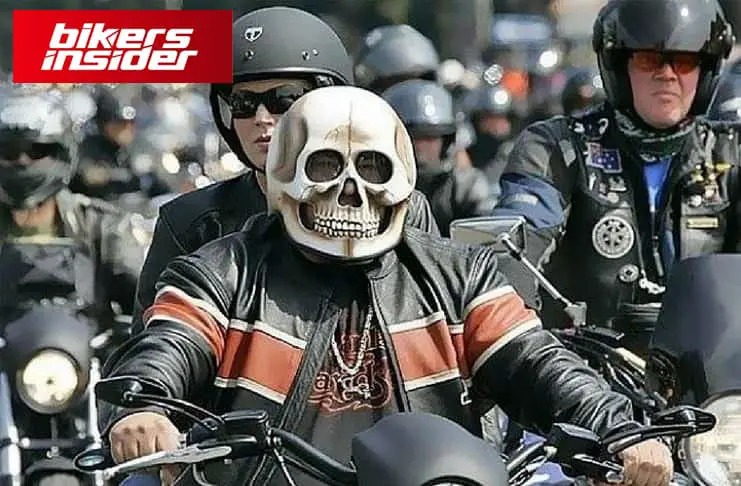 There is no doubt that the skull design on the various parts of the biker attire – the helmet, jacket, gloves, and boots; is provocative and skittish. As we already mentioned, this type of design can mean many different things, which wholly depends on the mindset of the people.
One is certain – when you wear a custom painted skull motorcycle helmet, you will draw attention to yourself, for better or worse. Some enjoy that attention, so that is an obvious advantage in ramping up your motorcycle gear up the stylishness levels.
Of course, lots of motorbikers don't wear full-face skull helmets all the time. They know that these types of helmets especially fit for motorcycle events or special occasions, where they can show the true fashionable look of their gear. The muted skull designs, on the other hand, are perfect for everyday use!
Skull motorcycle helmets can be a worthwhile addition to your collection. You can use them to tell a story to observers or to be a more stylish biker. Whatever your motivation is, getting a skull motorcycle helmet is worthwhile.
Safety Level of Skull Motorcycle Helmets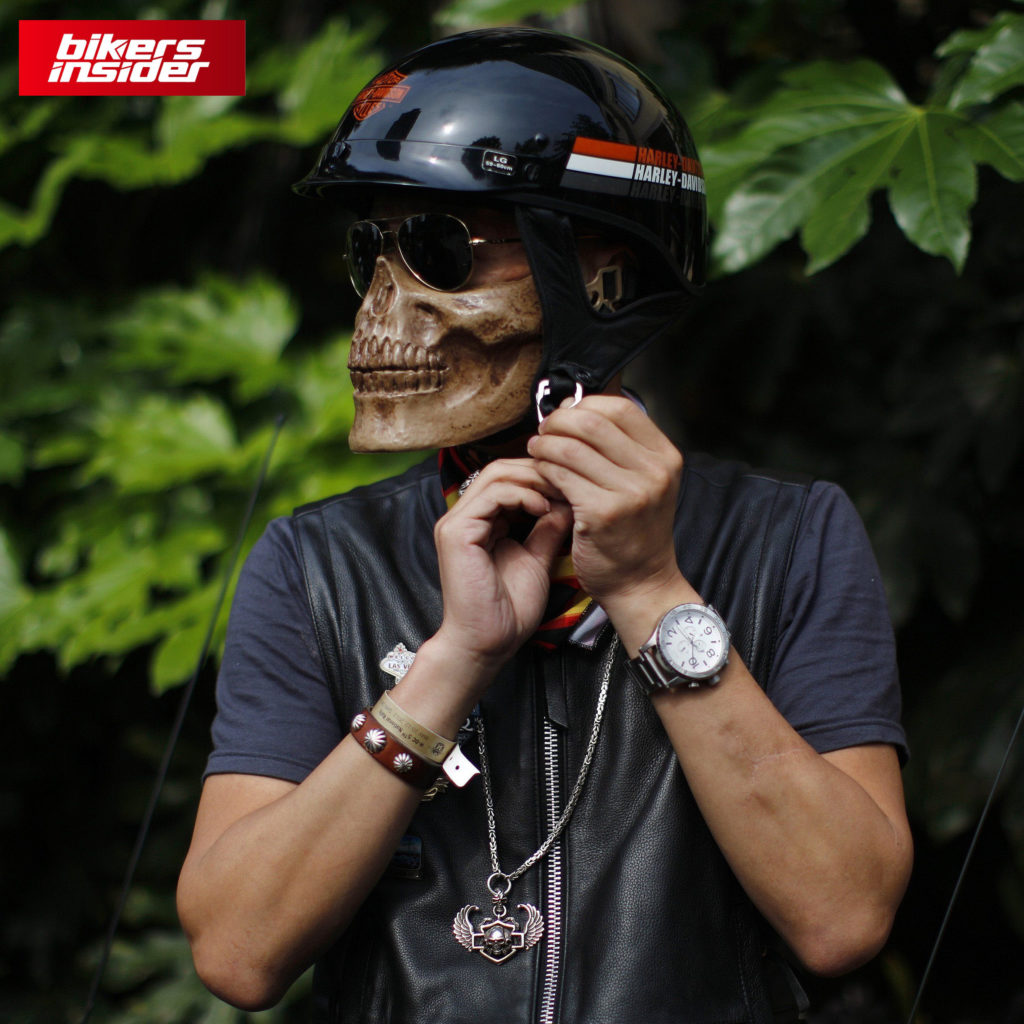 The safety level of your desired skull motorcycle helmet will vary according to the type of helmet used as a base. After all, it is just a regular helmet that features unique customization that makes it look like a skull. These customizations might include airbrushing, stripping the pin, and unique paint.
If you want to be extra sure that the safety of your custom painted skull helmets will be top-notch, make sure to let a professional or a company get their hands on the design process. Depending on the desired features of the helmet, you can get full-face skull motorcycle helmets with a visor, chin bar, padding, and whatever you wish more. There is nothing special regarding the types of skull motorcycle helmets. You can get virtually any kind of motorcycle helmet, and then do the necessary customization to turn it into a stylish skull motorcycle helmet.
Cost of Skull Motorcycle Helmets
This factor highly depends on the material quality and construction of the base helmet, as well as its features. You can expect to pay as low as 200$ (or 165£/184€) for a skull motorcycle helmet that is pure aesthetics. If you want high-quality, custom airbrushed skull helmets, you can expect to pay up to 1000$ for them (or 826£/924€). It all depends on the company or an individual professional you choose to transform the desired helmet.
How Are Skull Motorcycle Helmets Made?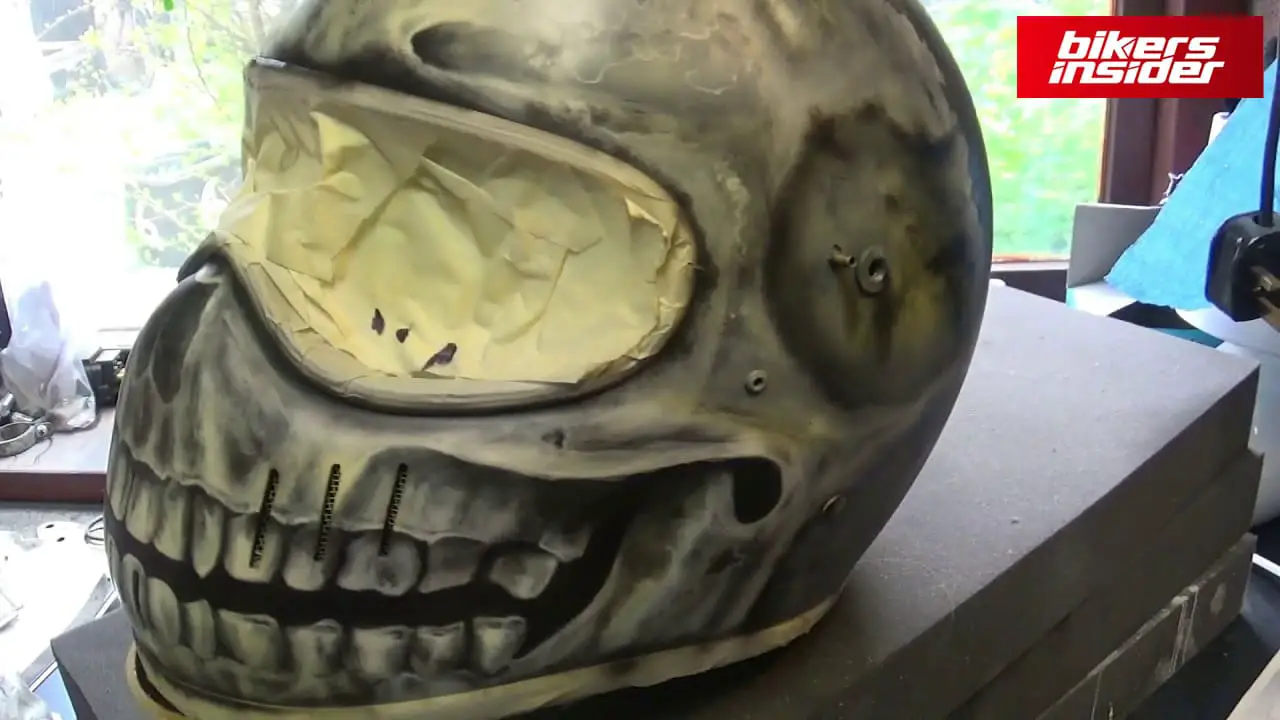 For starters, we need a base helmet (which is any helmet you want, from full-face to cap style helmets). To translate the wanted design on the base as precisely as possible, we will need the perfect, suitable paint for custom paint and airbrushing processes. Before the start of the painting process, we should remove all the unnecessary parts that we don't want to paint (such as visor). Of course, we should also have a cleaner that is fit to clean the helmet's outer shell.
With all of these prerequisites made, the helmet is ready to be airbrushed and painted. That is a meticulous process and may take some time. We recommend you to contact professionals skilled in helmet airbrushing craft for the best results.
Where to Find Skull Motorcycle Helmets For Sale?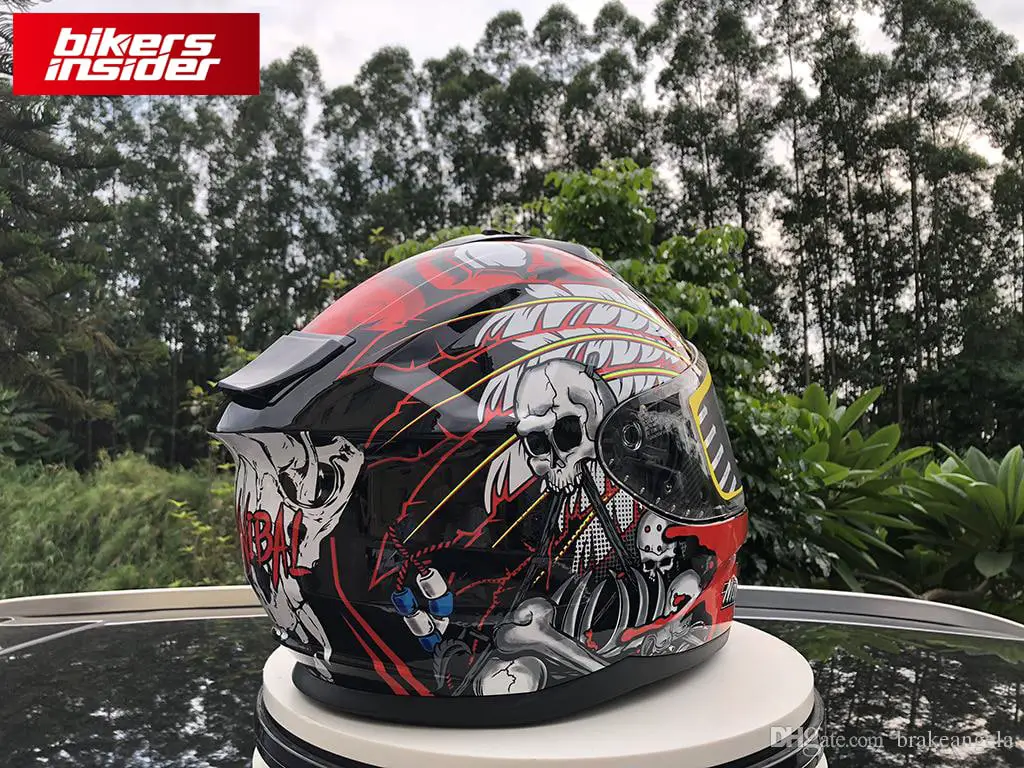 Numerous companies specialize in making custom helmets for interested customers; if you are willing to pay the price. You can also find some nice deals on Amazon, with worldwide shipping (costs vary by country).
We would love to mention one top tier company based in the UK, Blaze ArtWorks, that can make a killer skull motorcycle helmet. They have over a dozen different skull designs ready to shine on a brand-new, high-quality helmet, with prices ranging from 400£ (or 484$/447€) to 450£ (or 545$/503€). From their custom painted skull motorcycle helmet designs, you can expect DOT certified helmet (as the base is the sublime Premium Matrix Street FX Pro motorcycle helmet), high-quality artwork, and airbrushing technique.
Check out their custom airbrushed skull motorcycle helmets here!
Awesome Skull Motorcycle Helmet Designs
Here are some of the most impressive skull motorcycle helmet designs that could suit your custom helmet collection! This selection of stylish and striking designs are sure to keep the heads turning on to you!
---
Skull motorcycle helmets have been around for as long as the biker culture exists. The skull motive is usually linked to death and immortality. As the motive is timeless, there can be any meaning tied to motorcycle gear coated with the skull motive. Most bikers opt for skull motorcycle helmets and equipment because they look cool, and attract attention.
Nevertheless, numerous unique custom skull helmet designs can make you just the coolest biker around. If you want something simple, yet effective on the motorcycle design front; we wholeheartedly recommend you to opt for a skull design on your helmet.
Feel free to check the selection of coolest motorcycle helmets for you!