Lexin entered the competitive market of Bluetooth headsets for motorcycle helmets in 2010. They have some quality products in their portfolio that are known for their accessible pricing and features. Does their LX-FT4 Bluetooth headset follow this trend? Check out our Lexin LX-FT4 Bluetooth headset review to find out!
Lexin LX-FT4 Bluetooth Headset Review – Features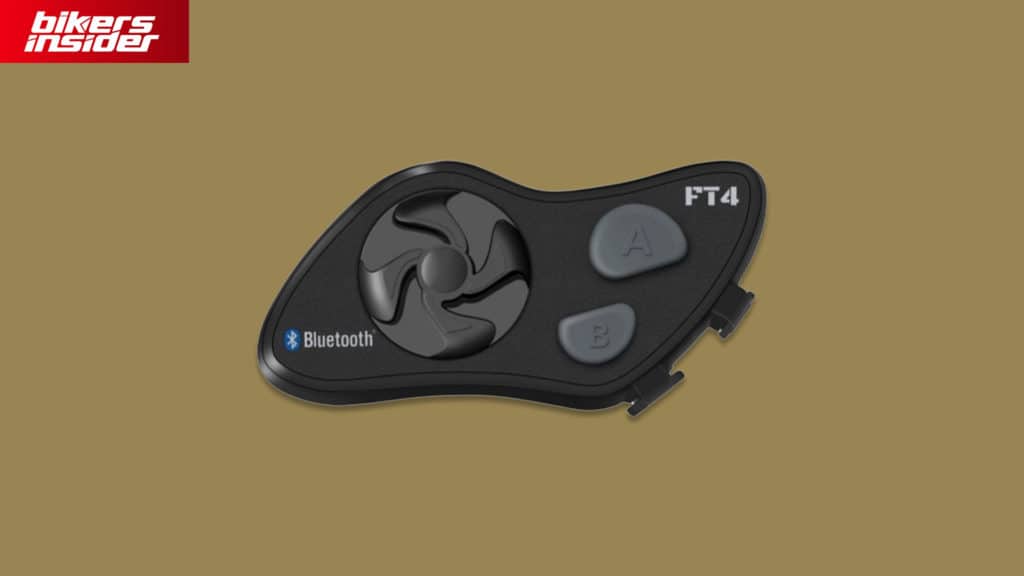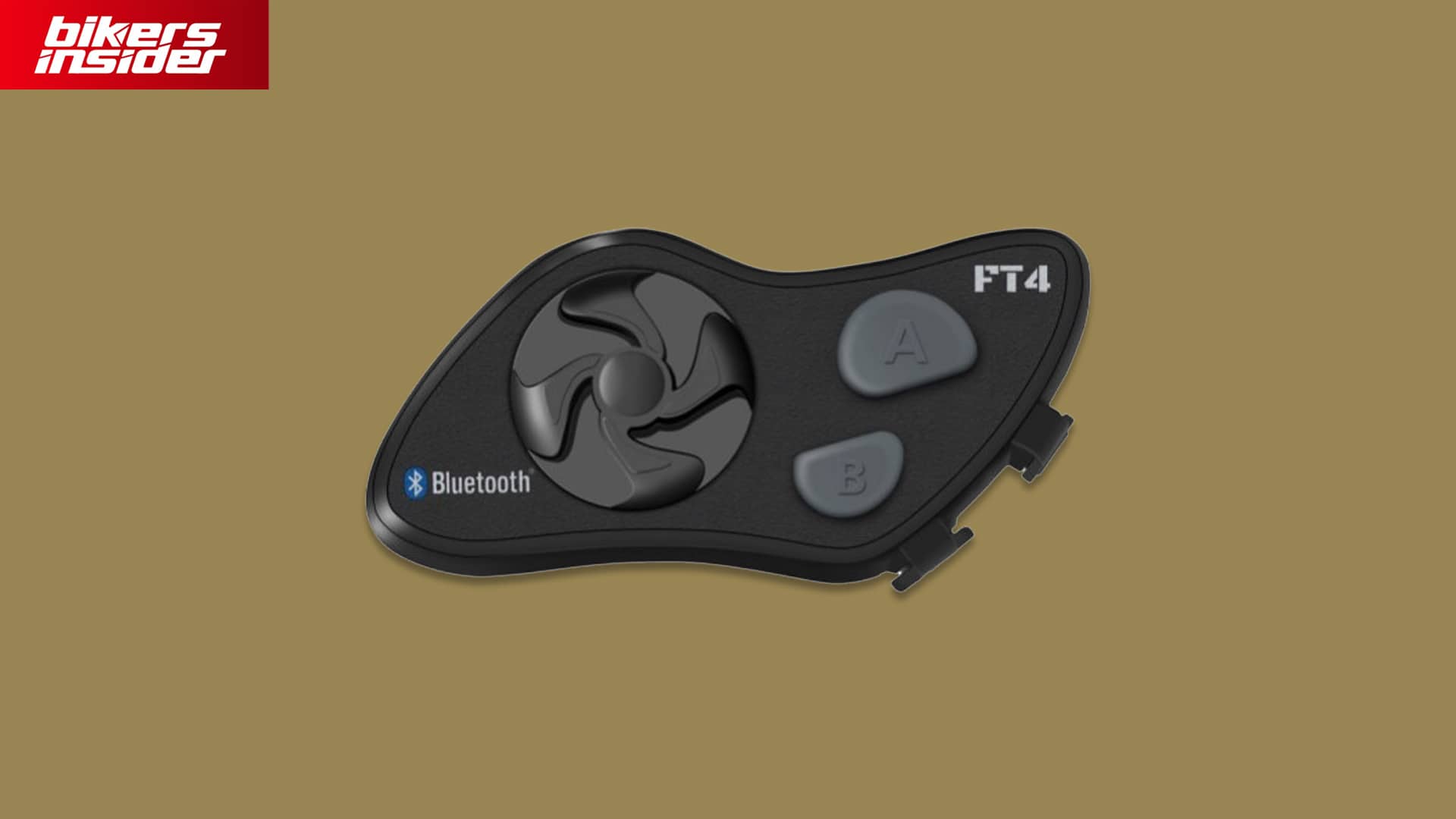 Here is a quick overview of the main features of the Lexin LX-FT4 Bluetooth headset:
Bluetooth 4.0 technology
LED lights
The battery life of 15 hours with a charge time of 2,5 hours
IP67 waterproof
Intercom range of 1,2 miles (2 kilometers)
Connection support for up to 3 more Bluetooth headsets
Built-in FM radio
Keep on reading further for our full review of the Lexin LX-FT4 Bluetooth headset!
Design & Installation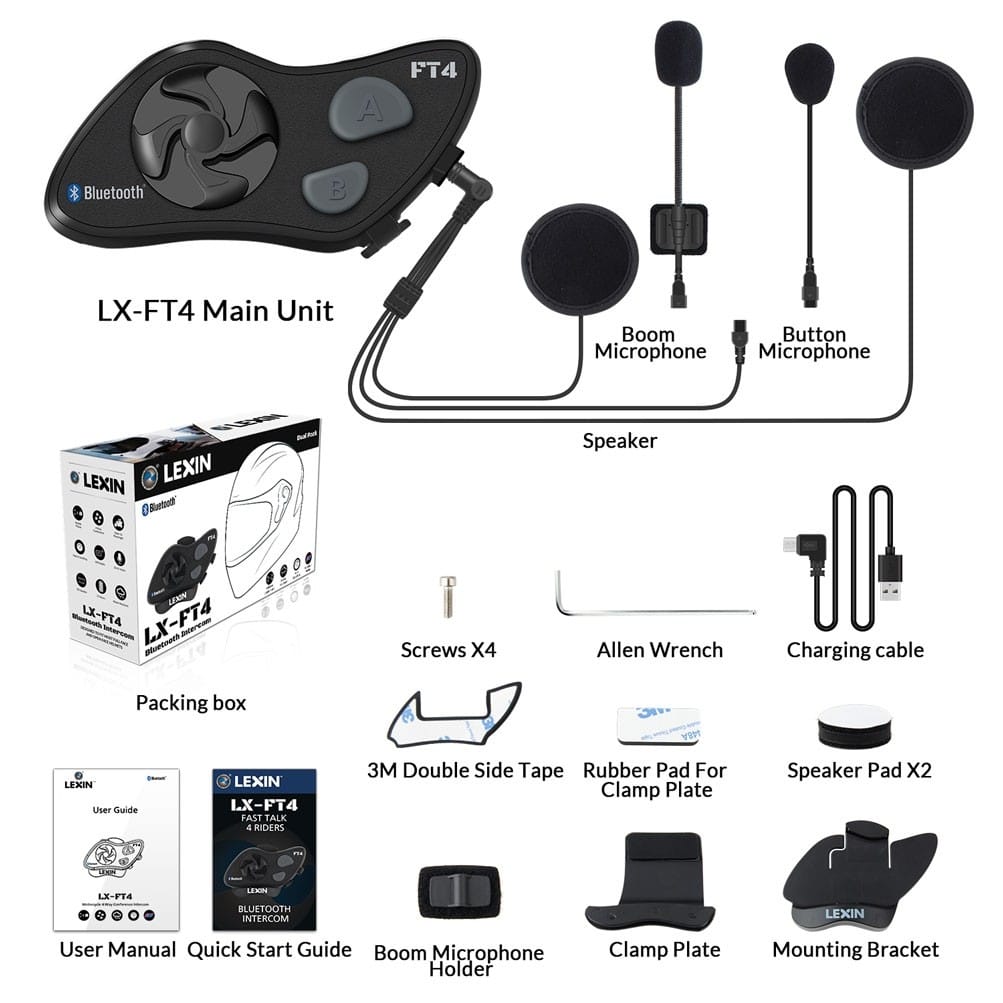 The design and build quality of the Lexin LX-FT4 Bluetooth headset is surprisingly good, considering its price. Right from the get-go, we can see that the unit itself has only three buttons – "A" and "B" buttons and a jog dial.
Now, from a user experience perspective, this is a double-sided blade. Different combinations of buttons provide different actions that include Bluetooth device pairing, intercom connection, and more. Someone could get lost in these different combinations, so here is a picture down below to explain each button's functions.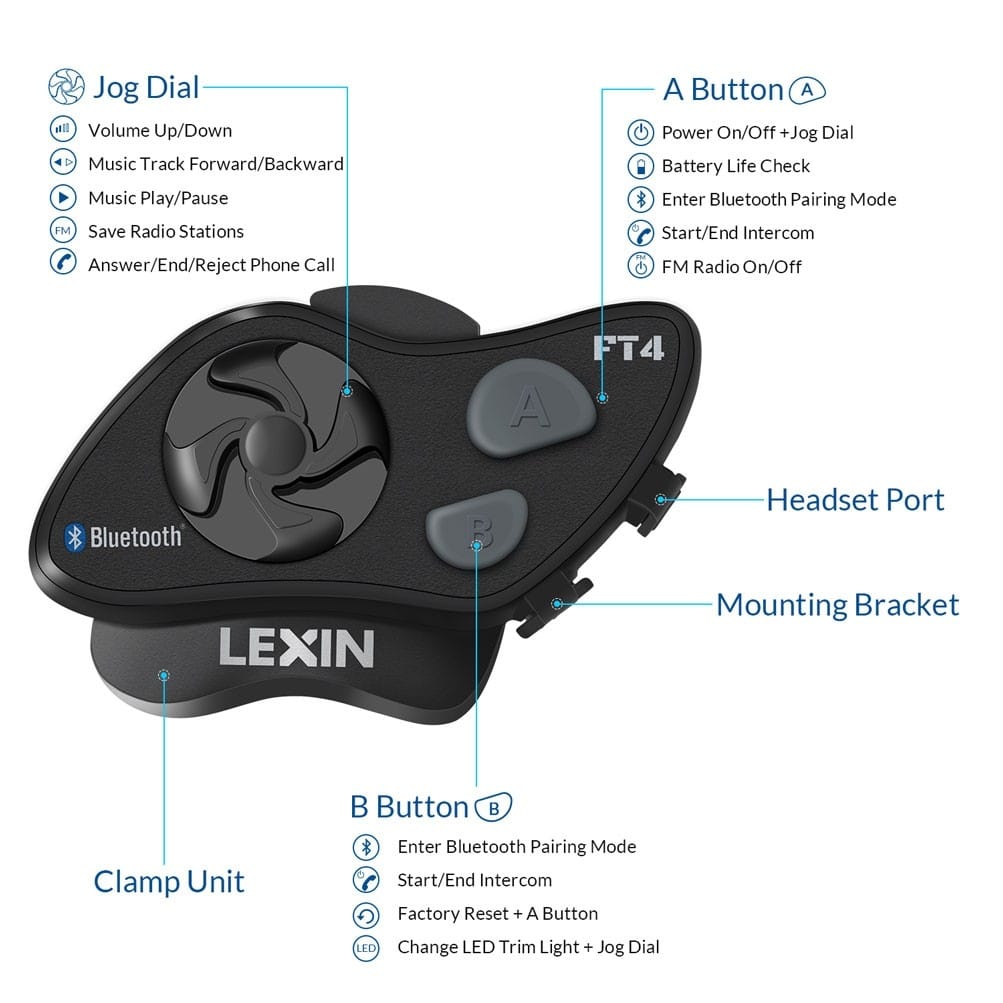 You can find a boom and button microphone in the package. Which one you will use wholly depends on the type of your helmet. Also, you will get a speaker (along with Velcro speaker pads!), a charging cable, and the rest are the instruments for mounting the headset on your helmet.
Check out the video below to see how to install the LX-FT4 headset on your helmet!
Bluetooth Pairing
Since the Lexin LX-FT4 Bluetooth headset is powered by Bluetooth 4.0 technology, it allows pairing with all Bluetooth-enabled devices. So, when you pair this motorcycle Bluetooth headset with another device, you get access to functionalities such as:
Listening to music
Calling your contacts
GPS navigation
The pairing process with other devices is quite simple. Make sure that the Lexin FT4 unit is turned off. Then, press and hold the A button for 3 seconds until the LED light begins flashing blue and red. Search for the "LX-FT4" device on your smartphone's Bluetooth settings. To signalize the completion of the Bluetooth pairing process, the LED will blink in blue color.
What about Bluetooth headset pairing? We tried pairing this headset with Sena 30K, and it worked as expected. You can pair this Bluetooth headset up to three other headsets, regardless of brand. 
We have a review on Sena 30K Bluetooth headset if you want to learn more about its worth!
The Bluetooth headset pairing mode is triggered with the hold of the B button for 2 seconds until the blue and red LEDs start flashing. Then, you repeat the same process with the other headset. Now, the LX-FT4 headset will indicate successful pairing with the blink of the blue LED light. If you want to disconnect from the formed intercom group, just press the jog dial.
The pairing process with Bluetooth devices (smartphones, GPS devices, etc.) and other Bluetooth headset brands has been designed to be user-friendly. We must say that Lexin LX-FT4 succeeds on that front!
Connection Range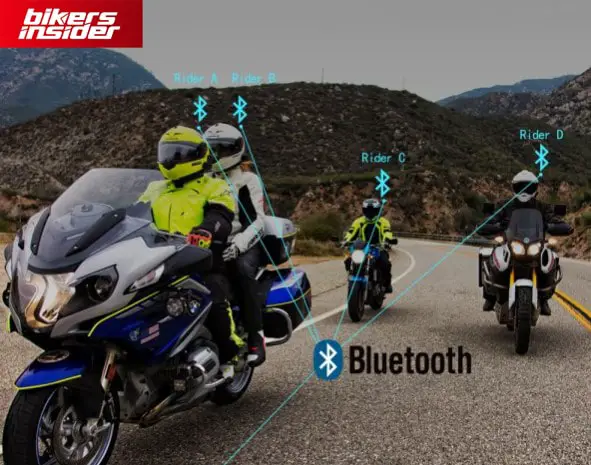 The advertised range of the Bluetooth intercom system is 1,2 miles (around 2 kilometers). We just want to warn you right ahead, this number doesn't take a stable intercom communication range into account. 
If you want a stable intercom connection, the more realistic range is 0,62 miles (1 kilometer). This range applies to both FT4 Bluetooth headsets and other brands.
One thing that will keep the intercom connection even more stable is to be in a clear line of sight. That preferable scenario includes a straight road with low traffic and an excellent signal.
If a rider gets out or range, there may be static, and the intercom may disconnect. There is a reconnect feature that will reconnect the riders to the intercom every 8 seconds.
Overall, it's a bit of a shame that Lexin didn't put the effective range in the official specifications. It would probably detract some buyers from even considering this headset. Nevertheless, the 1 km range is still good, especially for a tight-knitted group or for passengers on your motorbike.
Sound Quality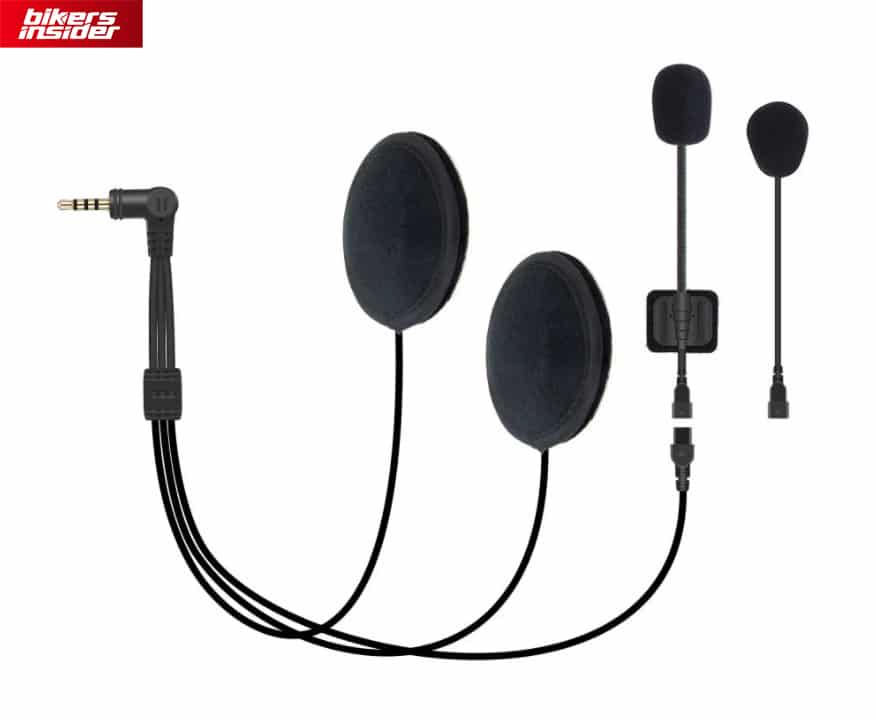 After a few test rides, we can say that the sound quality, both in speakers and microphone, leaves something to desire. 
The speakers emphasize treble, and there is almost no bass to provide extra richness to the sound. Also, there is no advanced noise cancellation technology to be found on these speakers. If you ride over 70 mph (113 km/h), the sound quality will decrease dramatically.
When you compare these speakers to the JBL speakers on the Cardo devices, the difference is noticeable. But if you compare it to speakers in headsets like Sena 20S or 30K, the difference isn't so large.
The microphone sound pickup is a bit flawed, especially if you are a loud speaker. It goes like this, the louder you speak in the microphone, the sound pickup will be more distorted, especially if there is wind noise around.
Voice Control
To say it outright: Lexin LX-FT4 does not feature a voice command system. Although it does feature a voice announcer that will notify you about the happenings on the headset. Basically, the male voice announcer will inform you when you have connected to the intercom, when someone has left the group, or when your battery is low.
At least you can use smartphone voice commands to operate GPS instructions or change the music on your smartphone. All you have to do is pair the headset with the desired smartphone that features voice assistant capability.
Additional Features
Here are some features of the Lexin LX-FT4 Bluetooth headset worth a mention:
Built-in FM Radio
The Lexin LX-FT4 Bluetooth headset features a built-in FM radio that you can trigger with the "A" button press. You can also save your favorite radio stations with a tap on the jog dial. 
LED Lights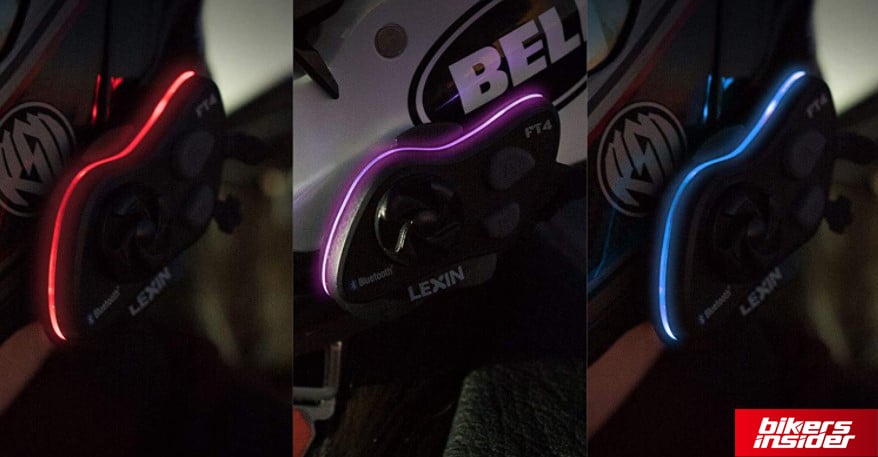 A nice feature that is more than just aesthetics is the LED lights. There are three types of LED lights: red, blue, and purple. Other than obviously serving as an aesthetic factor, they will also provide visual information on connection and pairing status, as well as battery status. All in all, this implementation is awesome!
Water Resistant or Waterproof?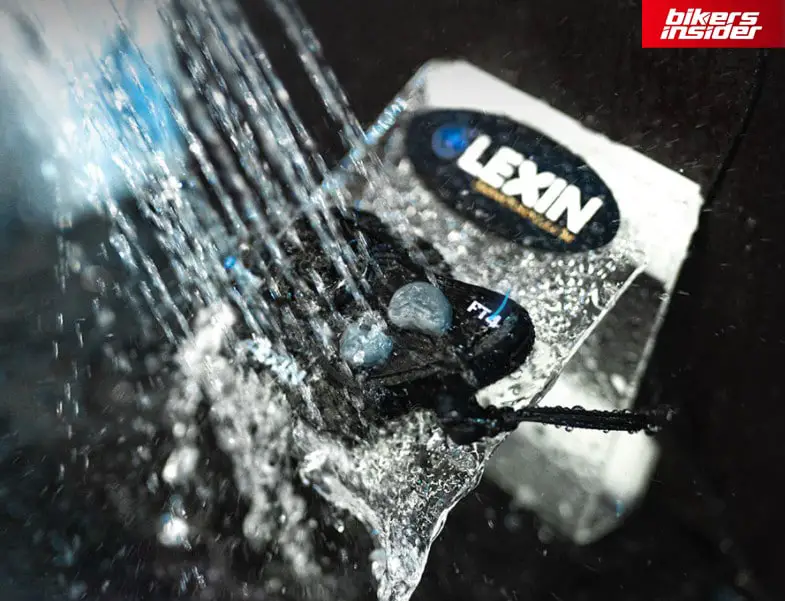 Lexin LX-FT4 follows the standards set by most other Bluetooth headsets and comes with an IP67 waterproof rating. It's also dust and ice-resistant. Hence, you can also use it for snowmobile rides, as advertised.
We tested the headset at 4 degrees Celsius during a rainy afternoon. Needless to say, there weren't any unpleasant surprises. The headset withstood an hour and a half of rain with no problems with its hardware or software.
Note: The specified lowest temperature that this headset can resist is -3 Fahrenheit (or -19 degrees Celsius). Sadly, we haven't tested the headset in these circumstances to give you an objective outlook on that fact's validity. 
Also, Lexin has implemented rubber plugs to protect the AUX and Micro USB ports.
So, when it comes to resistance and durability, the LX-FT4 is a force to be reckoned with!
Battery Life
Well, the FT4 is also quite a winner when it comes to battery life. It sports a Li-Ion battery that can withstand 15 hours of use on a single charge. Also, the battery will last for a bit over a week on standby.
If the battery gets below 20%, you will get an audio warning that will suggest you charge the battery soon. To charge the battery, just plug a Micro USB cable in the appropriate port. You can charge this headset to the max battery in only 2 and a half hours! 
Note: You can use this headset and charge it simultaneously. We recommend a quality portable charger for maximum effect.
During our testing, we were surprised to see that we could listen to music, proceed phone calls, and talk to riding partners in a session that lasted 10 hours. We didn't even get an audio warning for a low battery!
Price
With a full circle package of features, just how much will the Lexin LX-FT4 cost? 
Surprisingly, it is one of the most affordable Bluetooth headsets that you can find on the market right now. It comes at almost half the price you would pay for a Cardo or Sena device. These devices are obviously more advanced in some aspects but do not necessarily justify their price tags.
Right now, the price for the single pack of Lexin LX-FT4 Bluetooth headset is $135,99/€112,34/£102,34.
On the buttons below, you can check the current prices for the FT4 Bluetooth headset!
Conclusion
Now that we are at the end of our Lexin LX-FT4 Bluetooth headset review, would we recommend it?
This is a very affordable and durable Bluetooth headset that will fit the needs of most motorcycle riders. It's able to connect to your smartphone so that you can get a whole suite of features in hands-free mode. Its battery life is absolutely nuts, and the intercom functionality works well when you're in a suitable range.
The biggest flaws with this headset are found in the slightly lackluster quality of speakers and microphone. Also, the effective intercom range isn't the same as advertised. Regarding user-friendliness, you will need to invest a bit of time to get used to different button combinations.
Still, when we consider the affordable price of the LX-FT4 headset in comparison to more expensive headsets, we can say that it is a quite well-made Bluetooth headset. If you can get over no dedicated voice control and slightly lower sound quality, you're in for a treat.
Check out our Bluetooth headset review section to find which one suits your style the best!