FreedConn creates budget-friendly Bluetooth headsets that are fairly decent for the low investment you have to make. But, does being affordable equal being good? Find out in our quick and honest FreedConn TCOM-SC Bluetooth headset review!
In our review, we will break down the main features and benefits of this headset, regarding its design, sound quality, Bluetooth capabilities, durability, price, and additional features. Overall, it is a decent Bluetooth headset for basic users, and certainly not for every user.
Keep on reading to find out more!
FreedConn TCOM-SC Bluetooth Headset Review – Features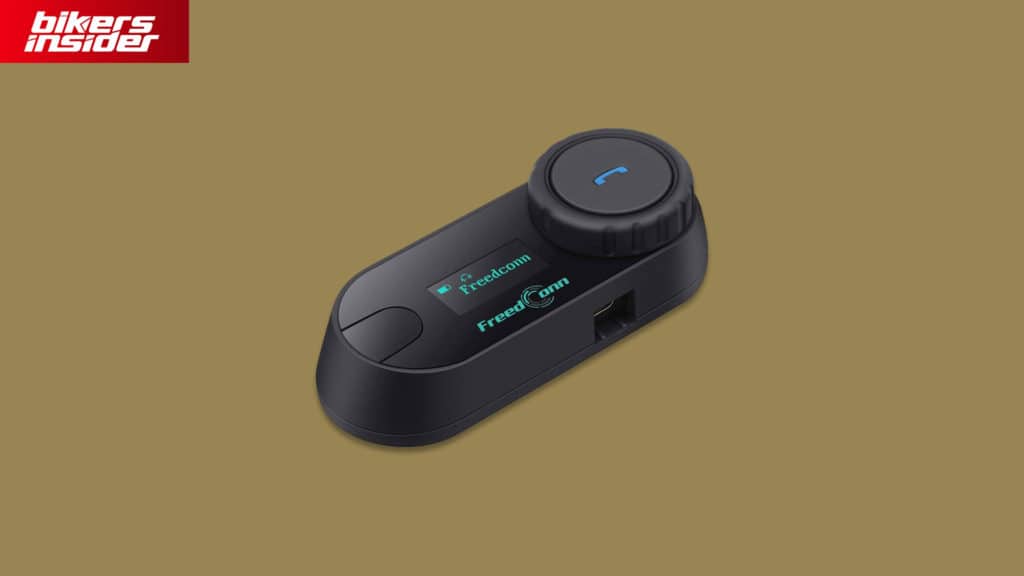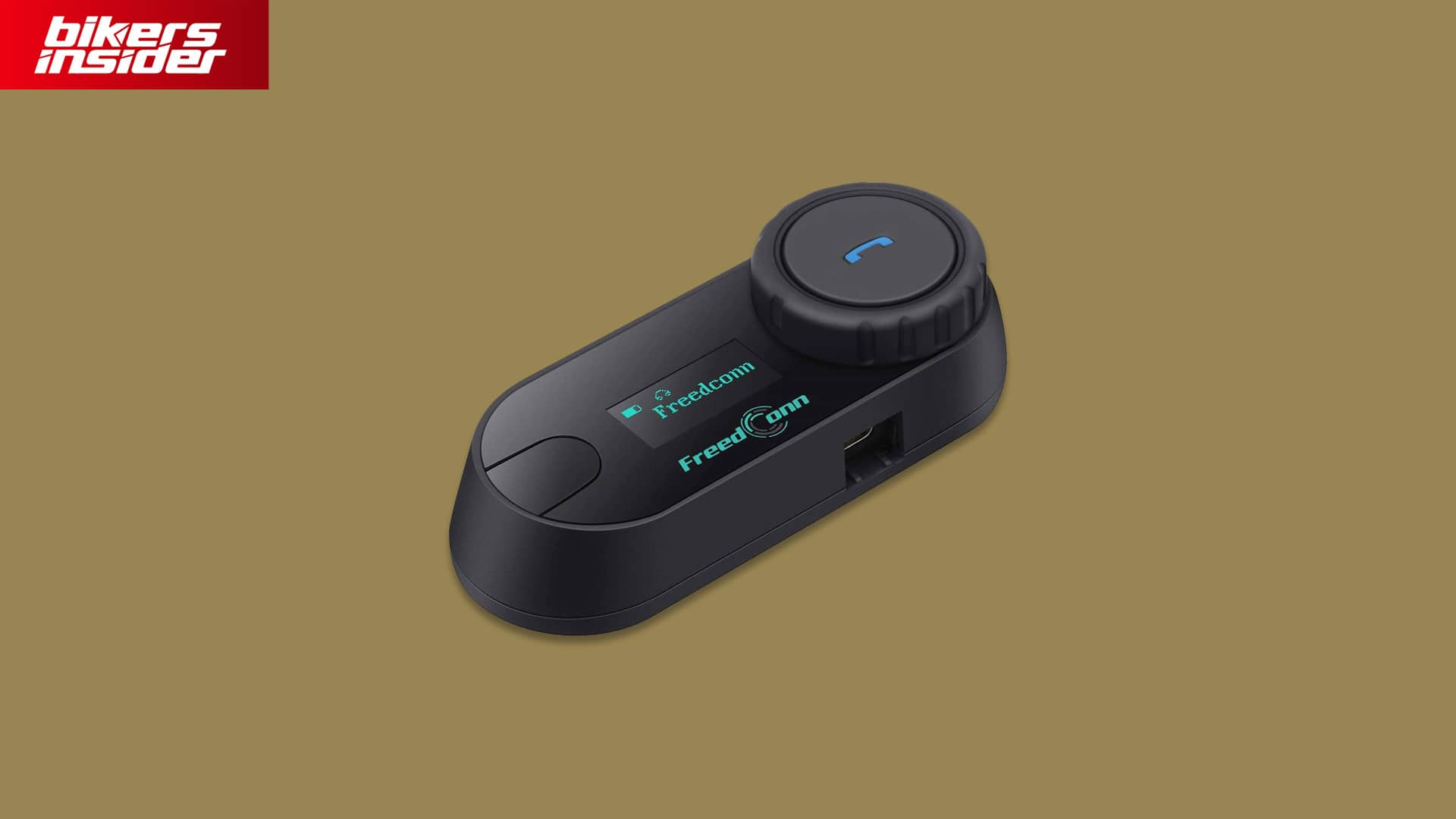 Here is a quick overview of the main features of the FreedConn TCOM-SC Bluetooth headset:
Bluetooth 3.0 technology
800 meters (0,5 miles) of range
Intercom support for up to 3 riders
IP66 waterproof rating
Partial audio multitasking
Built-in FM radio
8 hours of talk time
120 hours of standby
2,5 hours of charging time
Without further ado, let's dive into our FreedConn TCOM-SC Bluetooth headset review!
Design & Installation
Right out of the box, we can see that this is a fully plastic Bluetooth headset, albeit very sturdy nevertheless. It has two buttons, a power button, and a jog dial. 
The power button is used to power on and off the device and activate different pairing modes. On the other hand, the jog wheel is used to increase and decrease volume and for switching music and radio stations. The button in the middle of the jog wheel serves to answer and reject calls and toggle the FM radio functionality.
It is relatively simple to install the FreedConn TCOM-SC headset to your helmet. Keep in mind that it is designed for the right-hand side of the helmet, which may be tedious to some. In such a case, you will need to often get your hand off the throttle, which can be dangerous.
To install the TCOM-SC on your helmet, you can either use the plastic clips or the sticky plate mount. With our test sample, we used the plastic clip, which is fairly easy to set up.
Note: Make sure to check for cracks on the plastic mount from time to time. It is obviously cheaply made!
We wouldn't recommend installing the headset with the sticky plate mount, especially if you are living in a rainy region.
Bluetooth Pairing
This Bluetooth headset is enabled by Bluetooth 3.0 technology and allows you to connect to your smartphone or a GPS device. Once you pair the headset with the device of your choice, you get access to features such as listening to music, answering and rejecting calls, and getting GPS instructions.
One complaint with the Bluetooth connectivity we have is when someone else calls you when you are in an existing call. The device tends to automatically switch to the pending call, which can sometimes get very tedious.
When it comes to connecting to other headsets, check out the video below on how to do it properly. 
In the next section, we will go more in-depth on how the intercom functionality works.
Connection Range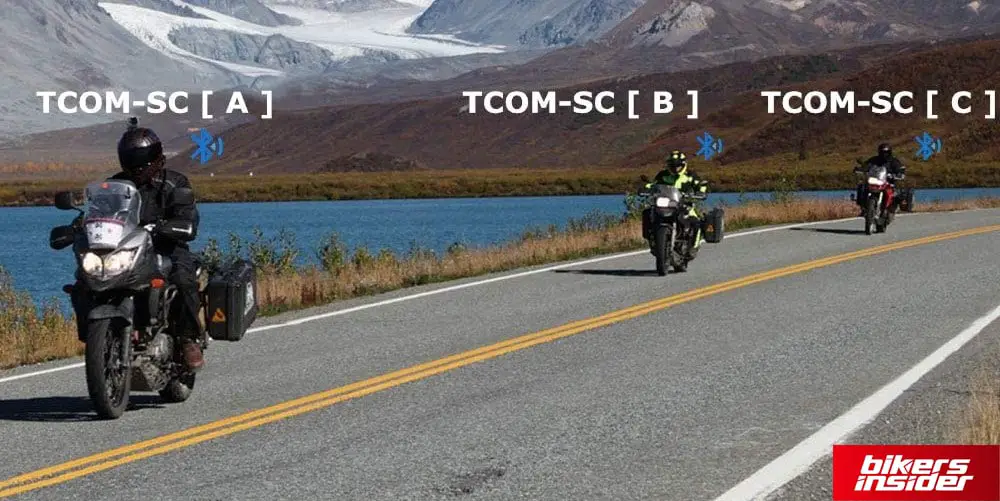 Let's talk more about the intercom range and more specifications of this functionality. First of all, the maximum range between riders is 800 meters (0,5 miles). It goes without saying that the connection will be less stable if you are riding in a bustling city with lots of traffic and buildings, which are interference. Other ambiance like this are hills and wooded areas.
You can connect three FreedConn devices to the intercom at maximum. We didn't test the connection with other headset brands, but we've heard it's possible with some, with mixed results.
Even though you can connect to three headsets, only 2 people can talk in the intercom simultaneously, which is a bummer. Whenever you are listening to music and intercom triggers, the music will pause until you disconnect from the intercom.
Sound Quality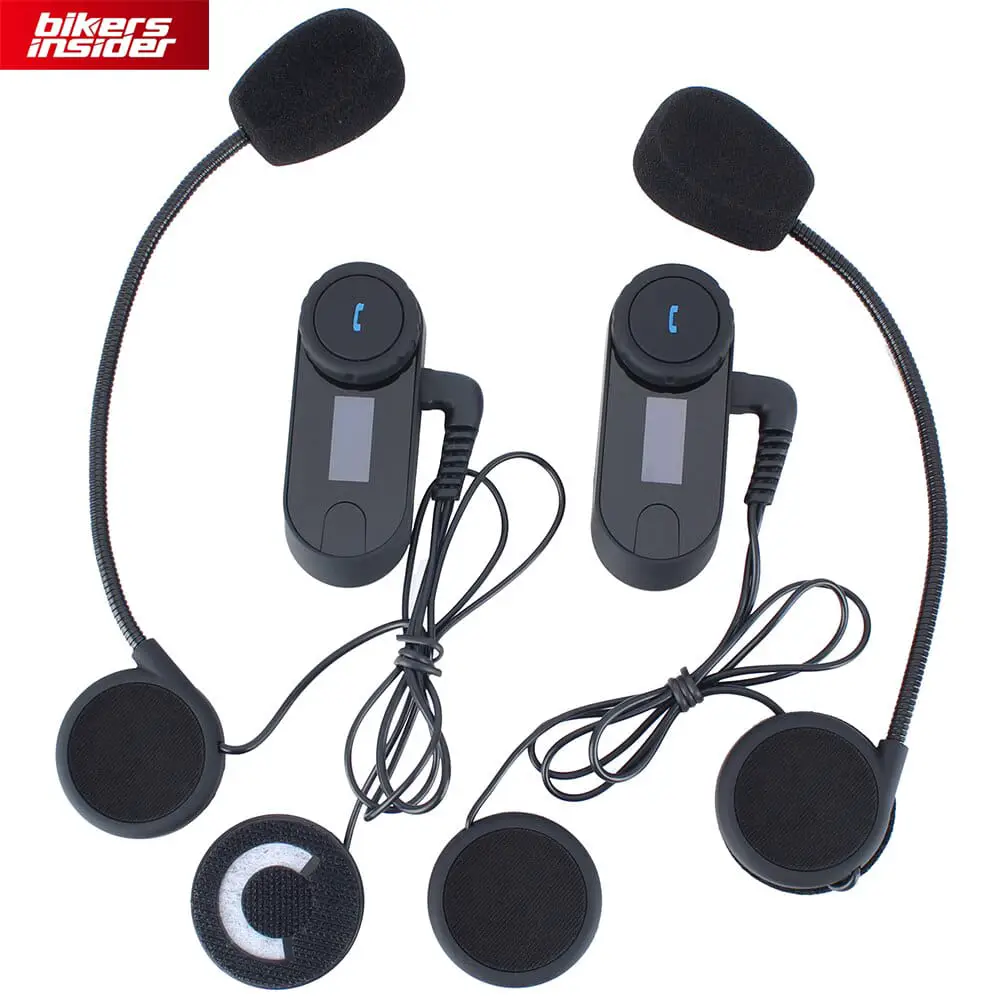 The sound quality of speakers and the microphone featured on the TCOM-SC is fairly decent when you consider the package's price. Speakers are relatively good for what they are and offer suitable volume options when the ambiance is quiet enough.
One major issue with the speakers is that one may just decide to randomly stop working. Thankfully, this hasn't happened to our headset yet, but we've seen many users complaining about that, which will void the 1-year warranty.
The microphone is good at picking up clear audio, thanks to the advanced noise cancellation implementation.
But, once you hit speeds higher than 80 km/h (50 mph), the audio quality will significantly decrease. You will feel that the speaker audio isn't rich enough to break through the wind noise or engine noise. The microphone will struggle to pick up clear sound from you.
Still, this issue will plague users who have louder exhausts and prefer to ride faster than the average.
Voice Control
For those looking for a Bluetooth headset with robust voice command capabilities, we will say that the TCOM-SC Bluetooth headset will disappoint you. Like many other budget Bluetooth headsets, it doesn't feature dedicated voice support like Sena and Cardo devices do. 
Along with the lack of a dedicated voice command system, this Bluetooth headset does another step backward. It also doesn't provide support for Google Assistant or Siri activation when you pair with your smartphone. 
It's a shame, as the hands-free operation is quite important with Bluetooth headsets. Especially when you don't need to take off your main hand, which is placed on the motorcycle's throttle.
Additional Features
Here are some features of the FreedConn TCOM-SC Bluetooth headset worth a mention:
Audio Multitasking
FreedConn TCOM-SC Bluetooth headset provides you with the ability to simultaneously answer phone calls and listen to music via your phone or FM radio. It's a nice feature to have, although it comes with a downside.
The major downside is that you cannot listen to music and be in a Bluetooth intercom group simultaneously. Keep in mind that you will get an audio warning when you are prompted to join the intercom group.
Built-In FM Radio
Want to listen to your favorite radio stations when on the go? You don't even need to connect to your smartphone via Bluetooth, as this headset features a built-in FM radio component.
Water Resistant or Waterproof?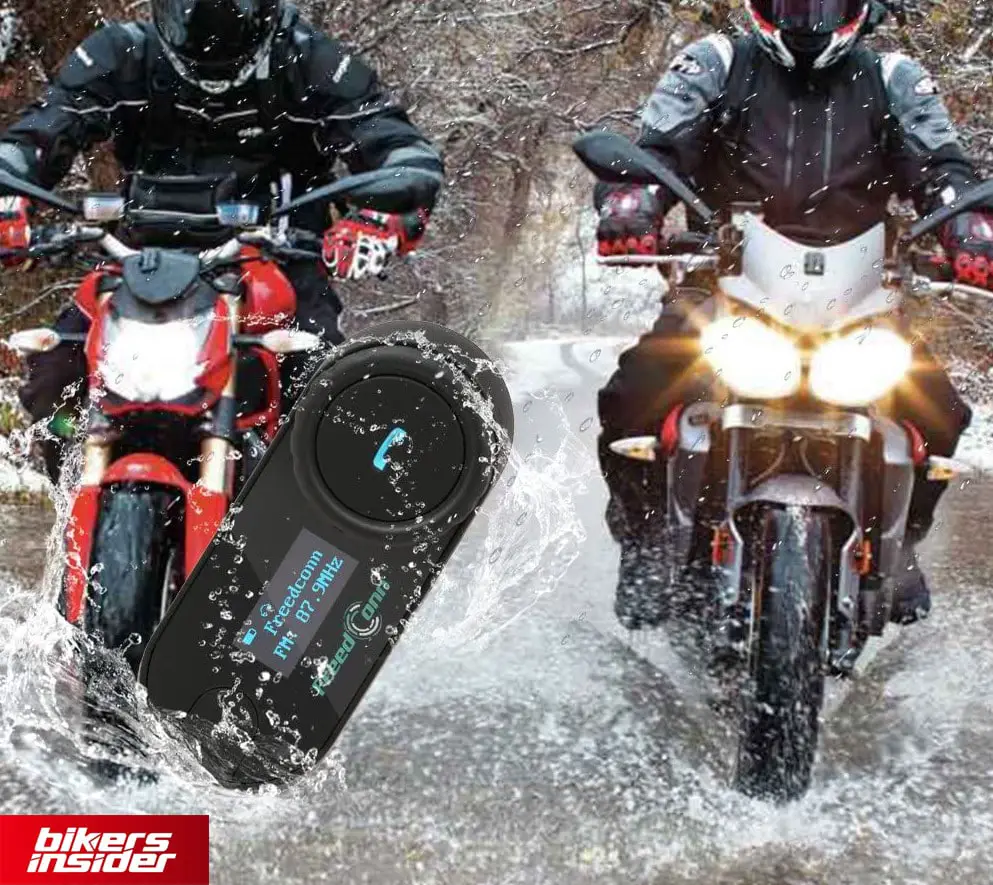 We tested the TCOM-SC in rainy conditions, and it worked regardless of riding in the rain for 5 hours. This Bluetooth headset features an IP66 waterproof (more like water resistance) rating to thank for that. 
What does this rating mean? First of all, it indicates maximum dust resistance, so you can rest at ease even if dust gets inside the ports of the headset.
The other aspect of the IP66 rating regards the water resistance. It indicates excellent durability in rain and snow conditions. There is one testing phase that this Bluetooth motorcycle helmet headset didn't pass, and that is the water submersion test.
Battery Life
Considering the price of this motorcycle helmet communication system, we were really surprised by its battery life. The FreedConn TCOM-SC provides 8 hours of talking time, which can also translate to other activities like listening to music from your phone or using the FM radio. Also, the headset can withstand 120 hours of standby time.
When the battery gets empty, you can charge it from zero to hero in 2 and a half hours with a USB cable!
Overall, the battery life is decent, considering how the build quality of the Bluetooth headset itself. 
Price
Well, now that we've gone through the main benefits and disadvantages of this Bluetooth headset, how much will it cost you? Considering the sacrifices made on the sound quality, the lack of any voice command support, and the intercom limitations – the price is relatively modest.
Right now, the FreedConn T-COM SC will cost you $56,99/€47,04/£43,08. 
If you are interested in buying yourself, check out the current prices on the buttons below!
Conclusion
So, at the end of our FreedConn TCOM-SC Bluetooth headset review, would we recommend it? Well, yes and no, and that depends on what type of user you are.
To summarize it, we would gladly recommend this Bluetooth headset to those looking for something basic with no robust capabilities. Say that you are riding with one buddy and are looking for a decent, albeit flawed, communication device. In such a case, go for it.
But, if you are looking for a headset with exceptional sound quality, robust voice control capabilities, and intercom support for larger groups, then this headset certainly won't be the best fit for you.
Still, for what it is and for its price tag right now, FreedConn T-COM SC is an overall decent Bluetooth headset that served as a foundation for future upgrades issued by FreedConn.
Check out our Bluetooth headset review section for more in-depth looks at popular Bluetooth headsets!