Iron Man is one of the most beloved superheroes and one of the ultimate Stan Lee creations. The playboy millionaire turned superhero features a charm, unlike any other superhero. When you consider the fact that Iron Man doesn't have any superpower, other than money and intelligence, it humanizes him even further. That's why owning one of Iron Man motorcycle helmets may feel like being a superhero on a motorcycle!
Tony Stark, AKA Iron Man, has a powered armor that provides him superhuman strength and ability to fly. His helmet is equally iconic as his armor, featuring gold and yellow tones drowning in each other, further complemented by eye sockets that offer a glimpse of Iron Man's power.
There are numerous iterations of the Iron Man motorcycle helmet out there, and we have given our best to compile our best and most affordable picks for you in 2021! Read on further to find out what are the best Iron Man motorcycle helmets out there!
If you are in a rush, here is a table down below that shows our picks for the best Iron Man motorcycle helmets!
| Image | Product | Price |
| --- | --- | --- |
| | HJC RPHA 70 ST Iron Man Style Helmet | Check Price |
| | HJC IS-17 Marvel Iron Man Street Motorcycle Helmet | Check Price |
| | Matrix Alpha custom painted Iron man Design | Check Price |
| | 1storm Full Face Iron Man Motorcycle Helmet | Check Price |
| | Marvel Legends Iron Man Electronic Helmet | Check Price |
HJC RPHA 70 ST Iron Man Style Helmet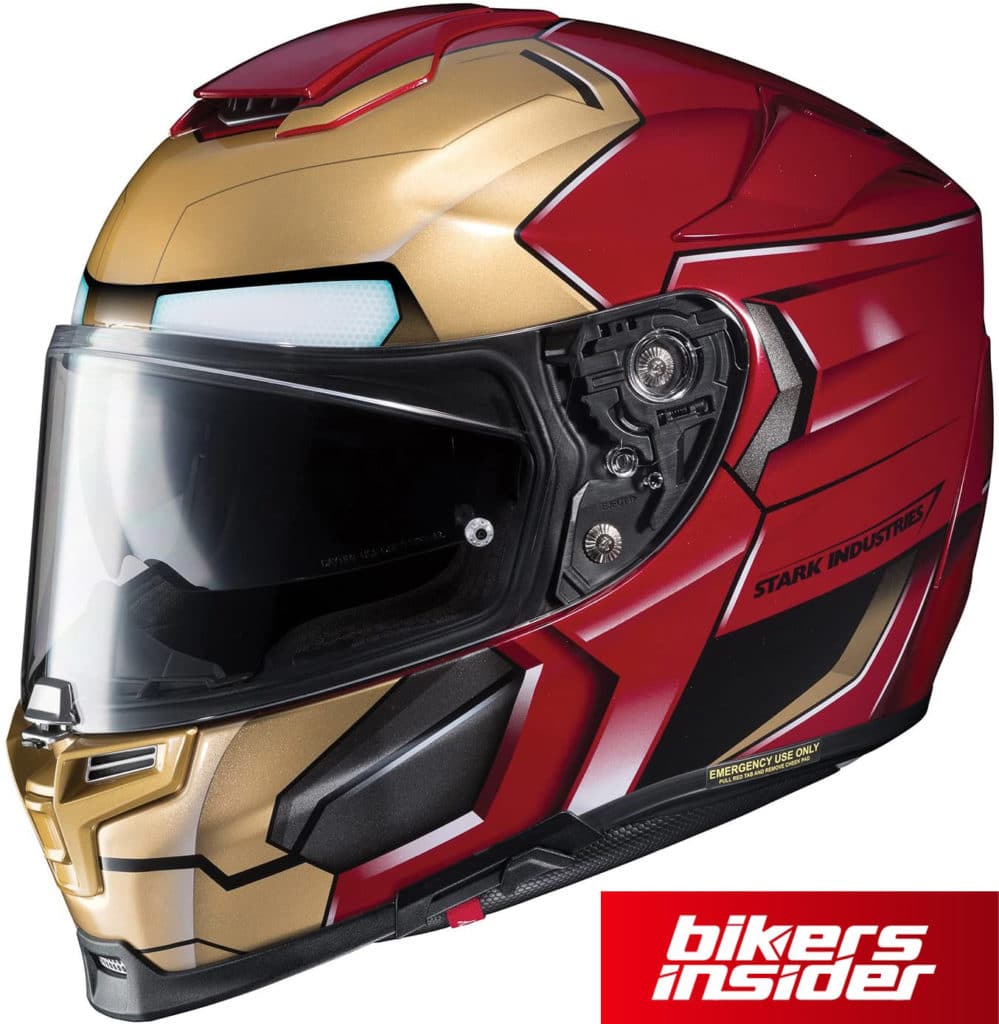 If you are by any means a Marvel fan, or even better, the Iron Man fan – this Iron Man-themed helmet from HJC is a must-buy! Its design combines the best of sports and touring motorcycle helmets, with lightweight performance, balanced airflow, and protection, along with quiet and convenience.
The construction of this helmet utilizes a combination of carbon glass hybrid fabric and carbon fiber that results in very high shock resistance. In short, HJC uses the term "Advanced Premium Integrated Matrix Plus" for the construction of this helmet. We should note that this is a DOT-approved Iron Man motorcycle helmet.
Other than superior construction, ardent motorcycle riders prefer this helmet because of its highly effective ventilation system. It features both intake and exhaust vents that provide the necessary airflow. When it comes to visibility, this HJC helmet includes a sun shield that is anti-fog and features smoke tint. It is also quickly deployable, which makes for more comfort for the rider.
You will be delighted to know that this Iron Man motorcycle helmet has cheek pads with an emergency removal system and comfortable inner padding that features an antibacterial layer along with enhanced moisture control. The cheek pads and the crown of the helmet are easily removable and washable, which increases the convenience factor significantly.
The general color scheme of this HJC helmet should be no stranger to Marvel and Iron Man fans. It is faithful to its source material, and we assure you that you will keep the heads turning when you wear this helmet. Well, along with high-quality construction and features, this HJC Iron Man helmet is a real bargain!
PROS
Glasses-friendly design
Features a vent switch for easy airflow control
The cooling interior is of premium quality
Full of removable features that make maintenance effortless
CONS
A bit noisy during high-speed rides
High quality comes at a high price
HJC IS-17 Marvel Iron Man Street Motorcycle Helmet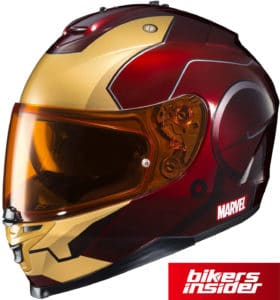 Here is an another HJC motorcycle helmet that effortlessly translates the quality and design of the iconic Iron Man helmet. It is a great budget alternative to the RPHA ST 70 variant, as it offers high-detail design and durable construction, making it one of the most valuable Iron Man motorcycle helmets around.
HJC utilizes the "Advanced Polycarbonate Composite Shell" and delivers with quality materials and high durability. It is also worthy to note that it is an immensely comfortable helmet, with a design that emphasizes superior fit and simple removal and putting on. There is no doubt that this Iron Man motorcycle helmet features superb protection, the fact that DOT certification should prove.
One thing that sets this HJC Iron Man helmet apart is its tinted visor, which further contributes to the cool factor of it. This visor features 95% UV protection, which is an excellent bonus! Also, the face shield features a 2-stage closure process which is effortless to do.
PROS
Features an impact-absorbing EPS liner that offers both comfort and safety
You can choose from three positions that feature locking mechanisms
Superior airflow in a form of Advanced Channeling Ventilation System
Very cool interior design, with an anti-bacterial and anti-moisture fabric included
CONS
A bit loud during high-speed rides
No Bluetooth
Masei Iron Man Motorcycle Helmet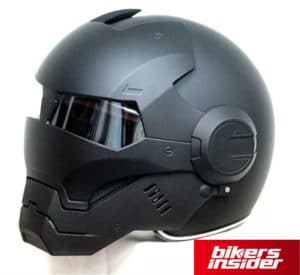 The incredibly stylish Iron Man motorcycle helmet from Masei is actually called the Masei 610 Atomic Man motorcycle helmet. If you ever wanted a matte black Iron Man motorcycle helmet, this is the one! Along with the black, you can find this Iron Man motorcycle helmet in a wide range of colors, including red, green, and gold.
This full-face motorcycle helmet features a flip-up visor and is DOT-approved. Regardless of its DOT certification, there is no doubt that this helmet is more about the looks and less about protection. Make sure to keep that fact in mind when you are deciding to buy this motorcycle helmet.
Inside the helmet, you can find a red leather interior padding, which is quite comfortable to say, at least. Also, you get a fairly standard D-strap in the package, which means you can lock the helmet in place so that it's a perfect fit for your head.
What most will notice about this helmet are the two eye slots, which is the signature Iron Man style. While this helmet might not be the best quality-wise, it is undoubtedly a great balance between quality and attention to the source material.
PROS
Features a flip-up visor
High-quality comfort liner
Lightweight and comfortable for various head shapes
The protective face mask is great for dynamic rides
CONS
A bit on the expensive side when you consider all the features
Not the best sound isolation, especially on the highway
1storm Full Face Iron Man Motorcycle Helmet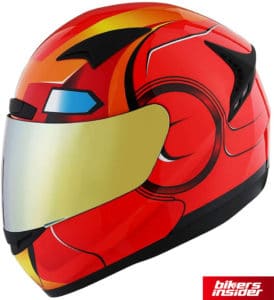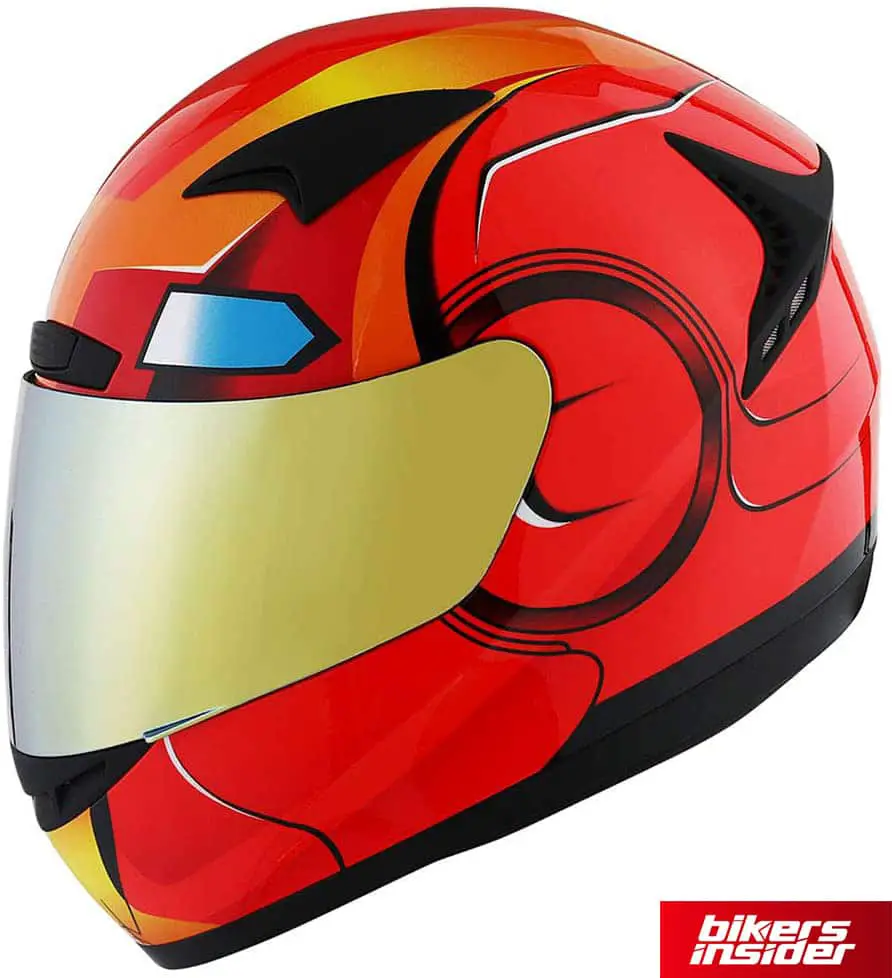 This is an extremely affordable outing from 1storm that features a fantastic ventilation system, coupled with a DOT-certified construction. The ventilation system features three levels and five ventilation channels. Its rear vent is very effective at accumulated warm air elimination thanks to its role as an exhaust.
Because of high-quality ventilation design, the 1storm Iron Man motorcycle helmets are amazing for hot weather rides. The interior features cushions that offer additional comfort. Of course, you can remove the interior and wash it whenever you want.
Along with all mentioned above, this helmet is made of extremely light thermoplastic alloy, which puts the weight of the helmet to just 2,15 kg! For increased practicality, the helmet's shell is shaped aerodynamically.
PROS
Offers very nice protection
Very affordable
Comfortable inner padding
Great for hot weather
Aerodynamic and high-quality, lightweight design
CONS
Chin strap might be too short for some users
No mouth vents which may induce fogging in certain weather conditions
Marvel Legends Iron Man Electronic Helmet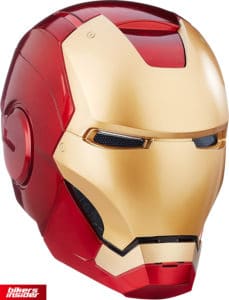 While this certainly isn't an actual motorcycle helmet, it is one of the most authentic Iron Man helmets that you can take on the road for sure! If you want to feel like the true Iron Man, this is the helmet that will allow that, as it features two LED eyes. Other than its amazing, authentic design, this helmet got some other tricks up its sleeves!
This helmet features an entirely detachable magnetized faceplate that can be connected to the top of the helmet. It comes with sound effects that are true to Iron Man's suit. When you attach or detach the faceplate to the helmet, the eyes will light up. How cool is that?
The interior of the helmet resembles the electronic design of the true Iron Man helmet, which is very important, especially for all you collectors out there! So, while this is definitely not the safest Iron Man helmet for the road, it is undoubtedly the most authentic one.
PROS
Superbly detailed exterior of the helmet, along with different functions
Adjustable and fit for many head shapes
Great for Marvel fans and collectors
Feels like true Iron Man helmet, at least from aesthetic perspective
CONS
A bit hazy visibility, based on the fact that the helmet features LED-light eyes
Head strap doesn't function well at all times
No protection from a crash
Custom Painted Iron Man Motorcycle Helmet Designs
If the six best Iron Man motorcycle helmets above aren't enough, here are some of the coolest custom painted Iron Man helmet designs for you below!
---
Iron Man is one of the most popular super heroes ever, with a fantastic design that feels right at home with motorcyclists. The design of his helmet got numerous motorcycle helmet iterations, even by pioneers in the market, like HJC. The six helmets featured on our list are undoubtedly the go-to Iron Man motorcycle helmets that will keep the heads turning on you.
If you want to check out more amazing motorcycle helmets, make sure to check out our list of coolest motorcycle helmets of 2021!