Looking for the best Bluetooth communication system between the rider and a passenger? Well, not many motorcycle Bluetooth headsets are specialized in that way, so it's good to see a breath of fresh air. In our Cardo Freecom Plus Bluetooth headset review, we will delve deep into one such device!
While it may not be the best fit for those looking for a high-range intercom device, the Freecom Plus will please those looking for an audio suite for the rider and a passenger.
Read on further to find out more about this Bluetooth headset from Cardo!
Cardo Freecom Plus Bluetooth Headset Review – Features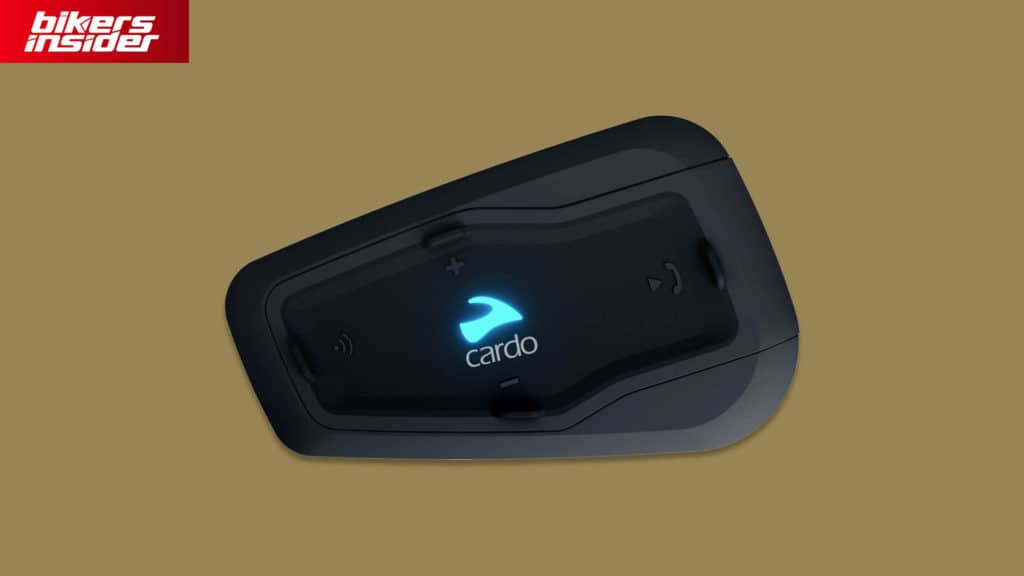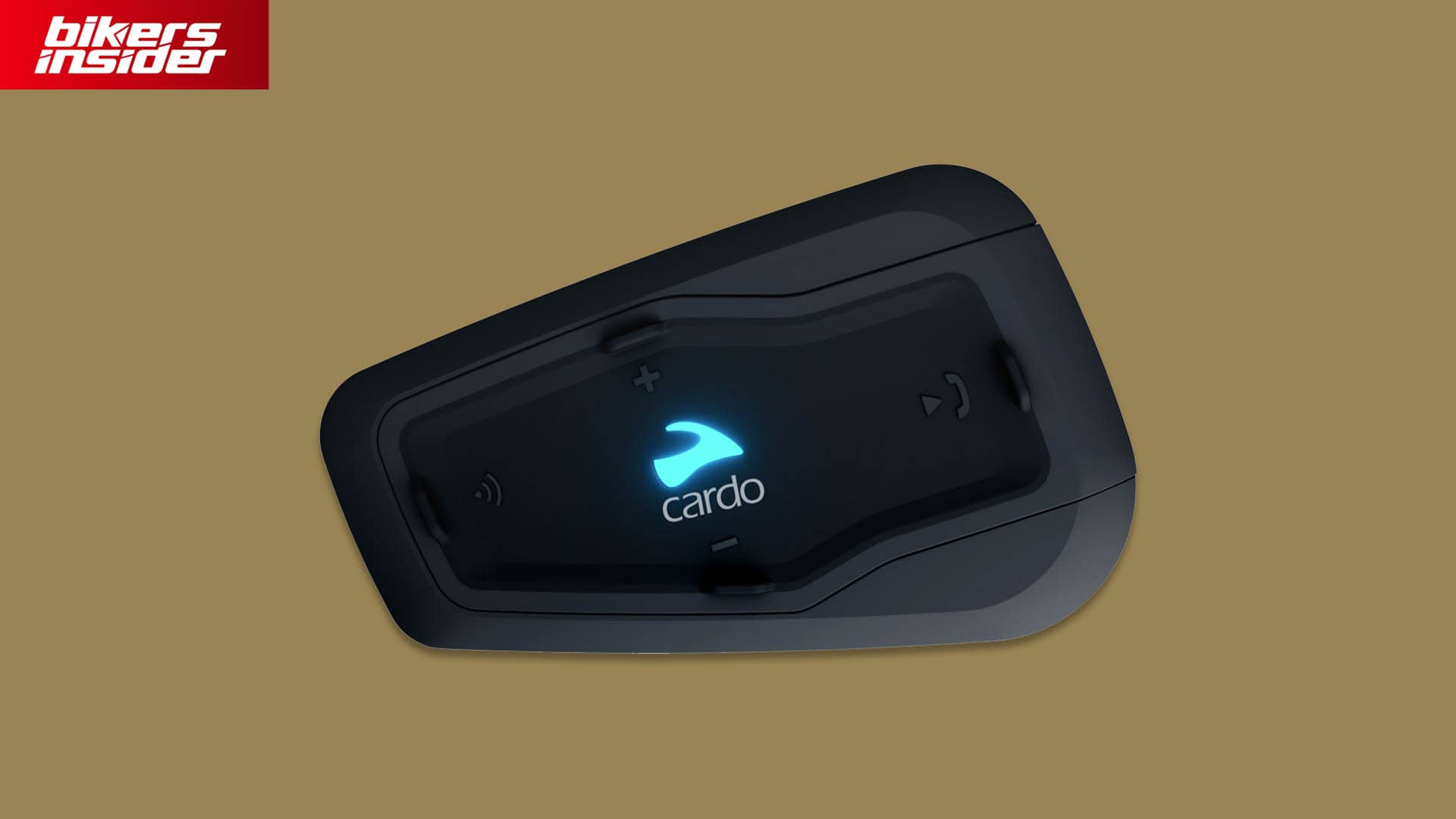 Here is a quick overview of the main features of the Cardo Freecom Plus Bluetooth headset:
Bluetooth 4.1 with two channels
IP67 waterproof rating
Rider to Passenger intercom range
Voice command support
Built-in FM radio
Hybrid style microphone
13 hours of talk time
Automatic volume control
40mm replaceable speakers
Music sharing
Without further ado, let's start our review!
Design & Installation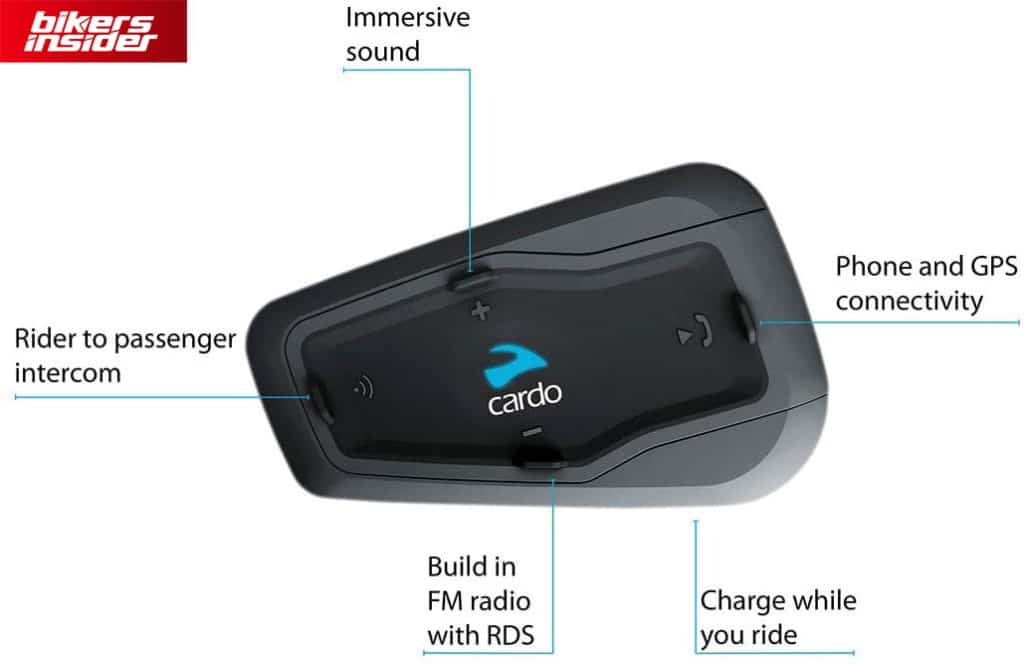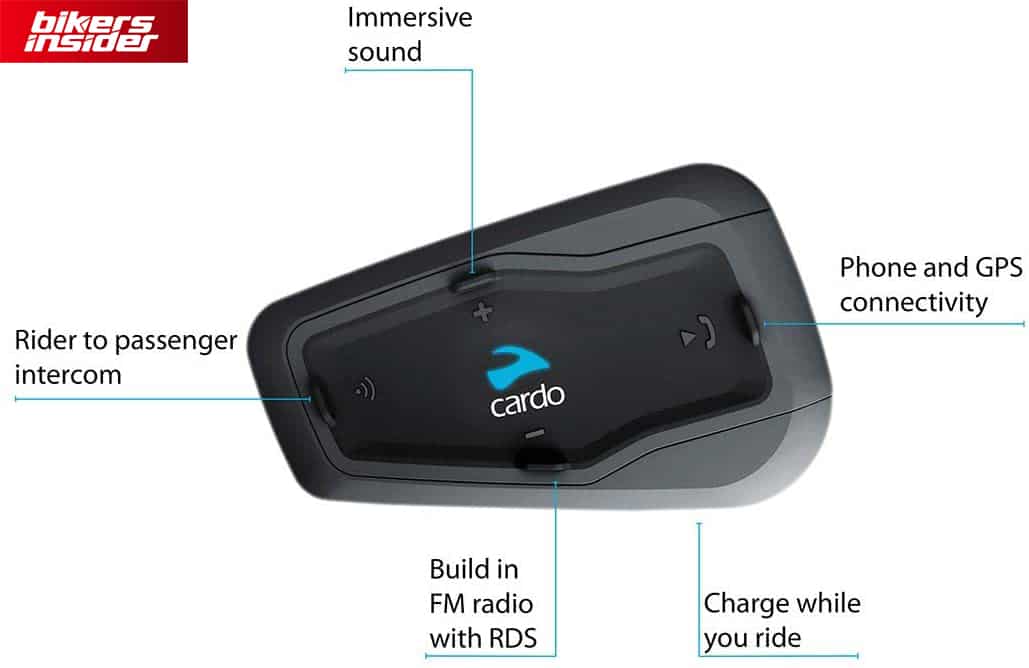 Being 16mm thick, Cardo Freecom Plus is one of the slimmest Bluetooth headsets around. It features a minimalistic design, with four tactile buttons that serve different functions. You can find all the functional combinations of these buttons on the included instruction manual. 
Note: The buttons are designed so that they are tactile even with gloves on!
Installation of the headset itself is relatively simple, with a boom microphone, 40mm speakers, the headset itself, velcro straps, sticky and clip-on brackets needed to fully install it. It's a shame that there is no button microphone in the package.
If you use the clip-on to install the headset on the helmet, watch out for the hook part. One wrong press, and you can see your headset flying down on the road behind you!
For a visual representation of the Freecom Plus installation, check out the video below!
Bluetooth Pairing
The Freecom Plus is powered by two Bluetooth 4.1 channels, which enables you to connect the headset to two Bluetooth-enabled devices simultaneously. In our opinion, the best combination would be a connection to your smartphone for music and to a sat-nav for expanded navigation.
Connecting to a smartphone or a GPS device is simple enough on its own and even more straightforward if you use the Cardo Connect App. You can get this app for Android and iOS devices. Just make sure to memorize the button combinations to avoid the tedium of losing connection to one of these devices randomly.
Note: you can share music with your partner that you are listening to on your smartphone.
Some occasional connectivity issues still aren't fixed after firmware updates (oh yeah, the updates are done with plugging-in the headset to the computer, which in some cases isn't very convenient). Sometimes, when the second headset connects to your headset, the connection to any Bluetooth-enabled device may drop. You can solve this issue by merely restarting the headset.
Cardo Freecom Plus supports a connection with one other Bluetooth headset. The compatibility is nice, and you will be able to connect with headsets other than Cardo.
Also, keep in mind that you won't be able to listen to music or GPS instructions with the intercom chat simultaneously, which is a shame.
Connection Range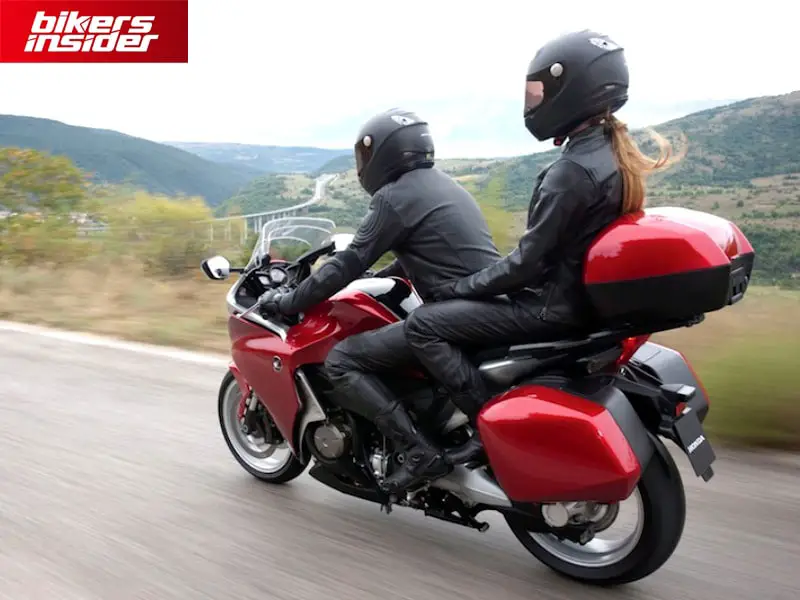 This is the most disappointing aspect of the Cardo Freecom Plus, compared to other prevalent headsets on the market. This Bluetooth headset is designed to be used as a rider to passenger device, with an effective range of only 10 meters.
Even if you try pairing it with another rider, expect static if your riding partner isn't riding parallel with you. 
When you want to start the intercom chat, you just need to tap the front button and wait four seconds for the connection to establish.
In summary, if you are looking for a high intercom range, the Freecom Plus isn't the right fit for you.
Sound Quality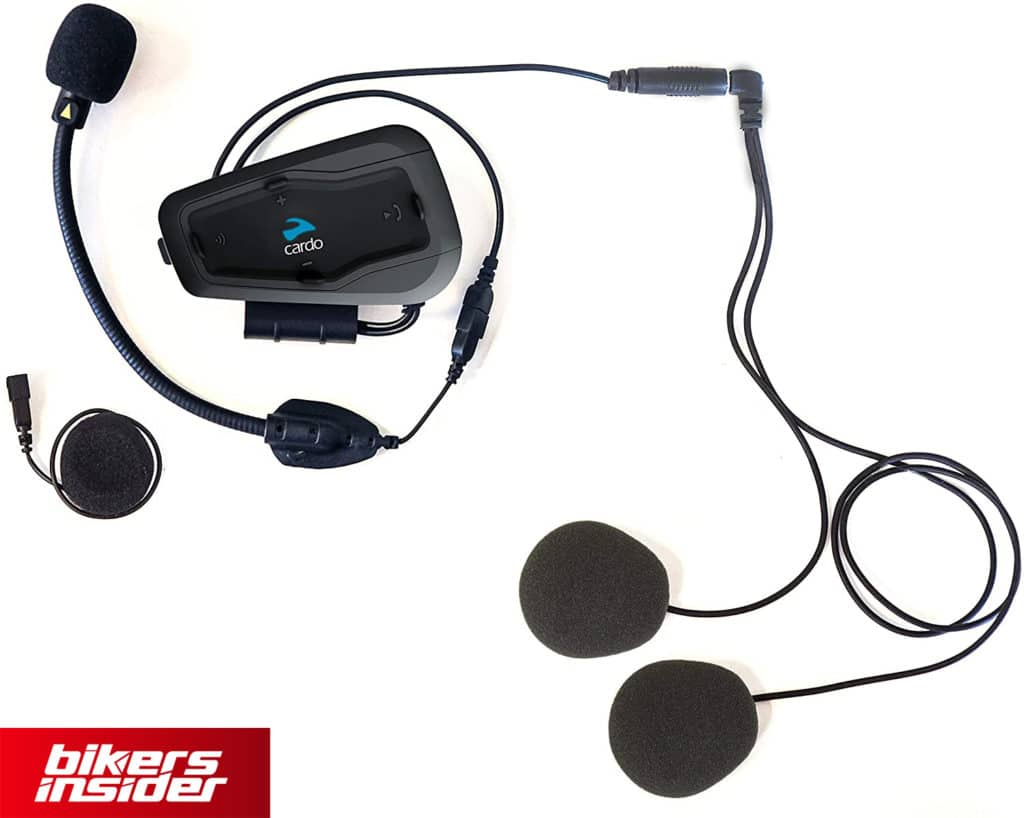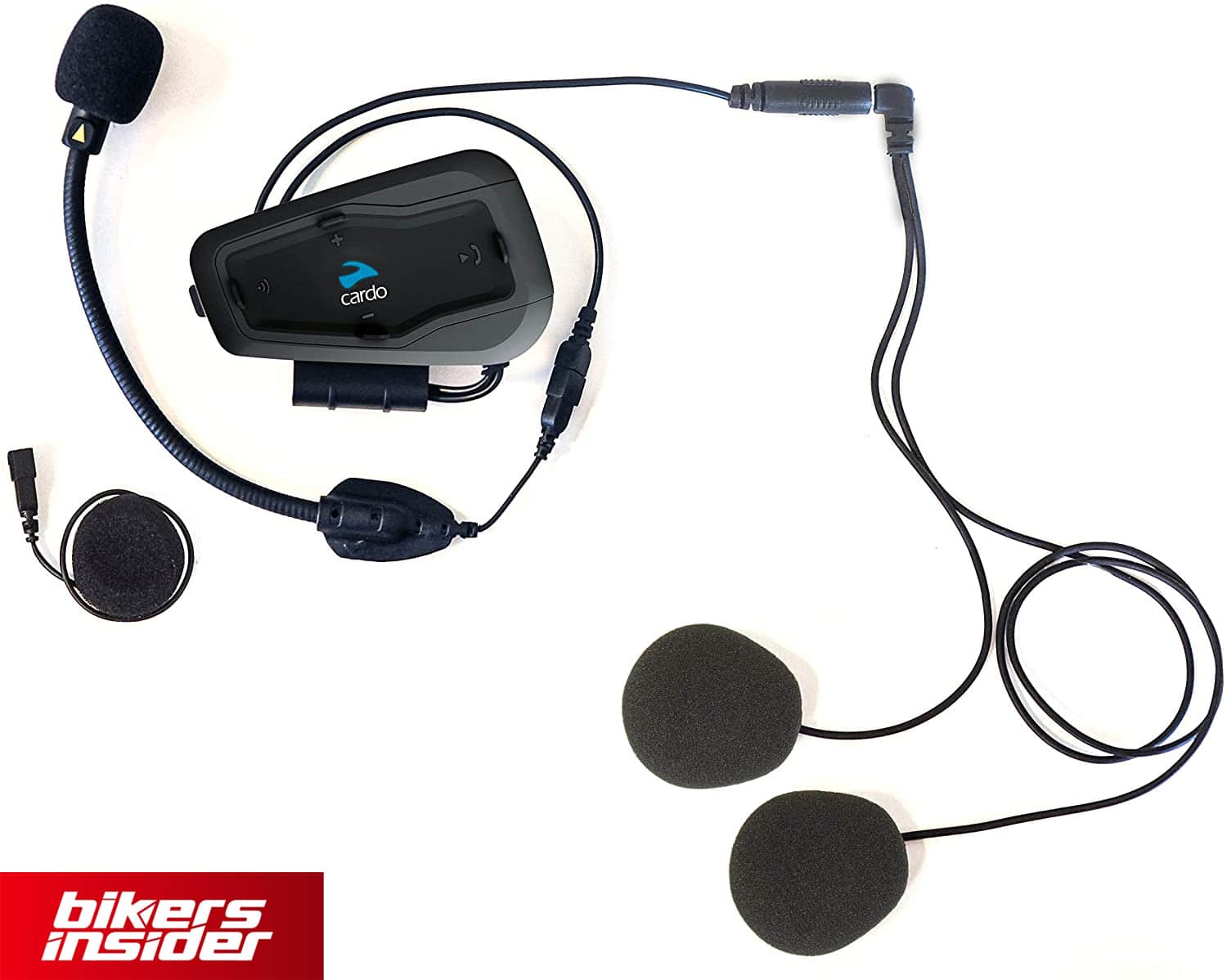 When it comes to Cardo, their headsets feature some of the best audio (both speaker and microphone audio). The Cardo Freecom Plus doesn't disappoint on this front. 
When it comes to the speakers, the Freecom Plus comes with 40mm speakers that provide an excellent quality sound, better than most headsets on the market. Remember that this headset doesn't come with JBL speakers (only Freecom 4+ does, which we have reviewed!). 
While you can upgrade to the JBL speakers for a bit less than 100 bucks, it isn't worth it, in our opinion. The bass boost will get drowned out when riding at higher speeds, and the extra thickness may make the helmet fit less comfortable.
One great feature of the Freecom Plus audio system is the adjustable volume, which will come in handy when the exterior sounds start drowning out the speaker sound. The adjustable volume feature is transparent and won't interfere with the operation of the headset.
What about the microphone quality? The speech will be clear up to 50 mph (80 km/h), while you will need to speak louder when riding above 70 to 85 mph (113 to 137 km/h). There is noise cancellation at play here, as the exterior sounds won't trigger the intercom chat. 
Overall, the sound quality is the biggest advantage of the Cardo Freecom Plus, an aspect that most Bluetooth headsets don't handle well.
Voice Control
Cardo Freecom Plus has an integrated voice command system that you can trigger with "Hey Cardo!" keyword. With it, you can do things like:
Play and change music tracks
Get current GPS instructions
Proceed and answer phone calls
Start an intercom chat
You can also use Google Assistant or Siri with this headset, which is a nice addition.
It goes without saying that this voice command system isn't developed as well as with the successors of the Freecom Plus, but it's still a nice feature to have, considering the price tag of the headset.
Water Resistant or Waterproof?
Like other devices from Cardo, the Freecom Plus features an IP67 waterproof rating. This rating indicates that the shell of the headset is very durable against rain and snow. Also, the rating indicates that the headset is dust-proof.
We had tested this headset on a ride when it was raining for 5 hours straight, and the headset was working fine. Kudos to Cardo for continuing the trend of creating extremely durable Bluetooth headsets that will function in the long term period.
Battery Life
The battery inside the Freecom Plus has 600 mAh of capacity. In the official specifications, Cardo states that the battery can withstand:
13 hours of talk time
1 week of standby
After you discharge the battery, you can use the Micro USB cable to charge the device in 4 hours. 
During our testing, our maximum session duration was 10 hours. During the session, we used the intercom, talked over the phone, and listened to music. The battery didn't discharge at all.
Considering how slim the headset is, it is really surprising to see such an extensive battery life. Keep in mind that you can charge and use this headset simultaneously.
Price
When you consider its low range but high-quality audio and a suite of other features, how much will the Cardo Freecom Plus cost you? Cardo is a well-established brand in the Bluetooth headset, so expect to pay a bit more for it.
The current price of the Cardo Freecom Plus is $105/€86,69/£111. Of course, sales come and go, so the price may change.
If you want to check the accurate pricing of the Cardo Freecom Plus Bluetooth headset, check out the buttons down below.
Conclusion
We hope you got some valuable information in our Cardo Freecom Plus Bluetooth headset review! Would we recommend it? Well, yes and no!
First of all, if you are looking for a Bluetooth headset mainly for the group intercom functionality, avoid this headset. It is designed to be a communication device with the partner on your back seat.
But, if you are looking for a media suite, then this headset might just be worth it! It offers great audio quality, connectivity with up to two Bluetooth devices, and even a voice command feature!YES
Overall, the Cardo Freecom Plus Bluetooth headset is worth its price tag if you are looking for a media suite rather than a communication device.
Check out our Bluetooth headsets section for more device reviews!