Boba Fett is one of the most popular Star Wars characters of all time, even though he plays a minor role in the first trilogy of movies. Nevertheless, the design of his helmet and armor has gathered a cult following over the decades. Now, you can wear the Boba Fett motorcycle helmet in full glory, thanks to the popularity of Star Wars and the character.
While most cool motorcycle helmets may be divisive, Boba Fett helmet design has a specific, badass charm that is hard to dislike. Of course, other Star Wars characters have amazing helmet designs, but there is something in the bounty hunter charm that oozes through this design.
Let's go through the background on the character itself, see a few airbrushed Boba Fett helmet designs, and break down the best Boba Fett helmet out there!
Background On Boba Fett
His character first appears in The Empire Strikes Back and returns in the Return of the Jedi where he is a bounty hunter employed by Darth Vader and Jabba the Hutt. He is the son (more like a clone) of Jango Fett, who appears in the newer, prequel trilogy.
Jango Fett was a genetic pattern for the army of the Republic. He made a request that the Republic creates his clone that has growth acceleration, and no modification in behavior. Jango wanted a son in that way, and he got one.
Boba's childhood was spent in bounty hunter training with his father, who even used him as a bait in one of his hunts. He thoroughly enjoyed books about the Starfighter ships, a knowledge that he complemented with his training to be the best bounty hunter around the galaxy.
Eventually, during Obi-Wan Kenobi's visit to Fett's home planet, Kamino; Boba swore to avenge his father, who has decapitated by the Jedi Master Windu. He took the helmet of his father and continued his legacy. Along with the helmet, he also got an instruction book from Jango, with instructions to Jabba the Hut's whereabouts.
Hungry for vengeance, Boba tried to assassinate Windu by planting a bomb on his cruiser, which eventually failed. Even due to his thirst for revenge, he shows extraordinary compassion during his time as an inmate. Finally, he escapes the prison, and creates a team of bounty hunters during the infamous Clone Wars.
Eventually, he would get a chance for revenge, that would get delayed by Emperor Palpatine, who gave Boba some valuable information in return for letting Windu live. At 13 years of age, Boba became a full-fledged bounty hunter.
Over time, Boba became a mercenary of Jabba the Hutt and tried to stop Han Solo from escaping from Jabba. In the end, Boba got accidentally hit by Solo and ended up in the deadly Sarlacc's mouth, meeting his untimely demise.
His death is one of the most random in the Star Wars universe. Regardless of that, he garnered a cult following, with many cosplayers making incredible costumes of his armor and helmet. Below, you will see some of the fantastic Boba Fett helmet designs that every Star Wars fan will adore.
Boba Fett Custom Airbrushed Motorcycle Helmet Designs
Boba Fett HJC RPHA 11 Pro Motorcycle Helmet Review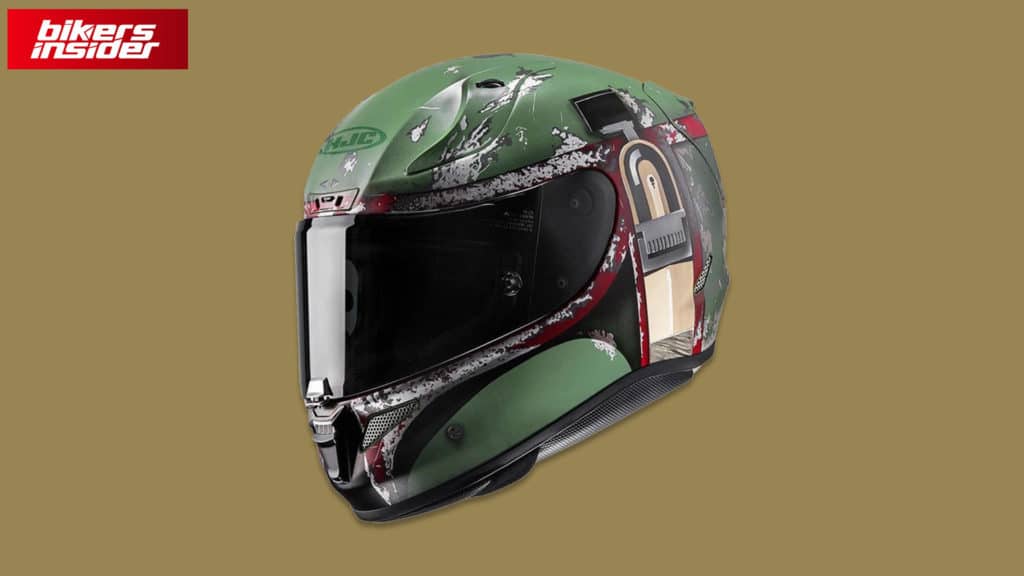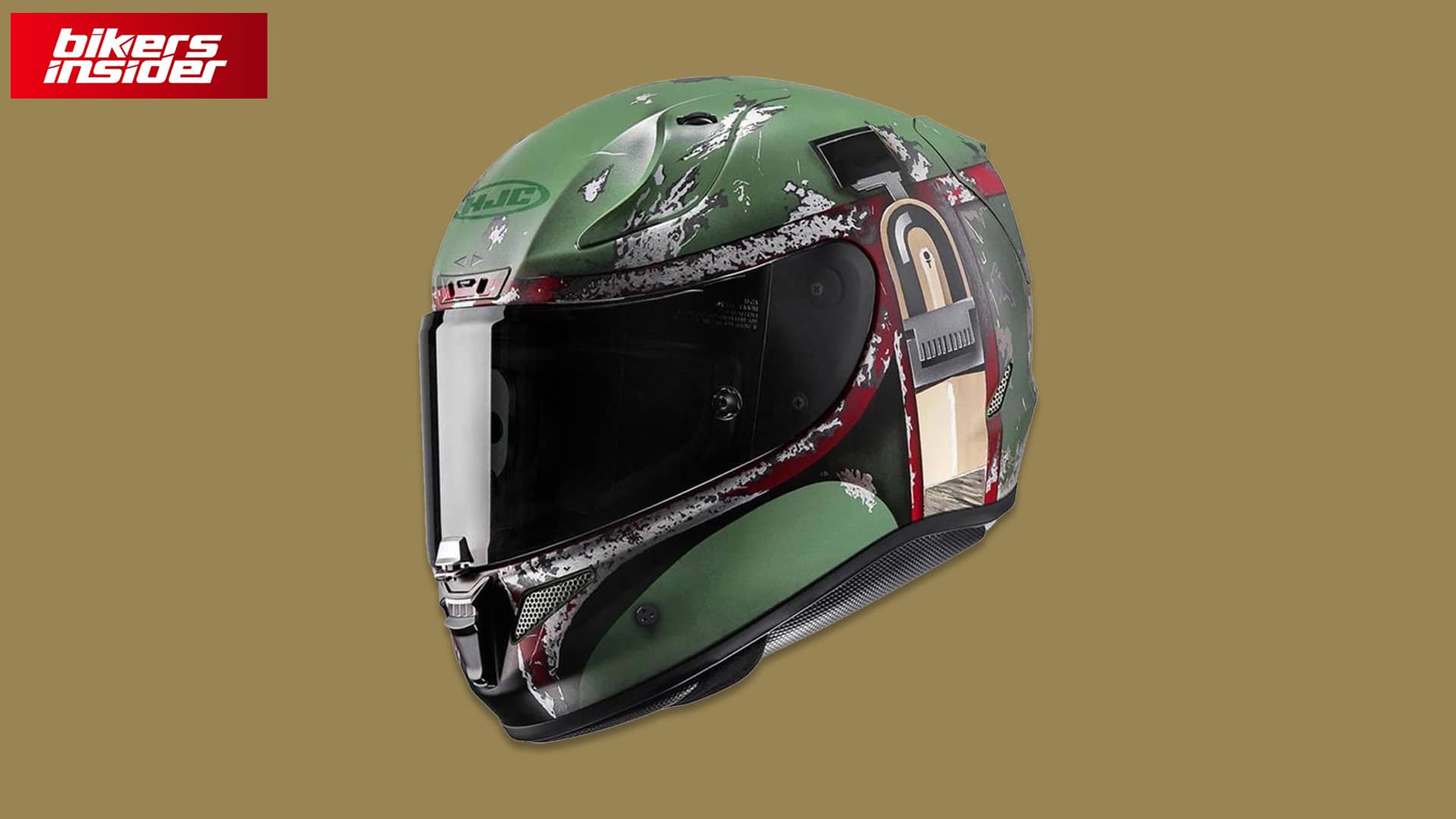 Out of all custom Boba Fett motorcycle helmet designs, the RPHA 11 Pro variant from HJC is by far the best one. This helmet is a vast improvement over the RPHA 10 version and a great fit for racing-style motorbikers. To top it off, the titular helmet is available at a reasonable price, when you consider its quality. Of course, HJC has an official partnership with the Star Wars brand, so you can be sure that this Boba Fett motorcycle helmet is right to its source.
This motorcycle helmet is a perfect fit for bikers that are huge fans of Star Wars, and want a helmet worthy to carry its name, both by build and design quality. Now, we will break down the main features of this particular Boba Fett motorcycle helmet! (there are more designs that we will show later, but this one is the best bang for your buck deal we could find!)
Here are some of the main features of the Boba Fett RPHA 11 motorcycle helmet:
PIM+ shell (combination of aramid, carbon fiber, and fiberglass)
ECE and DOT certification
Enlarged eye port
Superior anti-fog shield with RapidFire 2 Shield Replacement System
A pair of chin vents
Toggleable forehead vents
MultiCool inner lining
Without further ado, let's begin with our in-depth look at this epic helmet!
Construction & Protection
Like every other RPHA 11 Pro variant, this helmet utilizes the Premium Integrated Matrix Plus (or shortly PIM+) technology when it comes to shell construction. Essentially, it is a mixture of different materials: aramid, carbon fiber, and fiberglass. The unique blend of elements forms a shell that is both durable and light, making it more efficient than other competitive racing helmets. Along with all that, the RPHA 11 Pro is very safe, as it is both ECE and DOT certified!
The highly aerodynamic and optimized shell is exceptionally efficient when it comes to high-speed performance and maintaining consistent airflow, which we will touch upon later in the review. You can be sure that this Boba Fett helmet will offer you superb protection in the case of a bike crash!
Safety: 10/10
Visor & Face Shield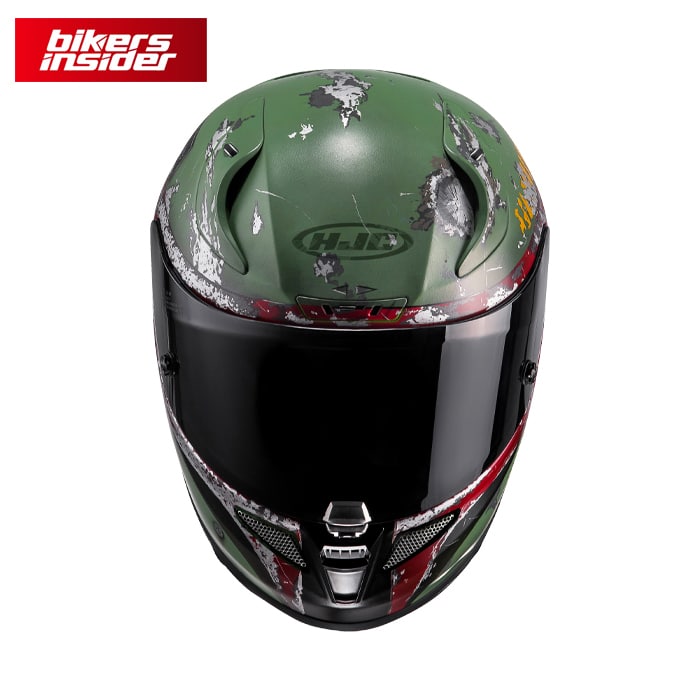 What we find as an awesome feature, especially for the high-speed lovers, is the enlarged eye-port, which will provide an increased field of view. That contributes to the overall safety level that you get, as you can see more information on the road right from the get-go.
Along with the enlarged eye-port, this Boba Fett helmet includes a superior anti-fog shield, with the RapidFire 2 Shield Replacement System that allows for lightning-fast removal and insertion of the visor. That system is widely considered as a straightforward and safe shield ratchet system. Add up the automatic shield locking system to the package, with a one-touch open and close switch operation, which adds up to the convenience factor.
We can only say that the visibility that you get with the HJC RPHA 11 Pro helmet is one of the best you can find when it comes to racing motorcycle helmets. Not many helmets offer that sheer amount of functions for the same price range.
Visibility: 9/10
Ventilation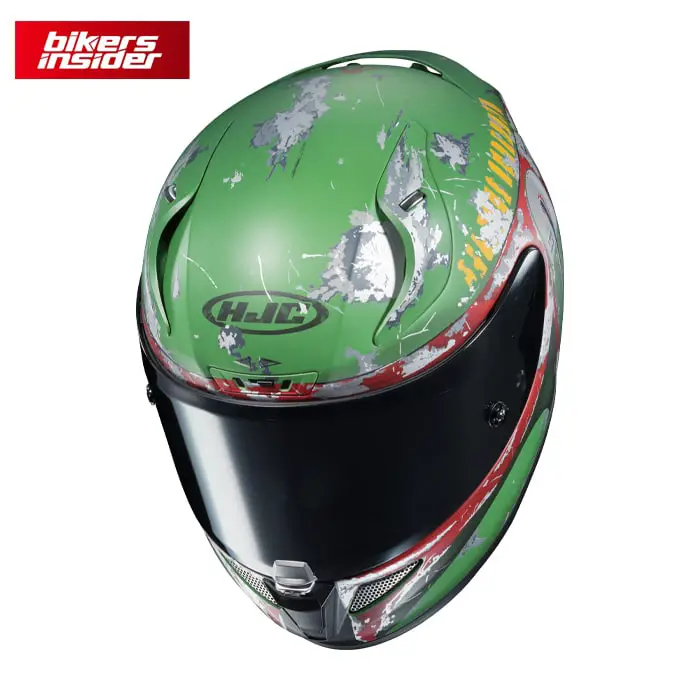 The airflow of this helmet incorporates the vents on the forehead section, a pair of chin vents, and four rear exhaust vents.
The top vents, located on the forehead section, possess rubber trims for accurate adjustment. To improve the airflow, HJC utilizes the Advanced Channeling Ventilation System (shortly, AC-S) for paramount airflow. How does this system work? First, the chilly air enters the EPS zone through the top vents, which provides efficient cooling around the crown of the head. At the same time, the four exhaust vents will flush hot air and humidity out of the helmet.
The chin vents, on the other hand, don't provide such efficient function as the top vents, as not a lot of airflow goes through the rear of the face shield.
We just want to note that the visor of the helmet will mist during hot summer days or in the fog, because of the chin vents. Nevertheless, the AC-S system, along with a highly optimized shell design, offers impressive ventilation.
Ventilation: 8/10
Comfort
Inside this helmet, you will find a MultiCool interior. That interior is topped with an antibacterial, anti-odor, and quick-drying fabric that is more efficient than your usual helmet fabric interior. Additionally, it comes equipped with a cheek pad emergency kit that you can wash and remove easily.
When it comes to the comfort, HJC is the king of the hill!
Comfort: 10/10
Pricing and Availability
This Boba Fett motorcycle helmet comes in various sizes, from Extra Small to Medium, to Double Extra Large. Here is a small guideline on the various sizes of this helmet:
XS – 54 to 55 cm
S – 55 to 56 cm
M – 57 to 58 cm
L – 58 to 59 cm
XL – 60 to 61 cm
XXL – 62 to 63 cm
As of right now, this helmet is not available on the official HJC store, but we found it on the Amazon UK with the price between £360 and £600 (around $487/€397 and $811/€662).
Closing Words
Well, it is quite sure that HJC RPHA 11 Pro is one of the finest racing-style motorcycle helmets available on the market right now. When you consider the Boba Fett helmet design, this helmet gets elevated to another level, especially if you are a hardcore Star Wars fan!
The outstanding protection and comfort you get while wearing this helmet are next to none. It also includes a superb ventilation system that is let down a bit by the chin vents, especially if you ride during scorching weather. Also, the price may be hefty for some, but the value you get with this helmet is unprecedented.