Introduction
Bluetooth earbuds for motorcycle helmets are required when you're out on the road, it's nice to have some background music to keep you entertained. A good pair of Bluetooth earbuds will suffice if you don't have a bike sound system or a Bluetooth-enabled helmet. You shouldn't have to worry about them when you're riding because they should be low-profile and comfortable. Motorcycle earphones come in various styles and colors, both in-store and online. The buying guide we've provided below can help you determine which ones are the greatest.
If you're on the hunt for the best motorbike earbuds, look no further.
These tiny in-ear speakers, as you're probably aware, Protect your ears from the wind blowing. When riding a motorcycle, the wind can be noisy, distracting, and uncomfortable. Earbuds used under the helmet can lessen the noise, making it less annoying.
| Image |  Helmet | Picked for | Product Link |
| --- | --- | --- | --- |
| | Focus F10 mini |  45 days money-back guarantee | Check Price |
| | Snug Phones wireless silicone |  IPX6 certification | Check Price |
| | Jlab Jbuds Air | Intuitive controls  | Check Price |
| | Anker Soundcore Liberty NEO | Best all around performance  | Check Price |
| | Elgin Ruckus Discord | Sturdy cable build  | Check Price |
| | BossBud Bluetooth 5.0 | Futuristic design  | Check Price |
| | Skullcandy Sesh EVO | Great battery timing  | Check Price |
| | Avantree Apico Mini | Best value for the money  | Check Price |
Turn on your favorite music and relax. Many bikers love listening to music while riding around town or on a road trip across the country. Using a single button, you may instantly start listening to your favorite tunes on your phone or other portable devices.
You can also read our post on the Best motorcycle Bluetooth headsets for music 2022.
Engage in conversation. An excellent set of earbuds will make it possible for you to converse on the phone or connect with the other members of your party. You can answer phone calls from friends and family members with many sets.
We've combed through many user reviews of numerous earbud types to help you find the perfect pair.
Types of Bluetooth earbuds for motorcycle helmets
These three types of earbuds for bikers are currently available in the market.
Wireless
Many earbuds now have Bluetooth capability. They allow you to ride carefree without thinking about wires that may pull, tangle, or get in the way. This is important since you don't want to be messing with your headset while driving.
Wired
One benefit of wired earbuds is their lower cost. They also have no battery issues and work with almost any device that has a headphone connection. However, it may be difficult to ride with them attached if the cable is too short. They may also fall out of your phone or MP3 player if you move quickly.
Built in Speakers
This technology, while not earphones, is worth discussing. Bluetooth motorcycle helmets are highly popular, especially among riders who ride in groups and need to communicate easily. Some helmets come with Bluetooth, while others require a separate purchase. These helmets let you listen to music, navigate, and communicate with pals. They are costly but deliver the highest audio clarity. They're also comfier than earbuds because they don't cling to your ear.
The list covers only the 8 Best Bluetooth earbuds you can get in 2022 and as Bluetooth suggests in the title, only wireless ones.
Before you buy and use
Before buying and using wireless Bluetooth earbuds for your ride, consider the following tips:
It's important to look for earbuds with multiple sizes of earpieces so you may adjust them to fit comfortably in your ear canals, no matter how small or large those canals are.
Consider the compatibility of the Bluetooth earbuds before you buy them.
On and off the bike, you can listen to music with earbuds. As long as you get sweat-resistant headphones, you can use them when working out or gardening.
Regular ear cleaning with certified wax removal procedures or consultation with a physician is recommended for optimum audio quality. Make sure you don't hurt your ears by using Q tips!
It's best to use clean earphones and clean hands when inserting the device into the ear canal. There is a risk of infection.
Every few hours, remove your earbuds and allow your ears to rest for a few minutes. Products with rubber ear tips may bother those with sensitive skin or allergies, so keep this in mind while purchasing.
Focus F10 mini Bluetooth earbuds for motorcycle helmets
For those who ride with a helmet, the Focuspower F10 Mini Bluetooth Earbuds are a great option due to their small size and ability to blend in with your ear canals. This device has a battery life of roughly seven hours and may be used with two phones connected at the same time. If you use the earphones at maximum volume for the entire period, you'll get about four and a half hours of talk time.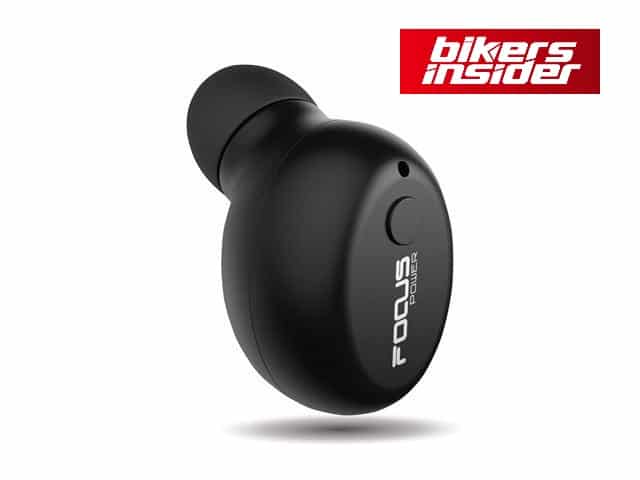 Their Bluetooth compatibility allows them to connect to Bluetooth-enabled devices up to a distance of 33 feet away. Because the earbuds remain in your ears and decrease ambient noise, they're easy to pair with your phone. The supplied silicone ear fits, according to customers, help the earbuds stay securely in place. If you're not happy with the product's performance after 18 months, the company will refund your money.
Unfortunately, there is no volume control on the earphones, so you'll have to use your device to adjust the volume level. These are also small and easily lost.
PROS
Affordable price
Good audio quality
Good battery backup
Ease of use
CONS
Package consist onle one earpiece
The earpiece button is not very user friendly
Snug Phones wireless silicone
These motorcycle Bluetooth earbuds for motorcycle helmets are popular because of the snug fit it provides around your ear canals. To keep the earbuds in your ear at all times, they have a micro-speaker that is inserted within your ear canal rather than on the outside.
Not only are these earphones comfortable, but the snug fit they provide helps to reduce outside noise, making for a more pleasant journey.
While riding your two-wheeled vehicle, the earbuds allow you to listen to your favorite tunes. Even when your muffler is screaming, you can still enjoy your favorite music thanks to these headphones.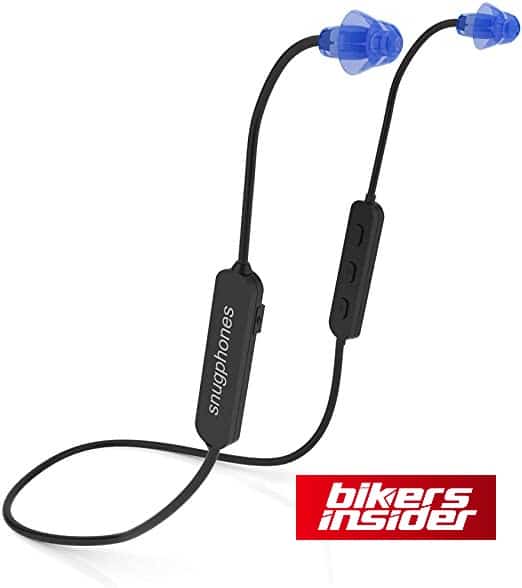 The IPX6 waterproof rating of these earplugs is also a nice bonus. Because of this, you can go ahead and use them in the downpour without fear of any issues. In addition, the waterproof design makes them sweat-proof, so your perspiration won't harm them.
Bluetooth earbuds for motorcycle helmets allow you to listen to your favorite music while on the road by connecting to your smartphone and other Bluetooth-enabled devices. There is a lot of detail in the sound. In addition, the built-in microphone allows you to make phone calls hands-free. The controller is simple to use, allowing you to control your playlists.
In addition to that, the earbuds have a long-lasting battery life that can last for up to 8-12 hours of nonstop music playback on a lengthy road trip.
PROS
Ease of use
Weather shielded

8-12 hours of battery backup
CONS
Stock availability is a problem
JLab Jbuds Air
With the case removed, these earphones are ready to go. You can adjust the audio to your preference without using an app. Thanks to their Bluetooth 5.0 connectivity and 3EQ Sound setting. A good sound with a good bottom is the end product. To use the straightforward controls, all you have to do is tap the screen. There's also an onboard microphone for making phone calls. You can access voice-activated functions on your smartphone.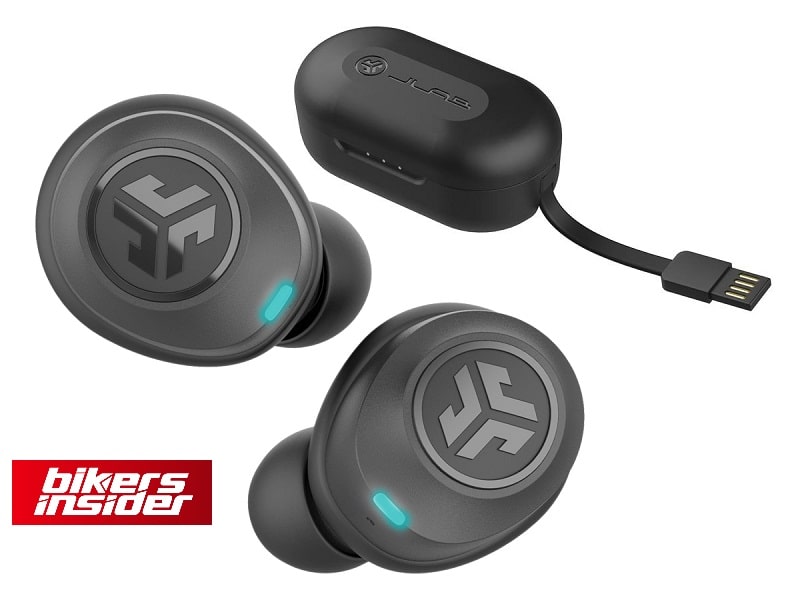 It doesn't cut background noise, but it lets you listen to music for a longer period without interruption. Besides the six hours of playtime each earbud, the charging case provides an extra 18 hours of battery life. Additionally, the silicone gel ends are water-resistant. You won't have to worry about sweat getting inside your helmet.
Sound quality can be a problem yet. The sound is underpowered, both volume and bass. Besides, these earphones stop working after a few months of use.
PROS
Support Bluetooth 5.0 connectivity

Sturdy build

Seamless connectivity
CONS
Lacks in volume and bass
Tendency to quit working after several months
Anker Soundcore Liberty NEO
It can be difficult to listen to music for long periods if you can't ignore that you're wearing a large weight in your ears. This is why Anker Soundcore wireless earbuds are the lightest on our list at just 0.2oz when it comes to weight. Their design incorporates BassUp technology that increases the bass by 43% while maintaining a precise frequency response throughout all areas of the spectrum.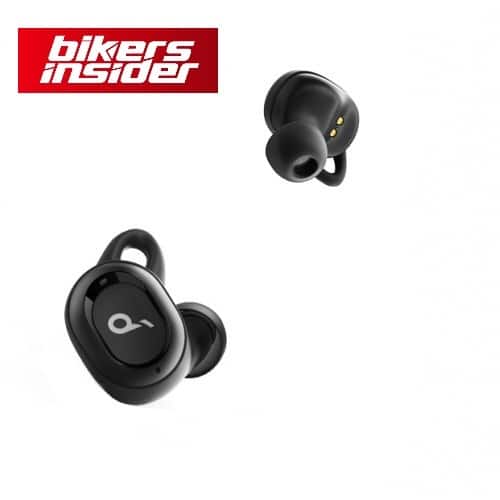 To ensure a secure, pleasant, and fatigue-free fit, Soundcore has developed GripFit technology that allows the earbuds to stay in place. Sliding and twisting are all that's required. The earphones' internal components are protected by SweatGuard, which resists sweat, rain, and humidity. Once they're charged, the earbuds can be used one by one while the rest of the case is charging.
These earbuds, being lightweight, have a substantial bulk that protrudes from your ears. Another drawback is that they have a battery backup of five hours on a single battery charge. You'll have to rely on the device you're using to regulate the volume using these headphones.
PROS
Weather shielded
Best fitting in ears

Good bass
CONS
Low battery backup
No volume control
Elgin Ruckus Discord
With these Bluetooth earbuds for motorcycle helmets, you won't have to worry about the annoying sound of your motorcycle exhaust or wind noise ever again.
The earplug earbuds have been specially designed to block out as much noise as possible. But don't take our word for it; look into it for yourself. The earplug tips carry a Noise Reduction Rating of 25dB recognized by OSHA. A set legal limit for exposure to noise at workplaces.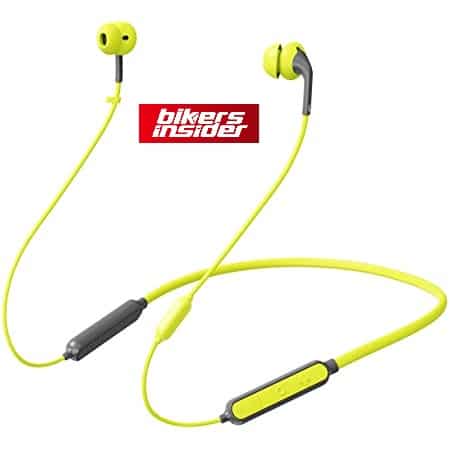 "OUT with the bad and IN with the good" is what these high-quality earbuds do. They block out the outside world while allowing you to enjoy an immersive audio experience. Listen to your favorite music in complete silence. Thanks to their biocompatible silicone earplugs that form a complete seal in the ears. These earbuds won't let you miss any beat.
Don't forget that these earbuds feature Bluetooth connectivity. You can connect them to any Bluetooth-enabled device, including your smartphone. A single charge of the built-in battery will allow you to play for 14 uninterrupted hours. '
These earbuds, which feature Elgin's patent-pending enclosure technology. It keeps out dirt, dust, and moisture, allowing you to wear them in any weather.
To sum it up, these Ruckus Bluetooth earbuds for motorcycle helmets have raised the bar for active noise cancellation in the industry. Besides riding a motorcycle, you can also use them in the office to reduce background noise and improve productivity.
PROS
OSHA Compliant noise reduction

14 hours of battery backup

Great audio
BossBud Bluetooth 5.0
A variety of alternative ear tips are included in the package with the BossBud Bluetooth 5.0 True Wireless Earbuds, so you may modify the fit to your preferences. They have a triangular form for added comfort, and they come with a little charging case as well. This device has a battery that lasts for six hours of playtime.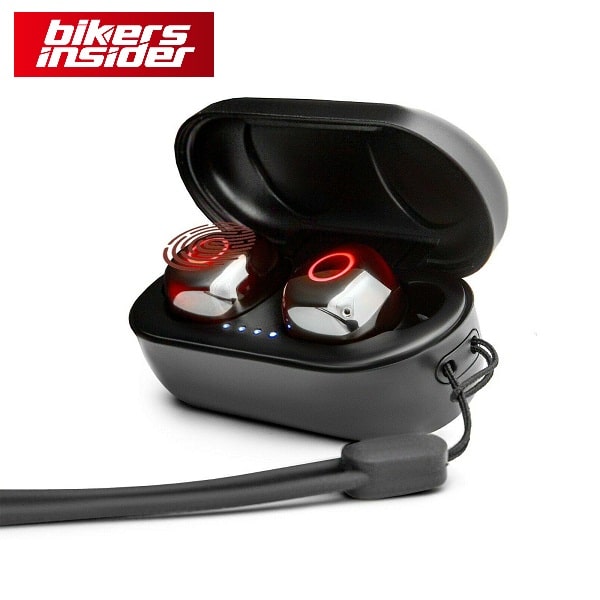 The clever fingerprint touch feature allows you to start music and answer phone calls with a single touch. The earphones are waterproof to IPX7 standards and may be used with smartphones running on iOS, Android, and Windows operating systems. Users have reported that they do not distort when played at a high volume and that they fit comfortably in your ears. If you misplace them in the dark, the blue glow will aid you in locating them again.
It can, however, be a bother to take them out of the charging case. It's also difficult to tell which one belongs in which year unless you look at the label carefully.
PROS
IPX7 Certified

Range up to 30 feet

Finger print recognition
Skullcandy Sesh EVO
Other wireless options include the Skullcandy Sesh Evo True Wireless In-Ear Earbuds. The 24-hour battery backup and the capacity to recharge quickly are the two features that set them apart. When you switch them on, they immediately connect to the last device you used.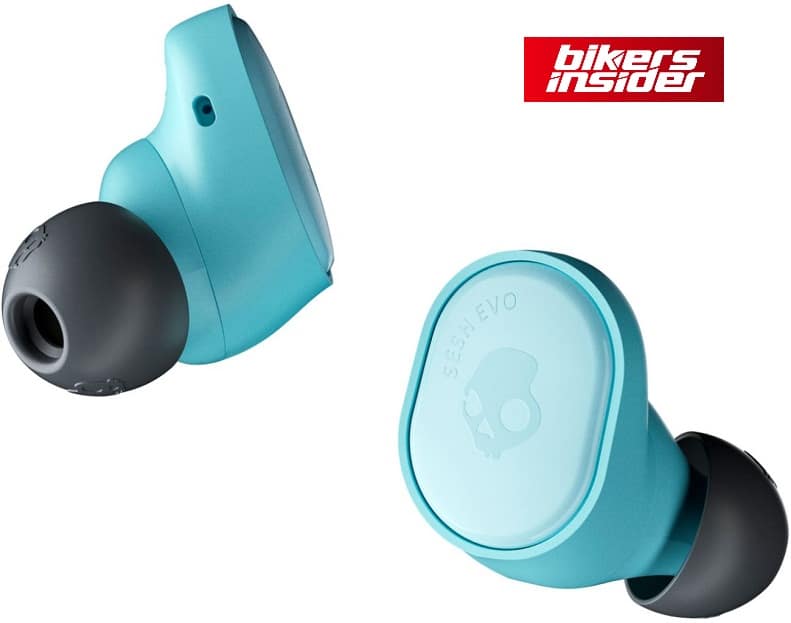 You can also adjust the volume, change tunes, answer the phone, use a voice assistant, or change EQ modes on the earbuds. They're dust, sweat, and water-resistant, and each bud may be used on its own. You can utilize the built-in Tile technology to locate them if you lose them. Users say that they stay in your ears for a Bluetooth product, charge rapidly, and have a decent range.
If you don't maintain the charging case upright, you won't recharge your headphones properly.
PROS
24 hour battery life

Intuitive controls

Built-in tile technology
Avantree Apico mini
This Avantree tiny Bluetooth earbuds for motorcycle helmets is a great alternative if you're still seeking a good pair of motorcycle Bluetooth earbuds for motorcycle helmets. The device was created to be used both at home and on the go for listening to music.
Due to it's small size, riders can insert it into the ear canal. Other people may not see it because of its low profile. Furthermore, it's ergonomically built to fit your ear canal's exact form, so it won't slip out easily.
This earphone is compatible with many Bluetooth earbuds for motorcycle helmets, including iPhones, iPods, tablets, PCs, GPS navigators, and more.
Compared to its competition, this earphone is a steal at a fraction of the cost. It's the cheapest earbud on this list, making it an excellent choice for bikers on a tight budget.
PROS
Low profile design

Ease of use

Noise cancellation
CONS
Mediocre battery life
Poor Bluetooth range
Coclusion
Riders prefer wireless devices since they do away with a cable. When you don't have to worry about smacking the cable and causing them to pop out, you may move freely. The device's audio jack, if it has one. Also, they'll keep you from having to deal with the cable tangles.
These models tend to be on the more expensive end of the spectrum, which is shameful. When it comes to establishing a connection, it all depends on the software on the device.
You don't want to be messy with a wired model during a ride because they'll get in your way and perhaps disturb you. It's also possible that one or both earbuds will fall out of the connector. Some poorly built cables can also permanently break, requiring you to return to the store.
It's also important to look for motorbike earbuds that are comfortable to wear. Lightweight, tiny, and custom-fitting earphones are what you should be looking for.
A low-profile design makes it easier to grab the ear and prevents it from falling off. Models that are available in various sizes are also beneficial since they let you select a size most suited to your ear canal.
Whether or not you are wearing a helmet, the earbuds (ear tips) that don't feel good in your ear, you should avoid them. This can be harmful since it can take your attention away from your bike.
Choosing the best model for you is a personal decision.