Introduction
As a motorcycle rider, you must ensure that your bike is top condition. You'll feel more confident in the bike's reliability if you select the correct battery. When you're ready to go, and the bike won't start, it's perhaps the most frustrating thing you can think of.
If there's anything worse than a dead battery, it's the thought that you could have avoided it. You've left it too late when you're standing there in your cycling gear, all wound up.
Rather than normal wear and tear or age, sulphation is the most common cause of battery failure. All of us have been guilty of keeping our bikes parked up for weeks at a time, and this sulphation causes the battery to deteriorate and eventually die.
Having a new battery improves the experience of motorcycle riding. All modern motorcycles require a high-quality motorbike battery. When it's time to replace that old motorcycle battery, making sure you choose the appropriate one can be crucial.
Before buying the best motorcycle batteries of 2022, you need to know about all the numerous types, designations, and parameters of a motorcycle battery. If you are in a hurry, you can check out the summary table for your needs.
| Image |  Helmet | Picked for | Product Link |
| --- | --- | --- | --- |
| | YUASA YTX14-BS | Best All-around performance  | Check Price |
| | YUASA YTX20BL |  Best from YUASA | Check Price |
| | ThrottleX MX20L | The most Reliable battery  | Check Price |
| | Engine Start Battery by Battery Tender |  Innovative Battery Management System | Check Price |
| | Chrome YTX30L | Best for Powersports | Check Price |
Types of motorcycle batteries
All but a handful of the best motorcycle batteries of 2022 today are 12 volts available in the market. Batteries used to be 6 volts when you were a sparkle in the milkman's eye. Although classic bikes still use 6-volt batteries, you can upgrade them to 12 volts. Lawnmowers and mobility scooters are likely to have a 6v battery. There are many types of motorcycle batteries available in the market. Let's have a look at those.
Flooded Batteries
To describe a "flooded" battery, everybody who's ever purchased a motorcycle battery must have added liquid to it. Sulphuric acid is what you're smelling. It is necessary to top up the acid because these batteries are not sealed.
VRLA
The VRLA battery is the most used today. These are pre-charged and ready to use; all you have to do is plug them into a charger to have them charged. If a sealed battery fails, no liquid will leak out of the storm unless in extreme circumstances. This makes sealed batteries maintenance accessible.' The disadvantage is that you can't add more acid if it boils over – it's a lost cause.
AGM Batteries
Glass fiber is inserted between the plates of an AGM battery, which functions as a sponge to absorb water. Battery plates can be closer together in AGM batteries because of the glass fiber. It makes them more potent per unit volume than ordinary batteries.
Gel
A gel battery is a VRLA battery with an electrolyte that has been "Gelified," which is a great word. Battery acid and gel are the essential ingredients in this concoction. Besides being more resistant to vibration damage, this design also allows the battery to be positioned at an angle without the acid escaping. Gel batteries are a suitable choice for those who forget to charge their batteries because they are less tolerant to sulphation.
Li-Ion/Lithium
The new kid on the block is lithium (lithium iron phosphate). Modern gadgets, such as cell phones and electric cars use lithium-based batteries. A lithium-ion battery is more expensive than a lead-acid battery. Despite being expensive it has many advantages.
Their size and weight are two of the most conspicuous. Battery weight varies from lead-acid to lithium. Yet, the lithium-ion equal is around 750g lighter than the lead-acid. Lead-acid batteries have a shorter lifespan and lower cranking power than lithium batteries. A li-ion battery is a fantastic choice if you have a hard time keeping your battery charged.
Battery specifications
To determine the motorbike battery you must, you must first verify your current one. Consult your motorcycle's owner's manual before purchasing a battery. Because rechargeable batteries tend to be more expensive than ordinary ones. You'll save money by using the standard battery that comes with your motorcycle.
Here are some specifications you should consider before buying a new motorcycle battery.
Voltage
There are plenty of full-size best motorcycle batteries of 2022 available, and they deliver 12 volts. Yet, a 6-volt battery will be enough for a lower model motorcycle. It's important to check the battery that came with your motorcycle. It determines what voltage it requires because each motorcycle is unique. Look for a battery with the same voltage as your current one.
Buying the right battery is vital because it is the only part crucial to turn on the motorcycle's engine. It is the "heart and soul," as it is sometimes referred to.
If your motorcycle isn't running, it could be because you're using a battery with the wrong number of volts. You should only buy a motorbike battery after researching your motorcycle's battery needs. Superb performance is the result of a well-chosen course of action.
Amperes/Cold cranking Amps
Choosing a new battery for your bike isn't done without considering the number of Amps (CCA). Battery Amps are measured at 32 degrees Fahrenheit for 30 seconds. While each cell is maintained at its 1.2-volt voltage level. Put another way, it's the amount of power a battery can store. It is the amount of power required to turn on your vehicle engine.
Consider a battery with a higher CCA rating if your bike is older or takes longer to start. When purchasing a newer motorcycle battery or has less mileage on the meter, you might choose a battery with a lower amp rating.
Make careful to take into account the battery's total capacity as well. If you're going on a lengthy journey, you'll have to keep recharging your phone. This will draw power. When it comes to purchasing a bike battery, your riding style and the amount of time you spend riding will affect your pick.
A battery with higher power and a longer lifespan is advised if you don't want to waste more time charging it.
Battery size/Dimensions
Once you know how many CCA, volts, and the type of battery you need, think about the size. Check the dimensions of your motorcycle battery before purchasing a new one. If your battery is too large, you run the danger of injuring your motorcycle if it doesn't fit in the box.
The same dimensions as your original battery should be selected. Inspect the bracket or compartment to make certain it fits. Choosing a battery that is too small could result in harm to your bike's wires or even the battery itself.
The parts used and the construction method is critical for battery life. Battery life and performance are important aspects if you ride on long trips. Look for a model with improved resilience to shock, heat, and pressure, as well as vibration.
Life expectancy
You're likely looking for a battery that won't need to be replaced for a long time. Choosing a battery with low self-discharge rates and high-quality components that can withstand long periods of use is a good idea in this instance. Your battery's life depends on various factors. Such as how often you use it, the temperature of the storage area, and so on. Battery life spans range from 500 to 1,200 recharging cycles.
For those who aren't into dealing with their bikes, a maintenance-free battery that is watertight may be the best option. These batteries don't need refilling or checked for water. They have a five-year life expectancy. To get the most out of conventional batteries, you'll have to spend more time monitoring them. Among other things, they are more resistant to extreme weather conditions and vibrations.
AGM batteries maintain their charge better than ordinary batteries, so they're a good option if you don't want to charge your battery all the time.
Battery type
As you already know, motorcycles may engage various battery types. Battery types, lead-acid, and lithium are the most popular. There are several elements to consider when which option is best for you and your motorcycle.
Due to their lower weight, Lithium batteries may be easier to install than lead-acid. Yet you should be aware that they are also much more expensive before making your choice. For racers, this may be a minor issue. Still, the fact that such a battery can reduce the weight of your motorcycle makes it a viable choice.
If you need to replace the battery on your motorcycle, a standard lead-acid battery is a good option. The lead-acid battery is a common option, and its installation is simple.
So, Lithium batteries may outlast their lead-acid counterparts is another perk for them. Lithium batteries haven't been around long enough to illustrate this claim, especially for those concerned about long-term upkeep.
Since they don't spoil as lead-acid batteries do over time, there's less chance of decay or other issues. It's unlikely that you'll have to worry about the battery life if you ride a new motorcycle every five years. For such a period, either type can deliver excellent outcomes with minimal effort. The best motorcycle batteries of 2022 should be tested on the above-mentioned parameters.
5 best motorcycle batteries of 2022
Now you have a clear picture of what will be your option for the year 2022. We have compiled a list of the 5 best motorcycle batteries of 2022 for your convenience.
YUASA YTX14-BS
If there was only one single reason you should choose this battery, it is maintenance–free. This means that as long as you use this battery, you will never have to worry about its service. You will always have the assurance that it will perform at peak performance. Oh, and one more thing: you'll never have to worry about adding water again!
Another feature that distinguishes this bike battery is the improved lead-calcium innovation. Potential gravitational energy can be three times more with the latest technology.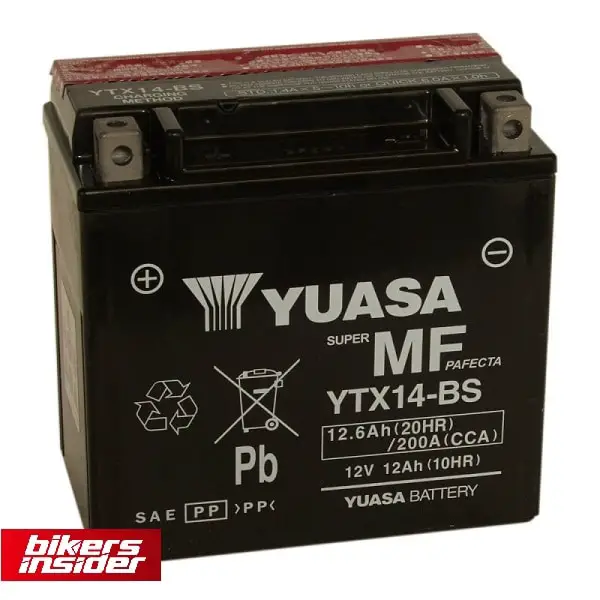 People who have used this bike battery have also commented on how easy it is to set up, which they find helpful. Folks who have never installed batteries before will find the process very easy. They provide a manual on how to complete the installation even if no one else is around to assist.
So, it is safe to say that the battery is under protection. Even if you travel through difficult terrain, worry is no compelling reason. You may rest assured that there will be no spillage of liquid despite the vibrations to the battery.
YUASA YTX20L-BS
YUASA appears to have the most incredible ingenuity in producing bike batteries. Here is yet another model from Yuasa on this list.
The battery's corrosive material comparts of special plates and AGM separators. It makes the battery completely safe and spill-proof. This also means that you won't have to add any water. Its lead-calcium invention can hold the gravitational energy up to three times longer.
The Yuasa YTX20L BS Battery is a charged, low-maintenance, and strong battery. It's a motorcycle battery with adequate power to let you start your car in the winter. Winter is a season of difficult road conditions and inconvenient drivers.
This battery is no exception to the rule of excellent performance, maintenance-free batteries. 270 cold-cranking amps make it ideal for vehicles that have not started in the cold, even for an extended period. This battery is compatible with Harley-Davidson motorcycles.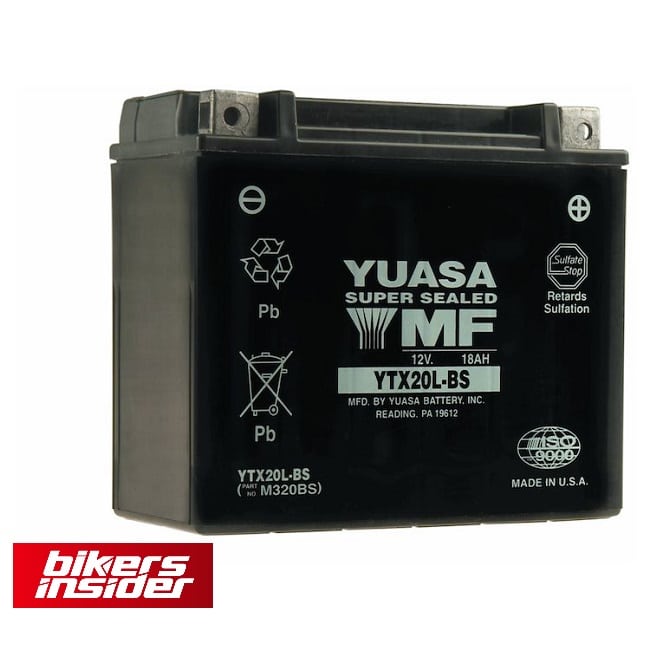 It is possible to ride difficult terrain cruisers and off-road vehicles with this battery. It yields voltage of 12V and 18 amps per hour. While 270 CCAs is a good rating, there are other batteries on the market with higher CCA capacities.
Besides being spill-proof, this sealed lead acid battery includes glass mat separators. A rechargeable battery is usable with chargers and maintainers for battery tender. This battery weighs a whopping 14 pounds.
This battery comes dry and does not arrive pre-charged. But, the filling process is simple and should provide no difficulties.
The higher power and lead-calcium technology in this battery make it more expensive. In general, Yuasa batteries offer more cranking power, but they are less versatile. Because the Yuasa battery may only be suitable for touring and cruiser bikes,
The battery does not need any refill, but it does need charging from time to time. It comes with a one-year manufacturer's warranty, even though this battery makes it to our list of best motorcycle batteries of 2022.
ThrottleX MX20L
Rigid build and rapid high amps in winter make this model ideal for the best motorbike battery. The only problem is that it's a little too big and heavy for some light scooters.
This year, if you plan on riding your motorcycle to new locations and racking up some extra miles. You might pick ThrottleX MX20L battery for increased performance, sturdiness, safety, and security.
A solid build of this battery ensures that it can operate under harsh weather. The MX20L maintains its conductivity even at low temperatures. It delivers CCA values of 500 and higher. Because it's waterproof, you can use it on various winter rides.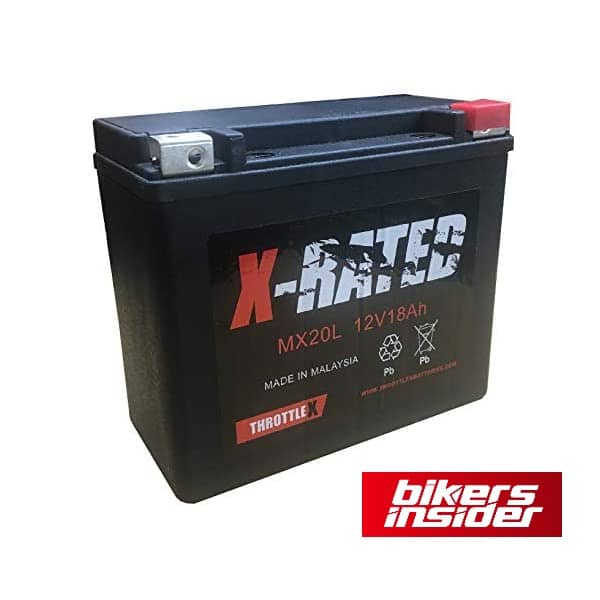 Elements and segments in the battery's construction ensure long life. They protect from vibrations and general security. Besides being leakproof and spill-proof, this model focuses on durability and toughness. Additionally, the battery includes a built-in cover.
The casing protects the rider from accidental leaks possible. Thanks to the AGM construction's heat-sealed lid and thick plastic casing. As a result, intense riding is possible with the power block due to its safety from many types of vibrations.
The MX20L's terminals are more forgiving when placed. They can tolerate the detrimental effects of vibration. Low release rates and high cranking amps are achievable by securing the tear-resistant glass mat separators. Despite the availability issues, it still makes to this list of best motorcycle batteries of 2022.
Engine start battery by Battery tender
Because of the innovative technology employed in making this battery, we refer to it as the best. Apart from that, it's a lot more convenient and less hazardous. Because of its small size, you may store it in any part of your garage.
It has better fuel economy than comparable lithium batteries. As a result of its superior construction, we put this into the best motorcycle batteries of 2022. Two times lighter and more efficient in charge, they're a terrific bargain.
It is a battery with four terminals that has BMS. In this case, two of the four terminals are positive, while the other two are negatively disposed of.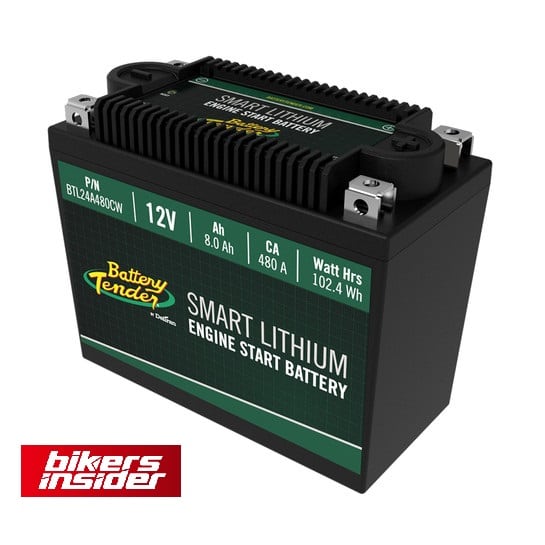 Excessive vibration is less due to supple accessory blocks. Furthermore, it may install on a wide range of power sport vehicles. Batteries may be monitored, optimized, and protected. Thanks to the Smart battery management system (BMS).
The BMS allows you to view the battery's charge status in real-time. It monitors the battery's performance, overcharged situation, and protects it from overvoltage. Over-discharge can be prevented by shutting off the low voltage in this system. The disconnect cable can be connected to the battery activation switch for charging.
Chrome YTX30L-BS
This battery has an amp power of 385, which will start even in cold weather. So, if you live in the colder parts of the planet, this battery will keep you warm. This battery will start your motorcycle without a hitch. You obtain better performance when you utilize this because of the low self-discharge rate.
When you receive the battery, you can unpack it and use it immediately. This is because it has completely changed by the time it reaches the customer. They won't have to spend money on upkeep as an added plus because it is maintenance-free. You can easily install it in your vehicle and test its performance by starting the engine.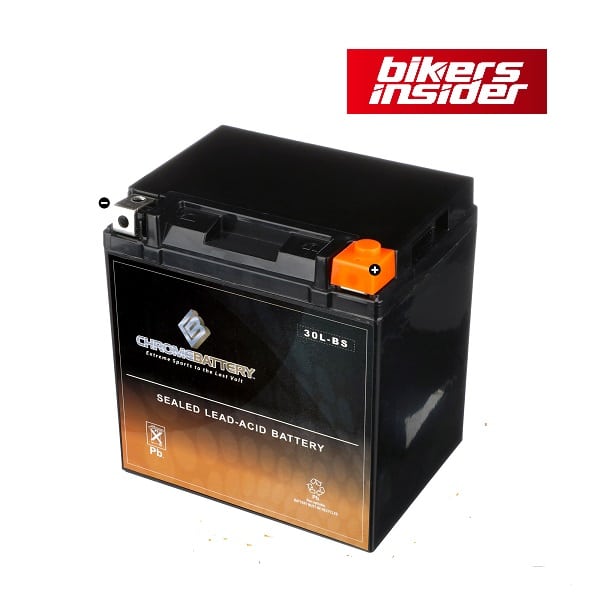 Every component inside the battery is under an 18-month warranty. The battery maybe use as a power sport battery. If you are not satisfied with it, you can get your money back within 60 days. However, the chances of it happening are extremely low. This is the greatest motorcycle battery in terms of durability. It has a sturdy construction.
The battery connectors are sturdy enough to withstand vibrations. That is why it is suitable for a wide range of automobiles. The battery has a good life cycle, so it will last long without rusting. This one remains a strong contender in this list of best motorcycle batteries of 2022.
Conclusion
When buying the proper motorcycle battery for your vehicle, it can be hard to know its ideal option. Especially if you want to buy the top motorcycle parts for your ride. Yet, there are evident advantages to using an ion or LFP model over the standard lead-acid batteries.
Aside from more cranking amps, these best motorcycle batteries of 2022 are usually lighter. It means you can operate with them more.
They can also provide extended battery life, making your investment beneficial. It depends on whether you buy the best bike parts and accessories and how well you maintain them. Choosing the best motorbike tools to maintain the battery completely charged. It is a part of the maintenance process.
But, besides keeping it charged for optimal juice, how you ride your bike might have an impact on battery life. It is critical to ensure proper care of all other components and get the best motorcycle parts in the long run. In this manner, you will be able to enjoy both the motorcycle battery and your car for a much longer period.
In general, among all the options available to a rider. A sealed motorcycle battery is recommended because it is much easier to install and maintain. Furthermore, suppose everything is done. In that case, the battery life is good, making this a great pick.
For more informative posts keep visiting BikersInsider.
Frequently Asked Questions (FAQs)
Are Lithium batteries good for motorcycles?
Yes, to put it more simply. These batteries are lightweight, discharge slower, and function better in cold weather.
How long do most motorcycle batteries last?
According to Motor Gear Expert, a sealed Absorbed Glass Mat (AGM) battery typically lasts three to five years. A traditional acid-filled battery has a two- to five-year life span.
Is YUASA a good name for motorcycle batteries?
The Yuasa High-Performance AGM battery is a superb overall choice for replacing motorcycle batteries because of its time-proven performance, wide variety of applications, and maintenance-free design.
How much CCA rating a motorcycle battery should have?
Experts claim that cold-cranking amps give reliable starts in cold conditions. Opt for a battery with a CCA of at least 300. The figure should be visible on the outside of the battery's case.