Simpson Helmets is a renowned motorcycle helmet manufacturer, especially when it comes to streetfighter-style helmets. In our Simpson M50 review, we will test out the helmet and all of its features. 
Just for a start, this helmet doesn't come without its flaws. Do the flaws make or break this helmet in the end? Let's find out in our in-depth review of this streetfighter helmet!
Simpson M50 Review – Features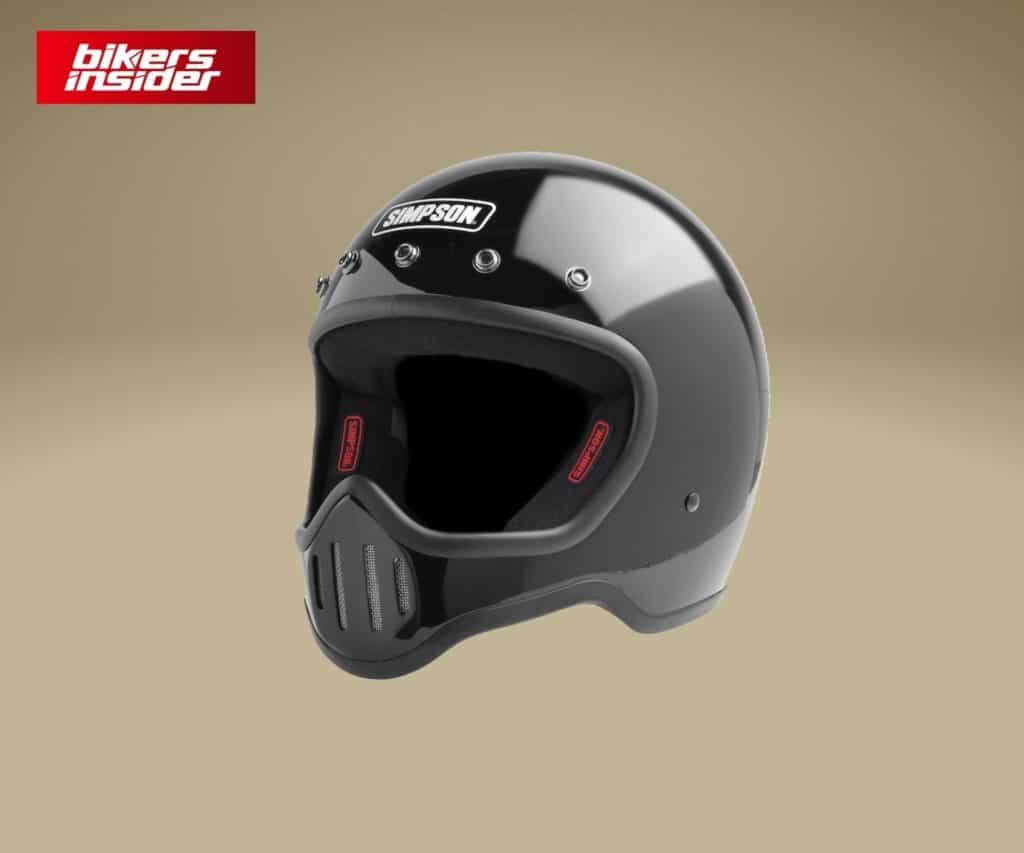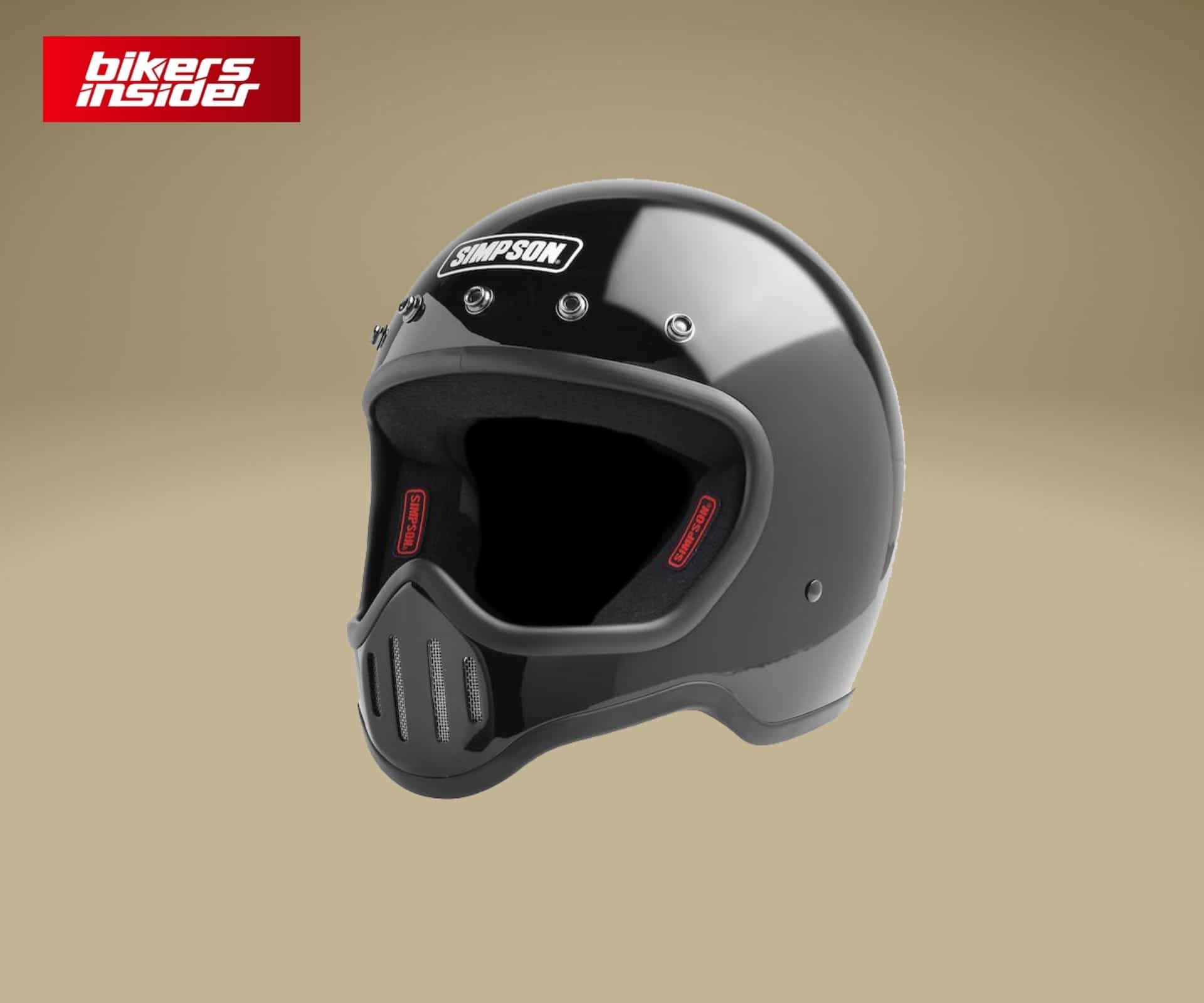 Before we start with our in-depth review of this helmet, let's have a quick look at its main features:
Composite fiberglass shell
Weighs 1,19 kg (2 pounds and 10 ounces)
Full-face helmet with a removable peak visor
Intermediate oval shape
Double D-ring strap
Chin vent
Bluetooth comm system-ready
Chin vent
DOT safety rating
Without further ado, let's begin our Simpson M50 review!
Construction & Design
If we look at the Simpson M50 helmet, we can see that the streetfighter helmet niche inspires it. It's a full-face motorcycle helmet that feels like a jet helmet, for better or worse. Nevertheless, it is quite a lightweight helmet at 1,19 kg (2 pounds and 10 ounces). This is impressive, considering that this lid sports a composite fiberglass shell.
The Simpson M50 motorcycle helmet has an intermediate oval shape, with some unique flair to it. It's either not super long but also not super round, which means you won't look like a bobblehead with this helmet on. 
Keep in mind that if your head is slightly on the longer side, the crown of this helmet will feel too round, decreasing overall stability.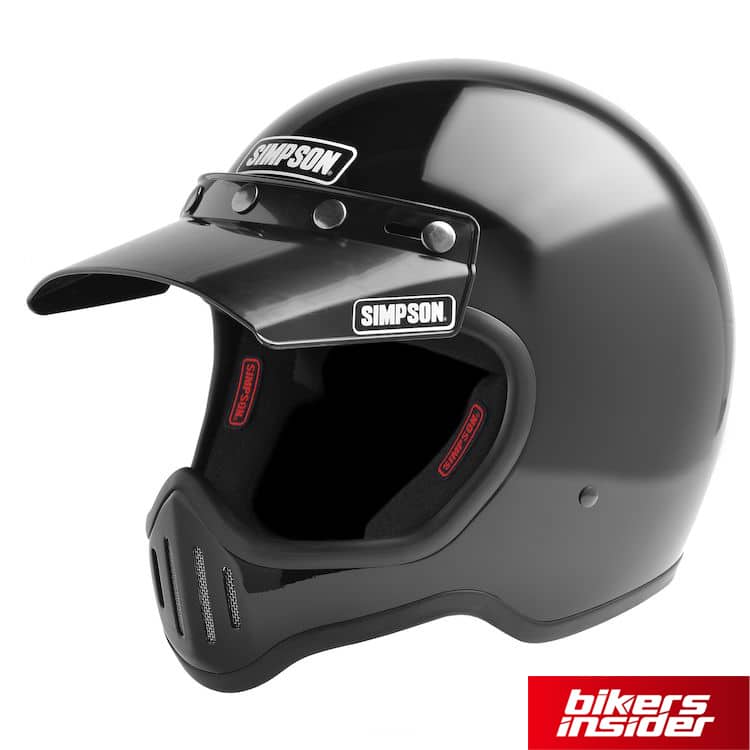 The helmet itself is inspired by an off-road helmet design. We can see a five-snap removable peak visor along with the cutaways along the front side of the helmet. Simpson knows how to design a looker, that's for sure!
All in all, the retro styling of this helmet is simply amazing to look at, proving that Simpson has a knack for designing killer streetfighter motorcycle helmets!
Vision
We already mentioned that the Simpson M50 has a five-snap removable peak visor inspired by dirt bike helmets. Even though this helmet is marketed as a full-face helmet, we can see that the cutouts on the front feel more like an open-face helmet.
Certainly so, the M50 offers great side-to-side visibility, with more peripheral vision than your usual full-face motorcycle helmet. It's a shame that the helmet comes with no face shield out of the box. Yes, there are options on the aftermarket regarding face shields, but Simpson could have at least included one set in the box.
Well, at least this helmet is sunglasses-friendly, which makes it fit for summer rides when the sun is too much to handle for your eyes.
Comfort
As we continue with our Simpson M50 review, we are going into the guts of the helmet itself. 
The chin strap is a fairly standard double D-ring offering, but it has one major gripe – it has no snap. This essentially means that you will need to touch in the excess tie to make it tighter. We don't know why Simpson has designed the M50 this way because it certainly detracts from the helmet's stability.
Now that we've started with the gripes, here's another one – the inner liner is not removable. This can be a problem, especially if you sweat a lot. As you won't be able to pull out the inner liner, this helmet will get more smelly and more uncomfortable to wear. Yes, you can wash it at a specialized place, but it's a damn shame that the inner liner is not removable.

Luckily, the cheek pads are removable and adjustable, with Velcro behind them. One good thing about this helmet is that its interior is spacious enough to put a communication device inside.
Looking for a good Bluetooth communicator? We have a list of the best Bluetooth communicators that's a great place to start your research!
It's certainly a not so overly complex interior, for better or worse. There is a sizable audience that enjoys this type of minimalism.
Lastly, keep in mind that you will run into chin bar issues when it comes to comfort. It comes a bit closer to your face than what you might expect. So, if you don't sport the right head shape for this helmet, this may be a dealbreaker for you. Just pointing it out!
Airflow
One big gripe with the Simpson M50 helmet is that it doesn't have much of a vent scheme. The only vent you're going to find on this streetfighter helmet is the chin vent. It's another off-road helmet style feature. As this vent is open all the time, you can feel the airflow coming through the middle of the helmet in your face.
We would have enjoyed it more if Simpson added a passive back vent or something similar to regulate the airflow so that all of it doesn't hit you right in the face.
It's also worth pointing out that the Simpson M50 is quite a loud helmet, as it is essentially a jet helmet. Under 100 km/h (60 mph), it will be bearable, but go above that speed, and the noise will be unbearable. That's why this helmet is the best for street riding in hot weather.
Safety Ratings
The Simpson M50 motorcycle helmet is DOT-rated, which is a pretty standard ordeal. It will certainly be legal to wear on the roads in the US, so don't worry about that.
More on the safety, though: keep in mind that the chin guard of this helmet is purely aesthetic and won't help you out during a crash.
Available Models
The Simpson M50 helmet comes in two shell size groups:
SM/MD (54 to 56 cm/56 to 58 cm)
LG/XL (58 to 60 cm/60 to 62 cm)
When it comes to styling, Simpson has prepared the M50 helmet in select color schemes:
Black
Matte Black
White
Red
Yellow
Gunmetal Grey
You can see how the M50 helmet looks like in the above colors in the gallery below:
Price
The Simpson M50 helmet currently costs $260/€215/£185. It doesn't cost too much, but some major gripes make us question if the helmet is worth it. Still, if you're here for the cool styling and minimalistic features, it will serve its purpose.
Check out the links below for accurate pricing of the M50 helmet:
Summing Up
Now that we are at the end of our Simpson M50 review, what do we think about it? Let's start with the good things first.
First of all, it's a very lightweight helmet with a lovely retro-inspired look. It will certainly feel comfortable on a compatible head shape in a street riding scenario. It comes with a five-snap removable peak visor that can block out dirt if you are into dirt riding.
Also, the M50 offers an awesome peripheral vision that is better than on your usual full-face motorcycle helmet. 
That's practically all when it comes to the good things about this motorcycle helmet. Now, let's summarize the gripes we have with this helmet.
Sadly, it has no face shield or goggles out of the box. You will need to buy them separately, which is a bummer. 
Also, the airflow scheme is lacking for all the riders that want to ride this lid on the highway. There is only the chin vent here that blows all the air in your face. The helmet is loud when you hit above the 100 km/h (60 mph) threshold, so keep that in mind.
Even though the helmet is quite comfortable and can even fit in a comm device, we cannot overlook that the inner liner is unremovable. That's just bad for long-term riding, believe us. Even the chin strap has no snaps, which is just lazy design.
Also, the helmet is quite sketchy when it comes to safety. Yes, it has a DOT rating, but the chin guard is here just for the aesthetics.
Would we recommend this motorcycle helmet? Go for it if you care only about the styling and are planning to ride in your town. If you are looking for a long-term helmet, keep away from this one, there are much better streetfighter-style helmets out there!
Overall, the Simpson M50 helmet is a pretty barebones helmet when you look at it as a whole feature package. You might be better off with the Simpson Street Bandit or with the Ghost Bandit.
Interested in more motorcycle helmets? Make sure to visit our motorcycle helmet reviews section for more!