In this review we are going to be looking at the Scorpion EXO-ST1400 Carbon.
Our job at Bikers Insider is to come up with all the details regarding this amazing helmet. With that information, you may decide whether this is what you've looking for. Or not.
Sit tight and get ready for our review. We are going to drive you fast through all the features of this Scorpion's helmet.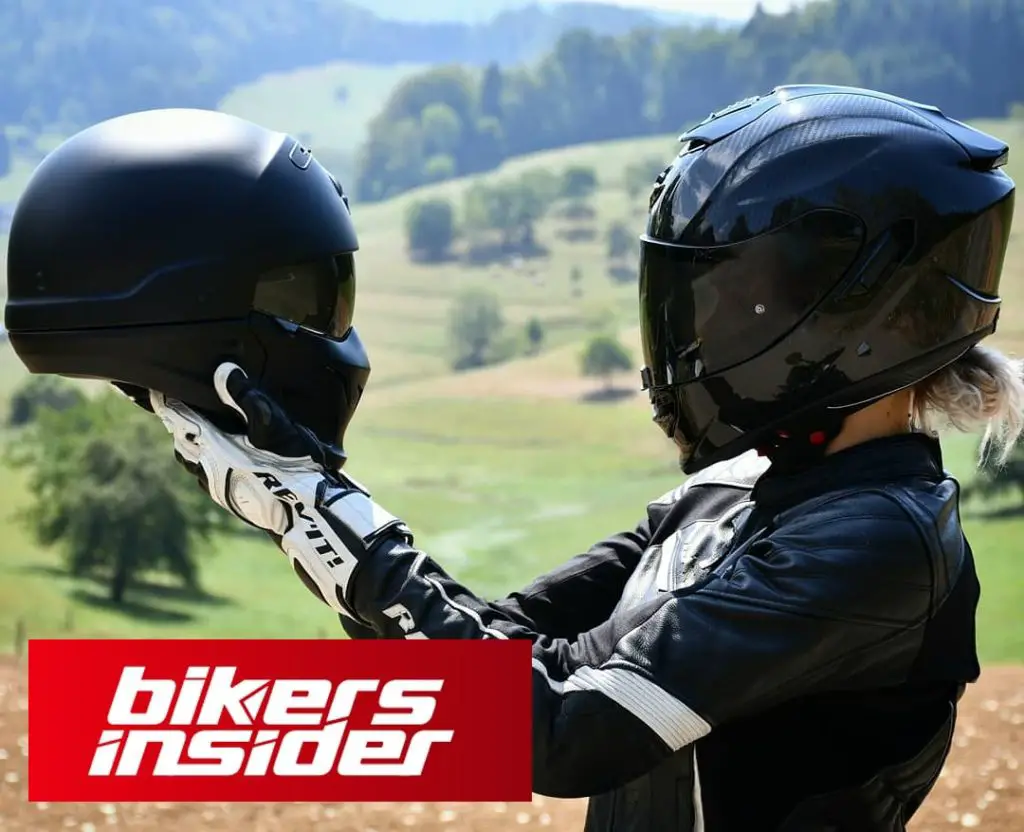 The Scorpion EXO-ST1400 Carbon is the new high-end helmet from the company
If you are into sport and sport touring riding, this new helmet might just be the perfect match for you. The Scorpion EXO-ST1400 Carbon is the company's new high-end product.
That means that they've put a lot of time and effort into this helmet. The result, as you will see in our review, it's really good. But not flawless.
As far as the price of the Scorpion EXO-ST1400 Carbon it is only 390£. This is truly a bargain, if you take into account the fact that we are talking about a 3k carbon helmet.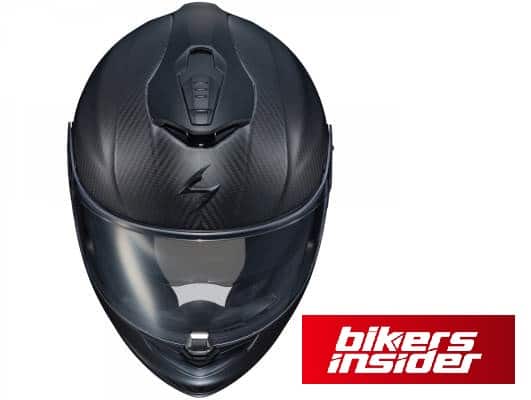 It is, without any doubts, one of the most affordable high-end helmets you can buy right now. At least if you are looking for really good value.
That is certainly one of the things we like the most about Scorpion as a brand: the product you get for the money is just fantastic.
Moving forward with out review, we'd like to show you some of the features of the actual helmet. There are things we love, and others that we don't enjoy all that much. If that sounds interesting, let's get into it!
Looking at the Scorpion's shell: pure 3k carbon
One of the main features of this helmet is the 3k carbon shell. It will provide you with a great fit and finish, making this a very good-looking product.
One of the advantages of this clever design is that you may choose from three different shell sizes. Scorpion really wants to make sure that you find the one that fits you perfectly, so they offer options within each size. Isn't that great?
Whether you are looking for a small, medium or XL helmet, they have you covered. Great!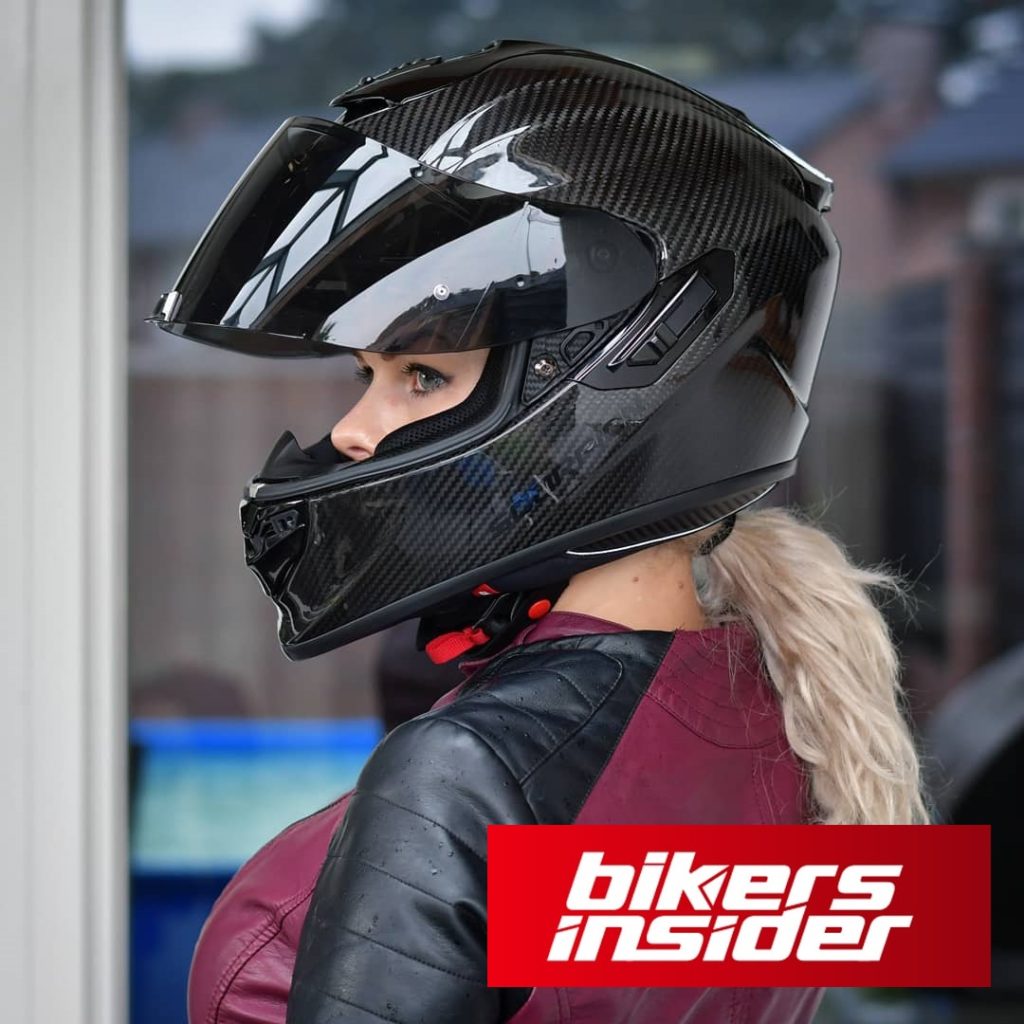 The Scorpion EXO-ST1400 Carbon is also very well designed. Thus, it is extremely lightweight and aerodynamic. The actual shell is CAD certified, so they really did a good job as far as that last feature, specially when it comes to high speeds.
From the inside of the shell, you will find and intermediate oval. This makes the helmet a bit longer from front to back, and perhaps a little bit too narrow on the side of the head.
In any case, we believe that this will fit the vast majority of riders.
The Scorpion EXO-ST1400 Carbon has a beautiful design from front to back
With this helmet you get two face shields which are included in the box. One of those two is the regular face shield, and then a pin lock one. You may choose which mechanism you like the most.
One of the issues is that you will have to drop down the sun visor on its own. It works, but it was kind of sturdy in our opinion. Not a major problem, but something that picky riders will love to know about.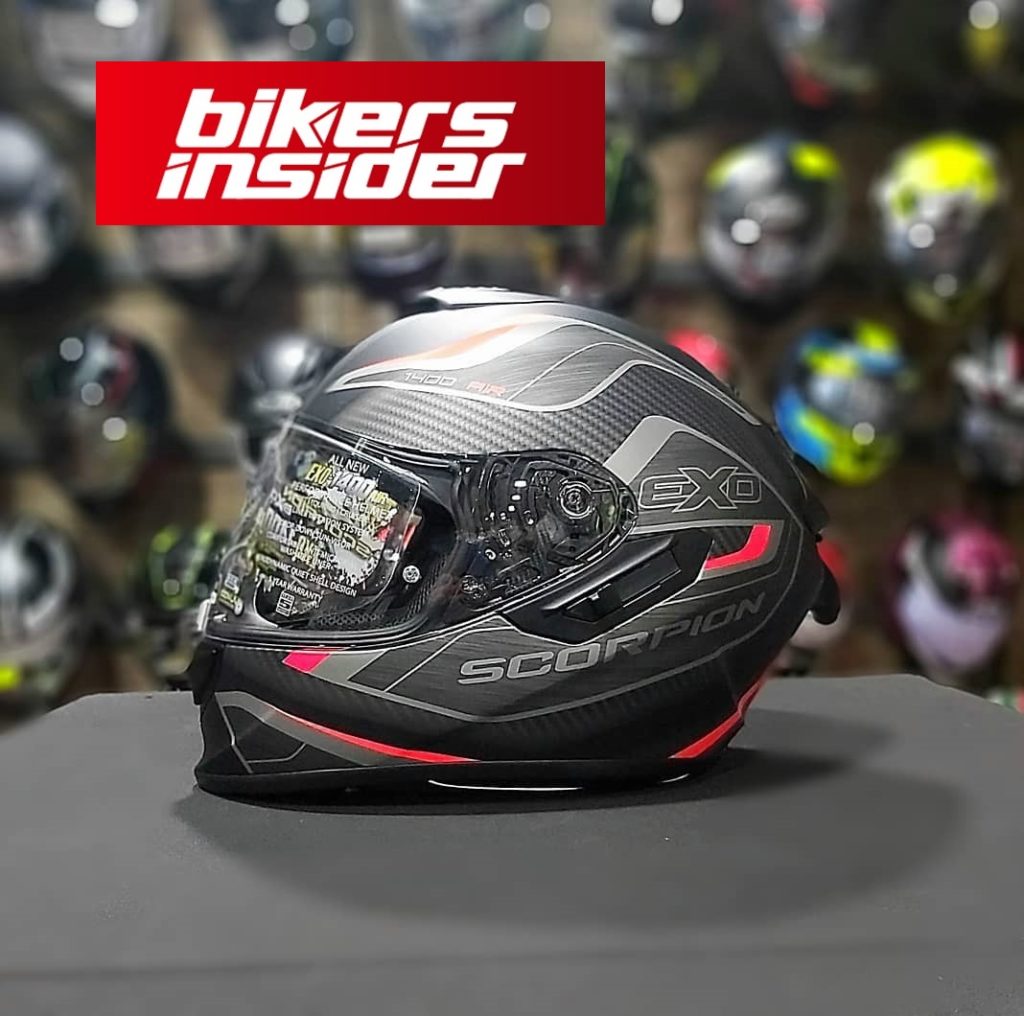 What is indeed something to be concerned about is the fact that the sun visor doesn't drop down enough. This will certainly be a factor to take into account for some riders. That extra coverage would be valuable in very sunny contexts, for sure.
The front center point of the helmet has some issues on its own. You will find no problem with it, but the mechanism is certainly not pure satisfaction. As the vent is located right there, sometimes you close it accidentally. Kind of annoying.
All in all, the design of the Scorpion EXO-ST1400 Carbon is good for the price. You can find better options, yes. But the cost will certainly be higher.
It's all about ventilation and aerodynamics
We do miss some ventilation on the helmet. Although we know this changes a lot from one rider to another, our perspective is that this product lacks some extra airflow that would make it great.
You will find one chimney vent up top, which is absolutely great. There is another one on the chin, and you may interact with those two from a switch on top of the helmet. The exhaust vent out the back is a passive one, so you will likely miss some brow mounts or simply a larger vent up top.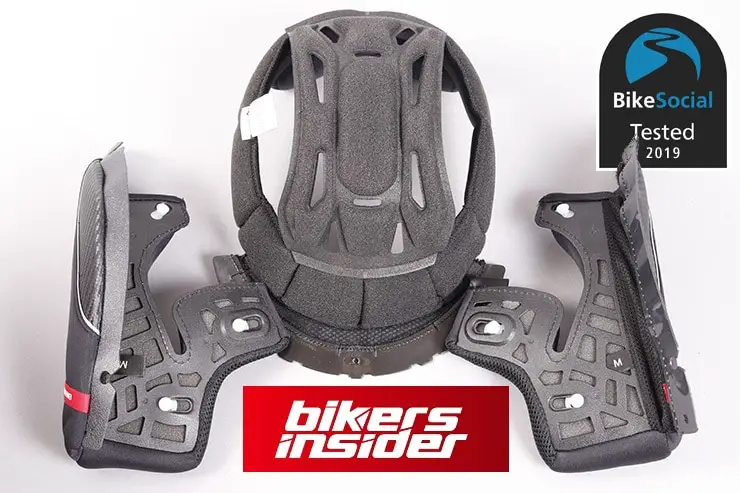 The airflow in the Scorpion EXO-ST1400 Carbon is absolutely not a problem. But leaves some extras to be desired.
When it comes to aerodynamics, the company has taken the game to a whole new level. This is a very sleek helmet, a great job when it comes to design. Easy to fit, to ride in, even at really high speeds.
If we were to pick one feature, it will certainly be how great this helmet fits and how aerodynamic it is. We cannot highlight this factor enough.
The inside of the Scorpion EXO-ST1400 Carbon
One of the things that you will notice is that you have a chin curtain up front, that will easily pop out on demand.
Get that out of the way, and you will find the emergency quick release cheek pads. Those are easily pulled out when needed. They do feel really nice, as they are contoured all the way to the back of the helmet.
One of the perks of the material that they've chosen for the inside of the Scorpion EXO-ST1400 Carbon is that it will help wick the sweat away. Furthermore, you can remove all the pieces from the inside and wash them, which is definitely a plus.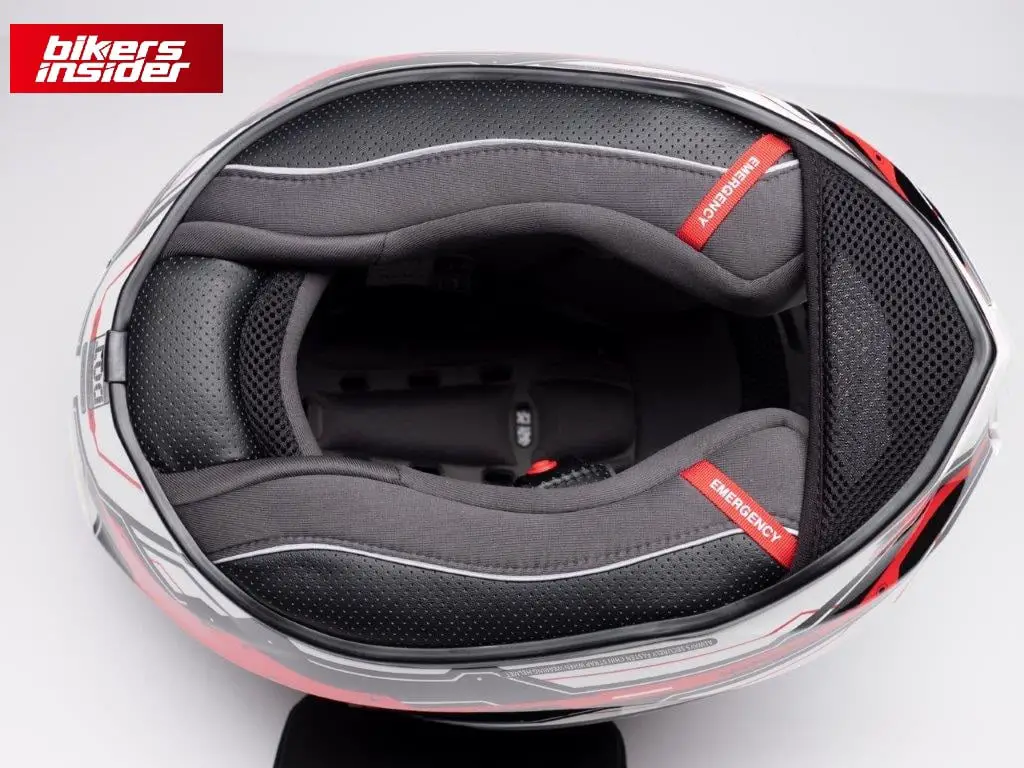 What about the speaker pockets and sound?
As the cheek pads go all the way around the head, they will also help to reduce the noise around you. It is certainly not a noise cancelling system, but it will allow you enjoy more your rides.
Mind you, there is room for the speaker system right under the pads. But you will have to remove some of them, which will have some impact on how comfortable the helmet feels. Nothing major or to worry about.
The speaker pockets are nice and deep. They just feel solid, so they will definitely not end up pressing against your ears.
Discover Scorpion's air flow system
If you never heard of Scorpion's air flow system, you will be blown away but this feature, which is included in the Scorpion EXO-ST1400 Carbon.
What it does is pump in some air to the systems on the sides and chin. This will feel like really nice, as it will inflate the bladders within the shell, providing an amazing comfort to the user.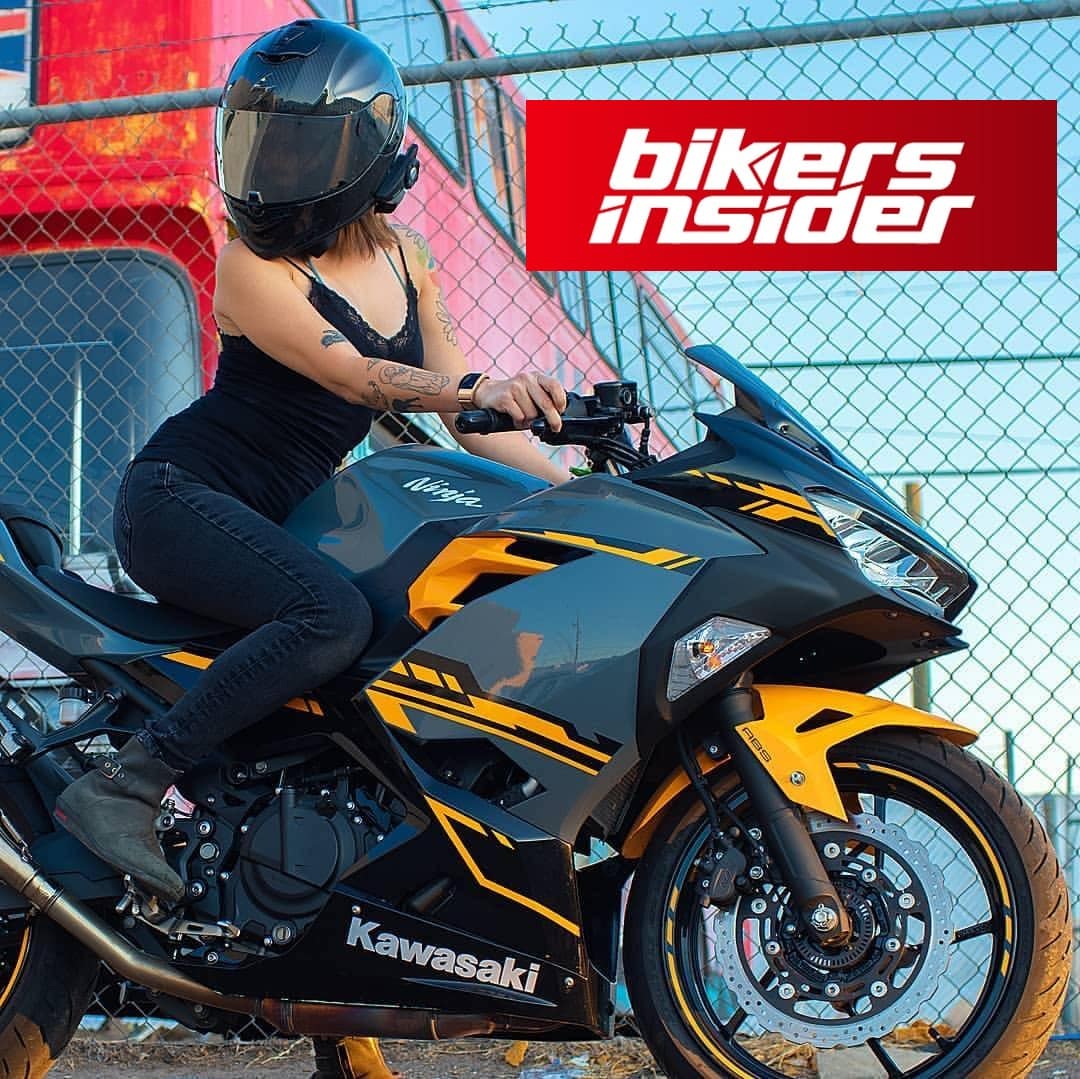 You may deflate them by simply pressing a button on the bladder. So it is something that you will fall in love with the first time you use an Scorpion helmet.
If you plan to ride at really high speeds, this will lock in the helmet with a firm and perfect fit. A relevant feature, as it is related to the security of the product.
Takeaway: the Scorpion EXO-ST1400 Carbon is a value champion
All things considered, the Scorpion EXO-ST1400 Carbon is a really good helmet for the price. It has a beautiful design. It is a solid and safe helmet, that allows you to ride at high speeds without any issues.
However, you may want to look at those little details before purchasing the helmet. If you ride in very sunny areas, or you are one of those riders who need extra ventilation, that might be a deal breaker with this one.
In any case, we believe that it would be hard to find a better 3k carbon helmet for the price. There are certainly some improvements that could be made, yes. But we believe that the value that Scorpion provides it's out of question. Check out our other reviews if it is not what you've been looking for!