Welcome to our Icon Airframe Pro review, where we will review this full-face helmet released a few years ago. Icon knocked it out of the park when it comes to updating the original Airframe helmet, starting with a super aggressive style meant to be ridden in 3/4 position. In addition, it has a five-piece inner comfort liner that makes the interior fit much more customizable than ever before. 
Also, the Airframe Pro has an upgraded ventilation system that improves the aerodynamic qualities exponentially. But, of course, there are some downsides to this helmet too, and we are going to talk all about the positives and negatives objectively in the following sections!
Icon Airframe Pro Review – Main Features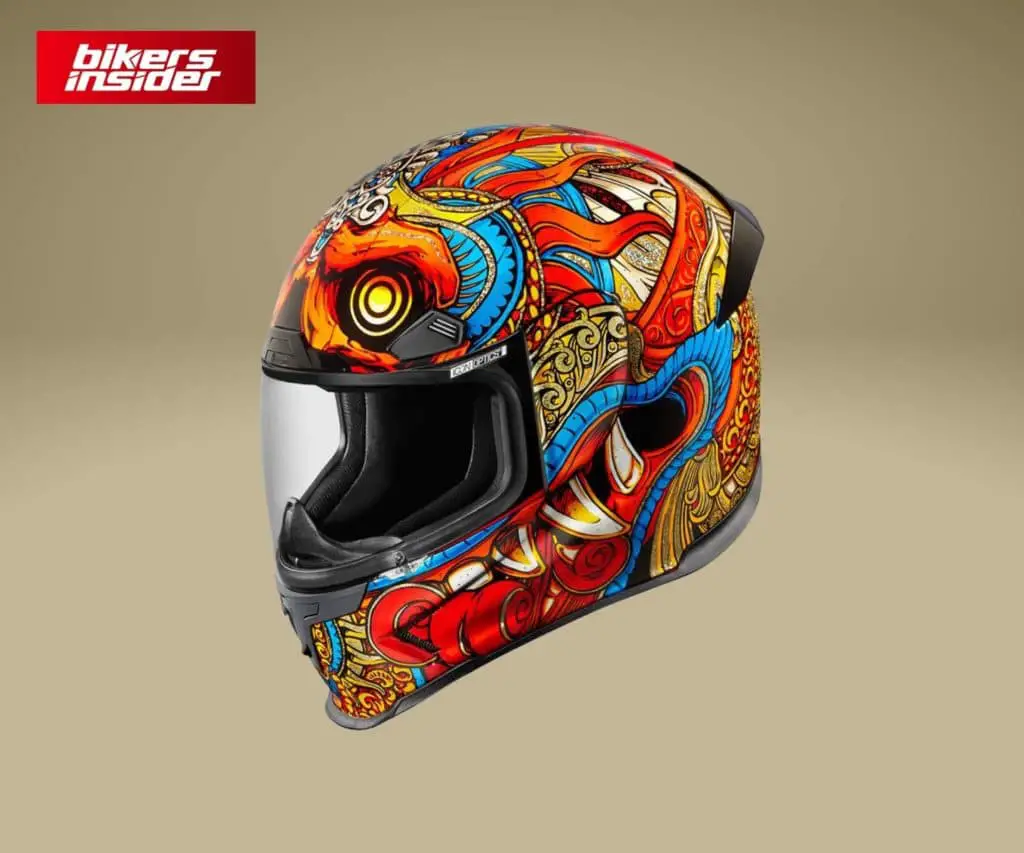 If you are in a hurry, here are some of the main features of the Icon Airframe Pro motorcycle helmet:
Fiberglass composite shell
Weighs 1,53 kg (3 pounds and 6 ounces)
Intermediate to long oval shape
Five-piece inner liner set
Optically correct clear face shield with anti-fog coating
Actuated chin vent
Two jawline vents
Three actuated top vents
Five rear vents
DOT and ECE safety ratings
Comes in 10 designs
Without further ado, let's start with our Icon Airframe Pro review!
Construction & Design
This helmet has a fiberglass composite shell that provides extra safety and less weight than the original Airframe motorcycle helmet. The Airframe Pro weighs 3 pounds and 6 ounces (1,53 kg), which is reasonably light for a full-face helmet.
When it comes to fitment, the Airframe Pro comes with an intermediate to a long oval shape, which will fit most US riders. This helmet is a bit more elongated from the front to the back, even more so than your regular intermediate oval motorcycle helmet. Keep in mind that the fit between your cheeks will be pretty snug after you don't break in the helmet after a while of riding.
From the fitment perspective, the Airframe Pro will be best suitable for riders who require more forehead room and less suitable for people who need more space in the ear and temple area.
As we look at the side of the helmet, we can see that race helmet aggressive styling that is functional at the same time.
Vision
In this section of our Icon Airframe Pro review, we will take a closer look at its face shield and its features.
First of all, the Icon Airframe Pro utilizes the same clear face shield that Icon Airmada has. That means it's optically correct and features anti-fog coatings. Sadly, this isn't a Pinlock-ready face shield.
We can notice the side pods with some great detents to hold the face shield together. There is a locking mechanism on the right side of the visor too. Overall, the face shield is very easy to operate, even with a single finger and a gloved hand. 
We don't have any gripes with the visibility aspect on the Icon Airframe Pro; it's almost flawless, apart from the lack of Pinlock support.
Comfort
As we continue our Icon Airframe Pro review, let's take a deeper look into the interior and the overall comfort of the helmet.
First of all, we want to point out that the Airframe Pro utilizes a five-piece liner, with the following components:
Mohawk
Two crown side parts
Two cheek pads
All of them are adjustable, which adds an additional dimension to the flexibility of the comfort scheme. Icon is the pioneer of the modular inner liner, and we would love to see other motorcycle helmet manufacturers follow suit.
As we go deeper into the interior of the Airframe Pro, we can see the removable chin curtain. Also, the helmet features a double D-ring fastener, which is a standard deal these days.
Then, there are the moisture-wicking and antimicrobial cheek pads. They are pre-curved and are quite ergonomic. One gripe we have here is that the speaker cutaways are a bit smaller, so it might be harder to put on Bluetooth speakers and feel comfortable simultaneously. Thankfully, the helmet walls aren't so thick as with other Icon helmets, so you can easily clamp a Bluetooth headset on this one.
Want to snatch a decent motorcycle Bluetooth headset? Check out our list of best motorcycle Bluetooth headsets to help you out!
When we pull out the mohawk section of the inner liner, we can see that there is no mesh on the outer side, so the airflow stays unbroken. Also, the brow mount has no snaps – it's fully plastic and easily integrates between the shell and EPS liner. Thanks to that, you won't feel any pressure points on your forehead, a thing that is loathed on many motorcycle helmets.
Now, we have only the side parts of the five-piece comfort liner to go through. Like with the rest of this modular set, they are customizable and are connected to the helmet with two snaps.
Finally, there is the dual-density EPS liner with an emphasis on temple cutouts. Your temple is a pressure point, so ventilating that section is essential to keep your blood flowing regularly. This additional cutout provides that extra ventilation to the temple area and the other parts of the head. The only gripe we have with the EPS is that the cuts aren't too deep.
Airflow
In this section of our Icon Airframe Pro review, we will delve deeper into the vent scheme of this motorcycle helmet.
Jawline Winglets
First up are the winglets on both sides of the jawline, which are passive vents. These help with venting your face as well as provide additional aerodynamic qualities at high speeds.
Chin Vent
Next up, we have the actuated chin vent that's going to vent in your face and to the face shield if you need help with defogging. Keep in mind that the chin vent is very easy to actuate.
Top Vents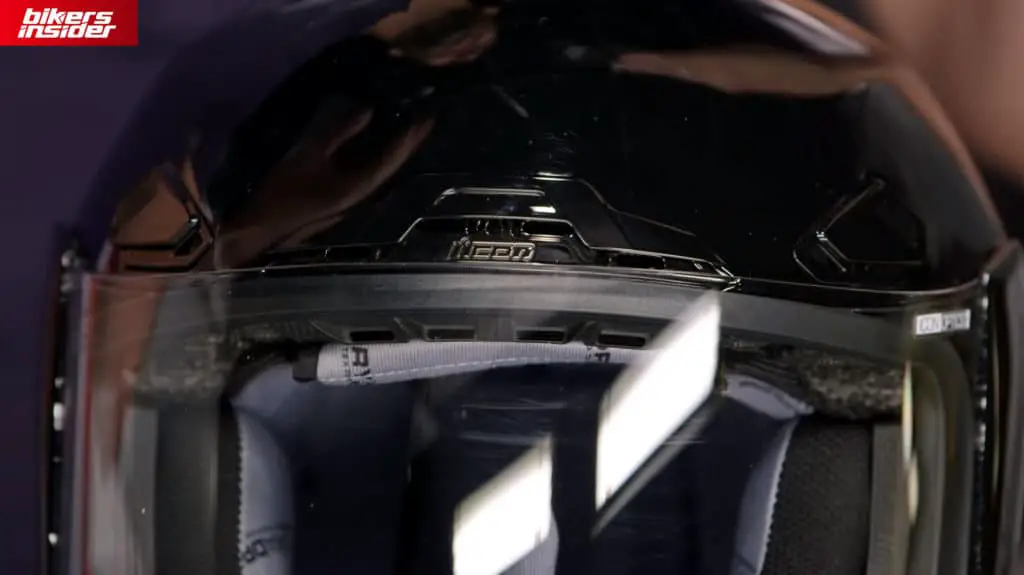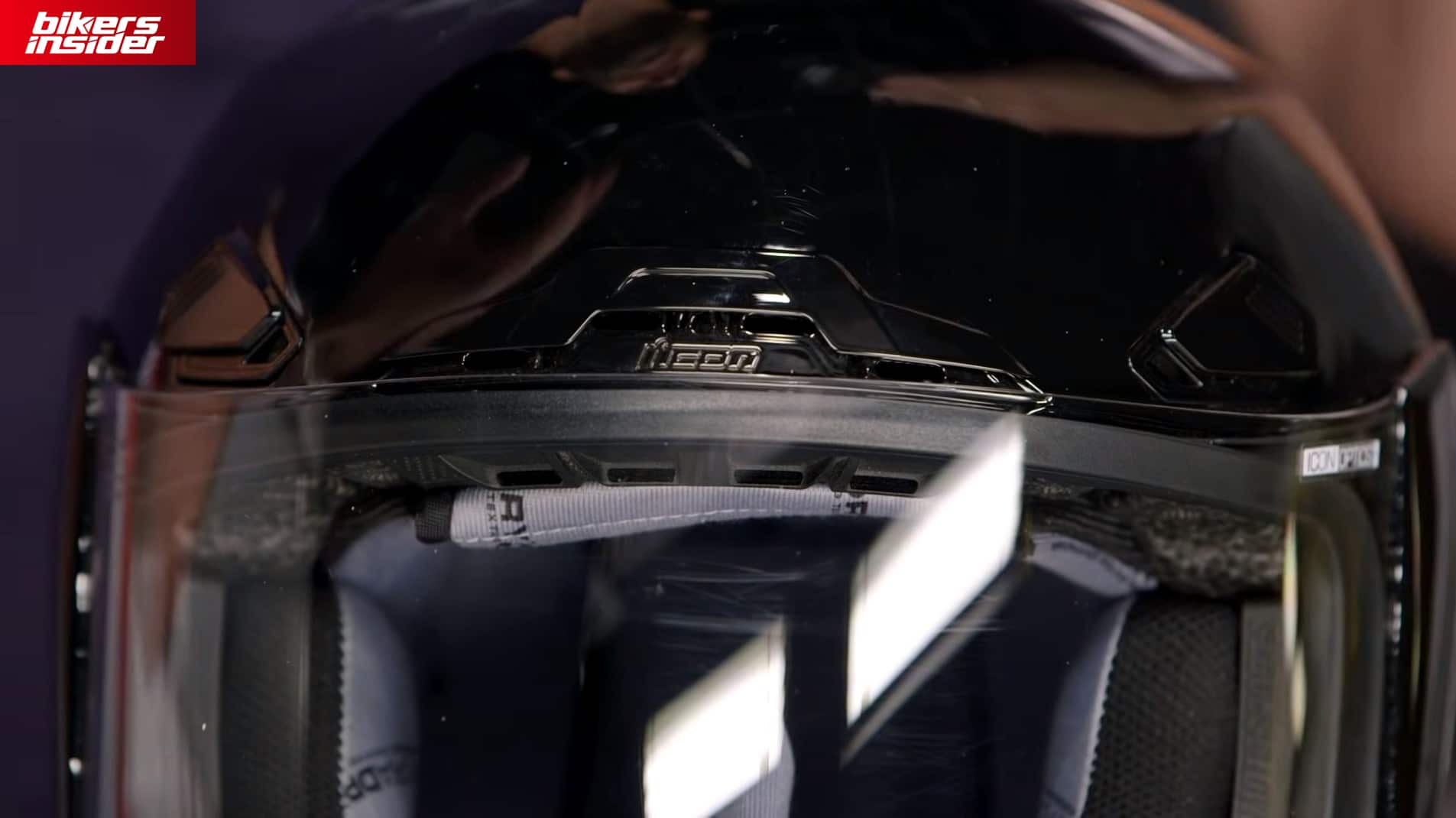 To make the Airframe Pro quieter than its predecessor, two actuated top vents are located along the temple area. These are connected to the deep cutouts in the EPS to vent your forehead directly without causing drag. However, the top side vents are a bit harder to actuate with a gloved hand, and they could use a bit more texture for easier operation.
Of course, there is an additional actuated chimney vent between the two temple vents that provides additional frontal ventilation.
Rear Vents
We have additional passive rear vents:
Two on each rear side
Two small vents under the spoiler tips
One vent under the spoiler winglet
The above combination will provide a superior aerodynamic profile, especially if riding at high speeds. What it does essentially is creating a vacuum that disperses more air across your head and pulls your sweat away. This is called the Venturi effect, and it is realized on the Airframe Pro with great success.
Looking for more Icon helmet reviews? Check out our Icon helmets section for more!
From the airflow perspective, the Airframe Pro will perform the best when you lean forward, as it is designed to be a sportbike helmet.
Cutaway On The Back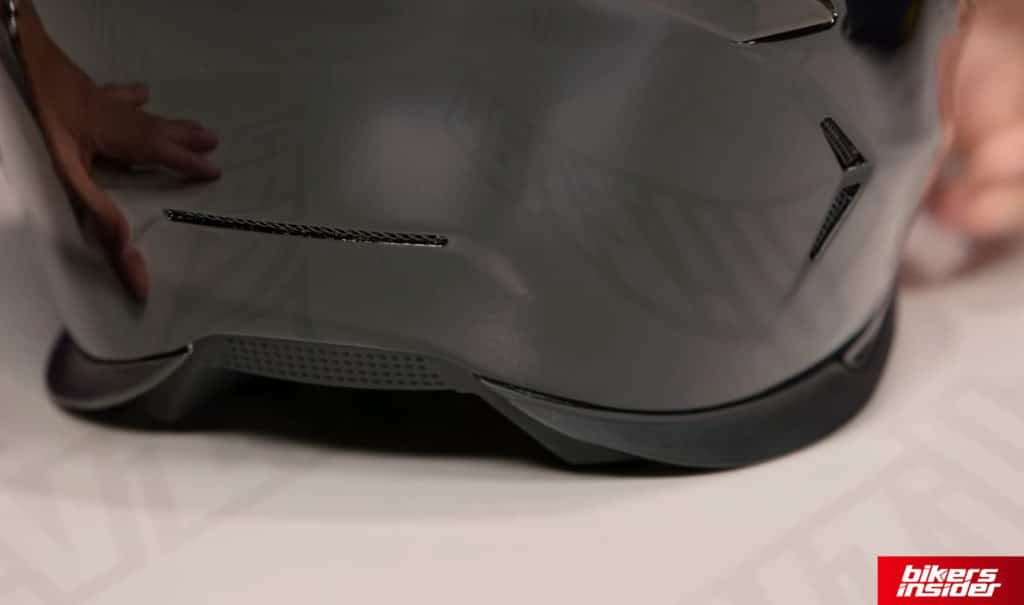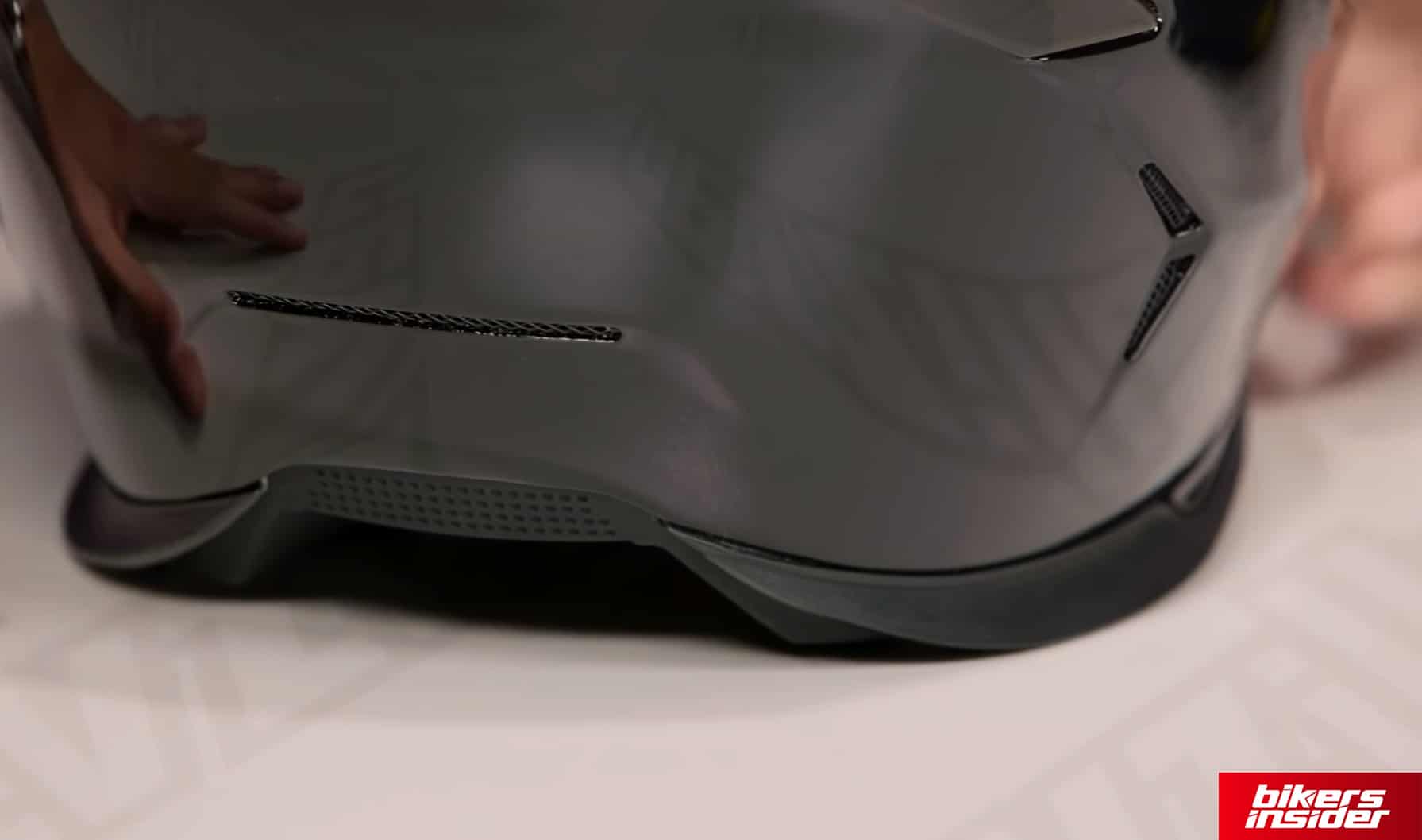 Finally, you may notice a large cutaway along the bottom of the helmet. This provides better venting if you are in the 3/4 position. It also provides a better range of motion, especially if you wear a full suit for the race track. Also, this cutaway may be handy if you have a large collarbone, mainly from the comfort perspective.
How Is The Noise?
Even though the vents are slightly smaller than on the original Airframe helmet, that doesn't mean that the helmet isn't noisy. Still, the noise of the helmet will greatly depend on your riding style, especially if you're not riding in ¾ position. If you have problems with helmet noise, you can always invest in a pair of good earplugs.
Safety Ratings
The Airframe Pro helmet comes with DOT and ECE safety ratings, making it suitable to wear in any part of the world. However, considering that the helmet is designed as a sport bike helmet, it's a shame there is no Snell rating for this full-face helmet.
Available Models
First of all, the Icon Airframe Pro comes in the following shell sizes:
XS – 53 to 54 cm
S – 55 to 56 cm
M – 57 to 58 cm
L – 59 to 60 cm
XL – 61 to 62 cm
2XL – 63 to 64 cm
3XL – 65 to 66 cm
As with other Icon helmets, you can find various face shield tints [add tint link when it works] to personalize the Airframe Pro to your preference.
Here are all the pre-made designs for the Airframe Pro motorcycle helmet:
Beastie Bunny
Carbon
Fast Food
Luckylid3
Quicksilver
Construct
Rubatone
Gloss
Barong
Warbird
Check out all the designs in the gallery below!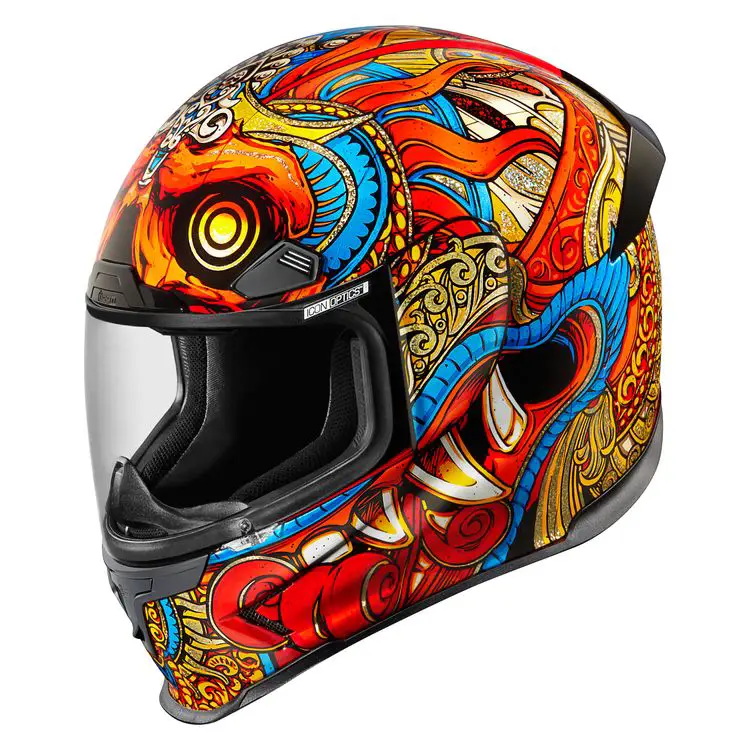 Icon Airframe Pro – Rider's Photos
Here are some photos of the Icon Airframe Pro helmet in action! This is an incredibly stylish motorcycle helmet that will overall complement your riding style in true fashion.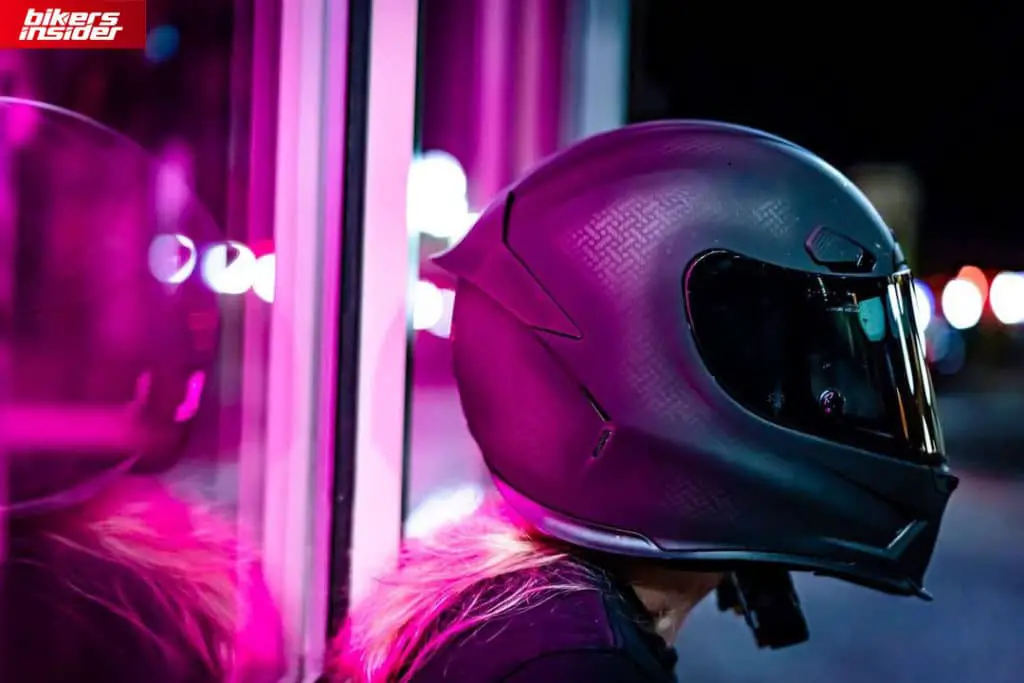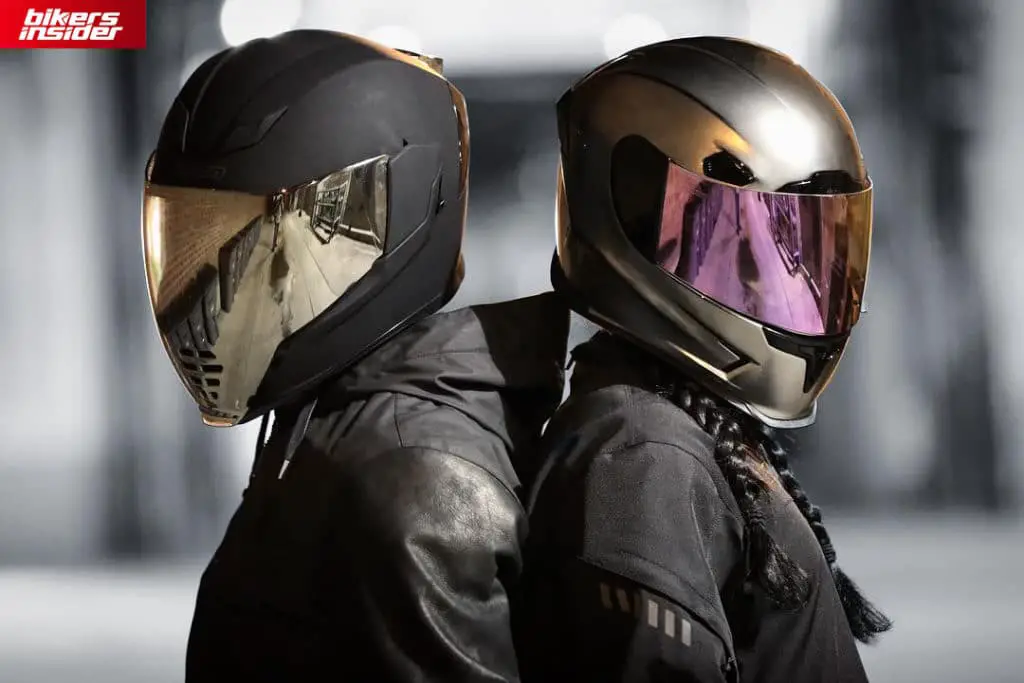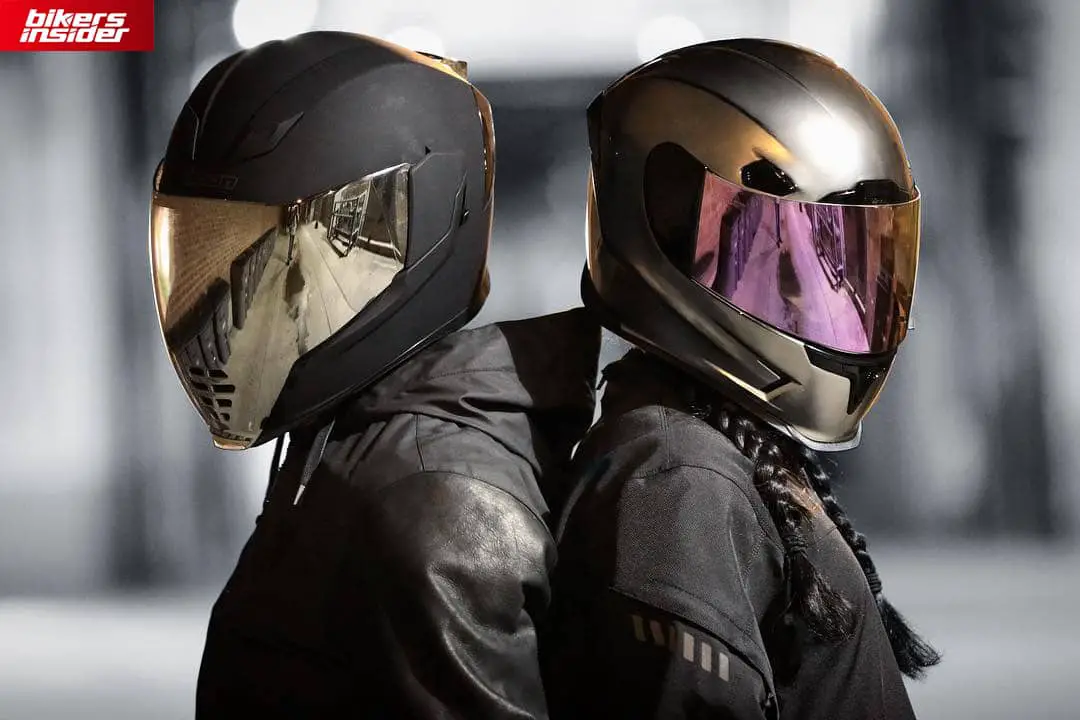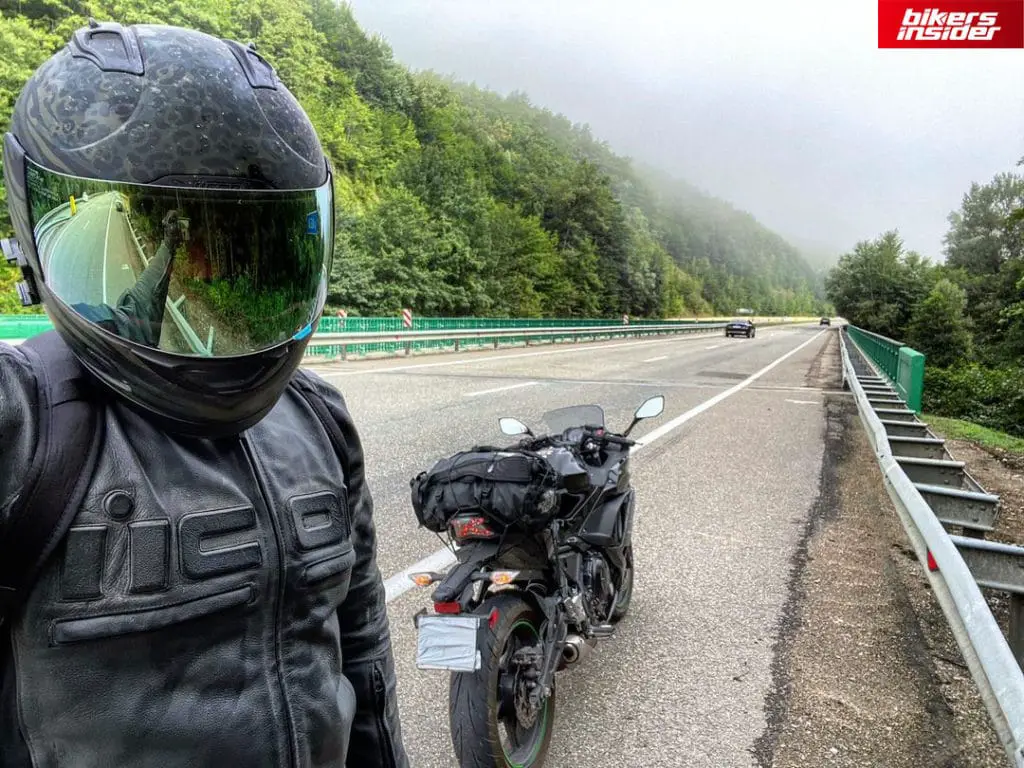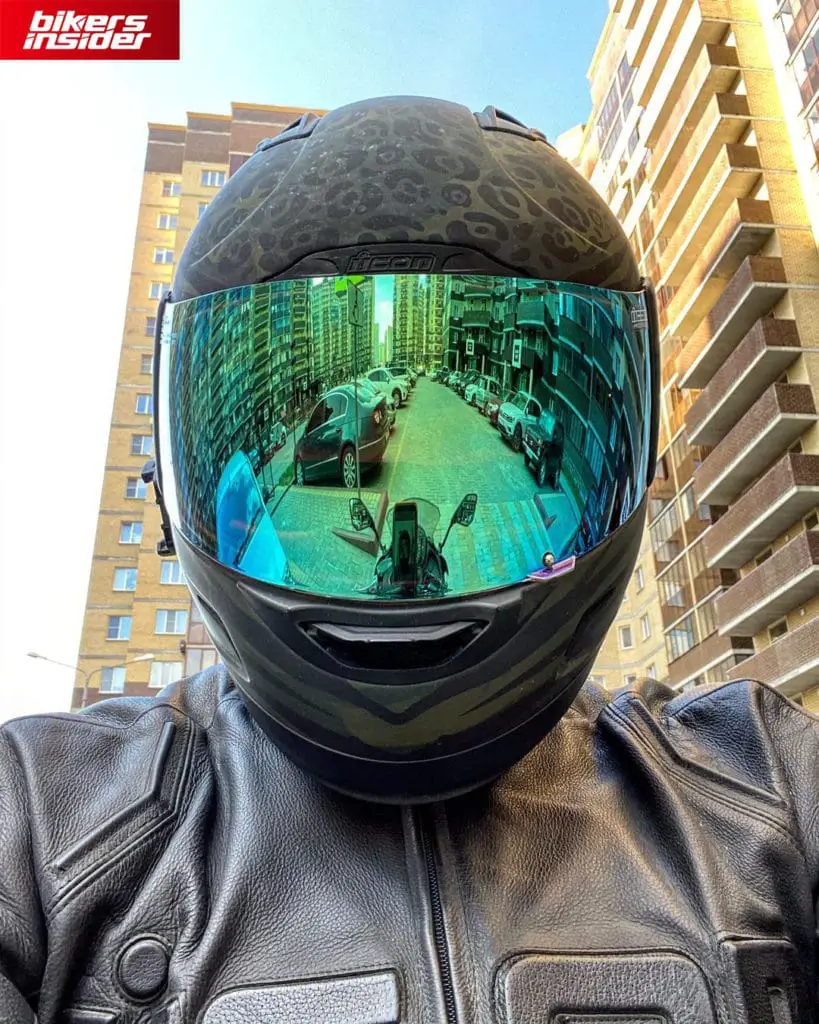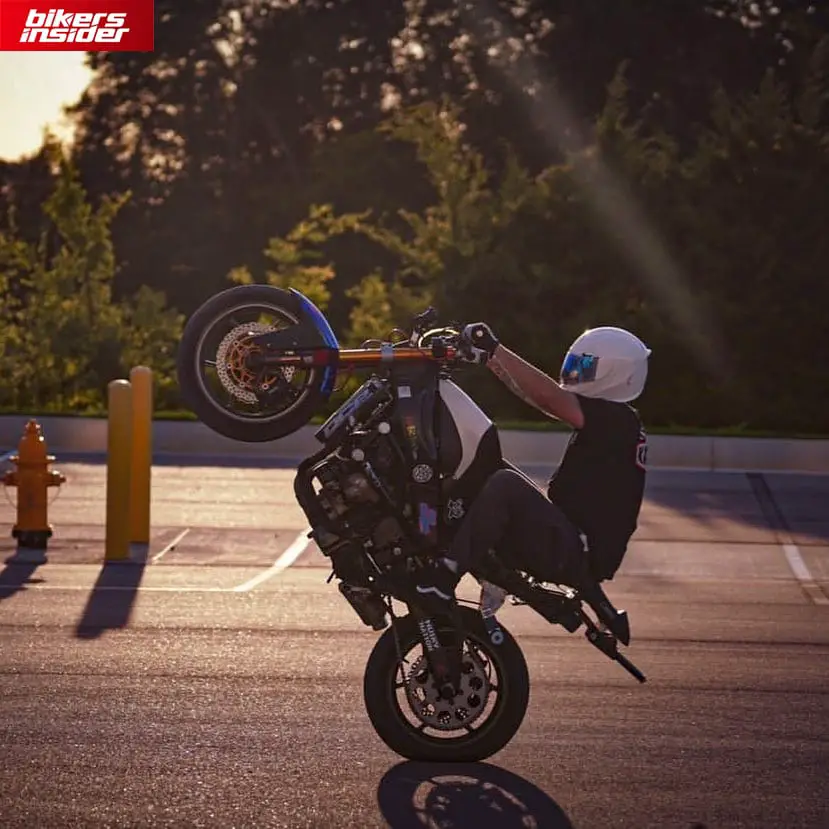 Price
So, for such a rich feature package, how much money should you expect to invest for the Icon Airframe Pro full-face motorcycle helmet? It will cost you $375/€315/£270, which is honestly a good bargain for all that you get with it.
Check out the best deals on the Icon Airframe Pro motorcycle helmet in the stores listed below.
Summing Up
Now that we are at the end of our Icon Airframe Pro review, what is our final verdict on this sports helmet?
First of all, this is one of the coolest helmets around, with its aggressive sporty shape and a variety of cool designs prepared for the helmet. Also, the five-piece inner liner provides an extremely comfortable interior that you can tune to your needs. 
Its visor is optically correct but sadly isn't Pinlock-ready. But, the helmet more than makes up for it with its awesome vent scheme that is good at defogging the visor. 
Sadly, the noise levels may be too high for some riders, especially for naked bike riders who don't ride in the tuck position. Also, the speaker cutouts inside the helmet aren't too deep to fit in the Bluetooth speakers comfortably, but at least it's easy to clamp a Bluetooth headset to this helmet.
Overall, if you're looking for one of the coolest helmets around, Icon Airframe Pro is one of the best to get, along with Ruroc Atlas 3.0, which is a newer helmet.
Interested in more helmet reviews? Check out our motorcycle helmet reviews section for more!