Fodsports is a newcomer in the Bluetooth headset market, with relatively cheap models in their portfolio. While many people won't even consider extra-cheap Bluetooth headsets, Fodsports is distinctive because it can make quality, long-term headsets. In our Fodsports V6 Plus review, find out if the above applies to this one too!
Fodsports V6 Plus Review – Main Features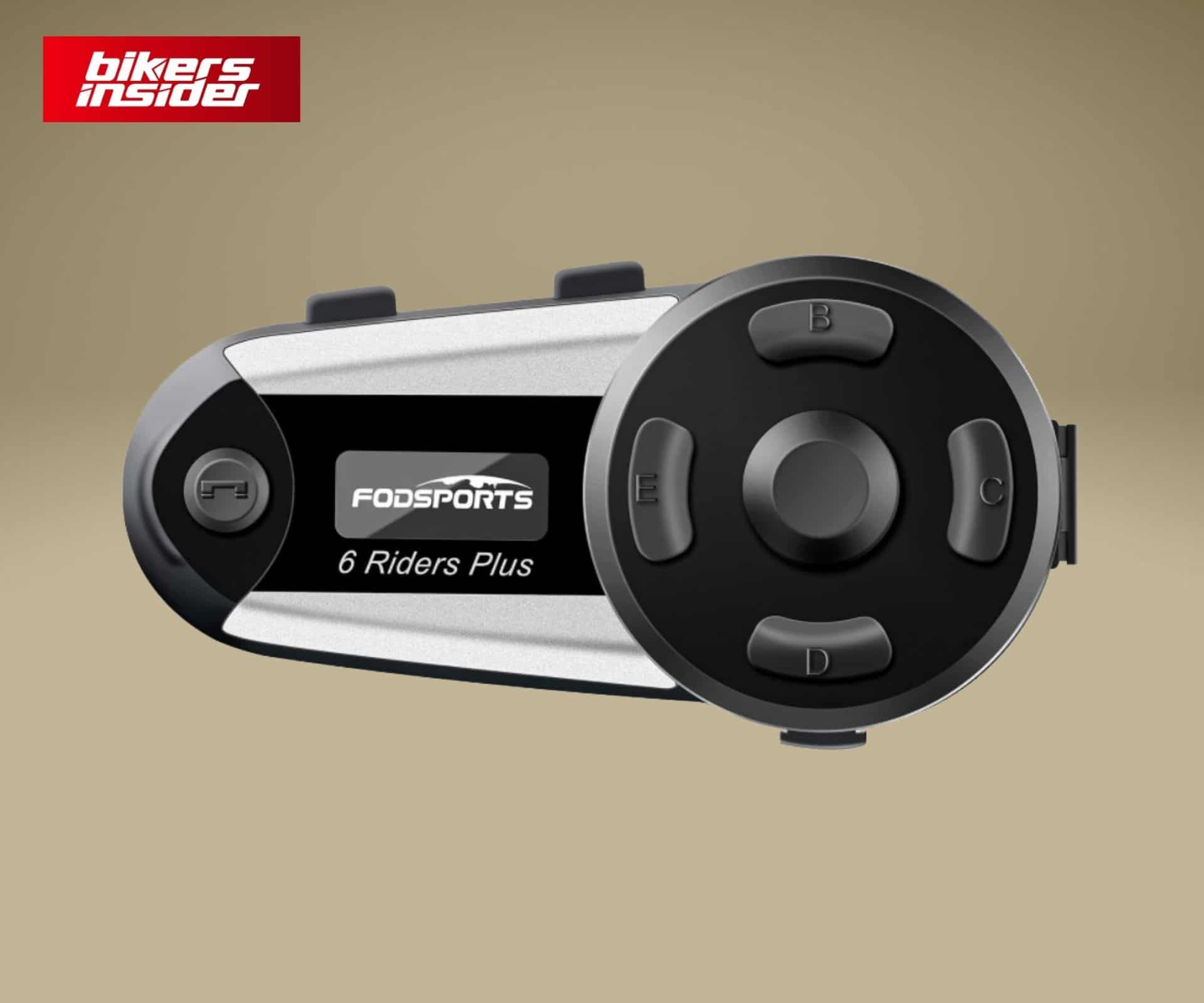 In a hurry? Don't worry – here are all the essential features of the Fodsports V6 Plus to know!
Weighs 50 grams
Eight glove-friendly buttons
Bluetooth 3.0
Waterproof
850 mAh battery with 2 hours of charge time
1,2 km (0,75 miles) maximum range
Noise cancellation
Smartphone voice assistant support
Without further ado, let's begin with our Fodsports V6 Plus review!
Design & Installation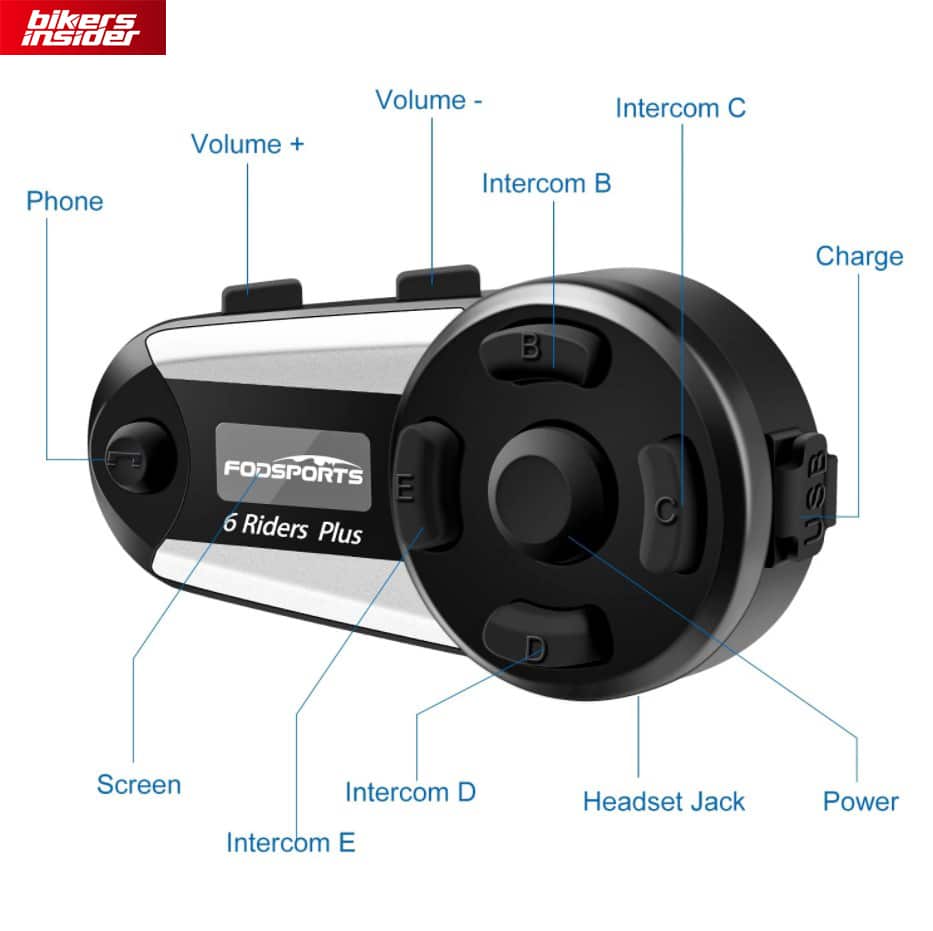 Fodsports V6 Plus features a fairly lightweight design at 50 grams of weight. It doesn't look too cheap nor premium, a fine balance. We have to say that it has got a fairly complicated button scheme, with eight glove-friendly buttons. 
Each button has a specific function as well as alternate functions when you press them more than once. The learning curve is relatively high to memorize all the button configuration, so consulting with the Fodsports V6 Plus user manual is a must.
You can also notice an LED screen that is useful when first pairing with your phone or other headsets or when you want to check the headset's battery level.
The packaging of the Fodsports V6 Plus comes with the following:
Fodsports V6 Plus headset
Speakers
Hard microphone
Soft microphone
Micro USB cable
Mounting bracket
Double adhesive mount
Metal clip
User manual
Installing the V6 Plus headset is fairly simple. You can either choose a temporary clip mount to fit it between the helmet shell and comfort liner or the sticky adhesive mount for a permanent solution. Then, fitting the speakers and the desired microphone is much easier due to adhesives that keep the wires stable.
Bluetooth Pairing
Fodsports V6 Plus Bluetooth headset is powered by Bluetooth 3.0 technology, enabling it to connect to a wide range of Bluetooth-enabled devices. With that said, the older Bluetooth technology doesn't hold up to 4.0 or 5.0 tech when it comes to connection stability.
Phone Pairing
To pair your V6 Plus headset with a Bluetooth device (smartphone or GPS device), follow this procedure:
When turned off, press the Power button for 8 seconds until you see the "Pairing" message.
Open the Bluetooth menu on your smartphone and search for "FODSPORTS V6 PLUS".
After you pair it with your phone, you should see the "Paired" message.
Once you connect the V6 Plus to your phone, you can answer, reject, and end phone calls, use voice dial, as well as control music and volume.
Universal Headset Pairing
To pair your V6 Plus headset with non-V6 Plus headsets, follow the next procedure:
Turn on the other Bluetooth headset and initiate its pairing mode
On your Fodsports V6 Plus, hold the Intercom B button for 1 second until you see the "Pairing" message.
Tap the Intercom B button until you see the "Searching" message, afterward, you should get the "Paired" message.
Pairing With Fodsports Headsets
Last but not least, here is the procedure on how to pair with other V6 Plus headsets:
Turn on headset 1 and headset 2.
Hold the B button on both headsets for a few seconds until you see the "Pairing" message.
Tap the B button on either headset, which will trigger the "Searching" mode.
When the pairing is finished, you will see the "Paired" message.
You can do the same procedure to connect with four more headsets, utilizing the first unit (host unit) and other units.
Connection Range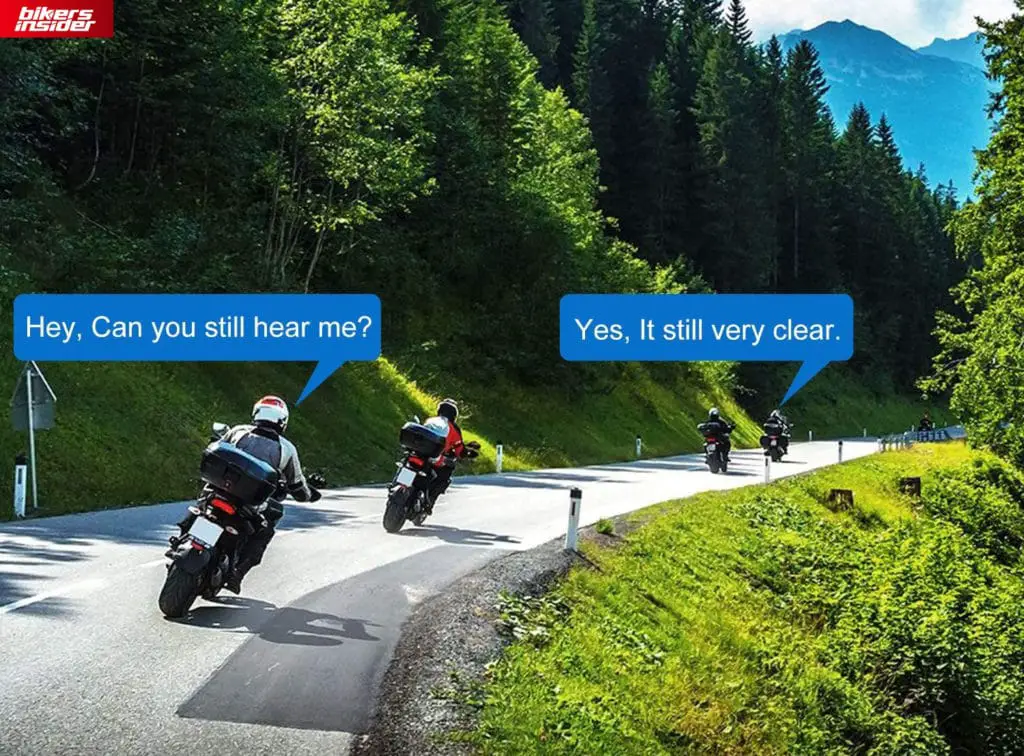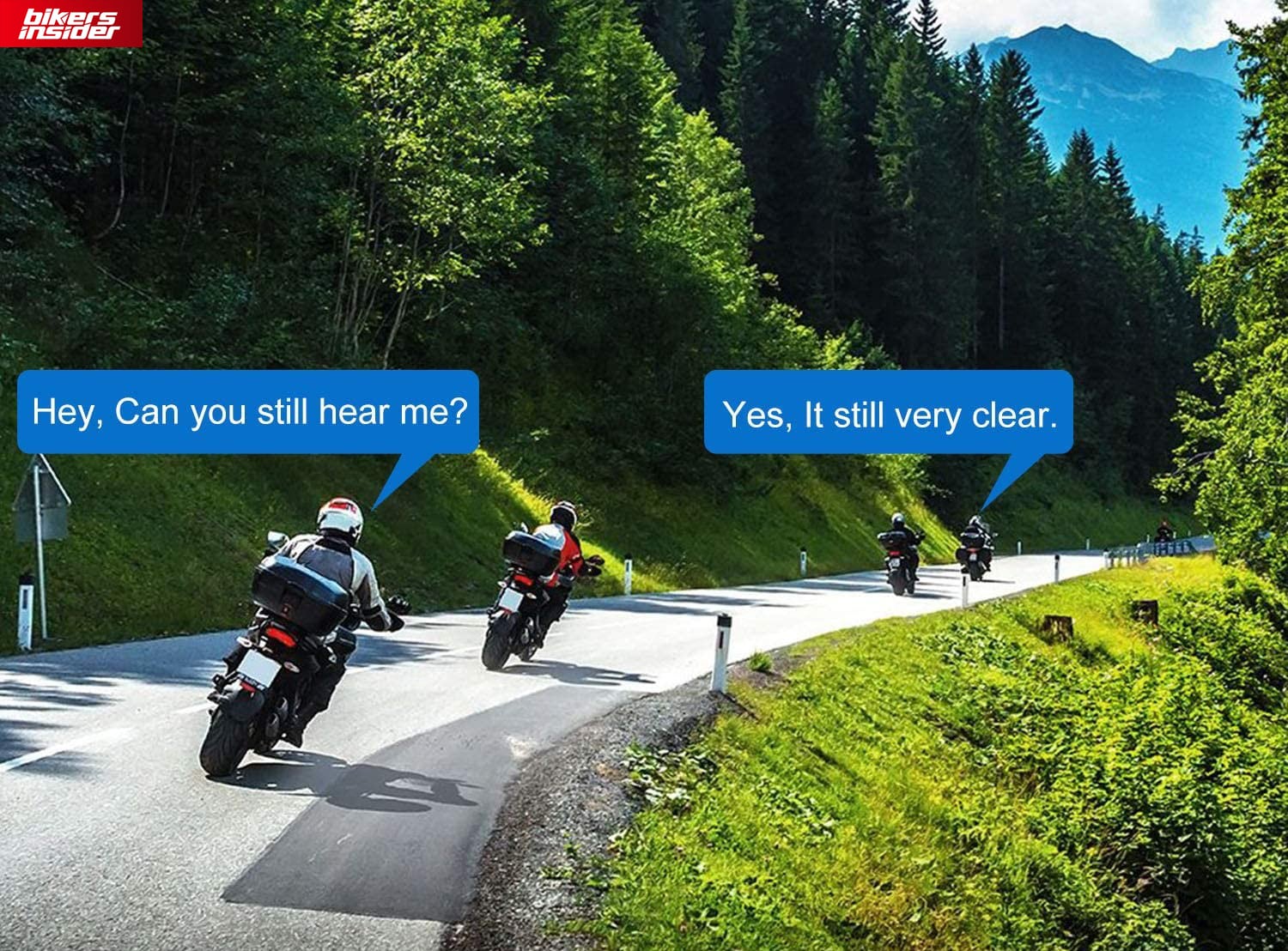 As we continue our Fodsports V6 Plus review, how does its motorcycle intercom range hold up?
First of all, the V6 Plus can connect with five other riders, with a maximum of 6 headsets in one Bluetooth intercom session. Keep in mind that only two riders can talk simultaneously.
The maximum intercom range is 1,2 km (0,75 miles), which translates into 200 meters or range between each rider. Of course, the range will depend on the terrain you're riding in, so the range might be even lower if there are any obstructions around.
If looking for the best intercom range you can get with a Fodsports headset, the M1S Pro is the best choice!
Also, let's explain one major gripe we have with this intercom system. For example, we have five riders in an intercom session. The first rider who initiated the intercom session is the host. Now, the host can talk to any of the riders in the group, while the other riders can only talk with the host. This sadly results in quite a one-dimensional experience.
In summary, the Fodsports V6 Plus doesn't particularly impress with its intercom range.
Sound Quality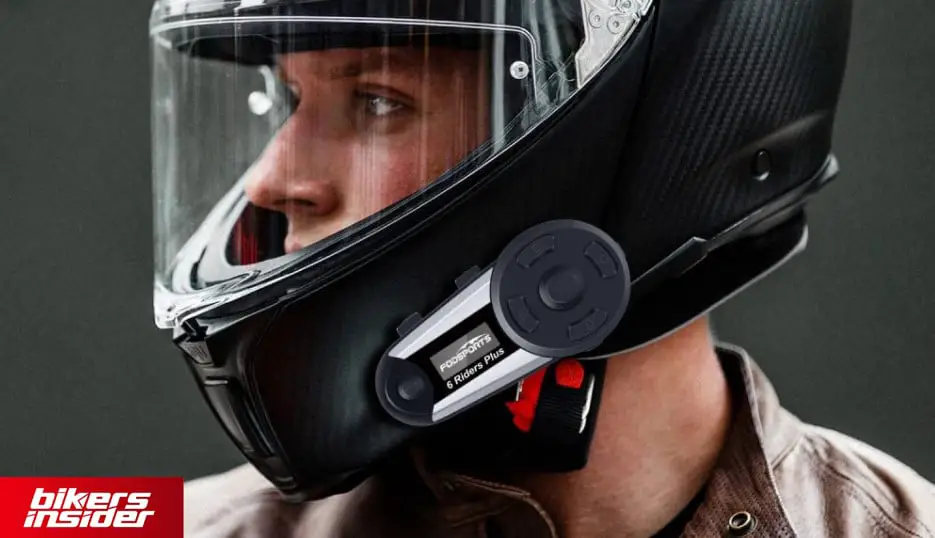 Based on the sub-$100 price tag, we didn't expect much when it comes to the speakers of the Fodsports V6 Pro. As expected, we weren't very impressed, but when you consider that this is a dirt-cheap Bluetooth headset, the compromise makes sense.
Nevertheless, the speakers are large enough to cover your ears and are simple to set up in your helmet. When cruising, they provide acceptable sound quality, but if you ride between 45 to 50 mph (72 to 80 km/h), the sound will completely get drowned out by the wind.
Check out our Fodsports FX6 review to find another budget gem of a Bluetooth headset.
Even if you rack up the volume, the sound will get more distorted and not pleasant to listen to due to the lack of deep bass.
On a positive note, the Fodsports V6 Pro motorcycle helmet Bluetooth headset features ambient noise reduction in the microphones. This is enabled due to a built-in CSR chip that will mask the engine and wind noise when talking to your buddies, which is a nice addition.
Voice Control
Fodsports V6 Pro motorcycle helmet headset has no dedicated voice control options. To make up for that, you can control the digital assistants on your phone. These will work depending on your mobile phone device, but it's still good to get directions via voice input.
Additional Features
As we continue our Fodsports V6 Plus review, here are some of its additional features to know!
FM Radio
This motorcycle Bluetooth headset features a fully functional FM radio. One benefit you get with its integrated FM radio is the ability to save up to 6 radio stations.
Water Resistant or Waterproof?
Fodsports is well-known for making its products waterproof. It's no different with their V6 Plus headset, which passes IPX6 waterproof rating. This essentially means that it was tested under high-pressure, heavy sprays of water.
This sets it apart even from some premium motorcycle Bluetooth headsets, as you can ride with it in a rainstorm and not worry about it shutting down on you.
Battery Life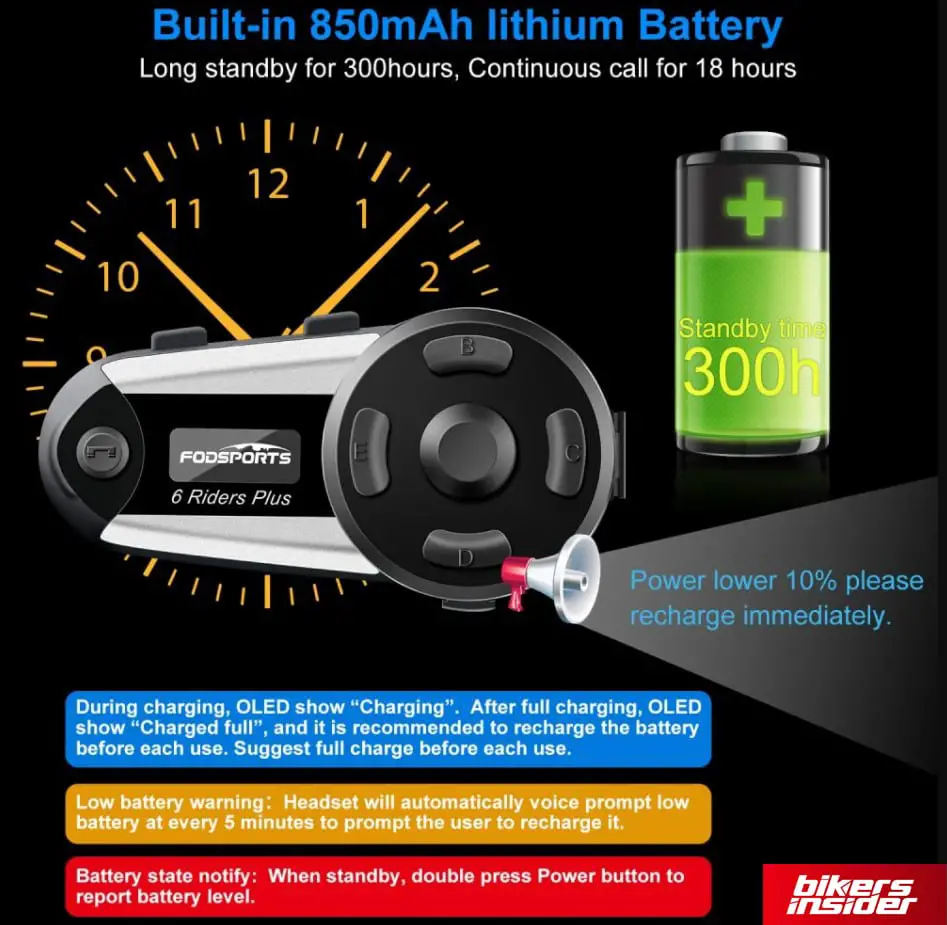 We're quite impressed with the 850 mAh rechargeable Lithium-ion battery and its maximum battery life. It offers a standby time of 300 hours and 18 hours of use time, with a charge time of only 2 hours. Definitely longer than even some premium Bluetooth headsets, so bonus points for the Fodsports V6 Plus here!
Price
And now, for the sweet part. Fodsport V6 Pro comes at a very desirable price, especially when considering all the functionalities we mentioned in our review. 
A single Fodsport V6 Pro headset costs $60/€49/£42, while the dual pack costs $110/€90/£78. It's a very affordable price that might sound too good to be true. Well, this certainly isn't a disposable or one-time-use Bluetooth headset, so it's very refreshing to see such a price tag.
Summing Up
Now that we are at the end of our Fodsports V6 Pro review, what is our final verdict?
This little buddy is one of the most affordable motorcycle Bluetooth headsets on the market. It's got a glove-friendly button layout which is a bit complicated at first. The headset is quite durable due to its waterproof rating, which is nice to have.
Now, keep in mind that this won't be the best headset if you look for intercom functionalities. It has got a clunky host talk rule and a low maximum range to boot. When you're riding in groups that stay close, the intercom has got its value. At least the phone pairing works well, and you can utilize the voice assistant of the connected smartphone.
The sound quality won't win any awards either, with Sena and Cardo headsets completely eclipsing this one by a mile. Still, for an entry-level Bluetooth headset, this is acceptable, to say at least.
The battery life of this Bluetooth headset is pretty nice, further contributing to its overall high durability.
Overall, we would recommend the Fodsports V6 Plus to those new to the world of Bluetooth headsets. It's cheap, durable, and, most importantly – functional. These traits make it a great base for upgrading to premium Fodsports models or Sena and Cardo models.
Looking for more Bluetooth headsets? Check out our Bluetooth headset reviews section!