Many people avoid cheap Bluetooth headsets. Whether it's prejudice or ignorance, we won't know for sure. Still, there is a bit of logic in avoiding a cheap Bluetooth headset when you have premium-quality ones like Cardo and Sena.
But, what if we told you that this affordable Bluetooth headset may be one of the best on the market, one that can stand tall with the industry giants? You would probably be surprised at that, as we were when we got our hands on the Fodsports M1S Bluetooth headset.
Find out why it's such a surprise in our Fodsports M1S Pro Bluetooth comm system review!
Fodsports M1S Pro Bluetooth Comm System Review – Features
Here is a quick overview of the main features of the Fodsports M1S Pro Bluetooth communication system:
Bluetooth 4.1 with two-channel support
Waterproof and dustproof
900 mAh battery with 3 hours of charge time
Group intercom support of 8 riders
2 km (1,24 miles) maximum range
Integrated CSR chip that provides noise cancellation
Voice command support
Without further ado, let's go in-depth into each feature of the Fodsports M1S Pro Bluetooth communication device!
Design & Installation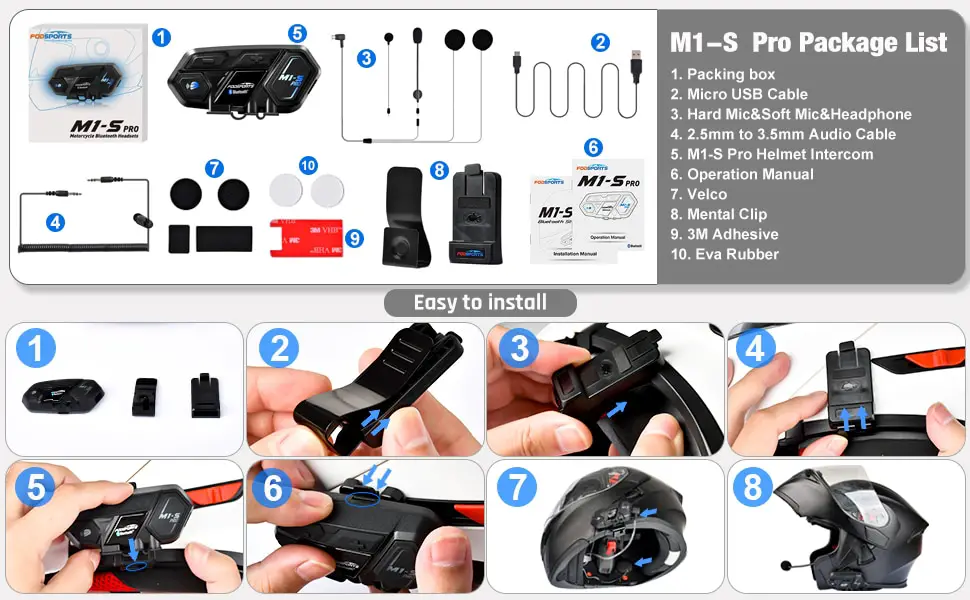 Right from the get-go, we can see that this Bluetooth headset for motorcycle helmets features a tactile design. It certainly features larger buttons than most other Bluetooth headsets on the market, with buttons that serve purposes such as:
Adjusting the volume
Pairing with a Bluetooth-enabled device
Starting the group intercom
Setting up this Bluetooth communicator on your motorcycle helmet is simple. Use the clips that come with the packaging and set them up on the lower right part of your motorcycle helmet. Then, attach the Bluetooth headset to the clip, and you're good to go. Afterward, use Velcro and Eva rubber to connect the microphone and the speakers inside the helmet padding.
One thing to note is that you will get a hard mic and a soft mic in the packaging. Use the soft mic for a full-face helmet and the hard mic for an open face helmet.
The bottom line is, the Fodsports M1S Pro Bluetooth headset is very easy to set-up, as it comes with easy-to-understand instructions.
Bluetooth Pairing
As this Bluetooth headset is powered by Bluetooth 4.1 technology, it features two channels. That means that you can pair it with two Bluetooth devices simultaneously to enable functions such as:
Listening to music
Using GPS navigation
Enabling group intercom
One great thing about the Fodsports M1S Pro is that it is highly compatible with other Bluetooth headset brands. Some people may find the pairing procedure with other Bluetooth headsets confusing. It's important to do this procedure in sequential order.
Another handy feature is toggling between intercom and phone functions via the press on the intercom button.
Connection Range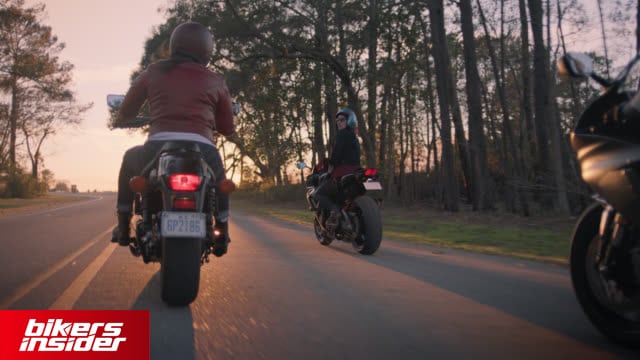 The intercom functionality of this Bluetooth headset supports a group of 8 riders maximum. When you get into the intercom room, the maximum range will be 2 kilometers (1,24 miles). Of course, this maximum range works when there are no obstructions between the members of the group. An effective range between two motorcycles is around 500 meters (0,3 miles).
One handy feature of this intercom is the integrated self-healing technology. It will automatically reconnect a rider who leaves the intercom group for less than 5 minutes. If the rider is out of the group for more than 5 minutes, he can press the intercom button to return.
Sound Quality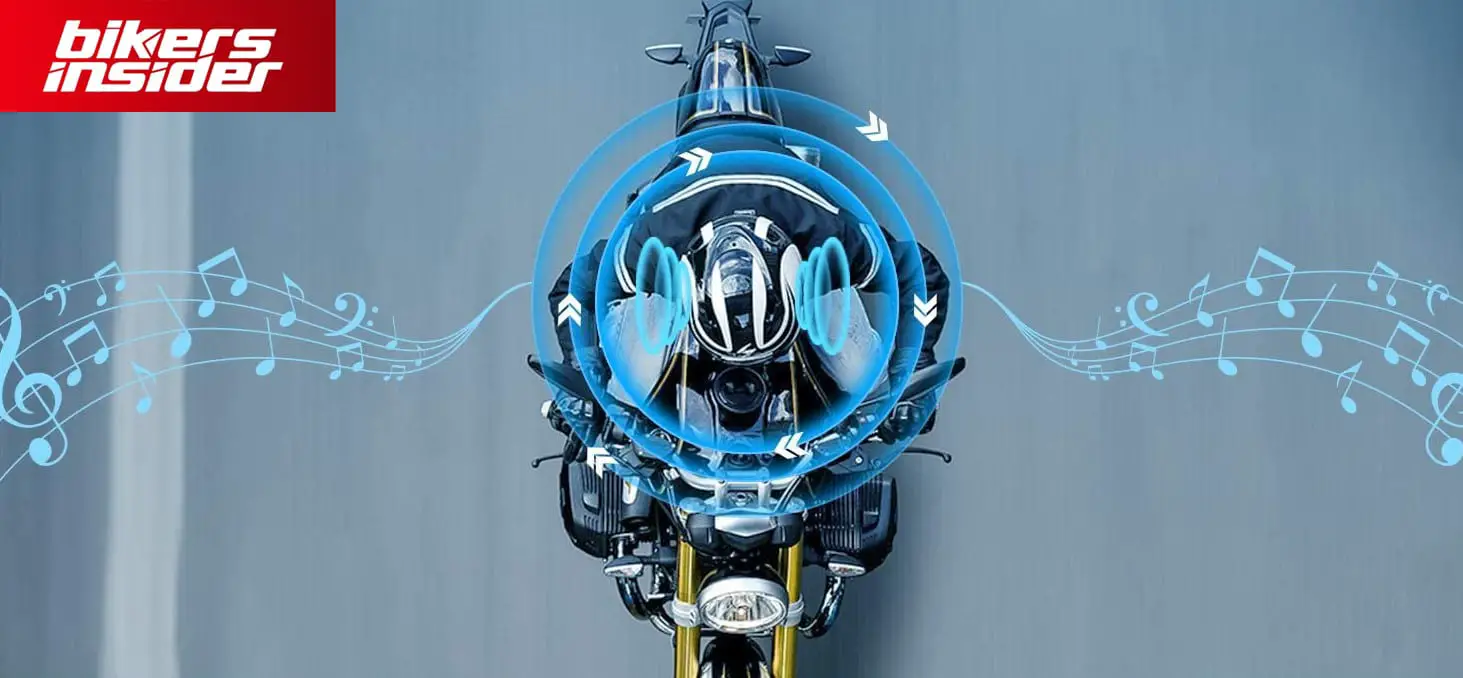 Considering its price, this Bluetooth headset is very strong when it comes to its sound quality. It features 40mm speakers with a nice bass that provide high-definition sound rarely found on Bluetooth headsets in this price range. 
Of course, keep in mind that the speaker sound quality will falter when you are riding on a windy day. That will depend on the quality of your helmet and how it handles wind noise. The rule of thumb is that the sound quality will be top-notch when riding below 50 miles per hour (80 km/h).
Also, the headset features a CSR chip that provides advanced noise cancellation technology for the microphone. So, when you are in the intercom session, your voice will be heard clearly due to the cancellation of wind and engine noise and similar sounds.
Voice Control
While it doesn't provide an integrated voice control functionality, you can achieve it by pairing this Bluetooth headset with your smartphone. That means that you can utilize voice assistants such as Siri and Google Assistant via the Bluetooth headset's microphone. 
The microphone is of high quality, so you certainly won't need to yell at it to register your voice commands. 
So, with voice control, you can get hands-free operation on functions such as:
Answering and rejecting calls
Turning on the intercom 
Streaming music 
Providing GPS commands
Water Resistant or Waterproof?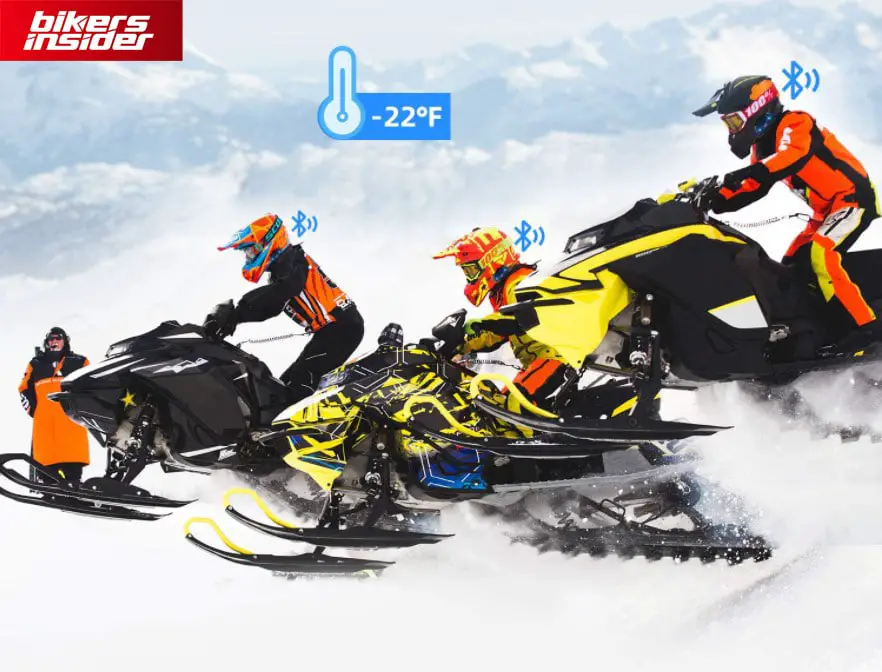 Most motorcycle riders will find themselves riding in heavy rain. Hence, having a type of water-proofing or high water resistance is essential to a durable and worthwhile Bluetooth headset for a motorcycle helmet.
We are pleasantly surprised to see that Fodsports M1S Pro is both waterproof and dustproof. Basically, you can use it in any kind of weather without being afraid of it breaking down on you. Bonus positive points for that!
Battery Life
The M1S Pro really kicks it out of the park when it comes to battery life. First of all, it features a 900 mAh battery that stands above the most Bluetooth headsets in the competition. 
The full battery charge provides:
12 hours of intercom time
20 hours of phone talk time
300 hours of standby
When the battery gets low, the headset will issue an audio warning to prepare you. 
After you discharge the battery, you can charge it on the go if you have a portable charger. It will take 3 hours to charge the battery of the M1S Pro fully. Keep in mind that you can use all the headset functions when it's charging, which is a great plus.
Price
Well, the Fodsports M1S Pro is one of the most affordable motorcycle Bluetooth headsets that you can find on the market. Along with tons of useful features, its pricing is really generous, even for a dual pack variant.
You can currently find it on Amazon at select prices:
Single Pack – $85,99/€70,83/£63,83
Dual Pack – $159,99/€131,78/£118,76
Check the availability and prices for the Fodsports M1S Pro Bluetooth headsets on the buttons below!
Conclusion
Now that we are at the end of our Fodsports M1S Pro Bluetooth comm system review, would we actually recommend it?
This intercom is a true breath of fresh air in the Bluetooth headset market. It comes at a hugely affordable price, yet comes with some of the best features you can find in a Bluetooth headset. 
First of all, it provides fantastic sound quality that can rival Cardo's JBL speakers but still are not on the same level. The intercom connection range is the real star here, with 2 kilometers of max range and 500 meters of range between motorcycles. Even if someone breaks the connection, they will be seamlessly reconnected.
Also, the headset is highly compatible with other Bluetooth headset brands, which is a handy feature. 
The only downside that we can mention is how easily the speaker sound quality can falter when the wind noise comes in. Because of that, make sure to provide an appropriate environment for the speakers.
All in all, this is undoubtedly one of the best affordable Bluetooth headsets that stand tall with the industry leaders like Sena and Cardo.
Looking for more Bluetooth headsets? Make sure to pay a visit to our Bluetooth headset reviews section!