Ah, the clowns. You may think of them as ridiculous, funny, sad, or scary, and that is the whole point. Clowns are here to make you feel something, whether it is sadness, happiness, or pure terror. That's why clown motorcycle helmets are a thing now. The clown is a perfect fit for any motorcycle rider to get heads turning, and attract attention.
Clowns have seen an evolution over time, from outright funny clowns to scary, killer clowns. Even clownophobia is a thing now! Whether your standpoint on clowns, it is unmistakable that they have risen in popularity, thanks to the Stephen King's IT novel, and DC Comics' legendary Joker.
If you are in a rush, here is a table of our picks for the best clown motorcycle helmets to get:
Now, without further ado, let's check out some of the best designs of clown motorcycle helmets that are sure to attract attention to you!
IT Clown Motorcycle Helmet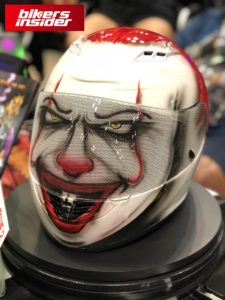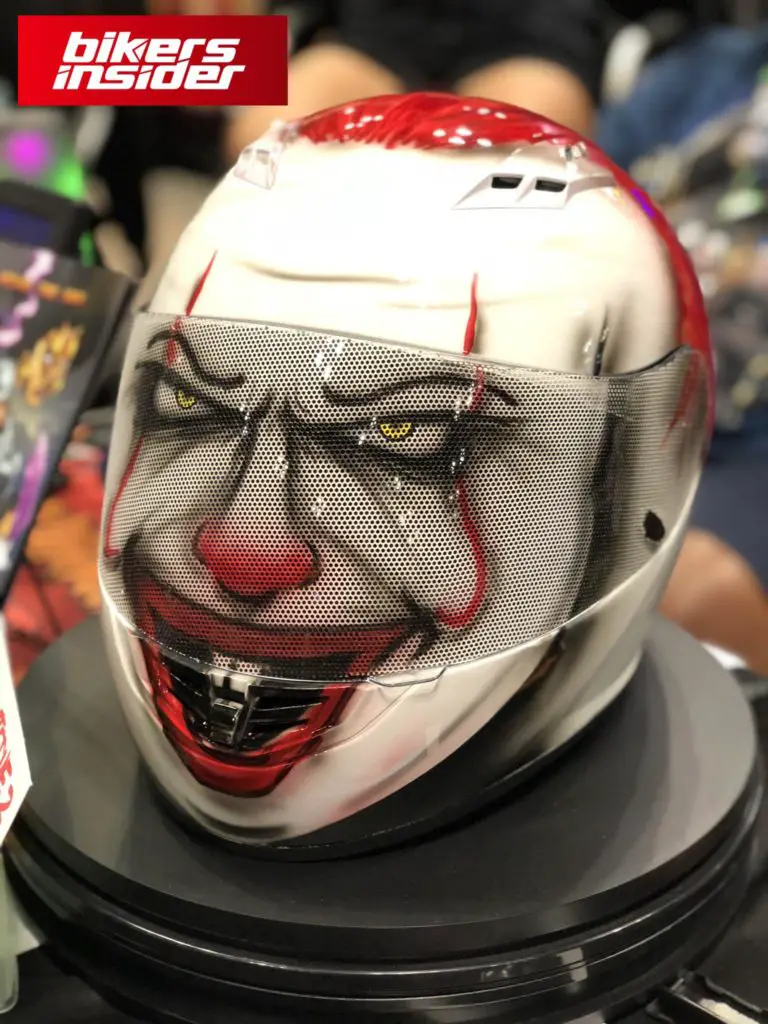 Most probably you have heard of Stephen King. He is a very popular horror writer, with some timeless classics such as The Shining, The Dark Tower series, and Misery. Well, here we want to talk about another one of his timeless classics, IT.
IT is a story about childhood friends who get to face an ancient demon, who takes a form of Pennywise, a clown who essentially popularized the scary clown trope. You can get a custom airbrushed helmet with this frightening clown dominating the design of many different vendors. Whether you want to wear this helmet for Halloween, or to get heads turning, you can be sure that you will scare a few with this clown motorcycle helmet!
Killer Clown Motorcycle Helmet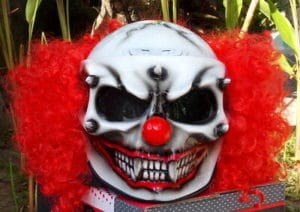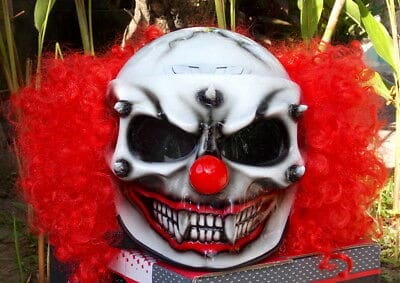 Modern times have transformed clowns from jesters to sadistic killers that induce fear to the bone. So, it is no wonder that lots of novelists, filmmakers, and artists have followed the trend set by Stephen King and his Pennywise.
Some terrifying evil clown motorcycle helmet designs are circling around. Of course, these are made by custom airbrushing any full-face or another kind of helmet with one of the given designs. 
Trust us; you can go to infinity when it comes to the killer, evil clown motorcycle helmet design. Clowns have different makeup patterns that can be utilized to great success in making a terrifying custom helmet design.
Clown Face Mask For Motorcycle Helmet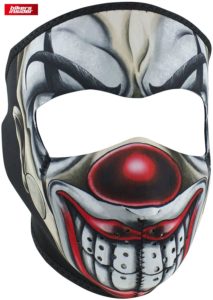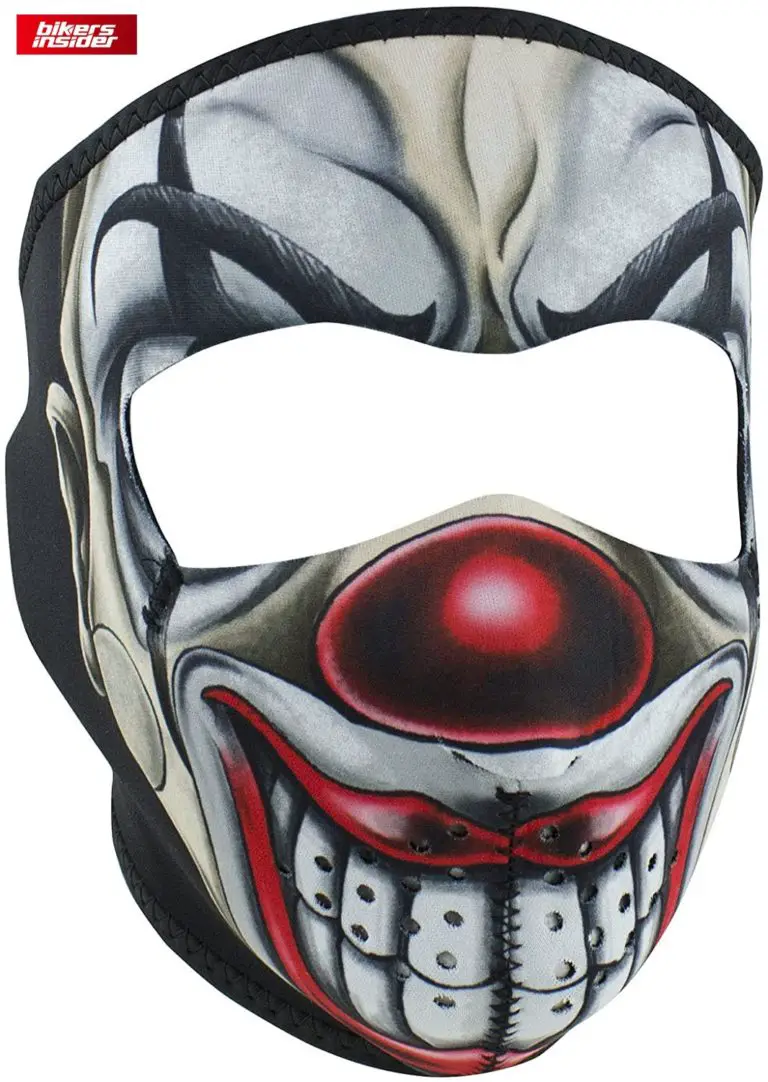 Other than getting a themed motorcycle helmet, a clown face mask used as a cover is an equally terrifying choice. Of course, the clown face mask won't offer that much on the protection front as the helmet would; but the sheer aesthetic is probably even more effective.
There are hundreds of possibilities when it comes to clown face mask design. From outright comic to pure, shiver-inducing terror; you can go whether you feel like with it.
Joker Motorcycle Helmets
The legendary supervillain from DC Universe, Joker, is probably one of the best-known clown characters of all time. His story starts on April 25th of 1940 – the day the first Batman comic issue got its release. Over the next decades, Joker had many incarnations in another form of media, on the design front.
The cartoonish comic book Joker design does a perfect job of conveying the anarchic and psychopathic persona of the titular supervillain. And we mustn't forget the iconic grin in its full glory!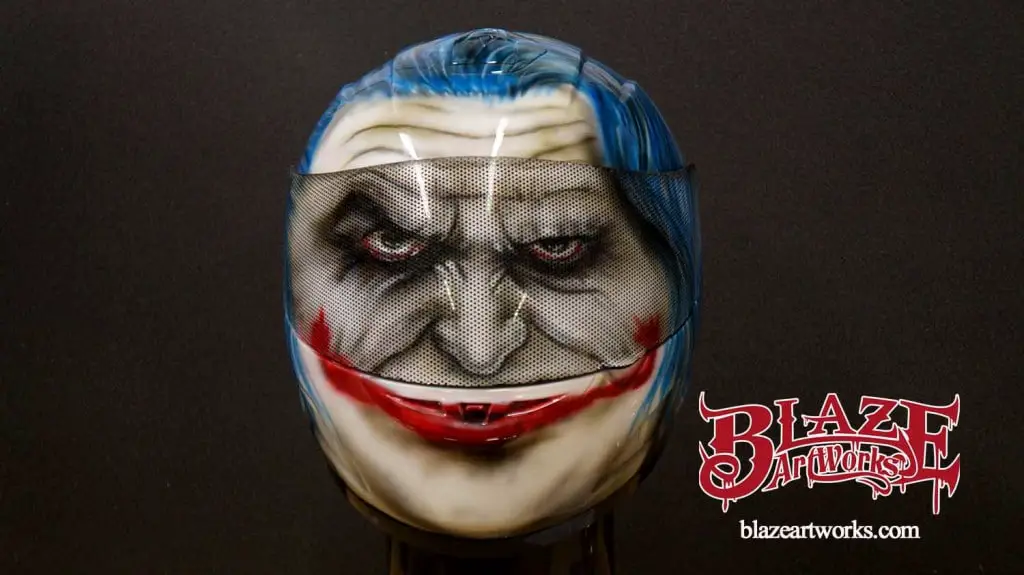 Hollywood movie Joker designs have taken slightly different turns to that design. Heath Ledger's Joker is a gritty take on the design and gives off a darker, mysterious vibe taken from the excellent The Dark Knight from 2008.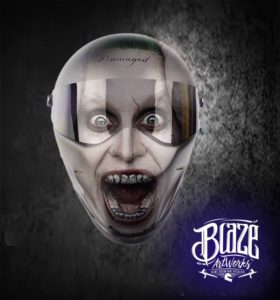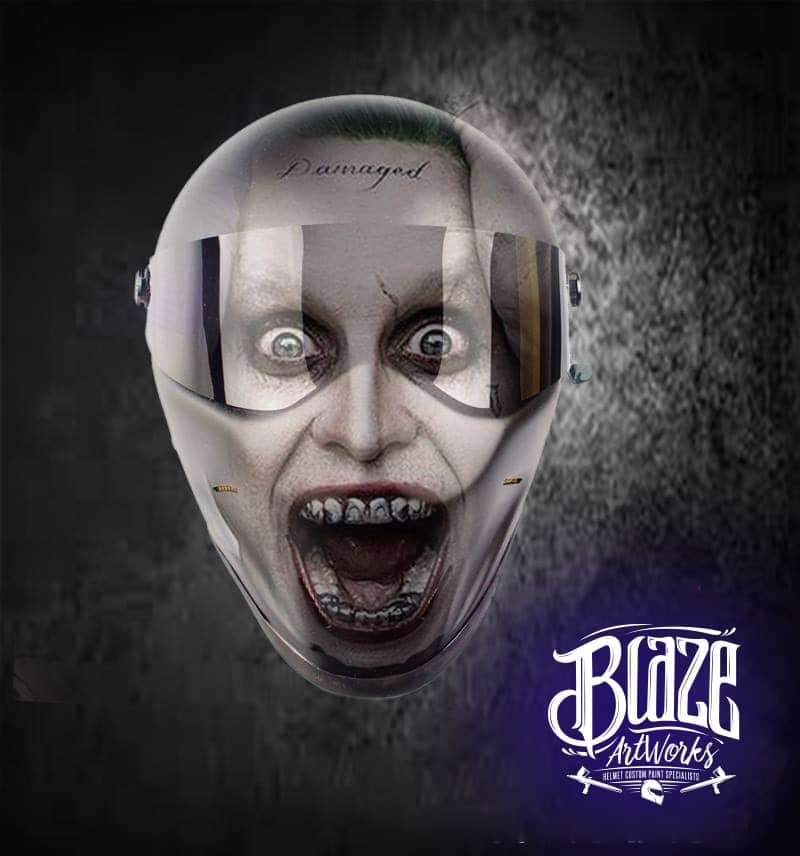 On the other hand, Jared Leto's Joker is a more playful take on the design. In Suicide Squad, Joker is more akin to a prankster with a split personality. The quirky take on the iconic Joker design is undoubtedly striking.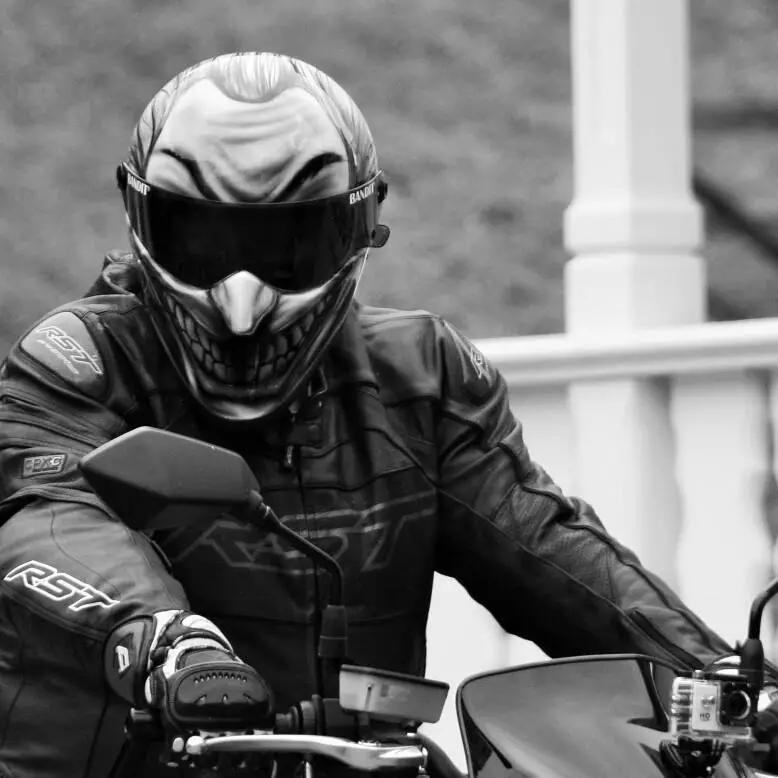 Last but not least, Joker's latest incarnation is from the Joker movie, starring Joaquin Phoenix. Joker has a lot of human touch in this origin story, and his design effectively shows a disturbed, non-conformed persona.
---
The clown design is perfect at conveying the extremes of emotions. With these few designs in mind, maybe you can similarly convey your style and spirit?
Hope you got a good outlook on some amazing clown motorcycle helmets! If you are looking for more cool motorcycle helmets, look no further than here!