When you are riding the motorcycle, the light conditions in your surroundings change constantly, so when the sun glares through the visor, for most of the riders, it becomes almost impossible to ride safely, and this is where Photochromic/Transition helmet Visors can be the best solution just for that.
If you are in a hurry here is a list of shields/Visors that are available on the market today
| Image | brand | Product link |
| --- | --- | --- |
| | MMG Universal Motorcycle Helmet Photochromic Antifog Insert | |
| | Shoei Shield CWR-1 PHOTOCHROMIC Visor for X-Fourteen, RF-1200 and RF-SR | |
| | BELL Click Release Protint Photochromic Shield | |
| | BELL Panovision Protint Shield | Check Price |
Some riders use Sunglasses, but they are so inconvenient to wear under the visor we all know that!
No doubt Internal flip visor is great, but the moment you get distracted from activating your internal sun visor, the unthinkable may happen,
So, in this scenario, photochromic visor doe is all for you and serves the purpose. Photochromic visors ensure complete protection from UV radiations and offer a clear vision to the riders in any conditions.
What is a photochromic visor, and how does it works? Is it legal to use a photochromic visor? Including these, many other questions would be popping in your minds, To get the answers to all the questions continue your reading!
What Is Photochromic/Transition Visor?
The photochromic term is used to describe the change in color of a substance in response to light, hence The photochromic visors are also known as transition visors.
The photochromic visors become dark in the presence of UV light, during outdoor activities or on a sunny day and crystal clear in the dark, during indoors or on a dull day. The visors become dark more quickly than is getting lighter.
The transition between these two colors is dependent on temperature. The visors become completely bright when sunny outside and reach the maximum darkness within just 15 seconds. And this efficiency is pretty cool and impressive.
·         Advantages Of Photochromic/Transition Visor
These visors are convenient to use
A single anti-fog photochromic visor can be used for different light conditions.
The visors offer 100% protection against UV radiations
Show resistance against scratches
Available at an affordable price
How Photochromic/Transition Visor Works?
Most of the helmet brands available in the market are using this advanced technology. It is pretty simple and remarkable, a light-sensitive dye is used to coat the surface of the visors,
so when the molecules of this light-sensitive dye get activated with UV radiation, and those molecules are exposed to the sunlight, they change their structure and become darker. Therefore, the riders get a very comfortable tint for an optimized vision.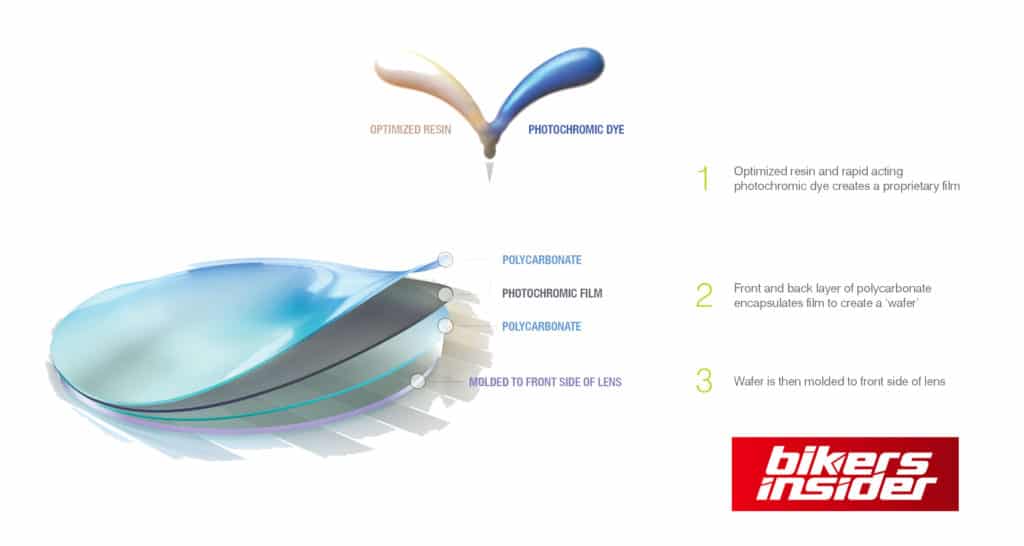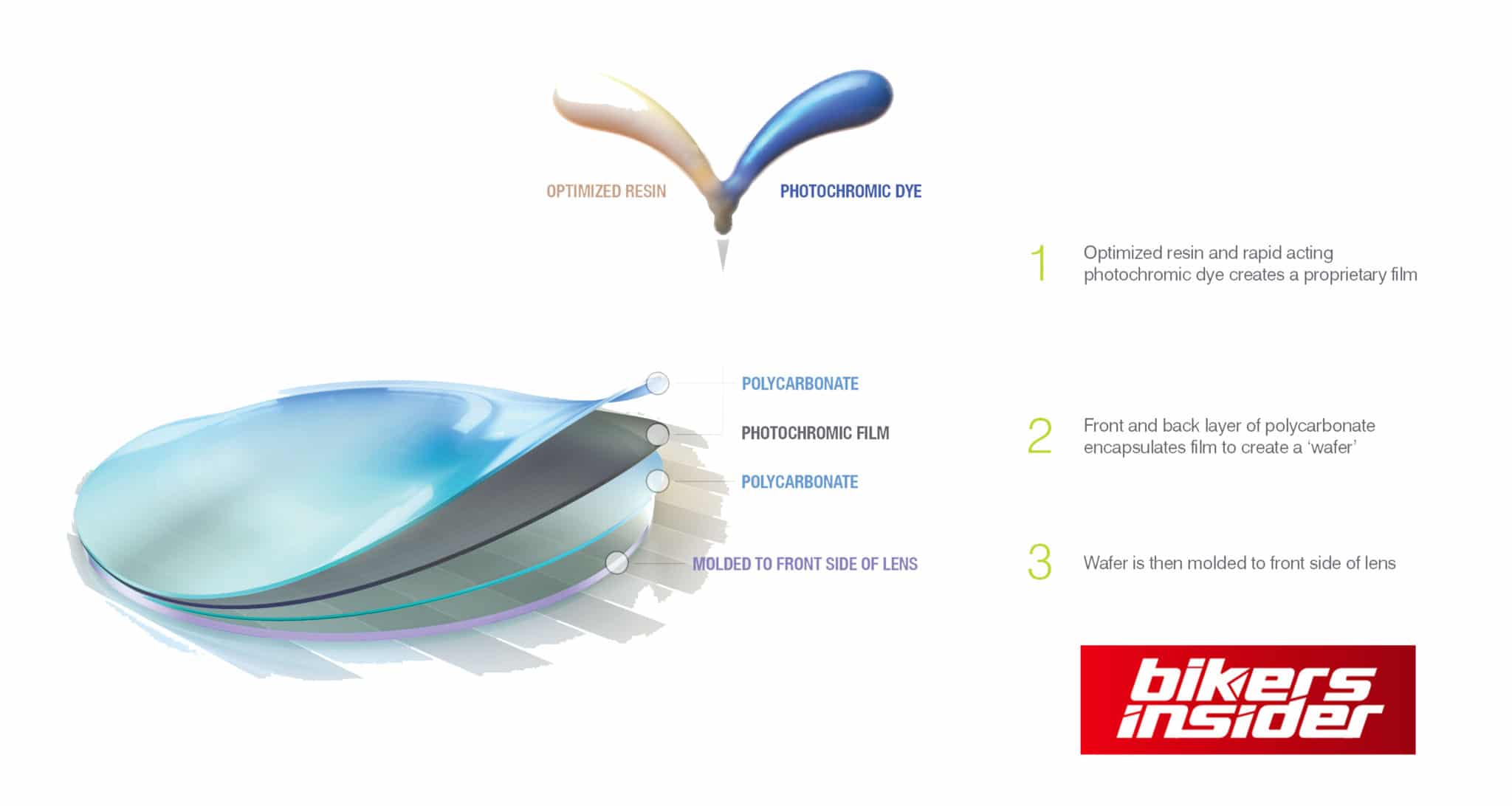 The light intelligent visors return to a clear state when the exposure of the UV light decreases. The dye molecules are not visible to the wearer. The basic purpose of the visors is to keep the riders safe from the harmful effects of UV radiation and provide a clear vision. 
The best thing is that these lenses can work effectively even on a cloudy day. As the ultraviolet radiations can penetrate the clouds, thus your eyes will remain protected. The transition lenses can work efficiently, even at a higher temperature.
List Of Helmet Manufacturers Who Offer Photochromic/Transition Visor
With Photochromic/Transition helmet Visors, you do not need to depend on the glasses or would not have to drop down the sun visors when it becomes sunny outside.
The following are the brands that offer you helmets with photochromic or transition visors.
1. Lazer offers you a helmet with transition or photochromic visors. And Lazer's Lumino visor system is their photochromic brand. 
You can get Lazer Monaco, as it has a photochromic visor. Besides it, the buyers can also get photochromic visors for different other helmets, including the Kite, Osprey, Falcon, and Kestrel.
2.Shoei has been producing the helmets which come along with transition visors, for example, CWR-1. Many customers expect that X-Sprit 3, RYD, and NXR should come along with a transition visor.
3. Bell has been producing SOFLX ClickRelease visors. Their different helmets, including the Bell Qualifier DLX, come along with a photochromic visor. Besides it, their various products like Vortex, Bell Star, Revolver, and RS-1 all are ClickRelease compatible but don't include the photochromic visor.
Alternative solutions to The Photochromic Visors 
Transitions introduced photochromic visors, and later on, AGV introduced a completely different and more complex battery-powered visor that used to become dark with the push of a single button.  
But, irrespective of these advanced options, various simpler solutions are available there in fog-free inserts. These inserts or visors come with some limited light-reactive capabilities and make the best alternatives for photochromic visors. 
Optiks By Fog City
Fog City's Hyper Optiks makes efficient UV reactive inserts, which can replace photochromic visors, They mainly focus on Aria shields inserts, so The inserts are very easy to apply and can be added to pretty much any helmet, and a great advantage is that they have antifog properties so you don't need a pin lock, how awesome is that? We think an insert is a good alternative to the photochromic visor, and are much cheaper to buy, here is a link to a Reputable shop where you can get one of these for your Arai helmet.
Are Photochromic Visors Legal? 
Sometimes, when the sun becomes pretty annoying, at that time, the bikers can use A Photochromic/Transition helmet Visors instead of driving blind. These visors are legal because they improve the vision. 
But, remember that the visor should allow 50 percent transmission of light following the rules. Therefore, it is completely safe and legal to wear photochromic visors in daylight.
Are Tinted Visors Legal?
During daylight, the visor, which has been tinted up to 50%, is completely alright is to use. But, these visors can not be used at night or in the dark. Don't forget to make sure that the visor is free from scratches, smudges, or marks, as all of these can affect the vision in the dark. 
Conclusion 
On a sunny day, it becomes impossible for a biker to ride safely without using good-quality visors. So, everyone searches for the best sunglasses or other alternatives. Photochromic/Transition helmet Visors become a protective shield against UV and let the bikers drive safely. 
The visors can become dark in the sun and can bright up in the dark. The structure of the dye gets changes which makes the visor dark.
The primary purpose of this visor is to keep the bikers safe and comfortable while they are driving on the road.