Introduction
Scorpion EXO-AT950, a modular dual sport helmet from the house of Scorpion. Modular helmets provide the perfect blend, allowing you to have the safety of a full-face helmet with the comfort of a three-quarter helmet. More options are available if you speak with the people at Scorpion, such as a modular helmet designed for adventure touring rides. This modular would have all the advantages we've come to expect, but it would also be able to handle a trip off the beaten path from time to time. That prompted Scorpion to develop the EXO-AT950, a modular helmet that met the company's definition of "modular."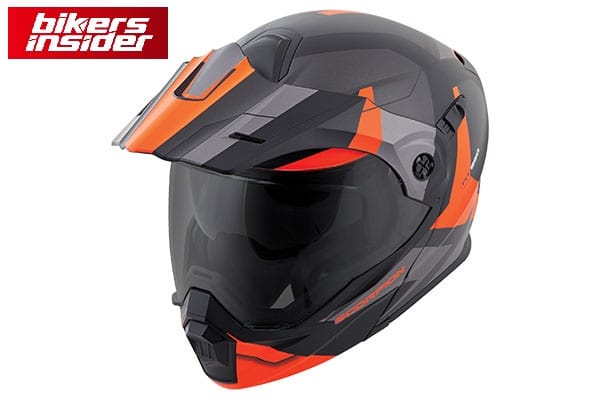 In the middle of the adventure touring spectrum, the EXO-AT950 excels in adjusting to the circumstances. Remove the beak, keep the face shield, and if necessary, lower the sunshade if the ride is primarily on asphalt. If there are any light fire roads in the area, the beak can easily reattach itself. You can keep the beak, remove the face cover, and wear goggles if the ride is more adventure-oriented.
Before going further, you can check out our list of Best Dual Sports Helmet in 2020-21.
Features
Advanced LG Polycarbonate build.
Dual Density EPS advanced
Intake vents on top force cool air in while exhaust vents maximize movement of hot air out of the helmet
Ellip-Tec Ratchet System uses an elliptical motion that creates 7.6mm of travel which pulls the shield securely against the eye port, ensuring a proper seal and allows for 100% tool-less shield changing in a matter of seconds
EverClear No-Fog Face Shield optically-clear shield with state-of-the-art fog-free technology,
Anti-scratch hardened coating,
100% UV-A & UV-B protection
Wide eye port (11cm tall)  
Ever Clear Speed View
Kwik Wick II anti-microbial helmet liner
Kwik fit cheek pads
Communication system speaker pockets
Build & Design
LG polycarbonate and dual-density EPS make up the EXO-AT950's outer shell. Despite its lightweight (it only weighs four pounds), the materials used to construct this helmet ensure that it is both protective and strong. The three sizes of the shells absolutely maximize weight, fit, and overall comfort. KwikWick II is featured in the helmet's liner and, pin-lock is not included. Double D-ring buckles secure the nylon chip strap.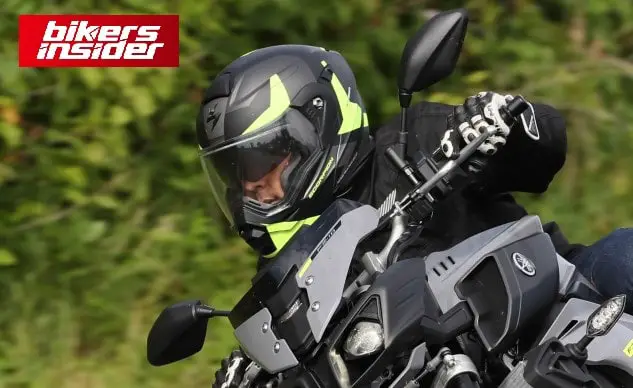 An intermediate oval head shape is what the EXO-AT950 helmet offers, and it's important to know your own head shape before purchasing any type of protective gear. When you close the chin bar on the Scorpion EXO-AT950, it becomes even snugger across the cheeks.
For this test, we primarily used the Adventure Mode setting on our device. You can quickly and easily switch between modes with a screwdriver or a coin by removing simply two sturdy aluminum mounting screws. Pulling a chin tab and then pushing the chin bar up until it locks into place opens the helmet. Makes helmet fitting much more convenient. However, you can still fix it without it if the chin bar is in its down position.
Vision
The EXO-AT950 has a large eye port for exceptional peripheral and downhill visibility. Scorpion's Ever Clear no-fog face shield is handy for cold rides. The Scorpion drop-down tinted Sun Visor is a wonderful addition to a modular helmet from a convenience standpoint. The Sun Visor slides down with a finger flick on a tab on the left side of the helmet, eliminating the need to carry an extra face shield. While its utility is obvious, there is a minor optical distortion when the shade is down. However, the distortion may be more irritating to others.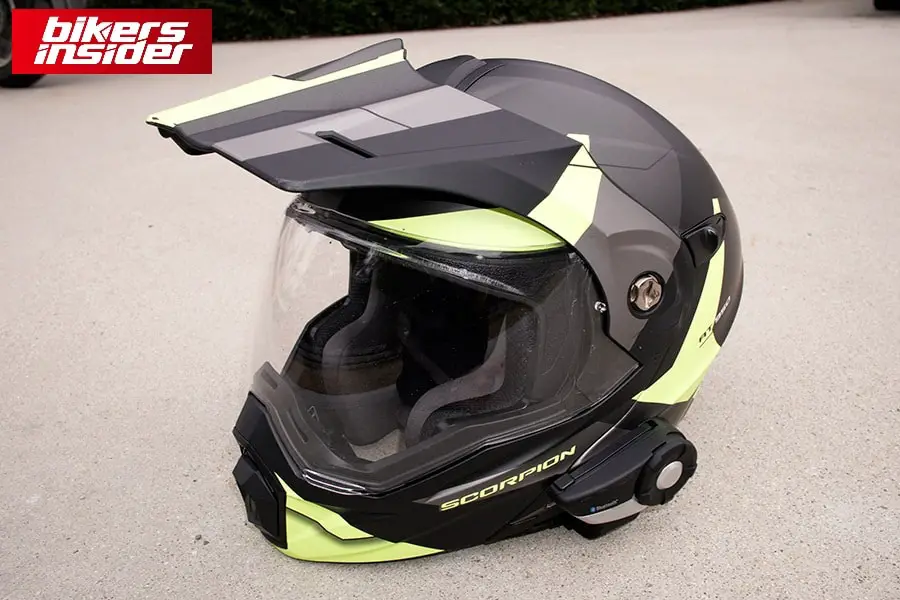 Its sun visor is adjustable through a little slider behind the left shield pivot. It's not particularly dark since that's against the law, and you wouldn't want it to be. The sun visor's front and back feature Everclear anti-fog.
The visibility rating of this helmet is 95 out of 100, which is outstanding. This helmet is incredibly light and easy to ride.
Comfort
Comfort is a primary factor in the design of this helmet. Sweat is wicked away from your face with the KwickWick II inside liner, which is soft and antibacterial. It is also washable, so you don't have to buy a new one.
This helmet is available in a range of sizes, as we said earlier. Don't return the helmet straight away if your size turns up being a little too snug or loose. Scorpion offers a variety of cheek pad sizes so that you may customize the helmet to match your face. Extra cheek pads can be ordered via the company's website or by phone.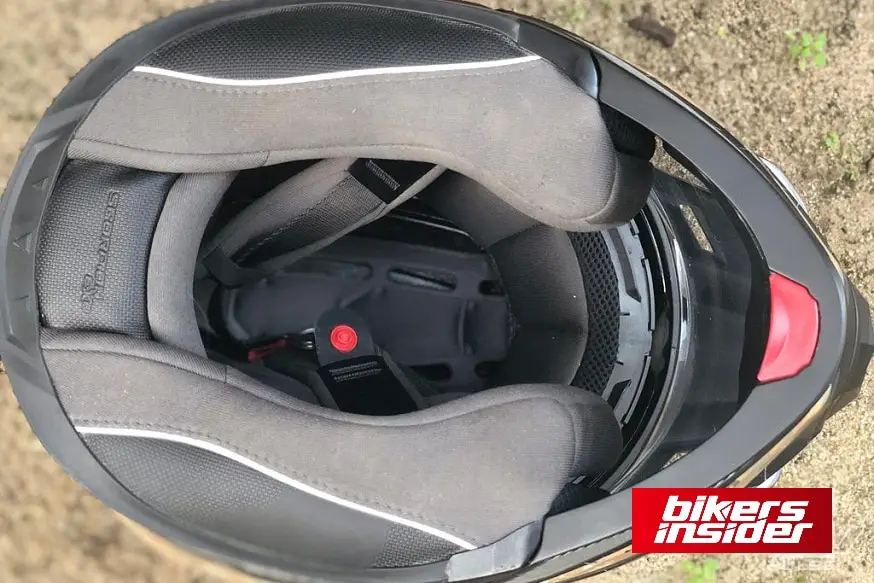 Comfort is further enhanced by the inclusion of a chin guard on this helmet. In addition to being comfortable and providing excellent protection, the chin guard's EPS lining is also fantastic for safety and comfort. You can be sure that the chin guards on this helmet are safe because Scorpion has a good track record of producing them.
Scorpion recommends that riders not wear this helmet for safety reasons when wearing the chin bar or shield extended upward. Using a less-secure helmet increases the risk of the headgear falling off during use. You should always wear this helmet properly and keep the chin bar down if you want it to provide the most protection.
This helmet has received a rating of 90 out of 100 in terms of user satisfaction. People appreciate the variety of cheek pad options and the wide range of sizes available in this helmet.
Ventilation
With just a chin and crown vent on the EXO-AT950, its owners say ventilation is excellent. Some may find this insufficient for their off-roading needs. Still, it's adequate for those of us who plan to ride primarily on roads and only venture off them on occasion.
A huge three-way slider is on the chin vent. When the shield is entirely up, the back is vented; the air is directed to the face when it is totally down.
The top slider can be opened or closed to let air flow through the helmet shell and into the large airways carved into the polystyrene liner within.
According to the majority of owners, the venting is excellent. They also claim that the included chin curtain helps to block out drafts from the bottom, although you can leave it off if you like more airflow.
Safety Ratings
The EXO-AT950 is both DOT and ECE certified, which is a big plus. Since the EXO-AT950 is a polycarbonate helmet, its reviews ratings are four and three stars out of five from various reviewers. They've also tried out several Scorpion helmets with flip-fronts.
For this reason, the results of this study are not based solely on a single model of Scorpion EXO-AT950 helmet. We would expect this helmet to achieve at least a three-star rating and a chin bar score of at least 95% based on similar helmets' SHARP ratings.
This helmet contains additional safety features that make it a worthwhile investment. Its visor shield provides excellent peripheral vision and an anti-fog coating to provide clear vision regardless of the weather. Sunglasses come with an EverClear coating on the lens.
Available Sizes
According to the Scorpion these are available sizes for EXO-AT950
XS 53cm-54cm
SM 55cm-56cm
MD 57cm-58cm
LG 59cm-60cm
XL 61cm-62cm
2XL 63cm-64cm
3XL 65cm-66cm
Price
The EXO-AT950 flex is available for $270. The price justifies the features offered by the manufacturer. However, if you're here for the best from the Scorpion, you know what you are paying for.
Check out the websites below for the most up-to-date prices on the EXO-AT950 helmet:
Some picutres of Scorpion EXO-AT950 with various graphics
Conclusion
Untested safety features can prevent some buyers from choosing this particular helmet. Remember that Scorpion is a reputable company with other proven helmets. It's up to you whether you buy the AT950 based on its safety tests.
If you ride off-road frequently, this may not be the helmet for you. It's not quiet, and the airflow isn't great. This helmet may be ideal for riders who spend most of their time on the road.
Overall, the Scorpion EXO-AT950 helmet is a rider's dream. Its soft interior makes it enjoyable to wear, and its tough exterior keeps you protected.
The AT950 has its benefits and drawbacks, but the good outweighs the bad. This helmet provides excellent peripheral vision and visibility. The Everclear anti-fog coating on the face shield and visor makes for a fantastic ride in any condition.
This helmet will provide you with confidence, safety, and protection. Given all of its outstanding features and benefits, its price is fairly affordable. Few helmets are created with this degree of comfort and versatility. This helmet looks and feels great.