Introduction
For more than half a century, AGV has been producing high-quality motorcycle helmets. In the modern-day, Dainese owns the company. The partnership has been a success. The helmet designs are more comfortable, the quality is better. Since then, helmets have been easier to find in stores.
Given that it is the successor to the motocross AX8, the AX9 appears to be a typical dual-sport. AGV says the AX9 is part of their current touring range. Still, it also improves features like increased comfort, improved ventilation, and redesigned aerodynamics. This is besides the SportModular model available. In other words, it's more geared at those who prefer to go by motorcycle on the open road.
Before going through the in-depth review you can check out our list of best dual sport helmets of 2020-21.
Features
Before we start our in-depth review we take a look at some salient features.
Lightweight carbon-aramid-fiberglass construction
Tool-less, detachable chin vent guard
Five vents: adjustable chin-vent, two brow inlets, 2 outlets
Panoramic, Pinlock-ready visor 
Adjustable peak to reduce sail effect
Double-D strap
Speaker pockets for Bluetooth intercoms
Build & Design
This helmet is either a composite fibre mesh that combines carbon, fibreglass, and Kevlar; or a carbon-fiber version. Regardless matter which option you choose, you can rest assured that you're getting nothing but the best. Even at high speeds and in hazardous conditions, these materials help keep your head safe.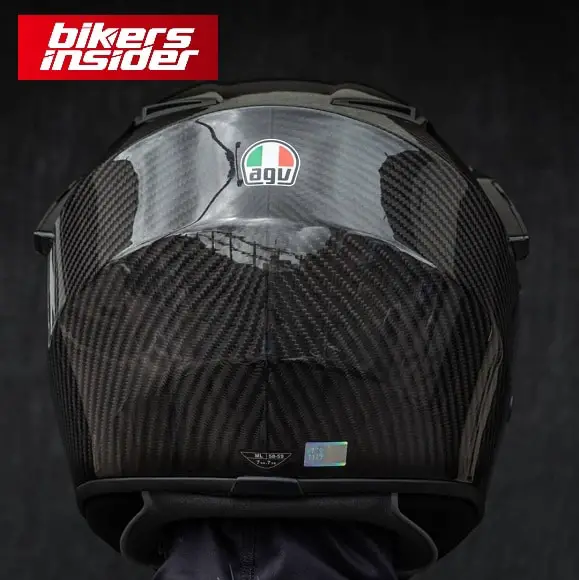 Most AGV helmets fit squarely within the oval range in terms of shape. You should expect your AGV helmet to fit nicely in the front, with a bit of extra room in the back, depending on the exact helmet and size.
The AX9 is available in XS-XM, ML-XL, and 2XL shell sizes. To accommodate different body types, different amounts of padding are included in each size. The result is a snug fit that feels even snugger by tightening the double-D ring system to your unique preferences. Make sure the ring system isn't too loose. Otherwise, you could end up with a helmet that falls off your head in an actual crash.
Vision
The visor is Pinlock compatible and includes an anti-fog insert. It's also not a quick change visor. Most quick-release methods need you to open the visor before pulling it off. The AX9 has a prominent sun peak in the way.
But it's a big visor for good vision. To me, AGV claims 190° horizontal and 110° vertical. Many owners remarked on the visor's size and visibility.
It also has two opening tabs left/right, which makes things easier. Left-hand opening when moving, right-hand opening when stopped, and pushing in the clutch.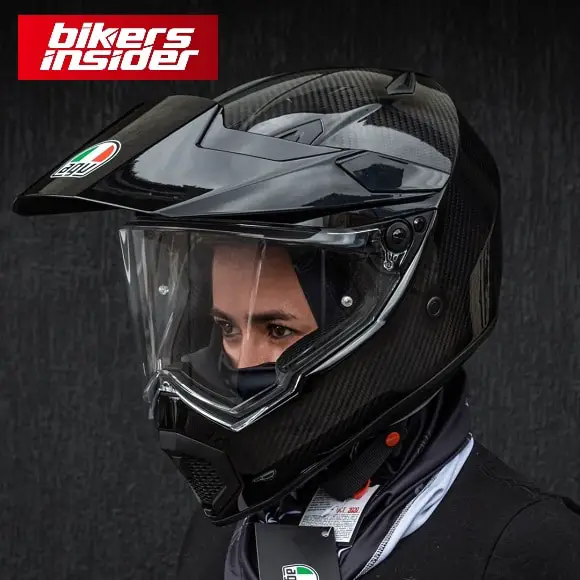 The AX9's configuration options allow for real off-roading. Even while AGV anticipates most riders to use their AX9s on the road, don't expect it to take as many varieties of goggles. As a natural motocross lid, the visor can be too tiny for a few of the more oversized goggles out there.
Some owners complain that the visor doesn't open due to the peak and not tool-less. Besides, it offers a 'cracked open' or city position, which many riders prefer for increased ventilation while having the visor down.
It's hardly surprising that a multi-purpose helmet like this has flaws. But the AX9's visor is well thought out, implemented, and most, much likable by owners.
Comfort
AGV has never had difficulty with designing extremely comfortable helmets. And AX-9 users are united in their appreciation of the helmet's materials and padding, which they say makes long rides a breeze.
When it comes to the lining, you'll find fabrics like Ritmo, Nabuk, and Shalimar that can be removed and washed. You can learn more about these fabrics here. Still, in a nutshell, they're super-comfy, sweat-wicking, germ-killing, and cool and comfortable materials. There is a glasses groove in the cheek pads to prevent stems of glasses or sunglasses from digging in.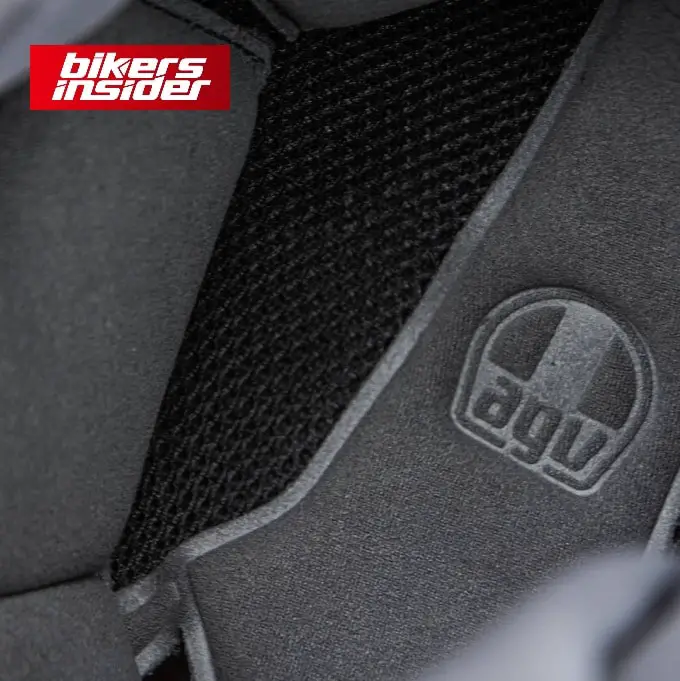 The new AX is released into the 21st century by featuring spacious speaker pockets by AGV. The AX9's speaker pockets now have enough room for a Bluetooth kit and headphones, so you can ride in connected comfort without suffering from ear discomfort.
In addition, the AX-9's weight shouldn't be a problem for you, either. The full-carbon version weighs 1.45 kilograms (3.2 pounds), while the composite fibre version is 1.55 kilograms (3.4 pounds).
All in all, the AX9 is a good motorcycle helmet. The front of your head may feel a little pinchy if your head is a little rounder than usual, so it's a good idea to test it out first. Reshaping the internal padding can help with some of this, but you don't want a helmet that will create discomfort in the future.
Ventilation
The AGV AX9's ventilation system is one of the most notable aspects of the helmet. The AX9 has all of the usual ventilation openings you'd expect, such as the chin scoop, front vents, and so on, and they are adjustable. Airflow is adjustable by adjusting the chin scoop, which also includes a dust filter. Additionally, this filter is removable. Even the chin scoop may be shut all the way thanks to an inbuilt mechanism. The chin vent routes behind the visor to aid in de-fogging the glass as necessary, thus enhancing visibility.
AGV claims that the AX9 provides up to three times as much airflow as the previous AX8 model, including adjustable and closable top front vents. Our best guess is that it will keep you cool and ventilated.
Safety Ratings
Even the "standard" composite edition of the AX9 contains certain high-tech elements. This is a composite of carbon, aramid (i.e. Kevlar), and fibreglass, molded to fit a wide range of sizes.
Shock-absorbing interior polystyrene foam features in the AX-9's design. Shocks of varying speeds can be cushioned by helmets that have multi-density liners. For the second time, this is an excellent feature to find in the AX9.
Safety is not an issue with the AX9, as it is both DOT and ECE certified. An inside liner with a quad-density shock absorption unit reduces impact from crashes. Thanks to the helmet's lightweight carbon structure, it can avoid many other problems.
Available sizes of AGV AX9
AGV AX9 is available in three shell sizes
XS-XM
XM-XL
2XL
Price
The AGV AX9 is available for $630/£489. It is too expensive, but some serious features make us wonder if it's worth it. However, fans of this helmet will get what they are paying for.
Check out the websites below for the most up-to-date prices on the AX9 helmet:
Some of the images of AGV AX9 with various graphics
Conclusion
AGV helmets can be a little pricey, but I've found that the quality of their goods justifies the cost. AX9 is no exception. Even after numerous days of two to four-hour rides, there is still space for improvement—better airflow, less noise, and no fatigue.
The AGV AX9 is your best bet if you're in the market for a high-end helmet. Although few helmets can be labeled "the final helmet you'll ever need to buy," this one indeed has a shot. This helmet's safety mechanisms and other alternatives more than offset the helmet's few downsides, including an average noise level and a simple visual design.
Even though the AX9 isn't cheap, it's a fantastic companion to have if you're planning a trip into the wild on two wheels.