Introduction
Only Alpinestars can claim to be the only manufacturer to guarantee complete protection for the rider from head to toe. Alpinestars spent over five years developing, testing, and refining the Alpinestars Supertech M10 helmet. After putting it through, we can say with certainty that the company did produce an excellent helmet.
When it comes to riding motocross, you want a helmet that will keep you protected and comfortable. Yet, Alpinestars got you set with the Supertech M10 – their latest product.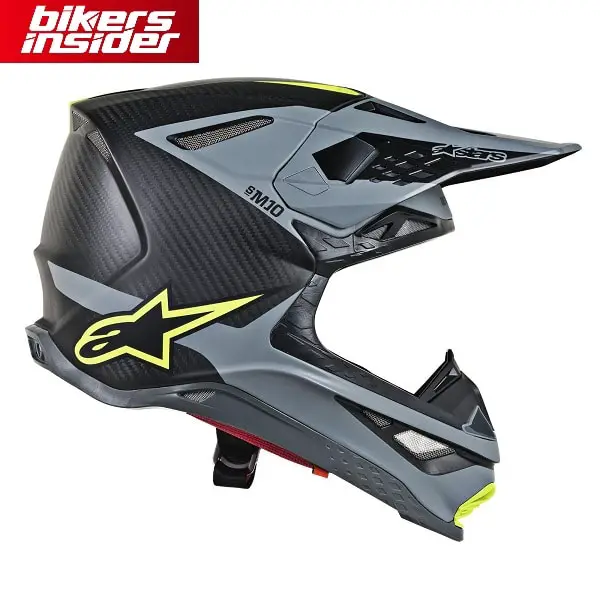 The fact that the company has worked on this helmet for so long adds to its charm. Alpinestars used to create everything but a helmet. Now they have a product that will please all motocross riders, from professional racers to amateurs.
You can check out our list of best dirt bike/motocross helmets in 2021 before going further.
Features
Before we start our in-depth review, we take a look at some salient features.
Carbon fiber outer shell provides a lightweight exterior
Inner liner with many densities
Peak with a simple release
There are two peaks included, one normal and one super high.
Best ventilation through 19 intakes and 5 exhaust holes.
In a crash, the side shell design features soft EPP foam to protect the collarbone.
Emergency release cheek pads with 3D molded foam are removable.
Comfort lining is removable, anti-bacterial, and hydrophobic.
Design & Build
The M10 is a fantastic motocross helmet, both function and size. One of the best qualities of this product is its carbon fiber construction. This material is light, which helps cut rider fatigue, especially on lengthy rides. As a rider, you may not notice the weight difference. Once you wear the M10, you'll notice the carbon fiber build.
3 Layers of Protection
This helmet has three separate outer layers for the most excellent protection. A high-density coating of 3K carbon helps absorb impacts. It also has a radial strength unidirectional carbon composite layer. Finally, the M10 includes an aramid fiber coating that aids in piercing.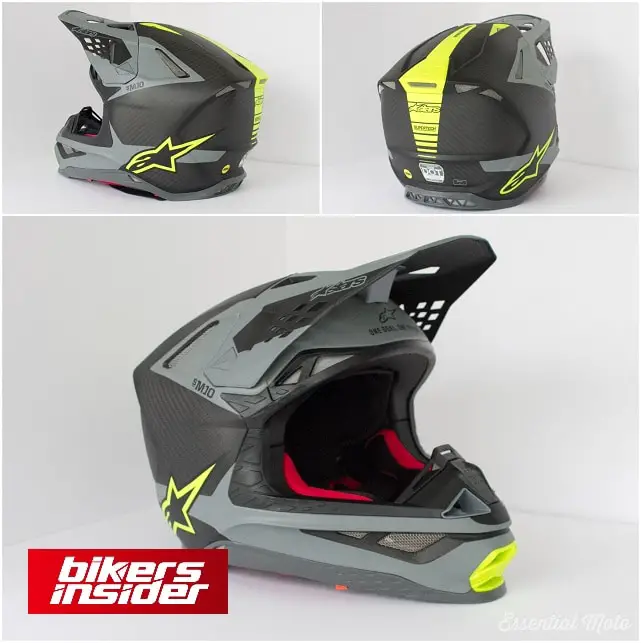 The M10 also has a cavity for the AMA-required helmets Off Device. It allows you to customize your fit without compromising safety or performance. Aside from that, the visor detaches upon impact. You don't have to worry about it jerking your neck backward.
Vision
Because you'll be using this helmet with dirt bike goggles, the total visibility will be heavily influenced by the type you choose. The M10 has a large field of view, making it an excellent choice for dirt bike riders of all skill levels. Furthermore, the A-Head adjustment system allows you to ensure that your goggles fit correctly while also adjusting how well the helmet rests back on your head.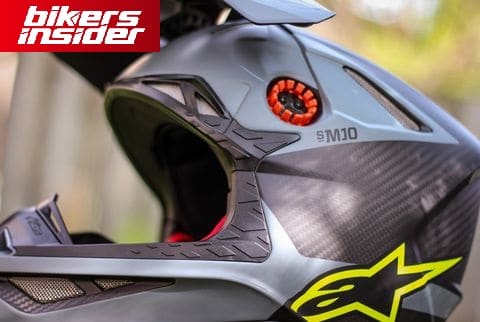 Because your field of view is so crucial while off-roading, Alpinestars has provided you with more than enough to see while riding, don't be concerned about blind spots or impediments in your path when riding.
Comfort
We've gone through a couple of the features that make the Supertech M10 exceptionally comfy on the trails or tracks. Let's go over the choices that will ensure you appreciate wearing the M10 as much as you do riding it.
Liner for the Interior
We adore this liner for a variety of reasons. First and foremost, we like that it has a configurable A-head adjustment option, which means you can make sure the helmet fits your head perfectly. Second, the Cool-Max material aids in sweat-wicking, even in the hottest of temperatures. Riders who enjoy riding in the desert sand will love how cool the helmet keeps them during the journey.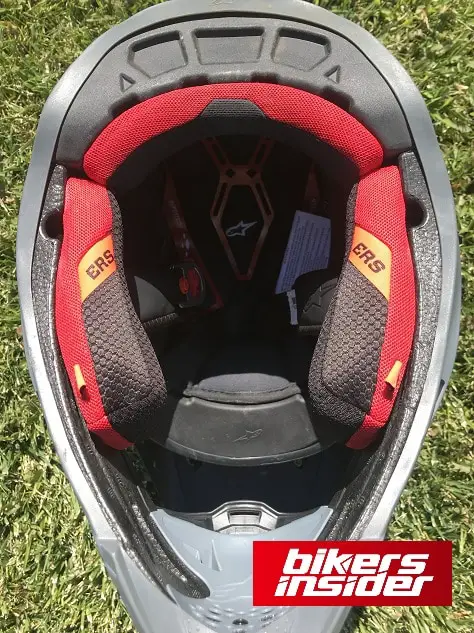 EPS
Additionally, the liner covers the whole interior of the helmet, including the base, to help absorb impact around the collarbone. Overall, the M10 has the sense of a compression cushion for your entire head. The multi-density EPS foam inside also contributes to this sensation. Alpinestars made sure that the thickness of this material was adjustable based on its position within the helmet, so you receive additional protection where you need it and less bulk where you don't.
Lightweigh Design
If you've never used carbon fiber before, you'll be amazed at how well it covers your head without adding any extra weight. With a weight of 2.8 pounds, you'll forget you're wearing such a high-tech helmet at all. Neck fatigue isn't usually an issue unless you're riding for hours, but it won't be with the M10.
A-Head Fit System (Adjustable)
If you're unfamiliar with this part, it works as follows: a mesh net attaches to four locations on the helmet. The helmet will sit higher on your head if you move the pegs down (making it tighter). You'll have a better fit if you move them up. In addition, you can only move the front or rear pegs to tilt the M10 backward or forwards.
With this level of adjustment, the Supertech becomes much more adaptable to riders of different shapes and sizes. Because of this and the four shell variations, you won't have to worry about this helmet fitting too firmly or poorly, which adds to the overall comfort.
Safety Ratings
While we would appreciate it if companies such as SHARP or Snell examined the Supertech M10, ECE, and DOT certifications, we've already talked about the visor and the multi-density EPS lining for safety. The three-layer carbon fiber shell also contributes to the helmet's safety. The material is excellent at absorbing and dissipating impacts.
MIPS (Multi Direcional Impact Protection Systems)
A MIPS-like technology features within this helmet. It aids in keeping the liner and shell separate. MIPS (Multi-directional Impact Protection Systems) are becoming more common in motocross helmets. They can help prevent injuries. That said, though, nothing can ensure that your head will be completely safe all the time. Don't expect to wear this helmet, and be sure that you won't have a concussion.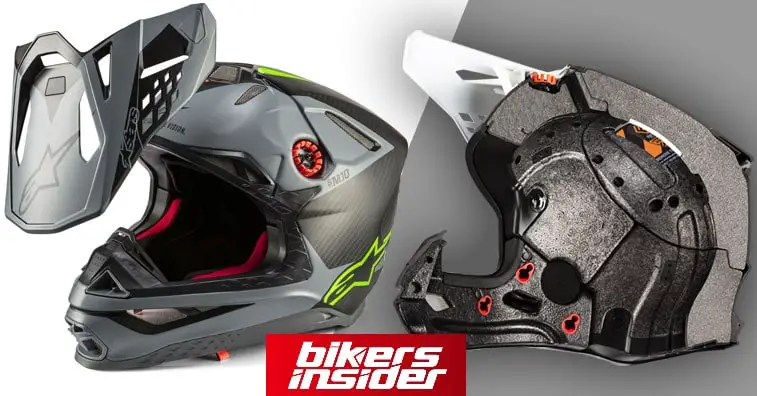 Alpinestars utilized R&D to build one of the safest helmets we've seen, as they did with other elements of the M10. It has more functions than other models on the market and will serve you well if you happen to tumble out on the trail.
Available Models and Sizing Options
Alpinestars M10 Supertech comes in 7 colors
Black, Carbon
Gloss White
Dyno Matt Black, Carbon
Dyno Red, White
Meta options
Black, Aqua, and Orange
Black, Grey, and Yellow
Gray, Orange
The helmet has different sizing options:
X-Small
Small
Medium
Large
X-Large
2X-Large
Price
The Alpinestars M10 is available for $580/€770/£650. It is too expensive, but some severe features make us wonder if it's worth it. However, it will suffice if you're here as a die-hard fan of Alpinestars and the features.
You can check out the websites below for the most up-to-date prices on the M10 helmet:
Some of the images of an Alpinestars Supertech M10 with various colour schemes.
Verdict
More Options in size
The Alpinestars M10 helmet comes in a variety of shell sizes. The AMA Pro-mandated Hats Off device has a cavity (all you have to do is remove the foam insert). Alpinestars' A-head fitting system lets riders adjust the helmet's angle on their heads for convenience and goggle alignment. Every MXA test motorist loved having this option, even if they didn't always need or use it.
Details in disigns
Because Alpinestars has been a firm that pays close attention to detail, the M10 Supertech helmet is no exception. Their looks are essential to them. They wanted a stylish, small helmet. They invented a unique visor release device that prevents the visor from snagging in the ground and causing neck injuries. The contoured base of the helmet has energy-absorption pads designed where the helmet may hit the rider's collarbone.
Comfort
So you can remove your cheek padding while wearing your helmet. It is vital because it allows emergency personnel to remove the helmet without causing extra injury. The outer shell in the Alpinestars Supertech M10 helmet is made of high-density carbon and Aramid fibers, with an EPS liner and MIPS system.
Well ventilated
The M10 weighs only 2.8 pounds. Alpinestars engineers used thermal testing to establish where air should be ducted to maximize ventilation. The flexibility helps fit the MXA wrecking crew's varying skull shapes. The helmet has an acceptable sound level and excellent breathability. We tested it for 23 hours and had no difficulties with durability.
Drawbacks of the helmets
The front chin bar vents have no screens in them. They mud.
The upper front vents didn't sit flush, allowing dirt to pile onto the helmet.
Its shape is more space-age than natural.
It's good to see Alpinestars produce a quality motocross helmet. We love the carbon fiber structure and the four different shell sizes. While the M10's look may not be to everyone's taste, Alpinestars knew what they were doing. If you appreciate getting muddy while riding, keep in mind that mud can get inside easier than other models.