Introduction
Schuberth E1 Helmet from Schuberth gives adventure riders a helmet that can perform when they need it. Schuberth designed E1 as a helmet that is both aerodynamically and acoustically tuned. Helmets are washable between rides. Thanks to Schuberth's Anti-Roll-Off System and the detachable and washable inside lining.
It features articulating peak visor. Riders can wear the E1 with the face shield and peak attached or remove them during the ride. It ensures that riders get enough air as the ride gets more intense. The E1 helmet has an adjustable chin bar vent and a washable filter that is removable and washable.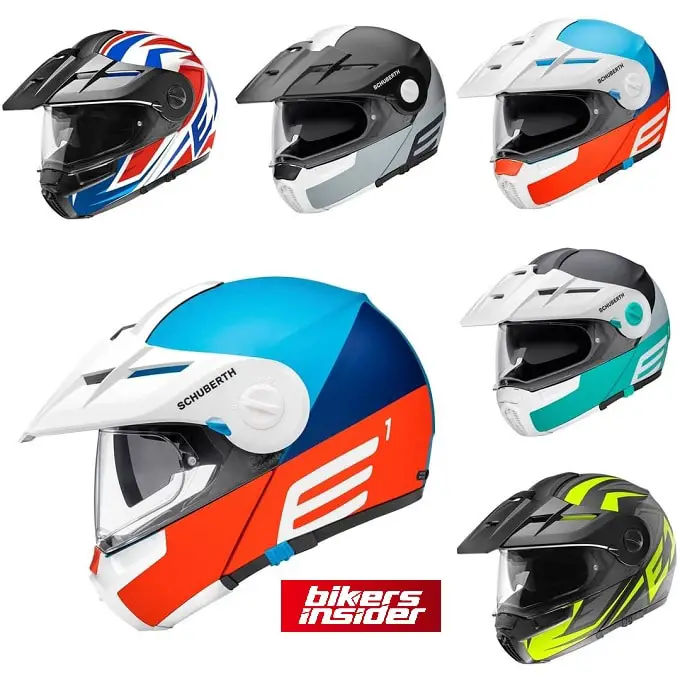 Schuberth's SRC-System PRO is pre-installed in the E1's antenna. As an intercom with other riders, the Bluetooth SRC-System connects to a GPS, MP3 player. It can connect to a cell phone for music listening or phone calls. Using the latest in Cardo communication technology.
You can check our list of 8 Best Dual Sport helmets before making a purchase.
Features
Improved EPS with integrated antennas for SRC-System which improves radio and Bluetooth range
Micro-lock ratchet chin strap
Large reflective panels on neckroll
Improved face shield ratchet mechanism
Integrated Sun Visor
Schuberth E1 configurations reel.
Build & Design
The outer shell, which is available in two different sizes, has an ideal shape while also providing great protection. It was created utilizing Schuberth's standard compression molding method. It has excellent stability while remaining lightweight.
And, given that the E1 is the same helmet as the C3 Pro, except a different chin bar and sun peak. It's not surprising that the E1 received the same three-star rating as the C3 Pro when SHARP evaluated it.
Yet, keep in mind that this is only for one of the tests (the 8.5 m/s test). It does not provide an accurate picture of the results of the study.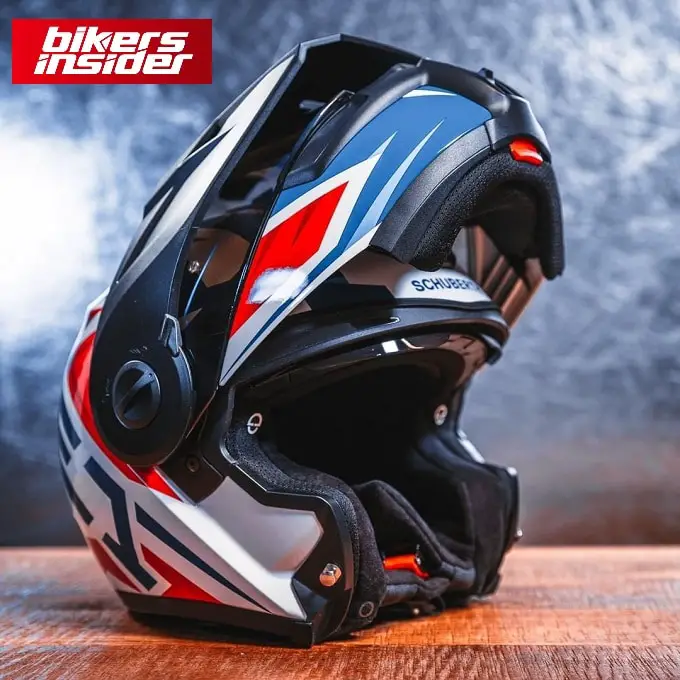 As a side note, SHARP does more than test the helmet. It is important to note that the number of times the chin guards get unlocked is recorded. Schuberth has a reputation for performing well in this regard.
The E1 is also equipped with Schuberth's AROS chin strap. It is meant to limit the likelihood of your helmet falling loose during an accident. Because helmet roll-off is a serious issue in bicycle accidents, it is encouraging to see Schuberth doing its part to lessen the likelihood of it occurring.
Vision
The visor on the E1 is optically correct to class 1, just like the visors on all other Schuberth helmets, which means there should be no distortion. It also has Pinlock anti-fog capability. A Pinlock insert should be included in the box – but always check with your shop before purchasing.
The visor on the E1 is the same as the visor on the C3 pro, which means they are swappable if you need to order a replacement.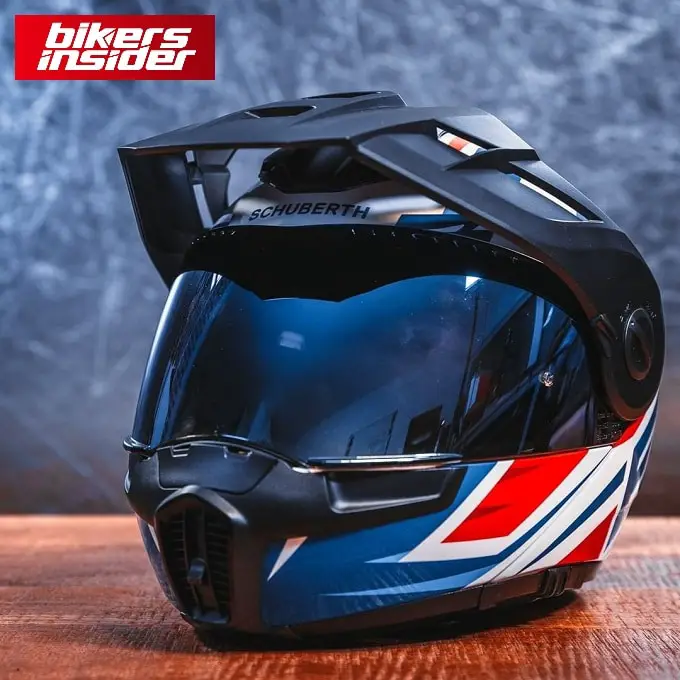 The majority of owners also agree that the field of view is pleasant and wide. The rapid-release visor mechanism is among the best available. So everything is in working order with the E1's visor.
Comfort
The modular construction of the EPS foam liner ensures maximum shock absorption. The improved force absorption and dispersion provided by this precise division are undeniable.
Comfort and cooling are achievable with the help of COOLMAX and THERMO COOL lining material, which can be easily removed for washing. In addition, you'll find EPS foam, which provides the best shock absorption.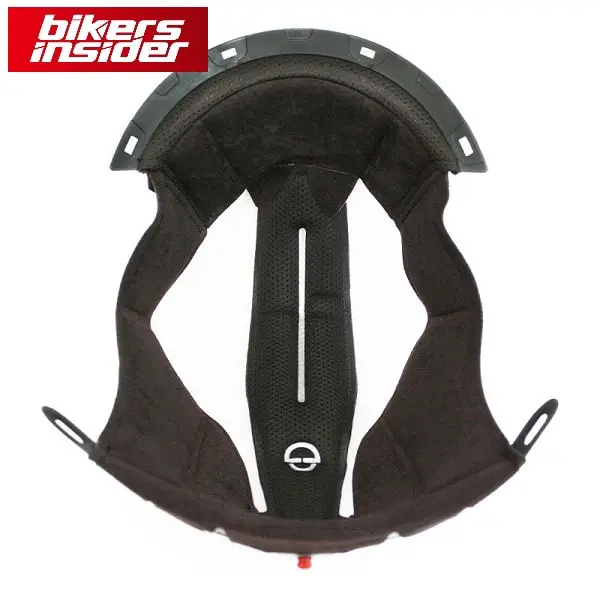 To quickly remove sweat from the user's head, they use Cool Max materials (the same as those used in their current line of helmets).
They are also certified by ko-Tex 100. In other words, they are free of dangerous compounds and should not cause irritation to human skin.
Of course, the lining is detachable and washable as well (as you find on all but the most budget of budget helmets these days).
Owners of the E1 report that it is really comfy. The removable neck roll stops all noise and wind virtually from entering the helmet. Others found it to be better for rounder heads.
Ventilaiton
The E1's vents are adequate, and the mouthpiece is easy to open with a thick glove because of its large opening. Additionally, a big tab located directly under the visor hole sprays air into your face. On top of that, the helmet has only one huge vent and no exhaust holes on the back. A more prominent chin bar would let more air into the helmet, but it would also make it colder in colder weather, so you can't really complain about that.
Even with gloves, the chin guard vent allows a lot of air in, and both vents open like a charm. There is also a reusable foam filter behind that chin vent if it gets clogged by off-road debris.
Temperatures of up to 100 degrees Fahrenheit aren't a problem for those who frequently ride in these conditions. Unless you're going off-road in the sun and need a larger aperture to suit goggles and provide additional airflow, it seems to work well.
Otherwise, the ventilation on the Schuberth E1 should be acceptable for most road warriors.
Safety Ratings
While features like Bluetooth and a larger visor are desirable, they shouldn't come at the expense of safety. Fortunately, Schuberth kept the E1's manufacturing standards high, making it both adaptable and tough.
Expert opinions are one of the finest ways to assess a new helmet's safety. SHARP was able to test the E1, giving it three out of five stars. While this isn't the ideal result, most helmets rarely get three stars, so it's not surprising.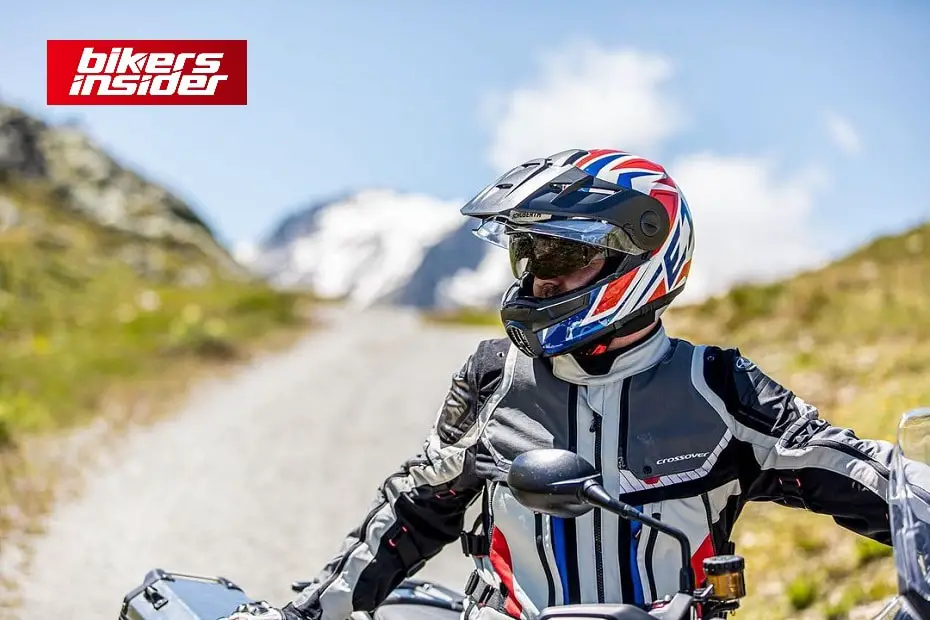 The E1 excels at the chin strap. Other helmets' straps can fall loose in a crash, causing the helmet to fly off. As you might imagine, that is not ideal.
The Schuberth E1 is also safe due to the direct fiber processing. This building method, says the business, improves impact absorption. The EPS features split foam within, allowing each piece to work independently, efficiently distributing impact.
The E1's compact shape means there is less material to cover your head. However, the components that are there appear to be above average, so you shouldn't be concerned.
Available Sizes
2XS   50cm-51cm  
XS   52cm-53cm  
SM   54cm-55cm  
MD   56cm-57cm  
LG   58cm-59cm  
XL   60-cm61cm  
2XL   62cm-63cm  
3XL   64cm-65cm
Price
The price of Schuberth E1 is $649/£458/€‌543 and it seems on the expensive side. The value riders get after paying this price goes further north.
Check out the websites below for the most up-to-date prices on the Schuberth E1 helmet:
Some awesome pictures of Schuberth E1 with various graphics
Verdict
The Schuberth E1 hybrid adventure helmet is versatile. Schuberth has done an excellent job of transforming a touring, flip-front helmet into an adventure helmet. It boasts an excellent build quality as well as a host of fun features. Five years of warranty coverage and a sturdy, smooth, quiet, and comfortable design.
The Schuberth E1 is a tribute to German engineering's unequaled level of precision. Because every part of this helmet seems to function, this model appears to be superior in the line. Besides, because the speakers present in the helmet. Schuberth ensured that this model is one of the quietest, further enhancing its value.
Finally, we love that the best features and benefits are available in the E1 helmet. Even though you get some great additions, the Basic helmet is more than adequate for your riding.
Anyone who enjoys long-term bike travel and off-roading will find that a flip-front into a helmet is the right solution. Thank you, Schuberth!