Selecting a dirt bike helmet is a big deal because it's one of the essential pieces of protective gear a rider will ever buy. When shopping for a dirt bike helmet, consider certification, shell materials, EPS, design, venting, and peripheral vision.
As a result, dirt bike helmets are perfect for complete safety while riding on motocross tracks. These Dirt Bike helmets will keep you safe in the event of an accident. You may have even noticed the unique design of dirt bike helmets, which differ from street helmets in terms of a more noticeable chin and superior ventilation. This one-of-a-kindness stresses the importance of these helmets for off-road riding and providing excellent safety to the rider or motorcycle. That is why we have gathered a list of the Top 5 Ideal Dirt Bike Helmet to help you decide which helmet is best for you.
If you're short on time, here's a list of every helmet on this list, including a short description of why we chose it!
| Image | Helmet | Reason to Pick | Price |
| --- | --- | --- | --- |
| | Shoei VFX-EVO | Dirt bike helmet with Best Safety Features | Check Price |
| | Arai VX-Pro 4 | Dirtbike helmet with Best Visibility | Check Price |
| | Bell Moto-9 Flex | Best Ventilated Dirt bike helmet | Check Price |
| | 6D ATR-2 | The Most Durable and Lightweight | Check Price |
| | Alpinestars M10 Supertech | The most Versatile Dirtbike helmet | Check Price |
1) Shoei VFX-EVO – Safest Dirt Bike Helmet
The VFX-EVO (VFX-WR in Europe) is Shoei's newest motocross helmet, aiming to take it to the next level.
It has EQRS, which stands for Equal Value Rating Scale. With 16 intake and exhaust vents, it's more ventilated than previous models. The exterior shell has undergone wind tunnel testing to create a more modern, complicated shape that Shoei hopes will increase aerodynamic performance.
Additionally, this is the first time a Shoei has included a technology to deal with rotating forces generated after an impact. In Shoei's terminology, their system is known as the motion energy distribution system. This may be to give them the catchy acronym MEDS, but in any case, it's supposed to allow the helmet to move independently from the rider and, according to Shoei, minimize rotation by 15%.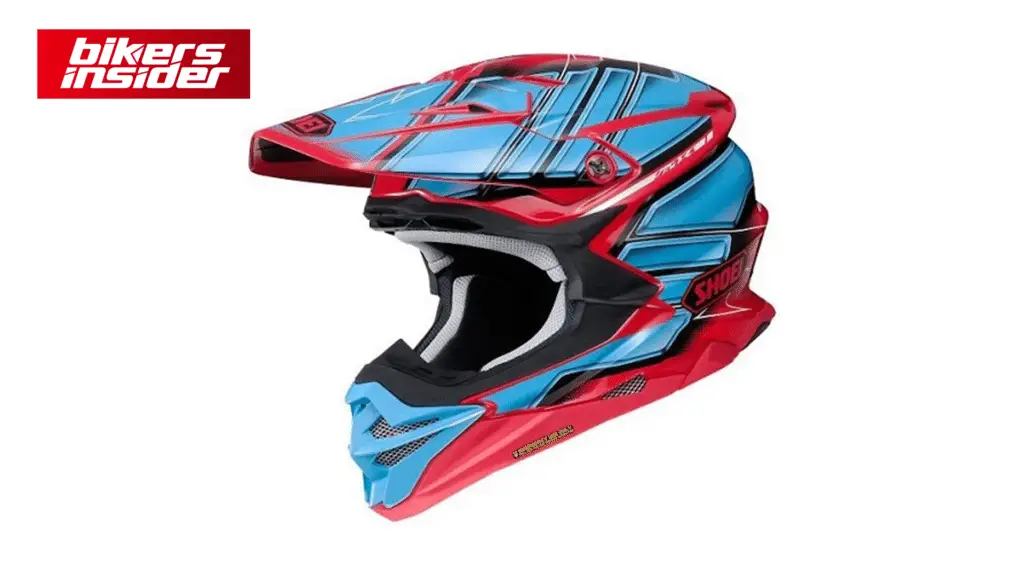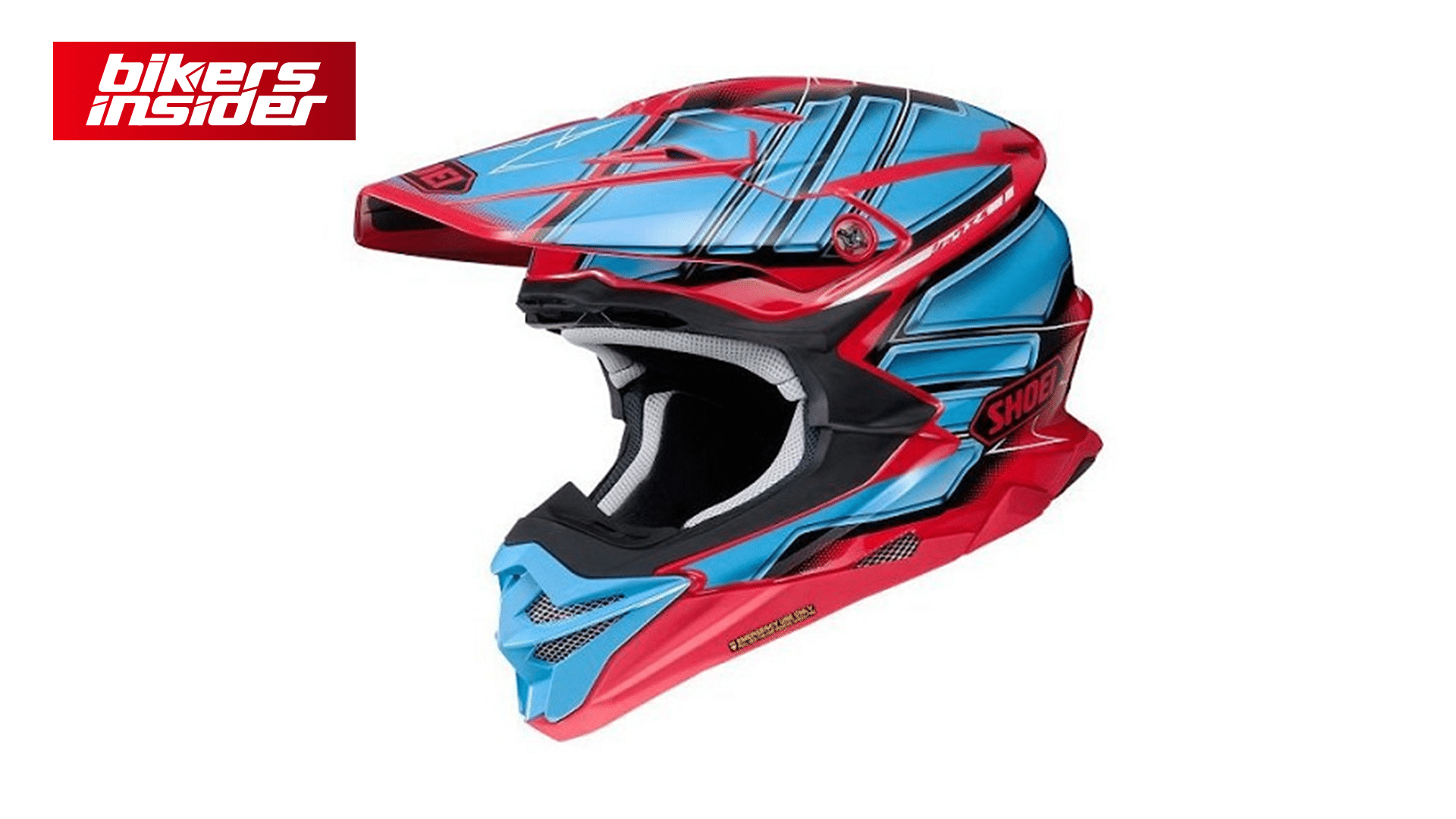 Safety
The Shoei VFX-EVO features Advanced Integrated Matrix Plus (AIM+) shell technology.
The Shoei X-Fourteen track helmet and the RF-1200 sport bike helmet use the same multi-layered composite material. It is made of fiberglass, and Shoei mixes it with other materials called organic fibers, which are engineered to be lightweight and more flexible to absorb energy.
For the very first time Shoei, they have a liner that protects the rider from rotating stresses. Shoei's take on the liner used by Bell and 6D, dubbed MEDS (motion energy distribution system). Shoei added EQRS to the VFX-EVO. That method enables paramedics to remove the cheek pads and hence the helmet from a downed rider with less risk of hurting their neck. Finally, the Shoei VFX-EVO incorporates a sturdy double-D ring clasp that should hold the helmet secure if appropriately tightened.
Ventilation
A brow vent crosses the goggle port. Right above it is two crown vents that pull airflow from the peak into the helmet. Of course, there's the chin bar vent. This brings air to the lips and face. It's detachable, has an aluminum screen, and has a washable foam filter. There are exhausts on the crown, top, lower, collar, and sides of the helmet, all designed to give maximum ventilation and keep you cool when riding off-road.
And many riders think that the VFX-EVO's venting is excellent. Water can get into the chin bar vent if it rains, but I imagine it won't be an issue if you're working up a sweat.
If you're riding in the heat and working hard, you should be OK because the venting is excellent to incredible.
Visor/Peak
To reduce lift and buffeting, the apex doubles as a roost protection visor. Lastly, it directs air to the crown air vents. To lower it, unscrew a single unified screw and slide the visor down to the desired position. For reducing lift at speed, peaks can be adjusted. Because its peak could cause rotational damage if it sinks in and isn't secured adequately by three polycarbonate screws, it's a good thing they shear off upon impact.
More safety features have been added to the AIM+ composite shell, including the new MEDS anti-rotation system and the quick-release cheek pad removal system (EQRS). The chin bar and peak have also been improved. There's also plenty of room inside for goggles, and there are numerous safety features throughout the AIM+ composite shell.
It's also well-built, and owners praise the aerodynamics, ventilation, and comfort.
PROS
More comfort
Great active ventilation
Cool graphics
CONS
Helmet is on a noisy side
2) Arai VX-Pro 4 – Helmet with the better visibility
Aggressive dirt riders would like the Arai VX-PRO 4. Arai increased the weight of this model by 4 ounces to accommodate more durable and complicated elements on this aggressive dirt bike helmet. Arai designed this high-end helmet to protect off-road riders from injury. That's why the Arai VX-PRO 4 is a terrific pick for a great dirt bike helmet that's also customizable.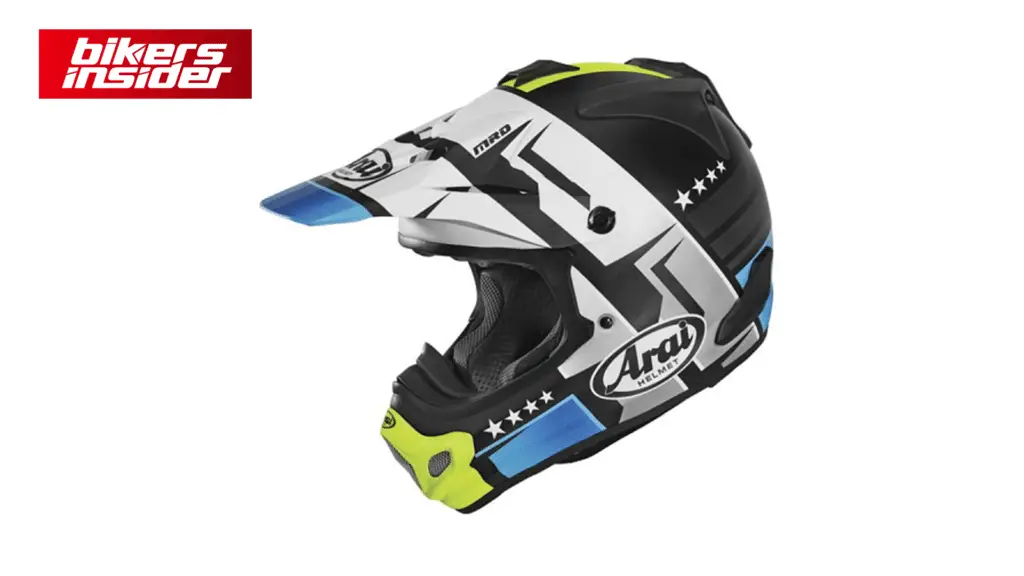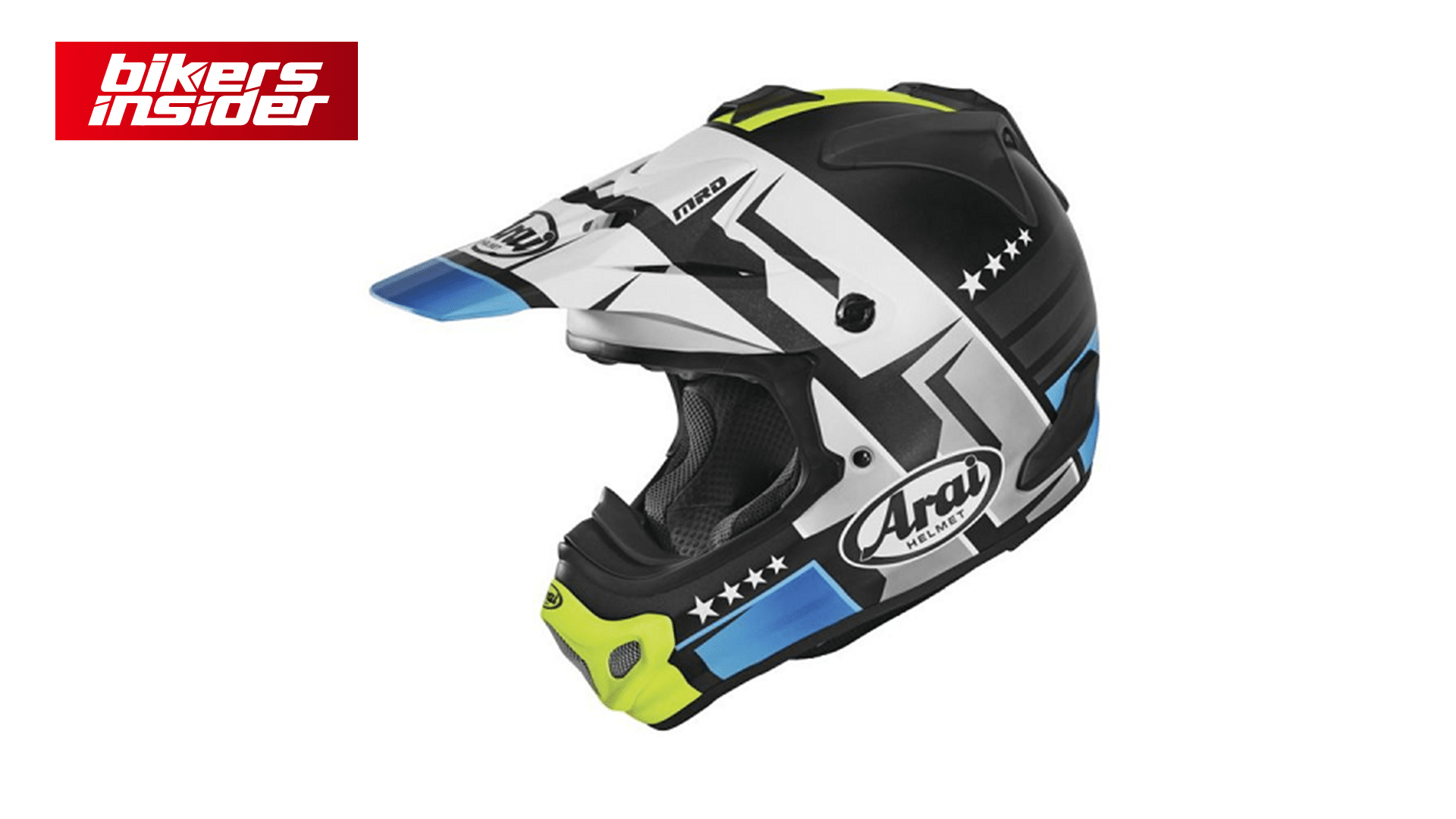 Safety
The VX PRO-4 has a 2015 SNELL rating and fulfills DOT safety regulations for optimal riding safety and security. You can even see three enormous chin vents on the front, one in the center and two on the sides. They're all quite large. The circular chin bar on the Arai VX-PRO 4 is one of the model's most notable characteristics. Making of chin bar is to break out and away from your face in the event of an accident, rather than to collapse inward on your face or chin. The strong materials on the mask's exterior would not collapse against the rider's face, providing a second layer of protection and comfort.
Ventilation
The chin vents are integrated. Arai has improved the airflow on the PRO 3 significantly. Most motocross riders keep their vents open. Therefore Arai made all of the vents passive. They also include an exterior rear casing that helps keep debris out of the ventilation system. There are eight passive vents on the outside of the helmet (not including the front mask vents). This allows cool air to circulate to the front, sides, and top of the helmet, keeping the rider cool—the extra vents on the back of the helmet suck warm, damp air out. The complete vent system circulates cool air throughout the helmet. The back of the breath guard can be removed to increase airflow into the mask. You may easily open or close the breath guard inside the mask if you don't require so much airflow.
Visor/Peak
Under the visor's peak, there's a grated area you can see underneath it if you look closely. For reduced glare and stray light, this region has been specially built to absorb direct sunlight. The VX-PRO 4 from Arai has yet another exclusive feature to protect the rider's eyes while increasing overall visibility. The visor or peak readily breaks off in the case of a crash or accident. The peak of the mask is adjustable up and down to improve visibility or reduce glare from the sun.
Overall, a great dirt bike helmet. Arai has put a lot of effort into making the VX-PRO 4 a top and comfortable helmet. The excellent ventilation and the ability to personalize the comfort and fit are two premium characteristics that many riders will appreciate about this helmet.
PROS
Great comfort
peak design privides great visibility
Well ventilated
3) Bell Moto-9 Flex – Well Ventilated Helmet
The Moto 9 Flex has an interior lined with Bell's proprietary "Flex" comfort and protection technology. Bell's goal with Flex technology is to provide maximum protection in a lightweight and comfortable helmet.
Bell's top-tier helmet. The Moto 9 Flex's technology and design bring it on par with some of the most excellent pro-level helmets in the business.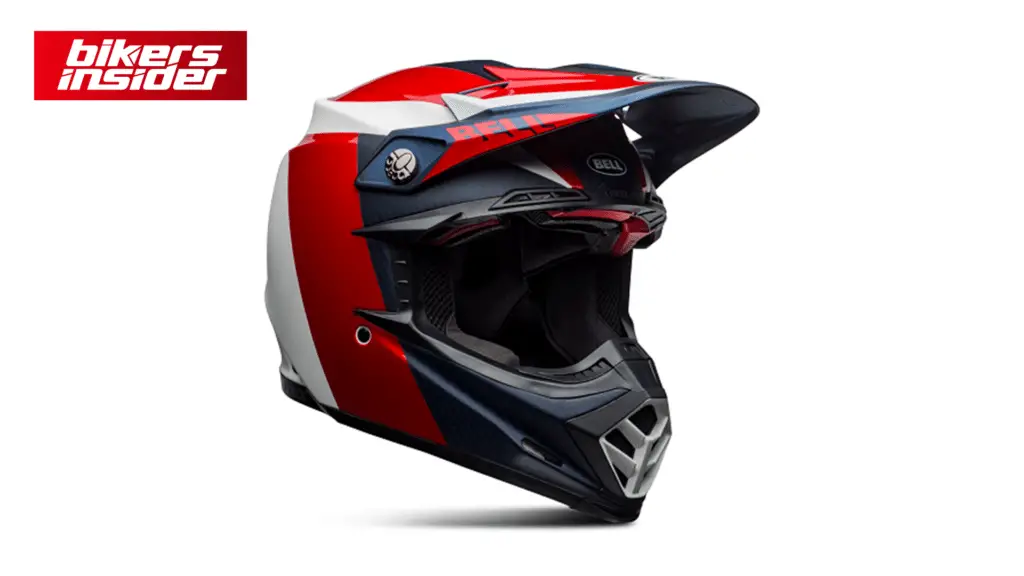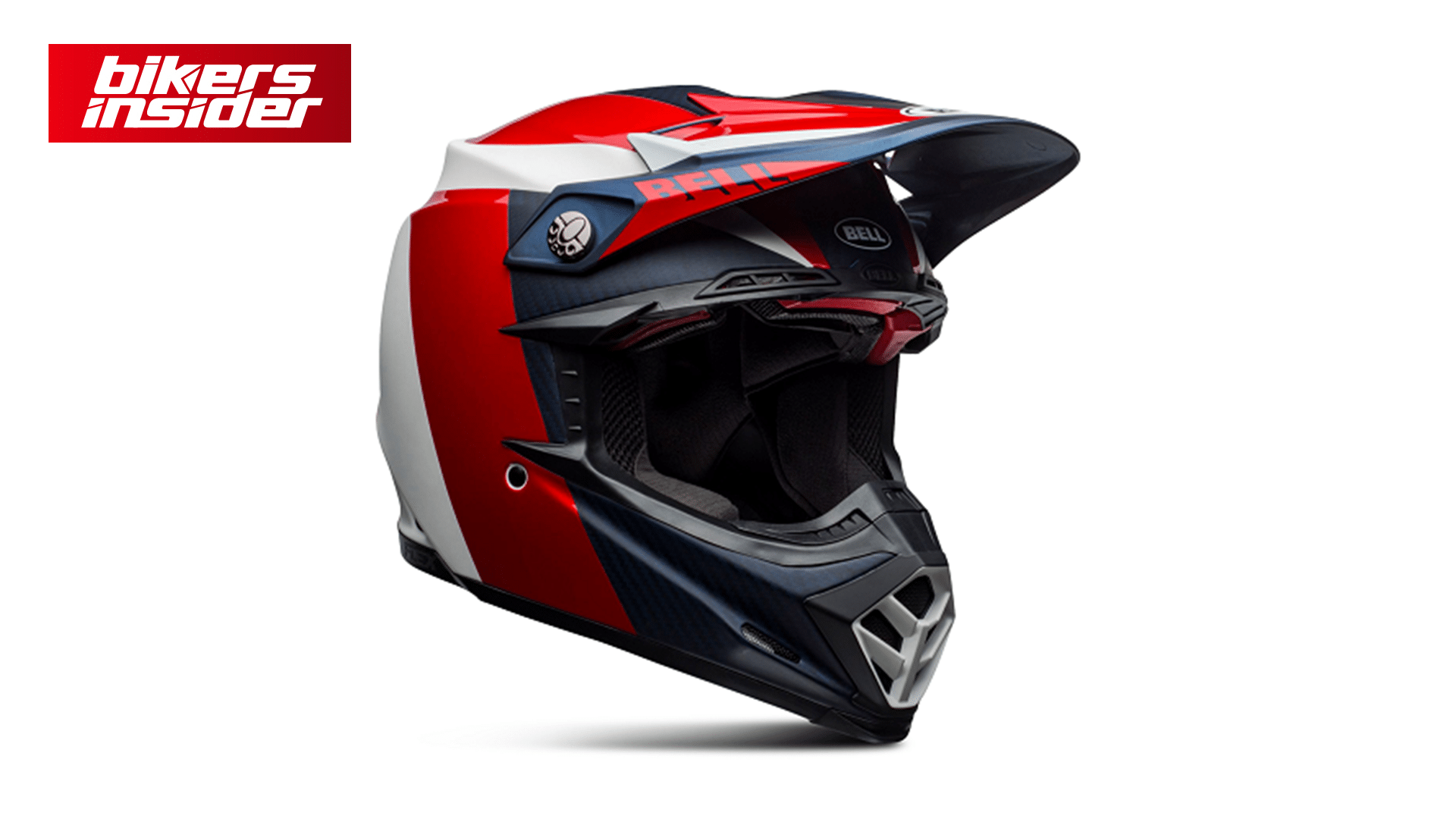 Safety
This helmet lining protects your neck and head while also reducing rotational stresses on the helmet in low-speed, angular impacts.
Do you have any idea how this is even possible?
The Flex liner is designed to move in and out of the way when the helmet is worn. Its rotational strength and additional padding make the Moto 9 Flex well-suited for low-speed motocross and off-road crashes, where rotational forces can be particularly painful and damaging to the rider. For reduced energy transfer via the helmet, there are additional layers of protection. Additional layers increase the distance the strike must travel before hitting your head, enhancing the liner's ability to absorb, redistribute, and decrease the impact stress.
Ventilation
How does the Moto 9 Flex's ventilation compare to other helmets? With so many layers inside the liner, you'd assume you wouldn't receive much airflow or ventilation from the helmet. Riding aggressively at the pro level, especially during training and competition, might cause your helmet to overheat.
The Moto 9 Flex features nine distinct vents to ensure that the rider is well-ventilated and can breathe and cool off quickly. Air can flow freely from front to rear of the helmet because of the comfort liner's numerous apertures and vents.
Visor/Peak
The amount of visibility that Bell provides to riders is on par with the other high-end features. Seeing out of the eye-port is a breeze thanks to the large openings on both the top and bottom of the mask, as well as plenty of room in front for goggles of any size.
If you don't care about budget and want a high-tech, pro-level helmet, look for something that will keep you safe and comfortable. The Bell Moto 9 Flex is our top pick for pro-level helmets because it combines safety and comfort.
PROS
Well ventilated
Flex protection technology for protection
Interchangeable peak
CONS
Not easy to customize
High pricing
4) 6D ATR-2 – Durable and Lightweight
6D Known as a manufacturer that isn't hesitant to try new things, 6D has created a reputation by mixing cutting-edge technology into all aspects of its helmets. No exceptions exist when it comes to the 6D ATR-2. The ATR-2 is a high-tech piece of equipment created with one objective in mind: to keep its rider as safe as possible no matter what the road throws at them. Don't let the price put you off. For those who can afford it, investing in an ATR-2 might be your best option for personal safety.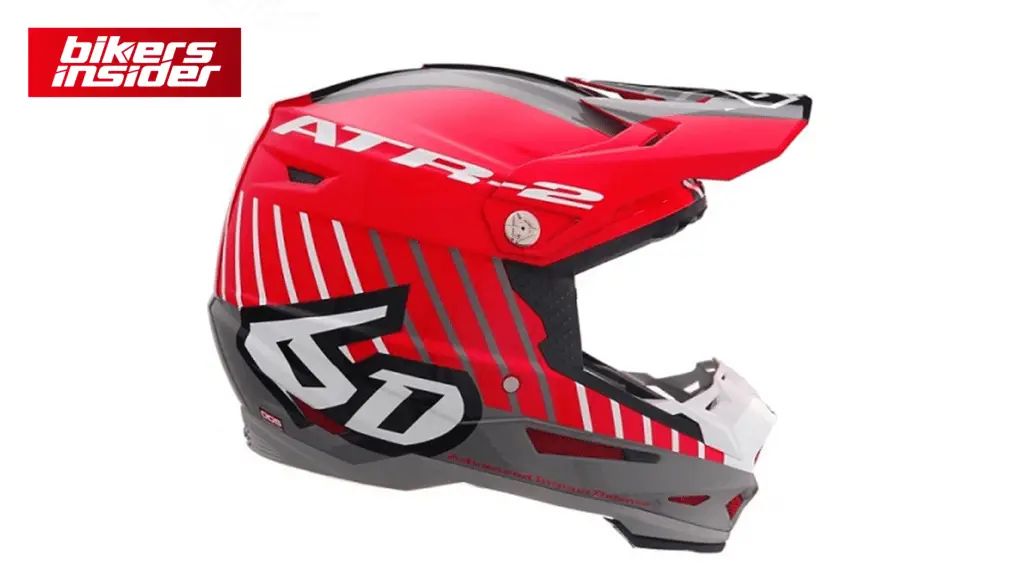 Safety
It has been said before, but it needs repeating: this helmet is designed to keep its rider as safe as possible. The thick outer shell provides the initial line of defense. In contrast, the solid outer lining (essentially an inner shell) provides further protection. This is because the outer and inner linings have dampening towers that absorb the energy from collisions and other probable harm before it reaches your brain.
The front brow rib protects the face and eyes. In contrast, the back Cervical Protection Zone protects the neck from backward and sideways vibrations.
A very safe helmet. This helmet has been tested and approved by both the DOT and ECE. But it hasn't been SHARP tested.
Ventilation
This helmet's ventilation is also excellent. Whereas other helmets may have a few ports and vents here and there, D6 seems to have gone crazy and stuffed ventilation points everywhere.
The ATR-2 features 15 ventilation points: 9 intake and 6 exhaust openings. The outcome is a helmet that is highly ventilated and keeps you comfortable. The ports and exhausts can be mixed and matched to provide the appropriate support and comfort for the conditions and mood.
Visor/Peak
With the ATR-2, visibility has never been an issue. There is plenty of room for any goggles you may wish to bring along because it has an open-face design. A detachable sun visor keeps the glare from the sunlight out of your eyes and can be put in and taken out with the turn of a few screws.
Overall, this helmet is for the most dedicated and serious of bikers. With the ATR-2, you get a lot more for your money because of the advanced technology included in the helmet, but it's well worth it.
PROS
Tough and durable
Lightweight
Huge vision port
5) Alpinestars M10 Supertech – Sleek & Stylish
The M10 is an excellent dirt bike helmet in terms of utility and fit. Carbon fiber construction is one of the product's outstanding qualities. Outer shell is of a much lighter material than anything else, it helps riders stay more alert on long bike rides. As a rider, you may not notice the weight savings of a few ounces. Still, after wearing the M10 for a while, you'll notice the carbon fiber shell's superiority over other helmets.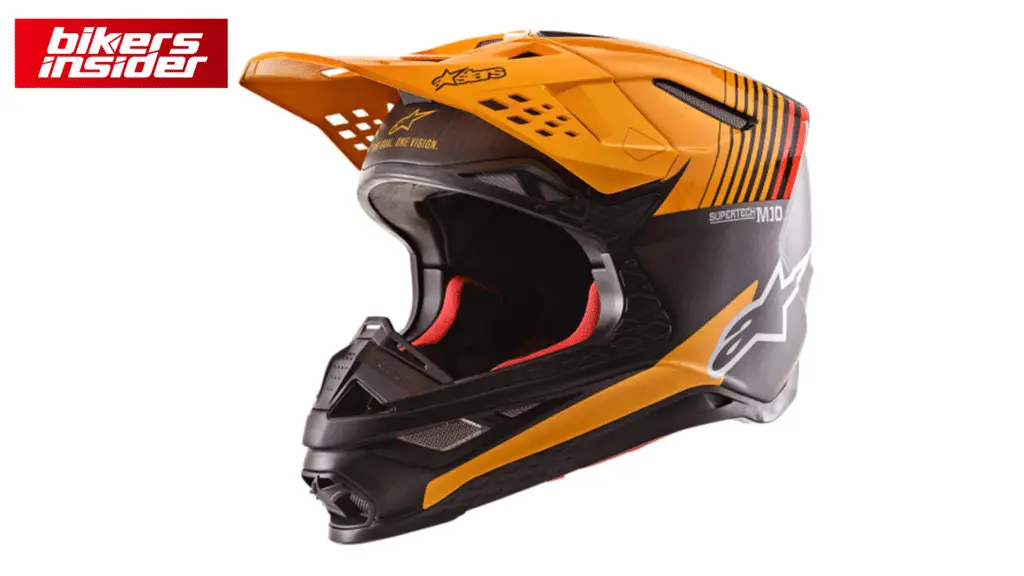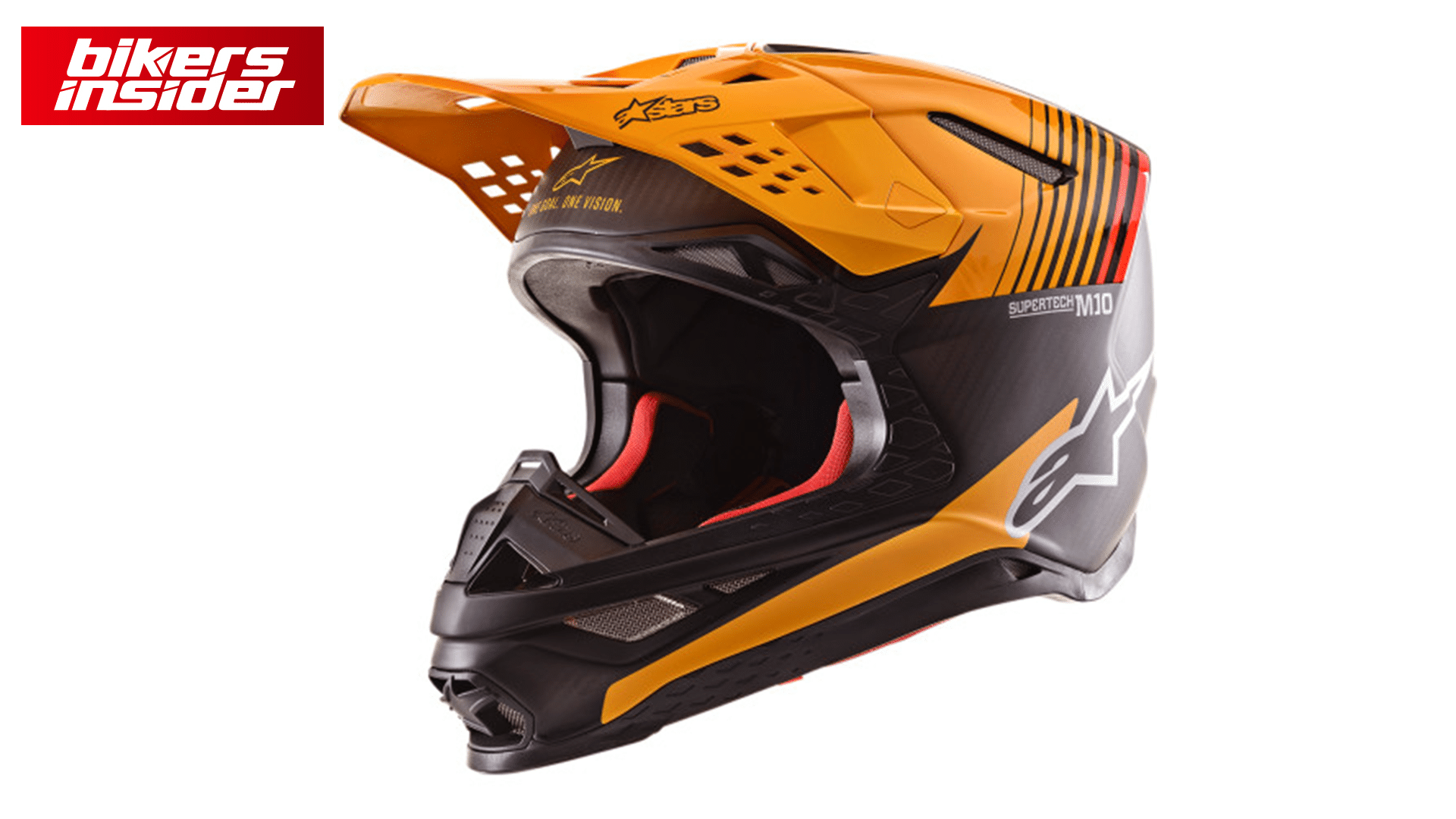 Safety
A MIPS-like technology inside the helmet's interior helps to assist the liner and shell separate. Dirt bike helmets are now becoming standard with MIPS (Multi-Directional Impact Protection Systems), which can help prevent a concussion. Although this is true, wearing a helmet does not guarantee you will not have a concussion, so don't rely only on it to keep your head safe.
Alpinestars made the M10 one of the safest helmets ever seen by utilizing R&D in other areas. Compared to other models, this one has more functions, and it'll still be helpful if you have an incident on the path.
Ventilation
Alpinestars' years of research and development pay off here. There are a whopping 19 intake and 5 exhaust vents on this helmet, ensuring fantastic airflow. Riders have put the M10 through its paces in temperatures as high as 115 degrees Fahrenheit without gaining a pound of water weight.
The visor's shape also aids airflow inside the helmet, making it perfect for desert riders. Sand and rocky terrain enthusiasts will enjoy how well the Supertech maintains their heads cool during their exploits.
Visor/Peak
The M10's wide field of view makes it an excellent choice for motocrossers of all skill levels. Additionally, the A-Head adjustment system allows you to fine-tune the fit of your goggles while simultaneously allowing you to control how far back your helmet rests on your skull.
Alpinestars has made sure you have a wide enough field of vision while off-roading so that you can see well. There are no blind spots or barriers to worry about when you're riding.
Alpinestars fans will please know that the company has produced a high-quality dirt bike helmet for the market. With four different shell sizes and a carbon fiber frame, this is a fantastic product. Alpinestars knew exactly what they were doing when they created the M10, despite some people's disapproval of the design.
PROS
Custom-fit and sizing options
Sleek and stylish design
Carbon fiber build
CONS
Mud can clog vents very easy
No 'Snell' tested
Conclusion
There are numerous factors to consider when looking to purchase a dirt bike helmet. Choosing a fantastic helmet in 2021 will be difficult since there are so many real gems available. I am confident that after reading this blog, you will be able to pick the best dirt bike helmet for your needs and riding style. After all, that's why we compiled this list of the 5 best dirt bike helmets in 2020-21.