When Moto Guzzi unveiled the V100 Mandello in November 2021, it created a stir in the sport-touring world. After creating such a stir, the Italian company withheld more information for over a year. After revealing the V100's European pricing and availability, it appears that Moto Guzzi is now prepared to fully unleash the model.
This past weekend marked the beginning of the Moto Guzzi World Days 2022 celebration at the Mandello Del Lario facility (September 8-11, 2022). And who is the honoured guest? That's right—the 2023 V100 Mandello. After the occasion, on September 12, 2022, Moto Guzzi began taking pre-orders in Italy. The V100 will come in a base model and an upgraded S trim, as anticipated.
Specifications
The liquid-cooled, DOHC, 1,042cc transverse V-twin engine will be advantageous for both variations. The new engine is the most powerful one that comes from Moto Guzzi, producing 115 horsepower and 77.4 lb-ft of torque.
With four riding modes (Travel, Sport, Rain, and Road), a Marelli 11MP ECU helps handle all of those horses, and a six-axis IMU enables multi-level traction control and lean-sensitive ABS. The five-inch TFT display on the motorcycle allows riders to operate the powerful electronics package. The V100 will introduce the first adaptive aerodynamics system with tank-mounted wind deflectors, but the innovation doesn't end there.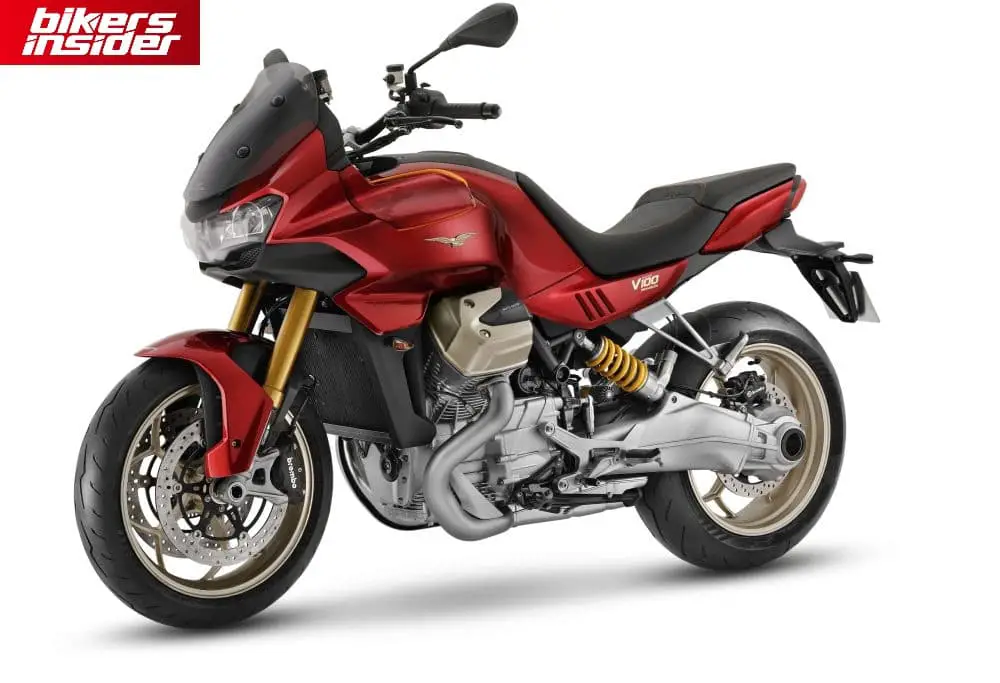 The S variant further enhances the already remarkable package by including heated grips, a quick shifter, and Moto Guzzi's MIA multimedia platform. The S-spec model will cost €18,249 (USD 18,500) and will be available in the high-end Verde 2121 and Grigio Avangiuardia paint choices. However, the regular V100 Mandello only costs €15,749 (USD 15,950). The base model will be available from Moto Guzzi in Polar White and Magna Red colours.
Sadly, the business hasn't yet provided availability or pricing details outside of Europe. However, based only on MSRPs, we believe the V100 Mandello will compete fiercely in the sport-touring market.
For more upcoming bikes in 2022 please visit Top 12 new motorcycles in 2022.