Most motorcycle riders just don't have a spare $300 to buy a premium motorcycle Bluetooth headset. That's where Fodsports comes in with its diverse range of motorcycle Bluetooth headsets that are probably the most affordable on the market right now. In our Fodsports FX4 Pro review, we'll dive into one such affordable yet quality Bluetooth headset!
Fodsports FX4 Pro headset certainly impressed us with its durable build and a wide range of functionalities. But, it has some faults that might detract you from the buy. Learn all about its features in our comprehensive review!
Fodsports FX4 Pro Review – Main Features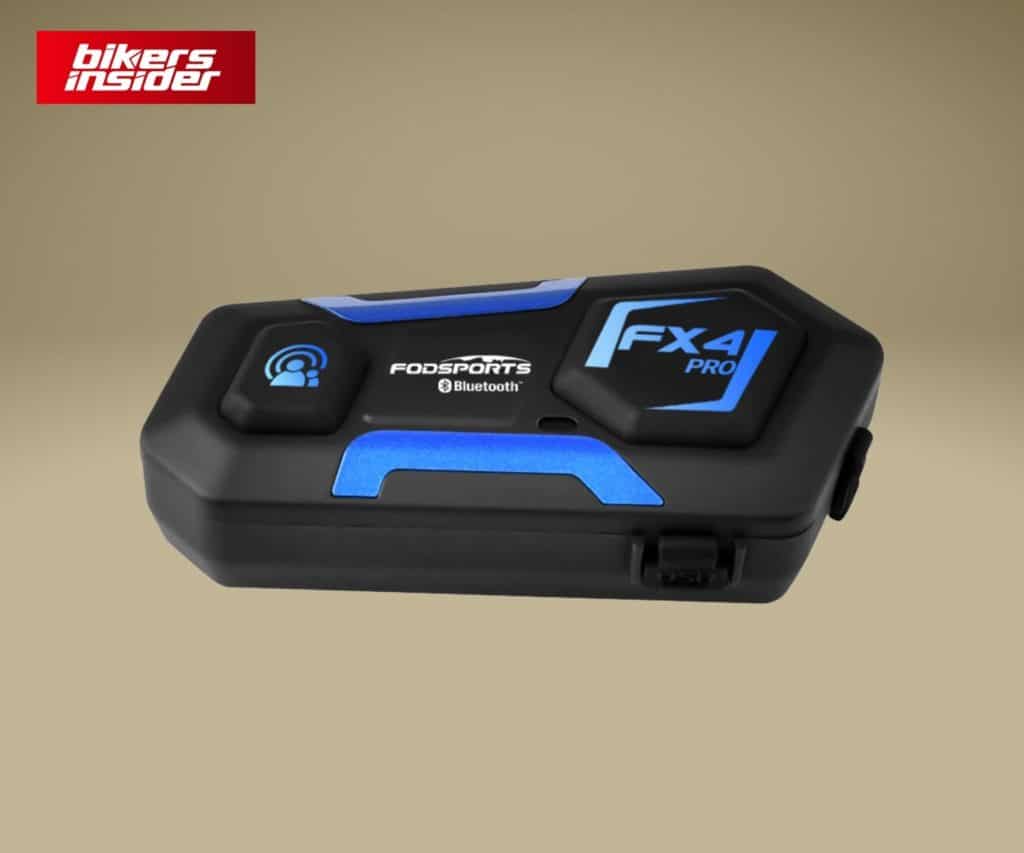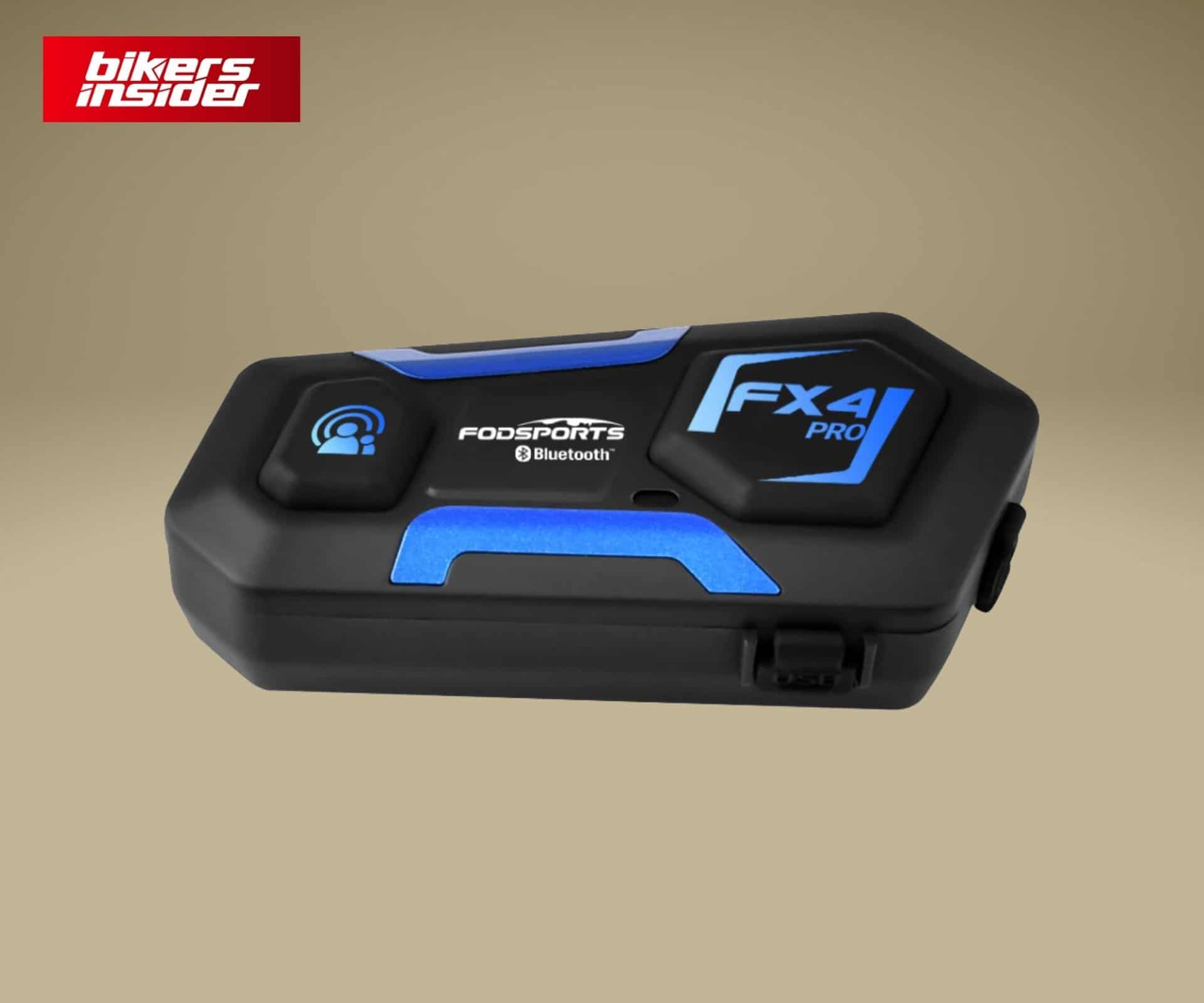 If you are in a rush, here are all the main features of the Fodsports FX4 Pro motorcycle Bluetooth headset:
Weighs 48 grams
Utilizes Bluetooth 4.1 technology
Maximum intercom range of 1,2 kilometers (0,75 miles)
Intercom supports 4 participants speaking simultaneously
40mm speakers
Microphone has wind noise reduction
IP67 waterproof rating
20 hours of phone talk time
12 hours of intercom time
300 hours of standby
3 hours of charge time
Without further ado, let's begin our Fodsports FX4 Pro review!
Design & Installation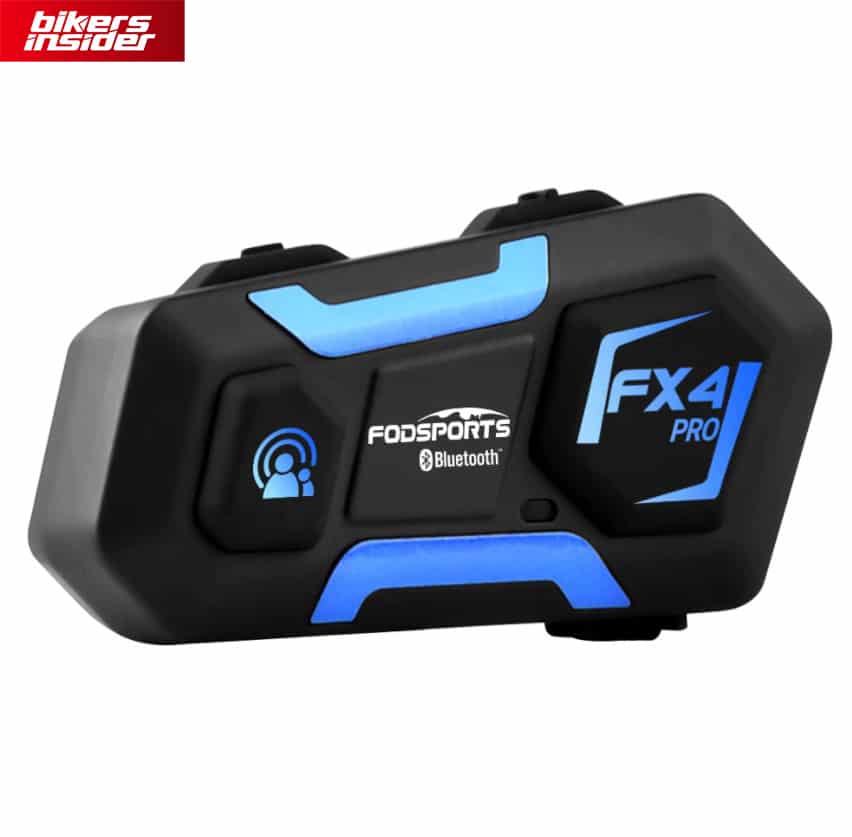 As we take it out from the packaging, Fodsports FX4 Pro Bluetooth communication feels very light at 48 grams of weight. It's made of high-quality material even though it is priced so cheaply. There is no jog dial here, only four buttons:
Volume Down button
Volume Up button
Function button
Intercom button
All of the buttons are tactile and glove-friendly. Rest assured, you will be able to reach all the functions without too many difficulties with button presses.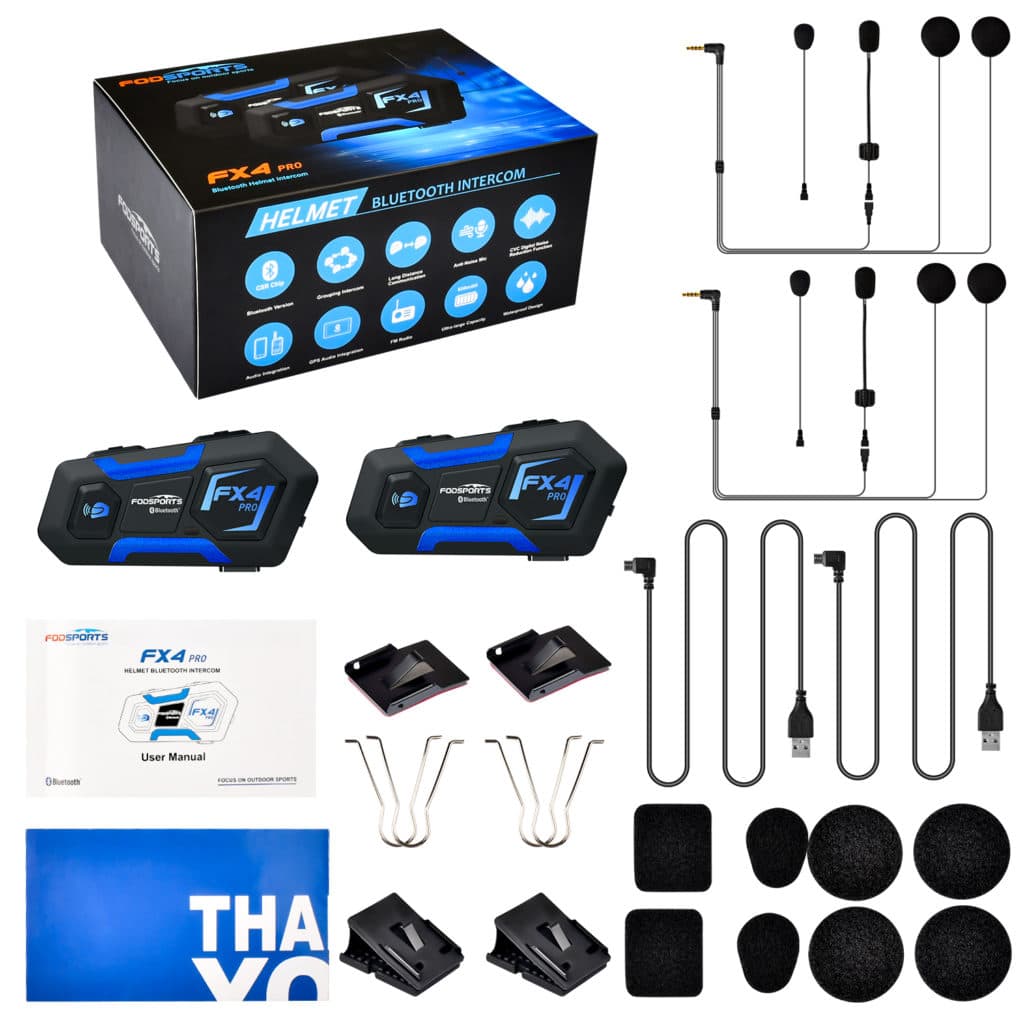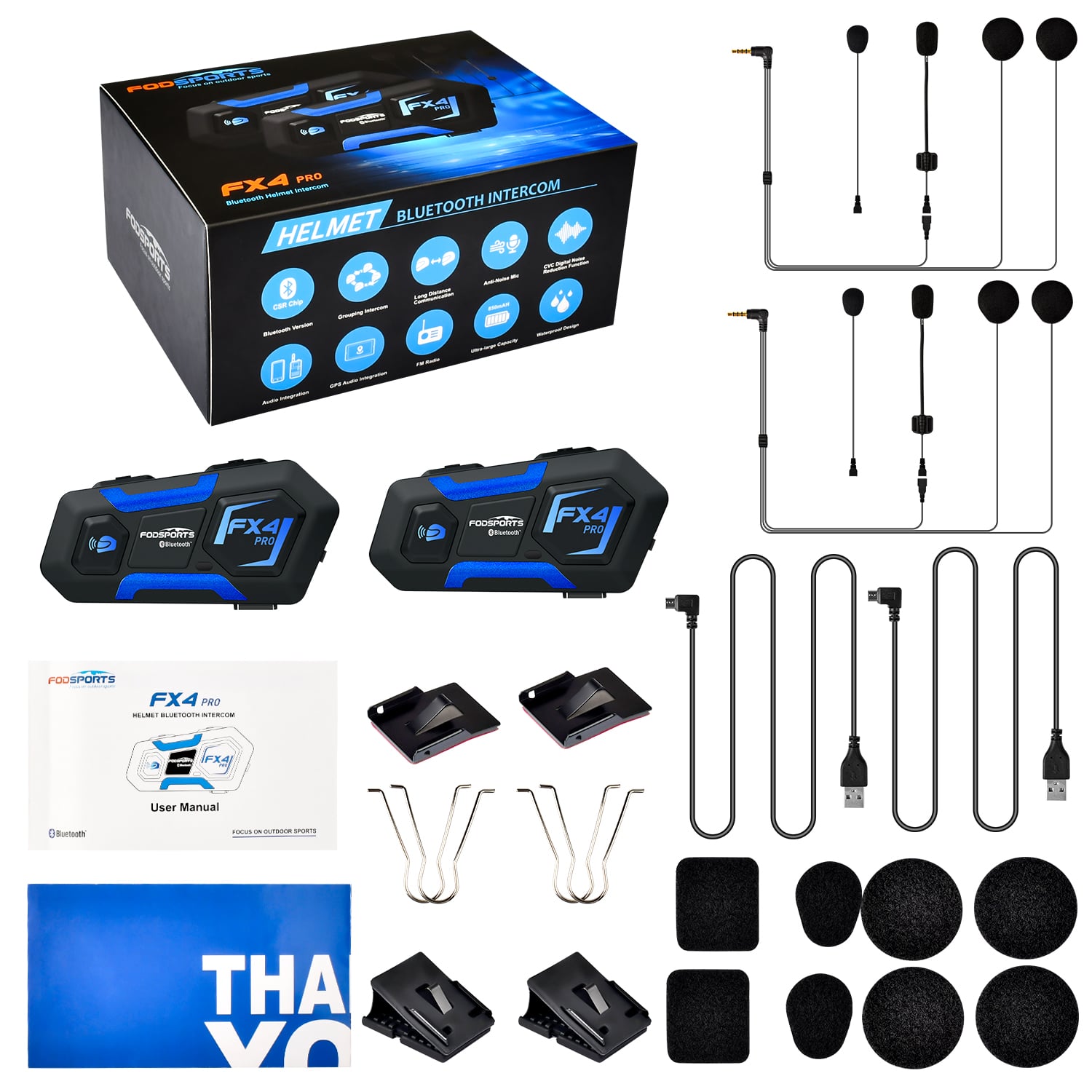 Inside the packaging of the Fodsports FX4 Pro motorcycle Bluetooth communication system are:
FX4 Pro device
40mm speakers
Wired mic
Boom mic
USB cable
Spring clip
Mounting bracket
Adhesive mount
Velcro pads
The installation of this motorcycle helmet Bluetooth headset is straightforward. You can utilize either the adhesive tape mount or the bracket clip. Both will keep the headset stable on your helmet, as metal spring clips support the bracket, and the adhesive tape is pretty strong. If you use the adhesive mount, you will need to leave the glue to dry for at least 24 hours.
Overall, the Fodsports FX4 Pro headset design is nothing revolutionary, but it is lightweight, glove-friendly, and low profile.
Bluetooth Pairing
Fodsports FX4 Pro motorcycle Bluetooth intercom system is powered by Bluetooth 4.1 and is compatible with a wide range of Bluetooth devices. You can connect it to a maximum of three Bluetooth devices simultaneously.
Keep in mind that there will be a priority list of functions of each connected Bluetooth device. Low priority functions will be interrupted by high priority functions, and the list is the following:
Phone call
Intercom
Music or FM radio
In the following sections, we will discuss the pairing procedures for smartphones and other headsets.
Smartphone Pairing
To connect the FX4 Pro headset to your smartphone or similar Bluetooth-powered device, follow the procedure below:
When the unit is turned off, press and hold the Function button for 7 seconds until you see the red and blue lights flash.
Search for "FODSPORTS FX4 PRO" on your smartphone's Bluetooth menu.
Enter "0000" as the PIN if required.
The blue light will flash, indicating successful pairing.
Pairing With Fodsports FX4 Pro Headset
Connecting two Fodsports FX4 Pro headsets is very easy! Here is the procedure down below:
Turn on both units and simultaneously hold down the Intercom and Volume + buttons for 2 seconds to enter the pairing mode (you will also see the red and blue lights flashing).
Press the Intercom button on either headset.
When you see the blue light flashing on both devices, the pairing is complete.
Universal Intercom Pairing
Here is the connection procedure with non-Fodsports motorcycle Bluetooth headsets:
Turn on the non-Fodsports headset first and enter its pairing mode.
Afterward, turn on the FX4 Pro and hold the Intercom button for a few seconds until you see the red and blue lights flash, triggering the Search and Connect mode.
Press the Intercom button once, and the blue light will flash, along with a sound that indicated pairing success.
Connection Range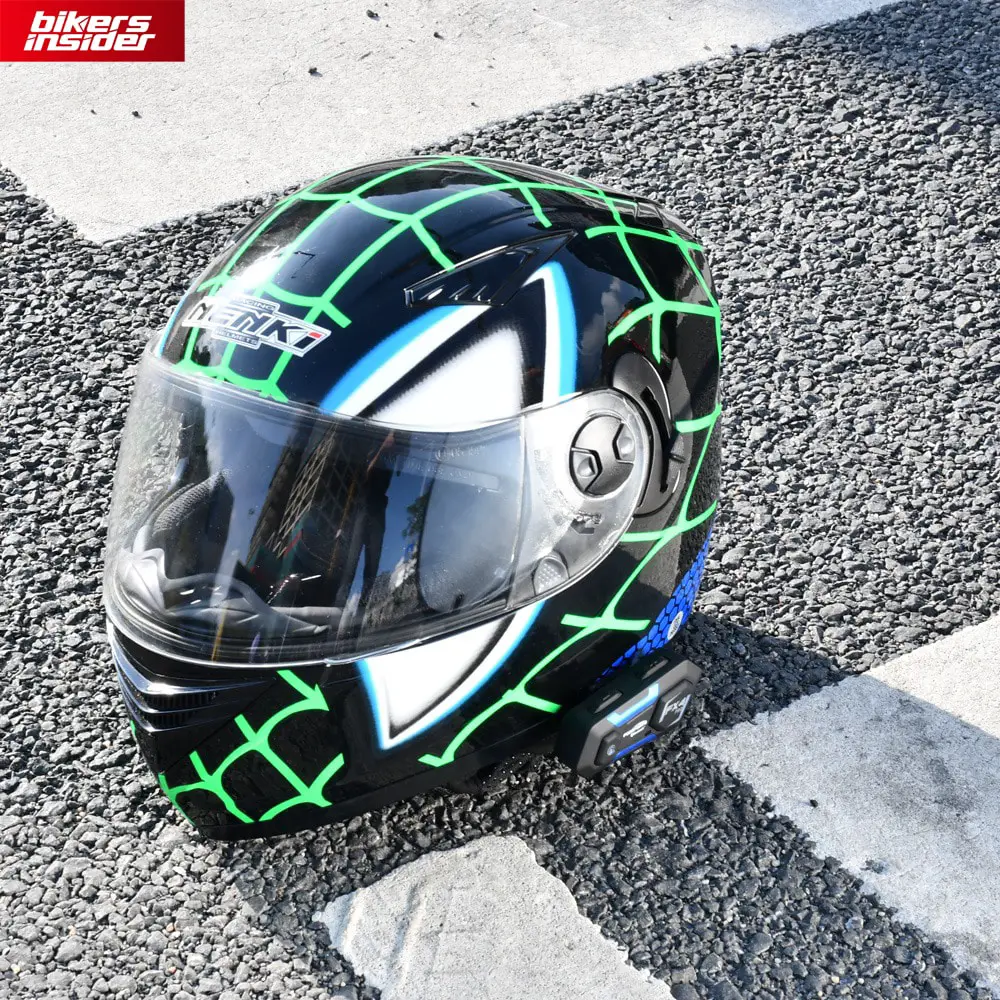 The group intercom functionality of the FX4 Pro headset is quite decent, supporting up to 4 riders in one intercom session. Still, the range could be much better, as it is more fit for tight-knitted groups. 
The maximum intercom range of the FX4 Pro is up to 1,2 kilometers (0,75 miles). That translates to an effective talk range between individual bikes of 300 meters (0,19 miles). Of course, the range will depend on how congested the traffic is and on different terrain conditions.
Check out our Fodsports FX8 review for an in-depth look at the best what Fodsports has to offer!
If one rider gets out of intercom range and gets back in at least 5 minutes, you can press the Intercom button once to recover him to the session. This is a handy implementation as rider disconnects won't disconnect your whole intercom group.
Sound Quality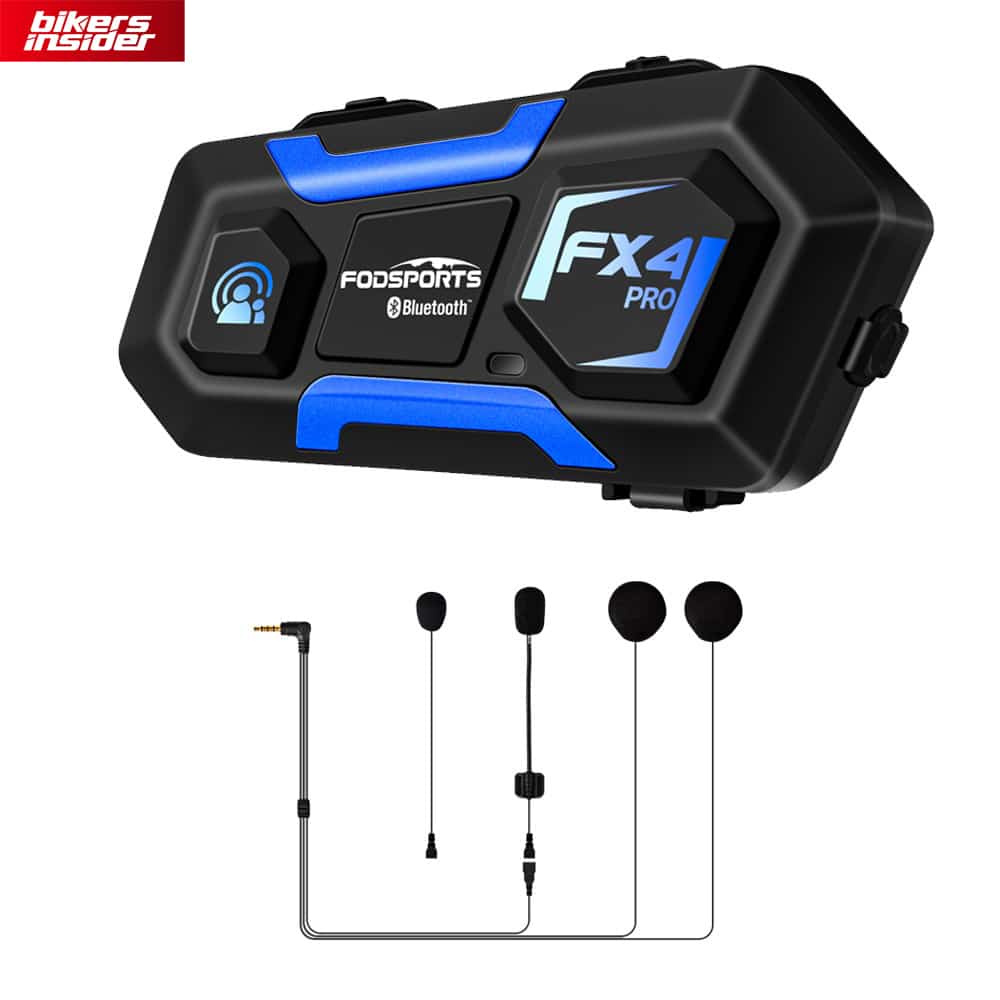 Fodsports FX4 Pro is fitted with 40mm speakers that produce solid sound quality, especially for listening to music. While the speakers don't have the best bass, the sound clarity is awesome. 
The sound will stay clear even at 120 km/h speed (75 mph). That applies to all your riders wearing a full-face helmet with solid noise reduction. Fodsports claims that they use the CVC noise reduction technology, and it seems it's working pretty well in this case.
Sadly, both microphones won't have sufficient sound for clear communication. That kills their purpose for communication. So, if you primarily aim to use this Bluetooth headset for communication, you will need to invest in a better microphone. Thankfully, the microphones aren't hard-wired into the FX4 Pro, so you can buy a solid microphone with no hassle.
Voice Control
Like other Fodsports Bluetooth headsets, the FX4 Pro doesn't feature a dedicated voice control system. But, you can use smartphone voice commands with a paired smartphone instead, which brings many useful functions to the game.
Looking for more Fodsports headset reviews? Check out our Fodsports headsets section to find out more about this promising brand!
To trigger the smartphone voice prompts, press the Volume – button twice. Keep in mind that you'll need to put the microphone up close, so the phone registers the commands. When done right, you can ask for GPS directions, call contacts, and change music with your voice.
Additional Features
Here are some of the additional features of the Fodsports FX4 Pro headset.
FM Radio
The radio function integration isn't anything special. Still, its automatic search function is quite handy to save time for manual station search.
Water Resistant or Waterproof?
Fodsports are well-known in the motorcycle Bluetooth headset niche for creating durable and waterproof devices. It's no different with their FX4 Pro, as it comes with the IP67 waterproof rating. The company managed to snatch this rating thanks to the integral casting that reduces the gaps to increase the overall durability of the headset.
You can use the Fodsports FX4 Pro in rainstorms and even in snow, as many users are carrying these on their snowmobiles.
Battery Life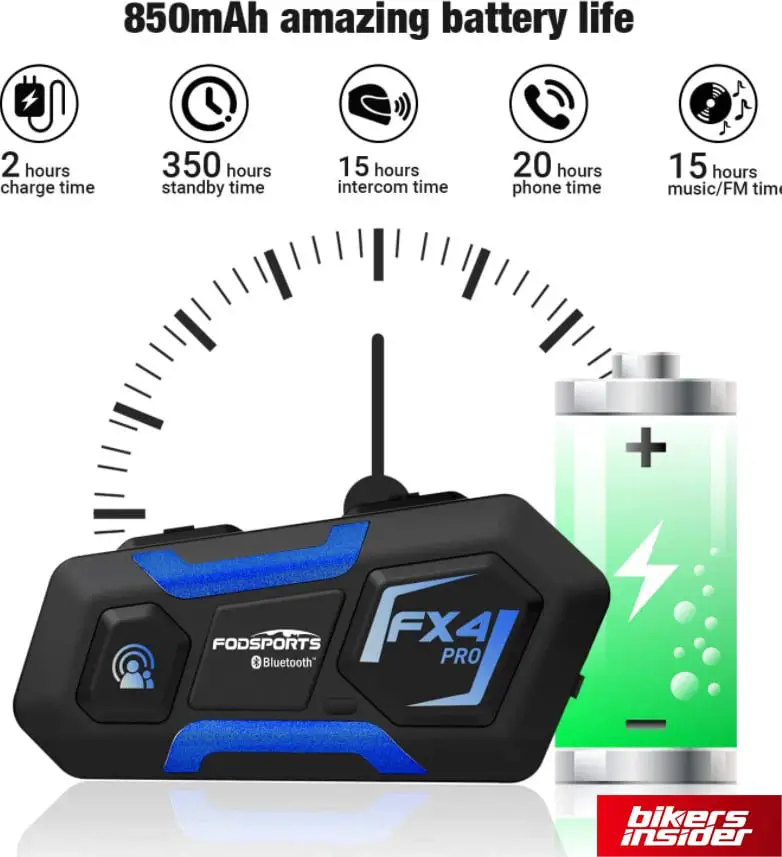 The 850 mAh battery inside the FX4 Pro produces some fantastic results. We're going to outline them in the list below:
20 hours of phone talk time
12 hours of intercom talk time
300 hours of standby time
You'll also get low battery alerts when the battery is below 20%. The light will flash red, and there will be a tonal alert every five minutes. A handy implementation for sure!
You'll need to charge the FX4 Pro Bluetooth headset for 3 hours to fill it up. Overall, the battery life of the Fodsports FX4 Pro caught us off-guard as a pleasant surprise.
Price
For such a robust feature package and a quality build, you might expect this headset to be well above the $200 price tag. It's not the case here, as the single pack of the Fodsports FX4 Pro costs only $80/€66/£57. If looking for a decent sub-$100 Bluetooth headset that lasts longer than a month, the FX4 Pro is the one to get.
Summing Up
As we reach the end of our Fodsports FX4 Pro review, what is our final verdict on this headset?
Let's start with the positives. FX4 Pro has a tactile and durable design, as it is built to last, which is proved by its IP67 waterproof rating. Its battery life is also quite strong, as a single charge can last you well above 10 hours of use. The sound quality is nothing too special, but sound clarity is very nice, even at high speeds.
Now, the thing we're most critical about is the microphone quality. They seemingly don't feature noise cancellation technology and are overall cheaply-built, which translates to poor microphone sound quality. Also, the range between individual riders could be much better, but that's just a sacrifice you'll need to chew through due to the low pricing.
Overall, this is a nice, cheap Bluetooth headset that honestly doesn't feel too cheap. It's great for listening to music on the go and is good for group intercom once you find a better microphone for it.
Looking for more Bluetooth headsets? Check out our Bluetooth headsets review section!