When riding on the dirt track, a dirt bike helmet is an essential piece of gear that can save you from the imminent danger lurking around every corner. There are a plethora of high-quality dirt bike helmets that can genuinely save your life. What about custom dirt bike helmets?
Of course, personalization is important, even for dirt bike helmets, hence the popularity of custom-made helmets. But beware, as many manufacturers try to create custom helmets and make something different from advertised.
Why go through such uncertainty if you can make a custom dirt bike helmet by yourself? In this post, we will show you how you can make that a reality!
Ways To Get Your Custom Dirt Bike Helmets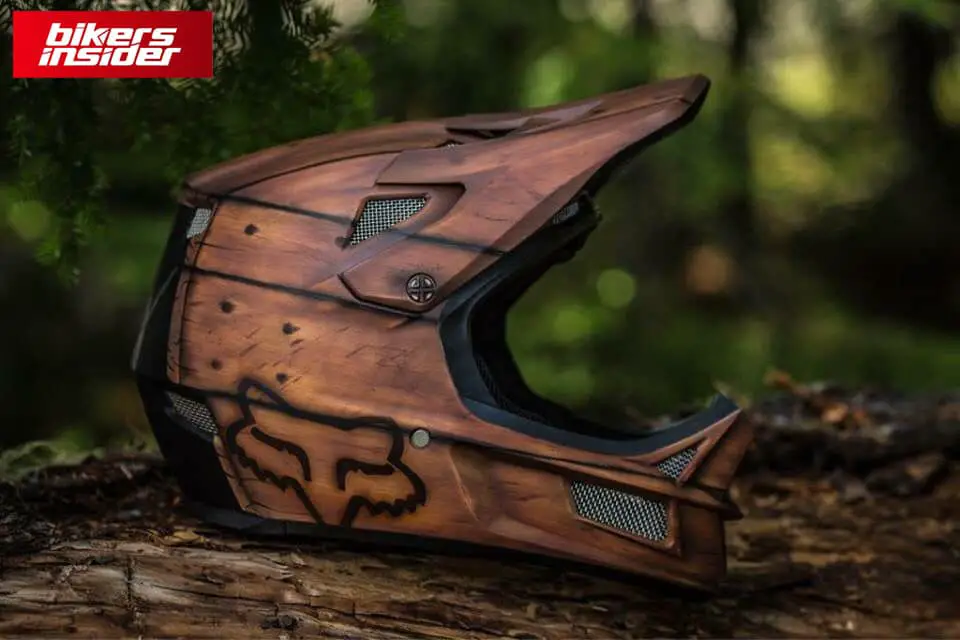 There are dozens of ways on how to get your own custom dirt bike helmet. One of the most popular DIY solutions is simply buying a dirt bike helmet and painting it however you like. 
Another popular solution is to find a custom painting service that can customize the dirt bike helmet to your taste. 
Other solutions include buying pre-customized dirt bike helmets, used dirt bike helmets, or creating a custom dirt bike helmet by putting stickers and decals.
We will focus the bulk of this post on the proven, fool-proof way to create your own custom dirt bike helmets!
Custom Painting A Dirt Bike Helmet On Your Own Guide
Showcasing your favorite design that personalizes your biking style is as easy as adding chrome to the helmet. One significant benefit of custom painting your dirt bike helmet is to protect it from withering away. Follow the further guidelines, and you will have a new, custom dirt bike helmet in your hands!
Check The Right Paint For Your Helmet
Before you buy the paint itself, you should find out what type of paint is compatible with your helmet. The easiest way to do it is to find your helmet's product page or to contact the manufacturer itself. Your goal is to find out the material of the helmet.
Once you find out the required information, you will know which paint won't destroy your helmet's outer shell.
Get The Paint And The Additional, Required Supplies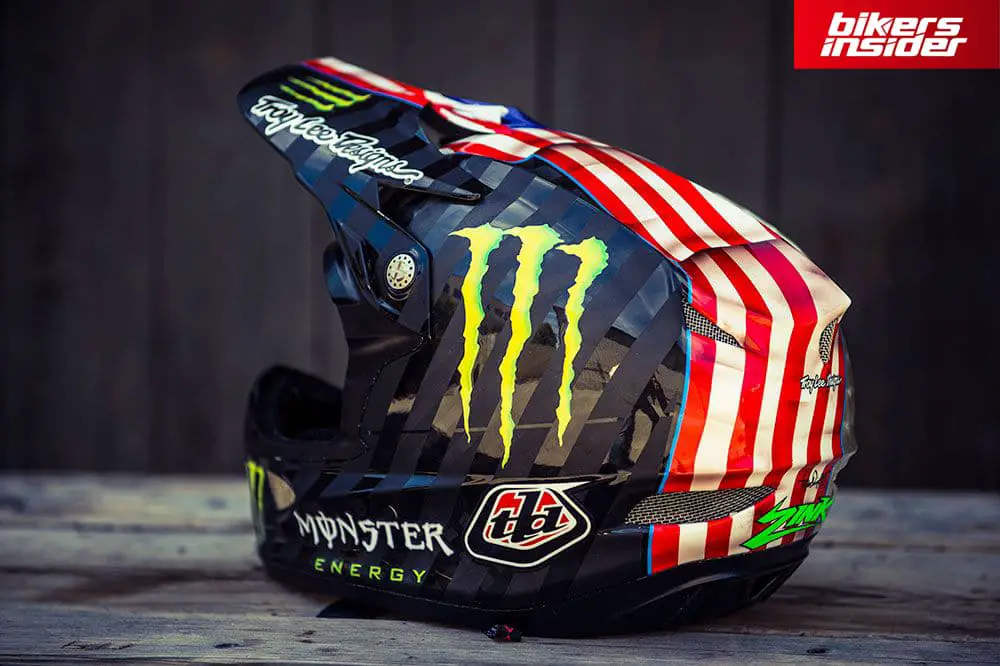 Now that you know what paint is safe to use on your dirt bike helmet, it is good to buy the other necessary gear for the custom painting. 
The necessary tools for custom painting process preparation are:
Screwdriver
Tack cloth
Sandpaper
Cleaning solution
Rags
Gloves
The necessary tools for the painting itself are:
Additionally, you can get a tape that you can put over any part of the helmet you don't want to paint.
Remove The Parts Of The Helmet That You Don't Want To Paint
Please do this before you commence the actual painting process. You really don't want to apply paint over some essential parts and do the irreversible. 
For example, you should remove the chin strap, vents, and the visor of the dirt bike helmet.
Clean The Exterior Of The Helmet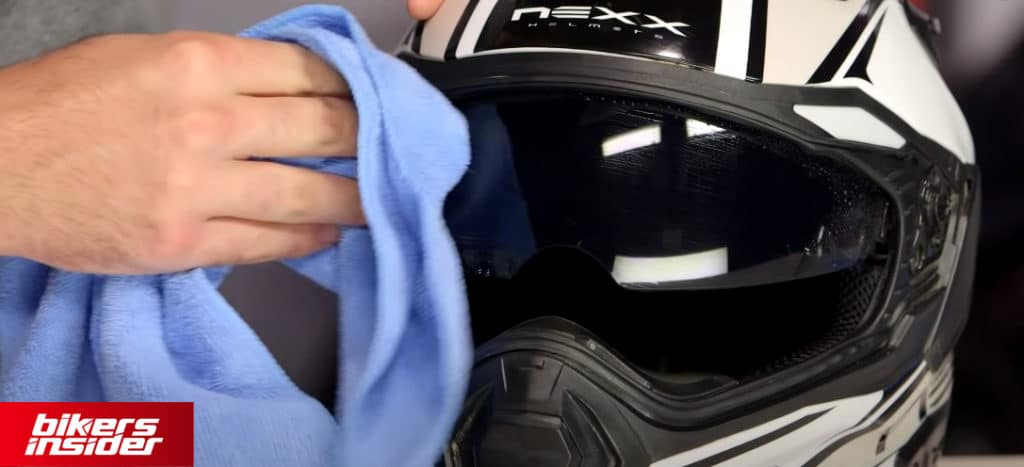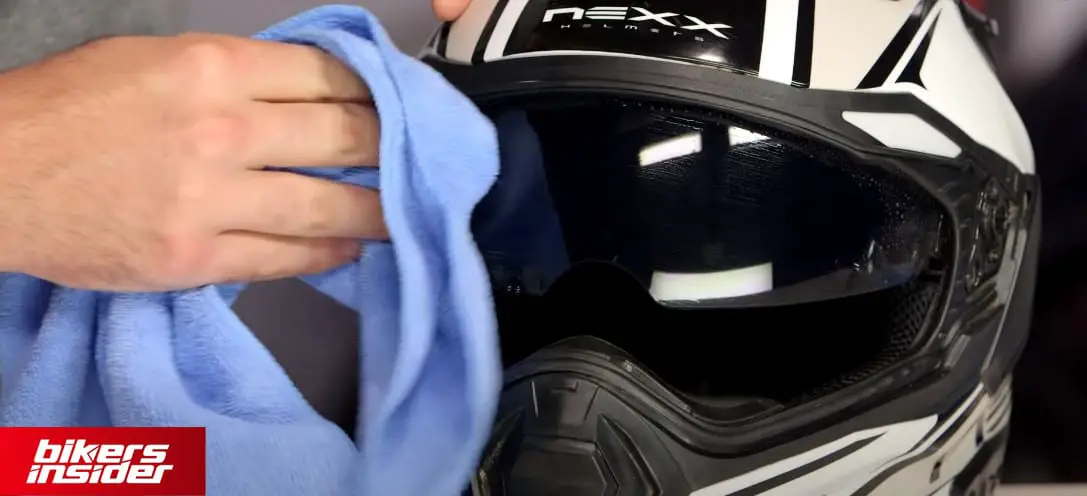 You need to do this to get rid of any dust, dirt, or any kind of debris from the helmet. Use soapy water or solution based on acetone to clean the outer shell of your helmet carefully. After you finish this, make sure to air-dry the helmet.
Prepare The Surface With Sandpaper
Now, you will use the sandpaper to sand the surface of your dirt bike helmet. This process will dull the finish of the helmet as well as make its surface smooth. You need to do this for the paint job to stick easier to the helmet.
After you are done with sanding the helmet, use a damp cloth to wipe off the dust. Then, air-dry the surface of the helmet. Finally, use a tack cloth to remove any accumulated dust again.
Mask Off The Parts Of The Helmet That You Don't Want To Paint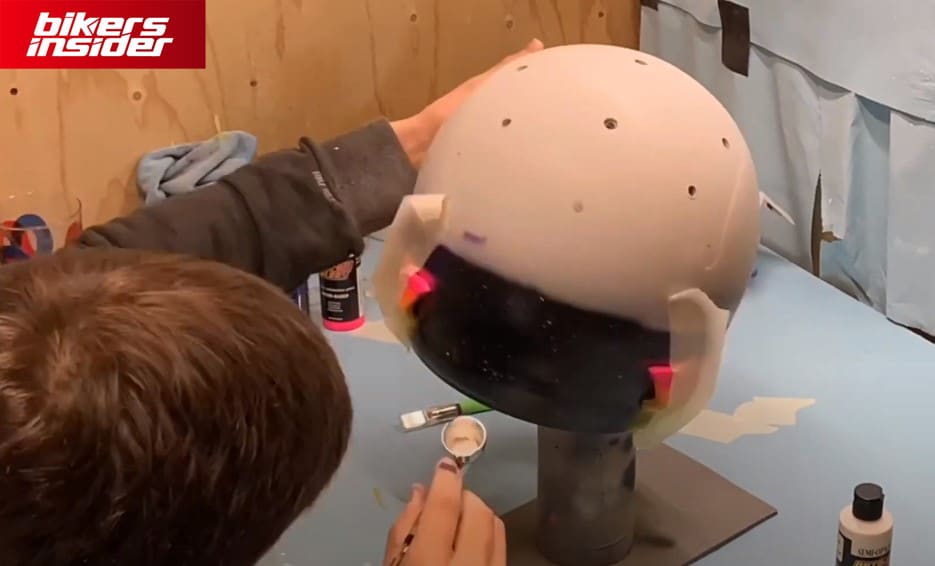 Make sure to put tape on the parts of the helmet that you don't want to paint. These parts can be casings, screw holes, and fittings. Also, tape the helmet's interior so that you don't accidentally paint the padding of the helmet.
Administer The Paint To The Helmet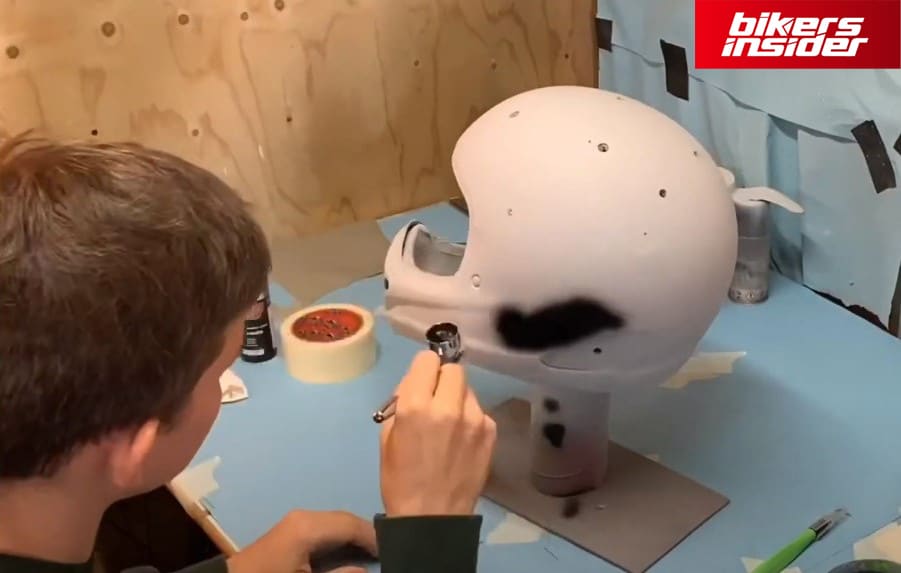 Make sure to apply the paint to your dirt bike helmet in layers, starting with the light layers to avoid paint leaks. You can utilize left-right or up-down motions, whatever suits you best. Just a quick note: don't paint both styles – use one brush stroke style to avoid uneven paint.
Also, make sure that you are painting in a well-ventilated area. After you finish painting your dirt bike helmet, make sure to leave it to air-dry altogether. 
Craft Your Design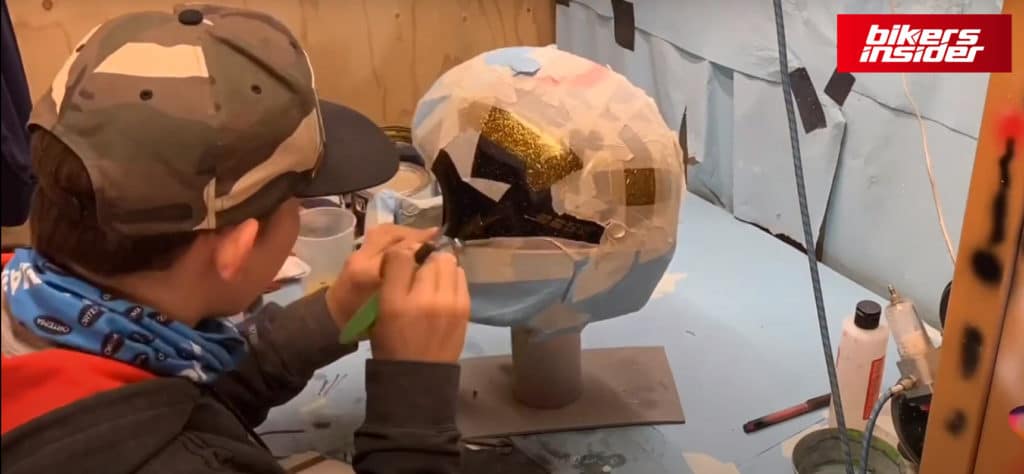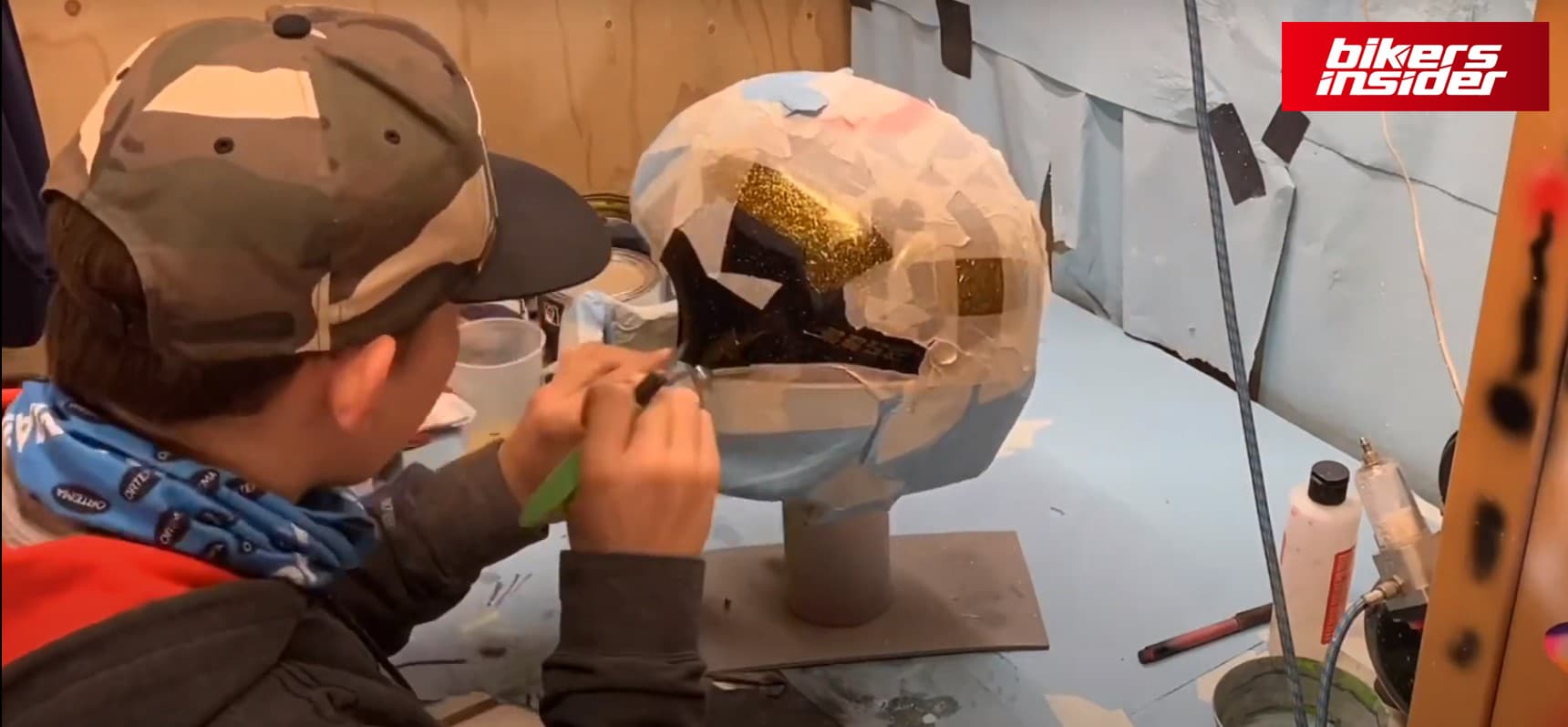 Once the initial paint job dries off, you are ready to create some amazing custom graphics on your dirt bike helmet! To help you craft the precise custom design, take some paper and narrow tape to form a frame. Make sure that your frames are appropriately placed so you can apply new paint.
Seal Your Helmet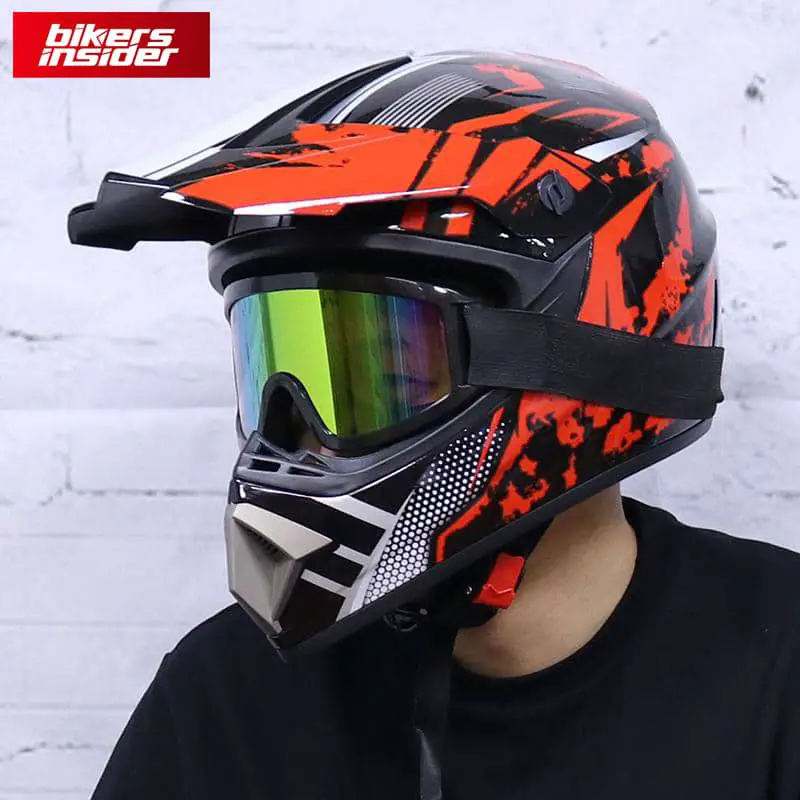 After you are done with the custom design on your dirt bike helmet, you still need to seal the applied paint. This allows you to put on additional layers of urethane to deepen the finish of your helmet. We recommend you to put four layers at maximum. 
Additionally, you can add a glossy finish to your custom painted dirt bike helmet. You will need a mixture for adding a glossy shine to do that. Afterward, you can reattach all the helmet parts that you've taken off before applying your custom design. 
Closing Words
Congratulations! You now know how to create your own custom dirt bike helmets! Remember, patience is vital, but we cannot ignore the artistic freedom that this craft provides. You will require some specific materials that are relatively easy to find at your local store.
If, by any means, you don't feel comfortable crafting your own custom dirt bike helmet graphics, you can send out a request to a specialized business for that. We quite enjoy what Blaze Artworks is doing.