We have finally found a great budget action camera under $100 that can record videos in 4K resolution at 50fps! Yes, you heard that right, and this time, there is no catch. Crosstour has really kicked it out of the park here. Obviously, they had to make some sacrifices, but nothing too severe to make this yet another shoddy wannabe GoPro killer.
Actually, this is one of the action cameras that can prove worthy as a budget GoPro alternative. Read our Crosstour CT9700 review to find out more about this amazing entry-level action camera!
Crosstour CT9700 Review – Features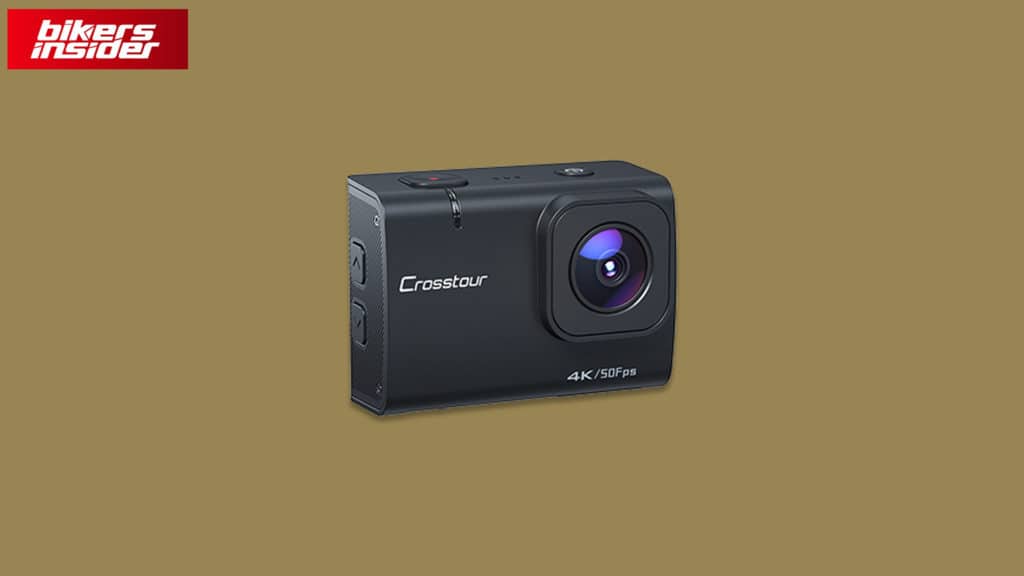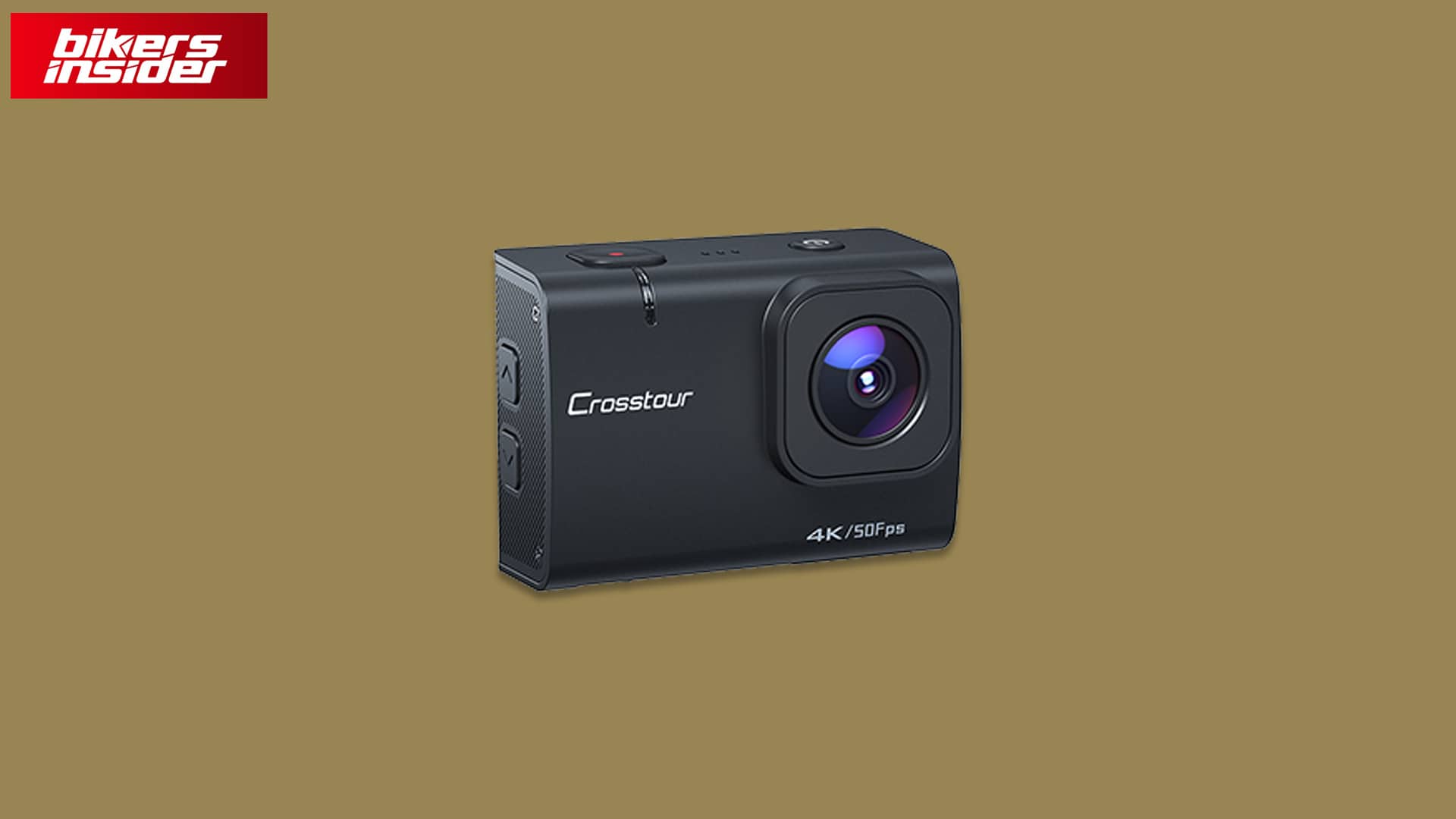 Down below are the main features of the Crosstour CT9700 action camera:
Dimensions of 61 x 24 x 45 mm
Weighs 1,5 lbs (680 grams)
Supports select video resolutions: 4K at 50fps, 2K at 30fps, 1080p at 60/30fps, 720p at 120/60/30fps
20MP sensor
Regular, Time-Lapse, Slow-Motion, Underwater video modes
Timer Photo, Time-Lapse, Underwater, Regular photo modes
Anti-shake and lens distortion correction
Electronic Image Stabilization (EIS)
2-inch IPS LCD screen with touch screen support
Two rechargeable 1350 mAh Li-On batteries with 60 minutes of recording time
Comes with a bike mount, clamp, different mounts, handlebar mount, adhesives, clips, zip ties, Velcro straps
USB charge cable and double battery charger included
Wireless remote control
Waterproof case that can be submerged up to 40 meters (131 feet)
Without further ado, let's begin our Crosstour CT9700 review!
Design & Build Quality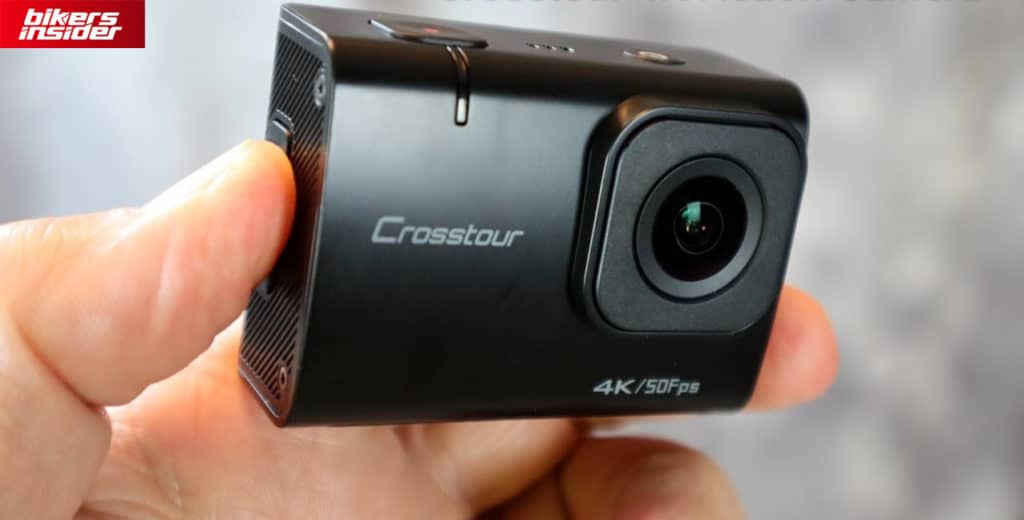 At first glance, there is nothing revolutionary about the design and build quality of the Crosstour CT9700 action camera. It's made of decent quality plastic, sports a rectangular build, and a black color. The smooth finish resembles GoPro. A lot. Which isn't a bad thing by any means, but it is a bit uninspiring.
On the back of this action camera, we can find the IPS LCD 2-inch screen with an enabled touch screen functionality. It has a resolution of 240p and some additional LED indicators that indicate if the recording is on and the battery life.
If there is rainfall, you can still control this action camera thanks to the included buttons that are satisfyingly clicky. We can see the Record and Power button on the top and the navigation buttons on the side. On the bottom is the battery compartment, and on the side is the seal where you can find Mini HDMI, Micro SD, and Micro USB ports underneath.
Stabilization
The Crosstour CT9700 features electronic image stabilization (EIS) technology that works well most of the time. It does a fairly good job at making the video look stable and is great for bumpy rides. Just what any motorcycle enthusiast will need for recording his time on the road.
The only downside of the EIS implementation here is that it locks to the medium lens angle. Sadly, you cannot record wide-angle with image stabilization on.
Video Quality & Performance
We really enjoy how the CT9700 performs in all the supported resolutions. It certainly does record videos at native 4K with a frame rate of 50. There is no digital upscaling whatsoever, and the image quality is excellent for such a low priced camera.
2K and 1080p also have great image quality, with no massive loss of detail and pixelization. Also, you will be able to record for longer periods in 2K, 1080p and 720p resolutions, so keep that in mind too.
The low-light performance is lacking and will produce lots of grain, but this is nothing new with the action cameras. Even premium-price action cameras have difficulties producing quality low-light videos.
The Crosstour CT9700 action camera features select recording modes:
Time-Lapse
Slow-Motion
Underwater 
Regular
Most budget action cameras have a fish-eye effect when recording, which can get very annoying. The CT9700 action camera has a distortion correction feature that removes this effect, with mixed results. The recording will have jitters, and the sides of the video will be slightly distorted. 
Photo Quality
The photo quality produced by the 20MP sensor is solid. With a bit of playing around with the exposure and ISO settings, there is a possibility of well-made photos. 
The photo mode also features anti-shake and lens distortion correction, eliminating the annoying fish-eye effect so prevalent in budget action cameras. 
Another great feature of the photo mode is that you can change the aspect ratio between 4:3 and 16:9. 
The available modes for photography are:
Time-Lapse
Timer photo
Underwater mode
Keep in mind that this action camera cannot save photos in RAW format.
Audio Quality
Here we come at the first sacrifice Crosstour had to make to fit this action camera in the sub-$100 price range. The audio quality is pretty bad with the built-in microphone. It doesn't help that the casing seems to be a bit larger than the actual camera. That can be a problem, as the camera can shake and produce more distortion in the sound.
Also, the Crosstour CT9700 action camera doesn't come with an external microphone. Make sure to invest in one if you plan on motovlogging for better audio quality. Still, don't expect the audio to get good like on GoPro action cameras.
Check out the amazing Movo GM100 external microphone that will boost the audio quality of the Crosstour CT9700 exponentially.
User Interface & Control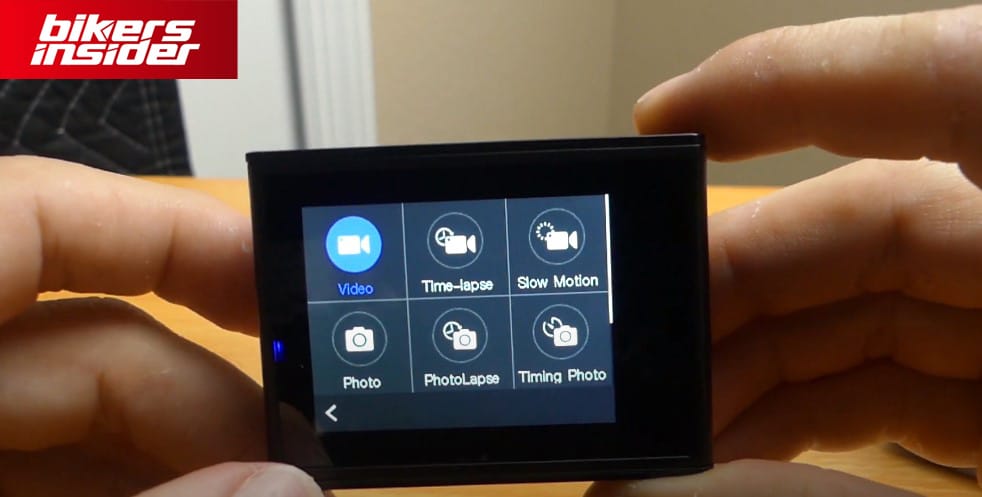 The user interface of the CT9700 is excellent. It is responsive and straightforward to navigate, and there is no lag in touch screen response as far as we're aware. 
On the lower-left corner, we can access the Video and Photo modes. The top bar shows record time, battery life indicator, and the microphone indication. On the middle left is the gallery button. When we tap on the lower right corner, we toggle the Video Settings and regular Settings menu. Over there, we can set up resolution, stabilization, the field of view, video segmentation, and more.
All in all, the UI of the Crosstour CT9700 is quite simple, and you can also control it via a mobile app (get it on Android or iOS) or with an included wrist wireless remote.
Accessories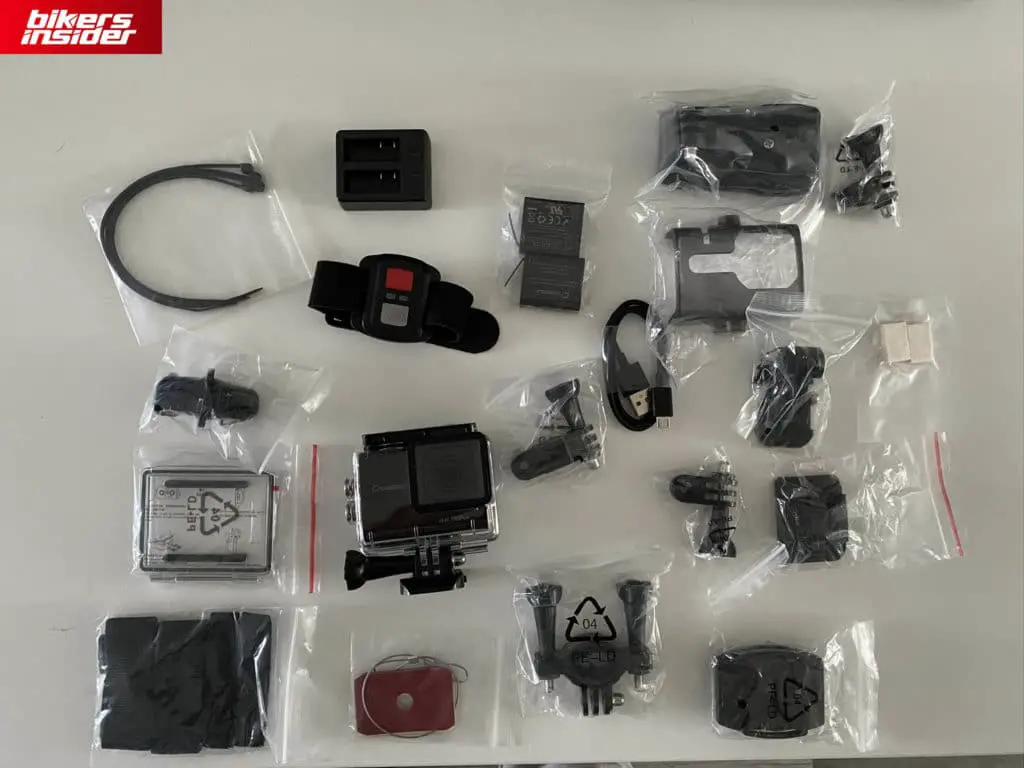 Crosstour has provided a vast amount of accessories in the packaging of the CT9700. Here, you can find:
Handlebar mount, bike mount, and helmet mounts
Clamps
Adhesives
Clips
Zip ties
Velcro straps
USB charge cable
Double battery charger
As mentioned at the beginning of our Crosstour CT9700 review, there is also a waterproof housing included that can take the camera to 40 meters of depth (131 feet). 
Worth another mention is the wireless remote designed like a wristwatch, with record and photo buttons for simple remote control.
Sadly, there is no SD card included, and you will need to buy it separately.
Battery Life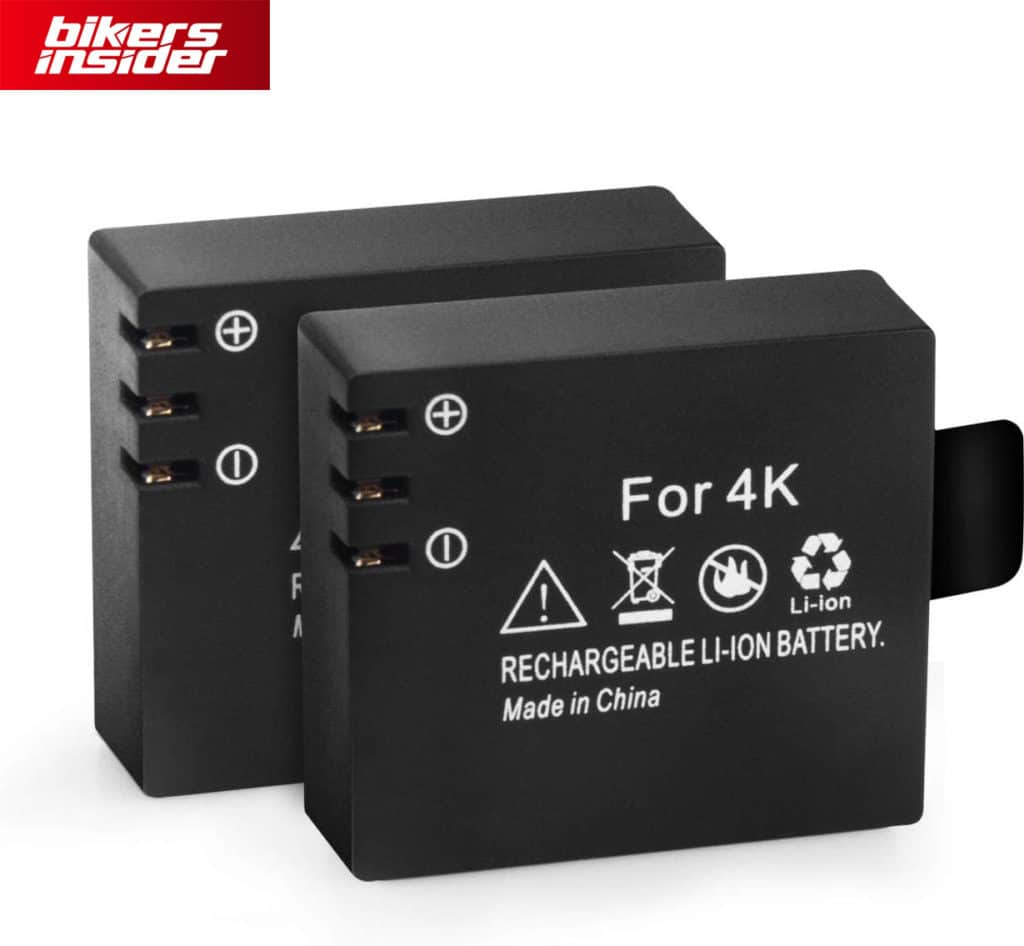 The Crosstour CT9700 action camera comes with two rechargeable 1350 mAh Li-On batteries, along with a charger for these two.
If using only the LCD screen, you will get at least 90 minutes of battery life. You can record 4K videos for 30 minutes and 1 hour of 1080p videos. 
Overall, the battery life could certainly be better, but that's a sacrifice that Crosstour had to make to enable 4K at 50fps for this price range.
Price
It is a true triumph that Crosstour has managed to pack in 4K at 50fps recording capabilities at the $89,99/€73,62/£66,34 price tag. This certainly makes the CT9700 the contender for the best budget action camera for motovlogging.
Final Verdict
So, now that we are at the end of our Crosstour CT9700 review, what's our take on it?
First of all, the ability to capture 4K videos at 50fps is fantastic. The image quality is excellent, and the stabilization works great, even though it limits you to the slightly narrow lens angle. 
Also, the touch screen user interface is noob-friendly and easy to navigate. Even if the camera gets wet, you can use the navigation buttons to compensate. The sheer number of different mounting accessories is a great bonus too.
But, there are some sacrifices, mainly when it comes to audio quality and battery life. Make sure to invest in an external microphone if you want to motovlog with this action camera. Also, invest in a few more batteries if you are recording longer rides.
All in all, the sacrifices made to make this camera fit in the sub-$100 price range are reasonable, albeit they hold back the overall performance of this otherwise excellent budget action camera.
Check out the action cameras section for more reviews!